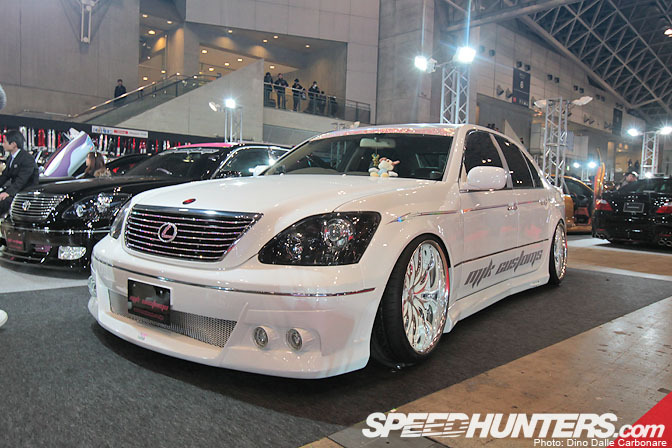 The VIP and Vanning scenes are integral parts of the Japanese tuning culture, styles that define the uniqueness of Japan. It might not be performance oriented but no matter what you are into, you just can't help but take an intrest in rides like this MJK Customs Celsior…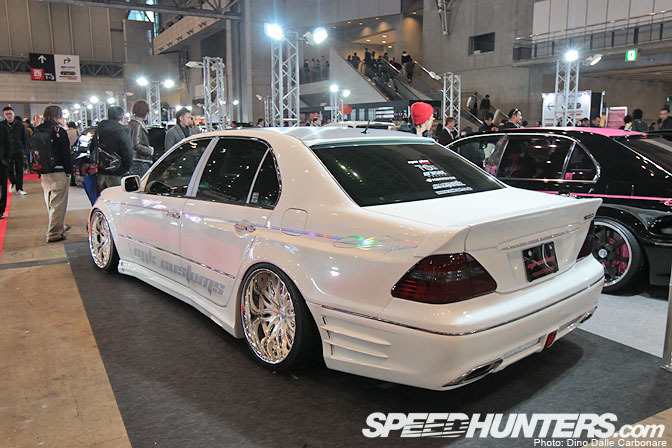 …sporting widened front and rear fenders and full original aero. The great thing about VIP is that over the years it has evolved and branched off in various directions spawning some pretty interesting variations on what is essentially the same scene. It was all started back in the late eighties to early nineties by Taketomi-san of Junction Produce. Back then it was all black cars with tinted windows riding low on their custom polished rims. These days it seems anything goes, from more show-car oriented builds…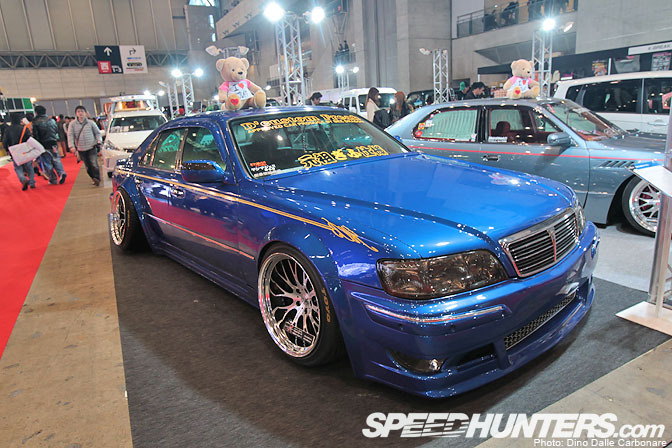 …to wild almost sporty interpretations like this Bee Dragon Cima we first encountered back at the King Of Sedan Festival last summer.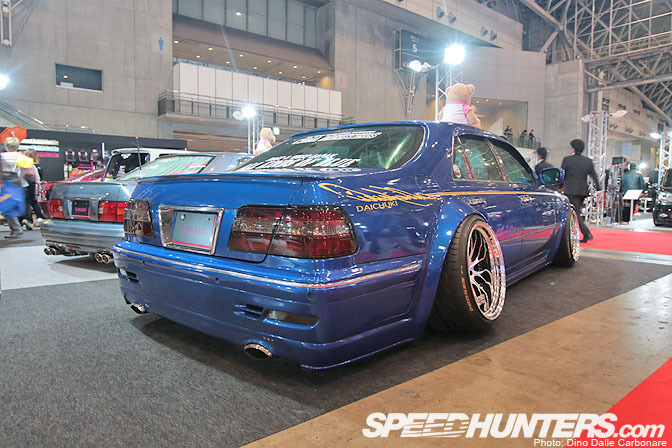 At Bee Dragon stance certainly counts for a lot and going for wild negative camber is something they have managed to turn into an art form. Most people would simply ask why, but you can't quite get it until you see one of these big sedans cruising down the street with their barely silenced exhausts blaring away. It's all about looking mean and intimidating other road users, in a very polite Japanese fashion obviously! There's no attitude, it's all out of passion and that is something you can't help but respect.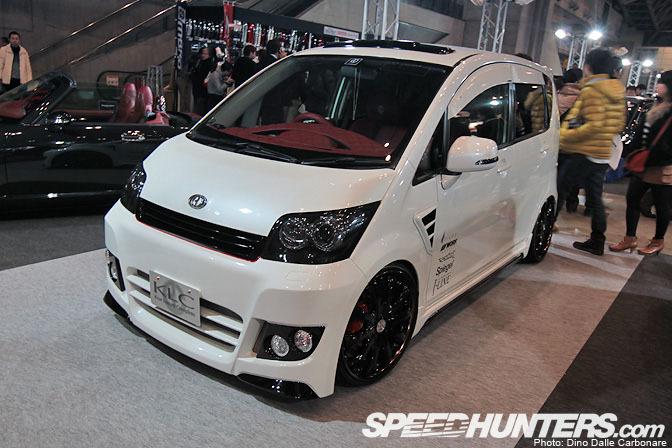 Along with bippu rides the halls of TAS were littered with countless custom vans. I quite liked this KLC Daihatsu Move riding on black Work Varianza 18-inch wheels…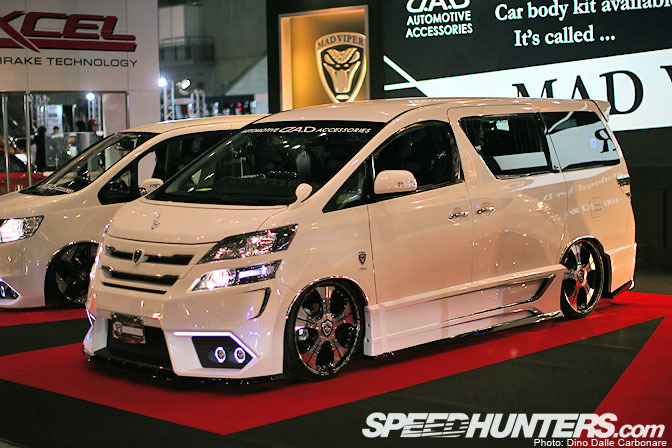 …although this Toyota Vellfire from D.A.D would be the better choice if you were into something a little larger.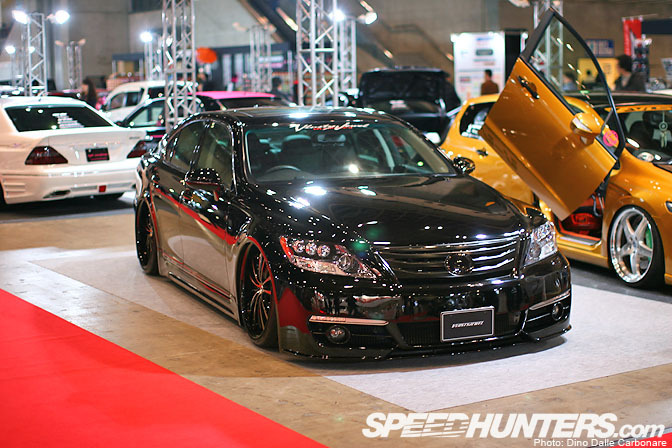 With the Lexus LS getting more affordable in the second hand market it has quickly become a very popular platform. There were tons of examples at the show but if I had to pick one, this LS600h from Vlustyjewel would have to be it. Perfect mix of subtle aesthetic details and tucked wheel fitment.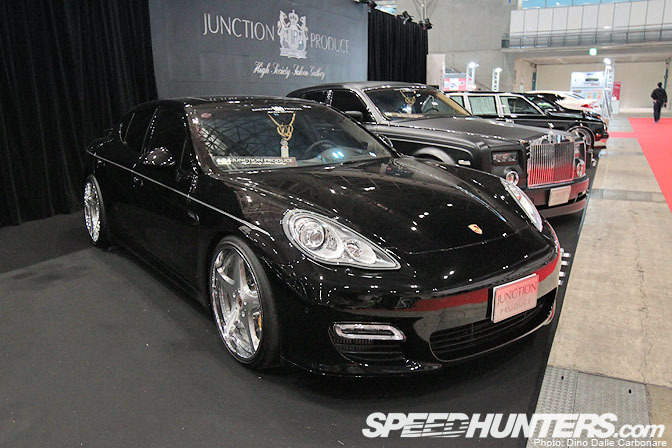 Junction Produce have always kept to the more authentic side of the VIP look, but in recent years have become a little more open, especially with imports. Last year's Rolls Royce Phantom, now sporting a matte black finish, was joined by this Panamera riding on a set of their Scara 5-spoke wheels.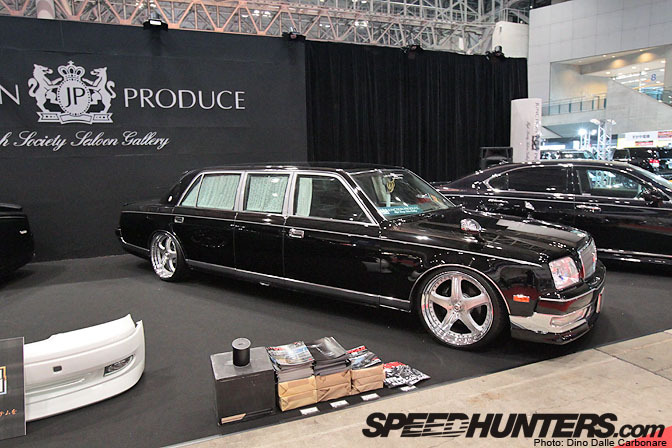 This stretched Century however won hands down! Nothing gets the message out that you are the boss, like a chauffeur-driven Junction Produce VIP ride!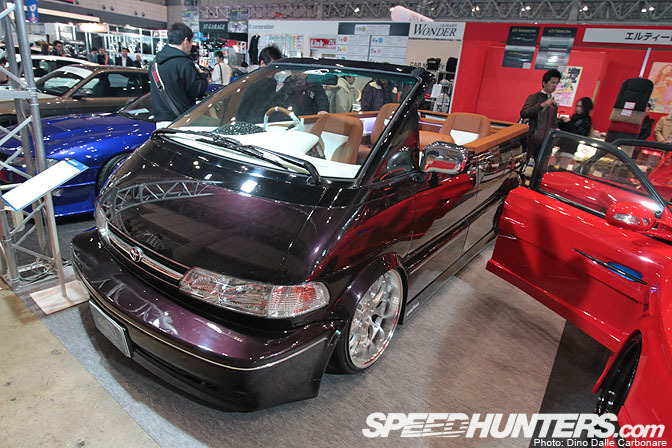 Here is a new concept in open-air motoring from the guys at L-tide.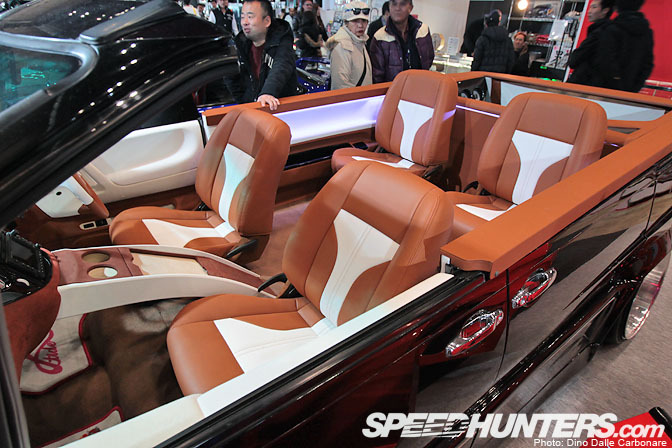 There is practically no other convertible out there that offers the same space as this roof-chopped Estima does.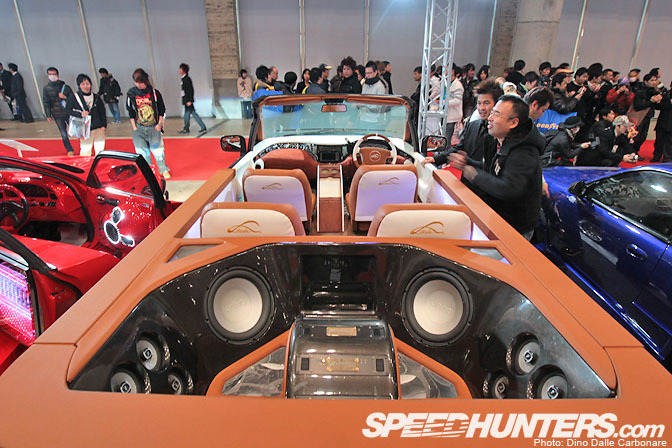 And there is even space in the back for a rather loud audio system.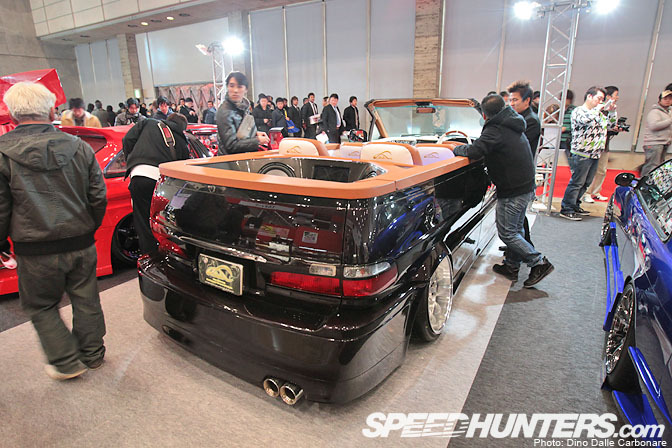 Of course the big minivan convertible boasts great wheel fitment and stance too!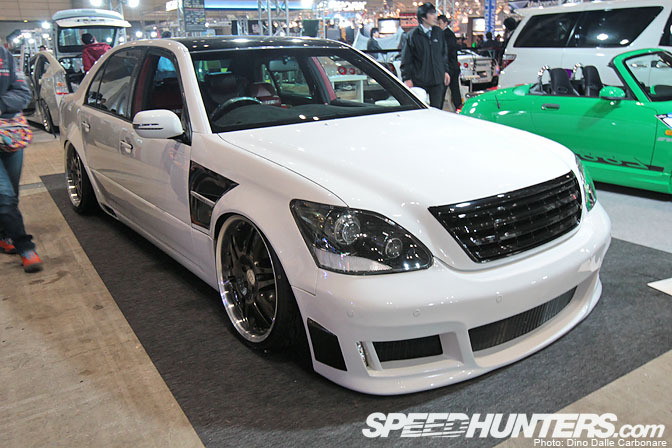 Mean looking Celsior!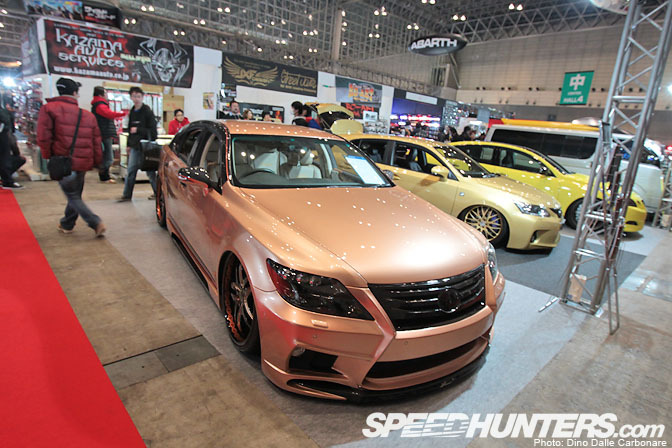 More LS goodness in the form of the LXF demo car.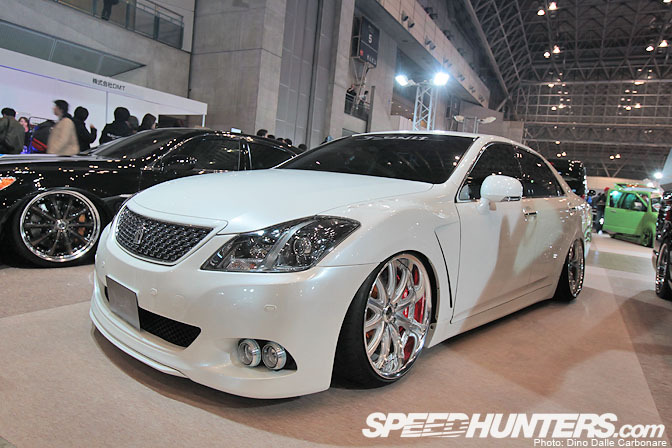 The Crown Athlete has to be the perfect platform if you want to go for a more sports car oriented feel with your VIP conversions, like this J-unit tuned car perfectly shows.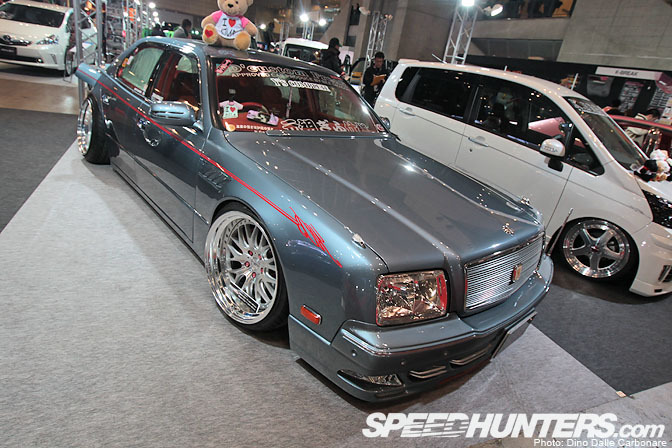 Mizuno-san was back at TAS with his D'Custom Freak Celsior with Century front end conversion. Since my feature of the car back last summer it's now got a new set of K-Break wheels and looking mighty good slammed on its air suspension.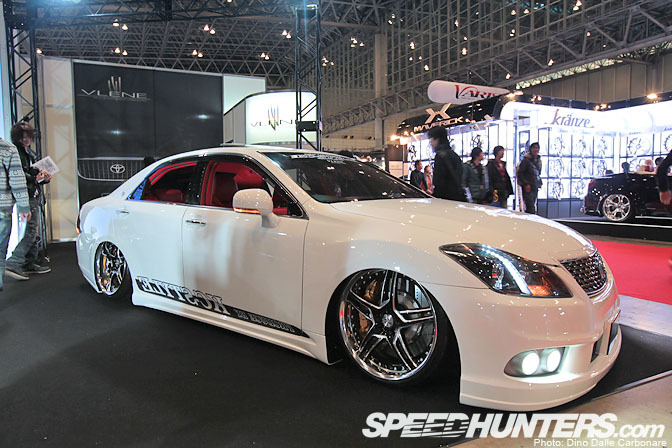 See what I mean about the Athlete? This particular example was built by KC Style…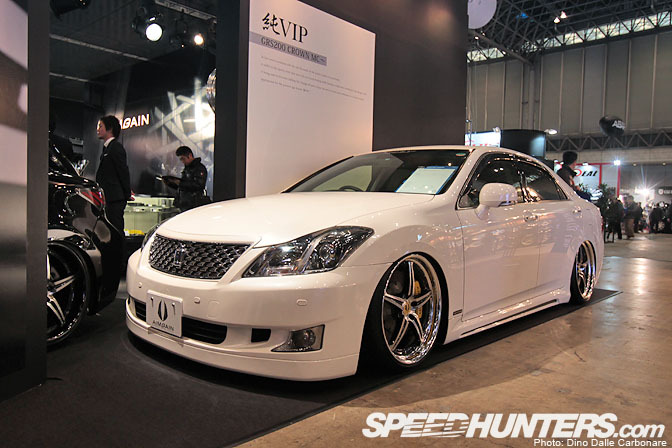 …while this was modeling a new set of Amgain G3S wheels.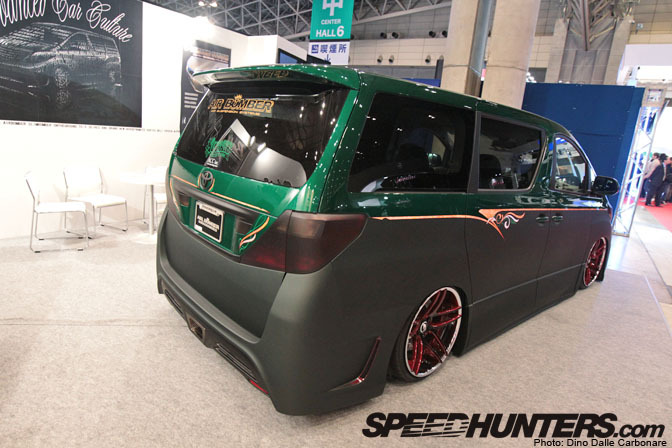 Back on the set-up day I actually saw this Alphard driving around the streets of Makuhari. It might look pretty special under the lights of the exhibition halls but it's far more menacing on the roads!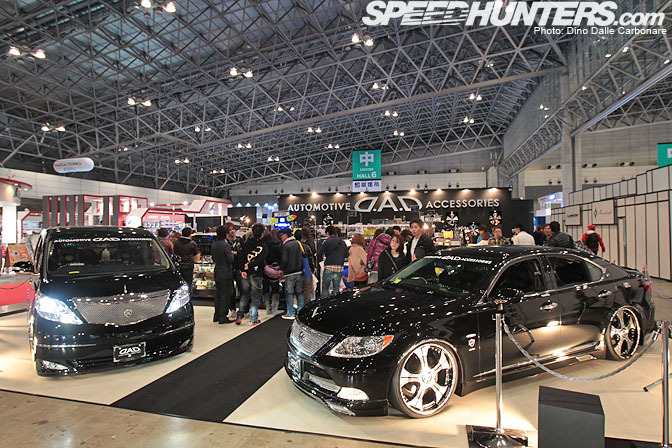 D.A.D always go full out with a massive display area at TAS. No Swarovski encrusted cars this year however.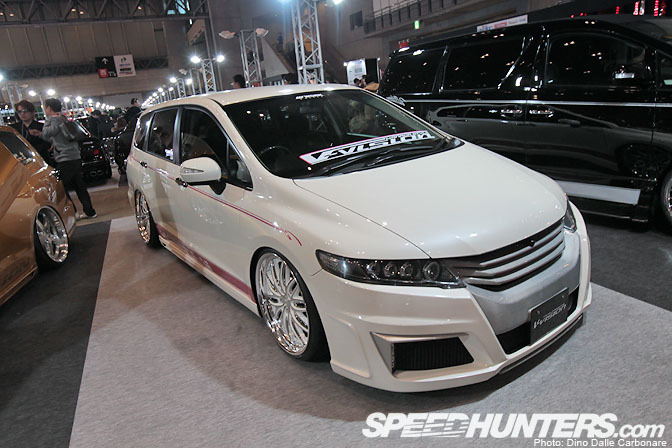 The JDM Odyssey might have morphed into a more car-like vehicle over the years but it's still one of the most popular vans to go crazy on. This example from V-Vision stood out for its subtle angular aero.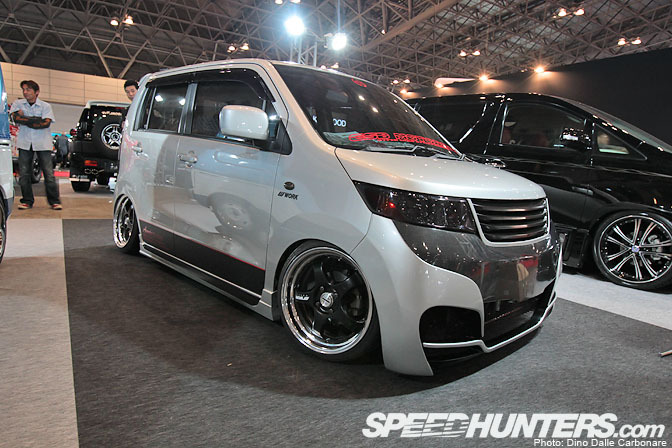 Great wheel fitment!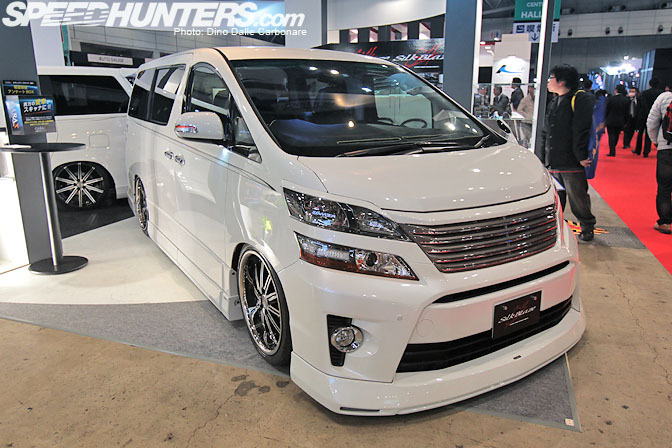 The Toyota Vellfire and Alphard, which are pretty much the same vehicles save a few design variations, are the hottest sellers in Japan when it comes to full-sized vans. The Nissan Elgrand is a close second.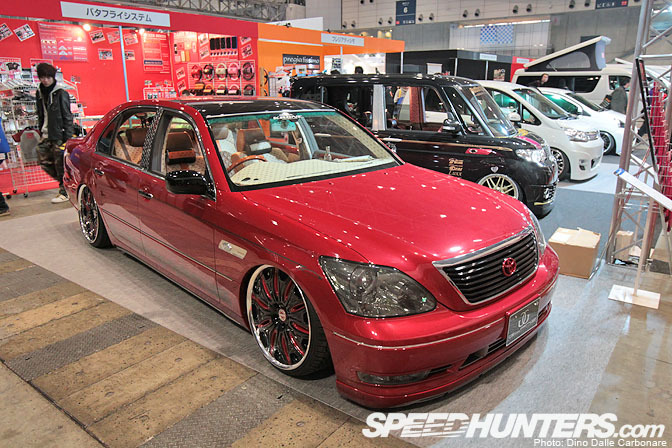 This Glanz Celsior is a true attention getter; if the pink exterior wasn't enough…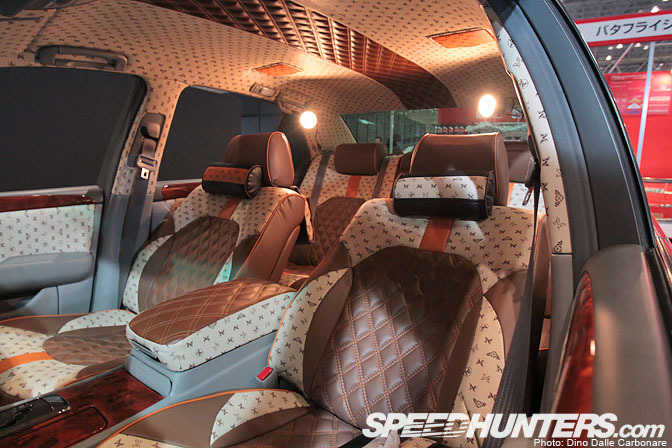 …the interior's full retrim should do it!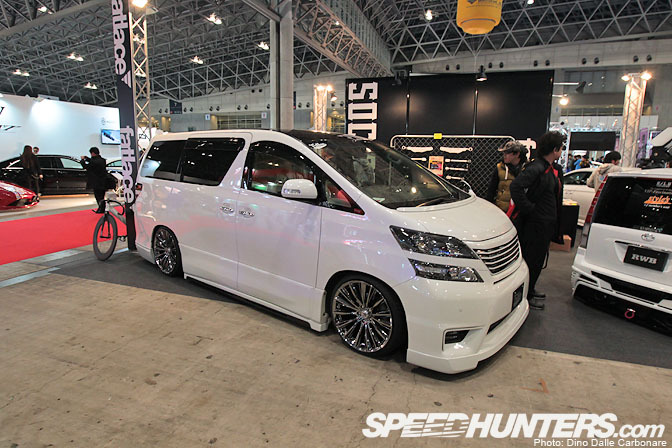 I'll finish up with a shot of the Vellfire that was on display at the Fatlace/Hellaflush booth. Next up from TAS will be a look at the imports, so make sure you check back soon.
TAS 2012 features on Speedhunters
-Dino Dalle Carbonare