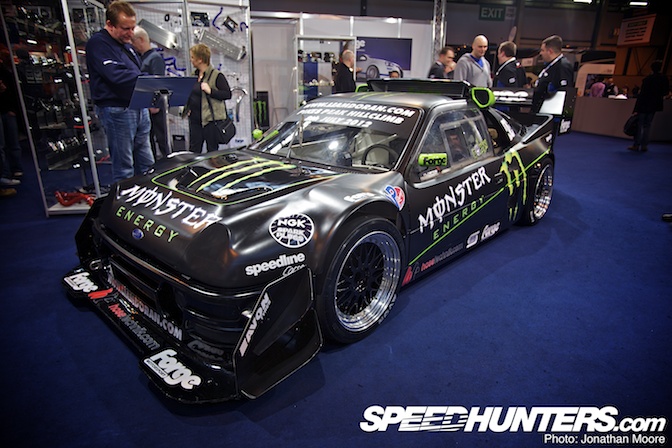 One of the most exciting new builds unveiled at the 2012 Autosport International Racing Car Show was this monster of an RS200. Put together by specialists Forge Motorsport for Liam Doran, this Ford is built to tackle a single event: the Unlimited class of the 2012 Pike's Peak International Hill Climb. In the same way as other legendary events such as Le Mans or Bonneville, there's a mystique about the event that pulls people in, that makes drivers and teams throw everything at it in their effort to conquer the challenge.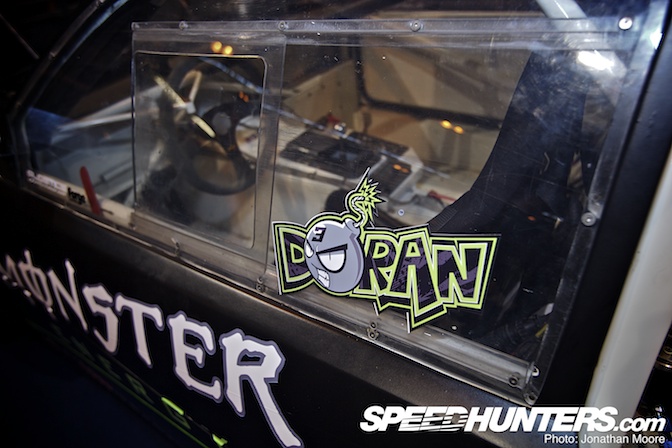 Liam will be competing full-time in the States this year, taking in a whole raft of events across 2012 using a Citroen C4 which will include the X Games and Global Rallycross Championship. But the key event is Pike's Peak with this RS200. This year's 90th running on July 8 will feature a 100 percent tarmac surface for the first time – that means times should tumble and the competition will be even stiffer. 12.4 miles of sinewy road wind their way up from 9,440 feet to 14,110 feet, and in places 6,000-foot sheer drops are the penalty for getting it wrong. You don't want to get it wrong. 156 turns makes Pike's Peak the Nurburgring of hill-climbing.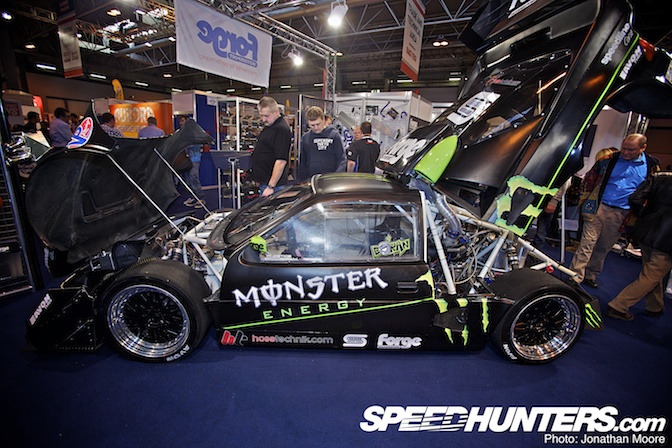 Forge have taken an RS200 and stripped it right back to basics for Liam's attempt on the event – as they took it apart they found all the original tags and markings from when the car was originally manufactured in 1986.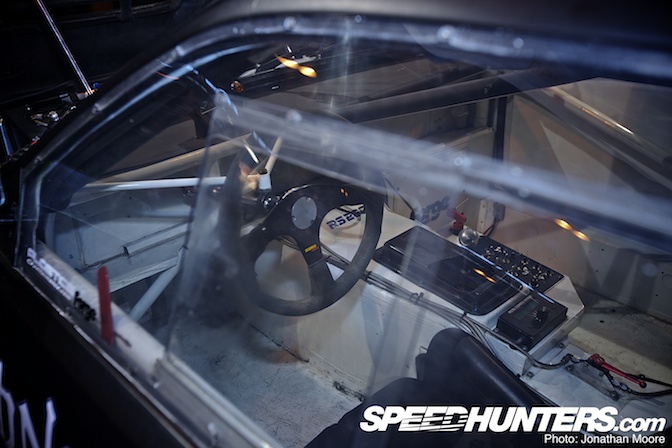 There seems to still be a bit of confusion about the origin of the car, with some people claiming that it's come from Germany or Austria – rather than that it belonged to Pat Doran, as the team understand…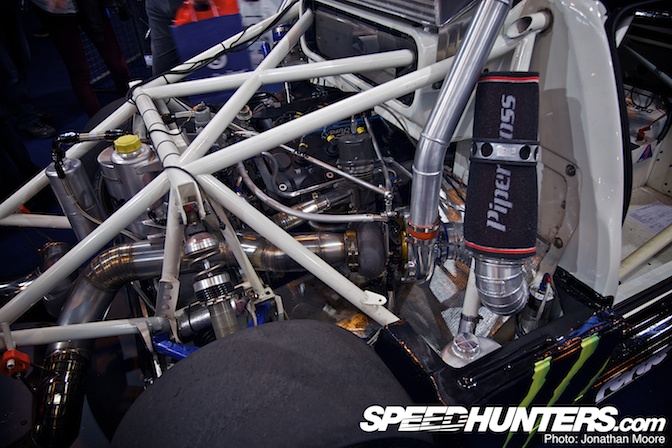 The business end of the RS200 contains the unit that will propel the car up the hill at unholy speeds. It's a mid-mounted 2.4-litre BDT E2 built by Julian Godfrey Engineering (Julian is not only a co-competitor in rallycross, but is also teaming up with Liam to help him with his US assault this year). The engine isn't that different from the original unit, but it's been bored out from the original 1.8-litres.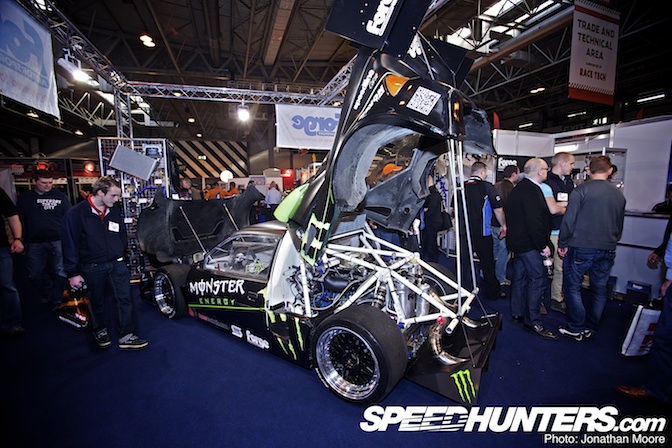 A Garrett turbo is supplemented by an NO2 system to reduce lag, and it has a quad-throttle inlet manifold with an air bypass and water/methanol injection. All this means that power is up from the original 250 to a mighty 925bhp. 60mph will arrive in a face-squashing 1.7 seconds and the top speed will be around 160mph.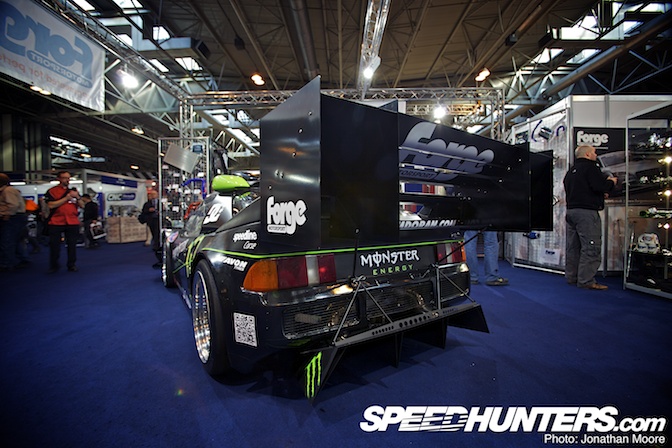 The main thing limiting the speed is the enormous rear wing, though the negative impact of the drag is somewhat outweighed by the downforce it produces.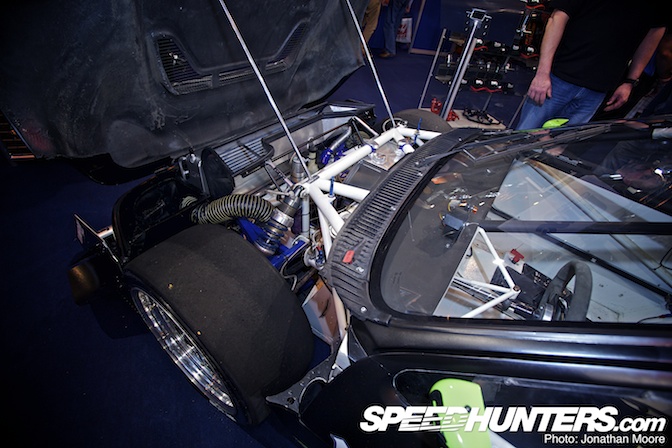 The transmission is provided by X-Trac – a five-speed, flat-shift box feeds the four-wheel-drive system, with an X-Trac plated front differential and FF viscous centre and rear diffs. An H-pattern 'box has been chosen for reliability reasons over a sequential. To suit the new surface on the hill the RS200 has Reiger three-way tarmac dampers, double-wishbones and adjustable bladed anti-rollbars.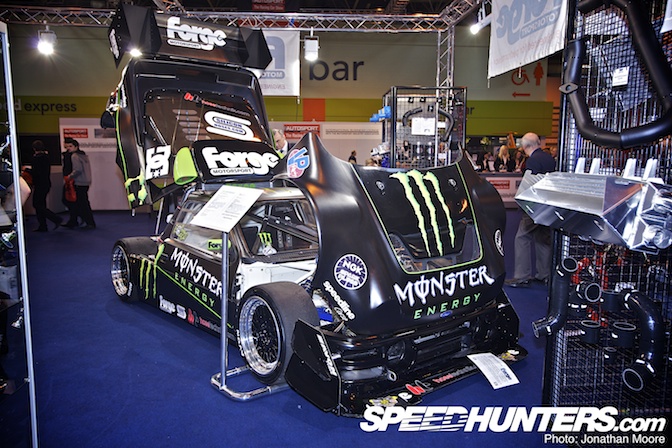 330mm Carbon F1 brakes are fitted on all four corners; the wheels are Speedline – 18×11 at the front and 18×12.5 at the rear. Avon have supplied the rubber: Radial Tarmac Hillclimb spec.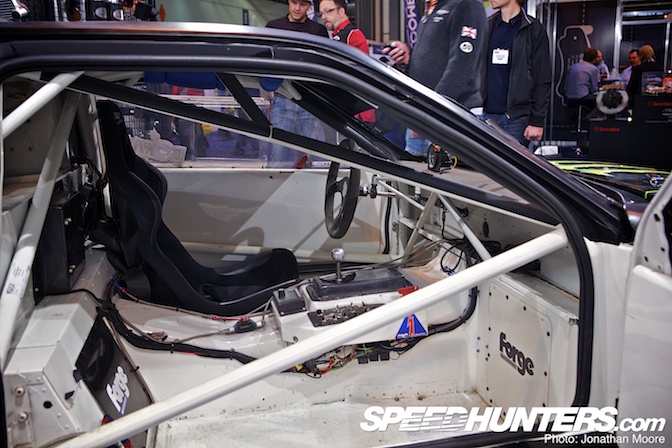 One place that is anything but cluttered is the cockpit.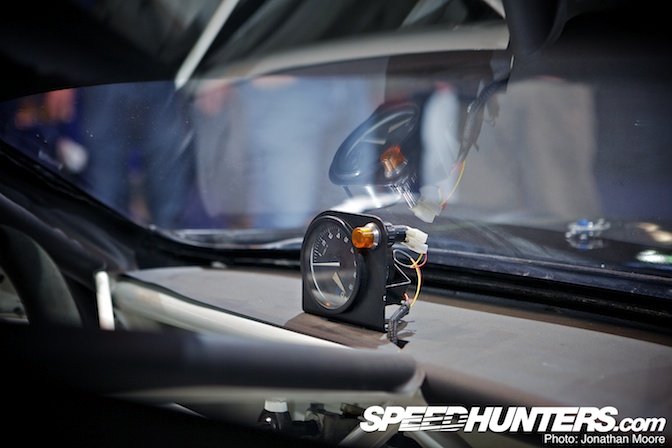 A bare dash with just a single tach – there's nothing to take Liam's focus away from that charge to the roof of the world.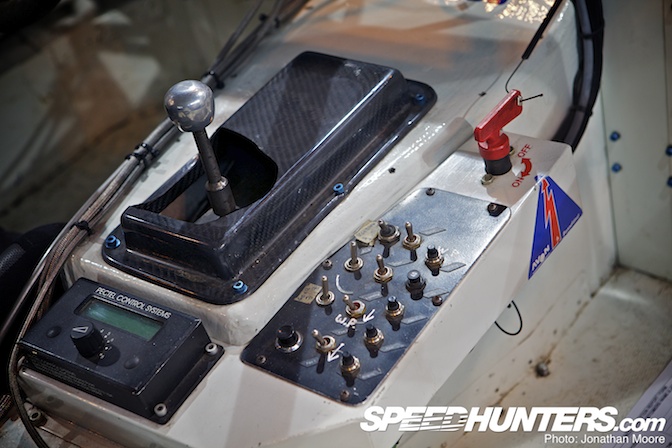 Apart from that there's just the shifter, basic switch-gear and a control unit for the Pectel SQ6 Engine Management system.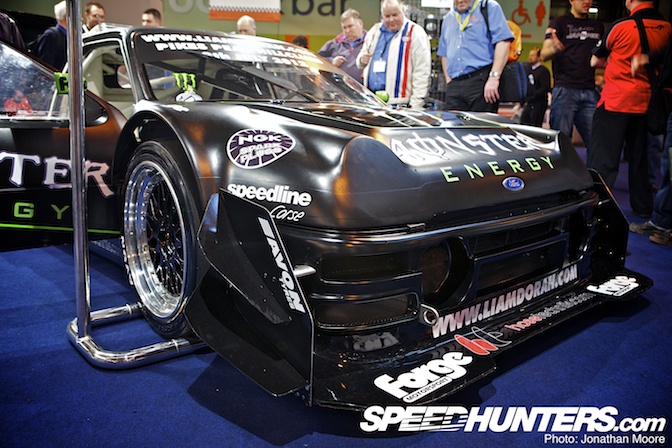 The aero is as extreme as you'd expect for something tackling Pike's Peak. At the front is a heavily-modified DTM-spec splitter and canards. The under-tray is flat carbon.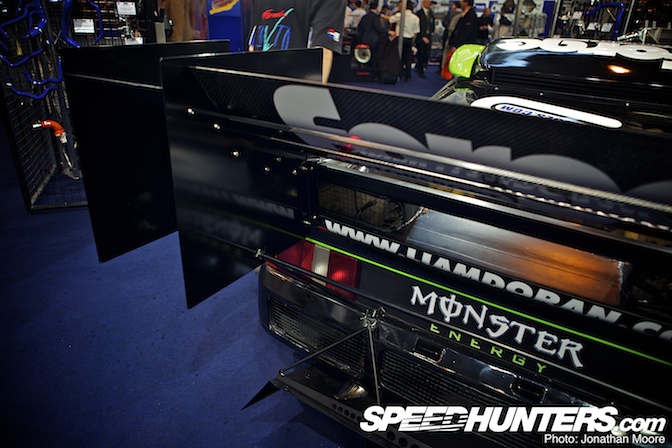 The centrepiece of the rear wing is based on a three-slat Formula 1 model, with additional outboard winglets.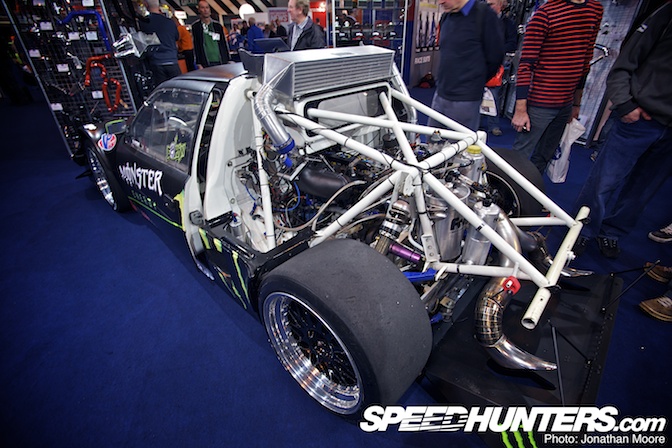 There's another piece of DTM-derived tech in the diffuser, which has the exhaust outlets built-in – in this shot the diffuser is hanging down as the rear deck it is normally secured to has been removed. The cooling is all Forge-originated – the roof-mounted intercooler and radiator, plus the brake,power steering and oil coolers – as is the four-inch exhaust, which is un-silenced. Hearing this thing coming will not be a problem.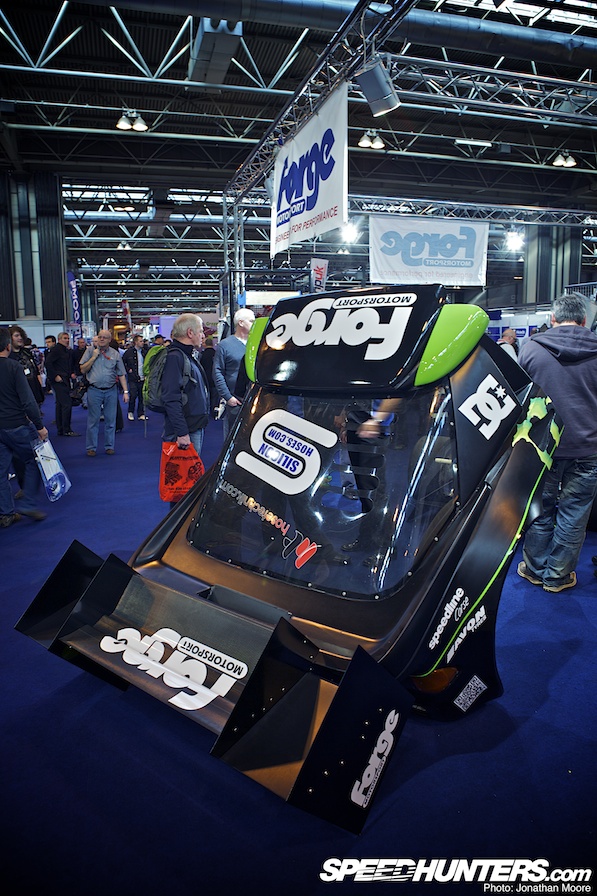 The body panels have been re-made in carbon, further reducing weight, but are all based on the original E2 pieces.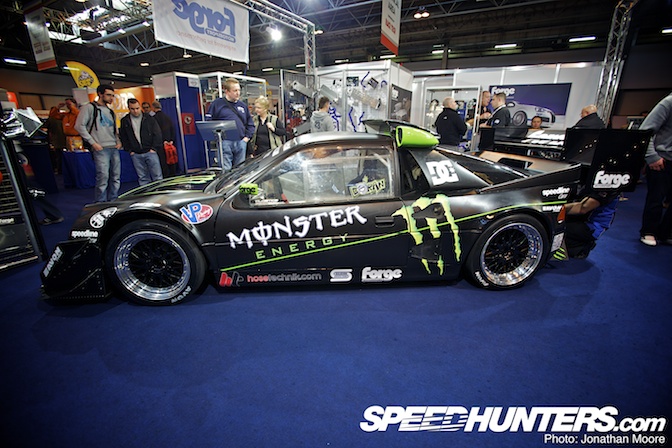 With a design approach very different from its peers – not unlike the situation with the futuristic Lancia Stratos of the '70s – Ford's all-wheel-drive, turbo-charged RS200 was born and bred for the Group B rally regulations of the mid-80s – and killed by them too. Group B was introduced in 1983, and led to an arms race to make the most brutally extreme rally cars possible. By 1986, the cars were just too fast and too dangerous. Casualties were mounting and the rules were radically changed – just as Ford's RS200 (and the Metro 6R4) were getting into their stride.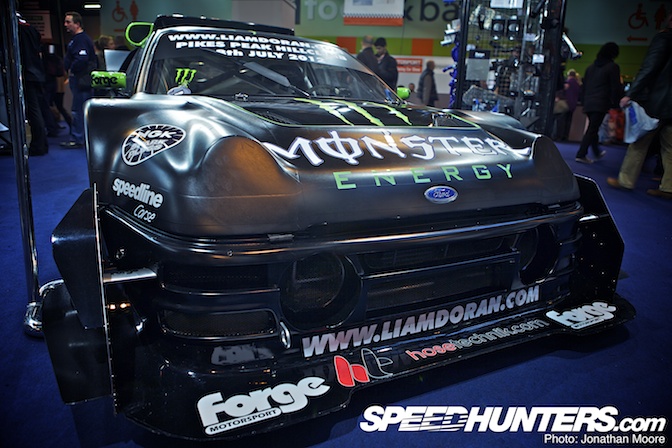 With their raison d'être seemingly gone, the racing versions of RS200s could all have been banished to museums – luckily, rallycross was the ideal outlet for them, and plenty of Group B cars ended up going even faster in rallycross guise. There was even an IMSA GTO circuit racer variant developed! RS200s were turning up in national rallycross events until quite recently, particularly in the hands of father and son team Pat and Liam Doran.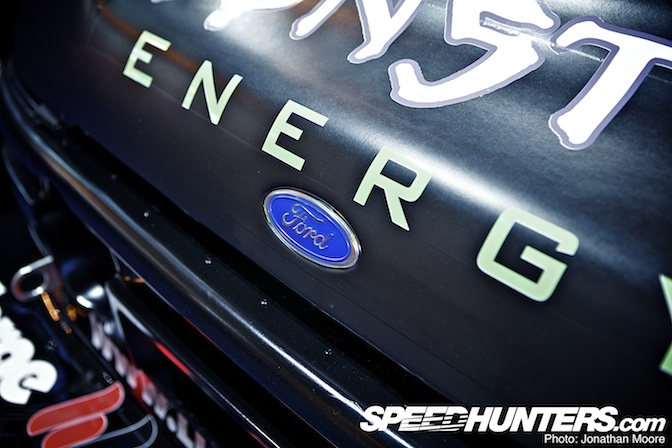 200 cars were built by Ford to satisfy homologation regs, but around 240 chassis and tubs were actually manufactured – this is how 'new' cars have turned up that don't conform to original chassis records, known as 'parts cars'. One such bitsa RS200 has been used for previous attempts by Mach 2 Racing on Pike's Peak: most famously with Stig Blomqvist three times in 2001, 2002 and 2004 and then by rallycrosser Mark Rennison in 2009.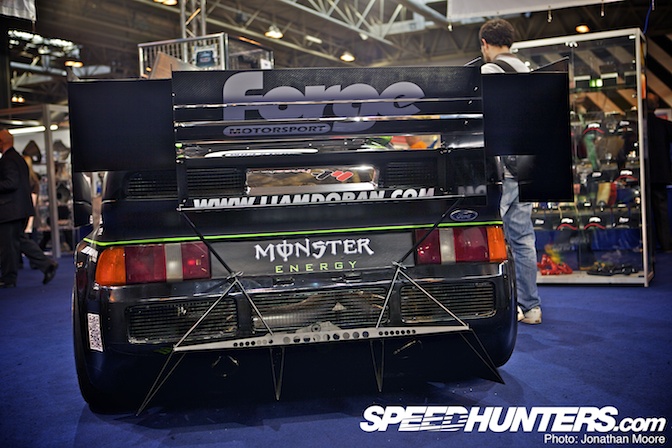 So, a 28-year-old car, a 24-year-old driver vs 600 seconds and a 90 year-old hill. Who's going to win?
Jonathan Moore