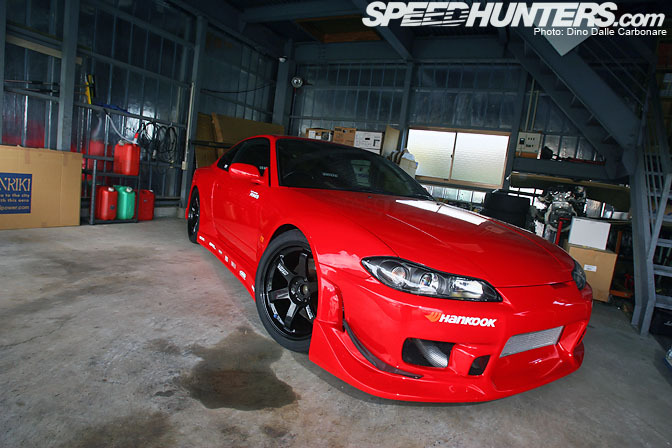 We are well into S-ichi-go day, and this is a car I've been holding onto, waiting for the perfect occasion to feature it. When it comes to clean, street-tuned Silvias there aren't many that I've come across that are quite as fresh as this ARMS example. These are the kind of cars that always stand out the most to me, rides that offer the "complete package" as you will, a perect mix of performance and usability on the road. ARMS built this car to participate in time attack events…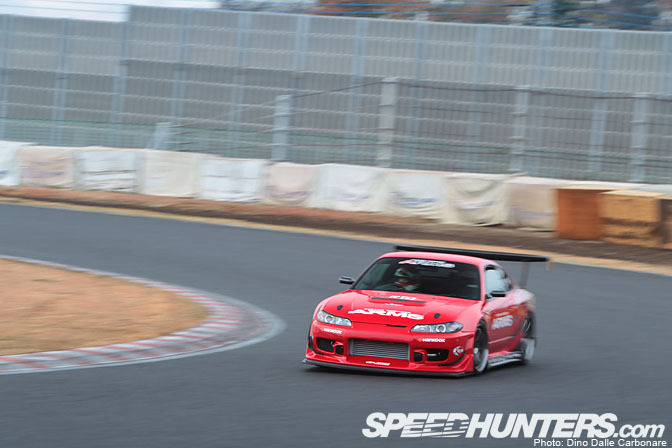 …which is why some of you may remember having seen it over the last few years at the Tsukuba Super Battle. Above is how the car is looking now with its slightly bigger GT wing, Craft Square carbon mirrors, a new hood and splitter, not to mention new graphics.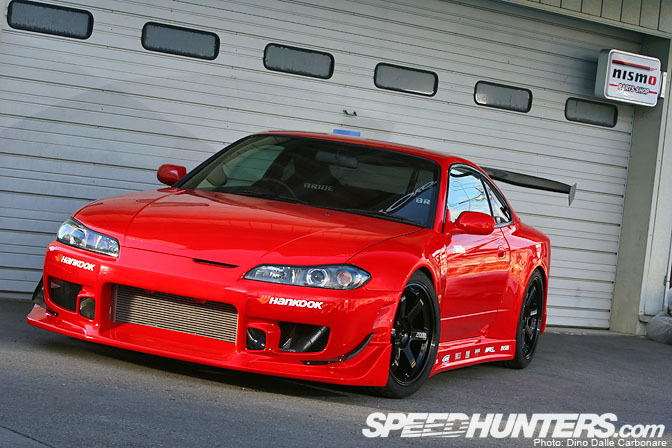 When I went up to Nagano to shoot it, it was looking a little more sedate, but that's the nature of these cars. They continuously evolve in the search for better times. Aesthetically the S15 wears a full C-West aero package which consists of slightly wider fenders, the unmistakable C-West front bumper and those nice and angular side skirts. The hood in the picture above is a carbon fiber Varis item, color matched to the rest of the body.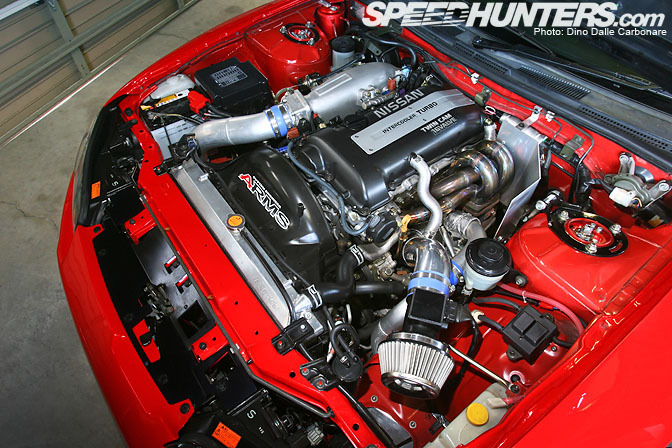 Lift it up and you are met with what will strike many as a fairly uncluttered engine bay, almost stock-looking except the obvious ancillary upgrades. What you can't see of course is that under those factory engine covers hides a fully reworked motor. The bottom end has received a capacity increase thanks to the HKS 2.2L stroker kit, which is composed of a counter-balanced billet crankshaft, H-section conrods and forged aluminium pistons. The head was sent off to the "flow wizards" at NAPREC who put it through a complete porting and polishing process. New valve seats were cut to accommodate the bigger diameter valves, with pretty much every other component getting upgraded, from valve springs and guides to the HKS 264º cams. Sitting low and hanging off the Auto Produce Boss exhaust manifold is the HKS GT3037 Pro S turbo, which has the job of supplying a max 1.5 bar of boost. Fueling is handled by a set of 850 cc/min Auto Produce Boss injectors which are kept topped up by an in-tank R33 GT-R fuel pump.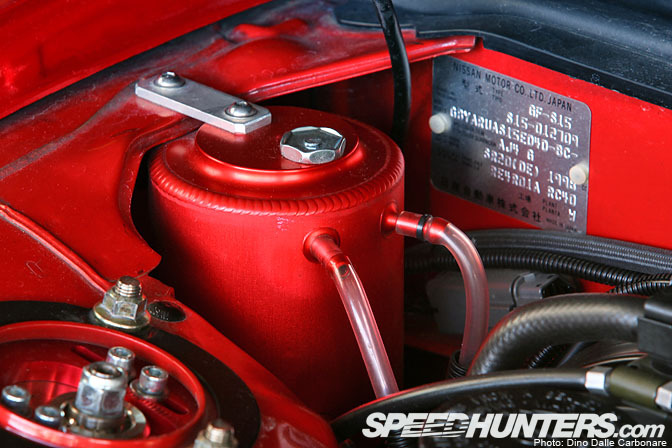 One detail I really liked was this custom made oil catch tank, anodized in red to seamlessly integrate into the engine bay. Thanks to fine-tuning of the Apex Power FC ECU, ARMS have managed to extract 480 HP and 376 lb/ft out of the extremely responsive engine, which allowed the car to lap Tsukuba in 1 minute 02 seconds on radial rubber.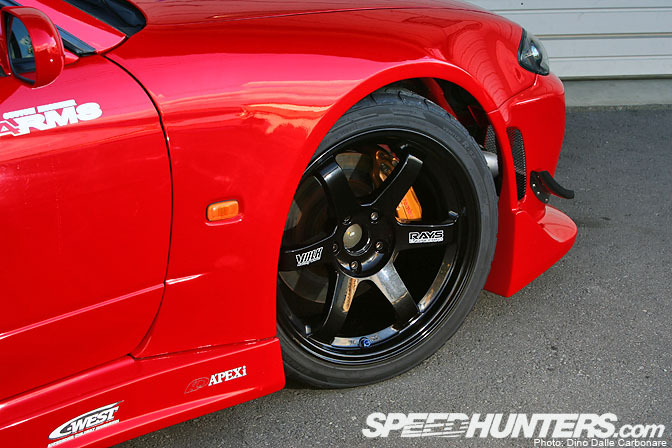 The 9.5J by 17-inch black TE37s are wrapped in Hankook Ventus RS-2 tires 255/40 all round. Braking is handled by R34 GT-R Brembo calipers at each corner, 4-pots up front and 2-pots at the rear.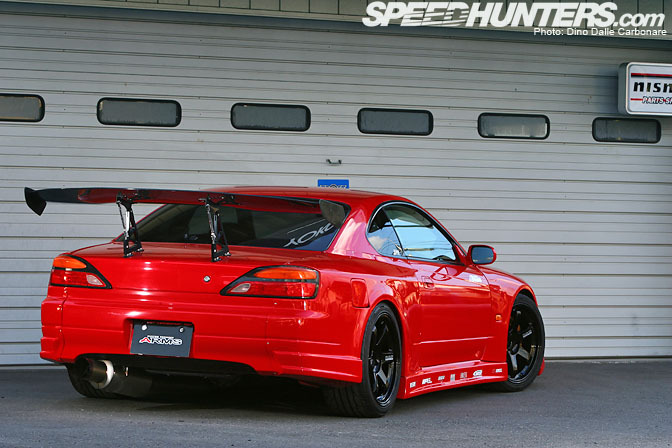 You can get a nice view of the Apex GT-Wing from the back. This has now gone and has been replaced by the even bigger one you can see in the second picture.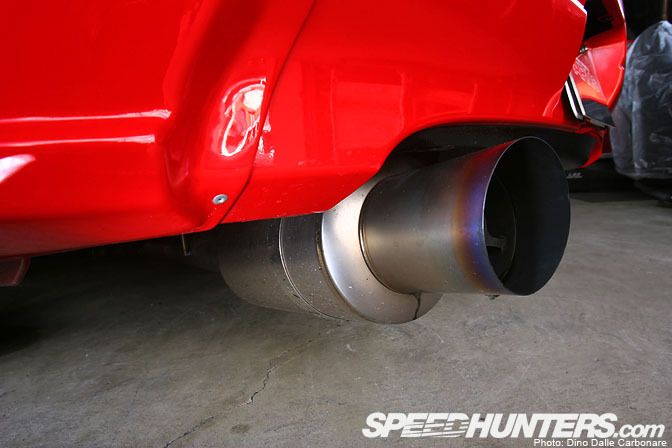 Again from Apex is the R-95 titanium exhaust system which blares out that unmistakable SR sound.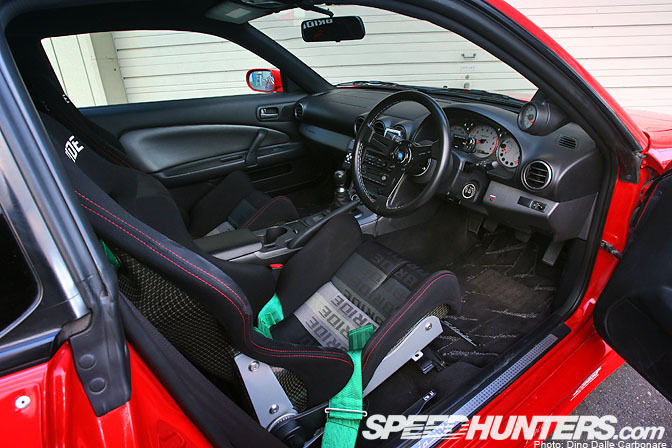 Aside from minor additions like the Bride Gias Low Max carbon-Kevlar seats and Nardi steering wheel, the interior is pretty much stock.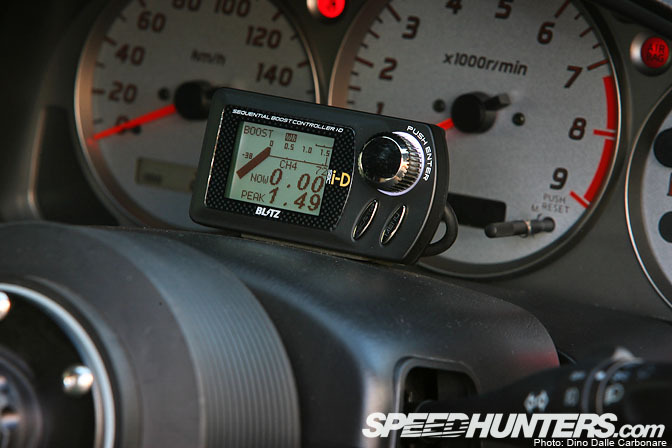 The Blitz SBC-iD II has the job of keeping the boost curve under control and holding a peak of 1.5 bar.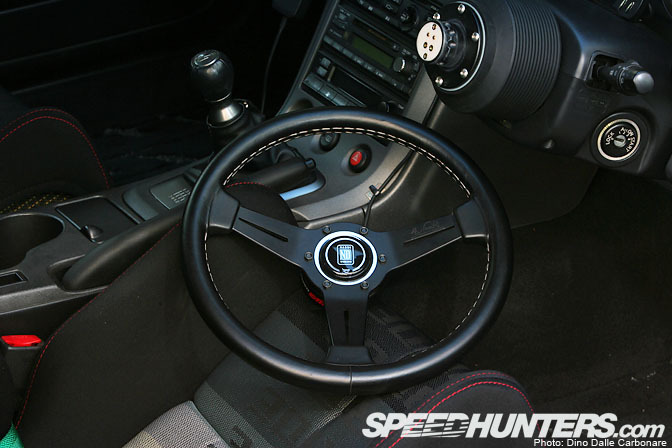 The Nardi steering wheel is mounted on a Works Bell quick release boss, one of the best anti-theft devices out there!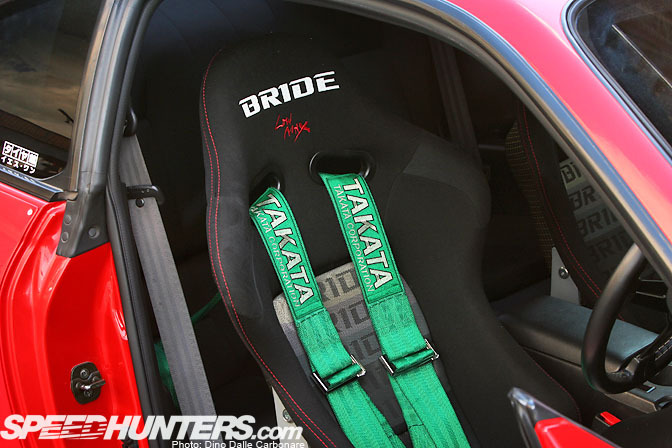 What Japanese time attack car would be complete without Takata belts!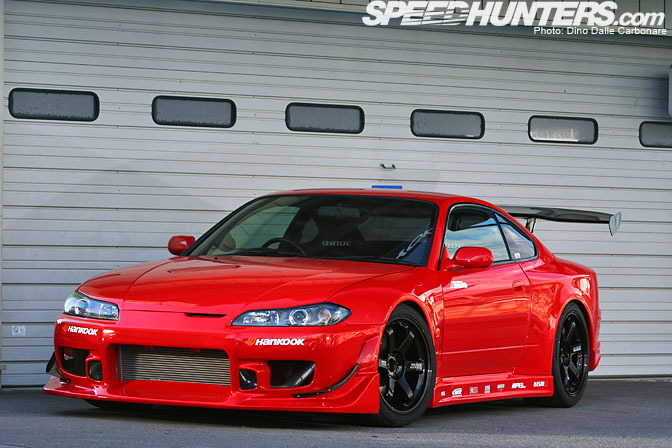 So there you have it, one of my favorite S15s from Japan and a car that hasn't stopped evolving. Its latest round of modifications have increased performance and a few weeks ago at the 2011 Tsukuba Super Battle it managed to lap in one minute flat. That's still on radial tires and for a fully street legal S15, that is damn quick!
-Dino Dalle Carbonare