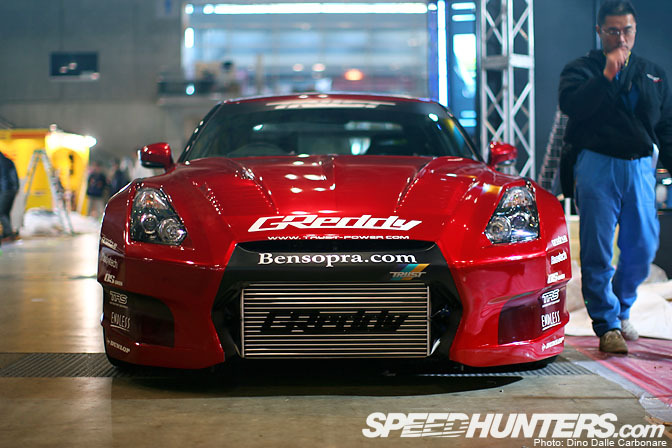 Seeing a show as big as the Tokyo Auto Salon materialize in front of your very eyes is an indescribable experience. As armies of contracted workers erect complex booths, the year's most anticipated demo cars are driven into the vast Makuhari Messe exhibition center. For me nothing beats the few hours I spend every year roaming though the various halls as everyone rushes to set up. Seeing all those new cars for the first time, the latest parts unboxed and of course catching up with so many people that make up the JDM tuning world. 2012 is definitely off to a great start, the quality and sheer number of new cars is going to make this show one to remember. Take the Trust widebody GT-R in the opening shop. My jaw literally dropped to the ground when I first saw it, the BenSopra aero making it one of the most in your face R35s in the world. The best thing however is that there are a total of three GT-Rs wearing this same kit! But more on that later on.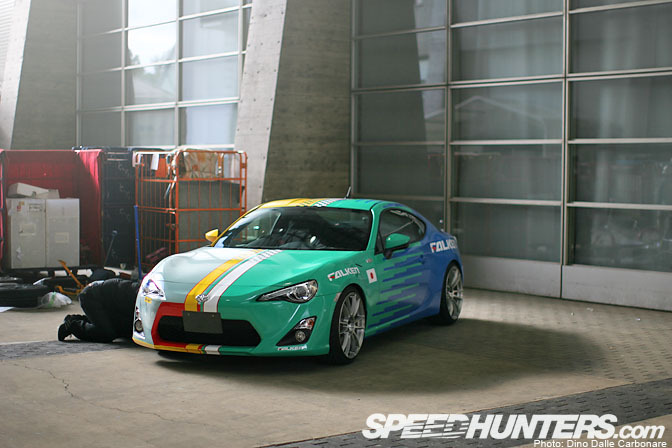 I was expecting to see a hell of a lot of 86 yesterday, and well, I sure wasn't disappointed! This half Falken, half Dunlop colored 86 is similar to the DrooP Up Garage 86 Hibino is going to be driving this year in the D1-GP. If rumors are correct he will be joined by Taniguchi and an HKS tuned 86. Unfortunately I left the show before I could see the HKS car…but not to worry, I will be taking plenty of shots of it today!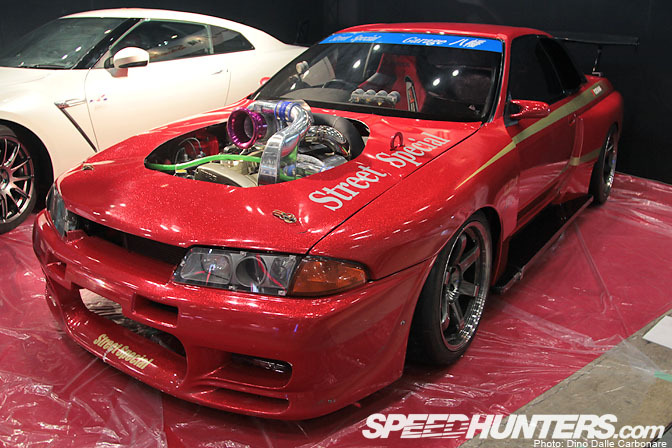 It's official, the guys at Street Special Garage Yawata have all gone mad! Remember their widebody BNR32 we saw at the Tsukuba Super Battle last month? Well look at it now! The RB26 now runs two monster turbos, a Trust T78 bolted on to the exhaust manifold and a larger Trust T88 mounted onto the exhaust outlet of the T78! To fit the crazy set up the hood was attacked with a hack saw. Now we are talking! This is exactly the wildness TAS has always been known for!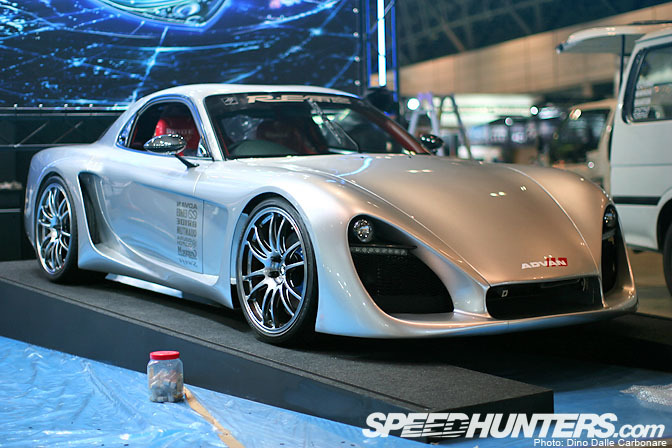 And on the subject of wild, here is the RE-Amemiya Super NA7. You have got to give it to Ama-san, he certainly has some very unique ideas when it comes to transforming FDs!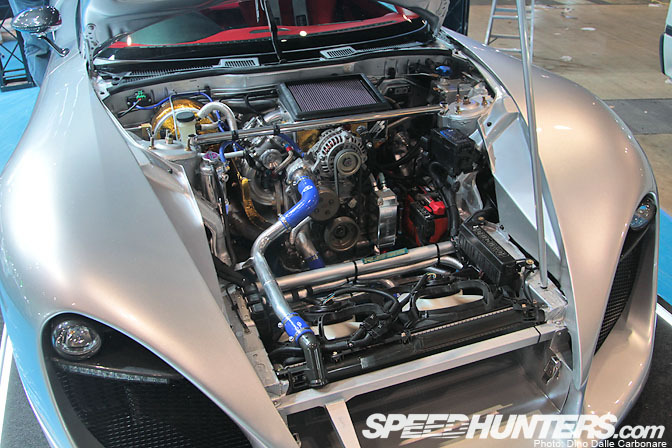 Under the elongated hood is a naturally aspirated 13B, built with lots of Super GT and other racing components. No idea on power yet, will have to find out today.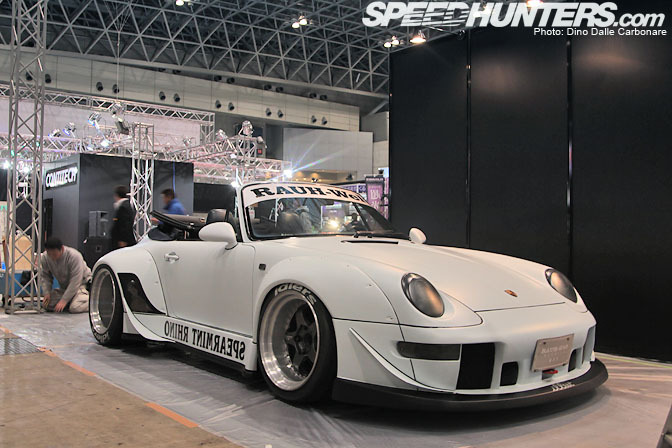 Let me introduce the "Spearmint Rhino," Nakai-san's latst "drop-top" creation. Maybe Nakai was somewhat inspired by a certain club during his trip to Sema a couple of months back?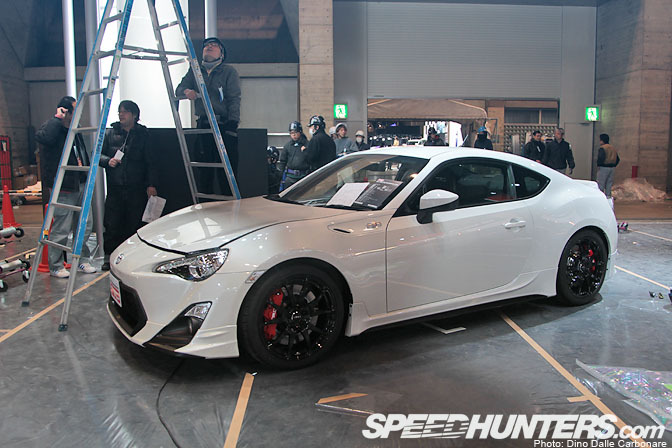 I knew Toyota was going to have a few surprises when it came to the 86. First up the TRD version of the car, aimed at those that want a more precise driving tool, with sharper handling…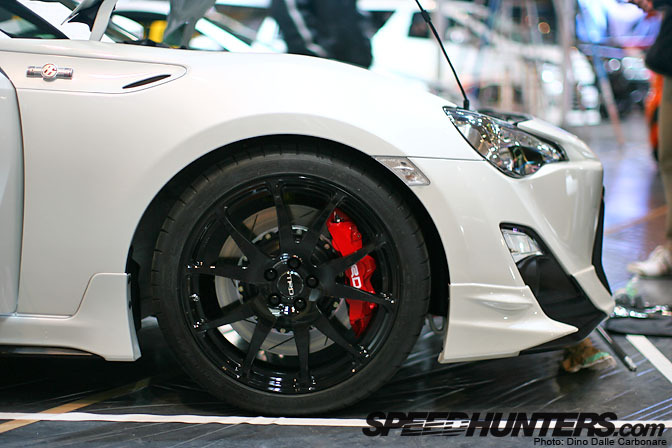 …more powerful brakes…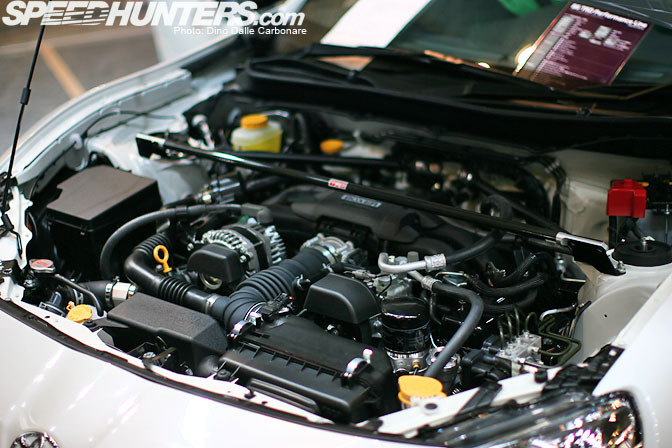 …and hopefully a little bit more power.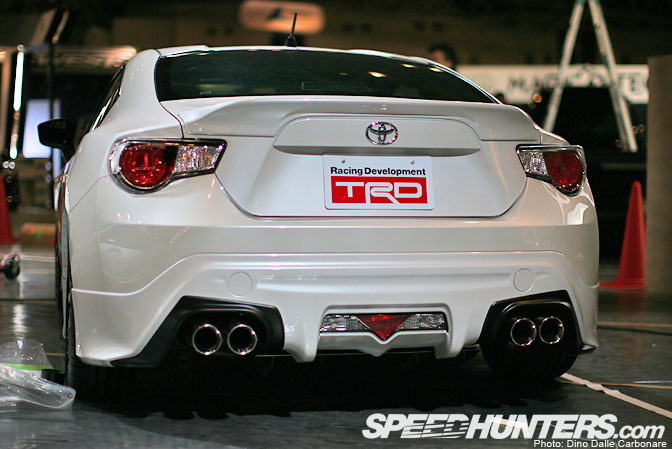 For a car that isn't even on sale yet the 86 sure is generating a lot of interest!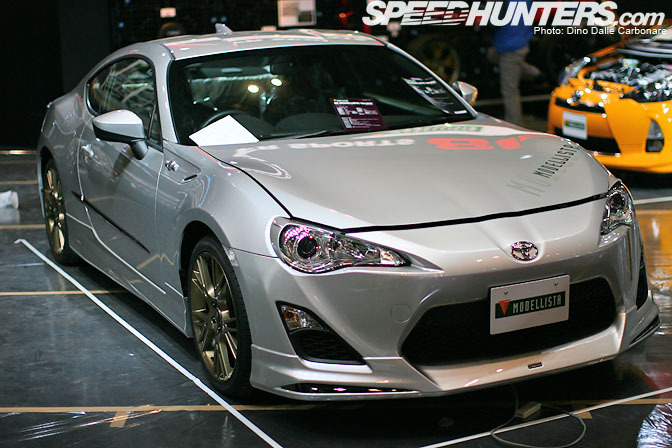 But wait it isn't over yet; Toyota also had the Modellista kitted version with an altogether different look.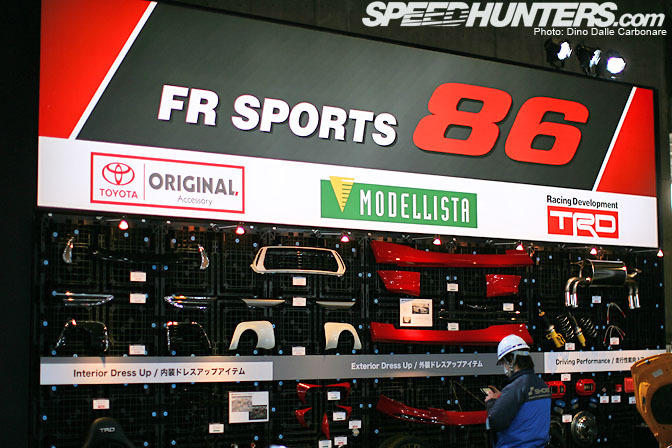 By the time the car hits dealers across the world there are going to be tons of parts available for it. Above is just a little selection of what Toyota will have on offer!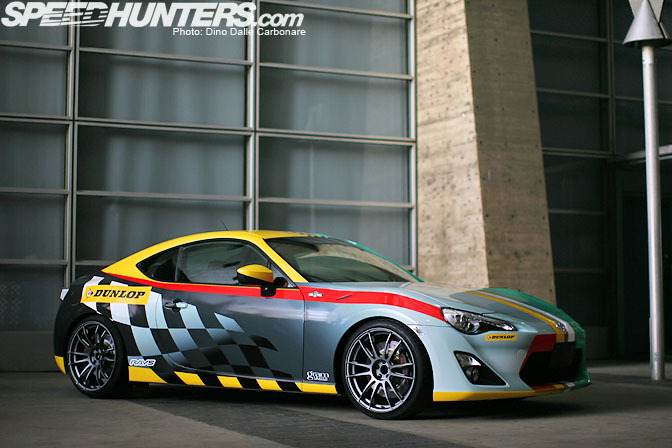 Here is the Dunlop side of the 86 we saw earlier on. The car is riding on new Gram Lights 57 Xtreme wheels and if you look a little bit closer you can see that the stock brakes have been replaced by massive Endless monobloc calipers. For a car that weighs 1,230 kg that is a lot of braking power!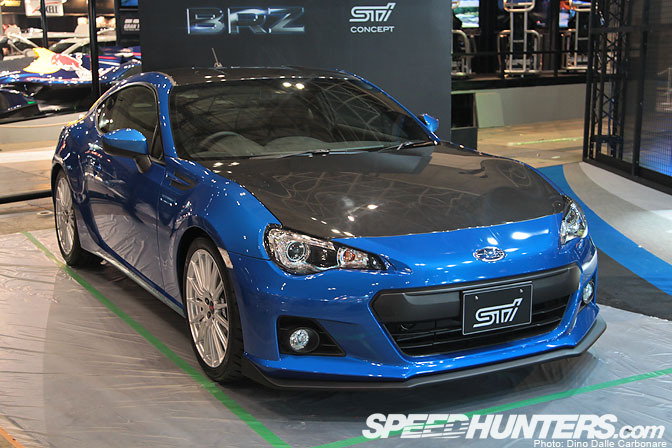 And from the 86 the next logical step is Subaru's BRZ, or should I say the STI BRZ Concept! STI's approach seems to be even more extreme than TRD's, with a carbon hood…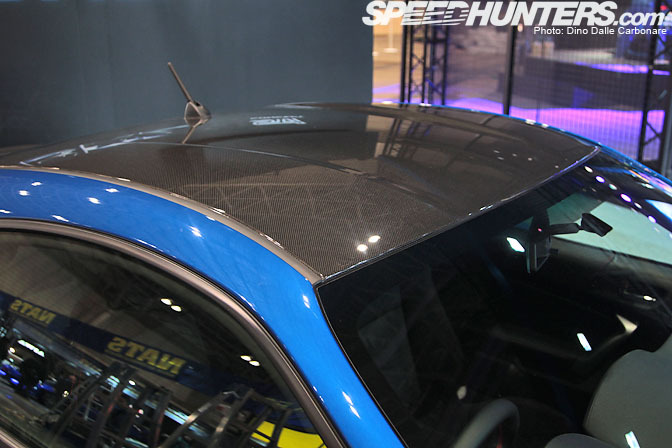 …carbon roof…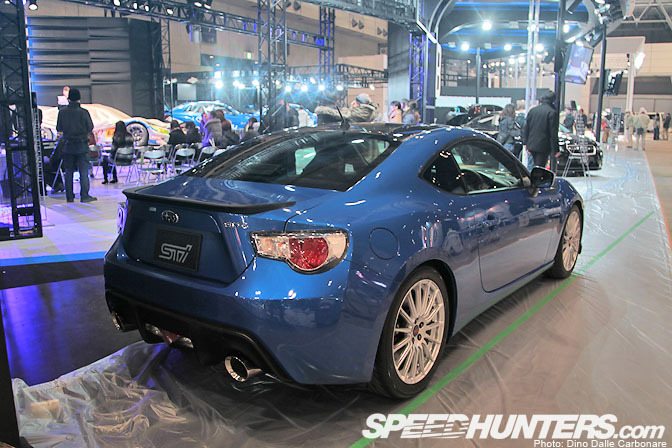 …and a few more aerodynamic additions like the front and rear spoilers.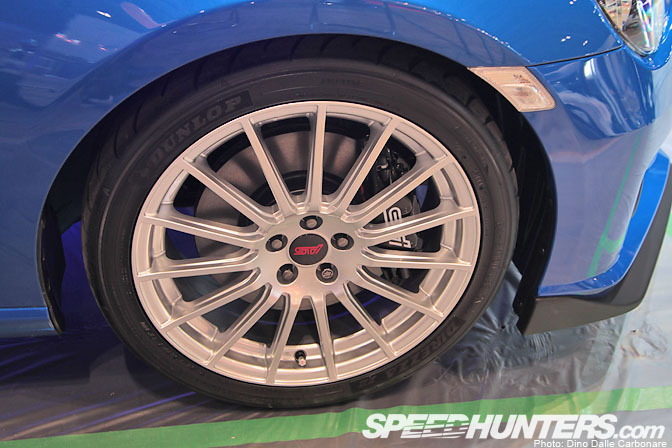 STI 18-inch wheels and big STI brakes replace the not so impressive stock items. I'm not yet sure what, if anything, has been done to the engine.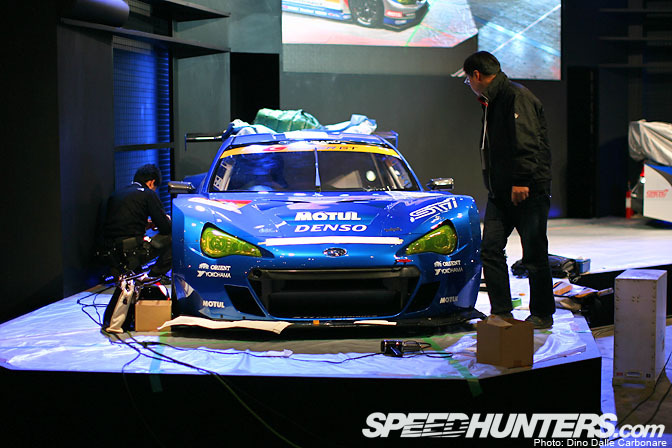 We've seen the GT300 BRZ at the Tokyo Motor Show but one more picture won't hurt!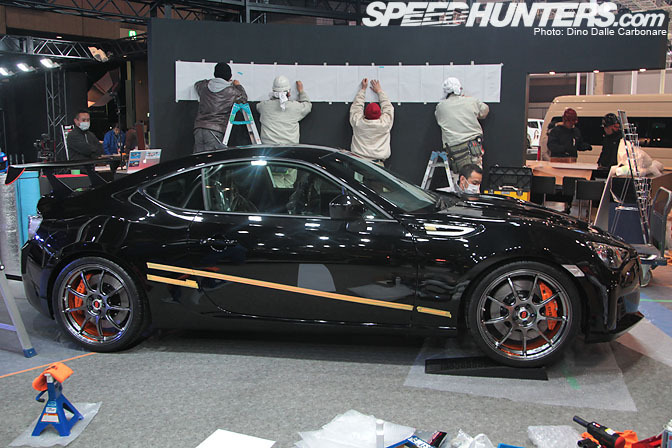 If the STI doesn't do it for you then the Prova Black Edition BRZ will be the better choice. This car has a center exit exhaust system!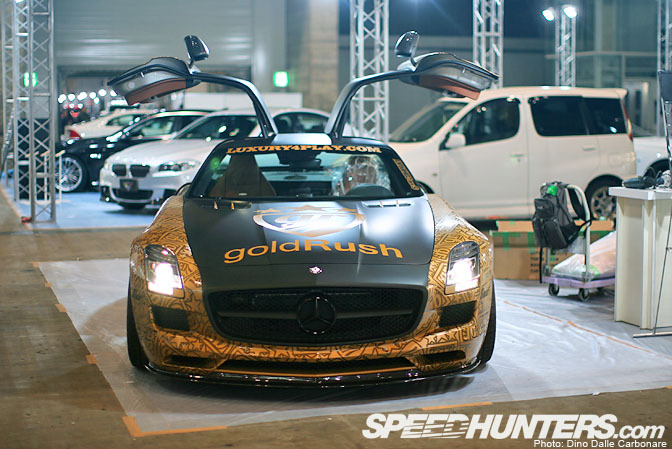 S & Company always seems to bring some unique creations at TAS and for 2012 they have gone with an AMG SLS.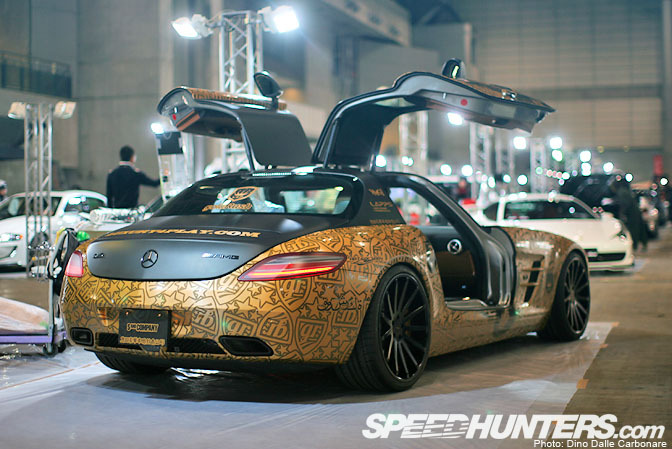 The car is wrapped in custom vinyl, even the rear lights are covered with an opaque film.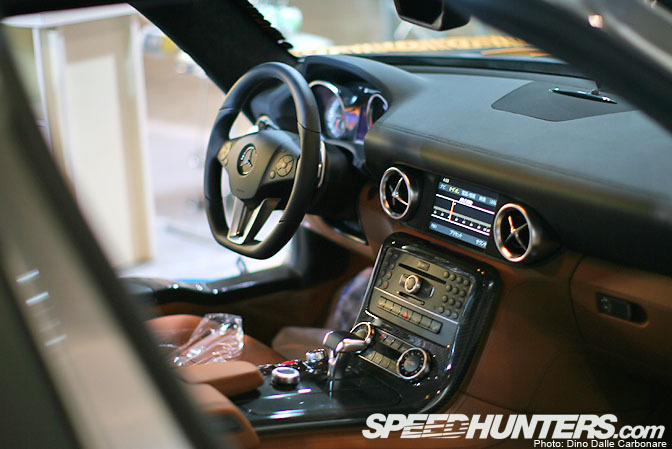 The SLS's interior looks like a very nice place to be in.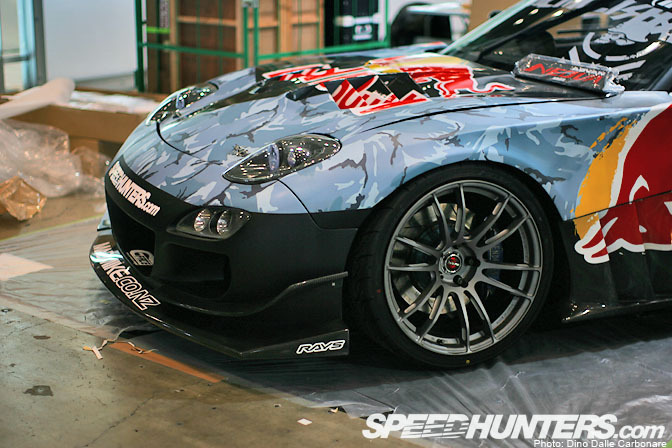 Another big surprise at the show was Mad Mike's new D1-GP quad-rotor FD built by Total Car Produce Magic on display at the Rays booth. Can't wait to see this beast in action. I hope Mike will be attending every round. All of a sudden the 2012 D1 series has gotten very exciting!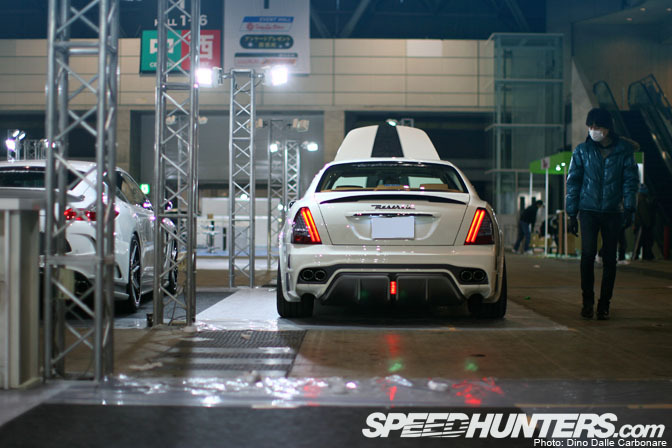 Of course TAS wouldn't be complete without copious amounts of wildly tuned exotics, from luxury sedans like this Maserati Quattroporte…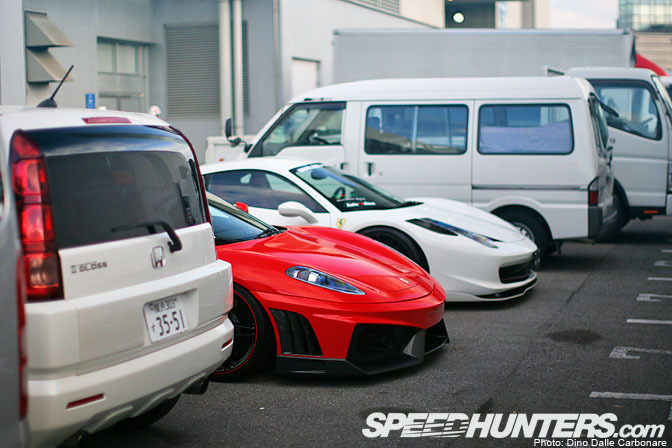 …to the Auto Veloce F430…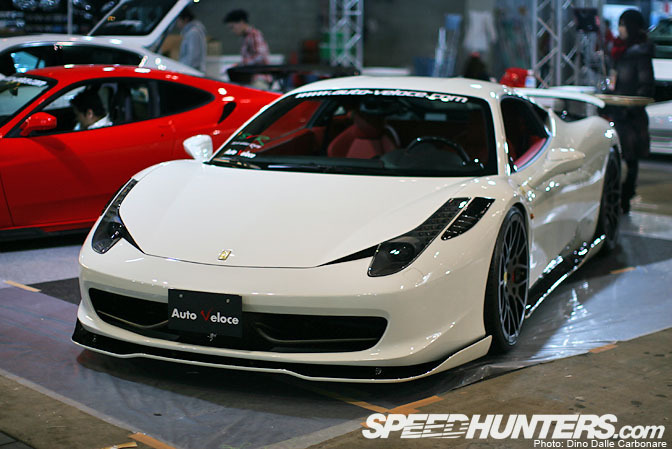 …and 458 Italia.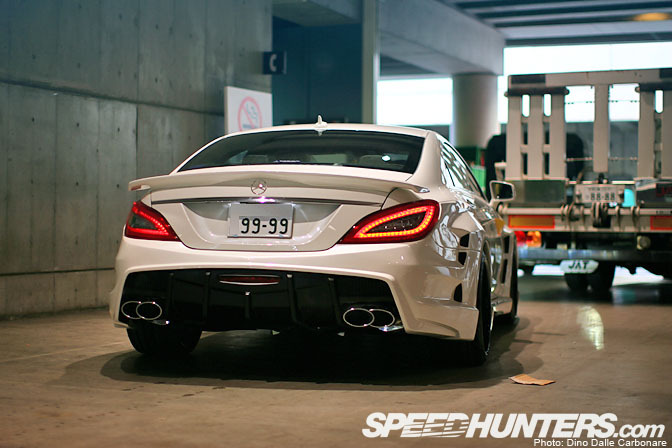 The new CLS63 AMG has only been out in Japan for a month or so, yet I counted at least eight at the show!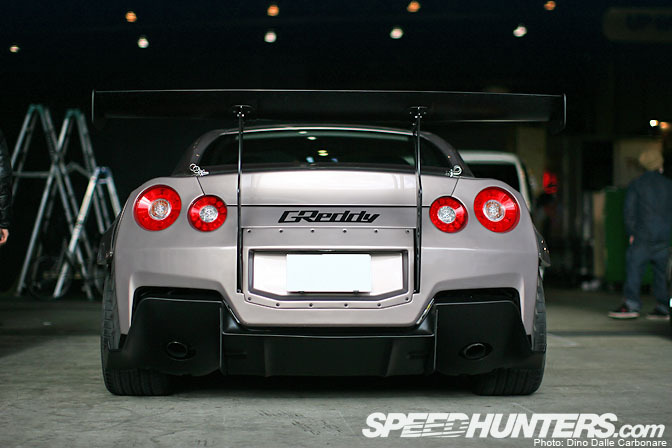 BenSopra's GT-Rs were probably the cars that waere attracting the most looks today. You know you have created something special when half of the tuning industry drops by to check your rides!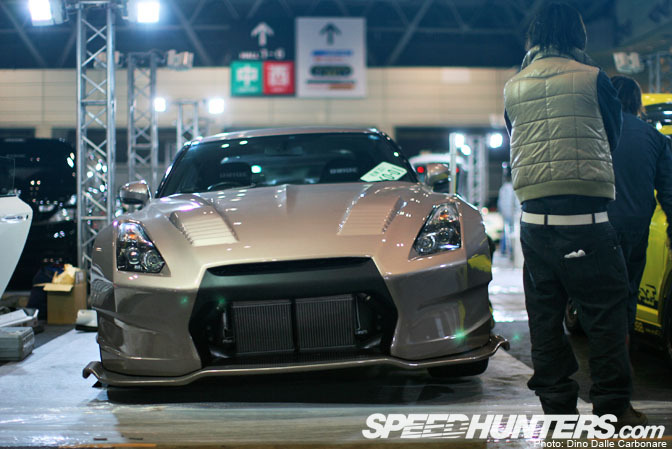 This champagne colored version was joined by the main white demo car. I am not going to show you any shots though as it wasn't yet fitted with the appropriate wheel spacers when I wen to check it out. I wouldn't want to show you an unfinished car, so you will have to wait until later on today to see it properly. I can however mention that it is built around the old Blitz RWD R35 that Nomuken was supposed to be driving in D1.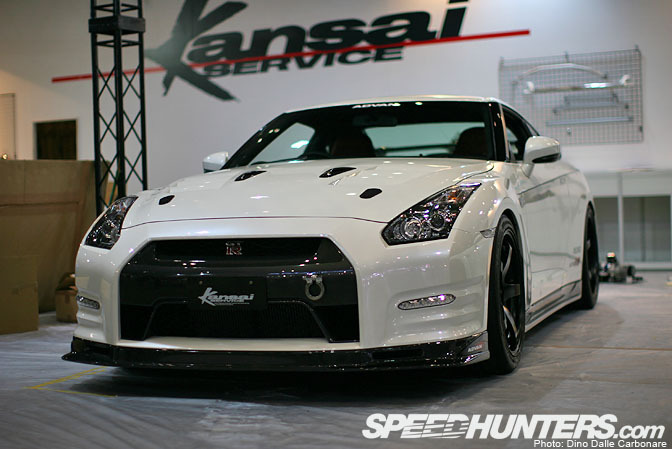 More GT-Rs…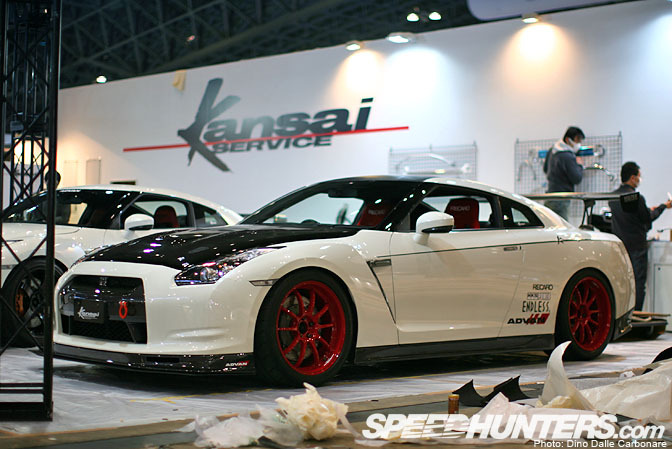 …this time from HKS Kansai Service…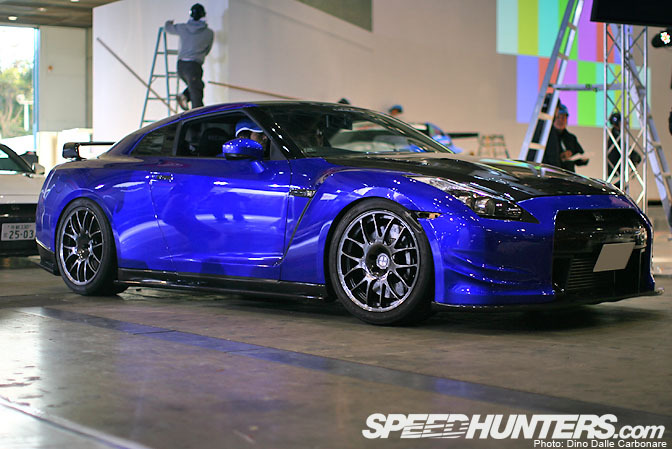 …and Phoenix's Power.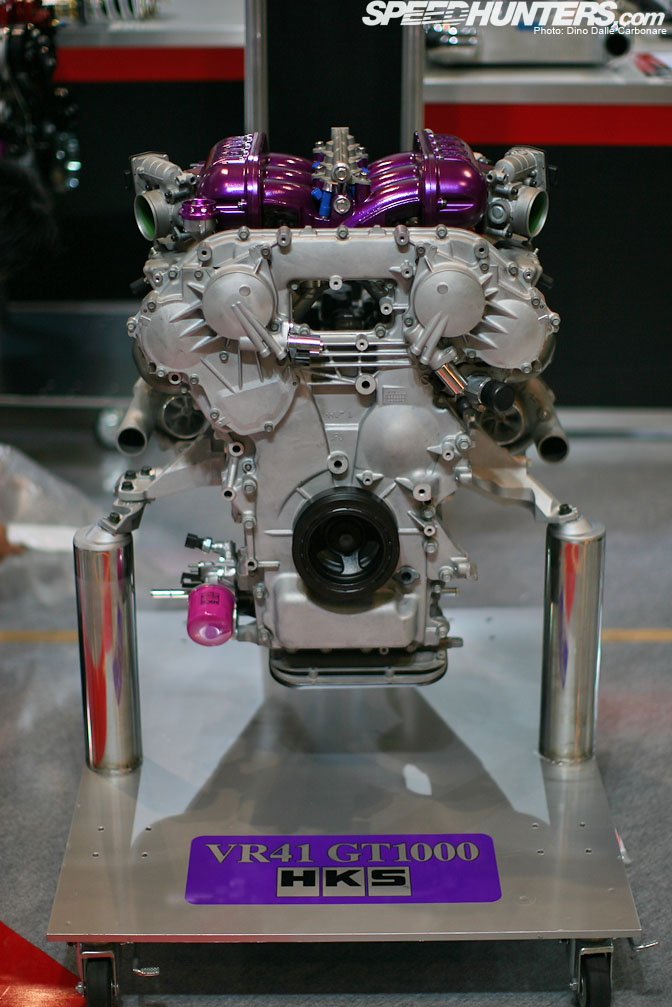 HKS has obviously devoted a lot of time to the VR38DETT. This 4.1L stroked version is good for 1000 HP and sports an all-new intake manifold with bigger throttles. Crazy stuff.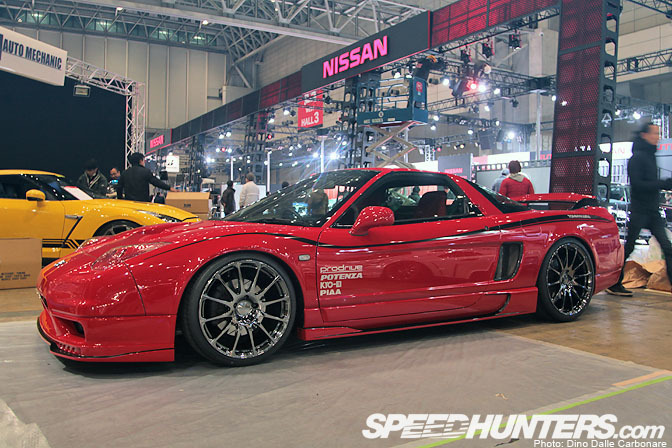 The Tommy Kaira NSX. Thoughts?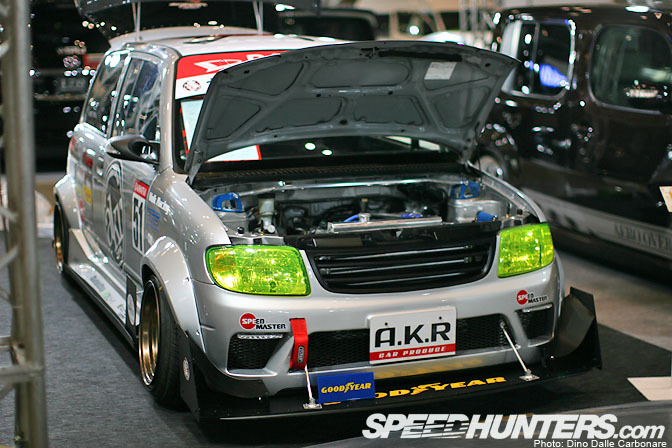 This little Mira from Car Produce A.K.R. in Hiroshima has been transformed from FF to FR and its little 3-cylinder turbo motor rotated 90º into a longitudinal position.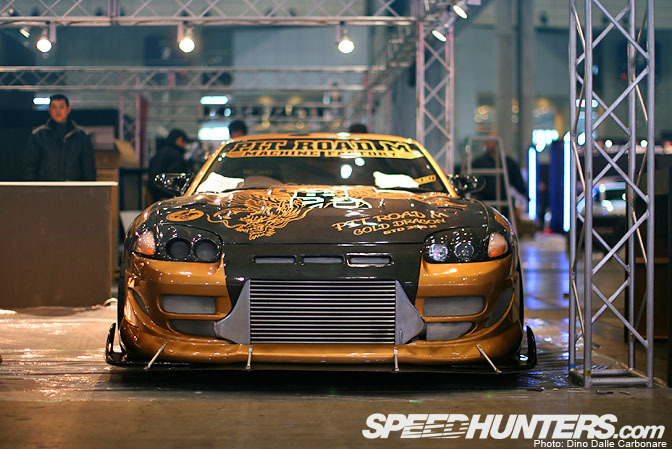 Mitsubishi GTO specialist Pit Road M from Hyogo-ken brought this beast to the show! Would love to see this out at a Time Attack event.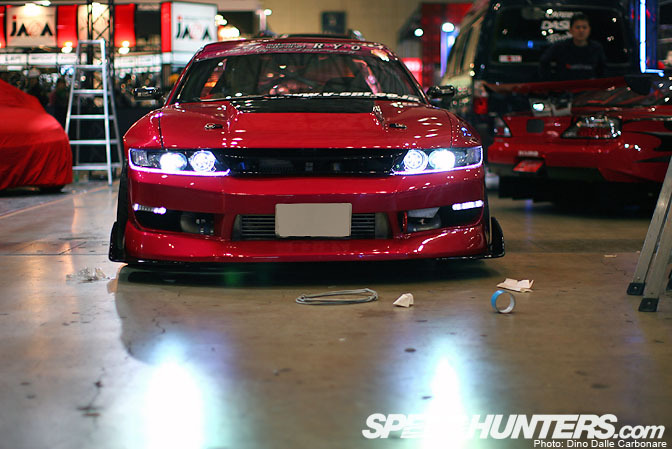 Coolest S13 of the moment, the R.Y.O. Odyvia.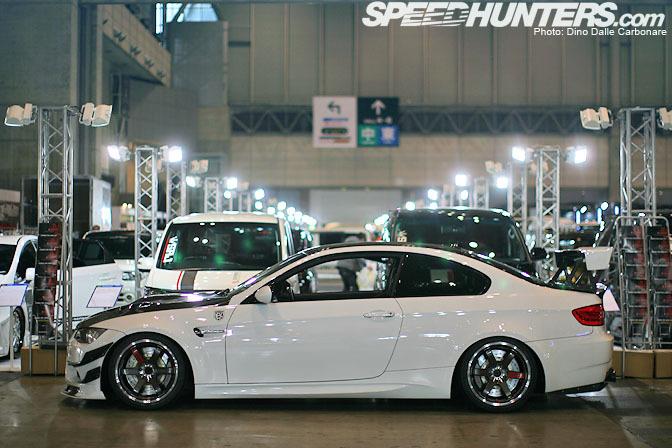 Mixing JDM with Euro rides can create stunning machines like this Varis/Sunbeam M3. Glorious.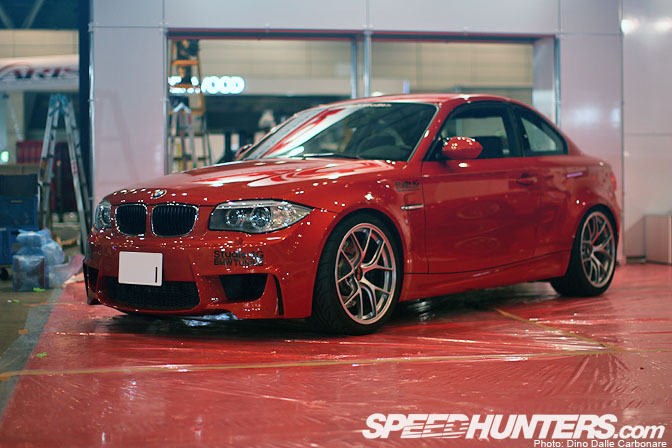 Finally I got to see a 1M! This Studie tuned example was riding on new lightweight BBS RI-D 004 rims.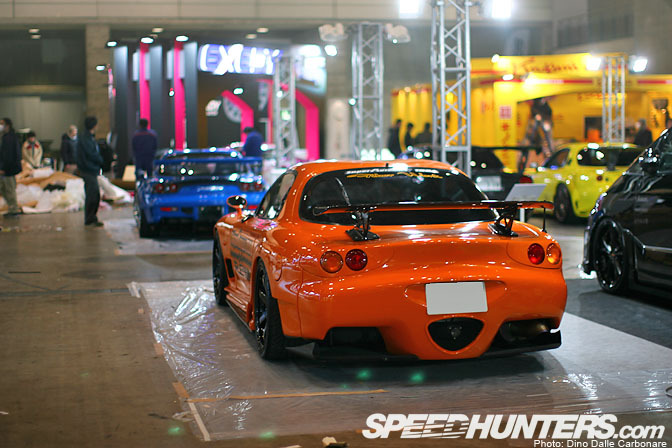 Back at the RE-Amemiya area later in the afternoon and a lot more colorful FDs had appeared…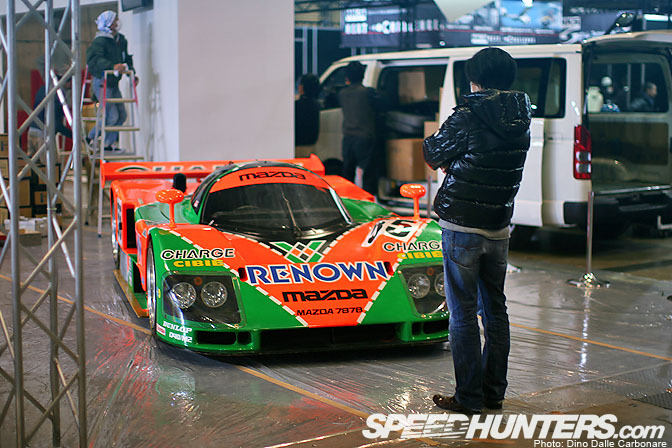 …but if you want the ultimate rotary, nothing comes close to the mighty 787B. You really have to stand there a while and admire this legend.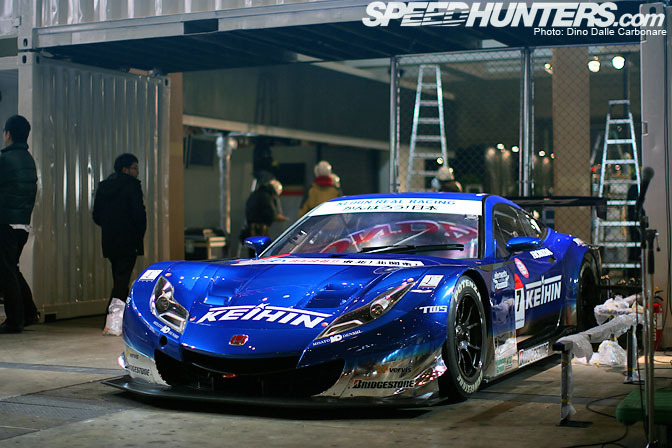 Seriously. Honda should have never bothered coming up with a new design for the next-gen NSX. If the HSV-010 isn't it, I don't know what is!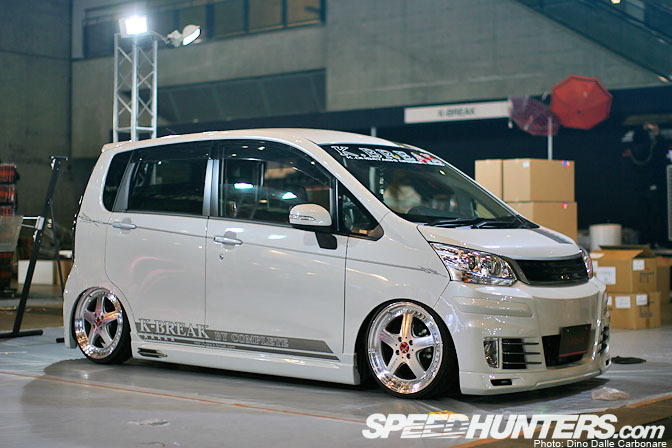 VIP specialists K-Break came up from Osaka to show the Kanto guys how it's done. Even little Kei-vans can be made to look this good.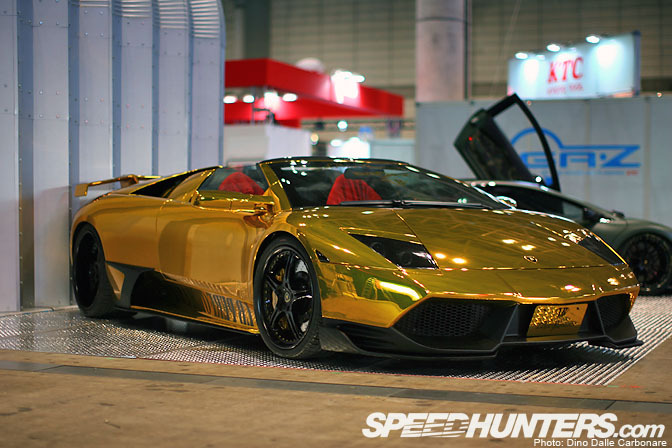 And finally a couple of cars from Liberty Walk!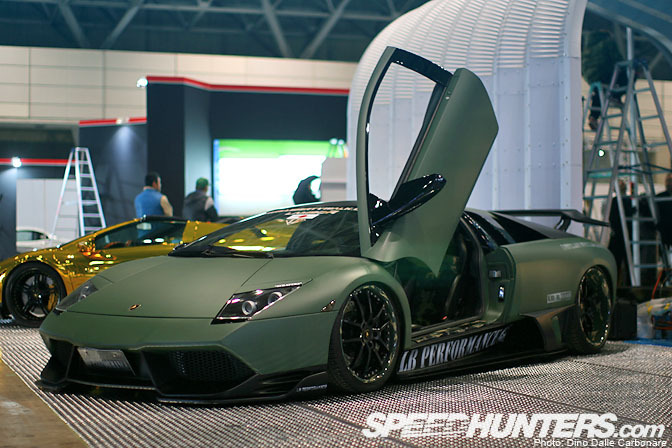 There is a ton of coverage coming from TAS, so sit back and enjoy what I have lined up over the next series of posts.
-Dino Dalle Carbonare