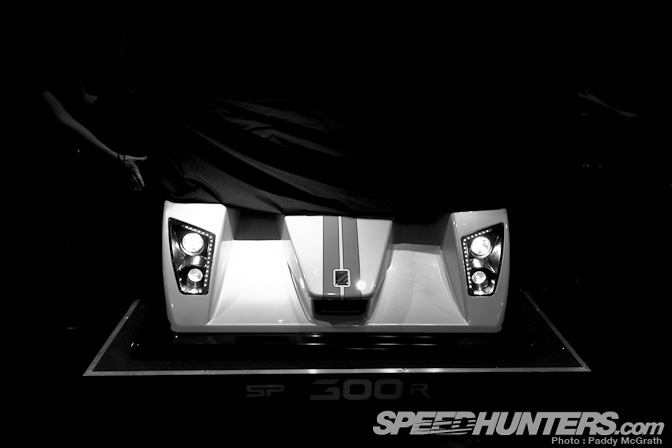 Caterham SP300 R, Autosport International, Birmingham, United Kingdom
1/250th, F/4, 24mm, ISO2500, Canon EOS 5D MKII & Canon 24-105 F4 L IS
It's pretty hard to believe that we're already looking back at the twenty-eleven motorsport season. Although the respite in travelling and epic workloads is welcome, I'm already missing the action. Since you're reading this, I'm sure you can relate. My only regret from 2011 is not taking the time to take things in. I've had the honour of visiting and shooting some amazing events this year. I've met some pretty incredible people on my journeys and have plenty of stories which I can probably never share in public.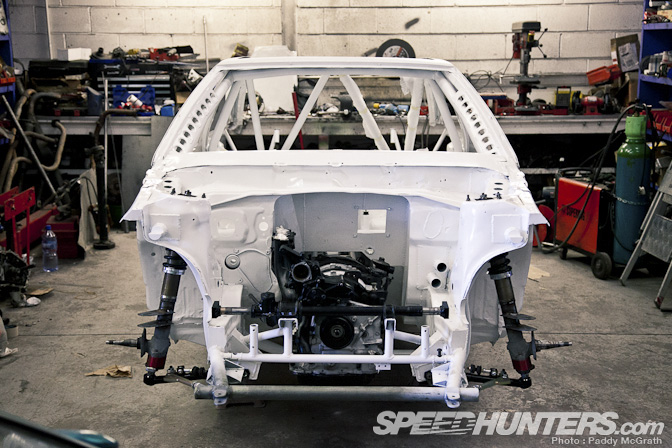 Team Need for Speed D-Mac '86 Build, MCNSport, Cork, Ireland
1/100th, F/4, 50mm, ISO5000, Canon EOS 5D MKII & Canon 24-105 F4 L IS
I know there are a lot of you out there who are interested in photography so I'm going to try and gear these particular stories towards you. I've included the EXIF information for each photograph but I wouldn't get too hung up on the numbers. I'm no where near the standard of photography of some of the others on here but I'll do my best to try and talk you through each shot and the circumstances surrounding them.
Documenting the build of D-Mac's '86 was surprisingly quite challenging. The low light of the MCNSport workshop meant working with high ISOs and trying to figure out fresh angles and viewpoints for each visit was tough.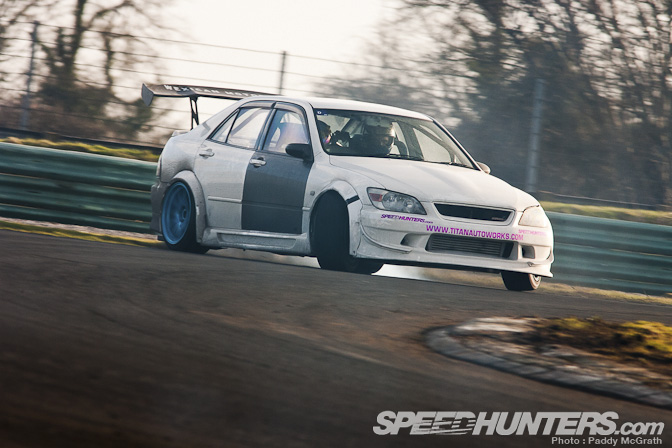 Wexican Motorsport Toyota Altezza, Mondello Park, Kildare, Ireland
1/100th, F/10, 420mm, ISO200, Canon EOS 1D MKII N & Canon 300 F4 L IS + 1.4xTC
Witnessing the Wexican Altezza roll out of Mondello's pit lane for the first time was one of my favourite moments of 2011. Watching it smoke out Mondello Park on its first runs made the moment even sweeter. Shooting 1/100th at over 400mm focal length (536MM effective once crop factor is accounted for) drastically reduces your chances of a sharp shot. You need to be patient, stick with it and most of all practice.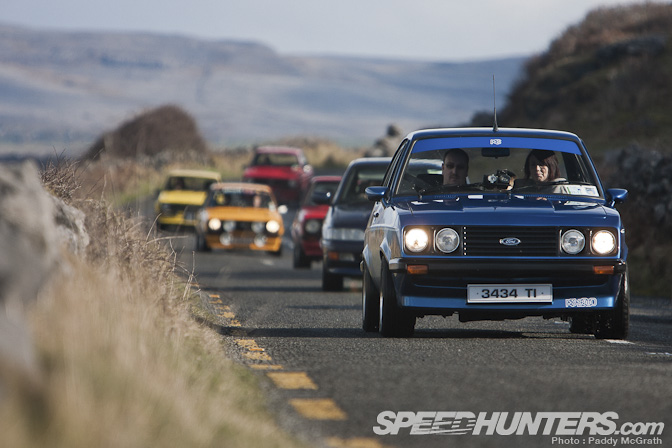 Ford Escorts, near the Cliffs of Moher, Clare, Ireland
1/640th, F/4, 280mm, ISO200, Canon EOS 1D MKII N & Canon 70-200 2.8 L IS + 1.4xTC
I was asked back in March to shoot an event for Classic Ford magazine which involved chasing 30+ Ford Escorts along some of the most scenic routes in Ireland. The weather just about held out and gifted us with some amazing light. Overtaking the full convoy to get up the road ahead of them provided some interesting moments …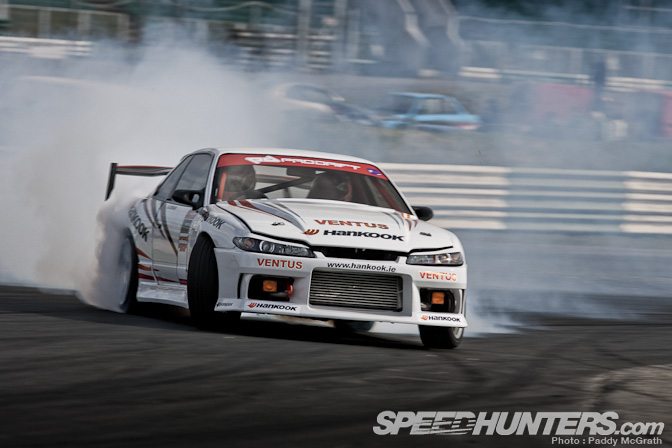 Hankook Nissan Silvia PS13, Mondello Park, Kildare, Ireland
1/80th, F/8, 300mm, ISO200, Canon EOS 1D MKII N & Canon 300 F4 L IS
I love the drift practice days at Mondello Park. They're not only a chance for drivers to test new setups and parts, they're also a chance for photographers to hone their skills especially after a quiet off-season. I spend a lot of time watching the cars to try and identify the point which best displays their aggression.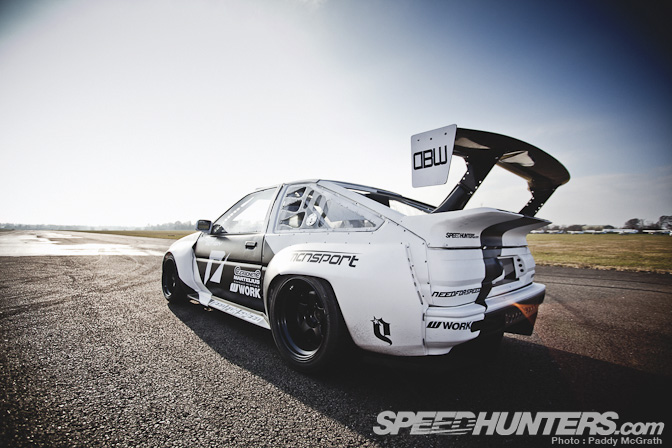 Team Need for Speed D-Mac '86, Weston Airport, Kildare, Ireland
1/1600th, F/4, 17mm, ISO400, Canon EOS 5D MKII & Canon 17-40 F4 L
This shot from the Irish launch of Shift 2 Unleashed ended up on the cover of Japanese Performance magazine. Although shooting into the sun is considered a taboo by some photographers, I love the burst of light and harsh shadows.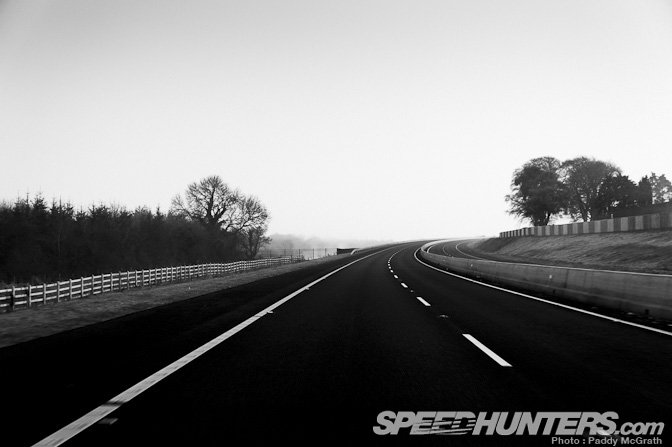 M9 Motorway, Carlow, Ireland
1/125th, F/5.6, 32mm, ISO200, Sony NEX-5 & Sony E18-55 OSS
Most of my year has been spent in the driver's seat on the road to somewhere. I love driving and especially the peace and tranquility of having the open road to yourself that it brings. I always keep a charged P&S camera in the car as you never know what's around the bend.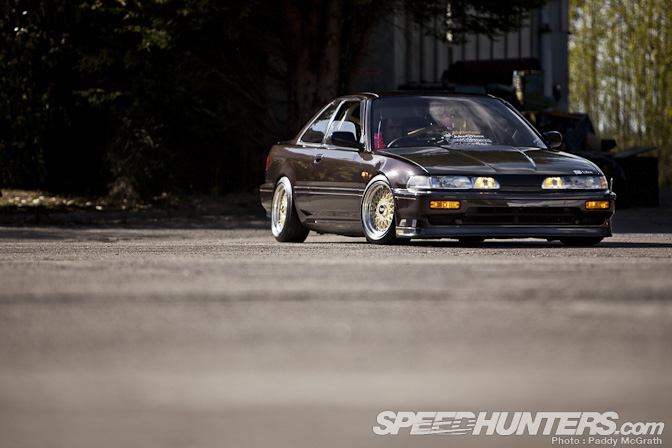 Honda Integra, Waterford, Ireland
1/800th, F/2.8, 200mm, ISO50, Canon EOS 5D MKII & Canon 70-200 2.8 L IS
2011 has been a hit and miss year for my photography. I've been feeling pretty unhappy with my work and I'm struggling to find my own style. Shooting Darren's DA Integra was a back-to-basics exercise – No flashes, filters or zoom lenses. Just a camera and a prime lens or two.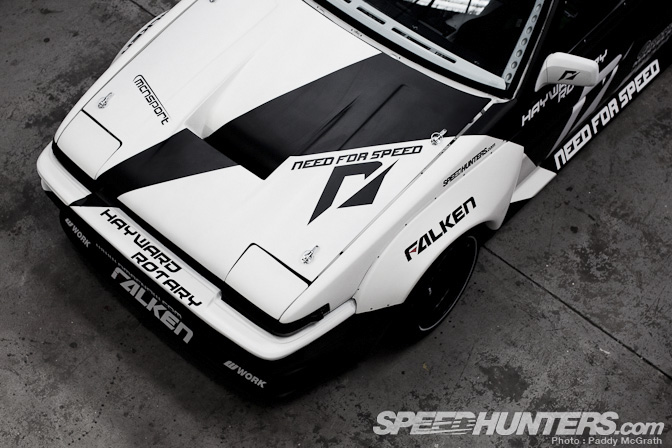 Team Need for Speed D-Mac '86, MCNSport, Cork Ireland
1/60th, F/4, 50mm, ISO1000, Canon EOS 5D MKII & Sigma 50 F1.4
The feature shoot of the D-Mac '86 was turned around in a pretty remarkable amount of time. With Darren away on Formula D duties, Happy (Darren's mechanic) and myself took to working every possible angle we could get of the car. Going into the shoot I had prepared a check list of shots I needed to ensure nothing was missed.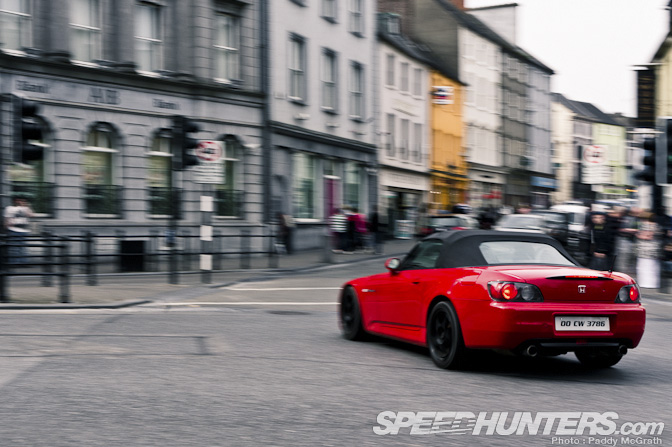 Honda S2000, Kilkenny, Ireland
1/30th, F/18, 29mm, ISO200, Sony NEX-5 & Sony E18-55 OSS
Another example for why I always try to bring a camera with me everywhere I go. From the instant I heard the distinctive VTEC engine note, I was fishing the camera out of my pocket and just about caught this Advan wearing S2000 before it vanished into the traffic.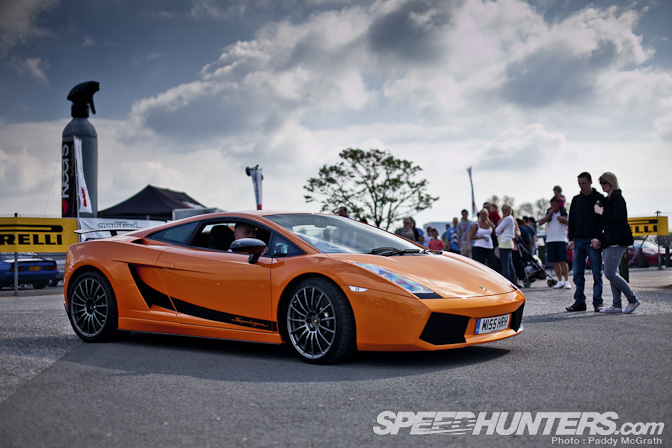 Lamborghini Gallardo Superleggera, Modified Live, Oulton Park, United Kingdom
1/1600th, F/1.8, 50mm, ISO50, Canon EOS 5D MKII & Sigma 50 F1.4
I love exotics. Even more so, I love people's reactions to them. The fact that a piece of metal can stop so many people in their tracks and leave them open mouthed is just amazing. I pray I never get to a stage where this becomes 'just another' Lamborghini. Shooting relatively wide open (the Sigma lens doesn't like full wide open) helps separate the car from the background.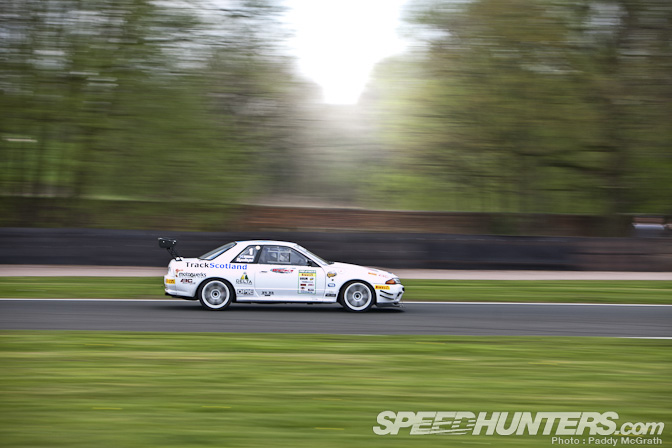 Nissan Skyline R32 GT-R, Modified Live, Oulton Park, United Kingdom
1/60th, F/4, 95mm, ISO50, Canon EOS 5D MKII & Canon 70-200 2.8 L IS
Panning is a skill set that I need to exploit more. I always find it a struggle to find a nice balance between slow and fast shutter shots.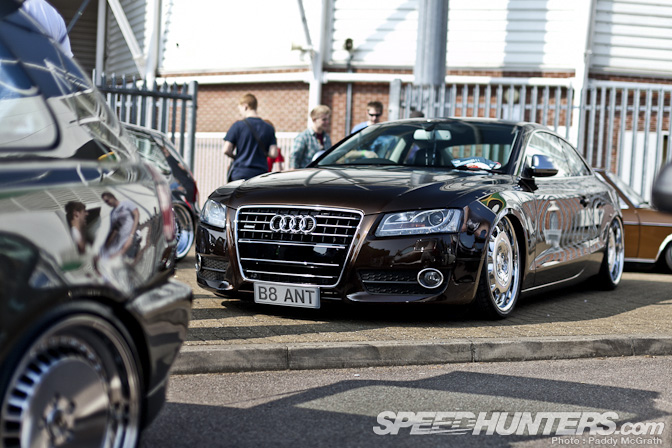 Audi A5, Early Edition, Northampton, United Kingdom
1/800th, F/1.8, 50mm, ISO50, Canon EOS 5D MKII & Sigma 50 F1.4
The Early Edition show featured some amazing cars but was an absolute nightmare to shoot. With cars parked so tightly together and crowds of people walking continuously in front of the camera, it was definitely a patience testing day.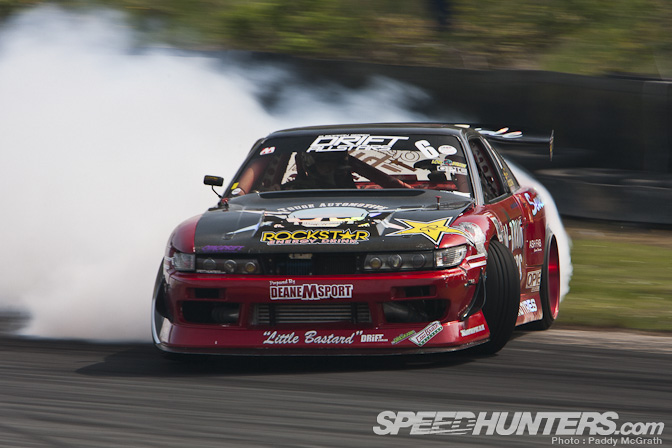 LBD Nissan Silvia PS13, Drift Allstars, Newcastle, United Kingdom
1/80th, F/11, 280mm, ISO200, Canon EOS 1D MKII N & Canon 70-200 2.8 L IS + 1.4xTC
Drifting is where I learned my trade so I always relish the opportunity to shoot a full event. Teeside is one of my favorite drift tracks ever so this combination on a summer's day was pure bliss. By talking with the drivers, you can find out where they feel is their sweet spot on the course. James Deane, WOT in third gear running to the outside clipping point. Smoke, angle and aggession – the perfect recipe for a drift photo.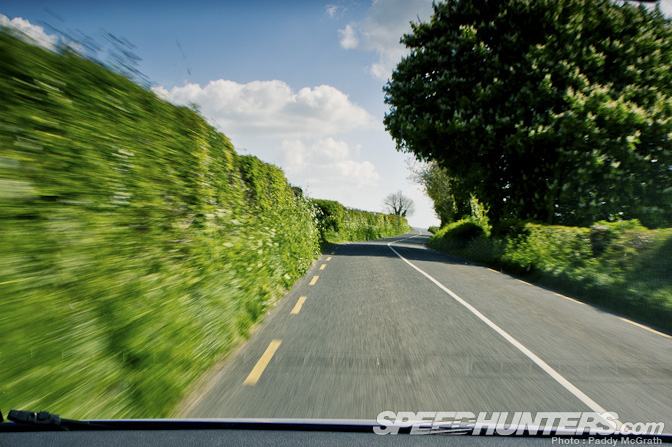 R706, Carlow, Ireland
1/60th, F/13, 18mm, ISO200, Sony NEX-5 & Sony E18-55 OSS
An impromptu detour on my way home from my girlfriend's place was a reminder of why driving for the sake of driving is an important aspect of any petrolhead's life. The camera was mounted to the passenger seat's headrest and pushed as far forward as possible with the shutter speed dropped to better portray the motion. All within the speed limits of course.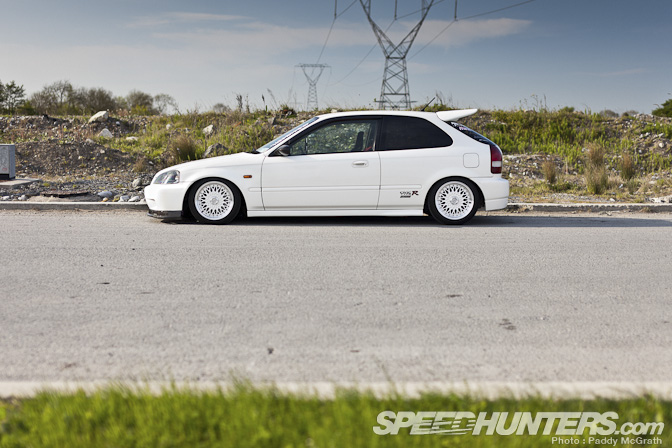 Honda Civic EK9 Type R, Kildare, Ireland
1/500th, F/2, 50mm, ISO50, Canon EOS 5D MKII & Sigma 50 F1.4
Usually Ireland is covered with a layer of cloud which results in boring, flat light. This wasn't one of those days. I love shooting white cars and I find that over exposing them ever so slightly really helps them pop.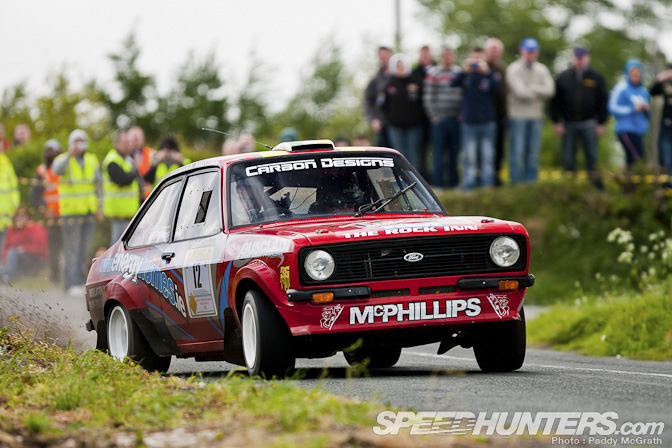 Ford Escort MKII, The MKII Escort Challenge, Carlow, Ireland
1/320th, F/2.8, 300mm, ISO100, Canon EOS 1D MKII N & Canon 300 F2.8 L IS
Each year I make a promise to myself to attend more rally events and each year I'm successful in lying to myself. However, the MKII Escort Challenge is a must attend for me. Shooting with the 300mm lens ensured I was far enough away and out of the dangerzone as I could be. As a rule, you should probably never shoot on the outside of a corner. When shooting rallies, I always try to put something big and immoveable between myself and the action should the worst happen.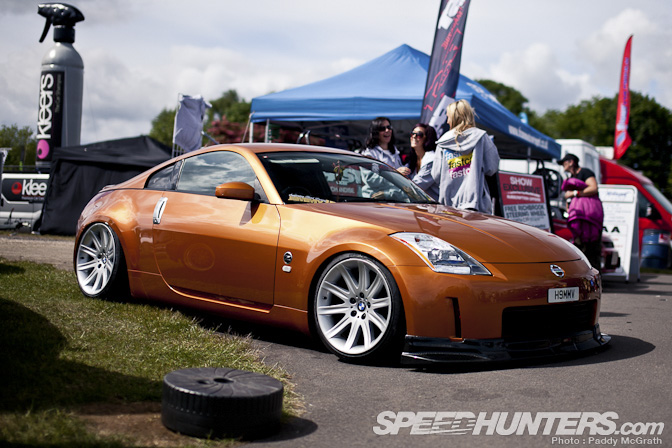 Nissan 350Z, Japfest, Castle Combe, United Kingdom
1/4000th, F/1.6, 50mm, ISO100, Canon EOS 5D MKII & Sigma F1.4
I always find shooting static shows a challenge. I can't deal with people who keep walking in front of my lens. It drives me nuts! I always try to just keep it simple and bring you guys and girls back overall shots of the car without trying to be overly creative. This also helps to keep my blood pressure down.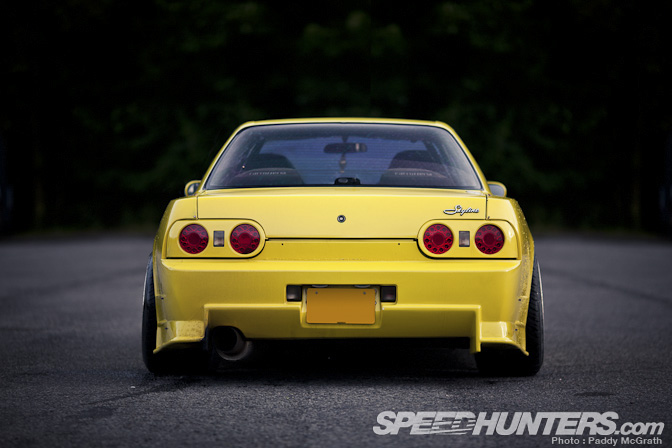 Bee*R R324, M4 Services, Leigh Delamare, United Kingdom
1/500th, F/2, 135mm, ISO100, Canon EOS 5D MKII & Canon 135 F2 L
Bryn's R324 was a car that escaped me for many years but we finally made it happen. With no location arranged, we pulled into a nearby motorway services and shot the car in the wide open space of the trucking area. Like the Integra shoot, it was a case of keeping it simple.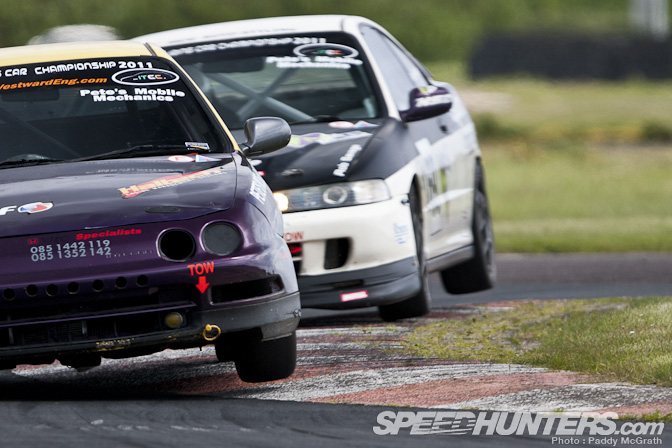 Honda Integras, Irish Touring Cars, Kirkistown, Northern Ireland
1/200th, F/5.6, 600mm, ISO200, Canon EOS 1D MKII N & Canon 300 F2.8 L IS + 2xTC
The ITCC have put on some amazing races in 2011 with closely fought and action packed races. Although Kirkistown isn't the most photogenic of circuits, the drivers' love its high speeds. I loved this chicane which the cars were cutting at every opportunity. It pays to watch what's happening outside of the viewfinder so you can best find your angle.
I have two more parts of my photos of the year to come, the next of which features a couple from the 24HR Nurburgring and Gatebil.
–
Paddy McGrath