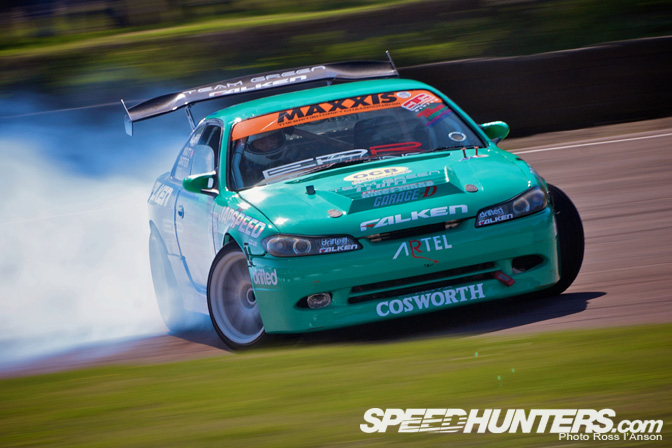 Matt Carter, BHP Show, Lydden Hill, Kent, UK.
Well here we are again. Another twelve months gone in what seems like a heartbeat, and it's time to reflect on a year of Speedhunting. My year has been primarily spent in the sometimes surreal world of UK Drifting, and in the next few posts I will show you my favorite shots from the year and try to explain why they are at the top of my pile.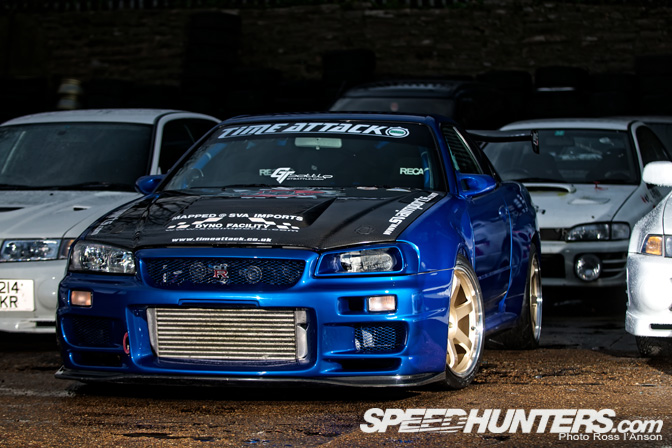 1200HP SVA R34 Skyline, Near Dover, Kent UK.
My first shoot of 2011 had nothing at all to do with Drifting. While looking around for interesting Skylines, I stumbled upon SVA Imports' amazing 1200bhp R34 right on my doorstep. As soon as I saw the car sitting in SVA's compound I loved the way the bright blue contrasted against the white Subarus and Evos it was sharing space with. Lit with just a pair of speedlights and Nikon's built in creative light system, the shoot proved to be fairly tricky but well worth the effort.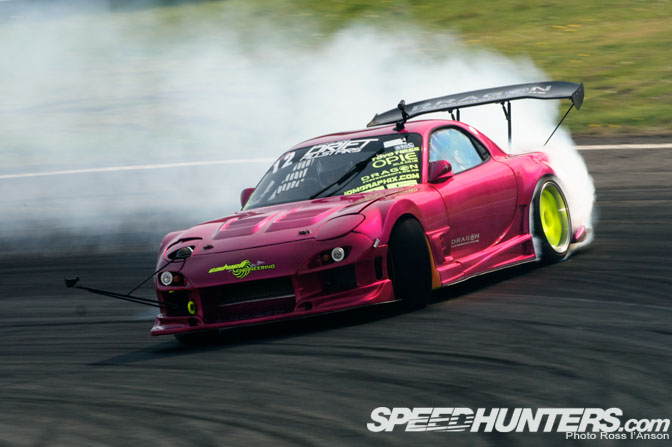 Brad Hacker, RX7, Drift Allstars Round One, Teesside, UK.
This was my first visit to the Teesside track in many years. In my previous visits I had never braved the outside of turn one. Mainly because of the steep incline and the fact you have to go all Ray Mears and hack into the undergrowth to find a good position. I'm glad I did, working with relatively low shutterspeeds I found a sweet spot around three quarters of the way through turn one that showed Brad flat in third. Fairly tricky shot to pull off sharp and it took a few frames to do but I was happy with the resulting image.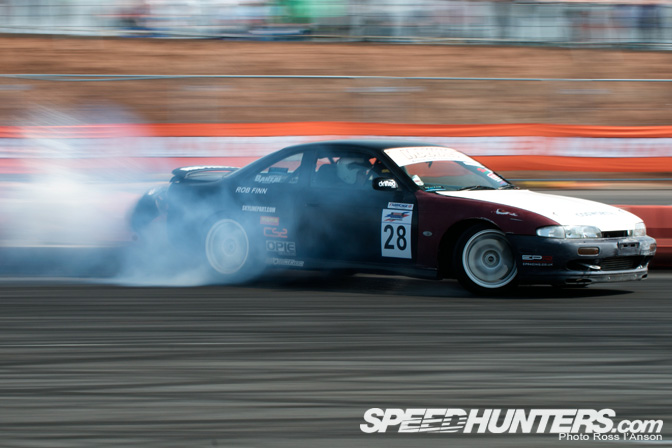 Rob Finn, S14, BDC 2011 Round One, Donnington Launchpad, UK
As Paddy explains in the first part of his photos of the year. Working with low shutter speeds and a long focal length vastly reduces the chances of capturing a sharp shot. For this shot I was set up for a straightforward side on 1/40 pan of the cars. With the shutter speed that low, unless your blessed with superhuman reactions your kinda sacrificing a shot if anything unexpected happens. When Rob clipped the water barriers I was kicking myself for running such a low speed.. Until I reviewed the images, frame three of a four burst chain was acceptably sharp and showed the bumper coming away with a little water spray.. love it!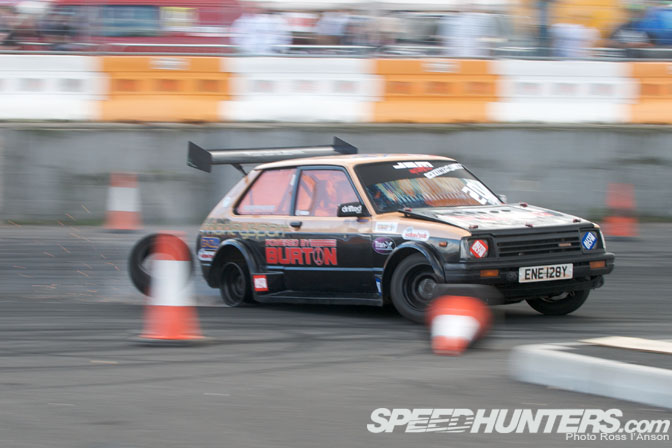 Simon Perry. R33 Skyline, BDC Round 2 Norfolk Arena, UK.
Simon had asked me to try and catch a shot of his newly vented rear quarters in action. After many attempts I settled on this rear shot exiting the final turn showing the smoke being forced both backwards and forwards through the heavily vented arches.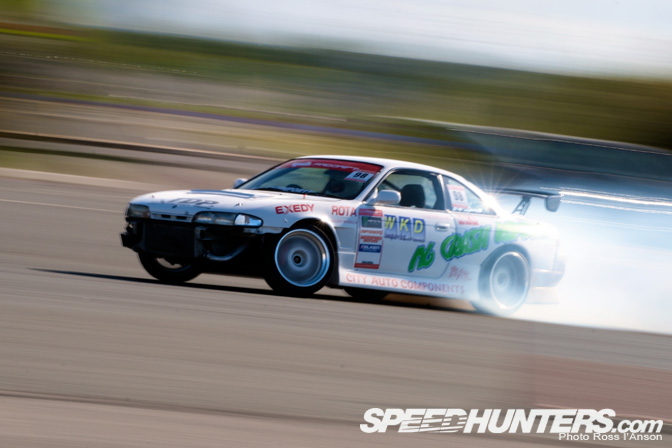 Dan Moorhead, S14, Drift Allstars Round 2, Sunderland, UK.
I love panning shots! I have spent many hours practicing and trying to perfect the technique. I have always pictured a mental wall as you drop into the dream like world that exists below 1/30. Above the wall everything is normal but once you drop below things turn all 'fear and loathing', smoke flows like water and backgrounds take on a totally different look as you blur then into only color.  The above shot is well below the wall at 1/8 @ 170mm and I was amazed it came out acceptably sharp so it made it into my list.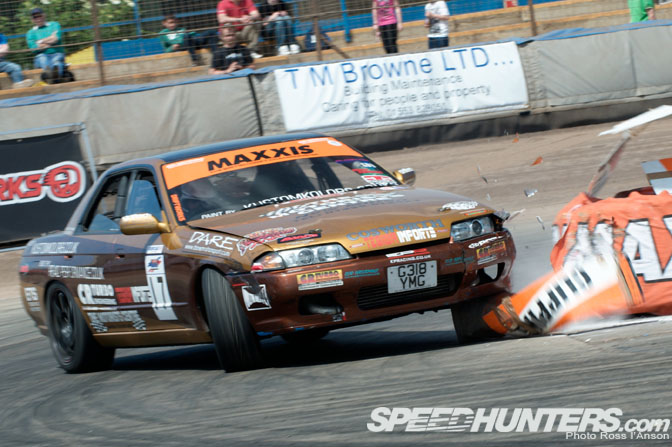 Julie Robinson, R32 Skyline, BDC Round 2, Norfolk Arena, UK.
Julie comes in too close on the final clipping point and Bang! Wind up that shutter and catch the debris flying.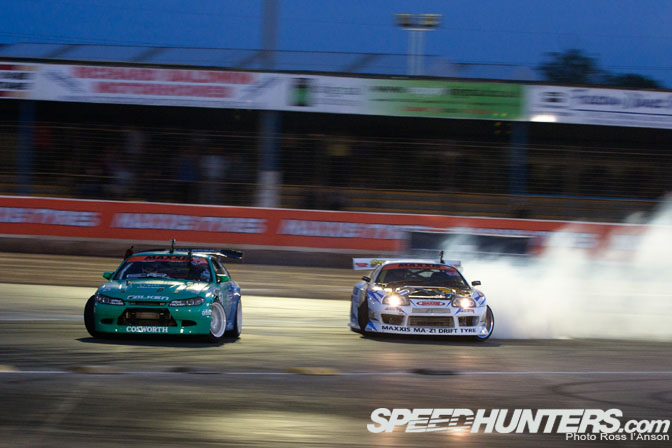 Matt Carter and Mark Luney, BDC Round Two Norfolk Arena, UK.
It was a battle that raged all season but the best illustration I could manage was back at round two under the floodlights of Norfolk Arena.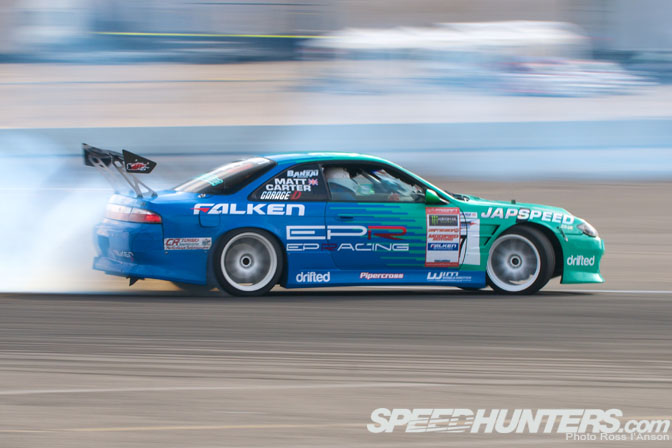 Steve (Stiggy) Evans, The Mighty Starlet, Drift Allstars Round III, Malta.
Steve looking for the clip. Custom Street style courses can be amazing or a total nightmare to shoot. The Maltese course was amazing! With so many places to shoot from it was hard to choose. One of my favorites was the entrance to turn one. Top of second gear full commitment and aim for the wall.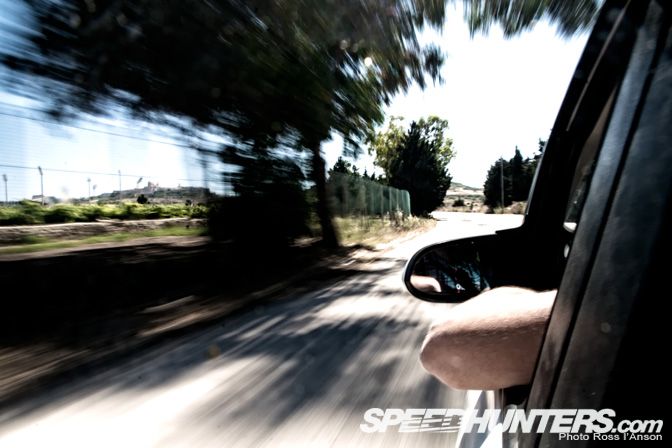 Back of the Taxi heading to Drift Allstars Malta.
One of my favorite shots from my whole Malta trip was from the back of the taxi on the way to the track on the very first day.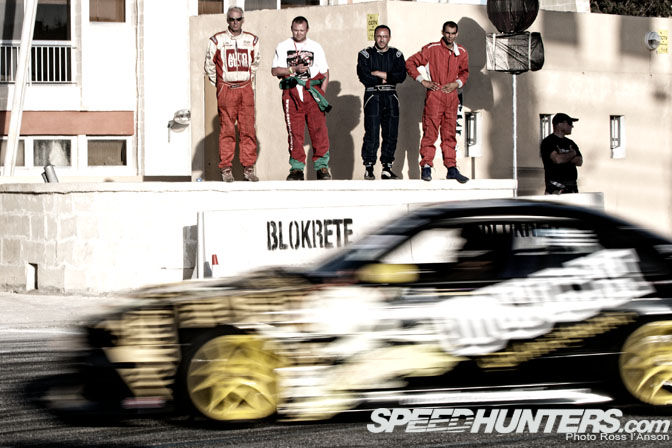 Brad McQueen and various Drivers, Drift Allstars Round III, Malta.
During qualifying the layout of the track gave a rare opportunity for the drivers to watch each others runs.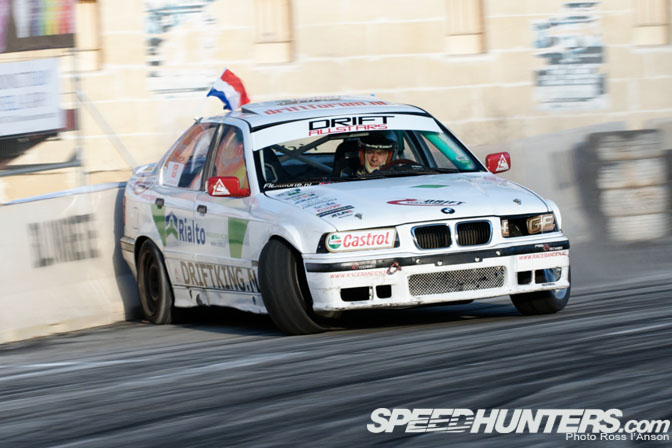 Paul Vlasblom, E36, Drift AllStars Round III, Malta.
There was plenty of wall action at the Malta round. But I think I caught it best with Paul just about to restyle his E36 in turn one.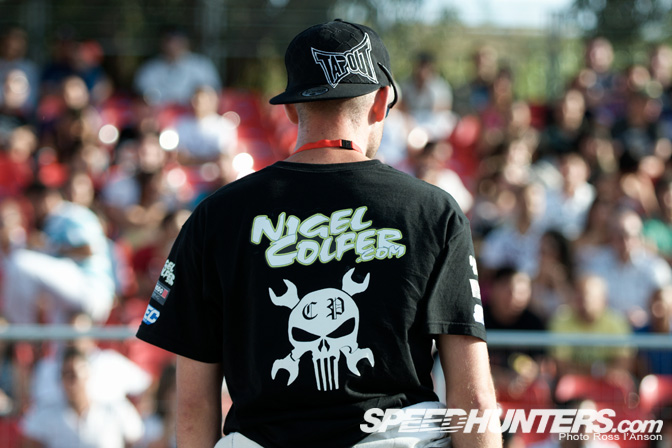 Nigel Colfer, Drift Allstars Round III, Malta.
Nigel getting introduced to the Maltese audience.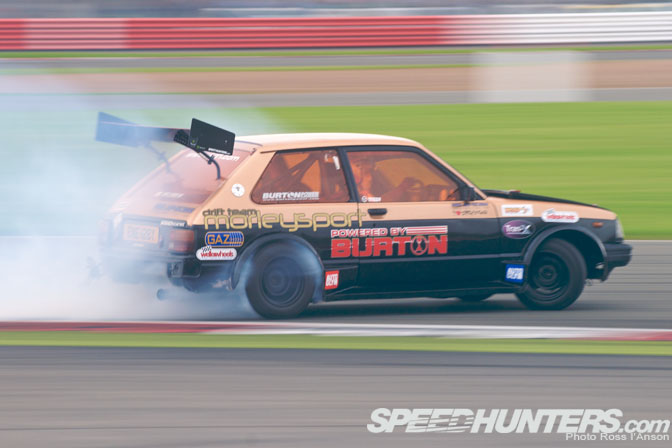 Julian Smith, Street Candy R34, Drift Allstars Round III, Malta.
Night events fill me with dread! They look spectacular but I hate shooting them with a passion. I normally end up with grainy horrible shots, This is why I love this nice sharp shot of Julian.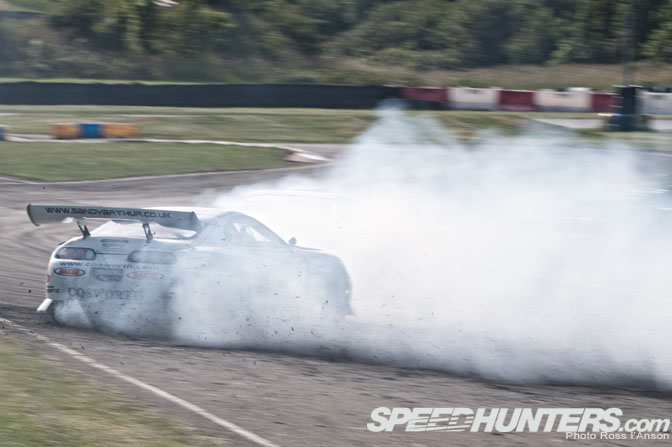 Mark Luney, SATS Supra, BDC Round III, Teesside UK.
This shot is arguably the decisive moment of the British Drift Championship. Mark Luney runs wide onto the marbles and exits stage left during the top eight battles. This gave Matt Carter the lead in the Championship which he was able to take to the final round.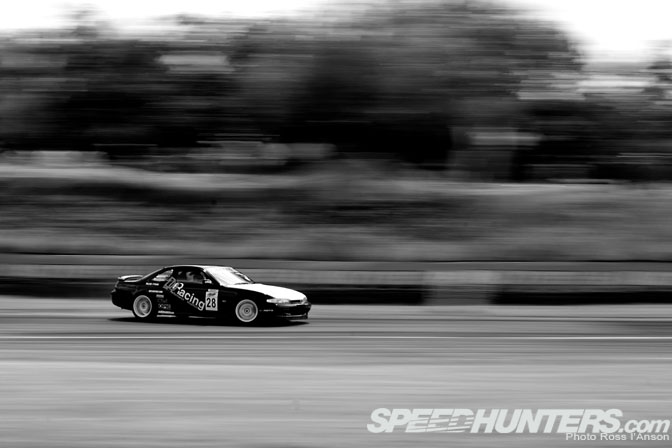 Robb Finn, S14, BDC Round III Teesside, UK.
Teesside is fantastic for wide Pans. This was my best from the day, 1/15@70mm.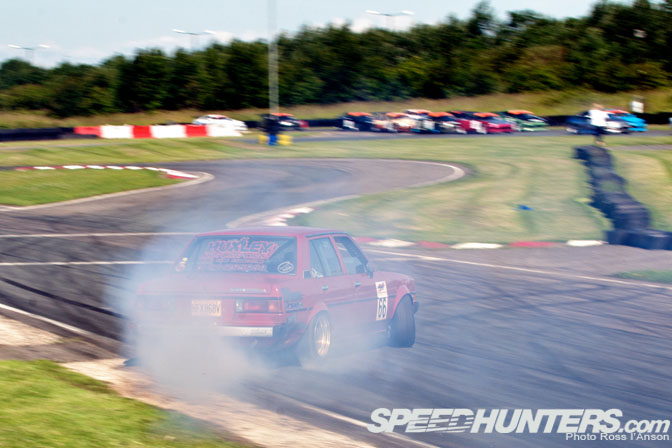 Marc Huxley. SR20 Corolla, BDC Round III, Teesside, UK.
Marc just clipping the curbing and kicking up a bit of dust during open practice.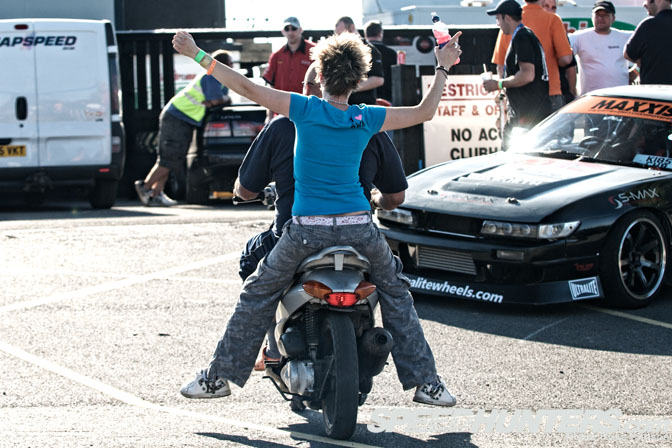 Julie Robinson and Simon Perry, Paddock Bike, BDC Round III, Teesside, UK.
Photography is all about capturing the moment. I still have no idea what was actually going on, I turned around, saw it and shot it! No set up required.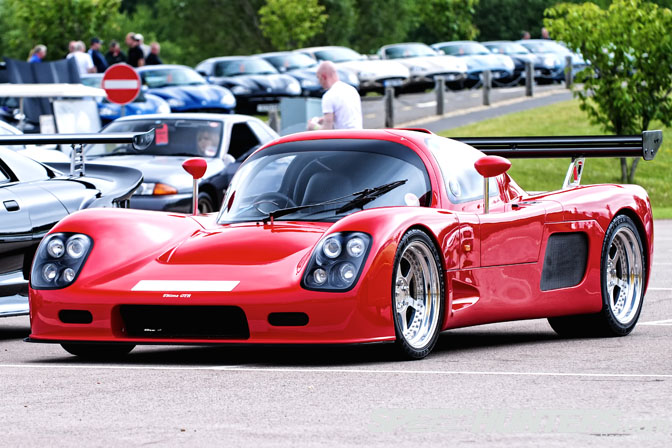 Ultima GTR, Supercar Sunday. Midlands UK.
There was many different interpretations of 'supercars' present at Supercar Sunday. This Ultima GTR ticked all my Supercar boxes. Impractical, expensive, outrageous and utterly fantastic!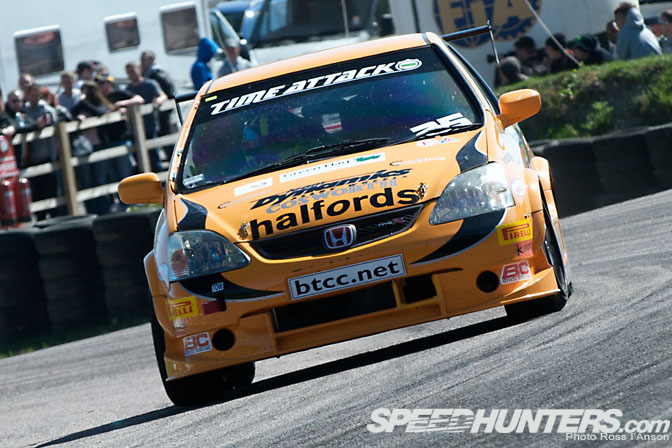 Ex-BTCC Civic, BHP Show Lydden Hill. UK.
I didn't get the chance to shoot much grip during 2011. The BTCC Civic had to make it in to my POTY selection.
Well thats about half way though my 2011 Speedhunting season. I'll be back in Part two with some more.
Ross.