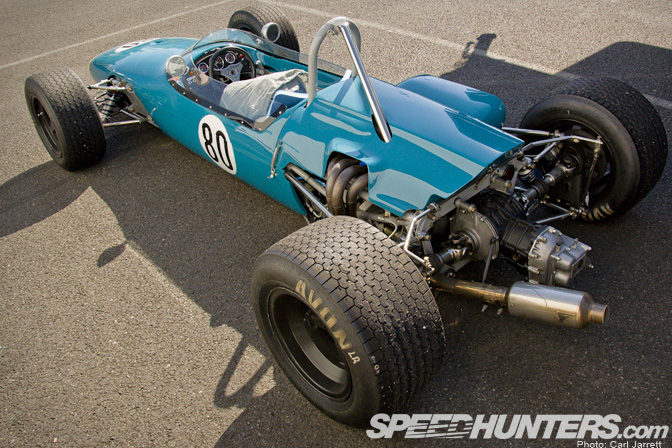 I feel I need to take a slightly different approach to my Photos of the Year for 2011. The year for me wasn't really spent Speedhunting like it was for many members of the team, 2011 meant a lot of time in front of a computer working hard at trying to make our latest Need For Speed title the best it could be. I suppose you could say this is Speedhunting in a different realm, as my day to day was still all about fast and beautiful machines. I wanted to attend Formula D, SEMA, PRI, and many other shows, but family and work to a priority this year so I only made it out to a few events.
While I wouldn't call some of these my best Photography in the technical sense, I do feel these captured emotion, or a period in time that was important, or deserved some reflecting.
[Above] PIR – July – Brabham BT21
1/250th, f/10, ISO400, 27MM

There was something about this car that was striking from the moment I saw it, I'm not sure if it was its simplicity of design, the perfect stance, that beautiful turquoise hue, or just imagining this beast racing around some famous circuit back in the sixties.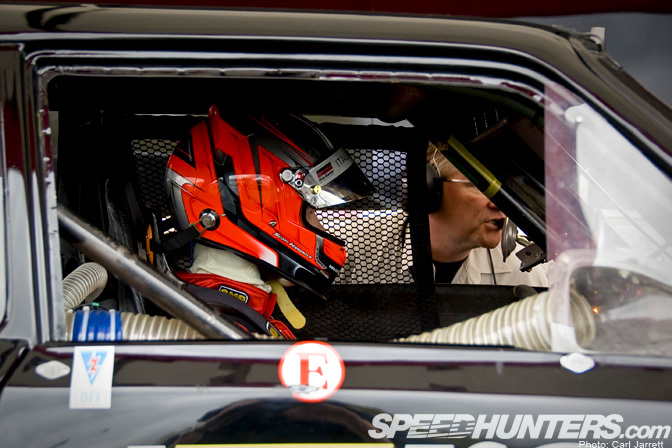 PIR – April – Pep Talk
1/60th, f/5, ISO200, 90MM
I captured this shot just as Scott Hargrove was preparing to get out for his first qualifying session, having just turned 16 earlier in the year this was his first official race in a proper car. After spending a few years in karting, his father Jim, is giving him the last few pointers before he heads out onto track. Few better moments than passing on the torch of a passion you love to your son or daughter, I'm sure.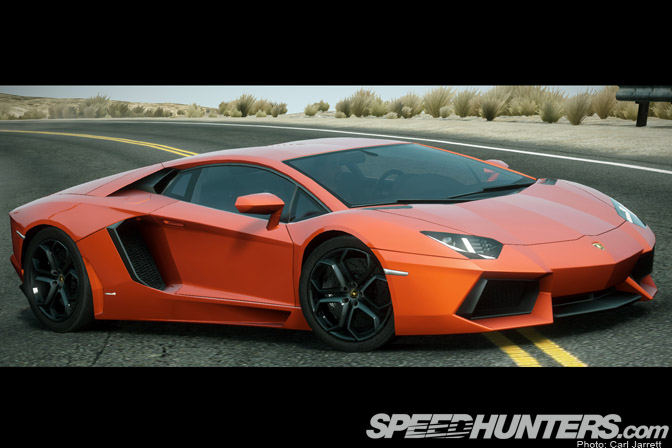 NFS The Run – September – When It All Comes Together
1/30th, f/10, ISO?, 300MM
One of the best feelings as a video game artist is when all of the teams pieces come together. The beautifully modelled environment, all of the nerdy rendering bits, perfect vehicle modelling, and a Lamborghini Aventador. We sent this shot to Lamborghini to verify our Arancio Argos was as close to reality as possible, and with the hard work of everyone on the team, I think we nailed it. Despite a few critics with not totally favorable reviews, everyone on the team is extremely proud of the work they put in over the last year and a half for NFS TR.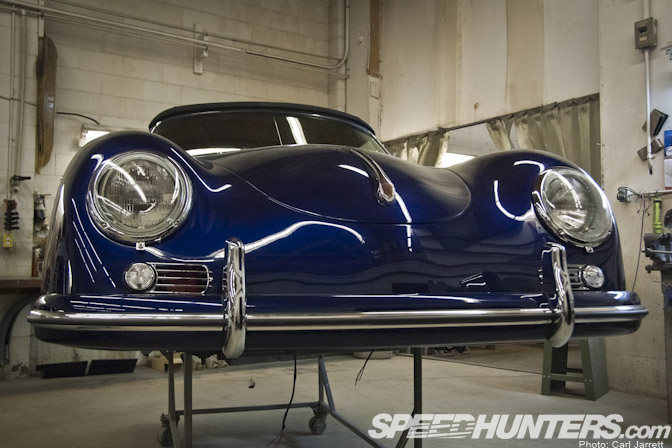 Intermeccanica – February – Into The Deep Blue
1/30th, f/4, ISO800, 36MM
There was something about this car, and this shot that stood out to me. The classic lines, the lustrous chrome trim, and the deep, deep, blue paint that seemed bottomless really stood out from the drab brick and concrete background that Intermeccanica provides. A feature I've always looked for in images I've worked on, is the contrast, contrast between dark and light, clean and dirty, shiny and dull, saturated and greyscale, I find it punctuates the thing you're trying to focus the viewers' attention on much more.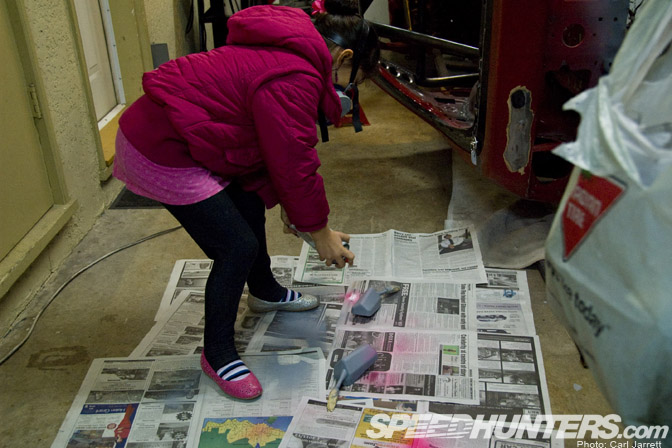 My Garage – January – Family
1/30th, f/3.8, ISO1250, 36MM
When your family supports your hobbies, your passions, and they even want to lend a hand here and there and add their personal touch, it is pretty fantastic. Without the support of my family, I wouldn't have been able to make the progress I did, little as it was, on my RX-7 project, this year. Always keep a camera around for those moments you want to remember when they are older, getting married, or having kids of their own, you never know when you will need to embarrass them.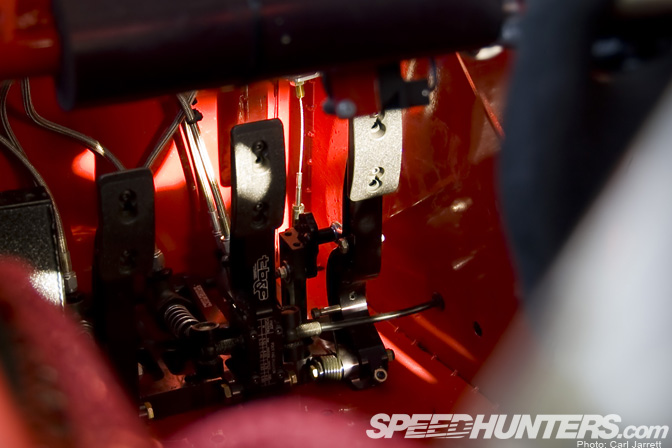 PIR – July – Cold Racecar, Warm Morning Sun
1/60th, f/5, ISO200, 84MM
The low morning sun just peeking through the windows, fully adjustable Tilton pedals hidden deep in a GT3 tube-frame beast. In moments like these, it feels like these machines tend to take on a personality of their own, cold and groggy from their sleep the night before, warming up in the sun and getting ready for their day.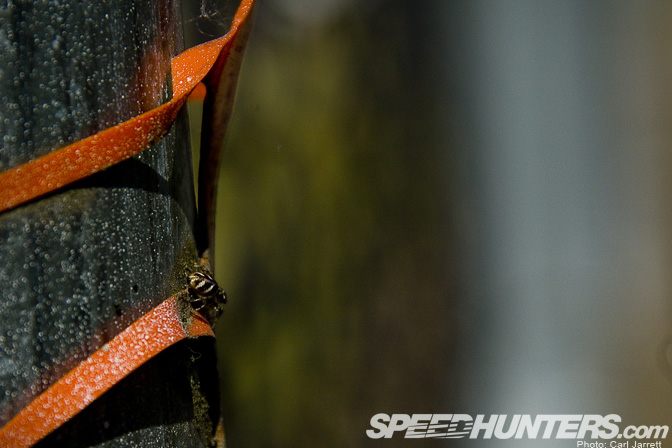 PIR – July – Unexpected Race Fan
1/1000th, f/8, ISO320, 300MM
As a spectator, or photographer, or even a track marshal, there are seemingly long periods of down time between the various yellow and red flags, different groups of cars leaving and entering the track. I find my eye wanders during those times, and it always surprises me the type of wildlife that makes a race track its home. From Eagles, to groundhogs, pelicans and insects, there must be plenty of nature's own speed hunters. This little guy was hanging out with me at the edge of the track between sessions, in my little world, he's a big race fan and also likes rotaries.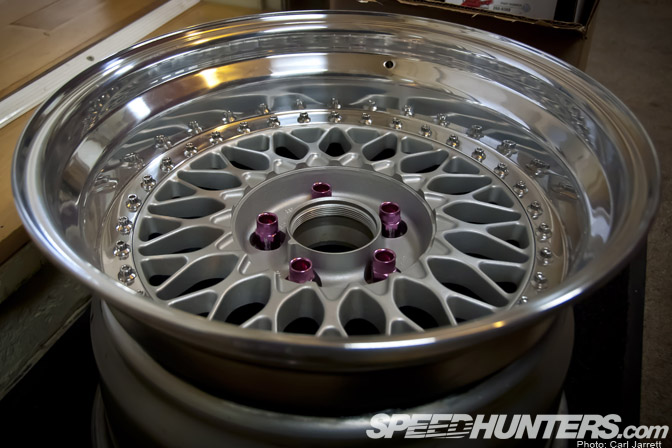 My Garage – March – Big Lips Aren't Just For Fish
1/20th, f/3.8, ISO800, 33MM
BBS RS, 3.5″ lip, pink wheel nuts, 'nuff said.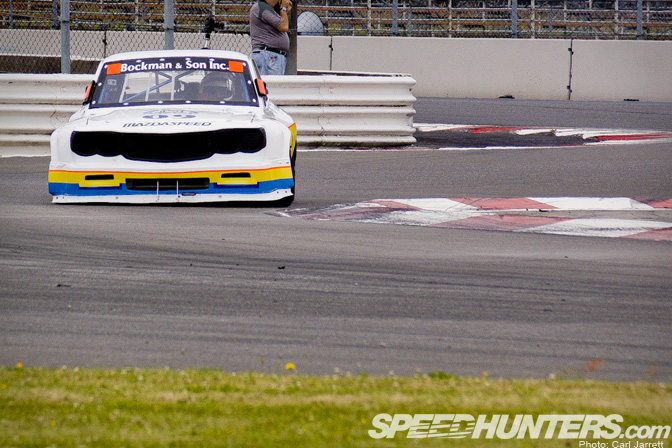 PIR – July – Apex Clipping
1/500th, f/10, ISO400, 315MM
I love the subtleties of high performance sports car racing. Just fractions of degrees in body roll, small amounts of tire slip, the ever so slight tilt of the head countering the g-forces, and that small window of hitting an apex at the perfect point versus clobbering the curb and bouncing all over the track, the devil is in the details in some of these hotly contested series.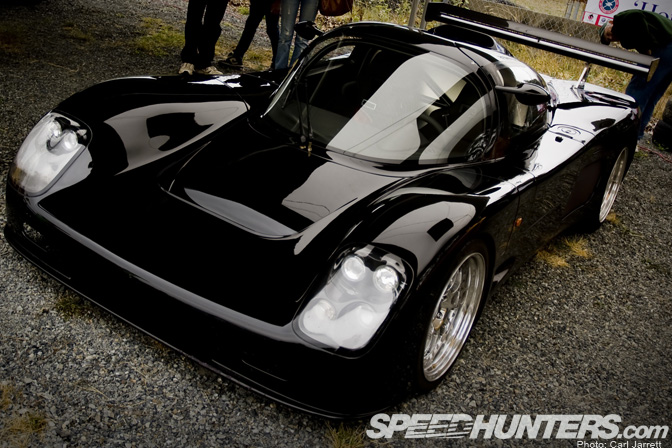 Mission – August – The Black Supercar
1/400th, f/3.8, ISO200, 36MM
I've never been a big fan of the Ultima GT-Rs styling, however, this one sitting on Kinesis wheels in ultra-glossy black, is just 'right', don't you think? I could stare at this car for extended lengths of time, no problem.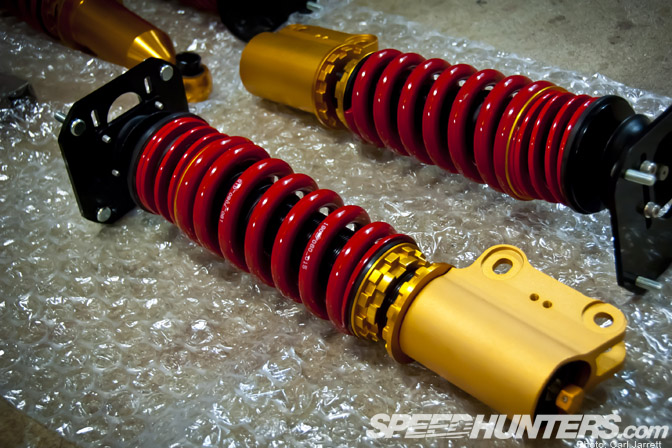 My Garage – February – Car Part Geeking Out
1/13th, f/4.5, ISO800, 57MM
If you're car geek like me, you know it's pretty awesome when you get some shiny new parts in the mail. Here's my Pettit Trak-Pro Competition series coil-overs just after they were un-boxed. Gold anodized mounts and collars, black anodized threaded shock bodies, red powder coated 15kg springs… it's the stuff dreams are made out of.
I apologize for not being a big part of Speedhunters in 2011, but I can sense 2012 is going to be epic! Expect a lot more in the New Year, SCCA race coverage, local Time Attack events, and getting my Mazda RX-7 project running and out to the track.
For anyone interested, I shot most of my shots this year with my old Nikon D70S, but recently upgraded to a D7000 with a VRII 18-200mm 3.5 lens.
More Photos Of The Year 2011 Stories