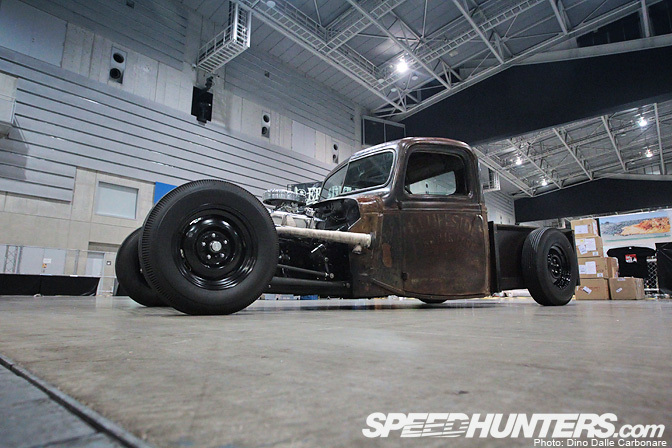 If you live in the UK then Jonny Smith is pretty much a household name. He has been co-hosting Channel 5's Fifth Gear TV show for years now, reviewing cars along side Tiff Needell and Vicki Butler Henderson. It was by pure chance that I bumped into Jonny at the Tokyo Motor Show and got chatting to him about the vast car culture that exists in Japan. When I mentioned that I would be covering the Mooneyes Hot Rod & Custom Show over the upcoming weekend his eyes lit up, and said he would definitely have to come along to take a look. Little did I know that he is quite the muscle car and classic-VW enthusiast and has always wanted to attend a Mooneyes Japan event. I thought it would be cool to have Jonny do a Guest Blog and have us see the show through his eyes. Not only is he someone that knows a thing or two about customs; he can also appreciate the uniqueness of Japanese-built cars. So I'll let Jonny take over now…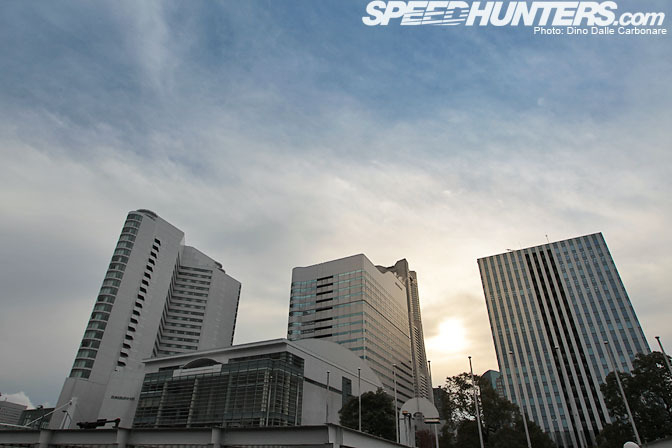 In a nation known for its population density, miniaturising and extraordinarily expensive real estate, the owners of these cars clearly sacrifice a lot in order to own/build over-sized, OTT road-going relics. That is why I was so priveliged to attend the event and see what effort people go to in Japan to own/drive/build this stuff. It's not exactly cheap in the UK where I live, but…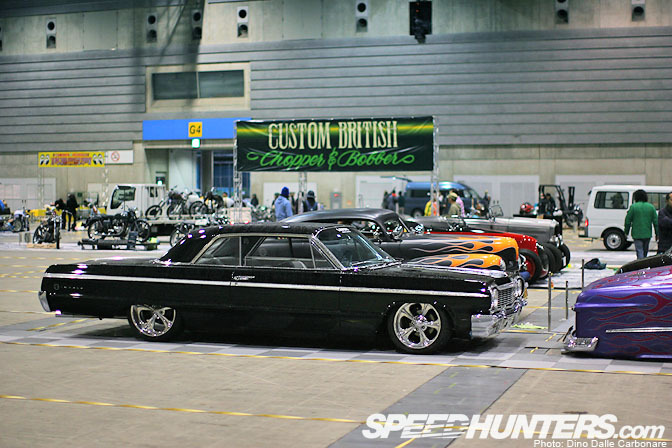 I wish my 1964 Chevy Impala SS looked this good. The owner has gone down the resto-rod route – with air ride and large diameter billet rolling stock. Mine's been in the restoration process for six years now. This was an inspiration to me – especially those front bumper overriders/guards (bloody rare, especially in Britain).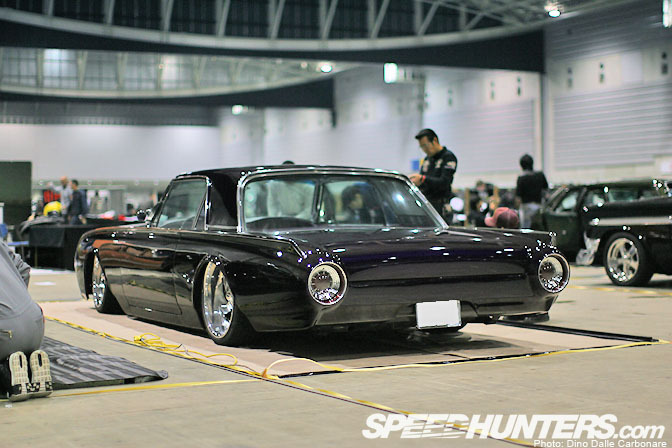 This is a welcomed surprise. It's not often I've seen a heavily reworked Ford Thunderbird anywhere, let alone rainy Japan. This smoothed out '62 had lost its trim, handles and she was flaked out on the floor. Under the bonnet sat a 390 cubic inch crate V8 with Edelbrock Performer heads and inlet. The unmissable wheels are Colorado Custom billets. Now normally I don't like the dechromed treatment and I hate it when bumpers are binned, but this recipe really worked.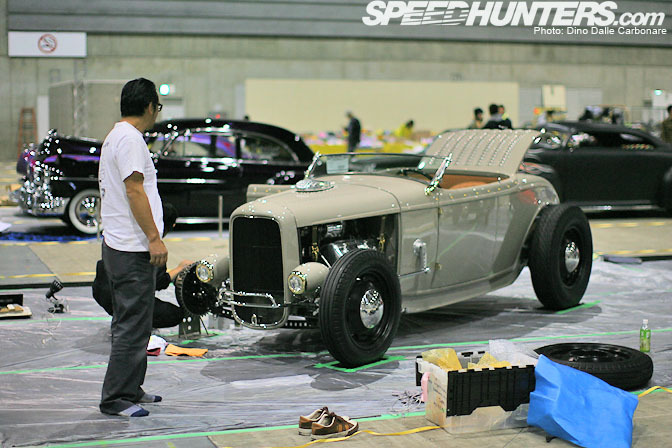 Apparently this '32 Ford roadster won last year's Mooneyes 'hot rod of show' trophy – and who am I to argue.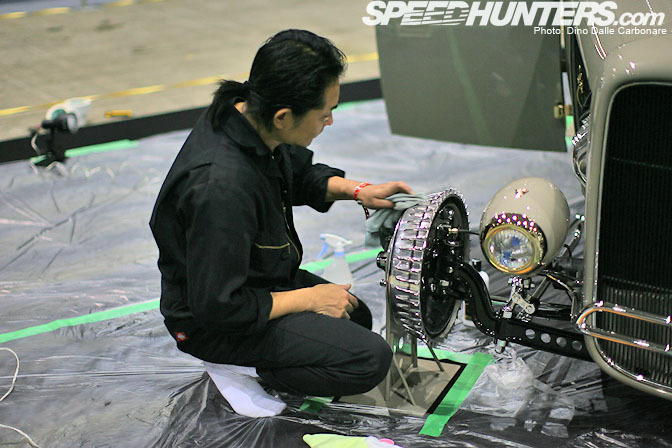 The detailing just blew me away. Here's the thing, although it's a full-blooded flat-head V8 American rod…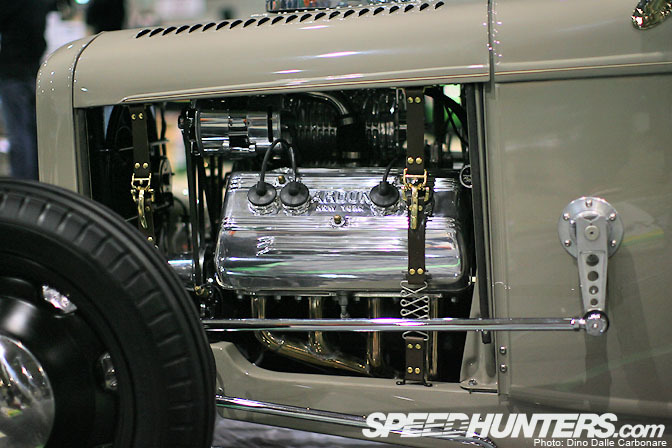 …there was something magical about little aspects like the bonnet straps and brasswork. An American antique with eye-popping Japanese intricacies.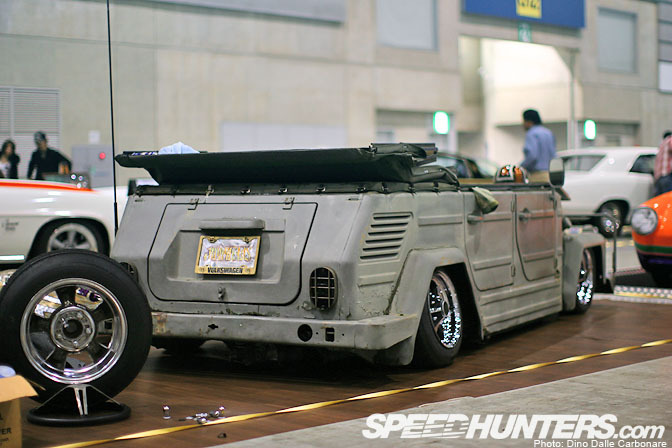 That timeless combination of crusty paint, decked stance and polished wheels. A lot of people thought this was a WWII Kubelwagen, but it's the 1970s ancestor – known either as the 181, Trekker or 'Thing'.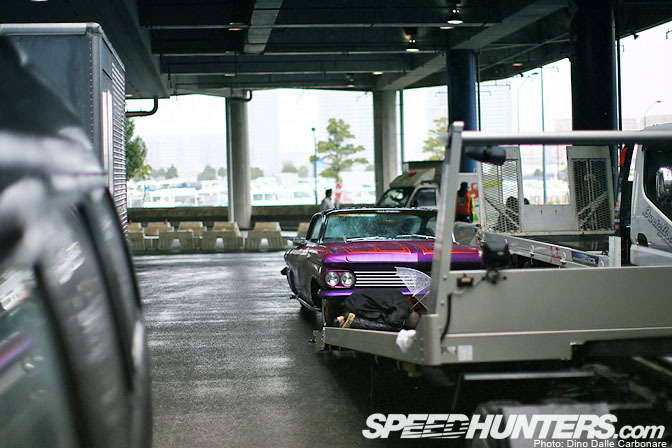 Someone's been watching a Pixar animation. One thing we have to thank that movie for is the global awareness of lowriders amongst kids of 8 years old.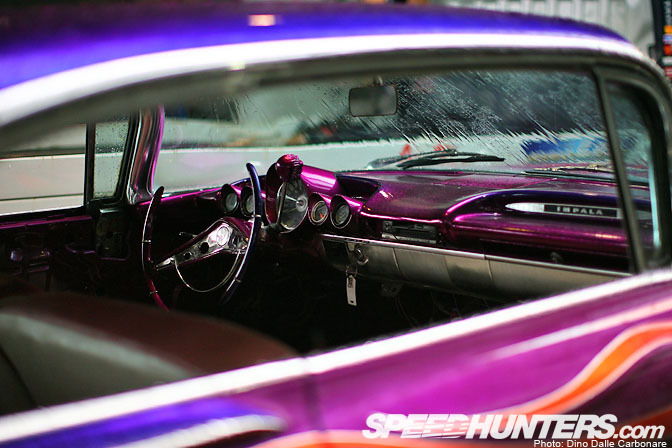 When those kids grow up they may spend their cash on a '59 Impala.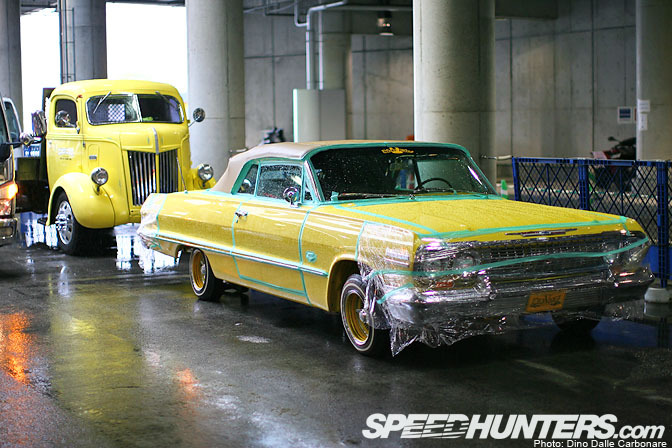 Within two hours this '63 Impala lowrider was inside the hall, wheels off and jacked up on a spinning display turntable. Yokohama's rain tried its best to drown the spirits, but Japan's finest metal wouldn't miss the Mooneyes show for the world.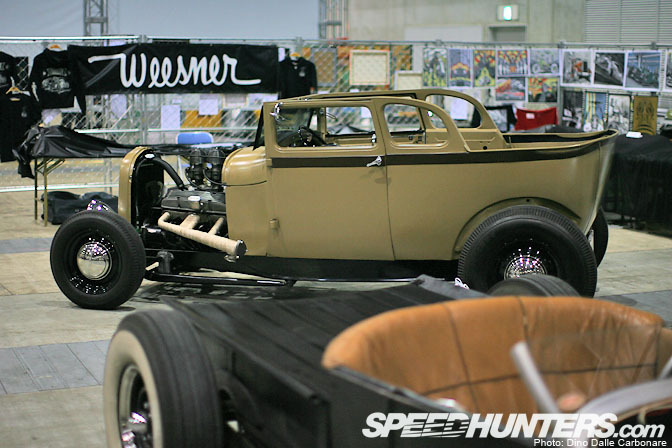 I didn't find out what body this rod was based upon, but its bath tub back end and the way it was cut into a convertible around the rear windows was very unusual.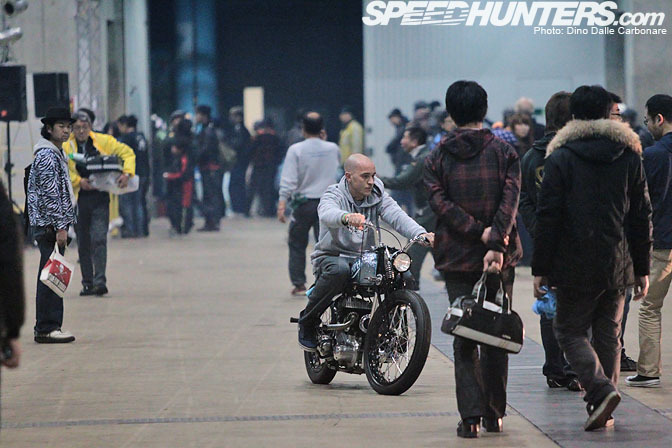 I got my bike license a few years ago but the wife has banned me from road riding. Besides, I've got enough hobbies without getting into custom bikes. I do love seeing the new looks builders achieve, and those tricks can influence our modified cars.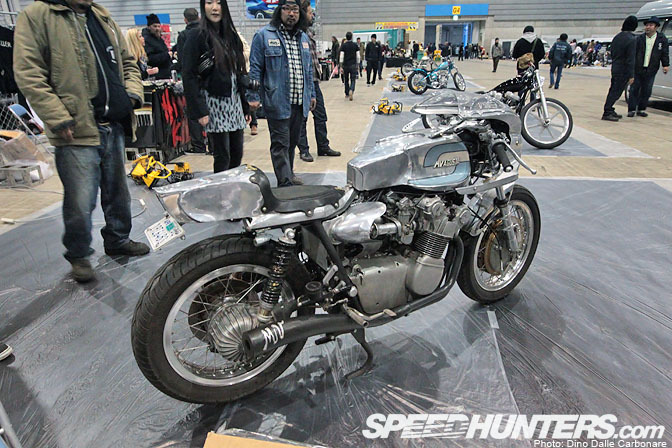 This polished MV Agusta sounded nuts.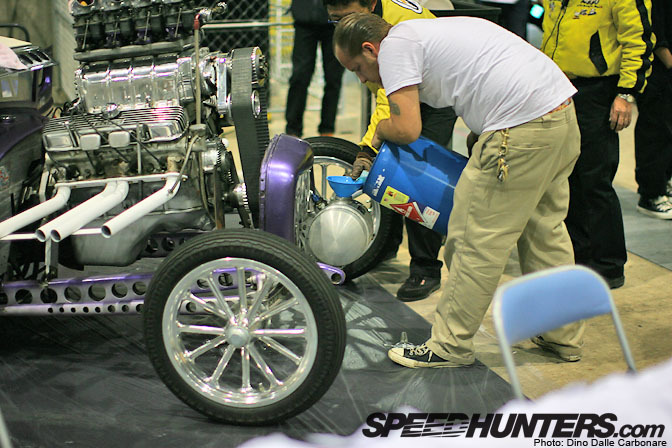 Note to self: When you're in a hall and the owner (Marky Izadardi) of The Purple People Eater pours C16 race fuel into its Moon tank and strikes the thing up DO NOT stand in the direction of the unsilenced exhausts.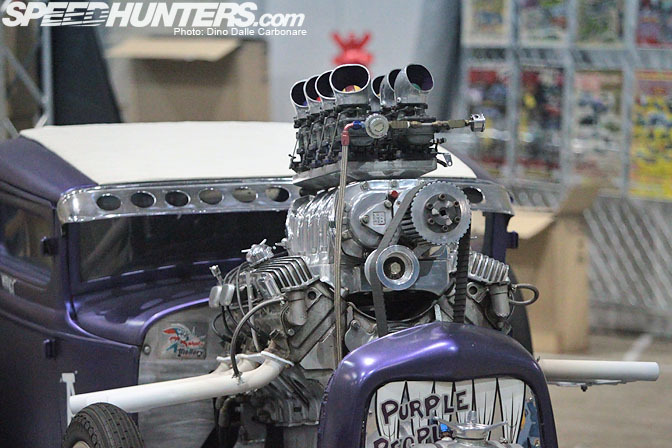 Eight carburettors. Ears very ill. Guest vehicles were shipped from the US, Indonesia, New Zealand and Australia. Over 250 cars gathered in the Pacifico Hall to share their common interests and individual creations. After all, that's what rods and customs are.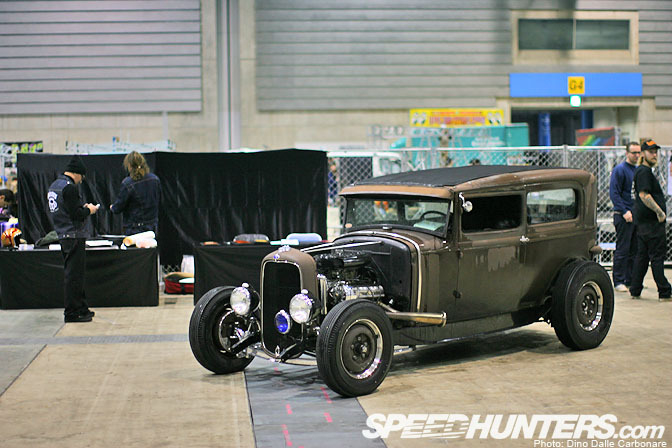 Probably my favourite rod of the event. Love the single asymmetric blue spotlight and brown matte paint. You look at the thin crossply tyres, steel wheels with chrome beauty rings and it shouldn't look tough, but this thing just does it for me. I'd love to drive this in the UK. Probably not on those tyres, mind…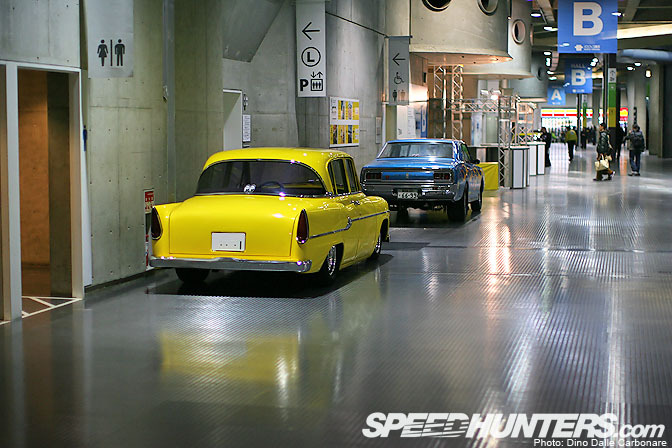 Being set-up day it was fantastic to just rock up, no security on the gate, and not just see the machinery but hear the machinery. It's not every day you see a drag spec Nissan Gloria parked on lino next to a Gent's toilet, is it?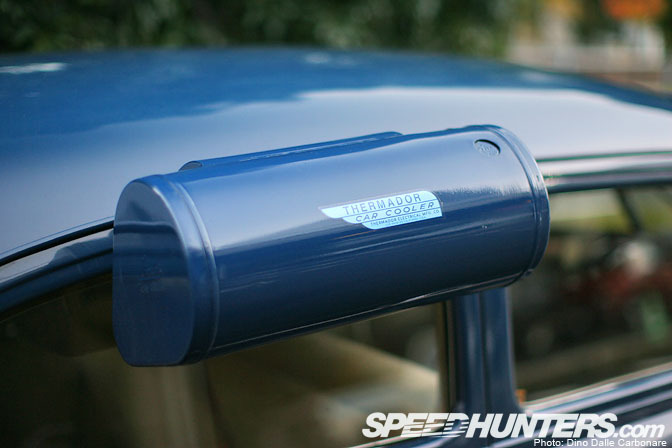 Air con, 1940s style. Fill it with ice cubes, clip it on your window frame (bloody heavy!) and the faster you drive the colder the air coming into the cabin.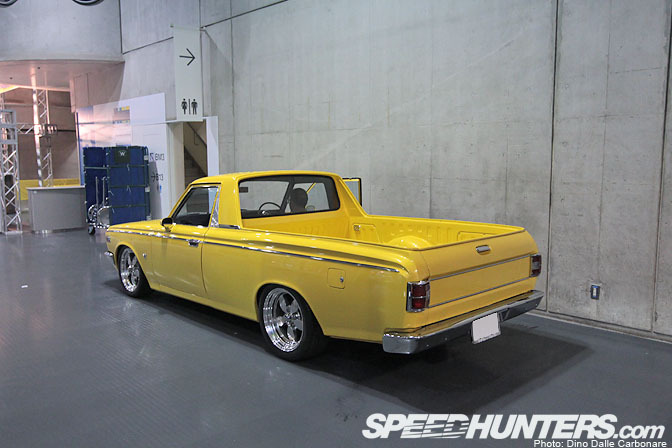 One of the organiser's projects – a Mooneyes Toyota truck, imported from Australia…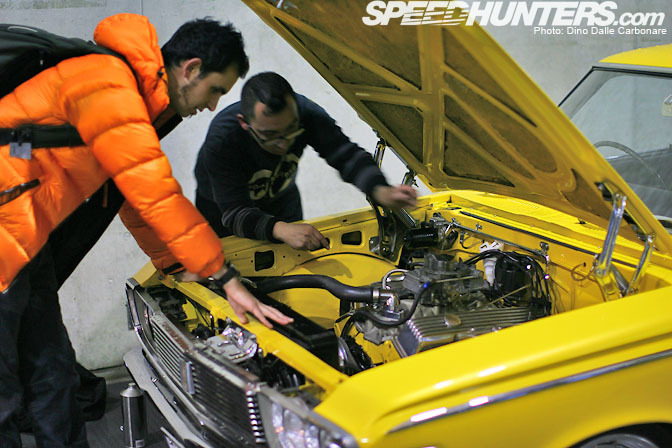 …then rebuilt with a warmed over Chevy 350 small block. Weirdly, the V8 looked tiny in its engine bay.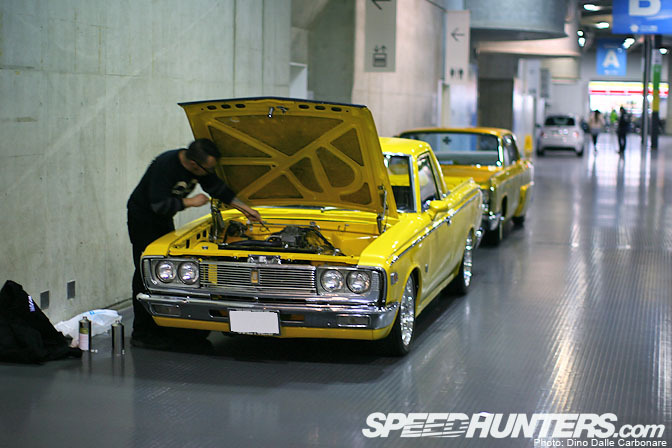 Louis from Mooneyes was topping up the auto trans fluid.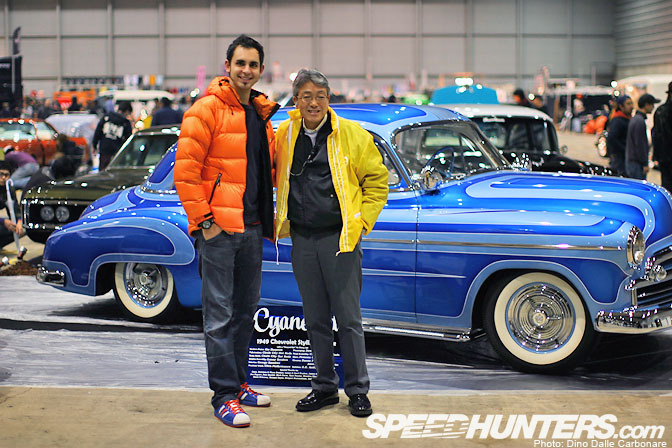 This is the bloke behind this legendary show (on the right, obviously) now in its 20th year. Shige helped establish the Mooneyes brand in Japan 25 years ago.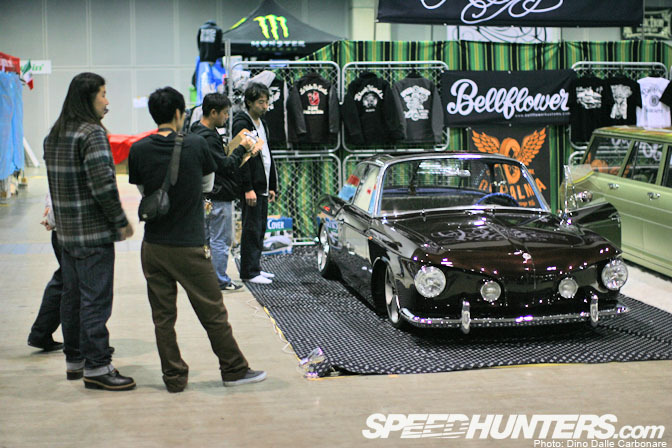 The Type 34 VW 'Razor Edge' Karmann Ghia was never really regarded as the best looking aircooled coupe, but for me it hits the sweet spot. Especially when it scrapes the floor like this one. Looks like this one has a rare optional electric sunroof.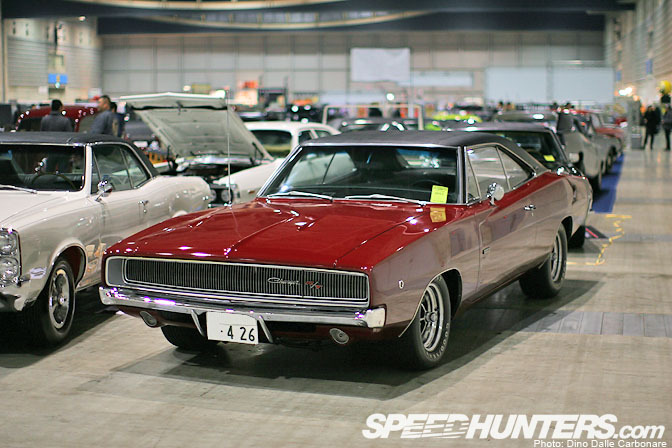 A 1968 Dodge Charger 426 (look at the plate) Hemi 4-speed manual. '68 is my favourite year. Muscle cars don't get much rarer. This thing is  scarce, even in its US homeland. The fact that someone owns one in one of the most congested cities in the world really impresses me. Probably worth $250,000.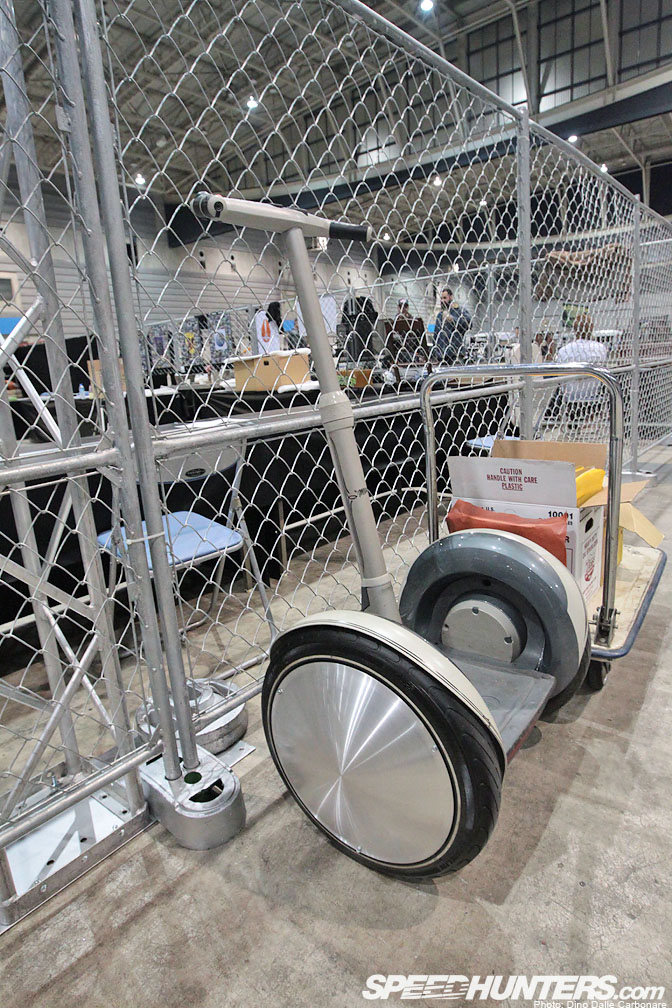 Segway, done Mooneyes style.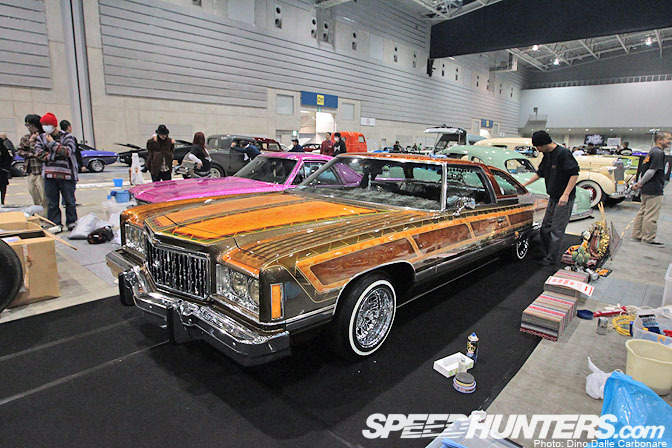 There were about 20 lowriders boasting paint finishes on this calibre. I heard conversations that said some of took over 9 months to mask and paint alone.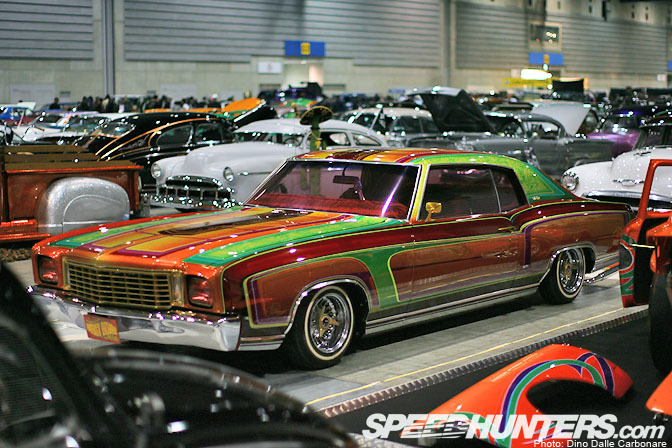 The colours, shapes and airbrushing was so meticulous you could stare for half an hour and still notice new details. A lot of these cars were imported to Japan as lowriders but rebuilt to 'Japanese standards'.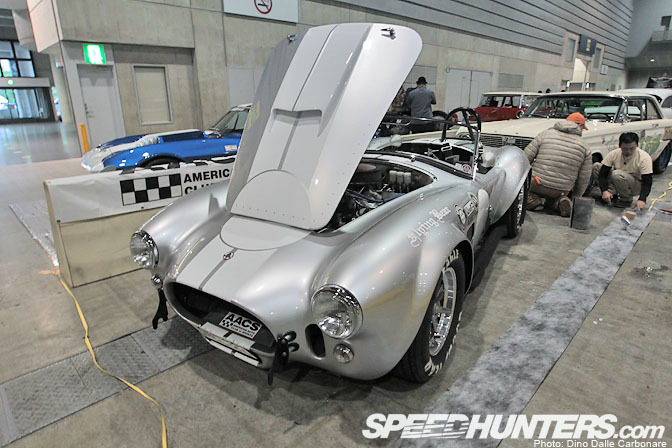 Only the cream of the crop makes it into the Mooneyes show hall, and it shows. It's not often you see a real Shelby Cobra 427, but even rarer on Japanese licence plates. Can you imagine what this looks like in the Tokyo rush hour traffic? I bet it doesn't have start-stop eco mode.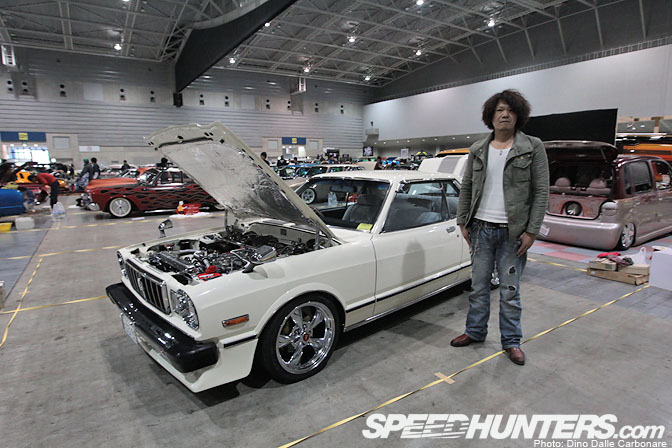 1979 Toyota Corona MkII Grande Coupe
Owner: Machiama-san
'Only 270bhp but throttle response is much strong'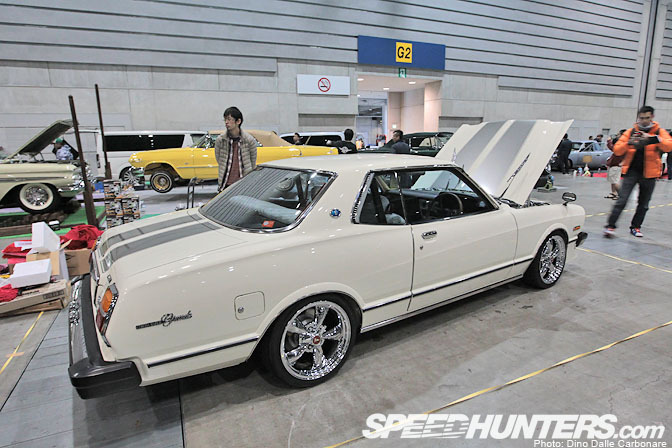 Ivory white paint with green central muscle stripe. 17-inch American Racing wheels with Mustang centre spinners, and Skyline R32 front/R33 rear brakes.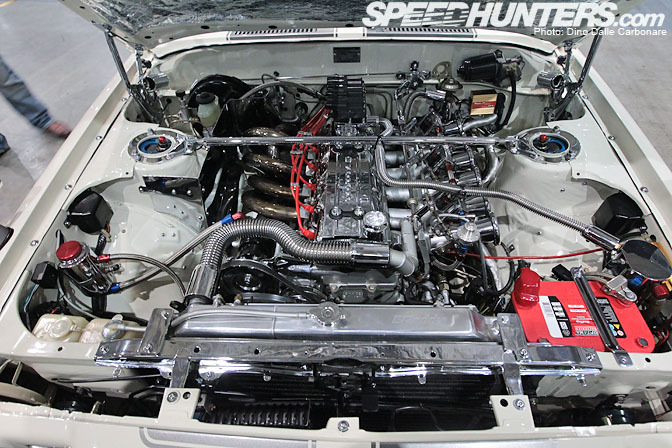 Owner assembled 270bhp 2.8-litre Supra straight six (5M head on 7M block) with scratch built exhaust manifold, six 48mm throttle bodies, HKS ECU and coilpacks, GReddy radiator, '80s Supra 5-speedd manual and diff.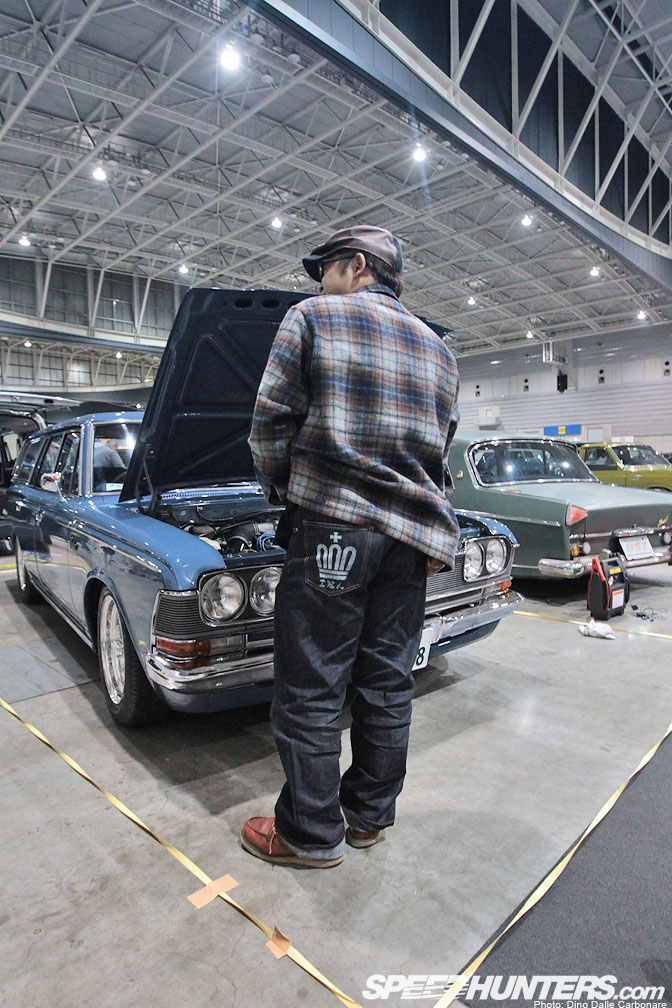 1969 Toyota Crown 'custom' estate
Owner: Norio Yano
'I have a pair of Crown logo denim jeans custom made'
Painstakingly restored bodywork with a set of new 'old' stock trim found at a dealership warehouse, the Crown rides on billet Boyd's 15-inch wheels with lowered suspension. Engine is a 2.5-litre straight six 24v from a Lexus Soarer with four-speed auto, operated by a custom-made column shift linkage.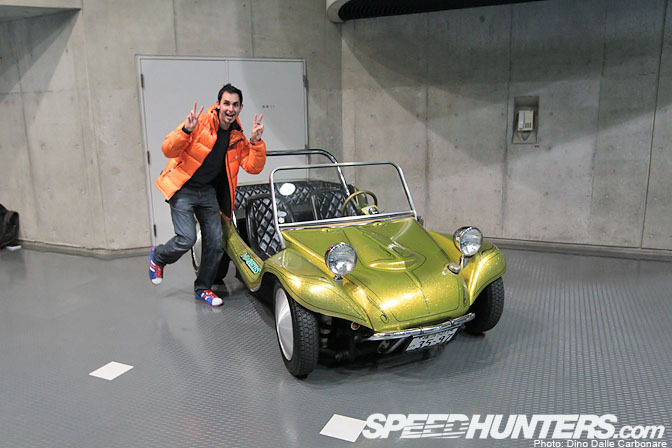 As the saying goes: when in Japan….pose like a Japanese girl in pictures. I noticed a lot more leg lifting this trip, whereas normally it's just peace signs. Despite the pounding rain and moody clouds over Yokohama (and the dimly lit exhibition centre – presumably to save electricity), nothing could stop the sparkle, enthusiasm and vibrant atmosphere of the Mooneyes custom show. This day I will never forget – to see such high calibre cars and bikes herded together in a country known for its obsession with small vehicles and expensive real estate, it makes me very satisfied to know there are others out there who devote so much to their automotive hobby. The best bit for me is the embracing of bike culture, lowriders, JDM custom stuff and vintage hot rods all under one roof. Mooneyes have had a presence in Japan for 25 years now, but I have a feeling it will continue for another 25. Well done guys. Now…. I must finish my own Impala low-low project…
PS: You guys probably know this is the Mooneyes VW beach buggy. I've always loved this car, because my first car love stems from aircooled VWs. I still have my first car (1967 Beetle) and my first journalist job was on a classic/custom VW mag. That was nearly 14 years ago, the rest is history I suppose, as I've been very fortunate to work on dozens of international car mags, websites and also on TV. I still have my Bug though, but she needs restoring. Maybe in 2012…
Mooneyes event coverage on Speedhunters
-Jonny Smith
Pictures Dino Dalle Carbonare