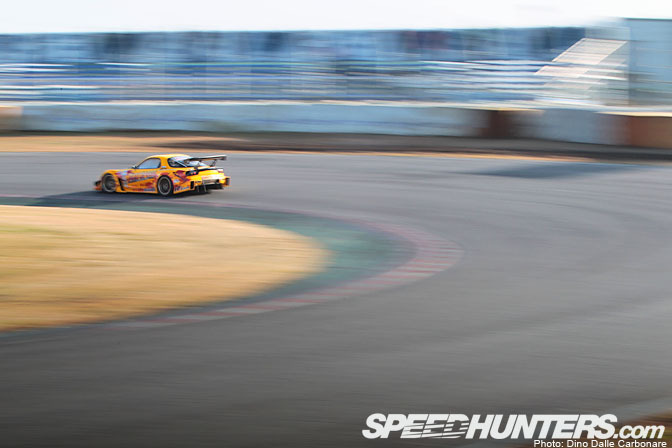 There were a total of 71 cars present at the Tsukuba Super Battle this year, so you can imagine what kind of pace an event like this can have. With the rain kind of ruining things in the morning it was a scramble for most entrants to get at least one chance at a decent fast lap attempt. Here is how the day unfolded.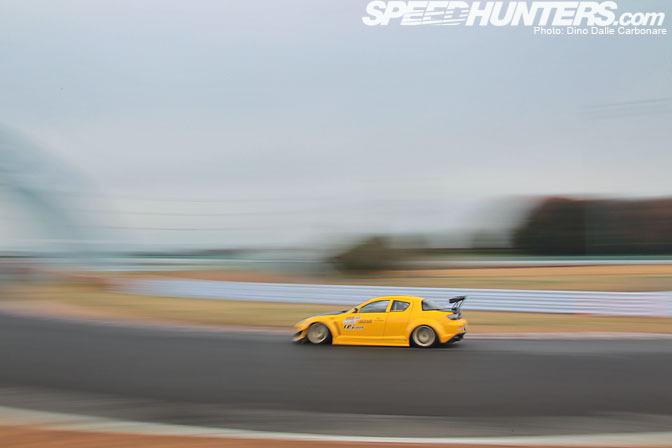 Along with the Pan Speed FDs that we saw in the previous post Komoriya-san never forgets to bring his mighty RX-8 out for a test. And that is a very good thing as it managed to lap in a very respectable 59″741 with ex-Super GT driver and now Best Motor TV presenter Naoki Hattori behind the wheel.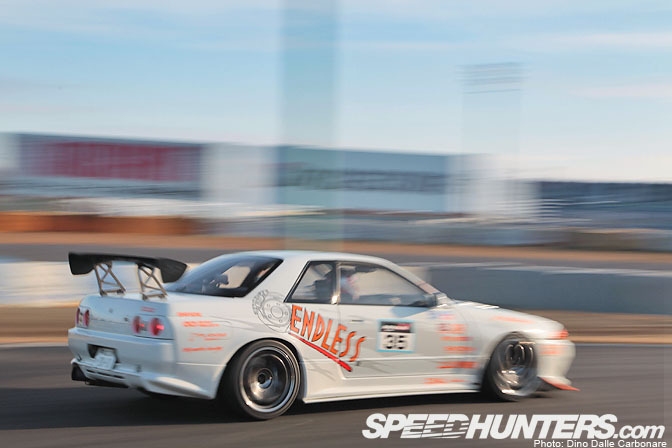 Reverse, a tuning shop from Tochigi, entered their R32 GT-R in the Street Class where it came away with a 59″382, running on radial tires.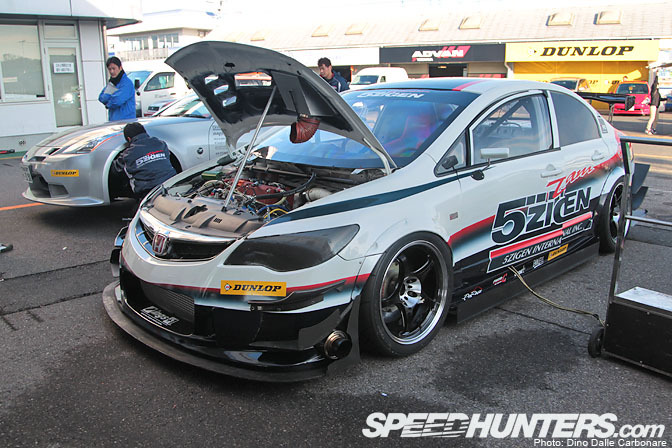 Ooi-san went out only once with the 5Zigen turbo FD2 but he obviously knew what he was doing. He posted a 58″249 which is a smidgeon off his FF record-braking 58″222 from last year. Amazing car and of course a pretty talented driver!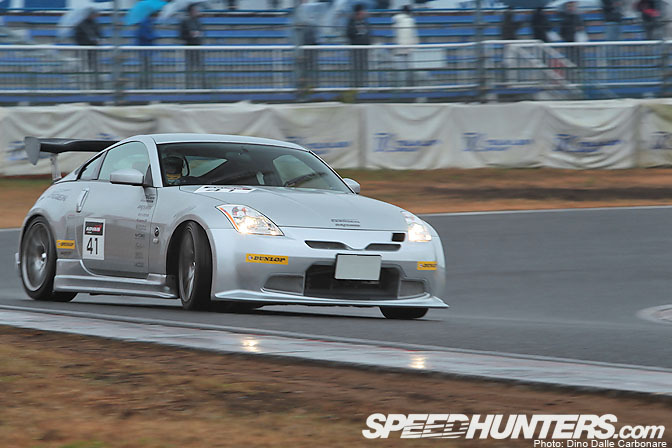 Still from 5Zigen was this Z33, which despite the traction issues at the beginning of the day, improved its times by the afternoon with a best of 1'05″023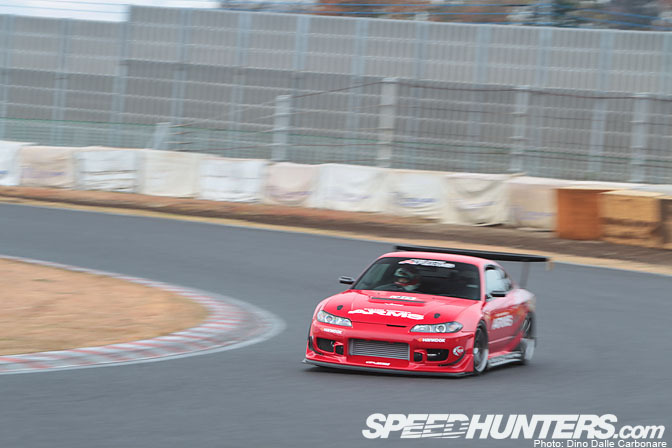 Kinoshita Mitsuhiro was hired to drive the Arms S15 and running on radials got a best of 1'00″021. This is possibly one of the cleanest track oriented S15s in Japan so you can expect a car feature on it soon.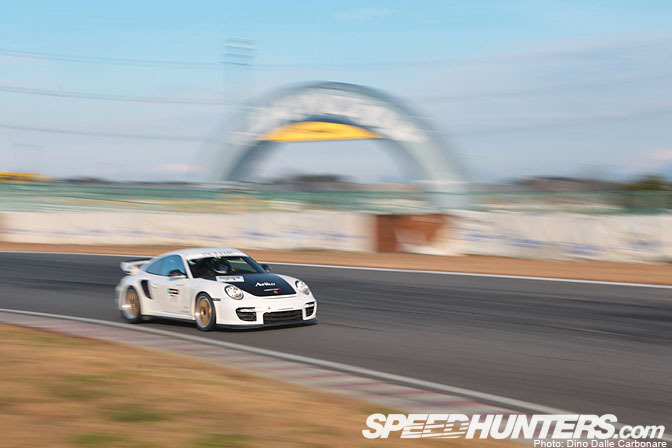 I don't think I've ever seen a 997 GT2 RS on the street before so it was quite cool seeing the Shadow Sports Design demo car being put through its paces on track by GT-driver Kageyama-san, owner of the company. Running Kumho semi slick tires for optimal grip he managed to extract a sub-minute time of 59″185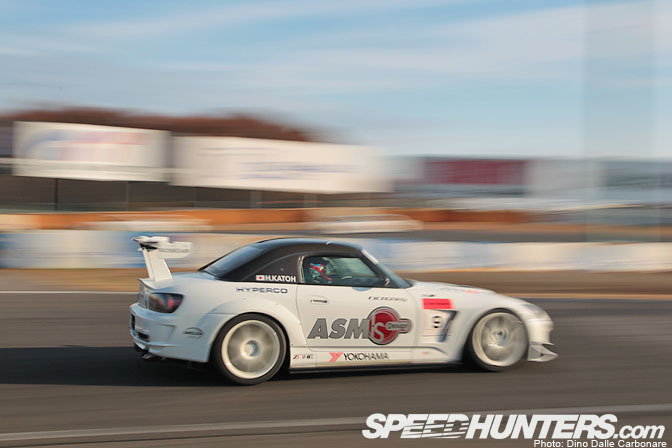 The Autobacs ASM Yokohama S2000 GT-11 participated in the Open Class along with the big boys and managed a best lap of 1'01″711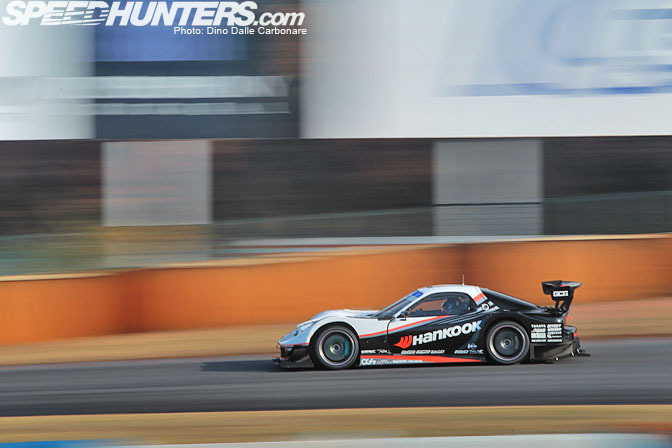 54″731 was "all" the Revolution team could get out of the FD on the day, due to low track and tire temperatures. I really hope these guys will get lucky one day in the next few months and have the perfect conditions to get the very best out of the car.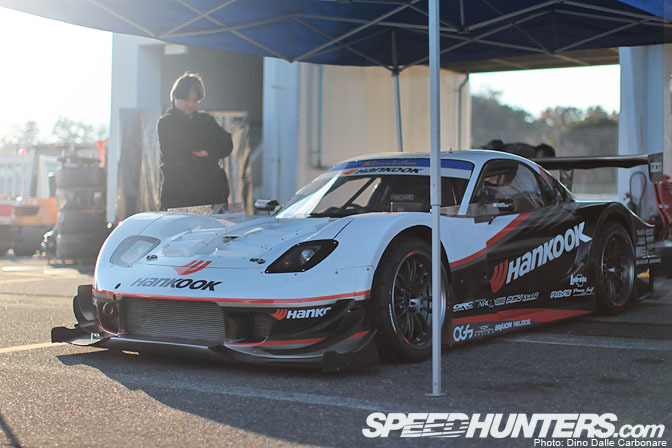 Everyone knows it is stupidly fast on a bad day, but just how fast can it be on a good day!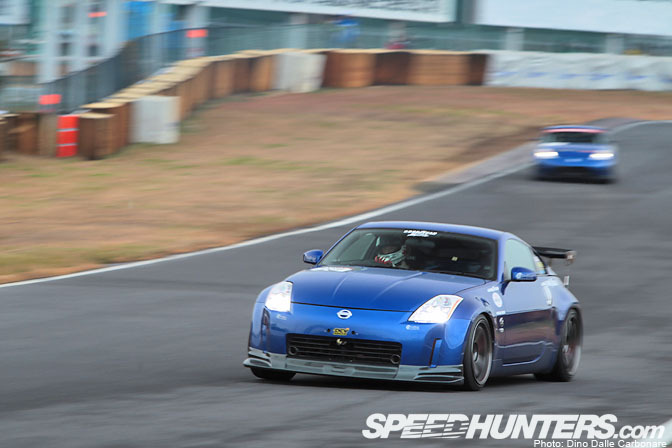 There were quite a few Z33 entered in this year's events and the Original Racing demo car was one of the fastest with a best lap of 1'03″783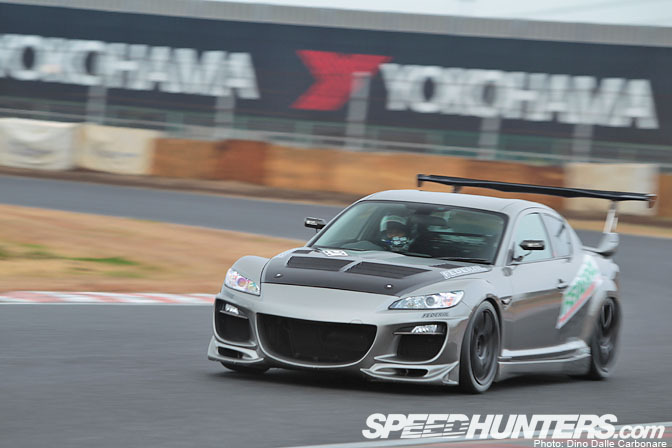 R-Magic preferred to leave the FD3S home for this event and entered only their SE3P. Running Federal semi-slick rubber it got a 1'04″886. Check out the height of that rear wing!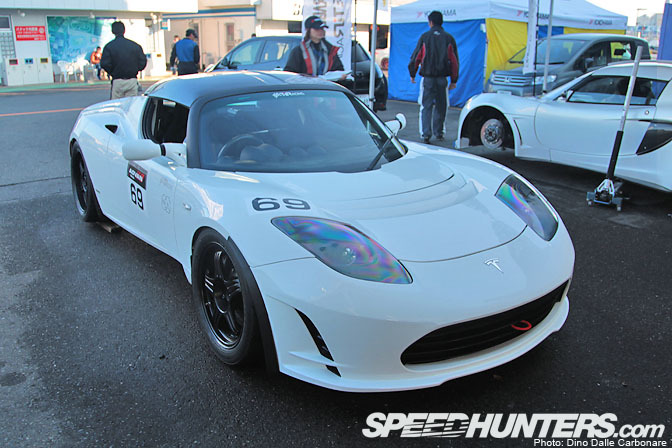 Outer Plus with Ti Racing are Lotus specialists so it's no surprise they were interested to see what they could do to make the all-electric Tesla Roadster faster, after all the car is based on a Lotus Elise chassis.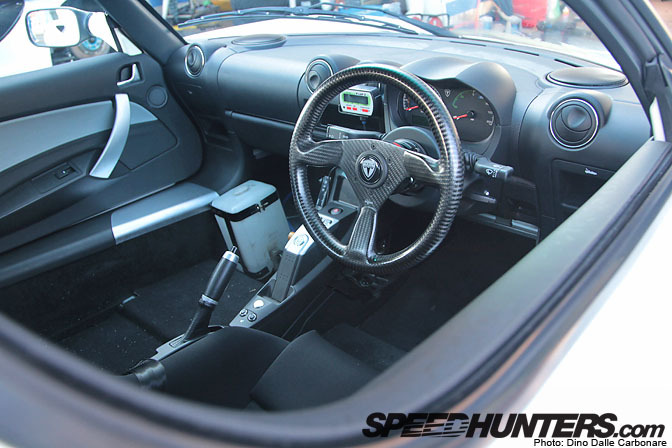 Not sure ripping out the passenger seat and fitting a dry carbon steering wheels will do much to counteract the weight of the battery packs but every little helps I guess. Best lap of the day was a 1'06″934 on Advan semi-slicks. Not a bad start for these EV cars! The Nissan Leaf they also entered managed a 1'14″652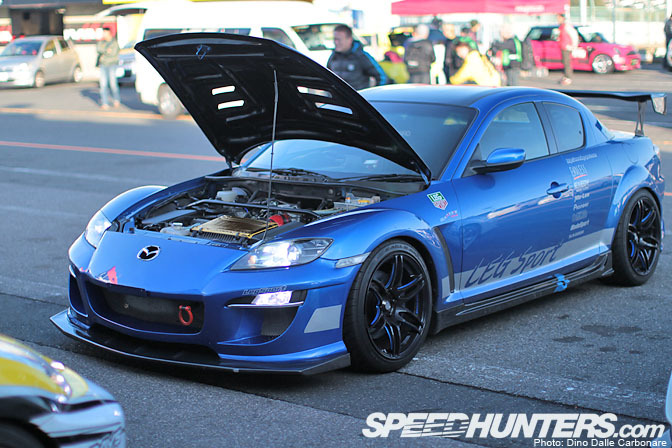 Another fresh looking RX-8 this time from Leg Sport. Driven by Ooi-san and on radial tires it got a 1'03″847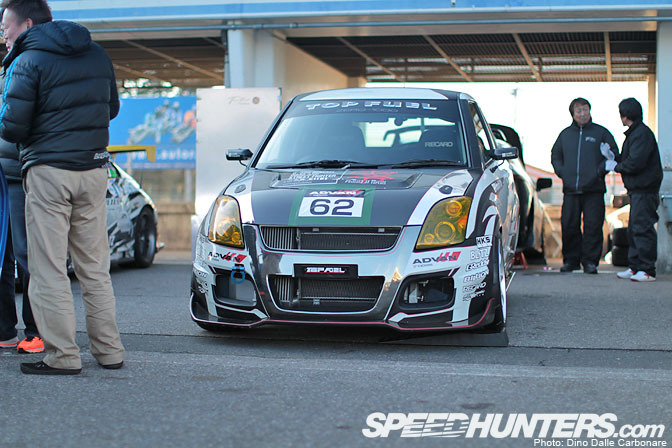 Top Fuel have managed to turn the little Suzuki Swift into quite the performer thanks to a bit of boost and serious suspension tuning. With Ooi-san at the wheel (yes he was quite busy that day!!) the little FF hatchback put down a very solid 1'01″319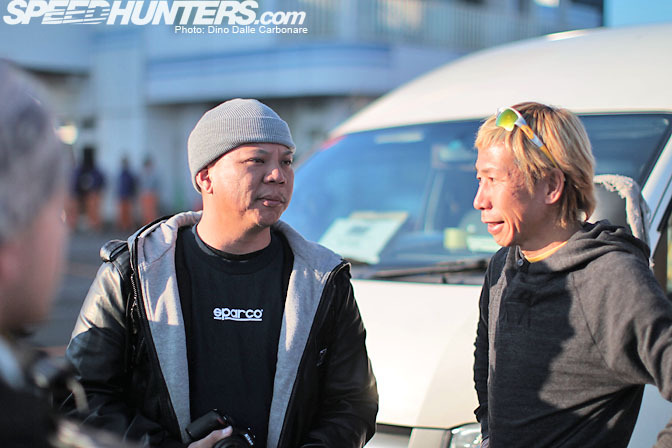 Eric Hsu from Cosworth USA was over to check out the event too. Eric runs his own blog on Moto iQ, make sure you check it out as there is plenty to learn from each of his posts.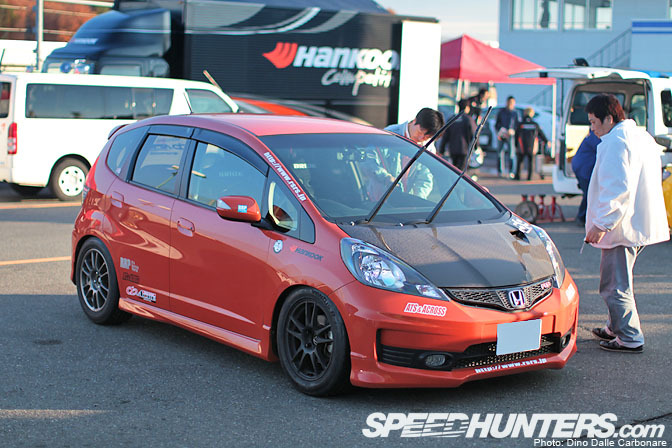 With all the three timed sessions completed for each of the classes the atmosphere on the paddock went to a more chilled out pace.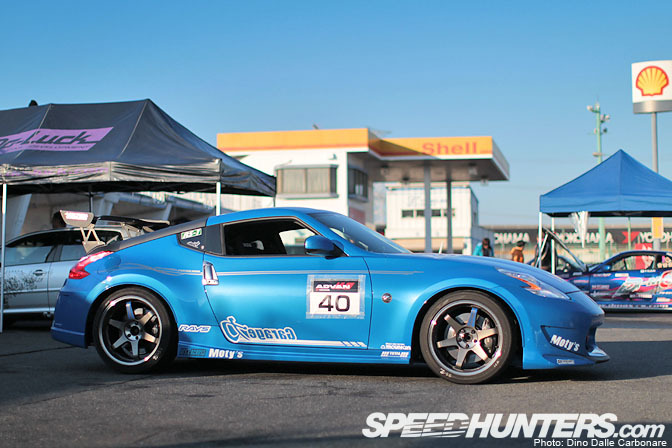 I walked around a little more grabbing shots of cars I had missed and took the opportunity to chat to people and of course drool over most of the cars that had showed up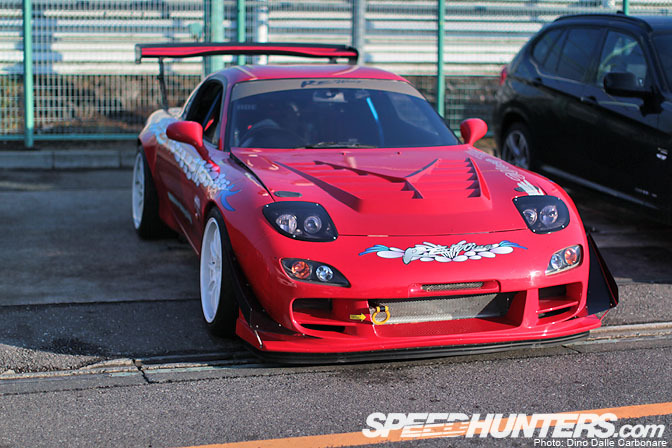 I'll end the event coverage with a shot of the RE Wing FD3S. For me this is a perfect example of what tuning has matured to in Japan. This FD3S not only manages to remain street legal, but unleashes a brutal 520HP which allows it to lap Tsukuba in 57″651, in the hands of Nob Taniguchi. It's events like the Super Battle that have helped push the scene along and hopefully will continue to give it momentum for many more years to come.
Tsukuba Super Battle coverage on Speedhunters
-Dino Dalle Carbonare