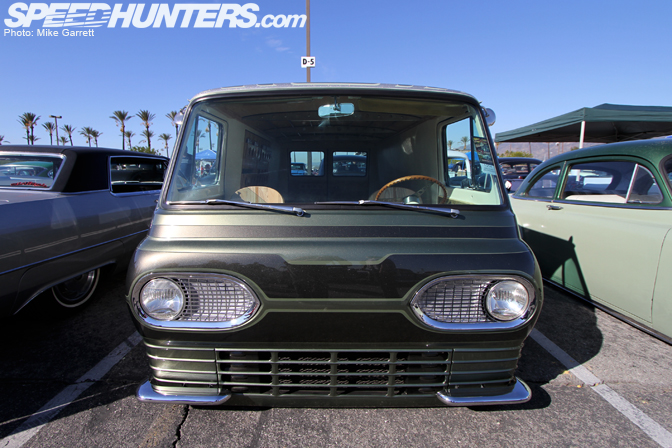 It's time now for the fourth and final part of my impressions from the 2011 Mooneyes X-Mas Party – and what better intro than the face of Coby Gewertz' amazing "Van Go".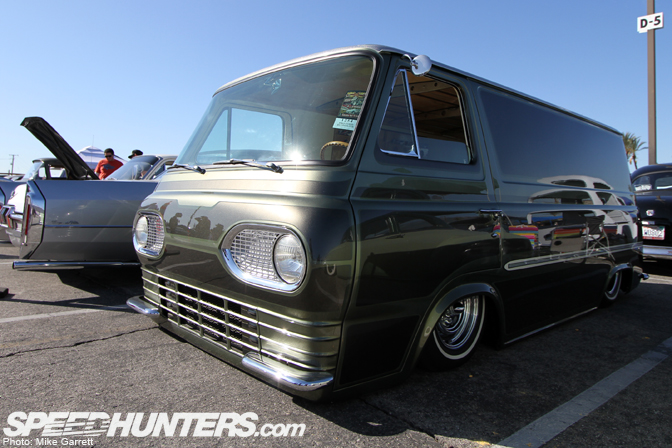 The heavily customized Ford Econoline has popped up at several events after its debut at this year's GNRS. I can never get enough of it.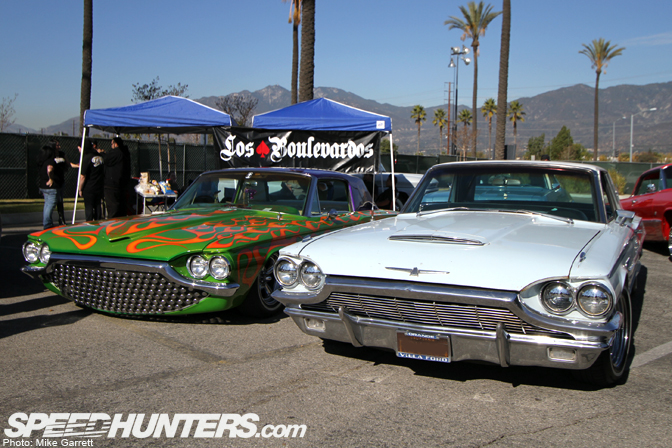 A pair of Thunderbirds from the Los Boulevardos Car Club. Gives you a good idea of the difference between the customized version on the left, and the stock version on the right.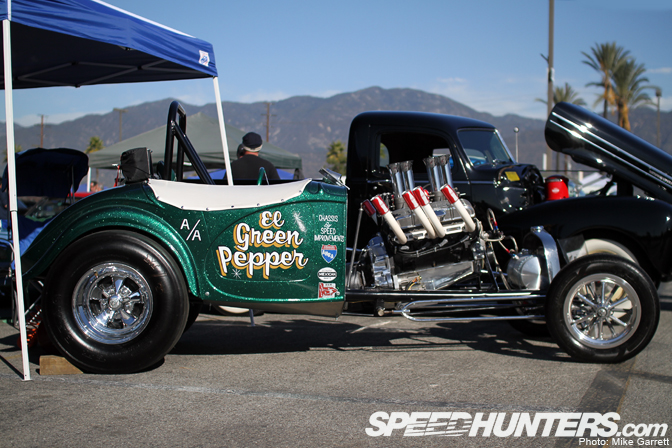 Thanks to cars like "El Green Pepper" you can see the evolution of a dragsters from stripped down Hot Rods to full-on competition chassis.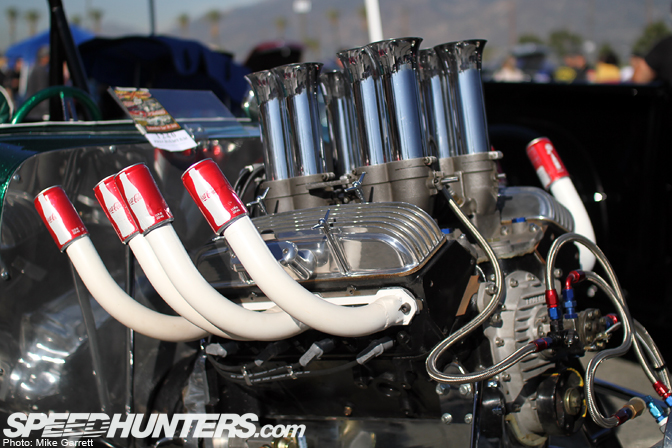 She was very cool to see in all of her metal-flaked, velocity-stacked glory.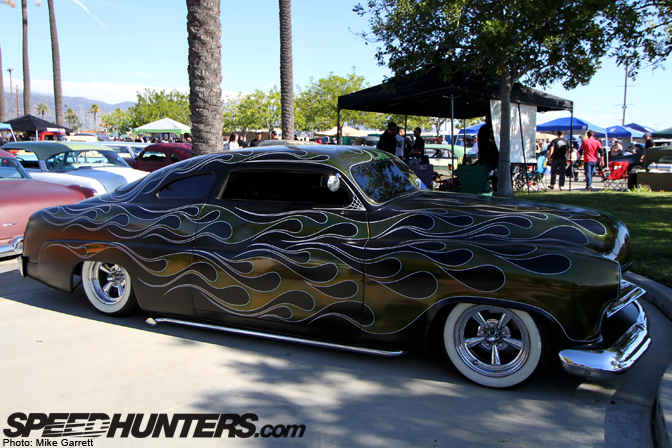 A flame job does not get more outrageous than this.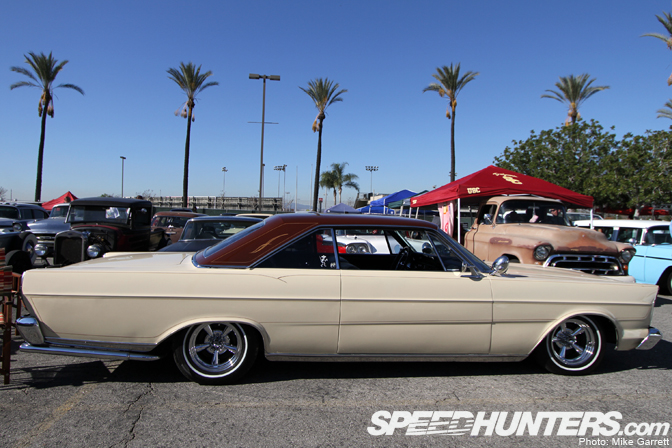 More and more it seems the retro custom/lowrider look is growing for cars built in the early to mid '60s.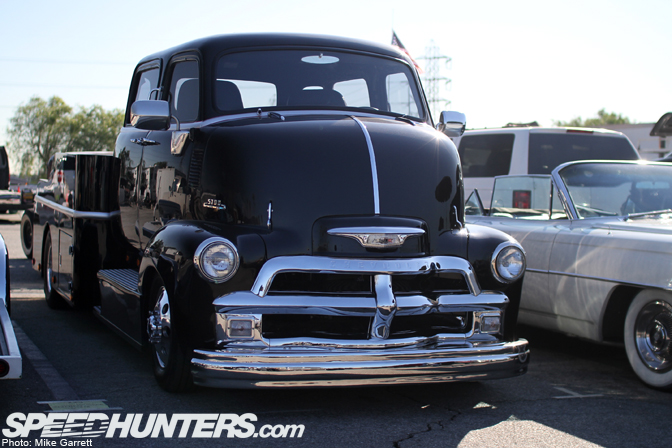 When it comes to a heavy duty hauler, it just doesn't better than a vintage Chevy COE.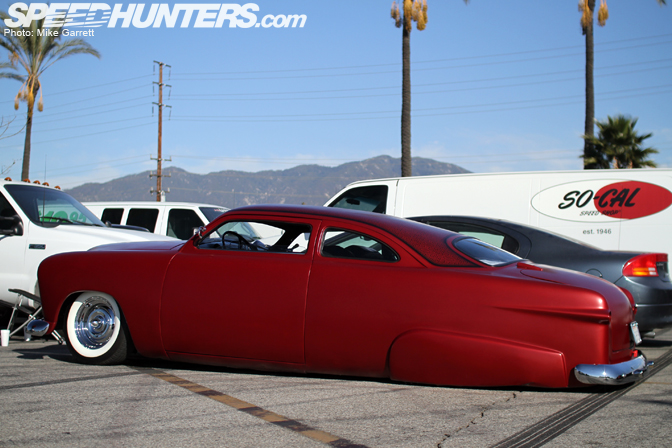 Here's another gangster Shoebox Ford, aired down to the deck.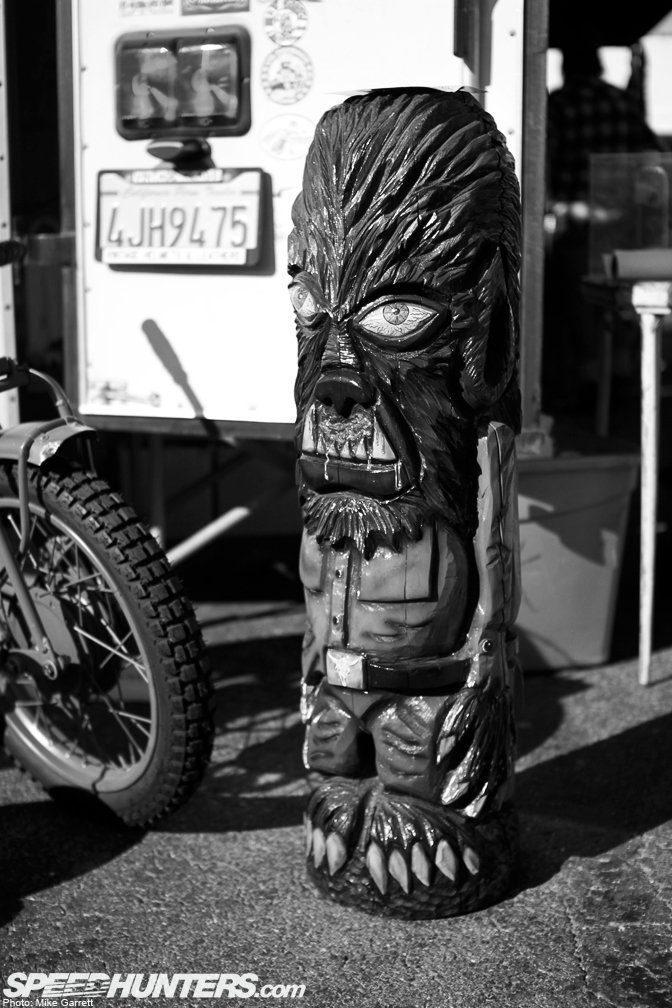 Now here's a tough question. Wookie or werewolf? You be the judge.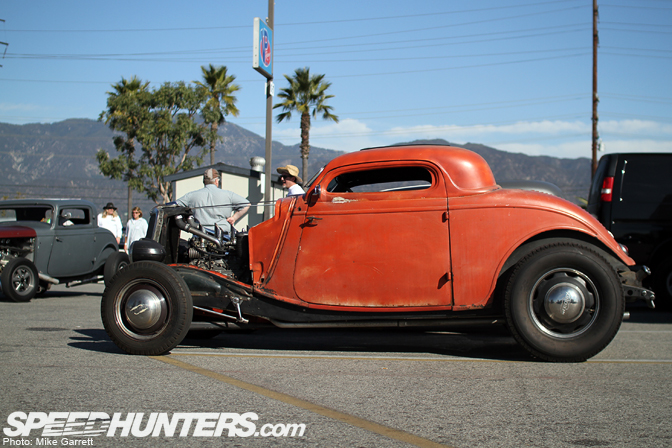 Raw. That's the word that comes to mind when I see this chopped up Coupe.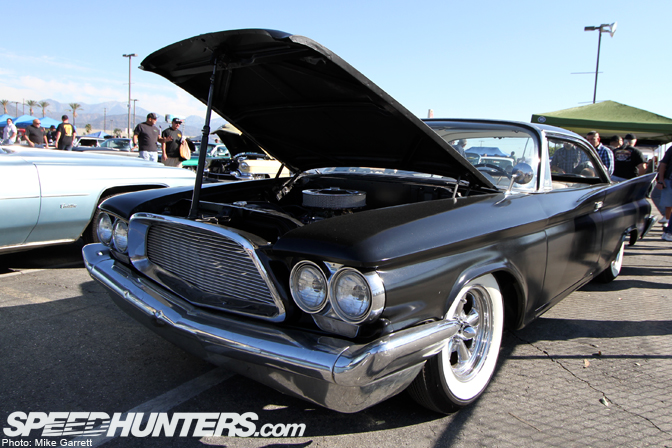 Few cars can better convey the extravagance of the late '50s and early '60s than this mild custom Chrysler.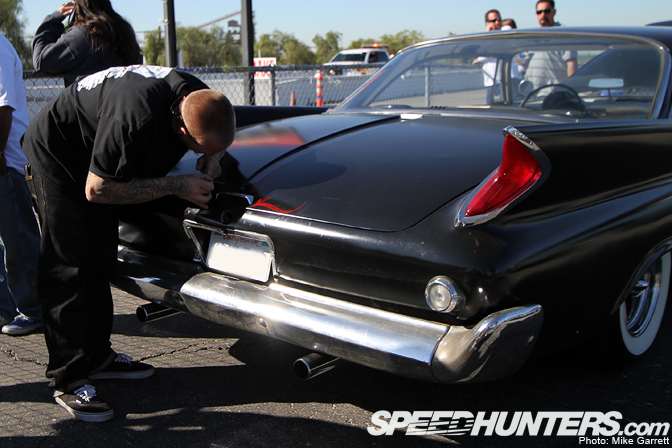 It was in the process of having some pinstriping done on the trunk. Always a trip to watch these guys work.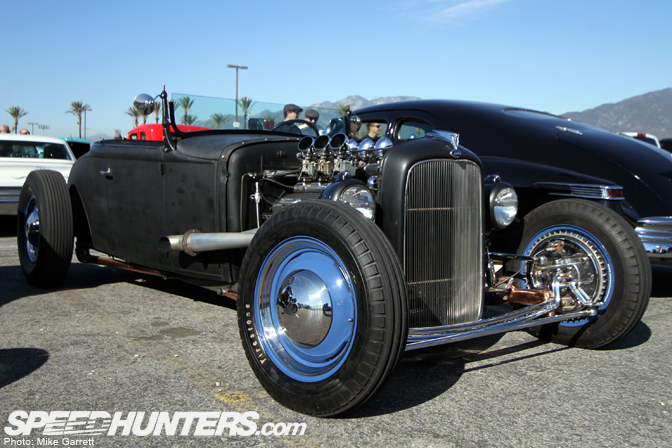 Here's another tidy Roadster on rolling around on some very narrow period Firestone rubber.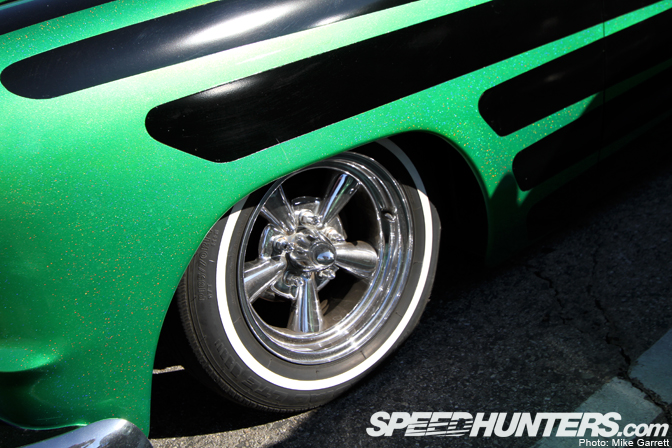 Scallops and Supremes.
Now that's a clever way to build a transporter…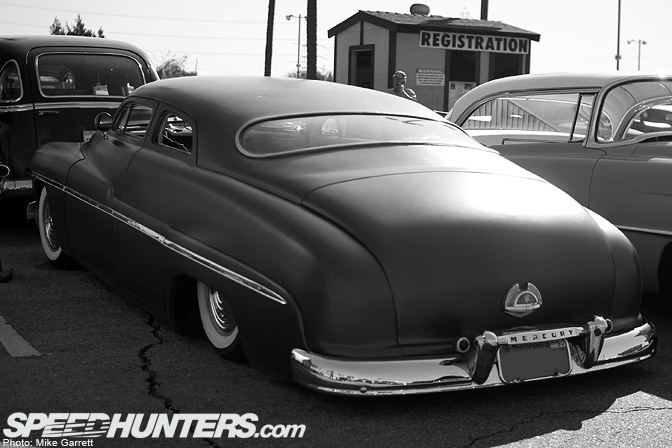 A Merc looking tough as nails with a nose-up stance.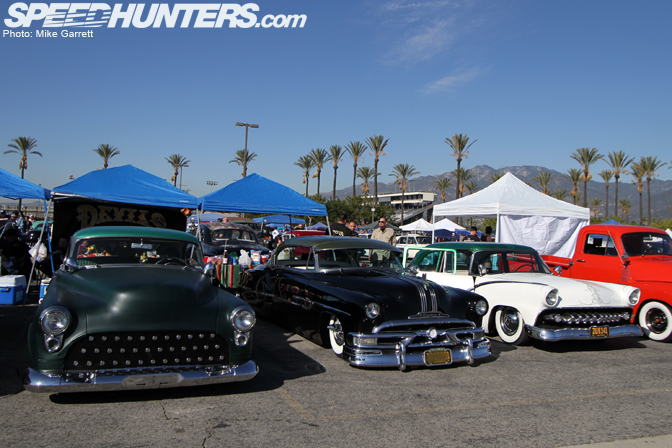 Chevrolet, Pontiac, or Ford. As long as it's low and cool, all is well in the world.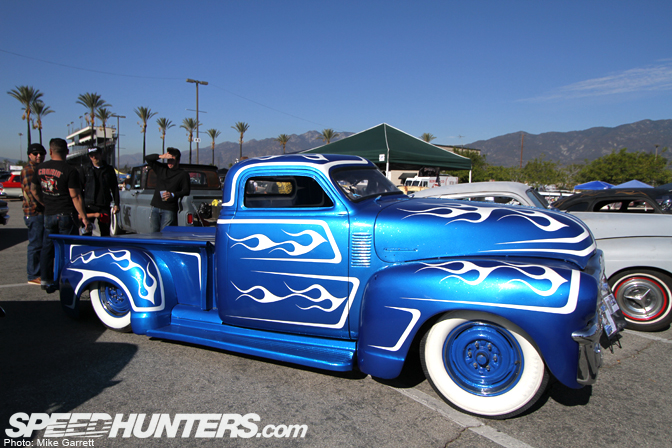 Flames or scallops? Why not have both?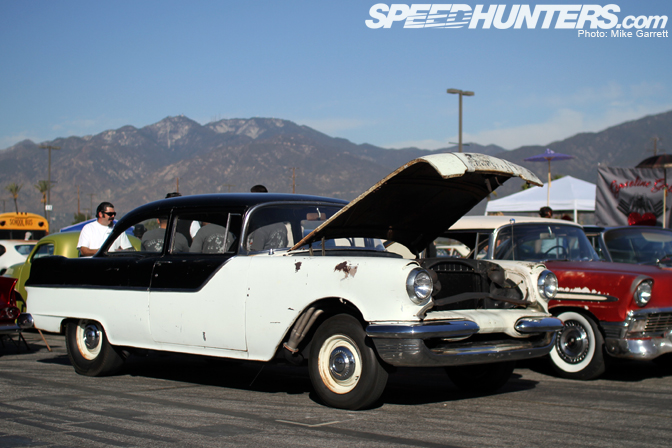 I also spotted this Pontiac at the Long Beach Motorama. This time I got to take a glimpse under the hood.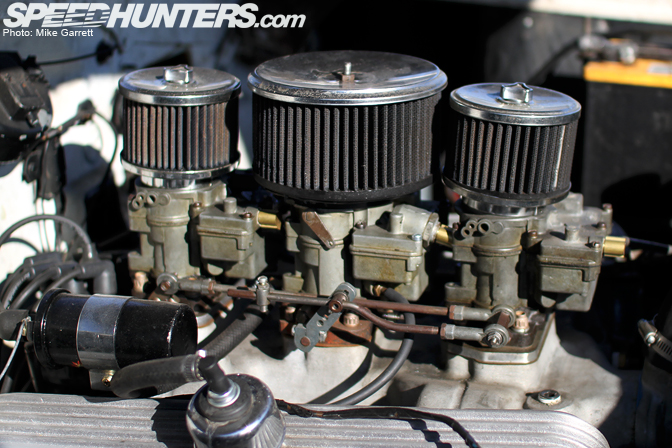 Naturally, it was equipped with a triple carb setup – known as Tri Power in the Pontiac world.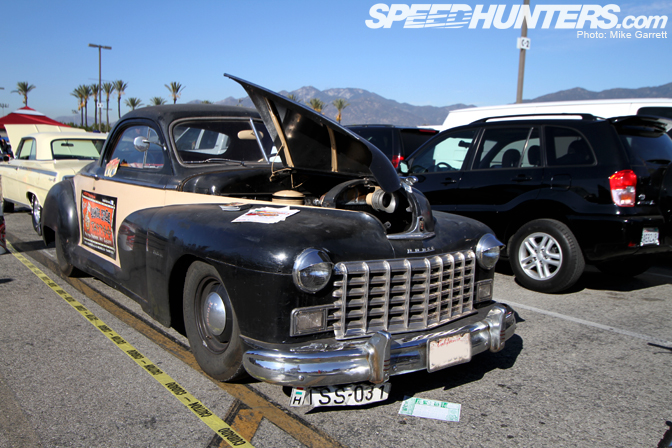 The RAV4 on the right might seat more passengers, but this Dodge Coupe might have more cargo space thanks to its massive trunk.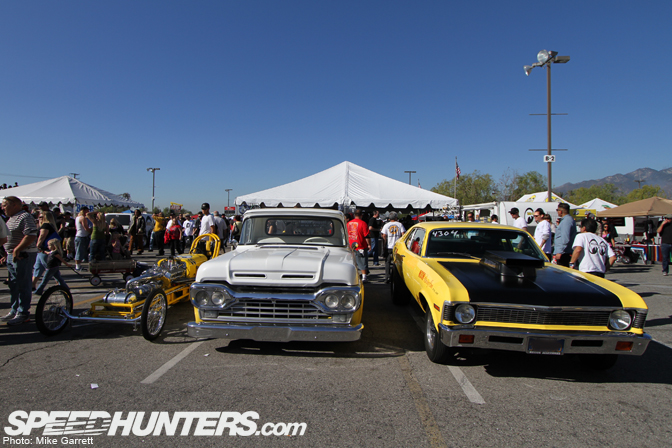 The Mooneyes trio!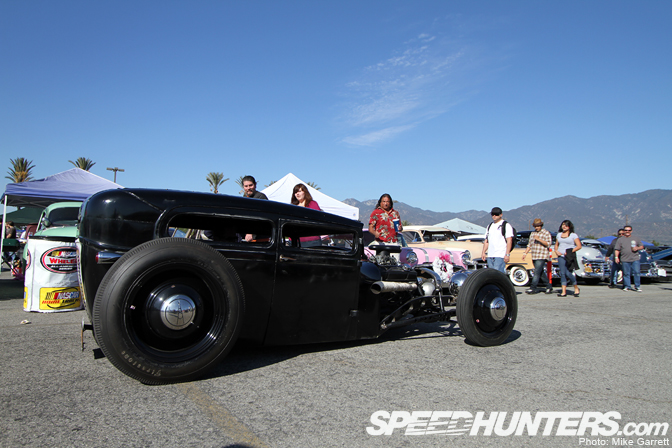 And so another succesful X-Mas Party comes to an end. Hope you enjoyed the coverage.
Thanks to the Mooneyes crew for throwing another great event!
-Mike Garrett