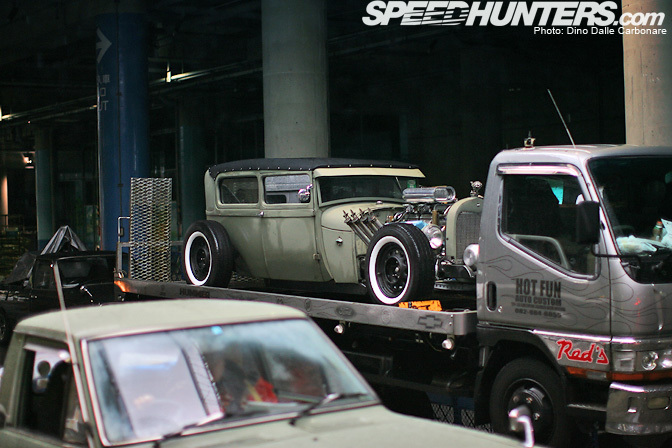 I'm often blown away by how vast and diverse car culture can be. No matter what scene you are into, as long as there is a healthy dose of passion it is hard not to appreciate what is going on. This is precisely why covering the Mooneyes Yokohama Hot Rod and Custom Show has become something I really look forward to every year. Unlike the high paced events that I usually head to over here in Japan, things are so much more relaxed under the roof of the Pacifico Exhibition Center. I roam through all the cars, bikes and vendor stalls without a worry about time or the need to make sure I capture a specific car or personality.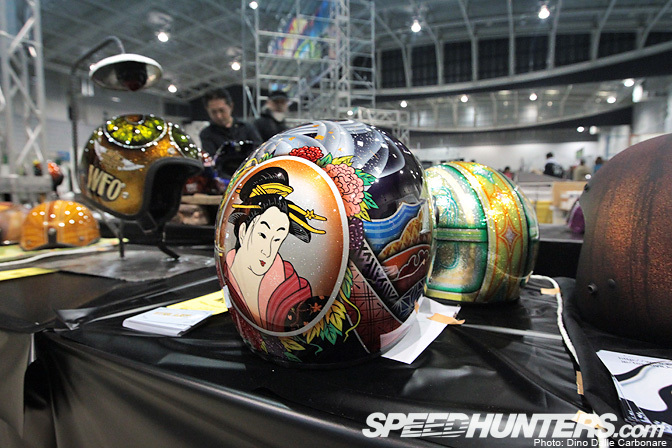 This is the best way to tackle an event of this magnitude, as everything you see is about attention to detail. Take this helmet that was entered in a paint competition they were having. It fuses the style of an old school bike helmet with the sort of Japanese art you would never think of seeing on something like this.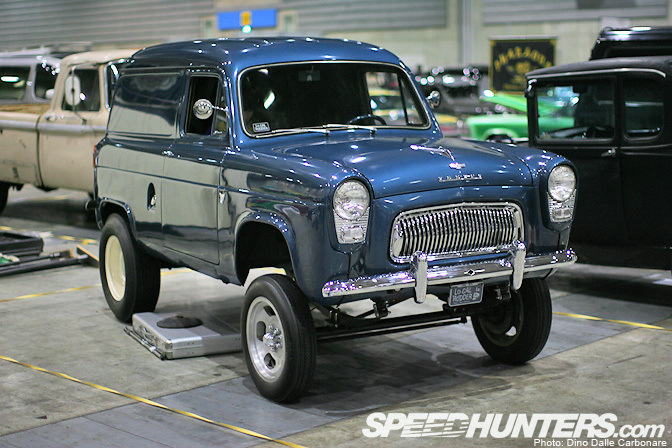 Spotting rarities like this Thames van, lifted up in gasser style, is so much fun…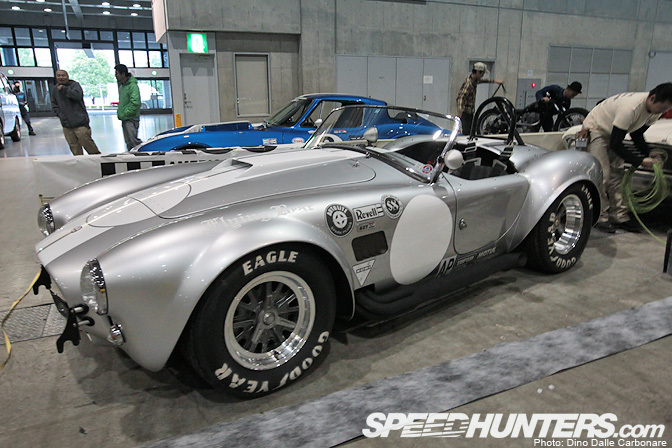 …or how about this 427 Shelby Cobra. I was literally left with my jaw on the ground when they turned the engine on to reposition the car in its display space.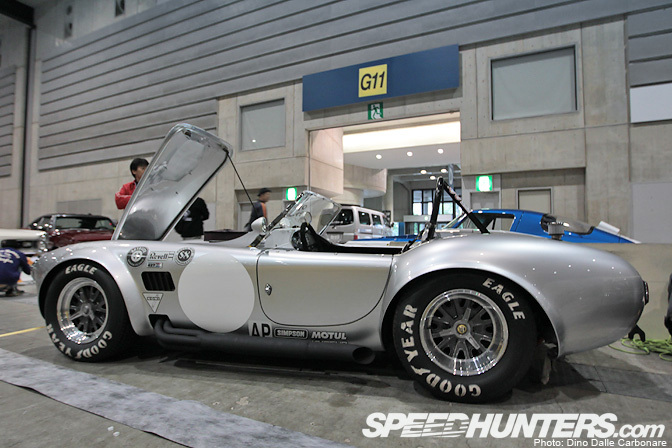 Might not be a custom or a hot rod but rare classics like this are what add even more spice to the show.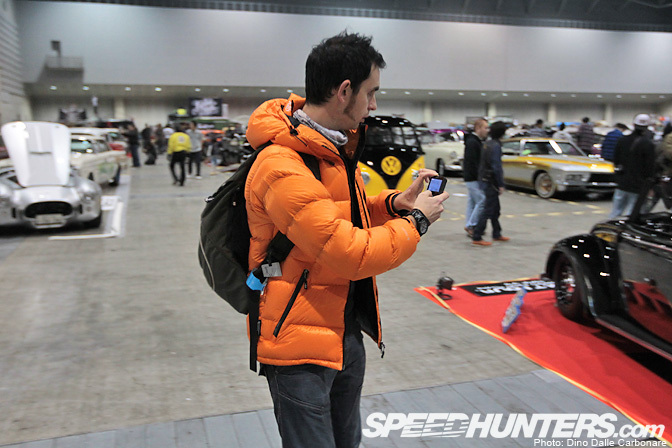 Jonny from Fifth Gear was busy taking videos of his favorite cars. He is actually in the process of building up his Beetle so was taking special notice of all the VWs.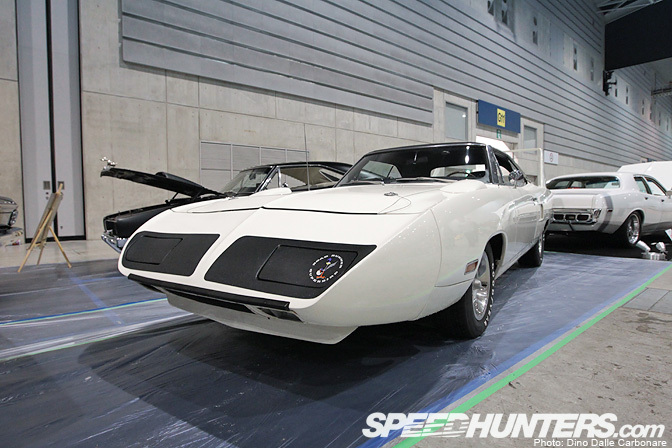 The crazy 1970 Plymouth Road Runner Superbird, no Mooneyes show would be complete without at least one.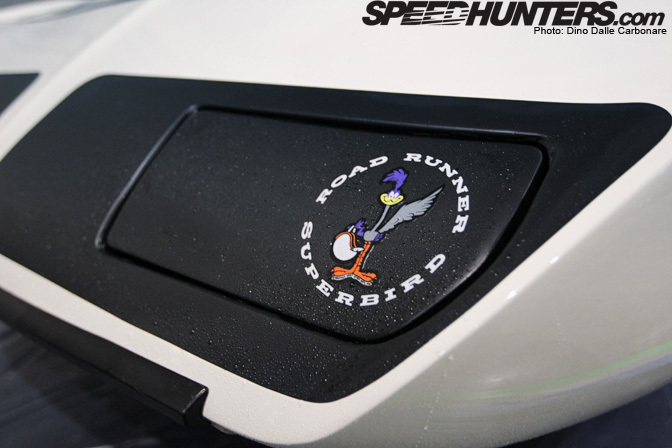 Beep beep!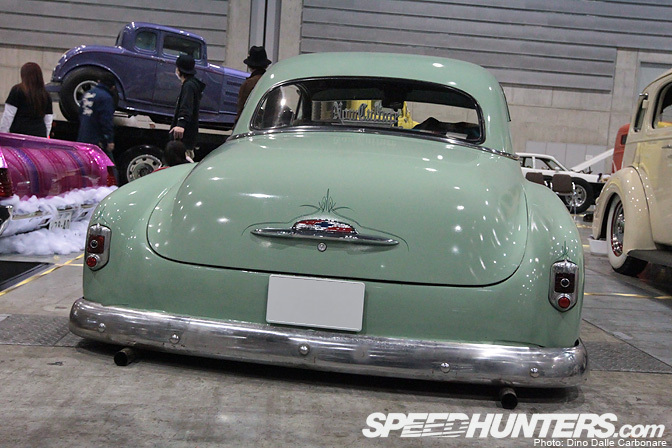 It's pretty crazy what some people do with these old fifties cars.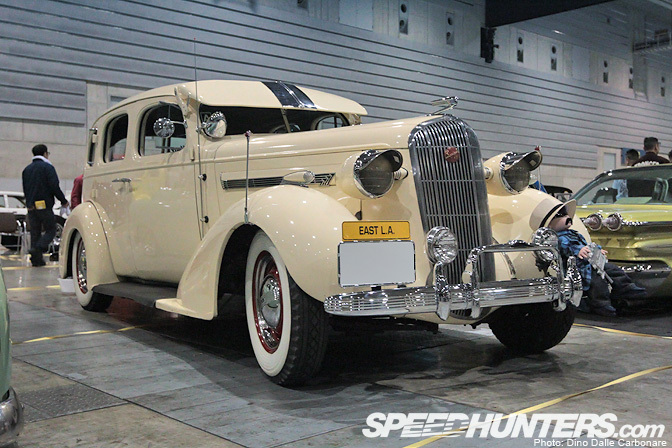 I guess cars like this late '30s Buick are what movie stars used to be driven around in.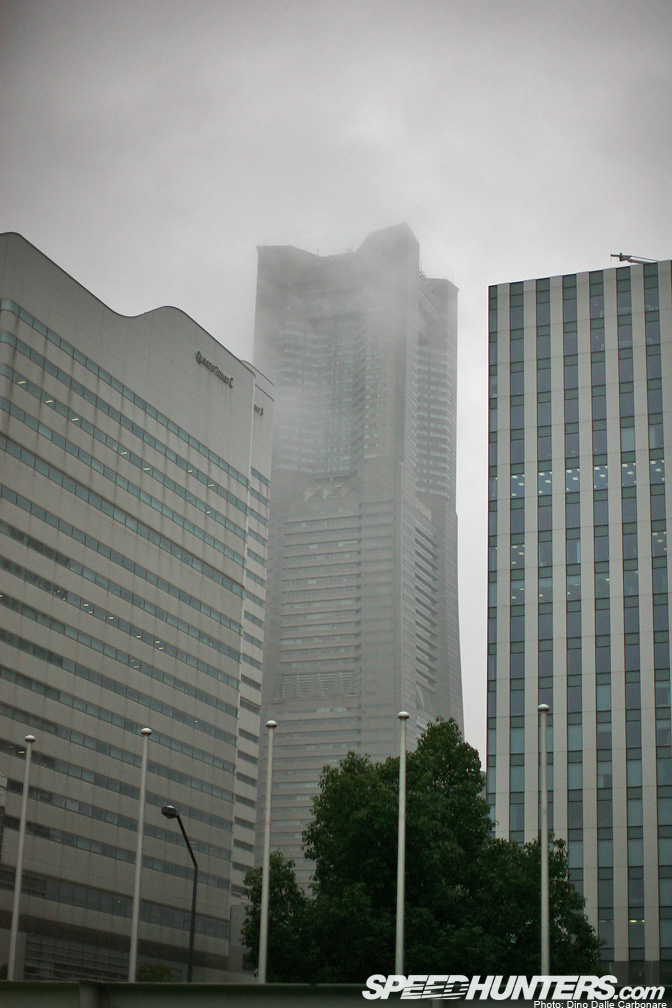 Since Saturday was the set up of the show I made sure to head out of the show halls to see the cars arrive and get unloaded under the rain.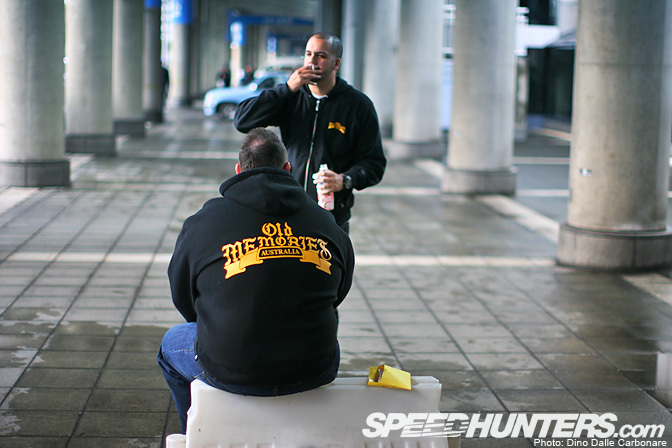 Of course this was also a great place to check out the atmosphere, and the people behind the hot rod and custom scene. A lot of guys went outside for a quick smoke or to get a breath of fresh air. With most cars driving in under their own power there is always a stationary cloud of exhaust gas hovering over the show space. As Steve from Mooneyes Japan told me this year there was a large number of people from overseas that came to exhibit their cars. The guys above were from Australia, joining the usual US guests as well as the New Zealanders that were over. I even heard some Italian and French being spoken in the vendor areas!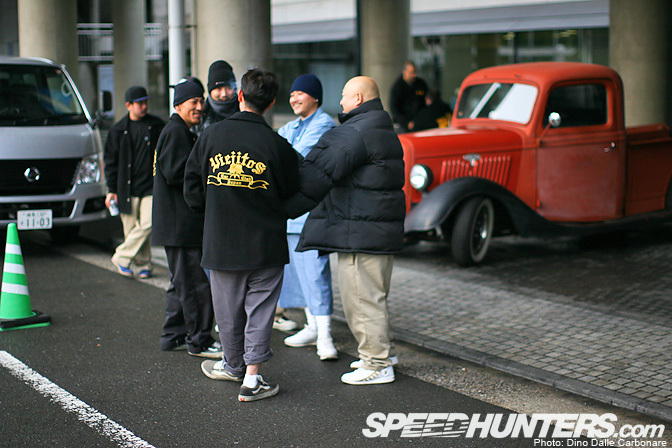 Some Japanese hot rod enthusiasts chatting about cars…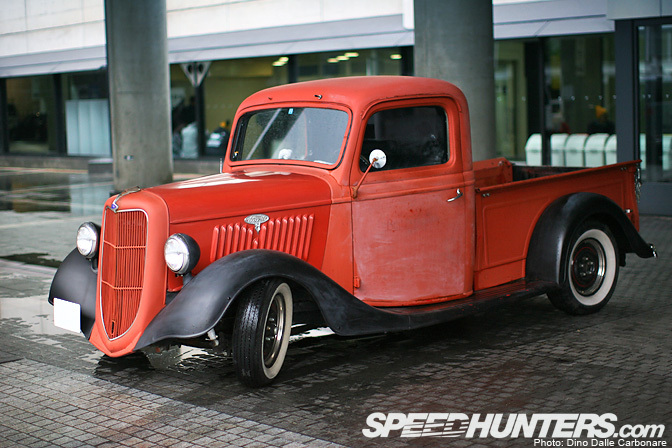 …in front of this Ford truck I saw last year parked up in exactly the same positon. I wonder if it's a fixed attraction at Pacifico!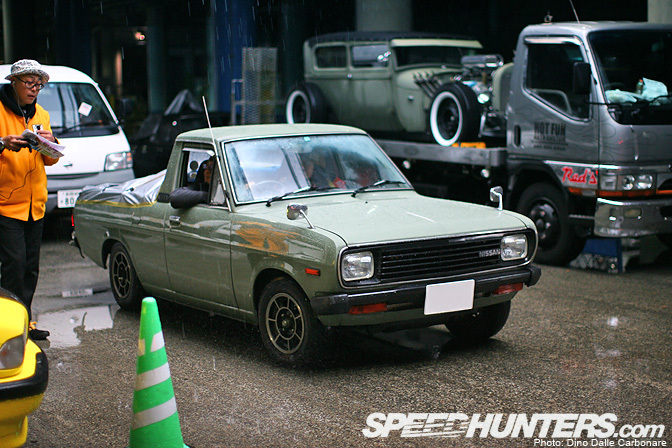 Meanwhile at the back of the exhibition the cars kept rolling in…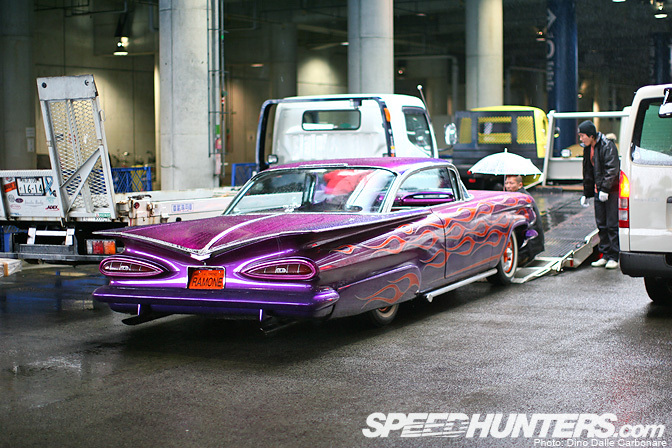 …and getting unloaded. Check out the paint job on "Ramone" above!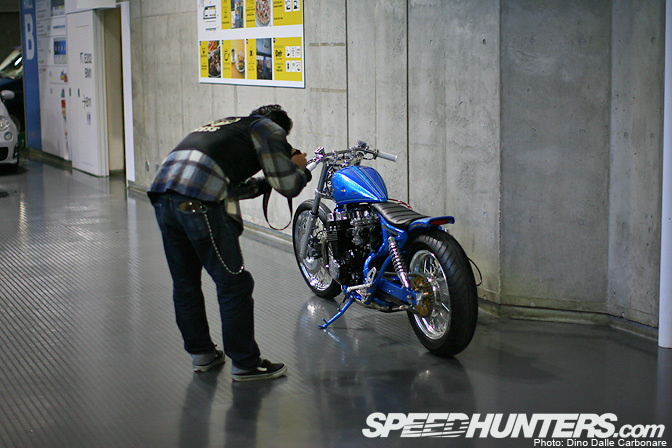 Throughout the day the vast empty area outside the main gates of the halls were used by bike mags to shoot the newest custom creations of the year.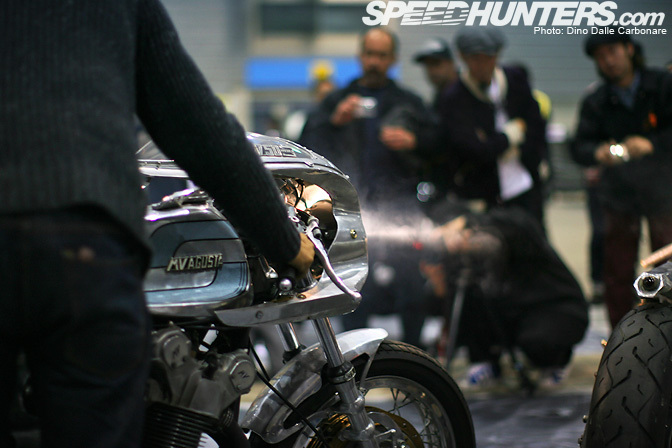 Of course the best thing about attending the set-up part of the show is hearing all the cars and bikes. This crowd quickly gathered around an old MV Augusta after one of the American guys there asked the Japanese owner if he could hear the engine. He revved it for a few minutes as everyone stared in awe.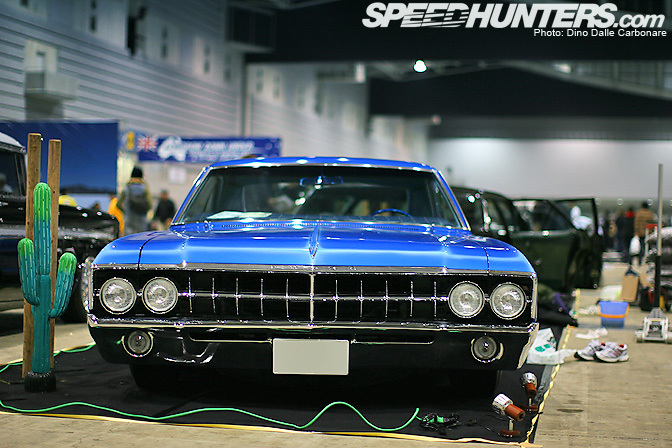 By mid-afternoon most had gotten most of their displays built and set up…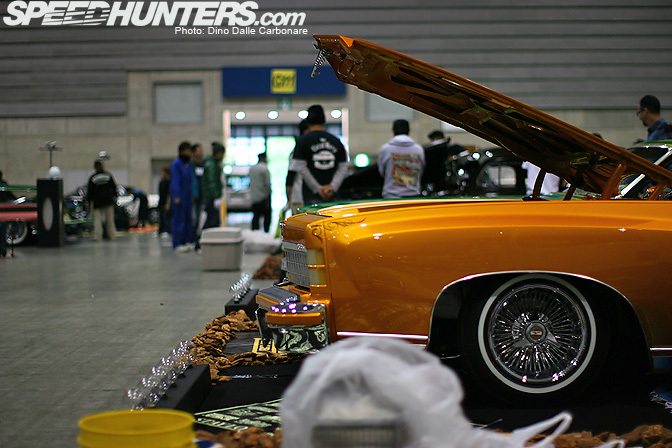 …with others still hard at work. Seeing Christmas is just around the corner, fluffy cotton was a popular decoration adding to the festive feel.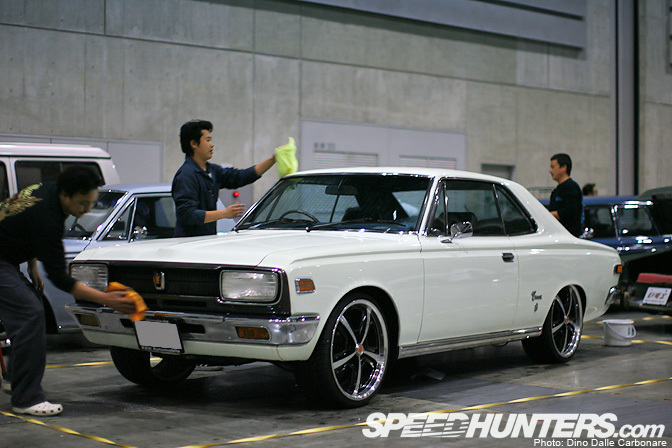 You don't see too many of these Toyota Crown Coupes around. I wanted to get more shots of this stunningly built car but these guys were polishing it all way until the halls were closed at 5:30 pm. Still, I might visit the shop that built it up in Utsunomiya one of these days for a proper feature.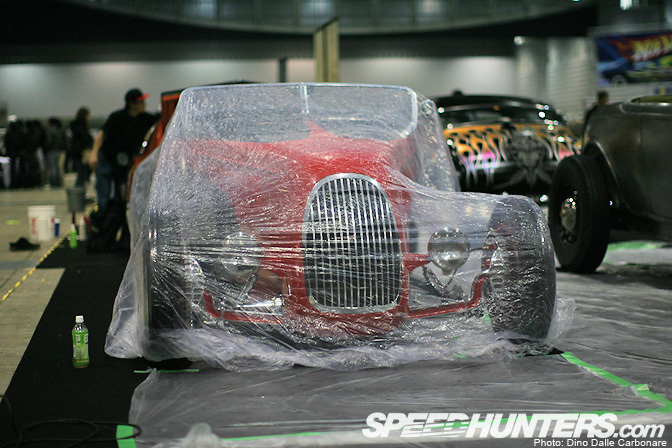 I loved the extra care some people took protecting their freshly detailed piece of automotive art, like this unique hot rod.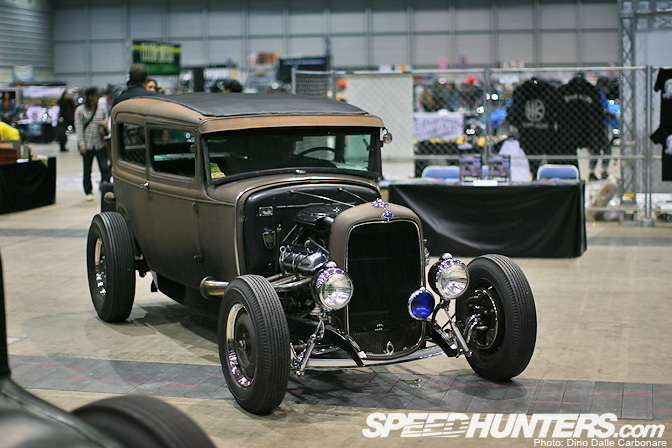 With most hot rods present being slammed right to the ground I found this Ford quite an interesting variation.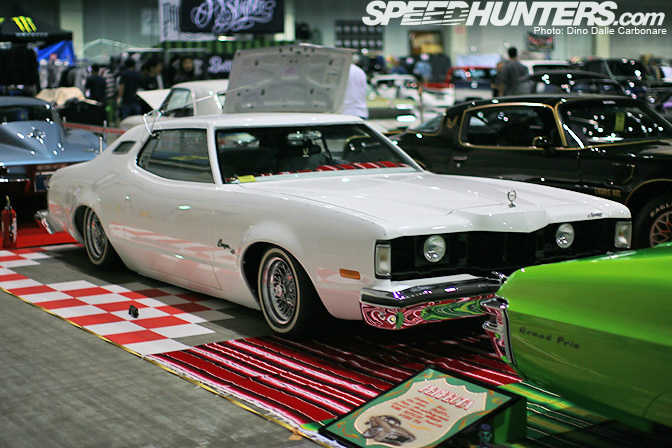 I quite liked this Mercury Cougar Coupe but I couldn't figure out why there were rivets running along the top of the fenders and doors.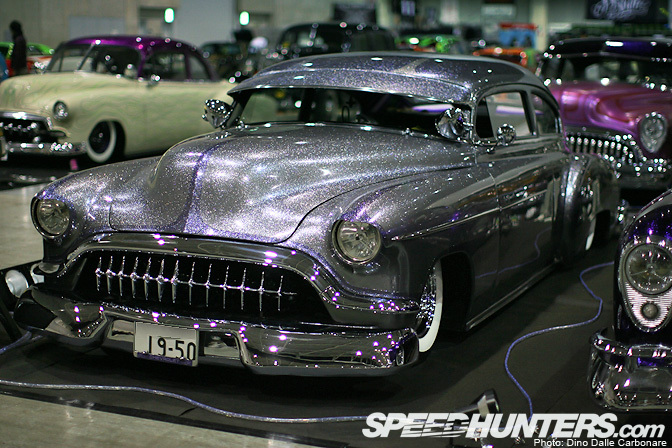 Flake paint anyone? That's it for Part 1. I'll be back in the next few days with yet more crazy custom creations from the Mooneyes show.
Mooneyes Yokohama Hot Rod and Custom Show 2011 coverage on Speedhunters
-Dino Dalle Carbonare