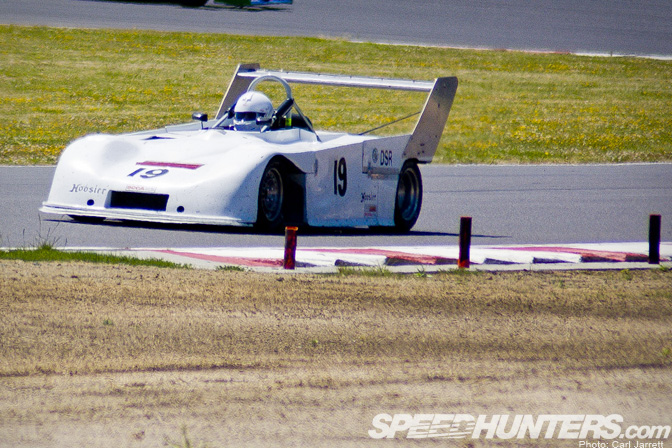 This is Thomas Hamilton's number 19 D-Sports Racer, a 750lb D Sports Racer. This thing is tiny; it looks to me like a shrunk down version of a Can-Am car Jim Hall might have come up with in the 60s! This car is actually an A-Mac chassis built in the 90s by Art McQueary in California.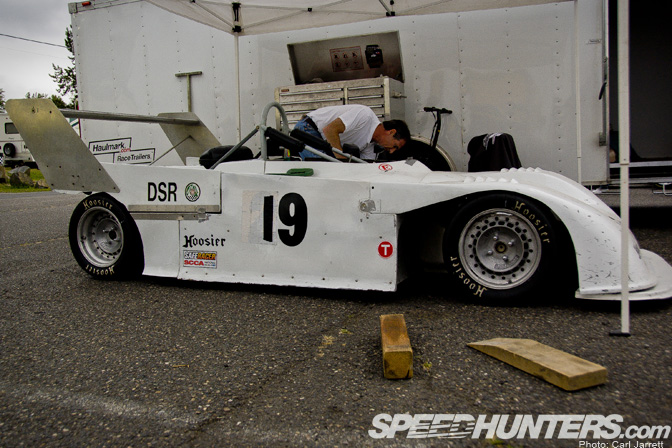 The A-Mac AM-6 was built specifically to compete in the popular D-Sports class in SCCA. DSR is known as one of the most open class allowing almost unlimited aerodynamics and suspension designs, with regulation on engine size, engine type, and overall vehicle size.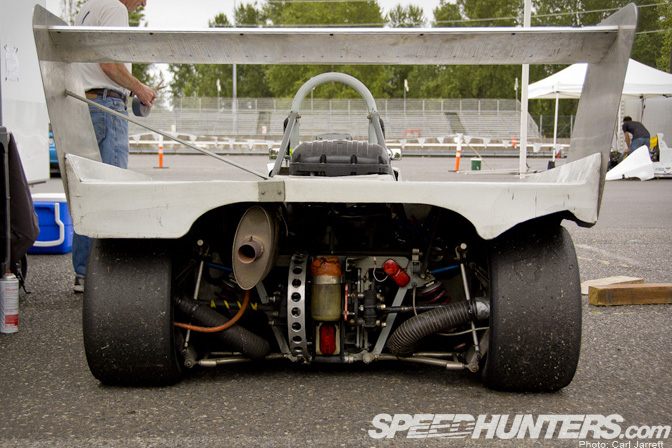 In the 90s, this car was very successful in the SCCA Club Racing scene, winning championships and races across USA and Canada.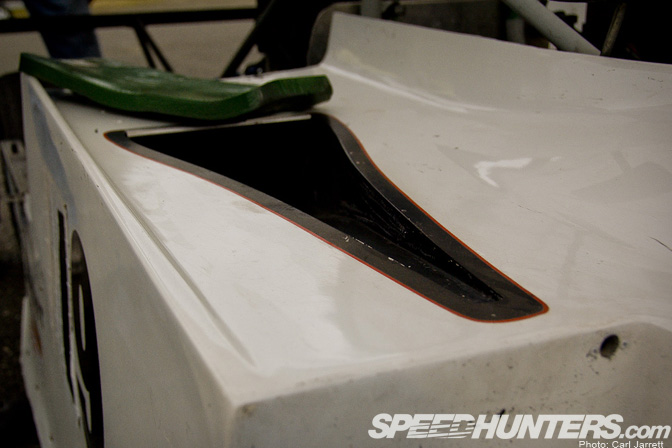 This AM-6 runs a 1 litre 4 cylinder Suzuki GSX-R engine. 1000cc is the largest size allowable for a 4 stroke DOHC engine, with 1300cc allowed for a pushrod engine, and 850cc allowed for 2-stroke engines. From what I understand the Suzuki GSX-R engine is one of the most popular choices in the class with its power output and reliability.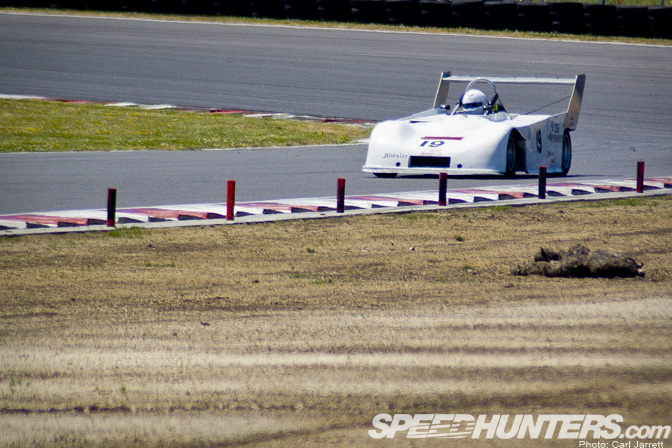 One of the first things I noticed about the cars racing in DSR was the vast differences in setup. Some looking like classic Can-Am cars, others like open cockpit prototypes from the mid 90s, and some similar to LMP cars running in their low drag setups.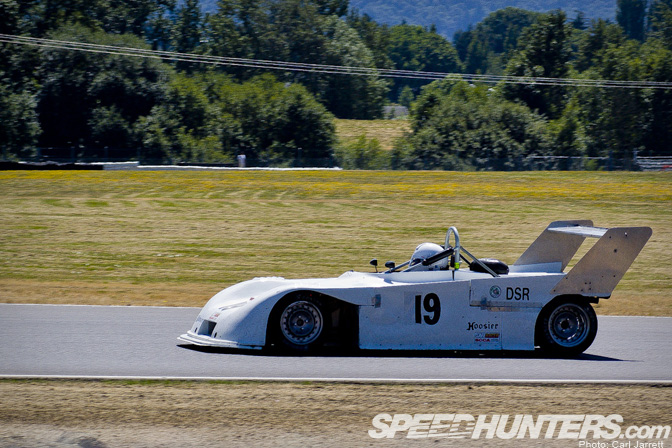 This cars runs with a full width rear wing with a massive chord and endplates. Running those full length solid endplates increases the effectiveness of the rear wing just as much as adding extra span to the wing would. If you're a nerd like me, check out this article written by Michael Fuller here.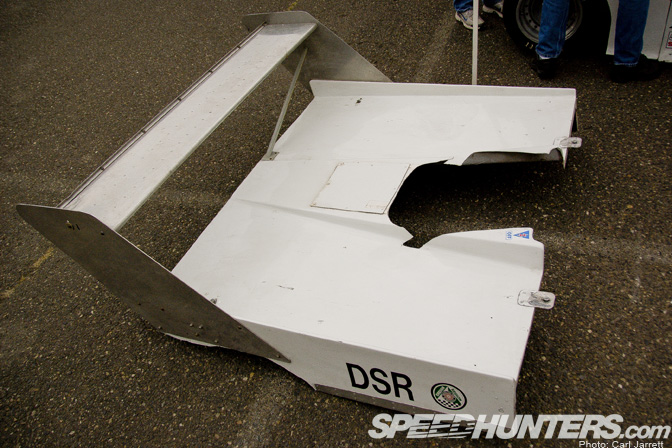 You can see there have been some diagonal struts added to help increase the stiffness of the wing and stop it from buffeting. A large Gurney Flap is run as well and helps to fine tune the aero balance.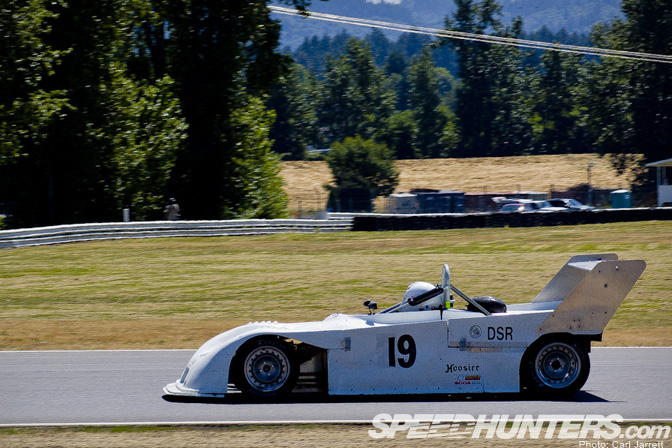 I would imagine in a class with very little aero restrictions that the roll hoop and supports would be faired in' but that might just be me being picky.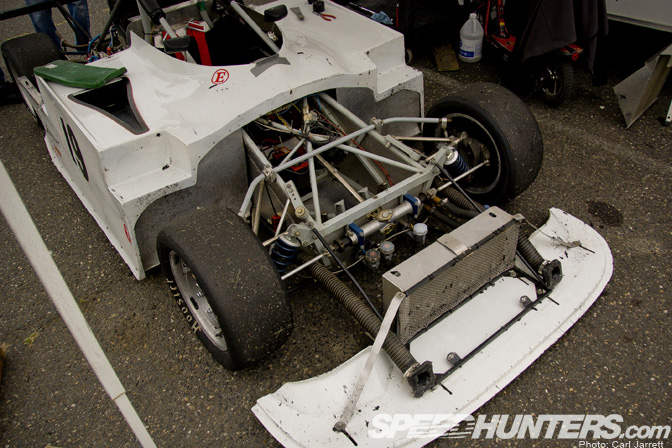 A good sized splitter is mounted with a detachable front steel subframe, and you can see the small diffusers ahead of the front wheels which helps to provide a little extra downforce.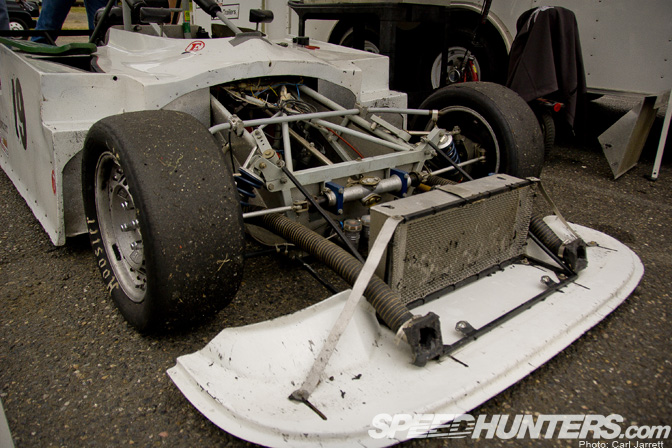 This car definitely looks seasoned. I wonder how many track miles it has seen over the years?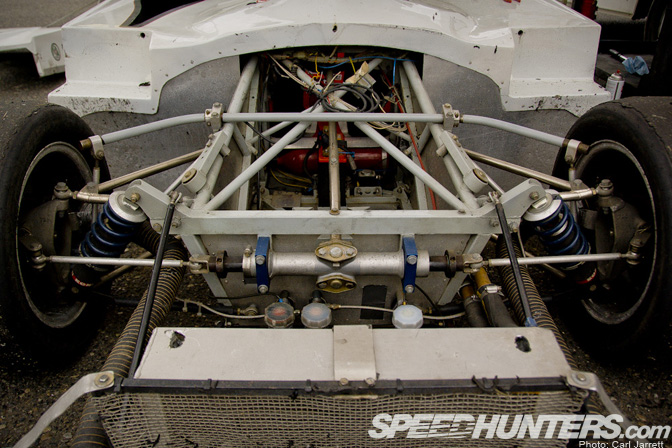 Central hard mounted steering rack which I imagine makes this thing feel like the palms of your hands are connected directly to each piece of aggregate in the asphalt. You can just see the tips of foot pedals here, which are just behind the front axle centerline to provide a better margin for safety. You can also spot the small dry cell battery which is mounted between the driver's legs.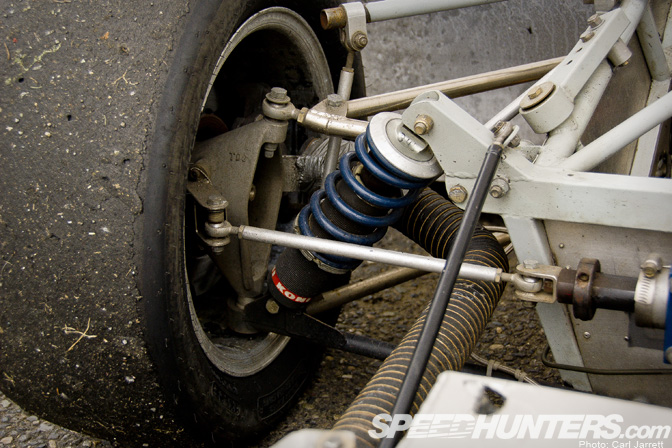 Typical mounting of the double adjustable Konis keep the bumps in check and 4130 chromoly A-arms top and bottom keep the suspension, strong, stiff, and light.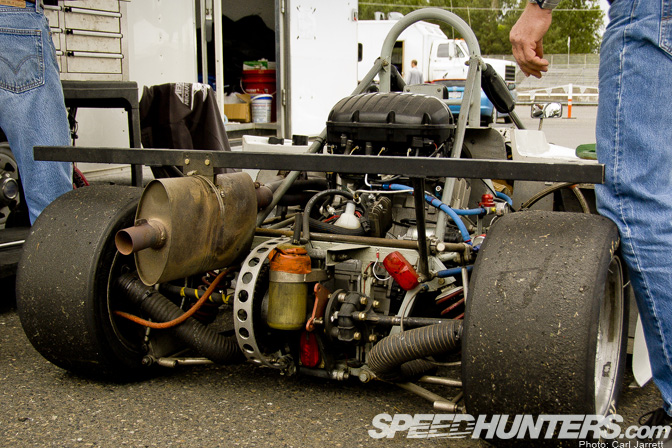 Rear propulsion is via a chain-drive setup, using some custom parts and a high performance motorcycle chain. You can see the steel detachable wing support that lives under the bodywork to help transmit the downforce efficiently into the chassis.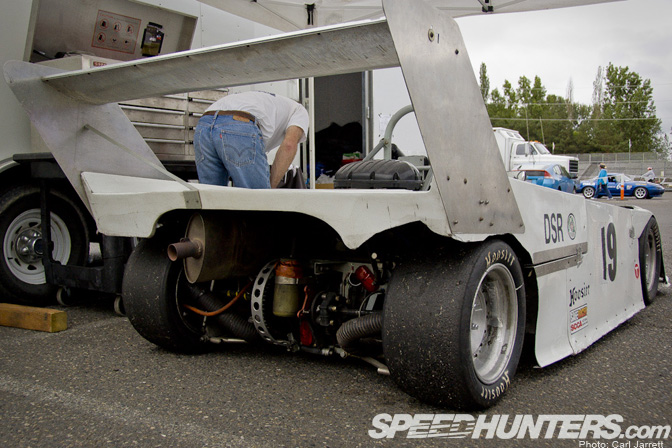 13" wheels and 9" slicks in the rear, and 7" slicks in the front provide the grip. I just love how compact this car is. It would be a blast to drive one of these.
Next time there is a Regional or National SCCA event near you, be sure to check out the DSRs; they often run with the faster Formula cars on track and are just awesome to watch.