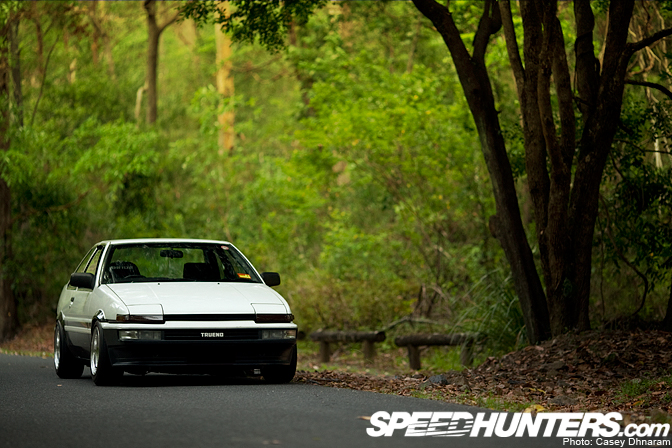 With so much hype around the new Toyota 86/Scion FR-S, it seemed fitting for me to pay a visit to an impressive example of the original AE86. Owned by Australian Seamus Eldershaw, this Trueno coupe has received plenty of tender loving care over the years.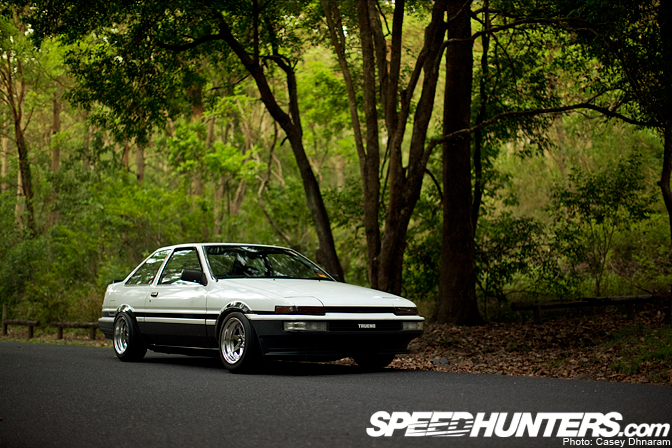 The gorgeous Toyota chassis was purchased in Japan just over 12 months ago on Yahoo Auctions and imported onto Australian soil.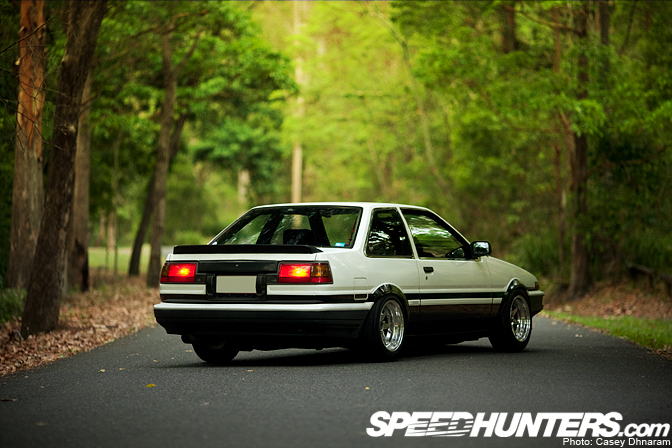 It's previous owner had garaged the Trueno for its entire life, so it was certainly a good base for Seamus to start from.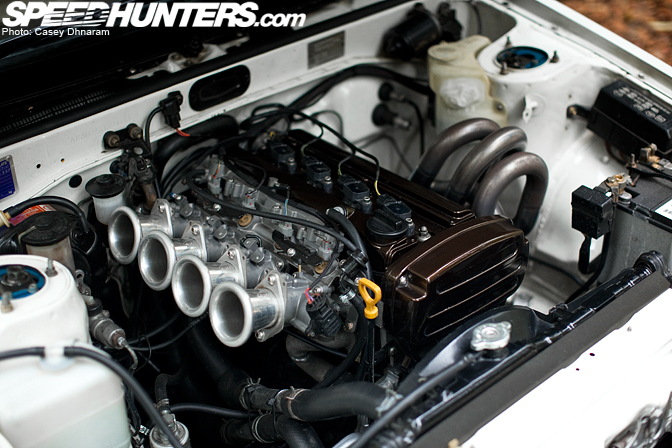 Under the hood, the stock motor was replaced with a hybrid 1.8 '7AGE' using AE111 pistons, new rods and the original 20V head.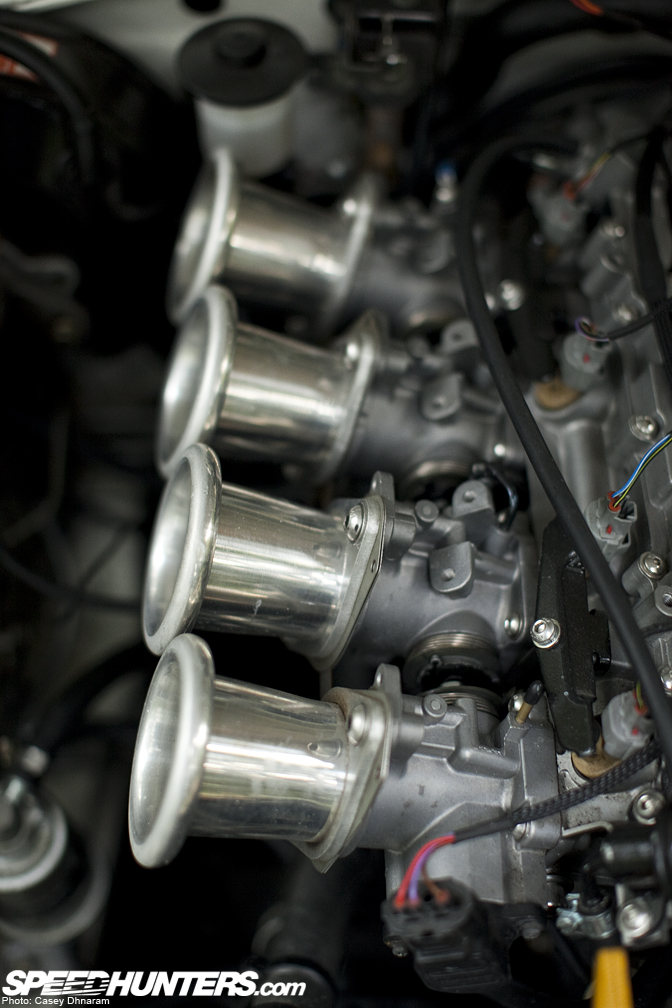 The independent throttle bodies with 70mm trumpets have been left unfiltered.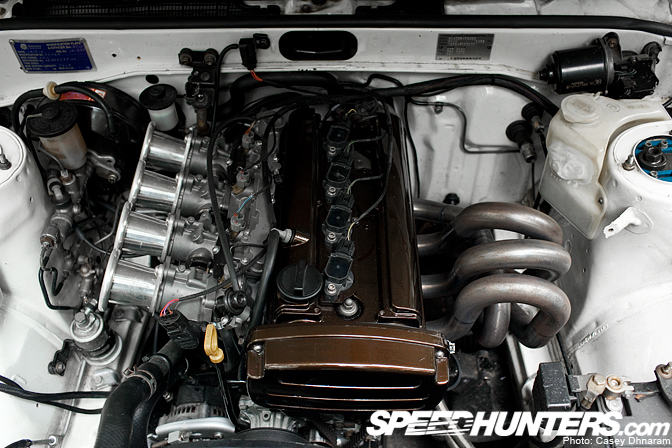 The ported blacktop 20V head has been upgraded with Kelford 284/278 9.3/8.5mm cams, Kelford valve springs and an adjustable exhaust cam gear. Seamus went to great lengths to retain the VVT with this setup. You'll also spot 1ZZFE coils.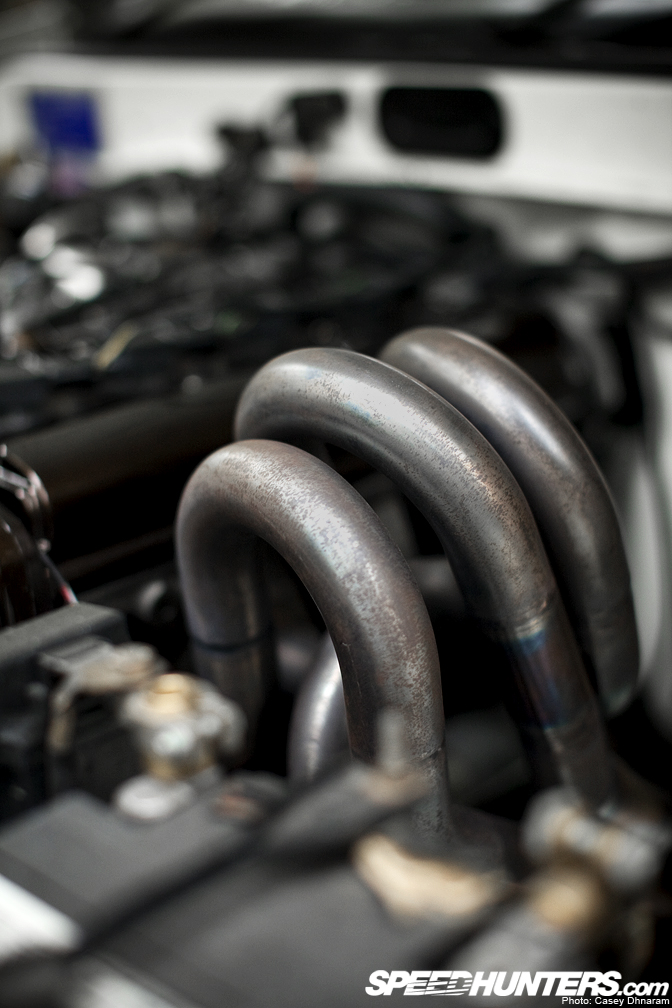 These custom 4-1 high rise headers were made by Seamus in his garage…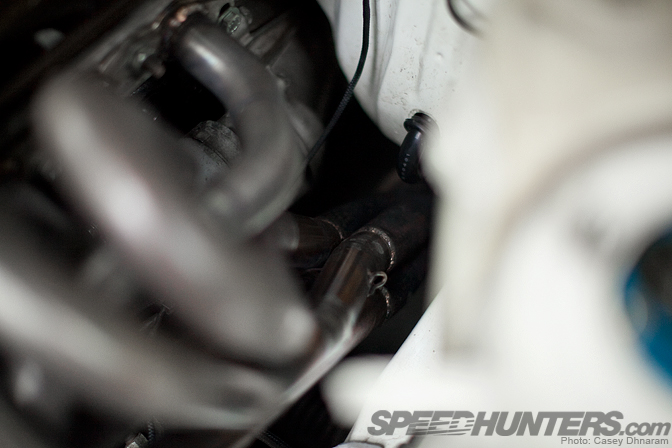 …And feed into a full 3-inch exhaust. To keep temperatures in check Seamus has fitted a Koyo radiator and oil cooler.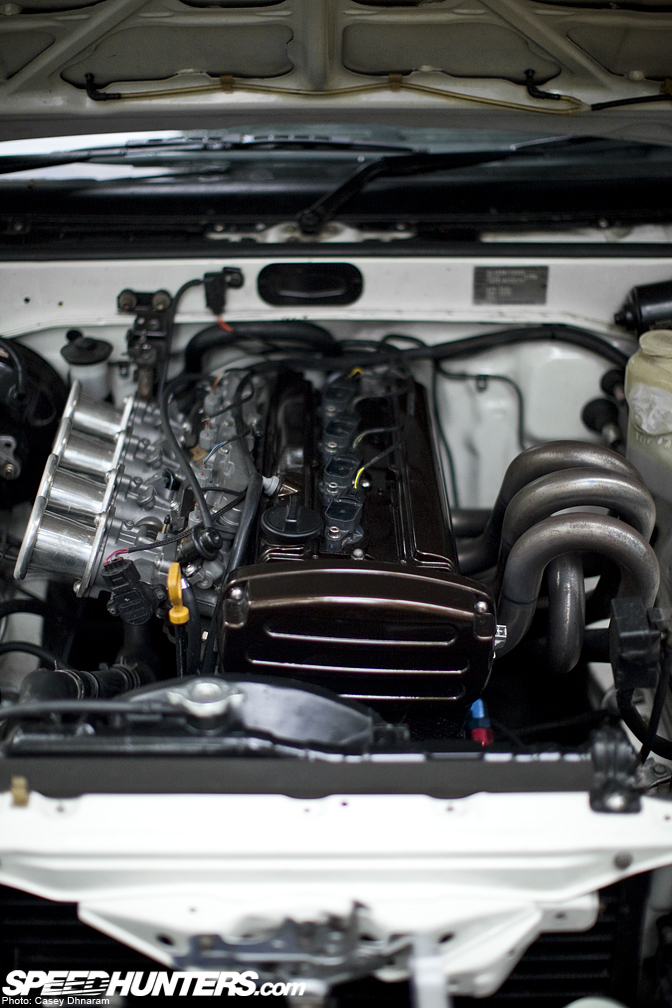 This Trueno runs an Altezza's J160 6-speed box, which features a modified bell-housing. A new tailshaft and gearbox member were made to suit.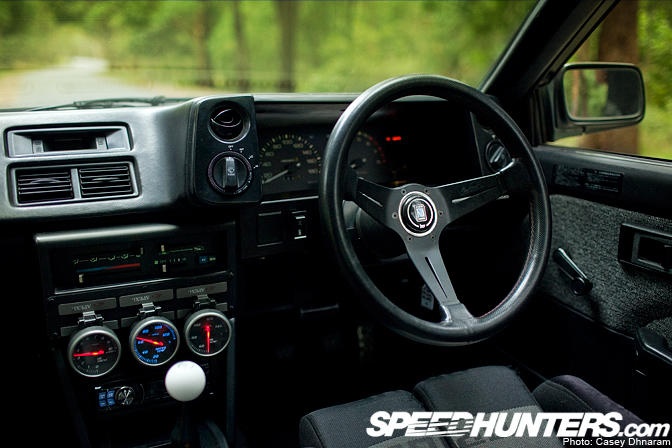 The interior is just as well manicured as the exterior. The complete original trim, including factory carpet and dash remain unblemished. Some aftermarket additions were the Nardi Deep Corn and A'PEXi gauges.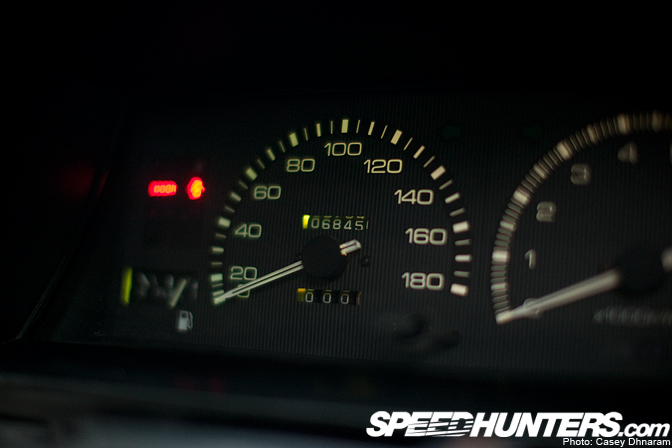 What makes this particular chassis so special is its odometer. Just 68,000kms have been clocked.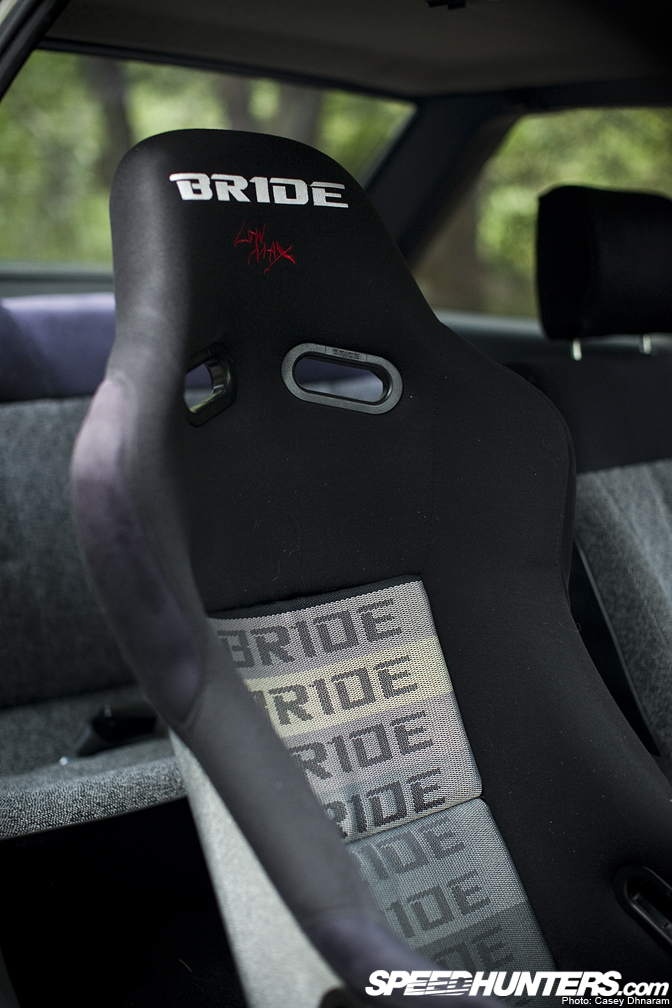 Although the passenger seat is OEM, the driver's seat was upgraded to a Bride Zeta III.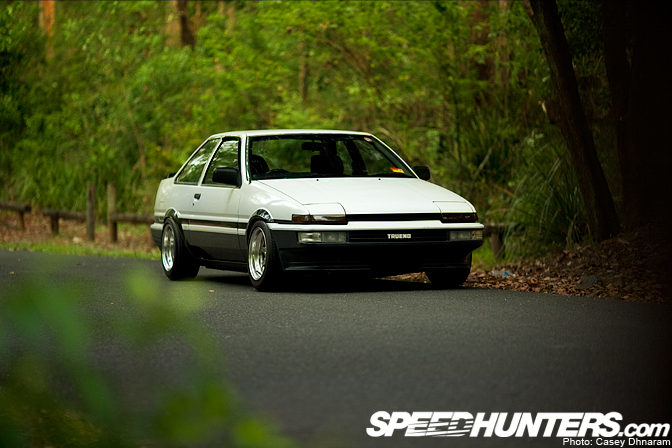 In terms of suspension, the front comprises of Tokico HTS102R shocks, 8kg/mm springs and Tein camber tops. The same shocks are used for the rear and are mated to 6.5kg/mm springs. Front and rear TRD swaybars have also been added.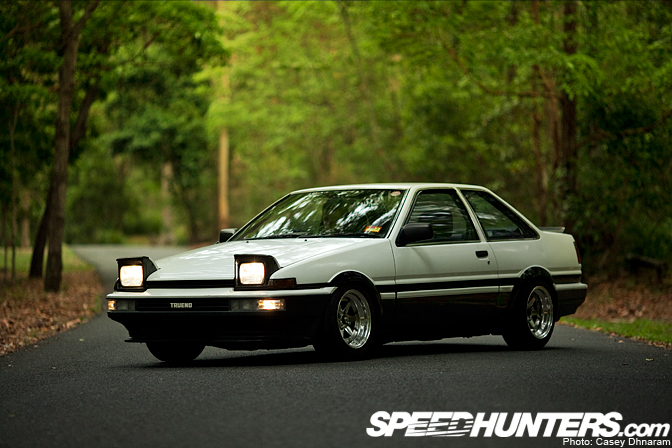 The front brakes have been lightly upgraded with Project Mu HC+ pads and slotted rotors.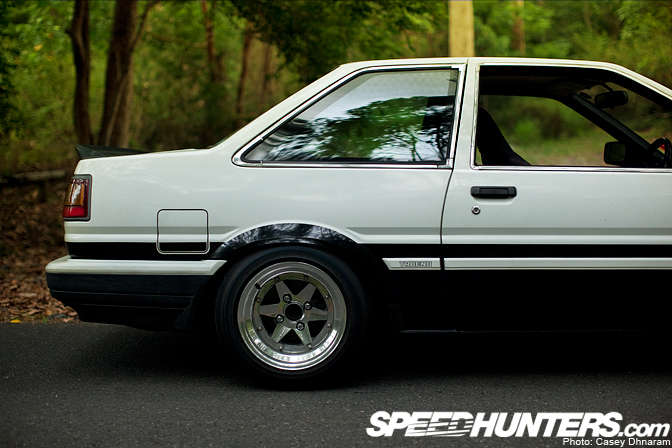 The AE86 came into the country with a full set of 14″ Watanabes, however Seamus repalced these with 14-inch Longchamp XR4s that are 8-inches wide at the rear…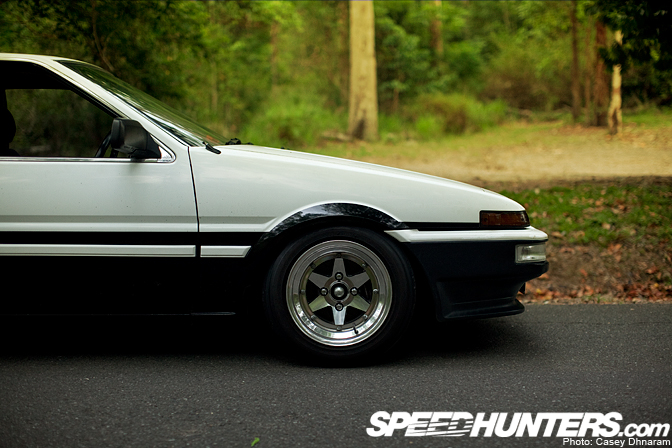 …And 7.5″ at the front. Bridgestone Potenza RE001 tyres are used all around.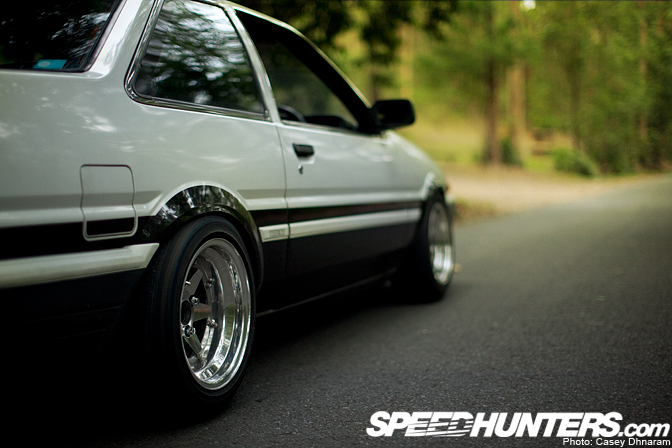 The setup sit nicely flush with the white and black Trueno lines.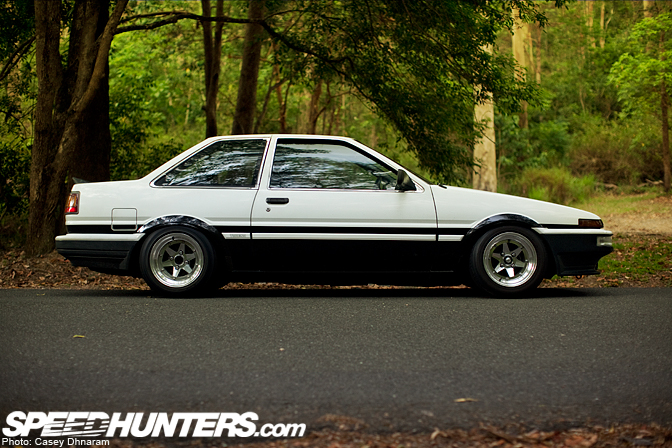 All in all the car, panda scheme and wheels make for a gorgeous and authentic Japanese package.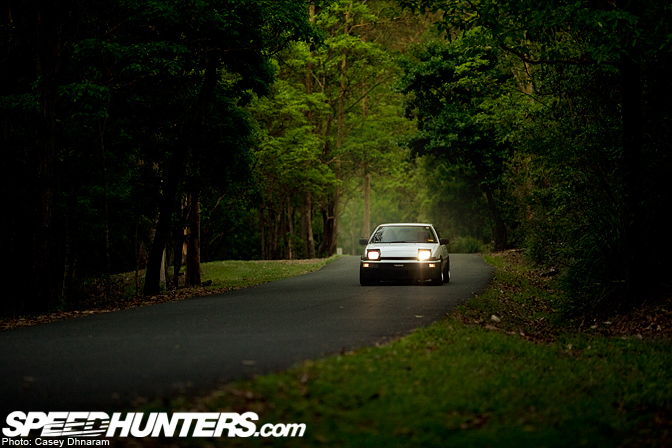 It was quite a remarkable location we chose for the AE86. I don't think we could have picked a nicer day or a better location for the shoot.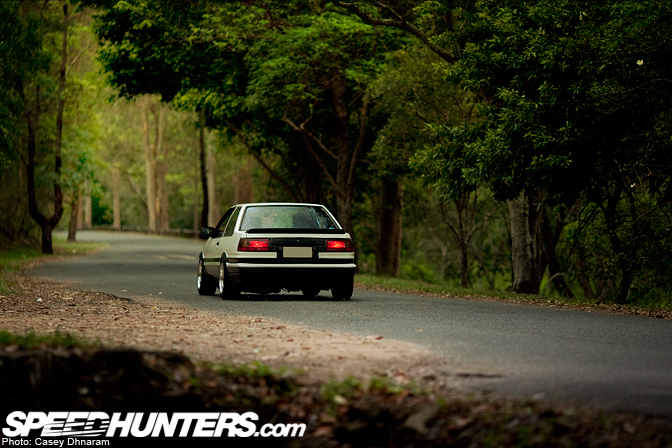 I will leave you with this one image of the Trueno fading away from the camera through the moody, green forest.
-Casey
AE86 with 48km on Speedhunters