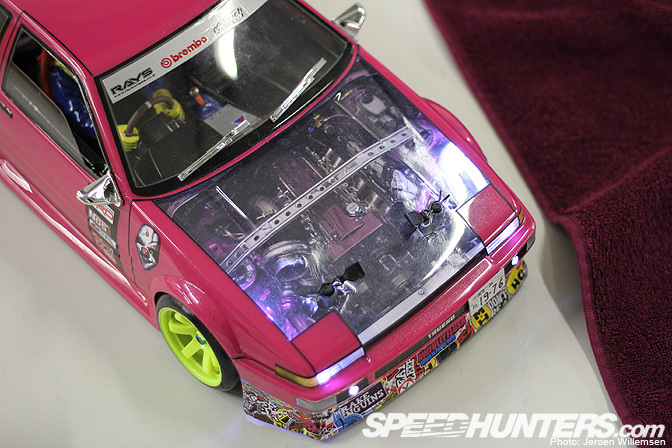 For this month's theme I traveled to Germany after I got an invitation from the Dutch 'Team Wreck it
Sideways'. I was told there was a small gathering at Mini Mobil Welt, an RC
heaven in Lünen, Germany with several
tracks including two where you could drift.
I never had
any close encounters with these cars so I didn't really know what to expect.
When I entered the building I quickly met up with the guys who invited me. They
introduced me to the world of RC drifting.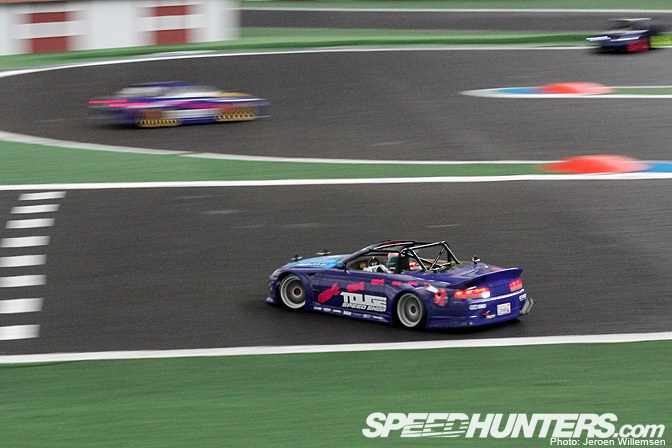 It seemed
there was much more to it than I initially expected. It is all about
personalizing and fine tuning the cars just like in real life. The Soarer above
belongs to one of the team members who invited me. When you look closely you
can even spot Turbozilla on the side shooting rockets. That is because the 'Team Wreck
it Sideways' is officially sponsored by Touge Automotive. I'll have a
closer look at their cars in another post.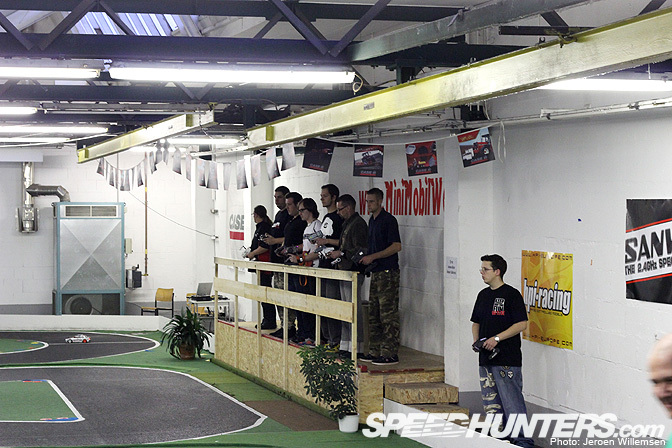 The guys
who were driving had to pay a small entry fee. Here you see some of them drifting
their cars on the large track that is normally reserved for race cars. The
track is fully paved and features some very twisty corners.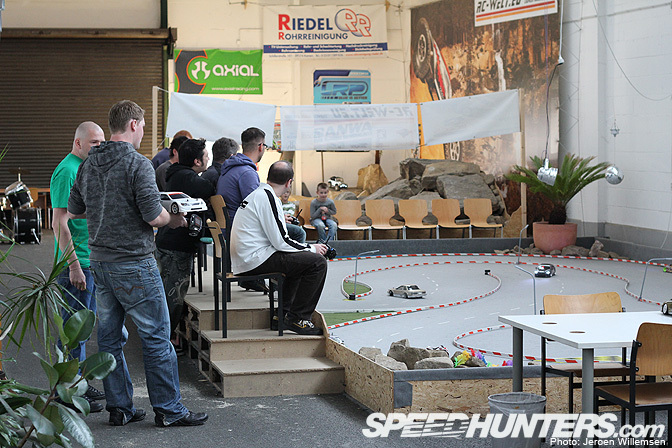 Right at
the entrance of the building was this much smaller track that had been specially
made for drifters.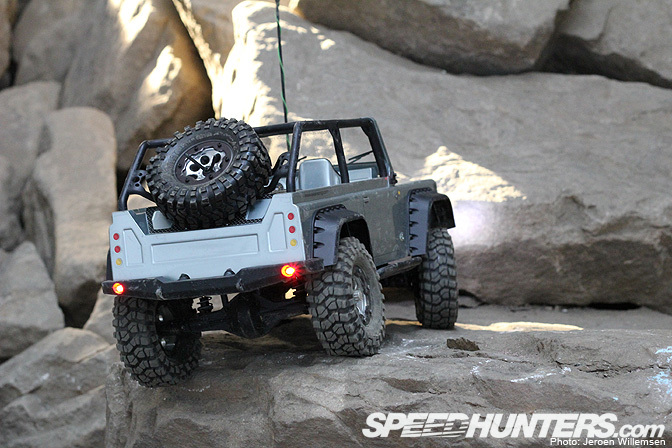 They even
had small section reserved for the rock crawlers. These guys take things very
seriously.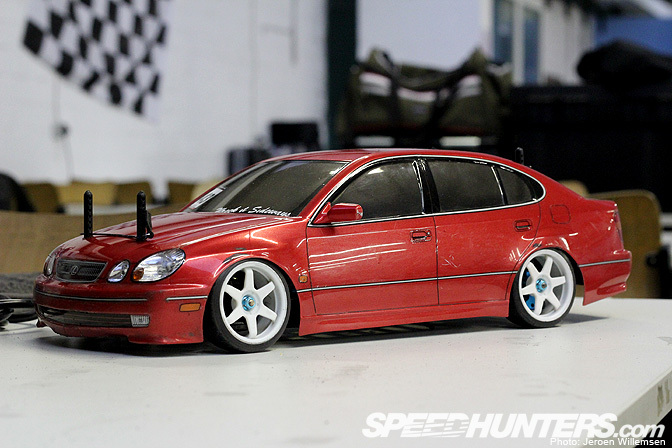 I saw so many cool bodies that I lost count. Some of
them are built as street versions like this Lexus GS.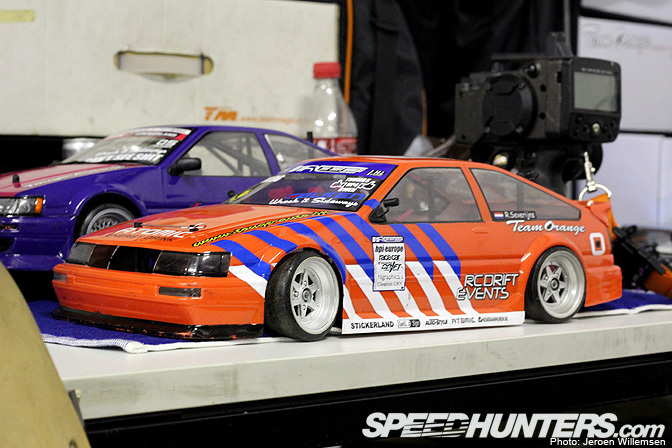 But others
are built as fully fledged drift cars – as demonstrated by this Toyota AE86.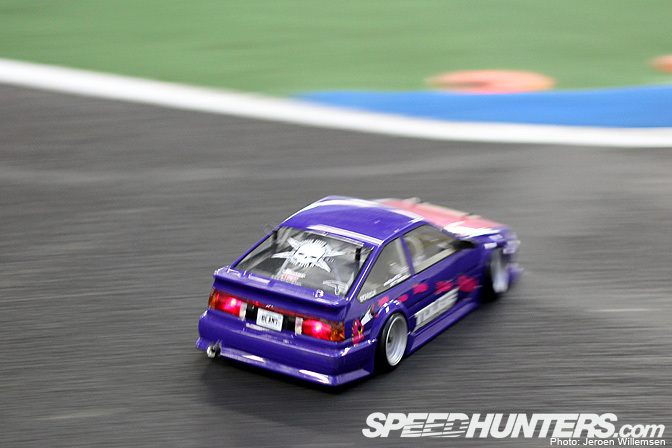 The AE86
body proved to be quite popular. This purple version had some cool features but
I will show you this car in greater detail in a different post.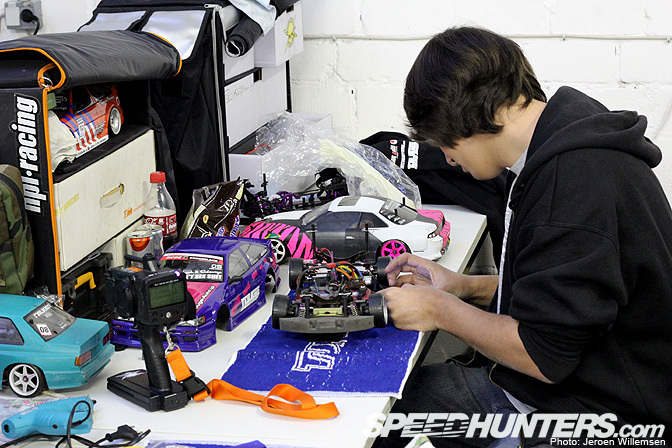 The car
belongs to Ricardo, you see him here making some small adjustments before
heading out onto the track.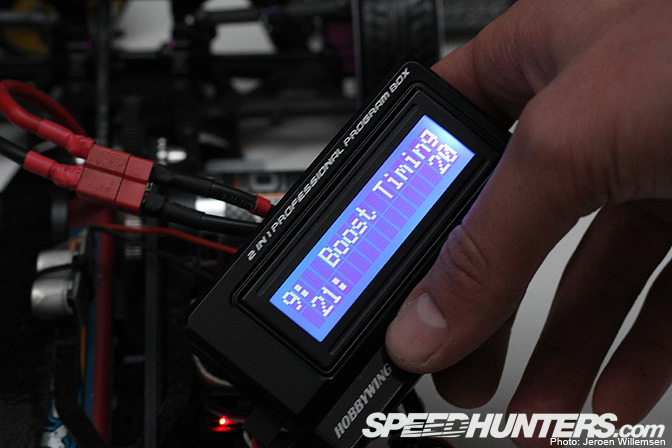 They take
this 'hobby' very seriously. I was amazed that you can adjust almost everything
just like you can on a real car. Everybody uses different setups to accommodate
their own driving style.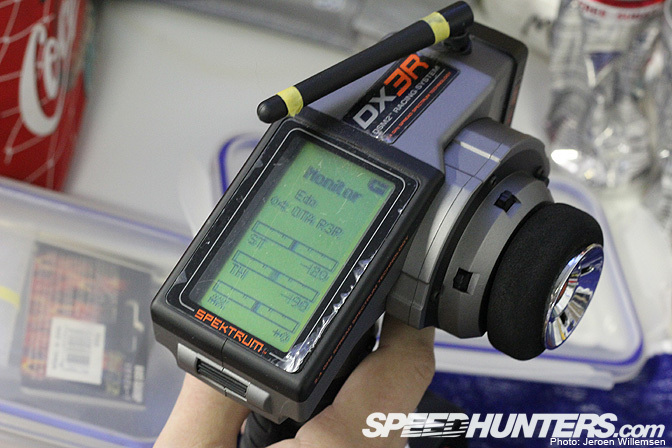 Even the
controllers can be adjusted in a gazillion different ways.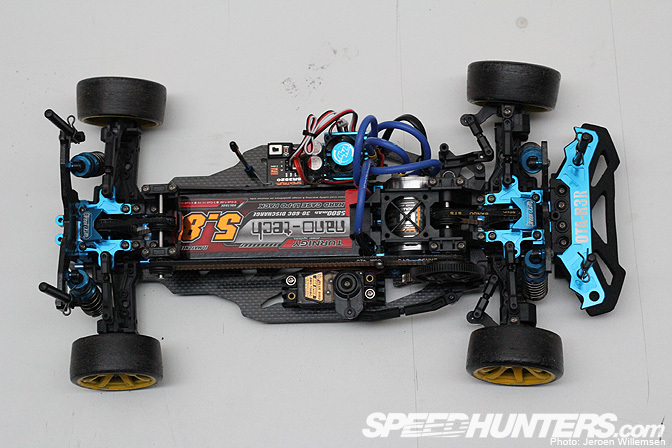 This is a
Street Jam OTA-R3R chassis made from carbon fiber and lots of custom parts. The
owner even used titanium screws to fix the components to the chassis.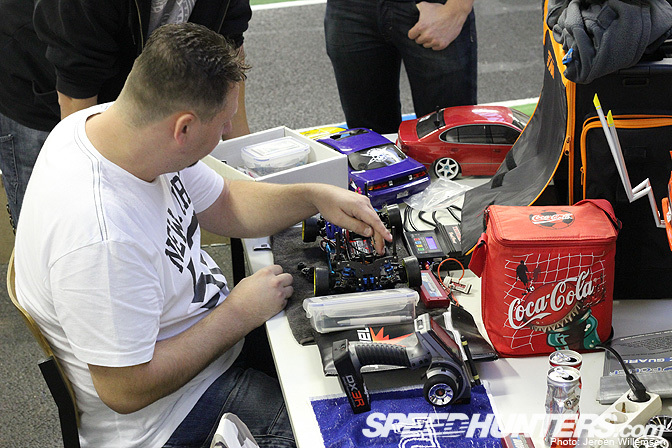 But
sometimes stuff breaks. Just like in real life these guys bring lots of spares
so they can continue drifting no matter what happens.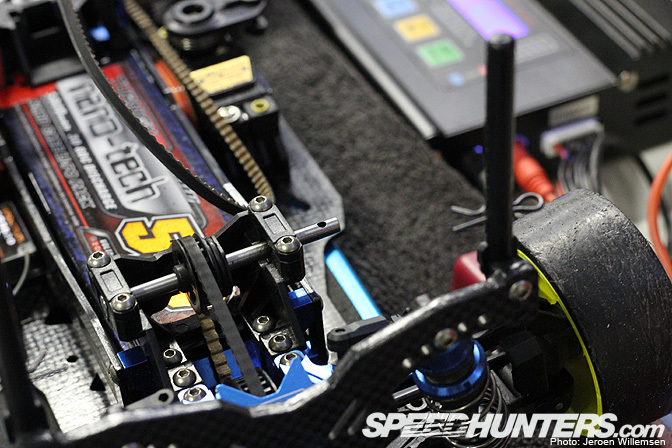 One of the
pulleys broke so the car lost its front wheel drive. All these cars are four
wheel drive but you can adjust how much power goes to the front or rear wheels.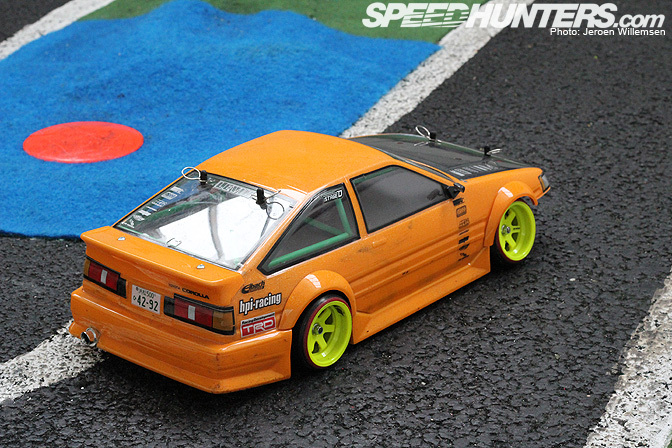 As I
mentioned before the AE86 shell was one of the favorites amongst the RC
drifters. This orange one looked pretty tuff with its bright yellow wheels and
green rollcage.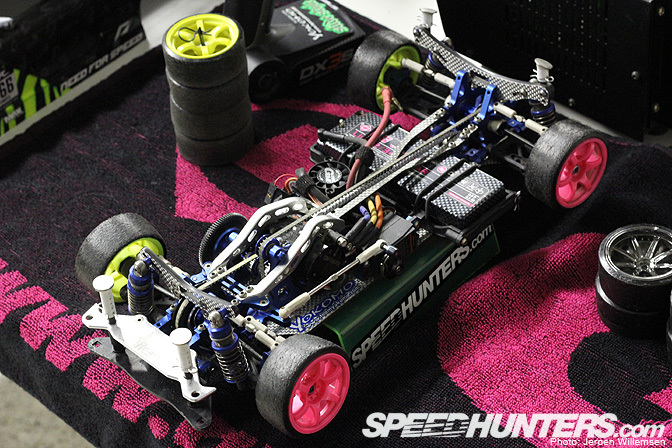 I was
pretty stoked seeing so many Speedhunters stickers all over the place. I spoke
to several people telling me that they all loved Speedhunters, luckily I
brought even more stickers for them to use.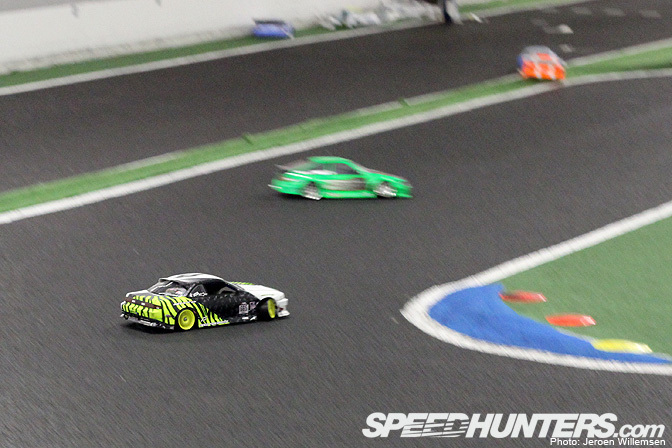 I even saw
several replicas of our own Team Need For Speed S14 driven by Matt Powers. This
one had the 2010 livery on it. I'll have a spotlight on the one with the new 2011
livery on it, it has been replicated even in the smallest details.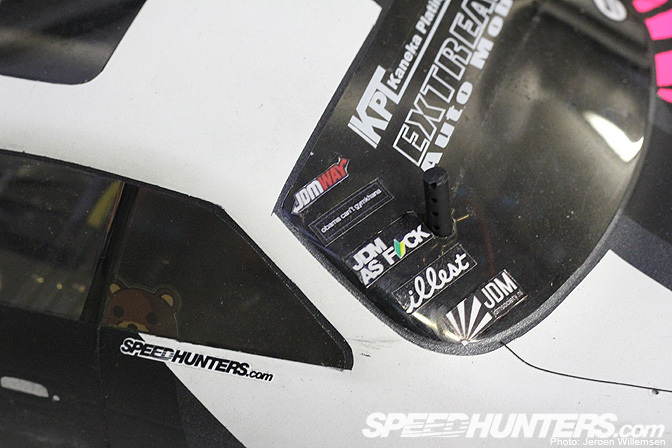 Most of
these stickers are custom made by the builders themselves.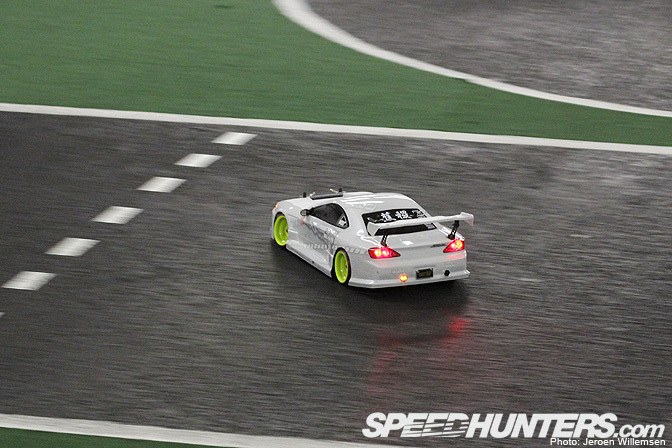 Most of the
cars had lights and some of them even flashed. This wide S15 even had a small
light inside the exhaust simulating flames.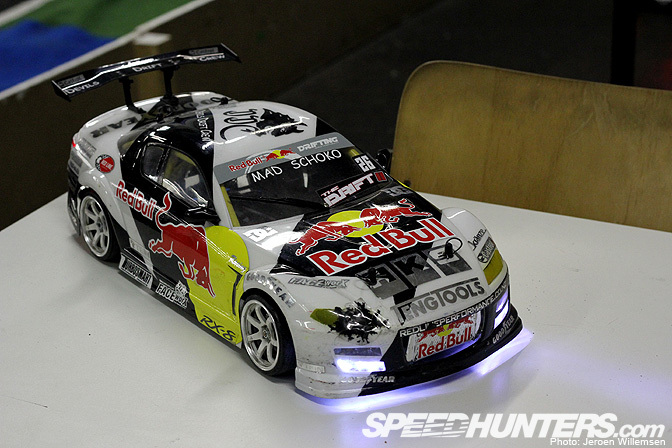 In the
other room I spotted this replica of Mad Mike's RX8. Although it is not a perfect
replica it still looked good.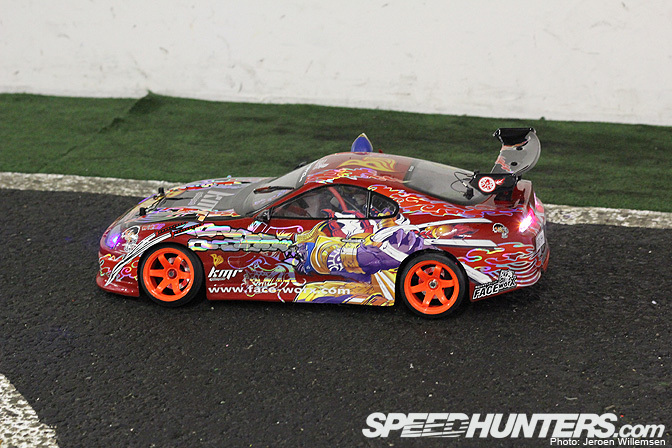 Even Itasha
found its way onto RC drift cars demonstrated by this Toyota Supra.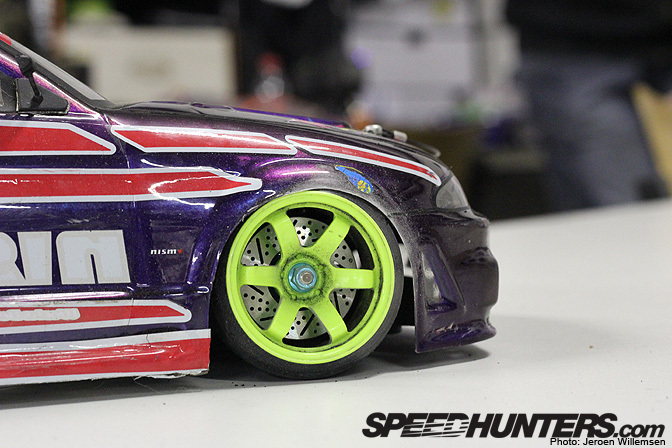 This cool
R33 even had vented brake rotors behind its bright yellow wheels.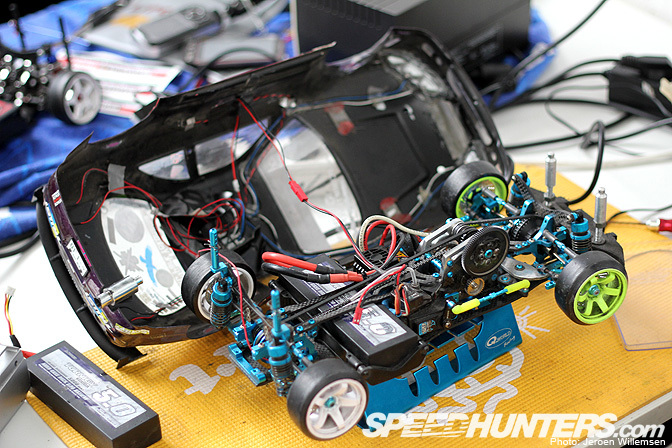 Here is the
same car while it receives some TLC.
Tijs Lochbaum,
the guy who invited me, let me drive his convertible Soarer and I must say it
is a lot of fun. I did need some laps before I got the hang of it because it
isn't as easy as it looks. I already started looking at several kits. This can
only end in another expensive hobby …  
-Jeroen Willemsen