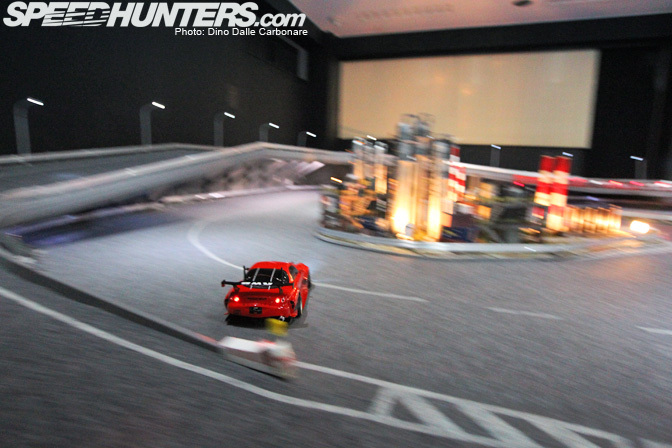 The other week, I decided to dig out my old RC drift car, clean it up and head to a recently opened track in central Tokyo. It was Russ from RE-Xtreme, a certified RC drift car and model car otaku, that persuaded me to get back into sliding these little cars around. It has been a little over two years since I played with my basic Yokomo chassis, and I have to say I really did forget how much fun it is! Russ had seen some cool videos on Youtube of a cool carpeted indoor track in the Oimachi area of Tokyo…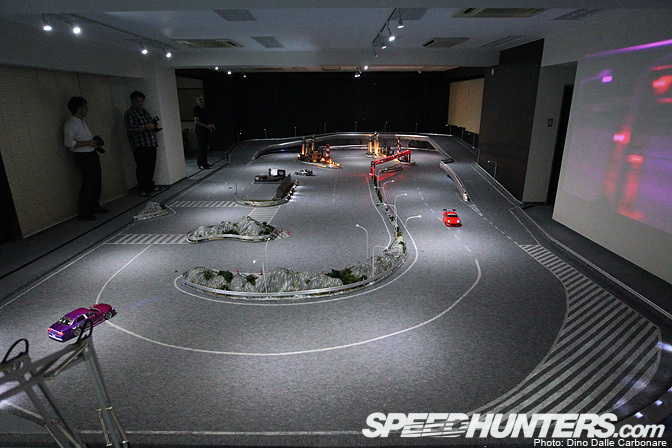 …which was built with a lot of background detailing, so we decided to check it out. Max One RC Area is located in your run of the mill Tokyo office block. The look on the suited up salary men exiting the building after a day's work was priceless, confused at the sight of two foreigners in shorts carrying RC cars and equipment. We grabbed the elevator up to the 7th floor and exited into the small reception area where we signed in and walked into the converted office space.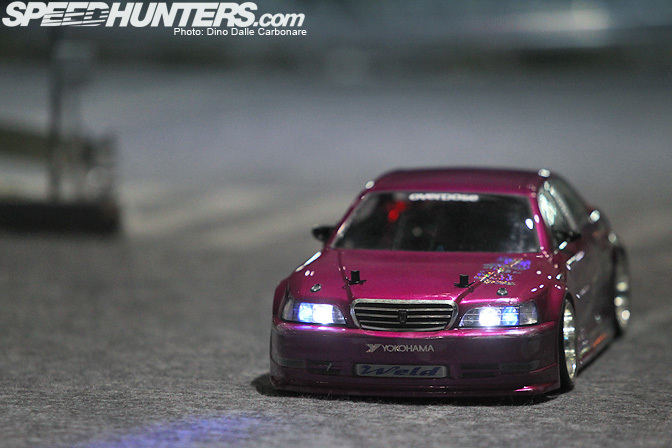 It was obviously a quiet night, with only a couple of other people there enjoying their hobby.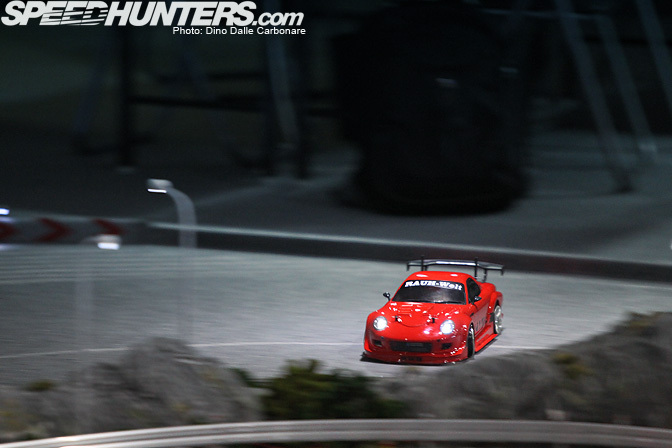 That was a very good thing, as I was definitely rusty and needed some open track to calibrate my skills again.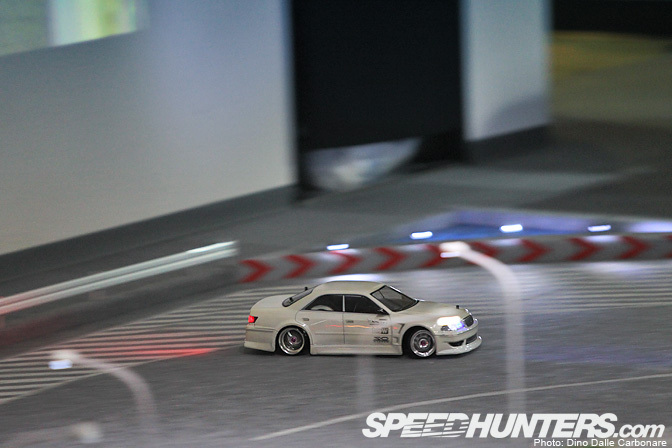 As enjoyable and relaxing as this RC drifting stuff is…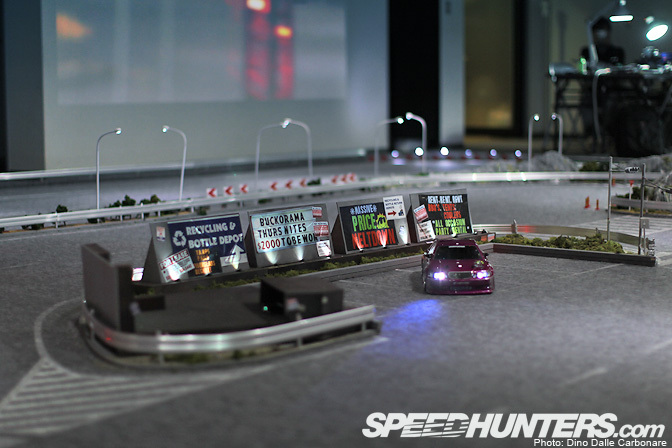 …I can't help but feel extremely inadequate as I get lapped continiously by insanely modified cars running brushless motors and the best hop-up parts out there.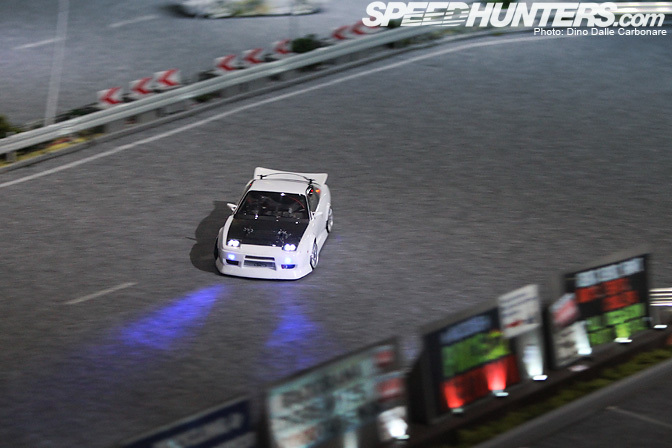 This feeling usually passes as you get into the zone and concentrate really hard to fine tune your line. While Russ and the other guys present drifted continuously without mistakes, I barely managed to string a couple of corners together, something that gave me a glimpse at how it would feel to be a true driving God…for a split second at least.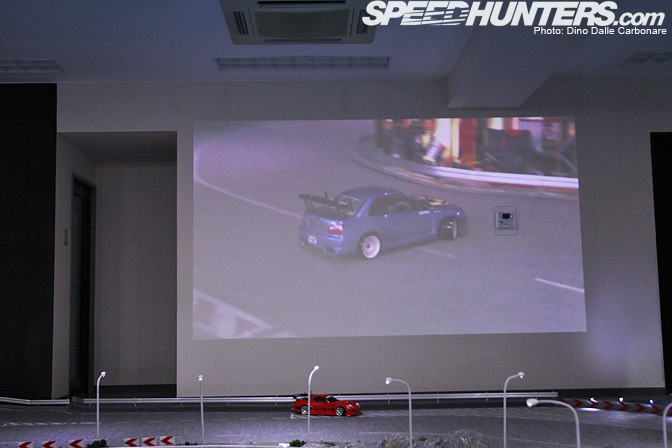 Max One even has a projector screen that can play live action captured from the little cameras scattered around the track.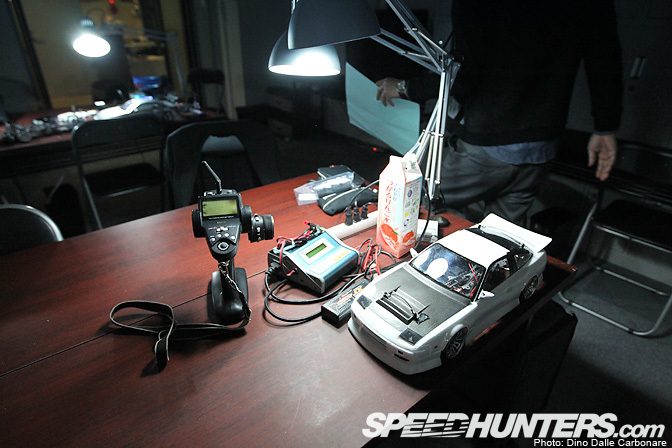 I couldn't help to sneak a peek at what goodies everyone was running under their bodies…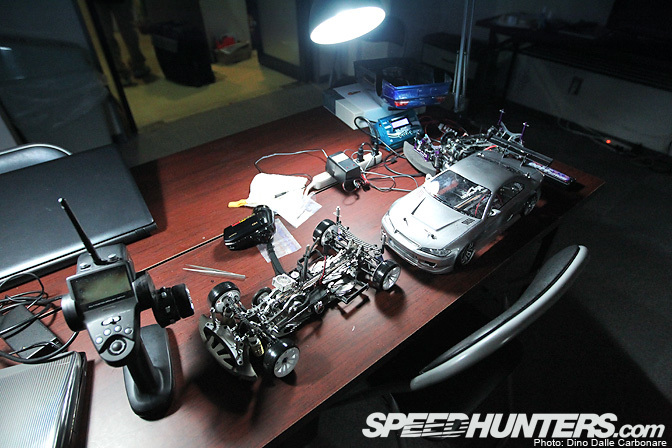 …and it's obvious that in the last couple of years things have progressed quite a lot!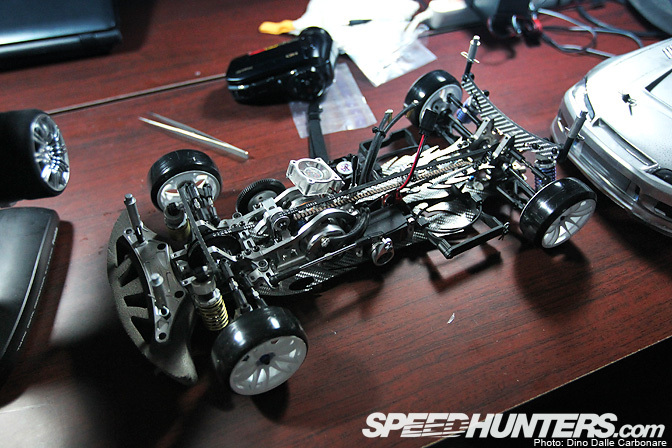 Almost FR weight distribution on this all carbon chassis with the motor sitting up front.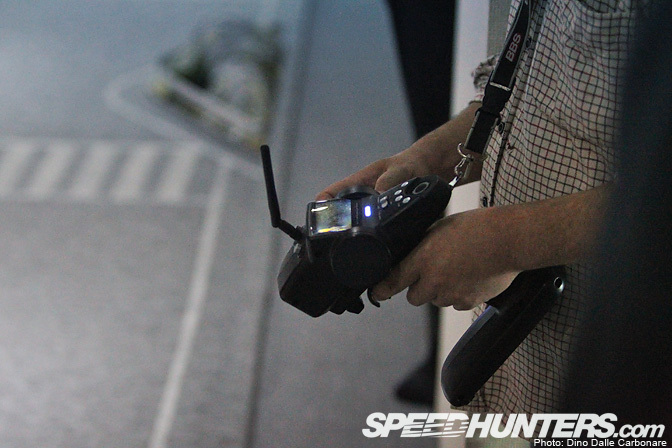 I had a chance to sample one of these advanced controllers and I was blown away at the difference they make, allowing for far smoother and progressive control and adjustability.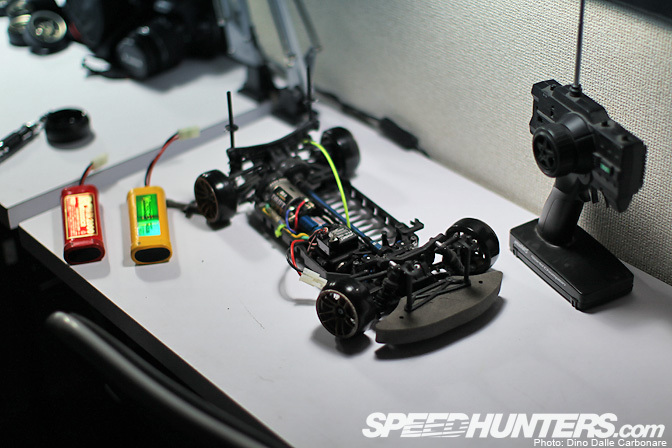 It all made my humble equipment look and feel rather primitive.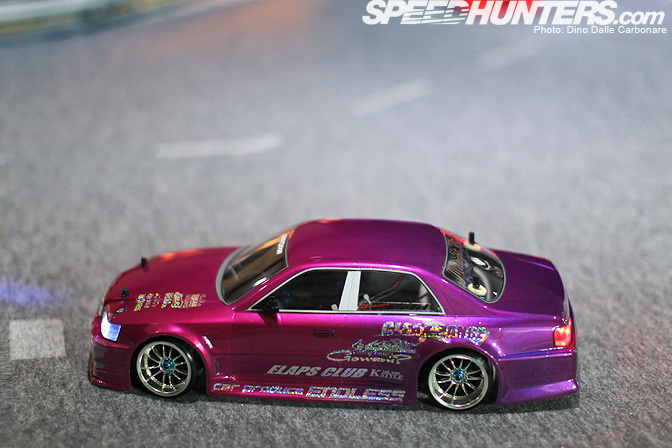 The attention to detail people dedicated to these cars obviously isn't only for the mechanical bits.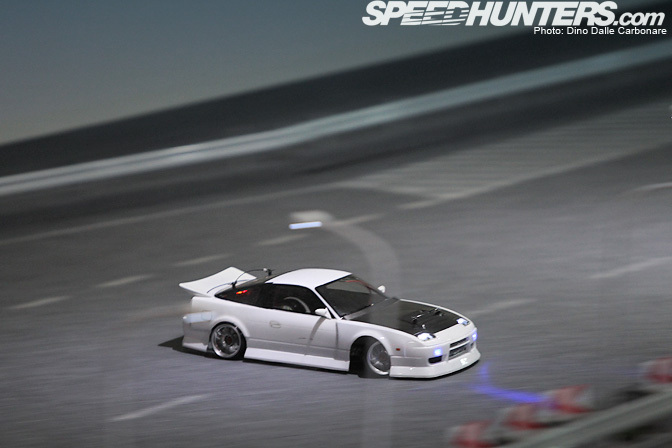 I really liked this 180SX, so realistic it almost looked like a real street car.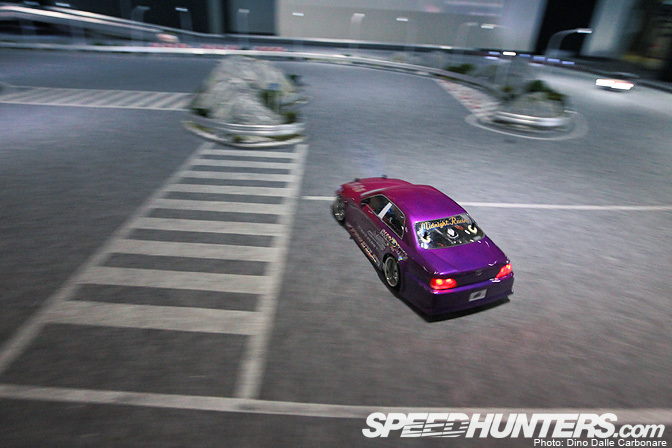 The track layout allows a few choices as you drive around so you can mix it up a little. There is even a cambered overpass for the brave, resembling Shutoko on-ramps that you often see in the city.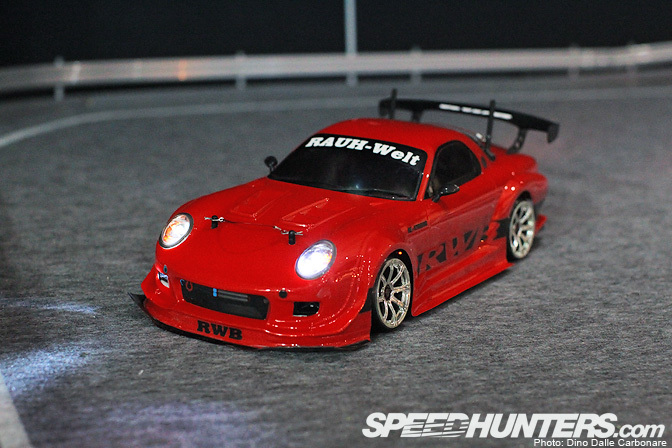 Russ's car was getting a lot of looks from the others at the track.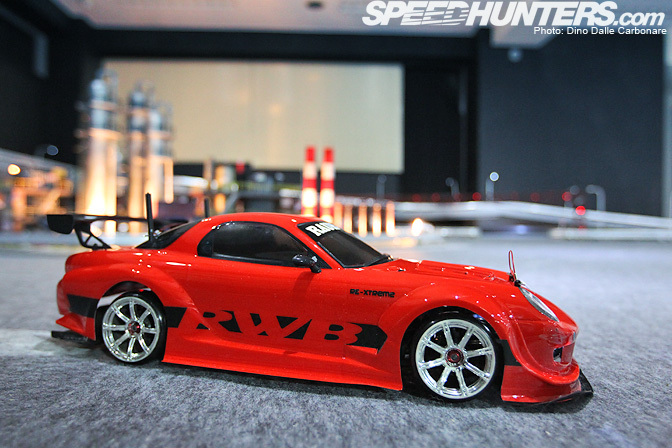 He has spent a lot of time going for a unique look and taking some hints in detailing from everyone's favorite Porsche tuner right now, RWB.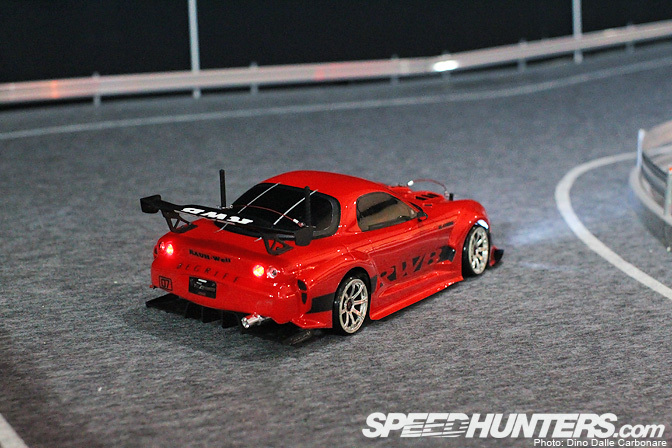 Looks pretty good right?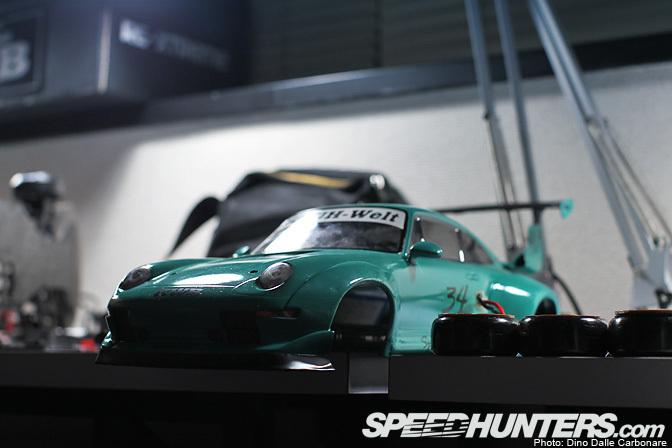 This is exactly why I had Russ make me a little special one off custom body, which he kindly brought over to Max One for me. But more on this on a separate post!
-Dino Dalle Carbonare