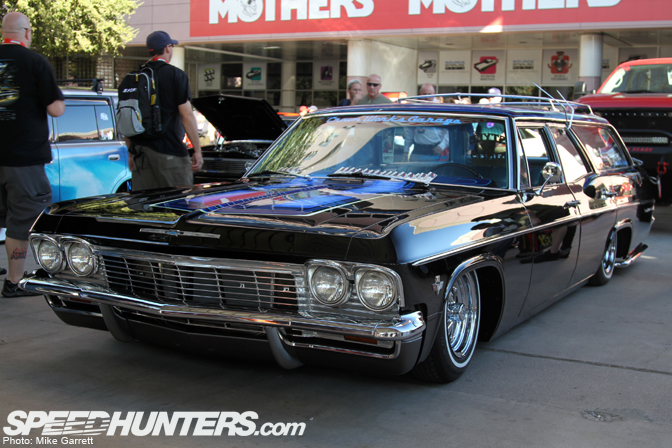 Next up on the SEMA menu, Hot Rods and Customs.
Here are some of the sweet vintage rides we've spotted so far while wandering through show.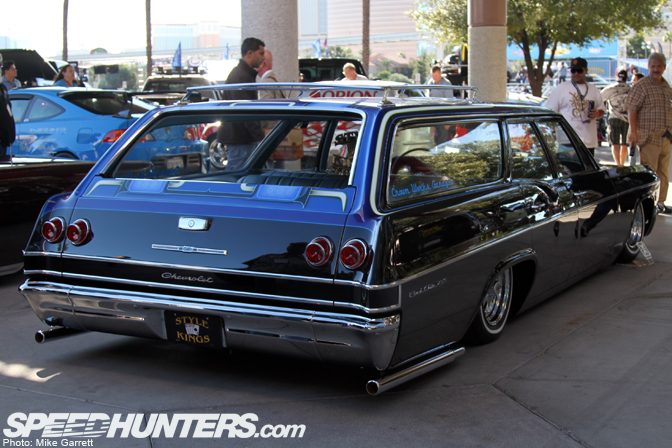 The Bel Air wagon you see here is done a period lowrider style.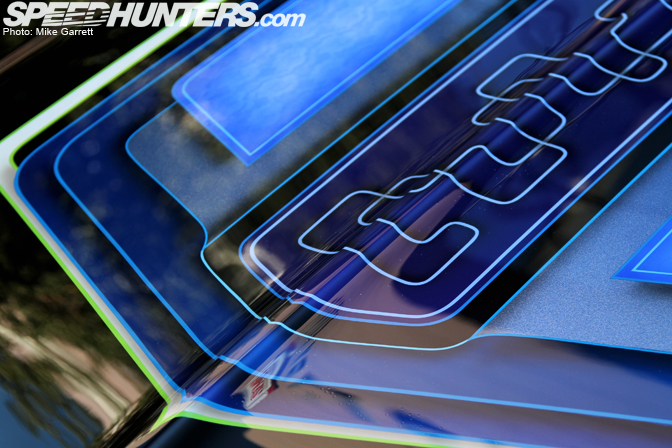 A style that includes some very intricate paintwork on the hood and roof.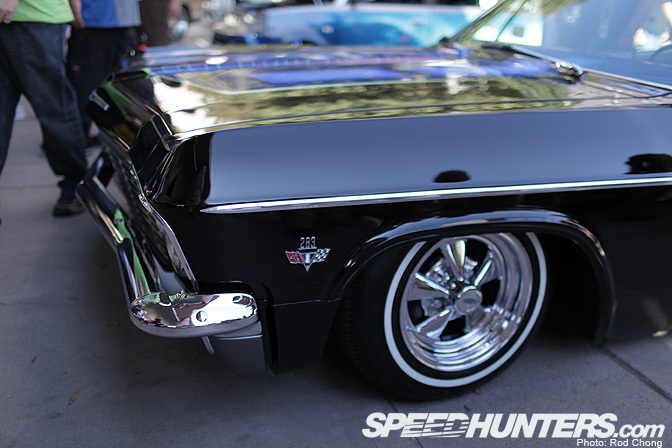 It's a beautifully constructed build…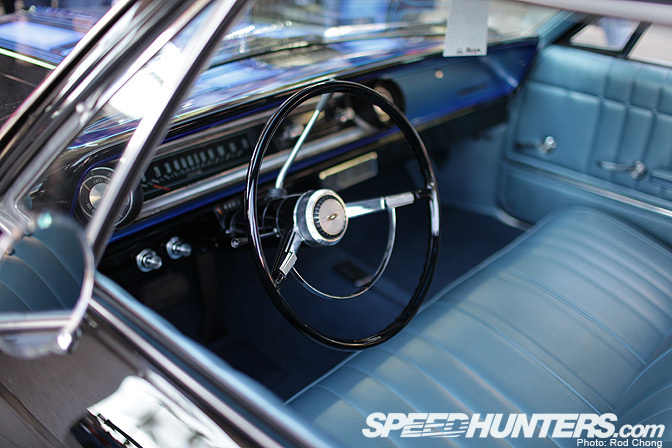 … and is absolutely minty clean throughout.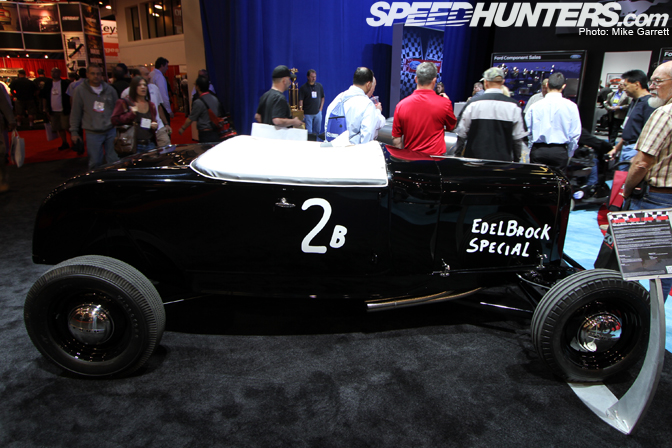 Ford has a piece of Hot Rodding history in its booth with the Edelbrock Special.
This historic Highboy Roadster has been fully restored to look as it did in 1951, when it made records with a top speed of 153mph.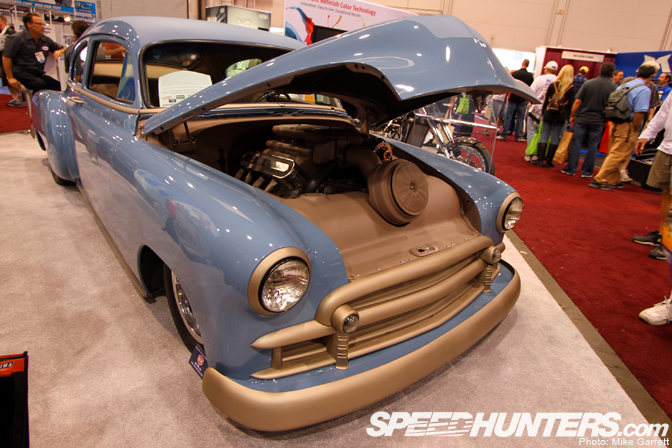 Found in the Dupoint booth, we have a contemporary-styled '50 Chevy that made the SEMA journey from Tennessee.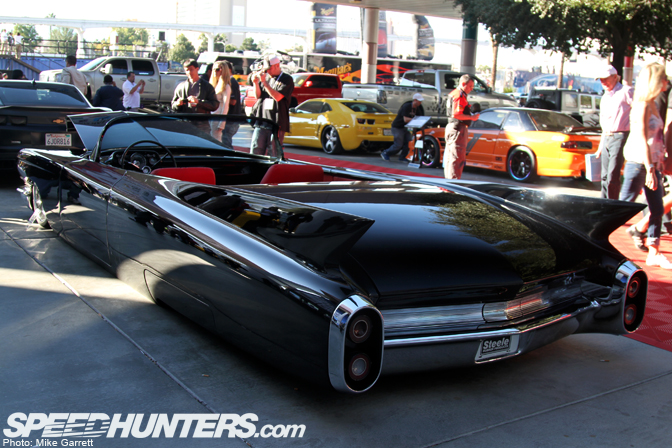 This long and low Caddy convertible was getting a lot of attention outside the entrance to the Central Hall.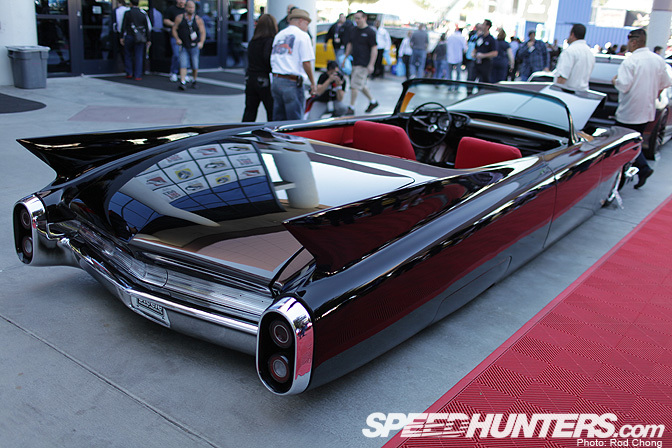 interested to see more of this car?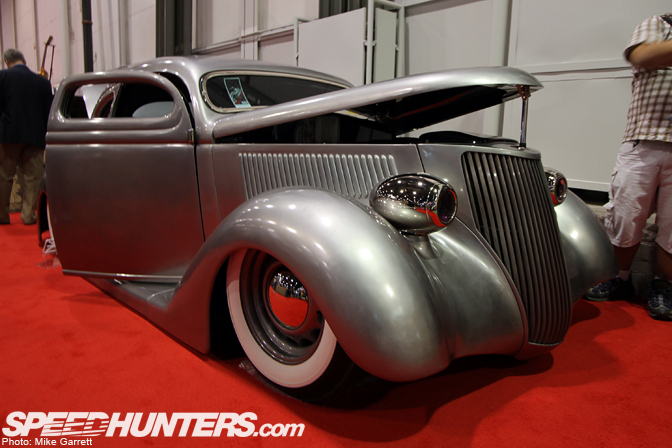 Blue Collar Customs out of Sacramento brought out their impressive '36 Ford Coupe. I need to head up there and pay these guys a visit soon!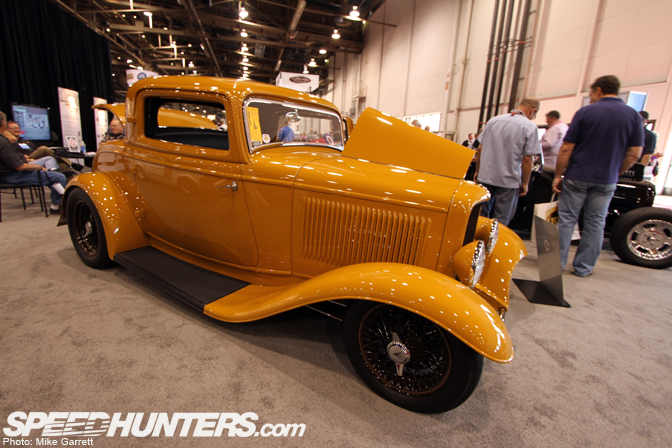 A very clean and very mild '33 Ford. This one's out of Iowa.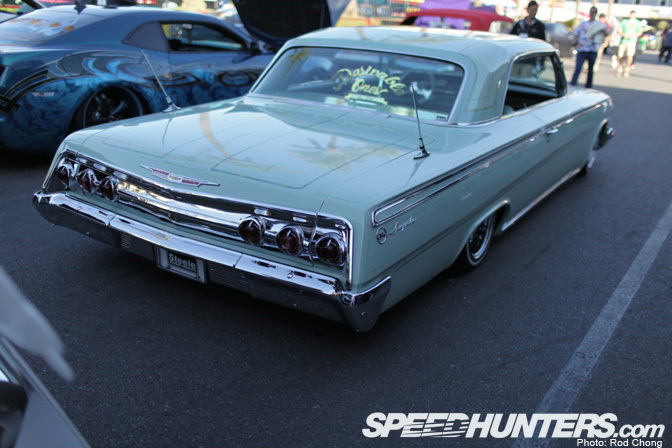 Ridin' low.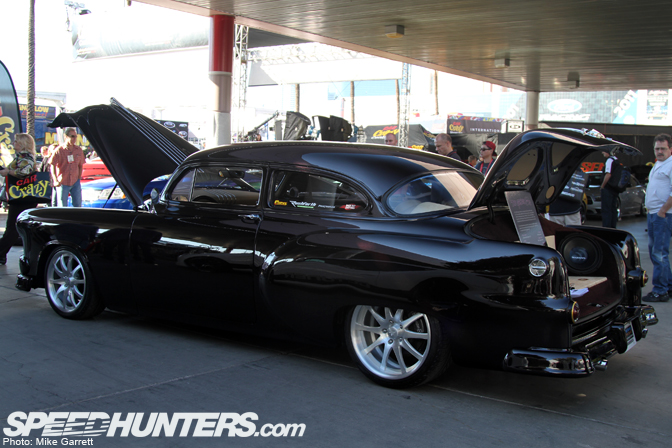 I thought this '54 Pontiac was pretty cool.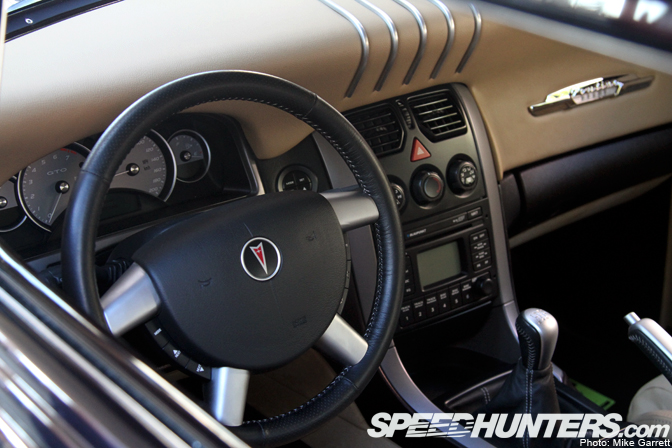 Most of the interior parts come from a late model Pontiac GTO (AKA Holden Monaro).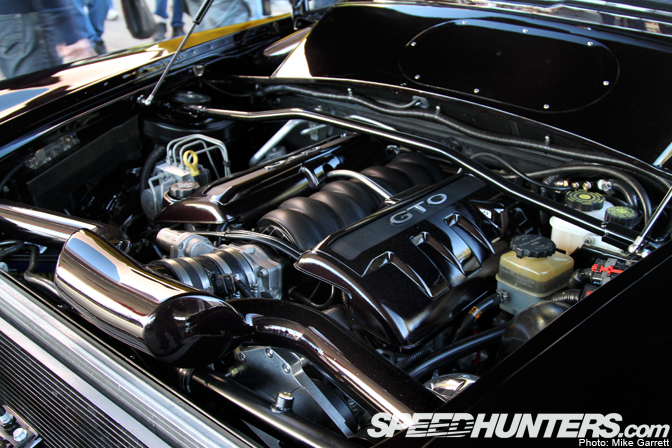 As does the LS2 engine, with a supercharger thrown in for good measure.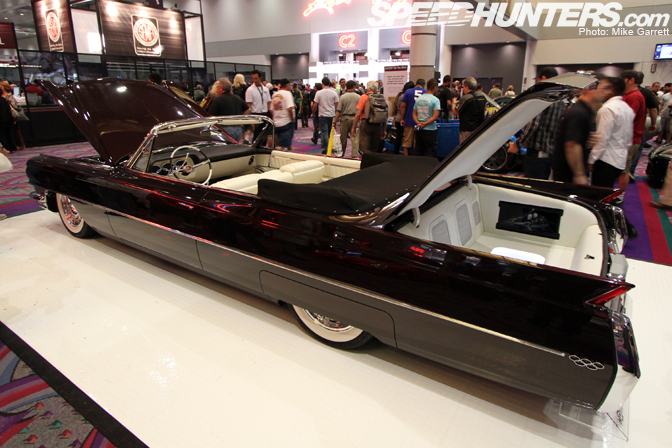 Another one of those glorious Caddies. If I ever got one of these cars I'm pretty sure I'd have to build a new garage for it to fit in.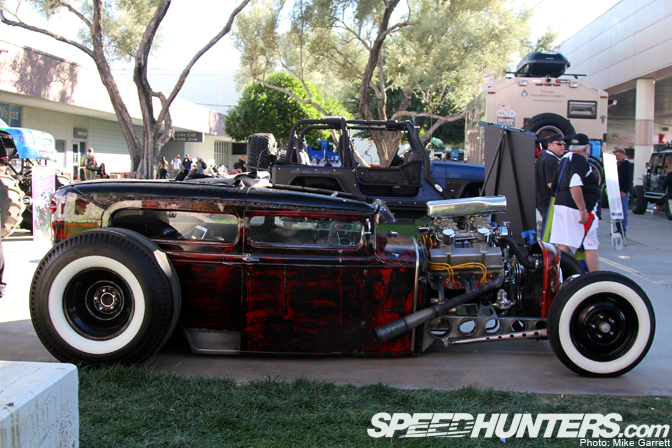 "Rat Rods" always get a lot of attention at SEMA. This one was no different.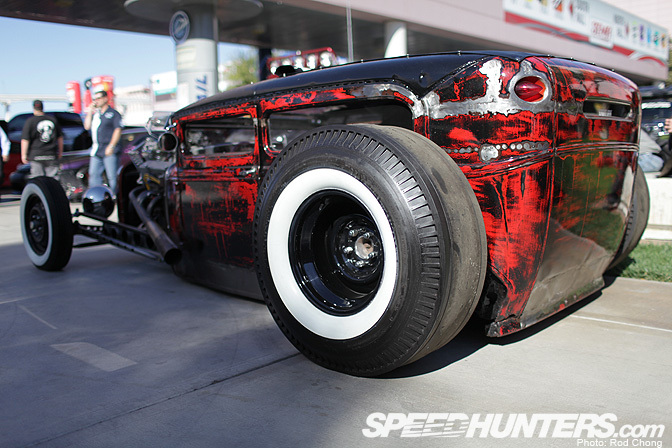 Rod is planning a quick spotlight on this one… he mentioned it's one of his picks of the show.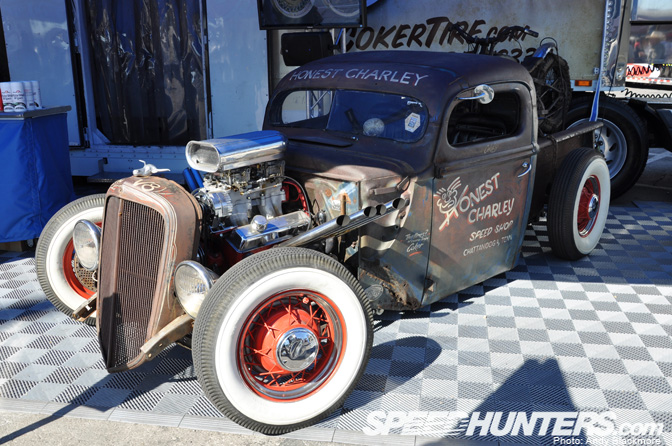 This cool Rat from legendary shop 'Honest Charley' in Tennessee was drawing the crowds on the Coker Tire stand.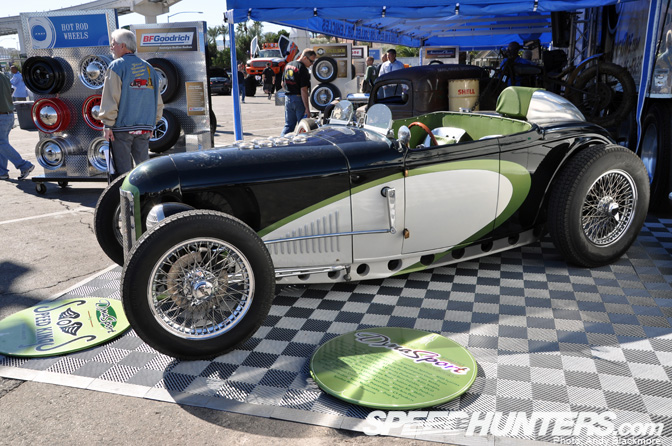 Next door, was this '32 Ford Roadster by Speedkings, which has been at SEMA before, but you never get bored with such beauties.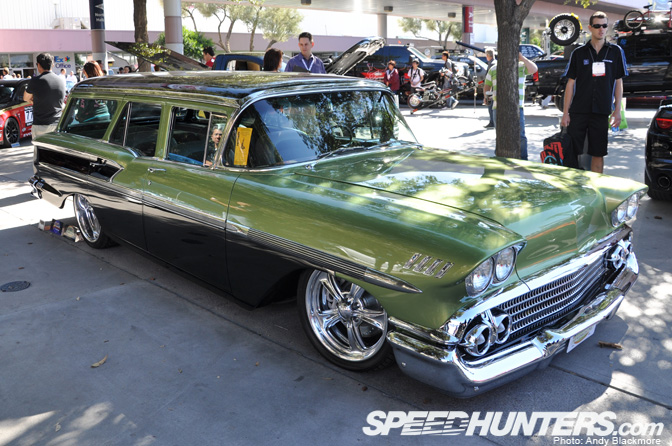 Keeping the green theme was this low 56 Chevy Nomad Wagon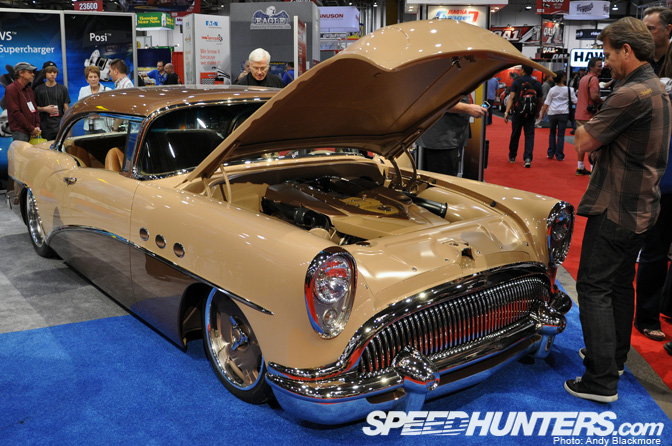 Troy Trepanier's latest project is this stunning 1954 Buick.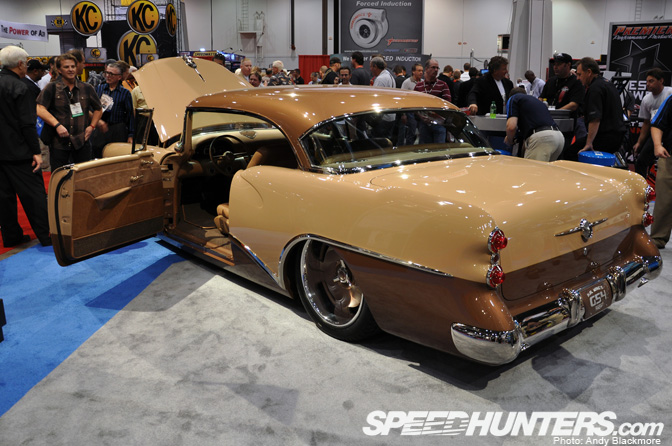 Underneath is a 2007 Mercedes G55 powertrain and an Art Morrison custom chassis.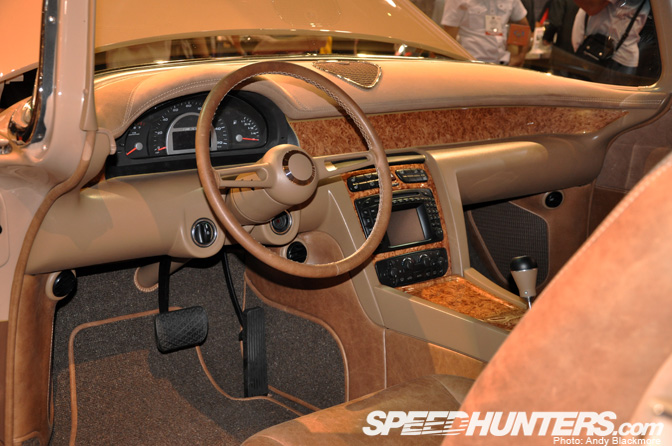 Amazing attention to detail on this car, just as expect from Rad Rides.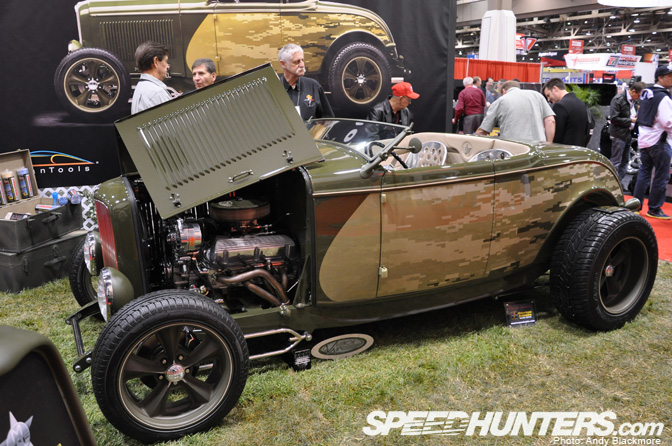 This 1932 Ford Roadster was built to honor America's war heroes. 'Medal of Honor' has some interesting pixel camo not normally seen on a Roadster.  This car will be auctioned for Charity at Barret-Jackson  next year.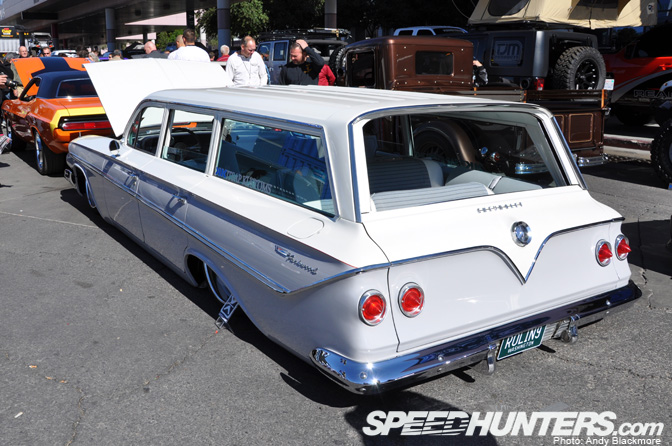 Unfortunately, this Chevrolet Parkwood was parked up close to other cars, so many people will have passed by this low rider.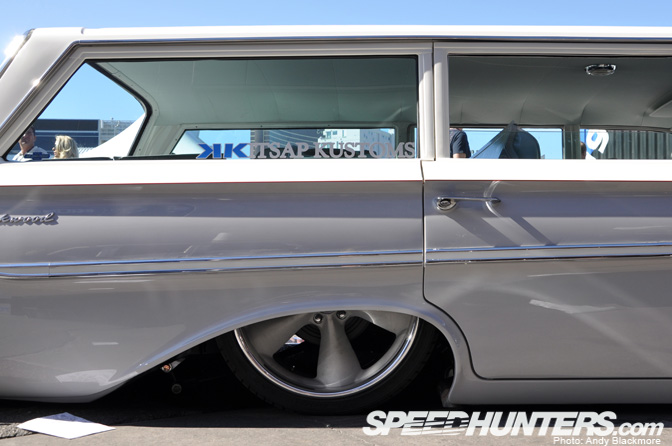 There were quite a few Wagons at the show.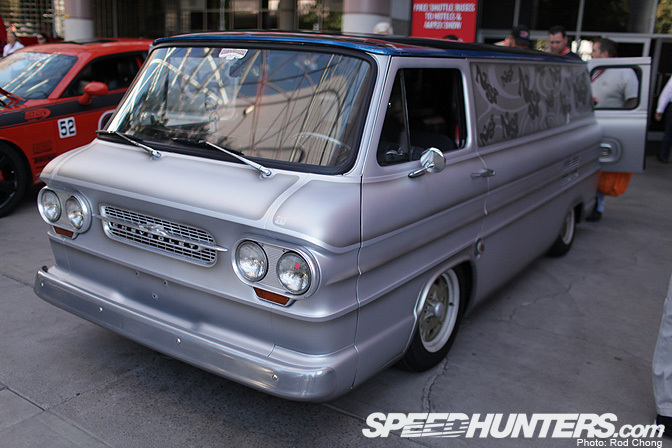 This Corvair van was an interesting choice to build on. It sported a complete hot rod photo gallery inside.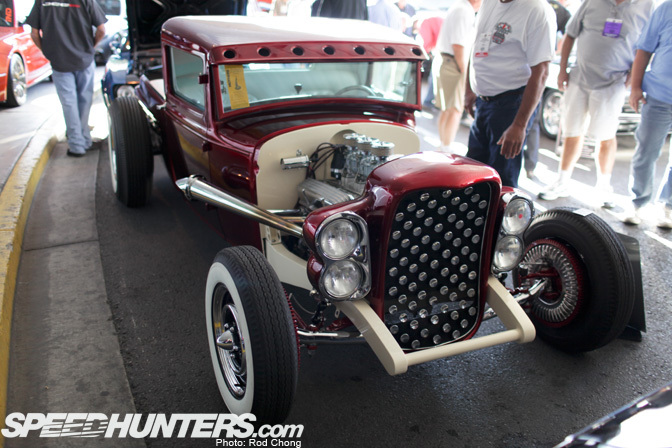 We loved this red and white custom styled pickup.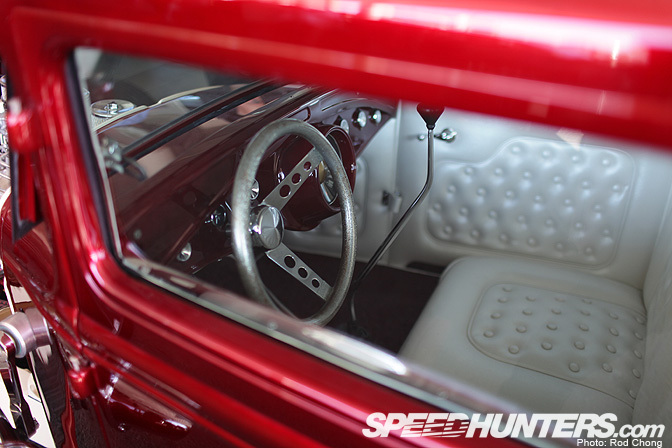 Check that beautiful interior.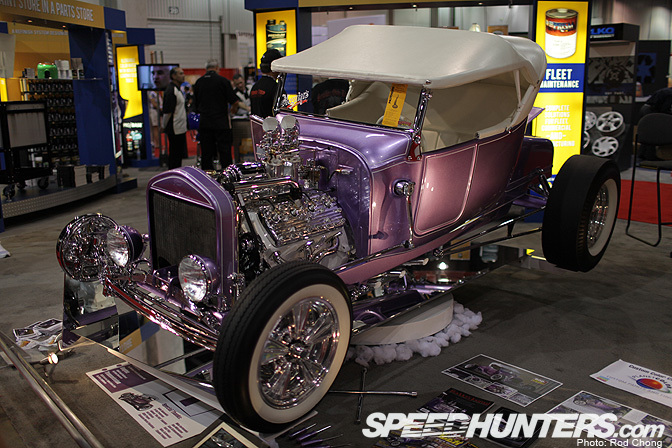 The Takeout T is featured in the current issue of The Rodders Journal. It's cool to see a period correct '60s style show rod in the flesh!
That does it for now. Much more to come from SEMA!