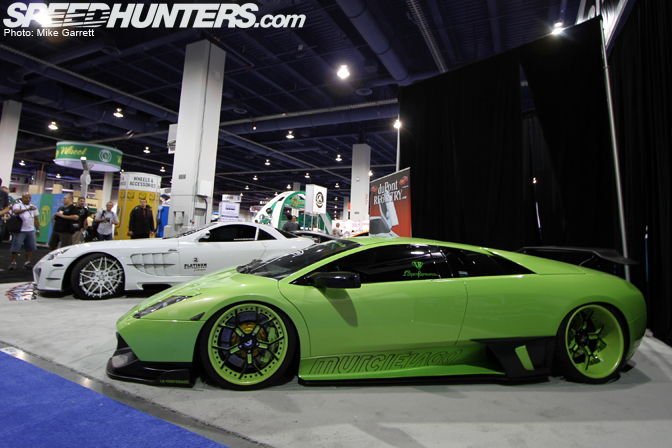 SEMA Show. For those involved in the automotive and aftermarket industry, the word has different meanings. For some it's the rush to complete a build before the start of the show. For others it's about seeing the latest products and connecting with customers and suppliers from around the world. For many SEMA means late nights partying on the strip followed by hungover days on the show floor.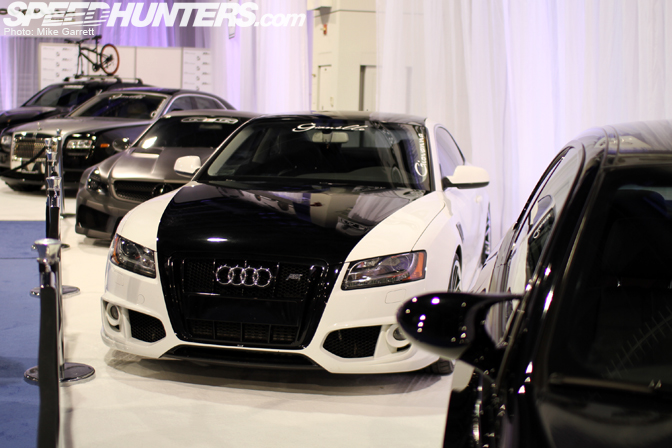 With so much activity happening in just a few short days, SEMA can be an exhausting experience no matter what side of the industry you come from. From a Speedhunter's perspective though, I love it. Each year there are hundreds, if not thousands of new cars to check out – many of which have never been seen in public before. Everything is fresh at SEMA.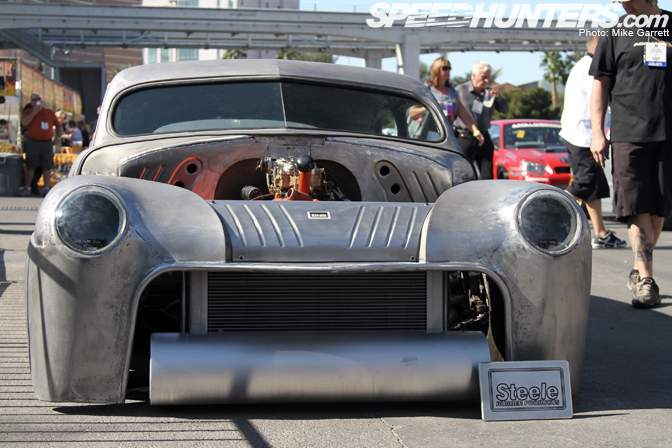 With that said, let's begin our journey through this year's show. In addition to myself, Charles Kha and Andy Blackmore are here in Vegas to take part in Speedhunting at SEMA. Rod Chong has also joined us in after a long journey in from Sweden. As I write this they are still wandering the show, but I'm going to go ahead and share a few observations from my first day of walking the show.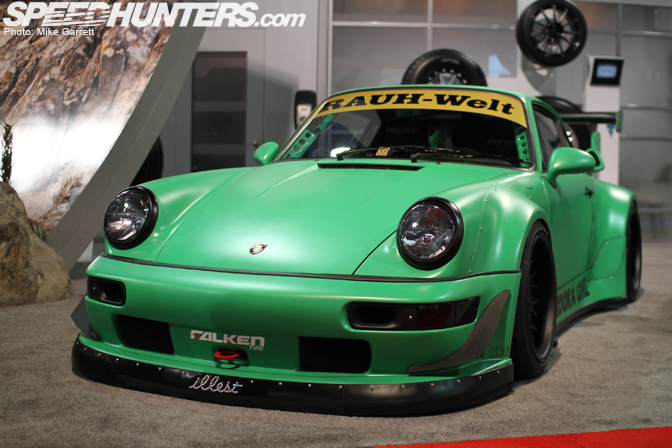 One of my first stops this morning was at the Falken Tire booth to get a look at the Fatlace/RWB Pandora One Porsche in the flesh.  It's been nearly four years since I first came across one of Nakai-san's monsters at Tsukuba Circuit. To see the evolution of RWB since then has been absolutely amazing.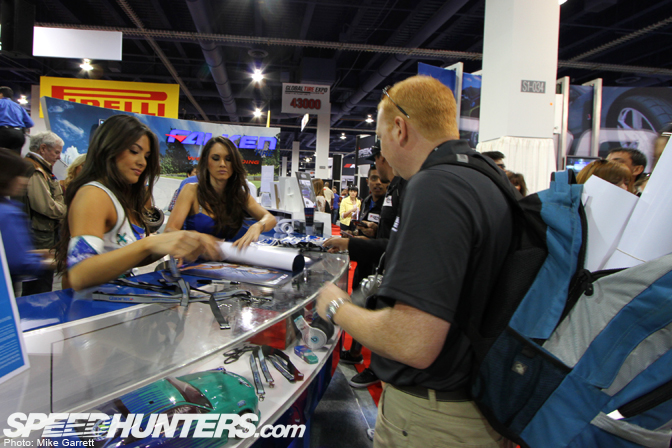 Elsewhere in the Falken booth, the always beautiful Falken ladies sign posters for showgoers. That brings to me to another reason people come to SEMA – the swag.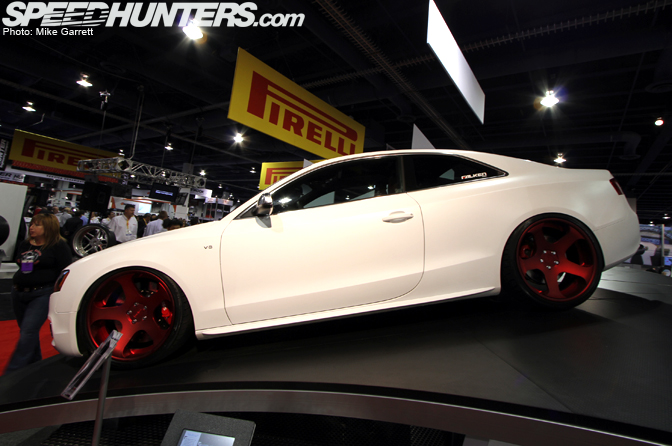 This tough looking Audi S5 on red Rotiforms is also being shown in the Falken booth. As I mentioned during my sneak peek post yesterday, Euro is big SEMA 2011.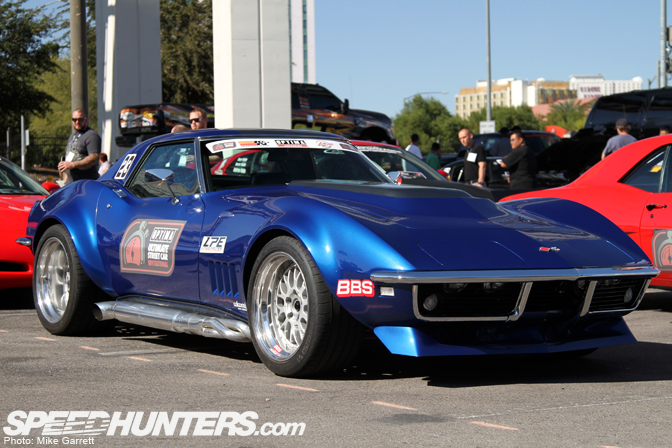 That's not to say American iron is hard to find. I caught this very mean and very functional Corvette in the Optima Ultimate Street Car Challenge area.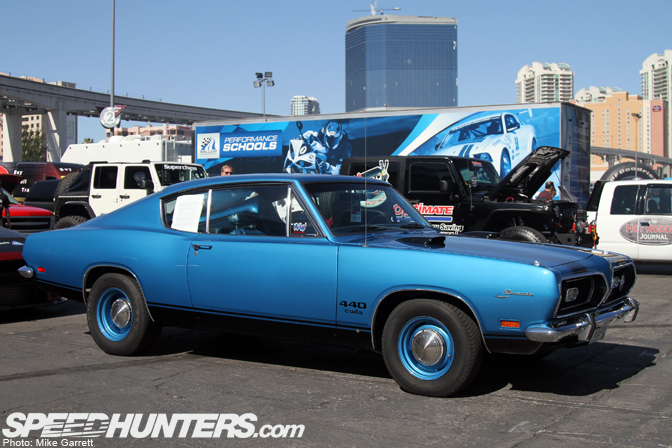 Another muscle machine which I liked was this second generation Barracuda fastback. Color-matched steel wheels and dog dish caps are always a good look.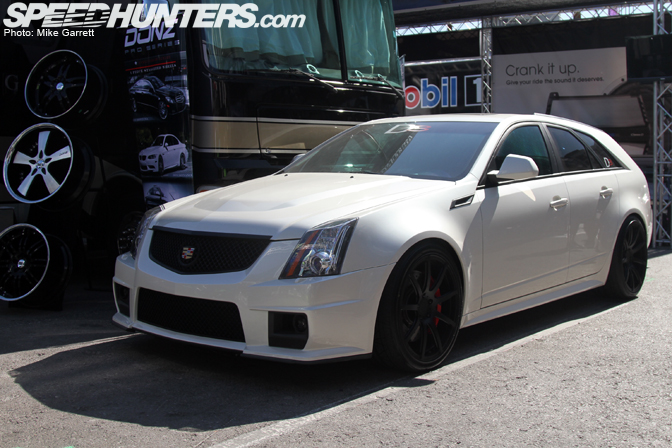 Or maybe you fancy yourself American cars of the modern era? Tons of those at SEMA too.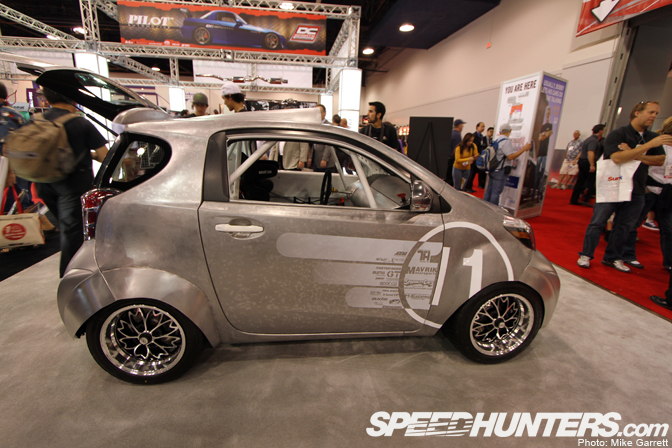 Over at the Scion booth I took a closer look at the iQ built by Tatsu.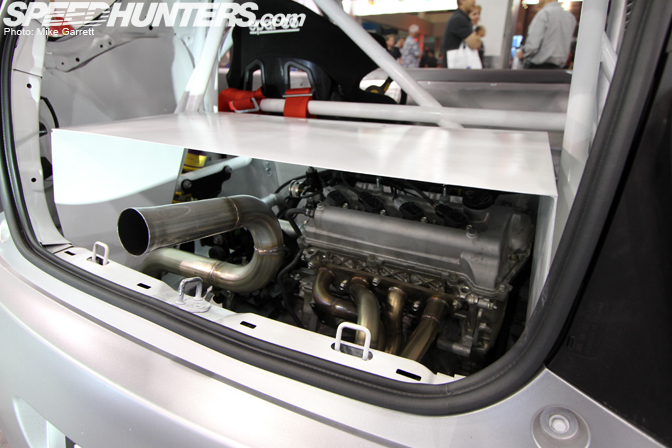 How cool is the idea of a mid-engined, rear-drive micro car like this? It would certainly bring some excitement to your urban commute.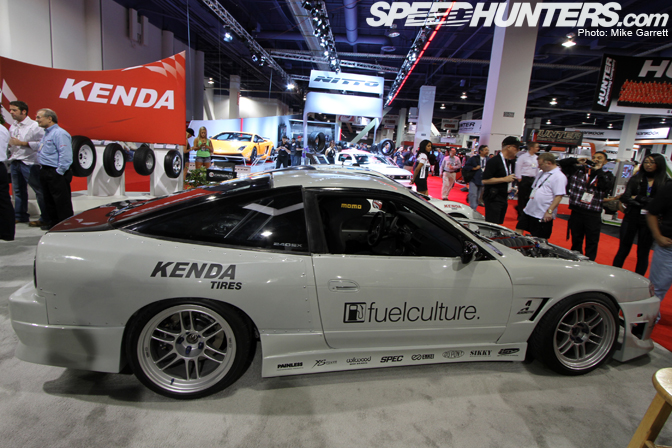 A V8-swapped S13 in the Kenda Tire booth. No matter which side of the debate you take, V8 S-chassis are here to stay.
Back outside, Vaughn Gittin Jr. takes some lucky showgoers for ride-alongs in front of a massive crowd. When engines scream and smoke is in the air, the people come running.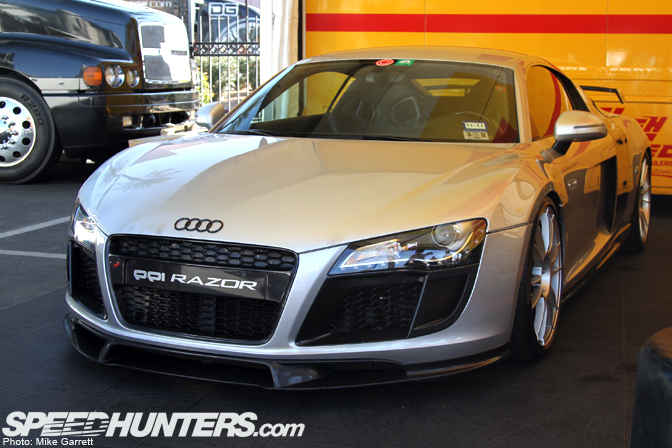 When the normal Audi R8 just isn't cutting it for you, don't worry. The folks at PPI are there for you.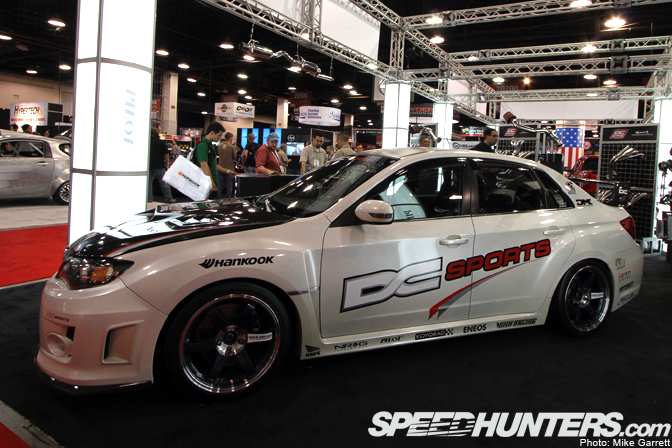 DC Sports take on the STI sedan.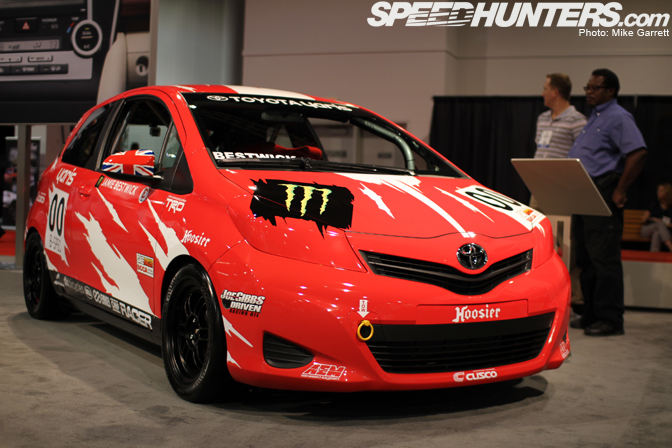 Even though the Toyota Yaris B-sped racer barely breaks the 100 horsepower barrier, you can bet it's a blast to throw around a track. Long live the underpowered compact.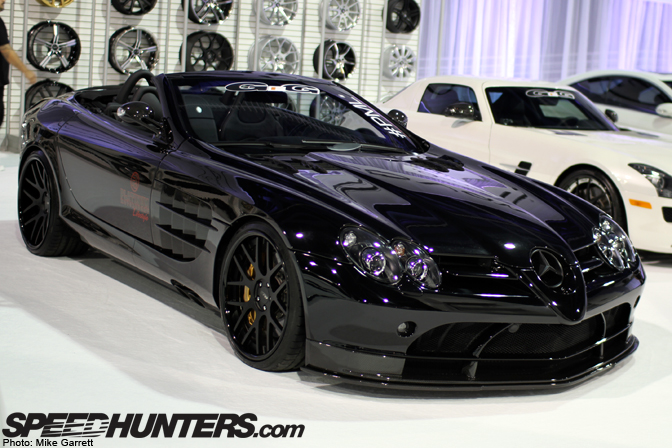 Yes, I just posted a decked out Mercedes SLR immediately after posting a Toyota Yaris. That's SEMA.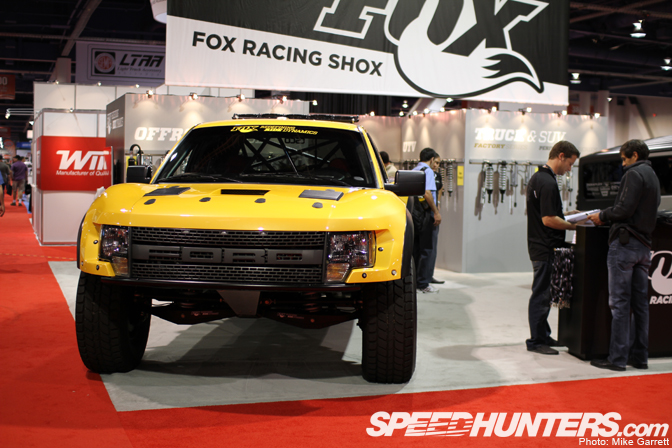 While we don't really get into the off-road scene, it's worth nothing that these machines have a huge following at SEMA. There's an entire display hall dedicated to them.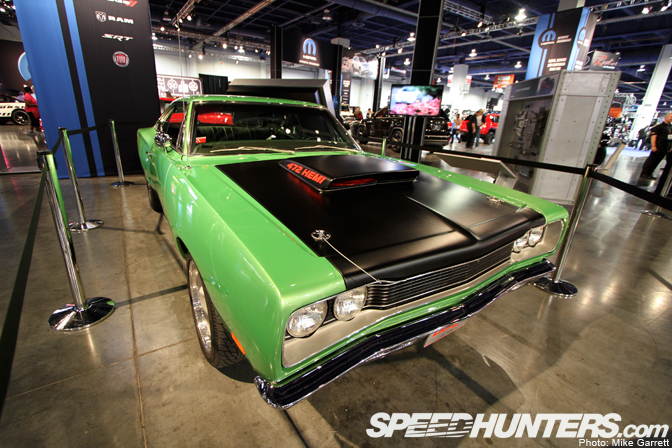 There's nothing quite like a proper Mopar muscle machine.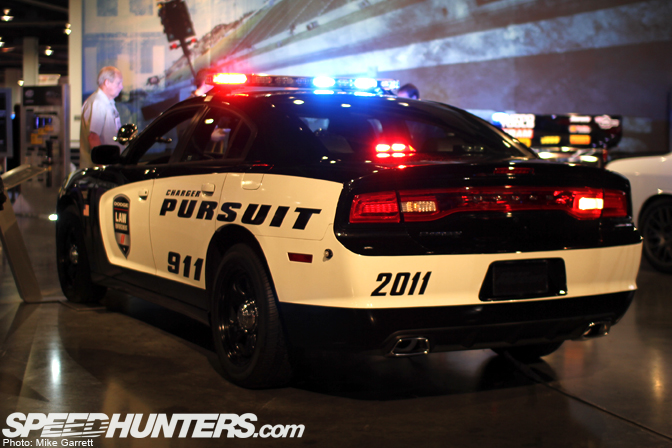 Also in the Mopar area was the pursuit version of the new Charger. Coming soon to a town near you.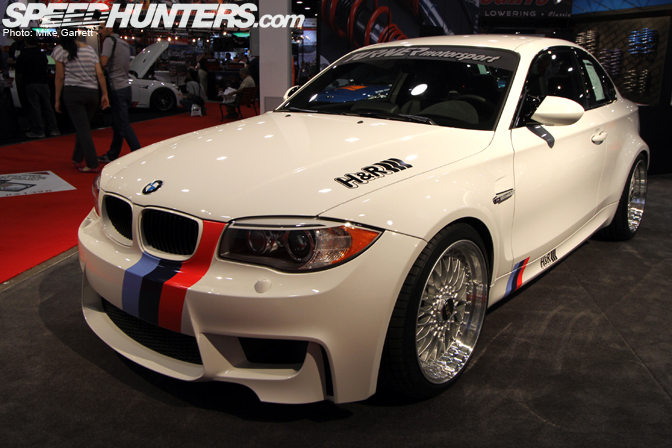 A set of BBS Super RS wheels give the new BMW 1M a bit of old school flavor. This was found in the H&R booth.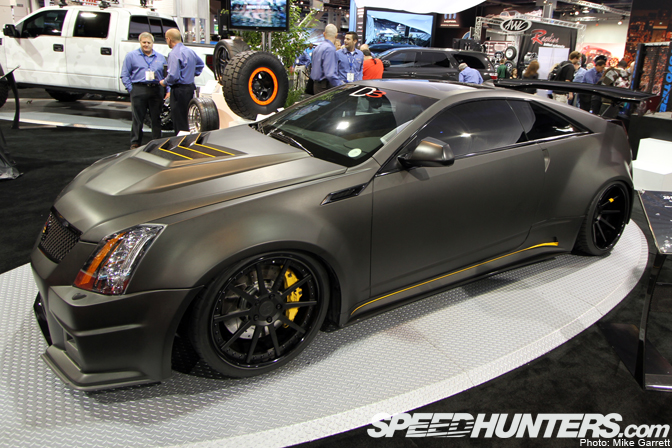 If you've been following our Facebook updates from SEMA, then you already saw this radical wide body Caddy CTS-V Coupe in the Toyo booth.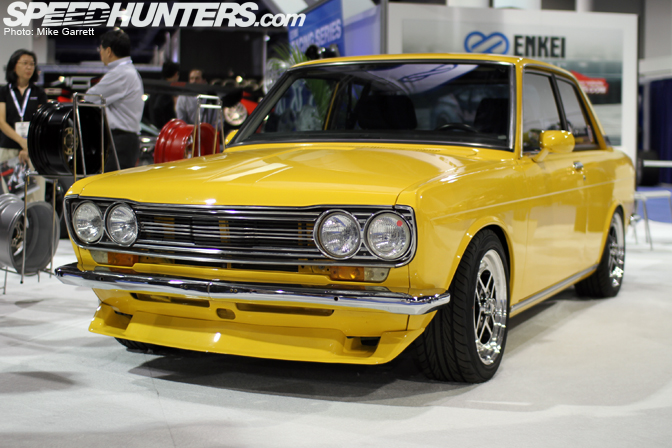 Fans of vintage Japanese cars will like what it's in the Enkei booth this year. An absolutely pristine Datsun 510…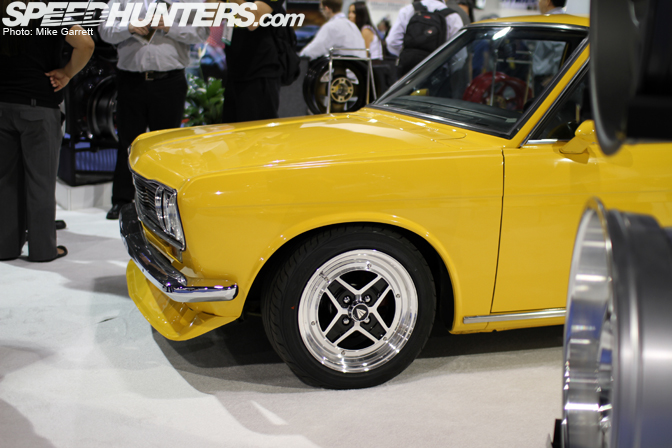 …modeling the revived Enkei Apache wheel.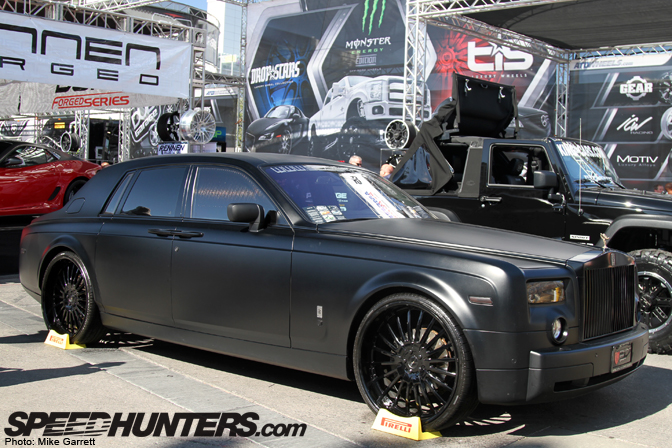 Lifestyles of the rich and famous. SEMA wouldn't be SEMA without outrageous cars like this.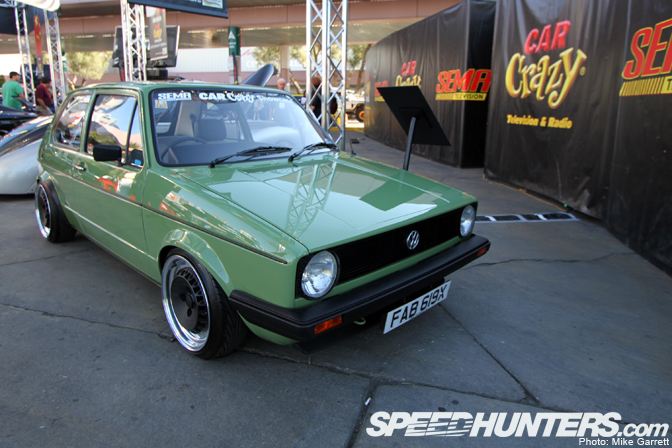 Stepping in an entirely opposite direction, we have a simple and mint RHD Mk.1 Golf.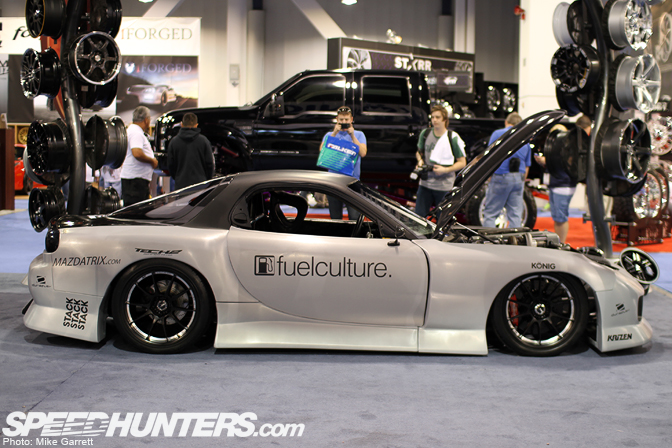 At first glance I assumed this wide-body FD3S would have an LSX under the hood.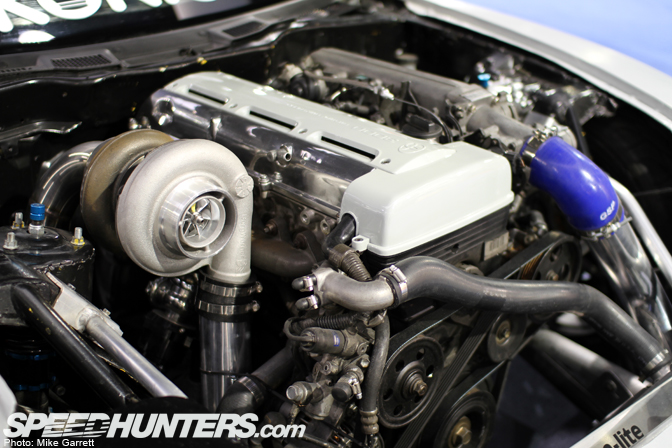 Instead, I was surprised to find a single turbo 2JZ occupying the engine bay.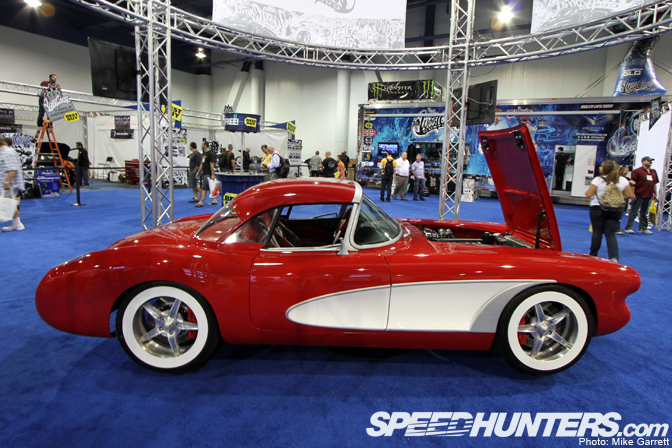 Mix up 50 years of Corvette history and you have this – a hybrid of a 1958 and 2008 'Vettes.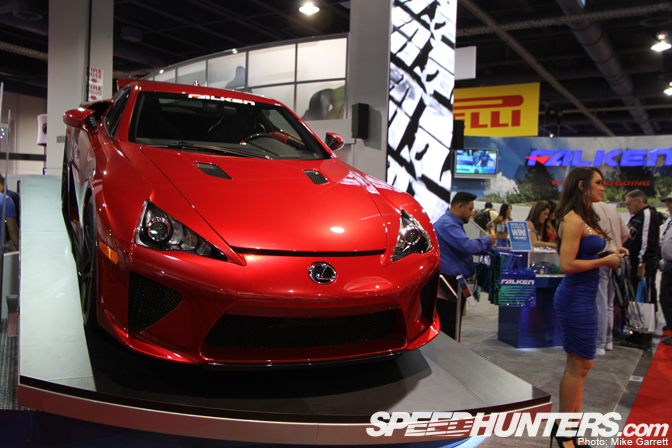 It's just about time that I head out to meet with my fellow Speedhunters so I'm going to stop here for now.
Much much more to come from the halls of SEMA.
-Mike Garrett