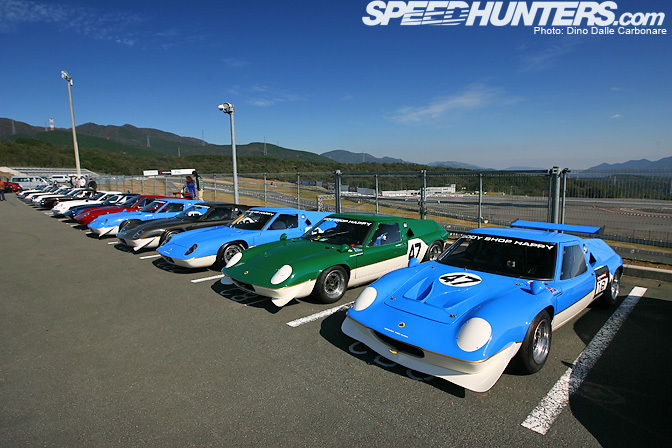 To begin the Lotus Day Japan coverage I thought I'd quickly run through the amazing showing from the various owners clubs that were present…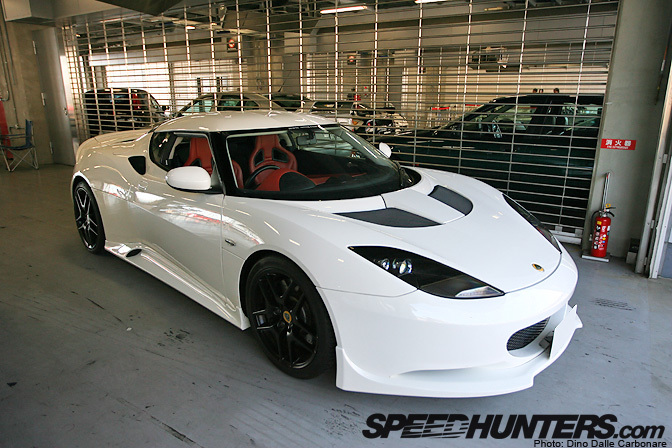 …before going into the pits and taking a look at what was hiding in there, cars like this lightly tuned Evora.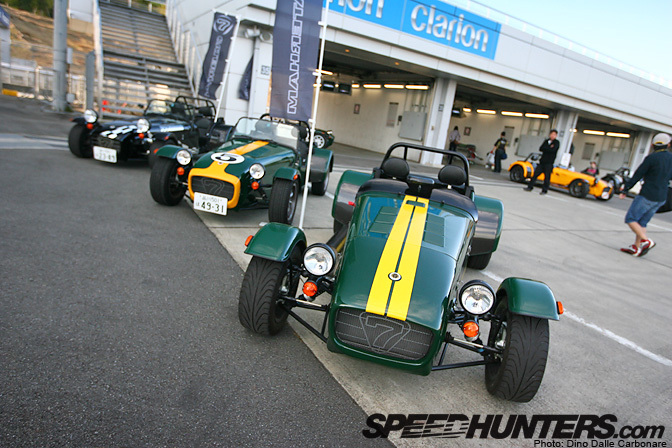 You can also expect some Caterham goodness with some of the coolest and rawest models currently available.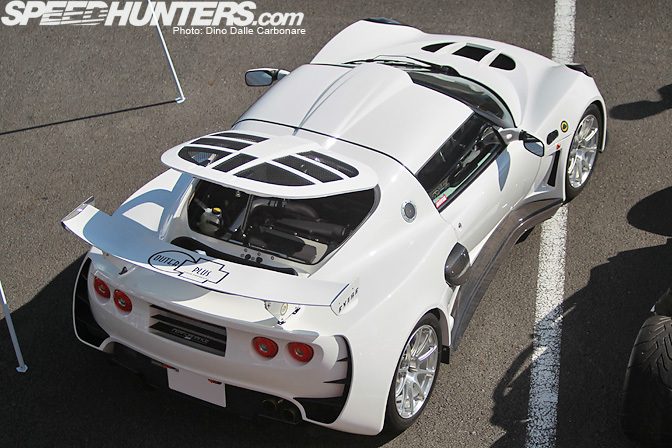 But before we get going I have to show you guys this stunning widebody Exige…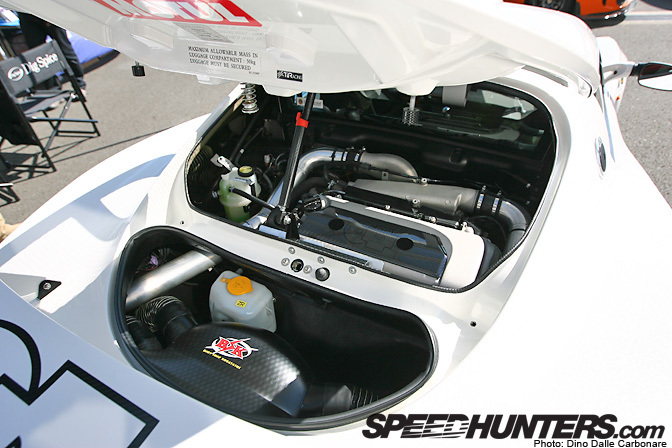 …from Outer Plus. To boost performance the Toyota motor has been turbocharged and features a rear-mounted intercooler.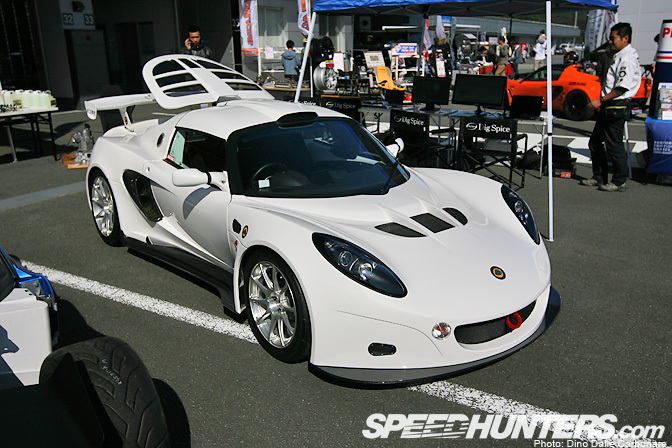 This thing had lots of presence!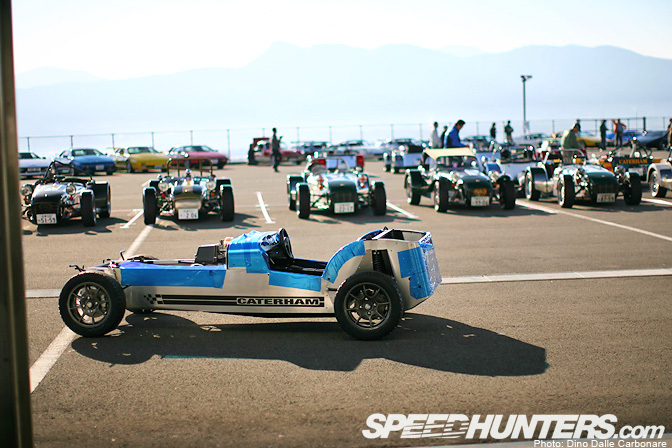 Caterham Japan had a great display and this particular stripped chassis was used to show just why these things are so damn light.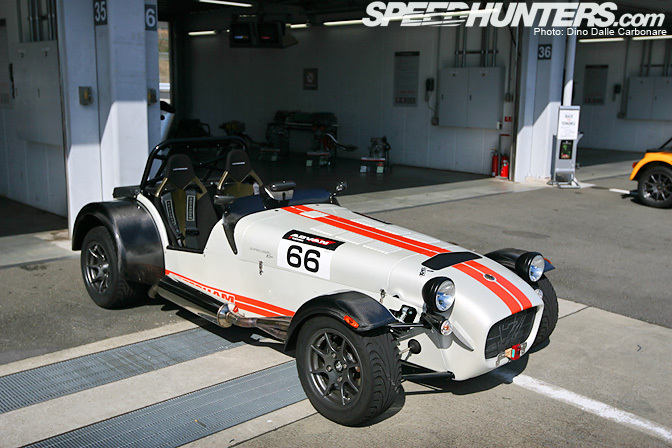 There are very few cars out there that can keep up with one of these R500s through the twisties, or pretty much anywhere else for that matter. With 263 HP and only 516 kg to haul around you can imagine the ballistic performance this car can unleash.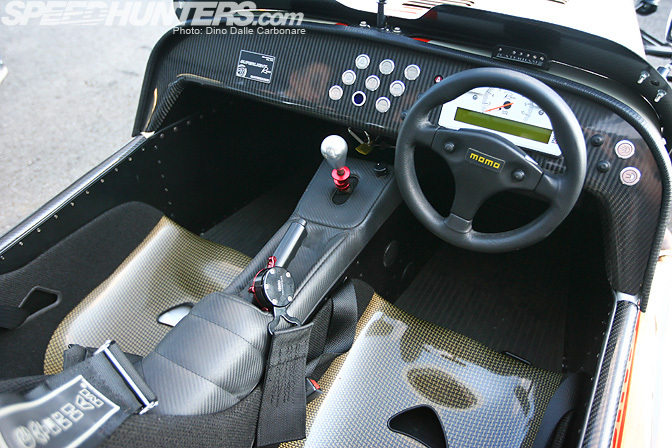 Carbon and Kevlar are the order of the day in the cramped interior and if you look at the shift pattern on the gear lever you will notice this particular car has been fitted with the optional 6-speed sequential transmission. This beast can hit 60 mph from rest in 2.88 sec. Now if only I could squeeze my fat ass in one of these I'd take one out for a spin! Talking to Justin from Caterham Japan there is the option of removing the seat all together to allow my slightly above average frame to slip into the R500…an experiment we will have to see the outcome of shortly.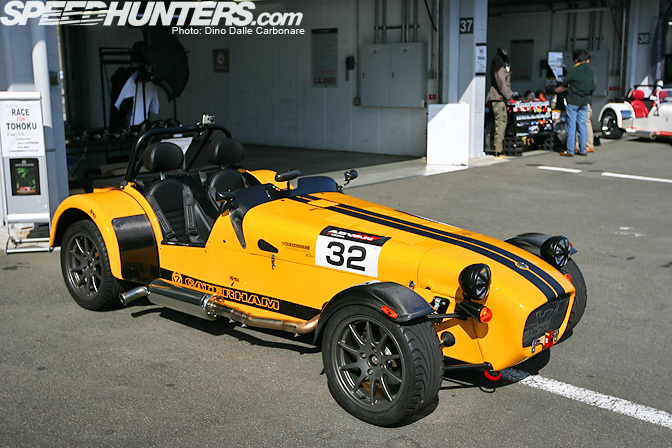 If the R500 is too extreme there are plenty of other models to choose from and you can personalize these cars in so many ways thanks to the tons of parts and options available.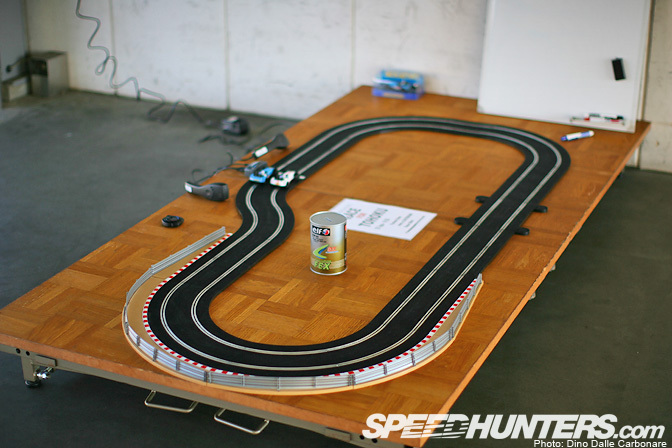 Justin had set up a cool little Scaletrix track in one of the pits to raise some money for Tohoku. 100 Yen for a 20-lap time attack session and the fastest time of the day would win a Caterham t-shirt. Every time I took a break I couldn't help but play around for a bit.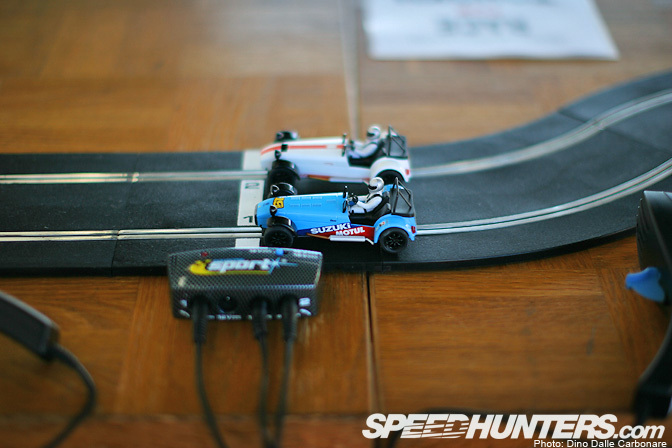 It brought back memories from when I was a kid and used to remove the magnets from under the cars to make them drift around the corners. After much experimentation I found out a bit of talcum powder would work wonders at making the surface a little more slippery to hang the tail out for longer! I see these days they have incorporated the magnet within the under side of the cars! Boo hoo!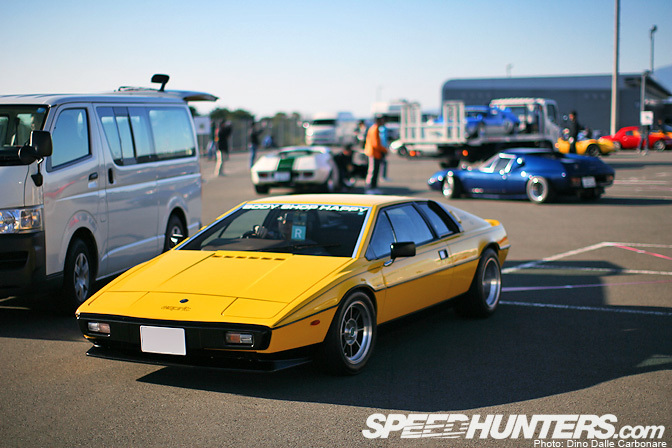 Lotus Esprit S2 on Hayashi Racing wheels.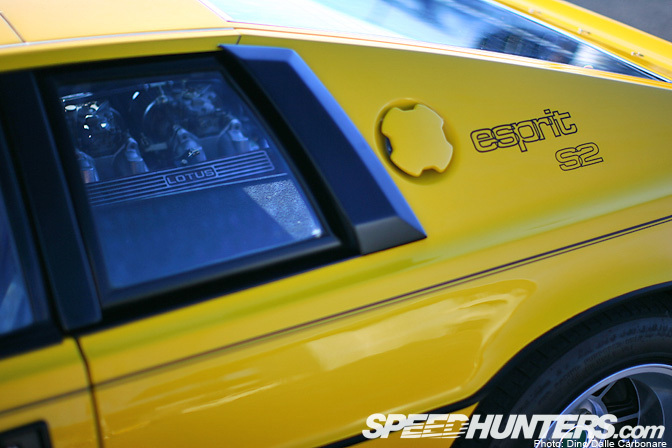 There is something so cool seeing an exposed engine through the rear glass!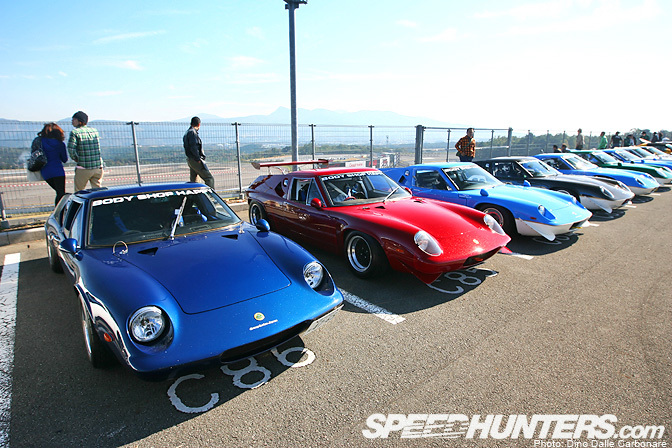 The awkwardly styled Lotus Europa enjoys quite a following in Japan and the guys from Body Shop Happy came out to the event along with what looked like every single one of their customers.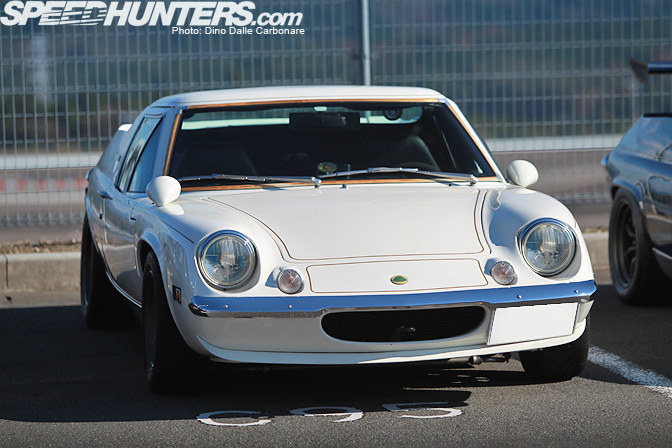 Every car was uniquely finished with either custom colors and running all sorts of mouthwatering vintage rims.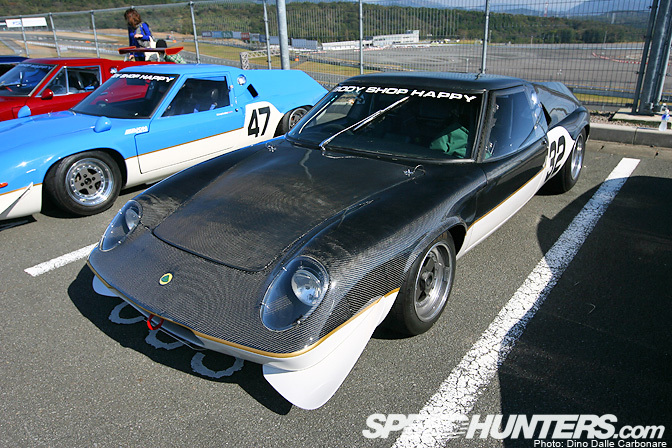 Some, as always, take things a little bit more seriously than others! Yes it's all carbon!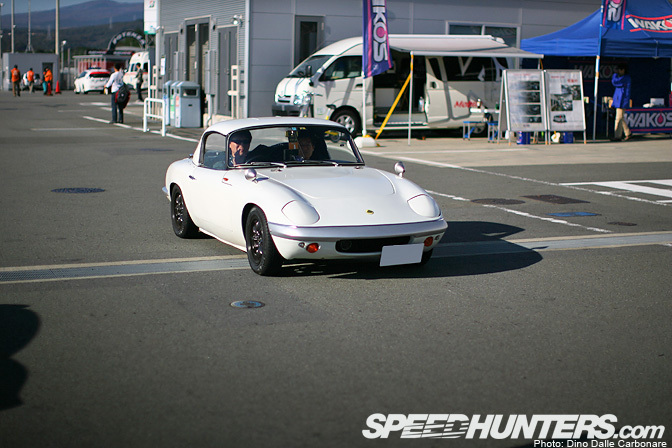 The little classic Elan is a little rarer and it was very nice seeing so many spotless and well looked after examples…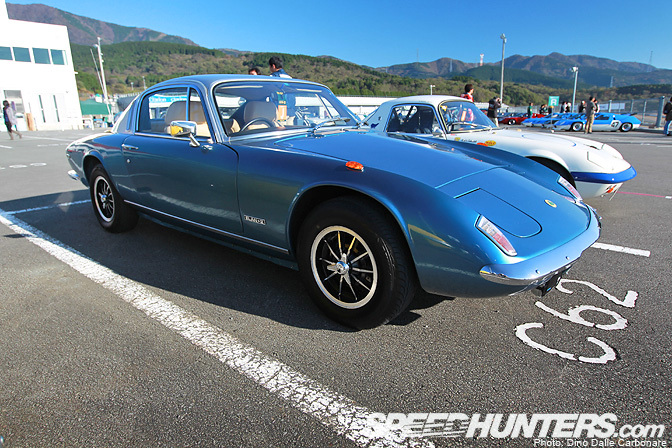 …including this Elan +2, the first one I've ever seen. Simply beautiful.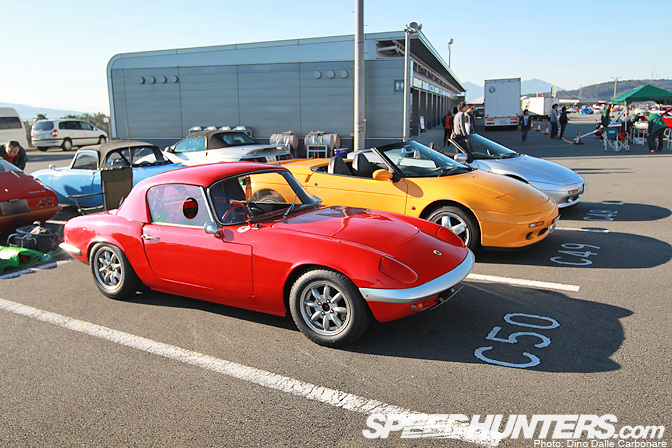 There was even a pair of 1989 M100 Elans. Back in its day the M100 was very much liked by the motoring press and often regarded as the best front wheel drive car around. This was when the Peugeot 205 GTi was king of the hot hatch and a few years before Honda came up with the Integra Type-R which pretty much re-wrote the rule book when it came to FF engineering.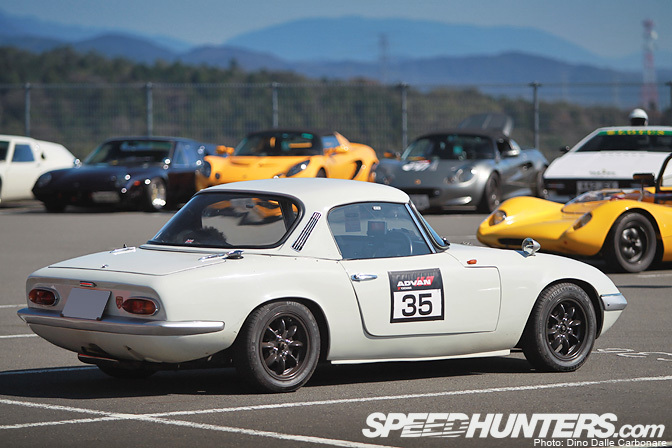 Ever wondered where Mazda got its inspiration for the Roadster/Miata/MX-5?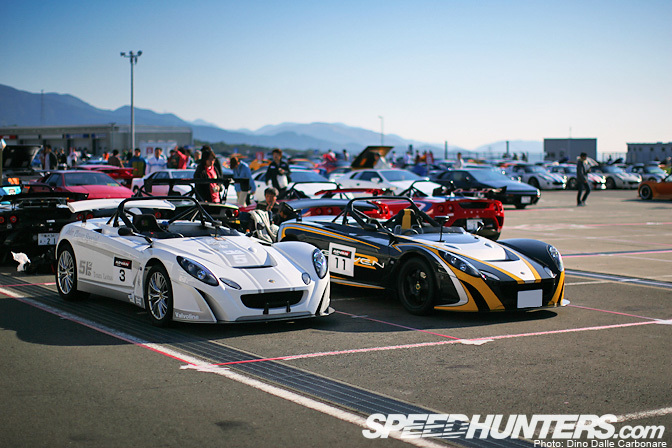 Yet more 2-Elevens out in the paddock.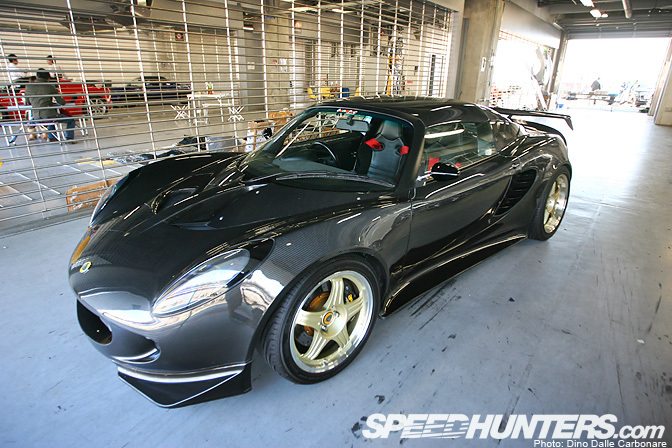 I would really like to find out more info on this rather special Elise. I wonder how many kilograms the all-carbon body saves.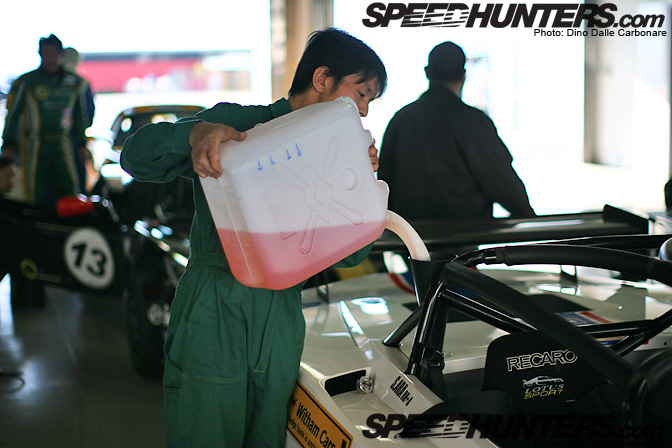 Most of the guys participating in the Cup races had their own pit crew. That's that way to do it!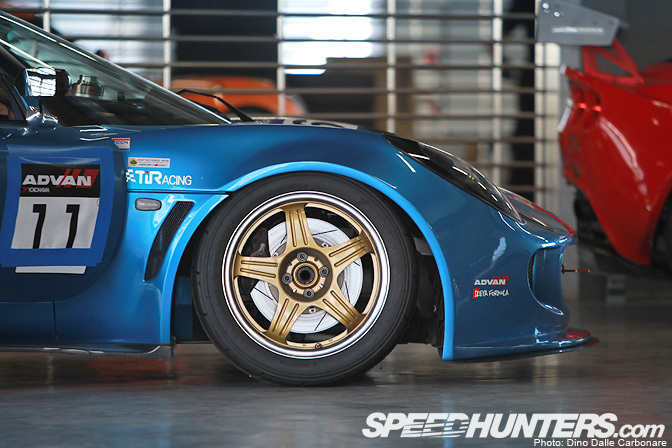 That's it for part one, I'll dive more into the historic cars that were on show next, along with all those beautiful F1 racers from the 50s and 60s!
Lotus Day Japan 2011 coverage on Speedhunters 
-Dino Dalle Carbonare