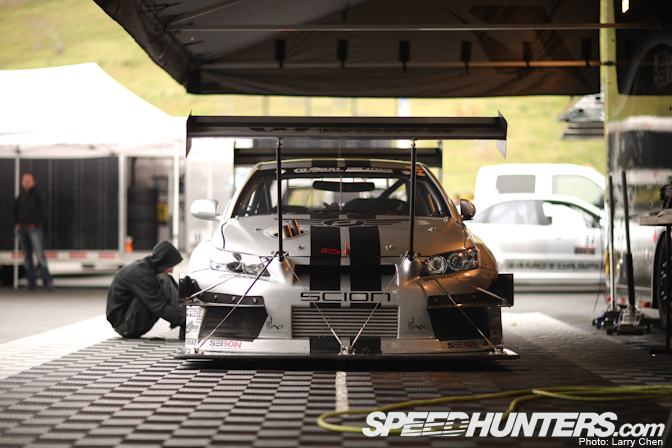 Global Time Attack finished it's inaugural season with a bang this past week at one of the most beautiful tracks in North America, Infineon Raceway. In total seven records were broken. One of them now belongs to Team Need for Speed driver, Chris Rado, who beat the previous front wheel drive time attack record by about seven seconds. I thought it would be neat to have John Naderi, from Global Time Attack, chime in a bit about how the event went.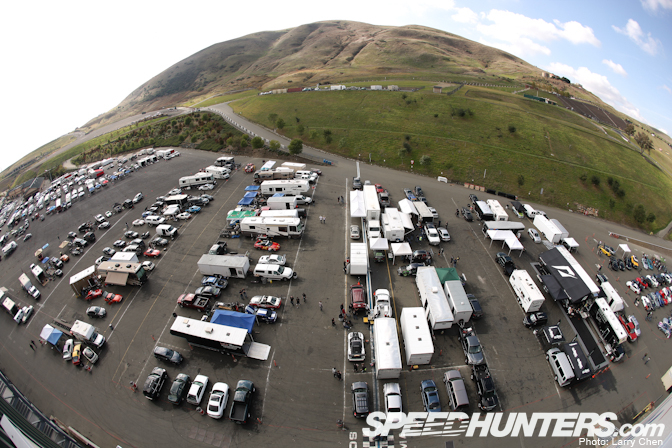 Larry: The paddock was pretty full. There was a full blown car show as well as the NASA club racing going on. The GTA paddock was also pretty packed with 21 competitors from all over North America.
John: We were actually very pleased with not only the turnout but the quality of the field as well. But because my glass is always half empty (which probably explains why I'm usually two-fisted.)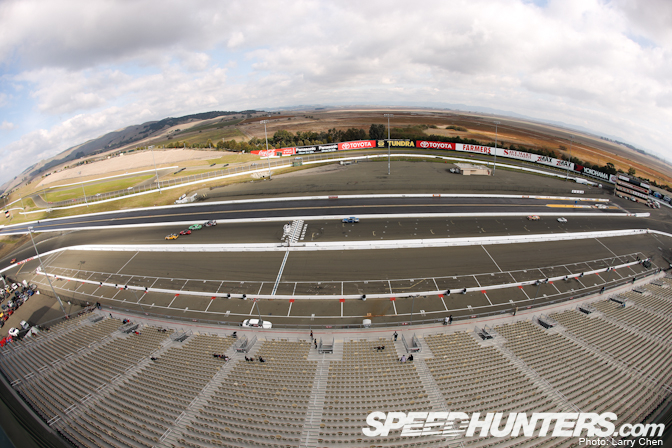 Larry: This is a view of the front straightaway and the start / finish line. In the background are the beautiful wineries of Sonoma California.
John: GTA couldn't pass up the chance to run on the legendary Sears Point Infineon Raceway. And I couldn't pass up the chance to score some free wine at a local tasting.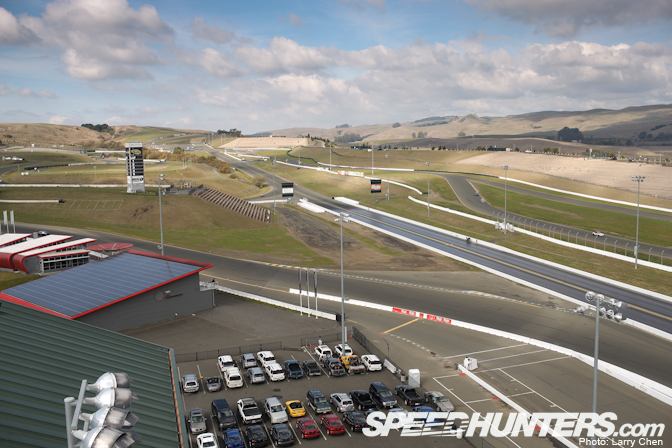 Larry: The track layout is the same layout as what the Indy-cars run.
John: At the end of the weekend I was told that our GTA cars were running times comparable to those of the ALMS GT cars. Take that…traditional motorsports! Joking… please don't kill me, Pratt & Miller.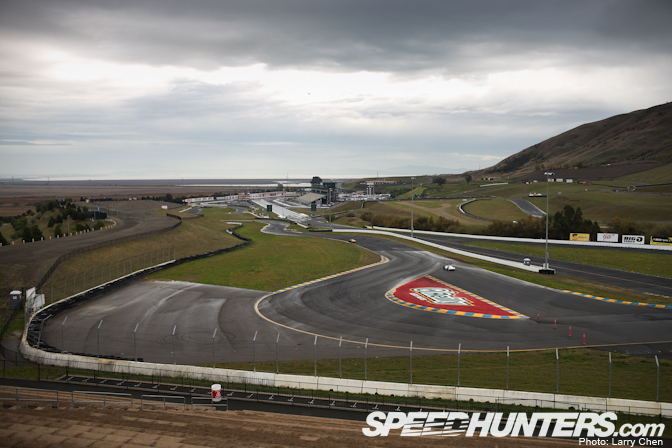 Larry: This section of the track was once used as part of the Formula Drift Pro Championship Series. Ah, Memories….
John: We've been courting the FD drivers for some time. Luke Lonberger ran with us here and no less than Dai Yoshihara, Tanner Foust, Samuel Hubinette, Rhys Millen and Chris Forsberg have competed in time attacks at one time or another. We'll get more of you drift kids yet. Just don't call it "grip racing" or I'll be forced to revoke your man card.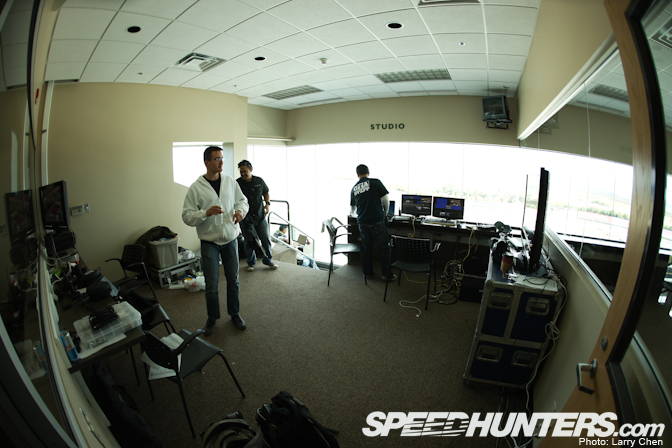 Larry: This was the command center.
John: Next year I want a sofa for naps, or at least um, casting couch interviews.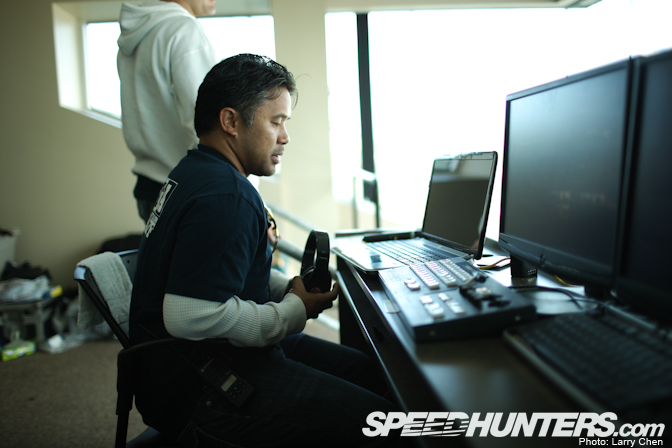 Larry: At the helm of the live stream controls was Daryl, of Belle One Communications. They usually handle all the live stream stuff for Formula Drift.
John: We could not do this without Daryl and his crew. And if we ever have a party Daryl will DJ.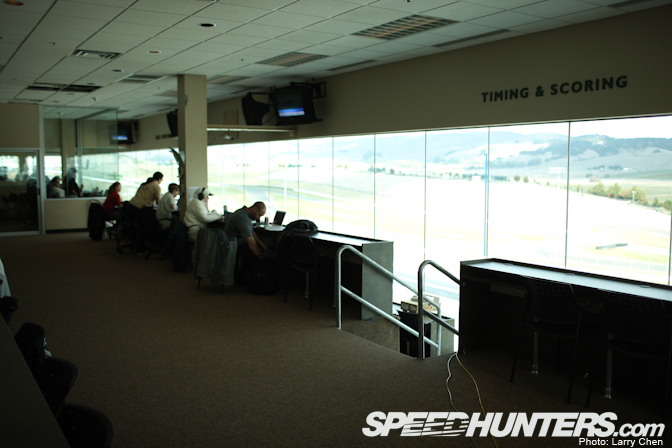 Larry: Right next door was where all the timing and scoring was done.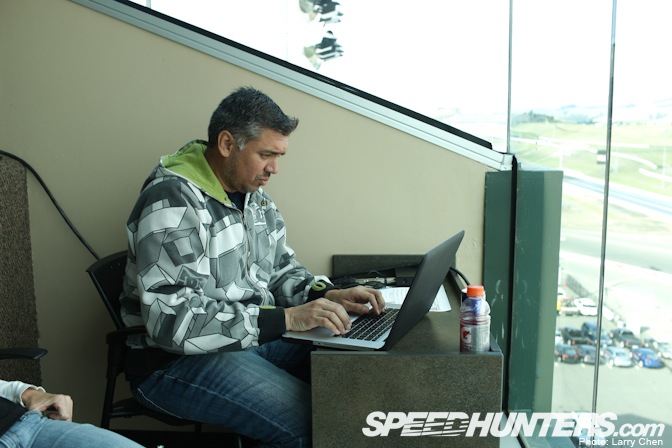 Larry: Why do you always look so happy at events?
John: Because they only let me drink Gatorade when I work. Next year I'm going to include a rider that will allow me to spike my own punch.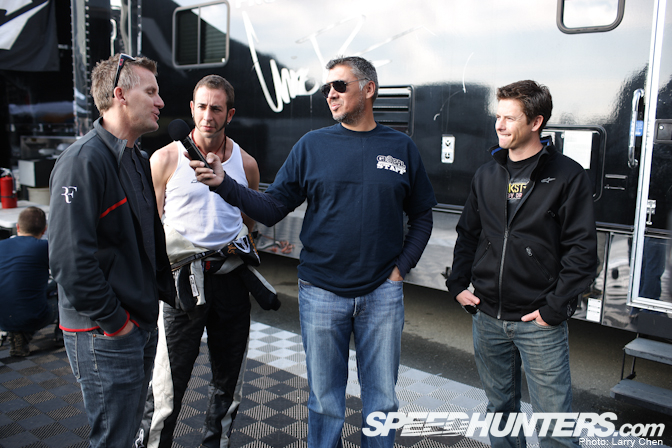 Larry: Talk about an all star cast. Three champions and a fanboy.
John: Yes, Rado is quite the fanboy. Oh, you mean me.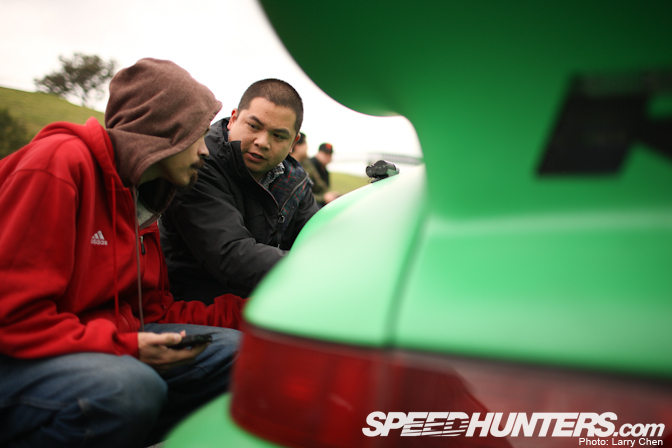 Larry: I was glad to see Mark Arcenal, from Fatlace, bring out his Pandora One RWB.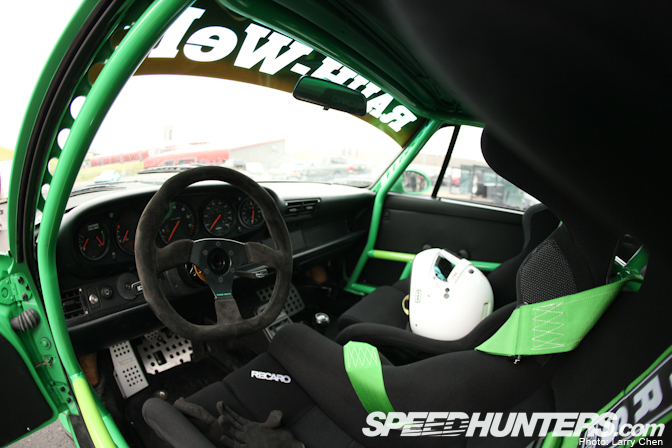 John: Interesting note about Mark Arcenal's 964. This is actually a street car but because the rear Falken RT-615 tires – while class-compliant at a UTQG 140 rating – were wider than the 285mm max width allowed in the Street GT class.
Larry: I like when it goes vroom.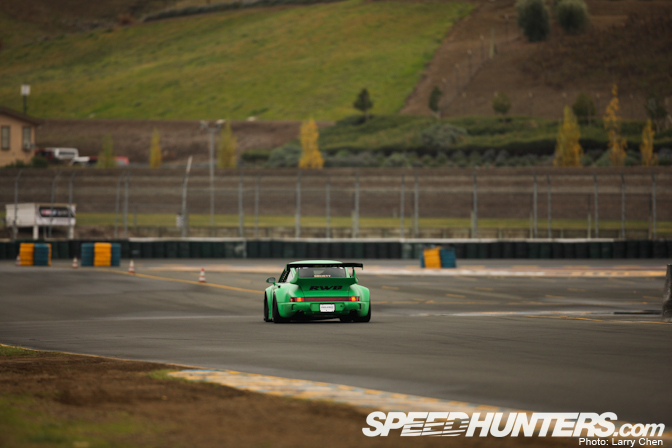 Larry: I made it a point to get some nice photos of this car on the track since we don't get to see many RWB cars stateside.
John: This was a true honor to get the public debut of this car at our "Just For Kicks" car gathering but when we learned Mark was planning on entering this car in the Global Time Attack we were ecstatic.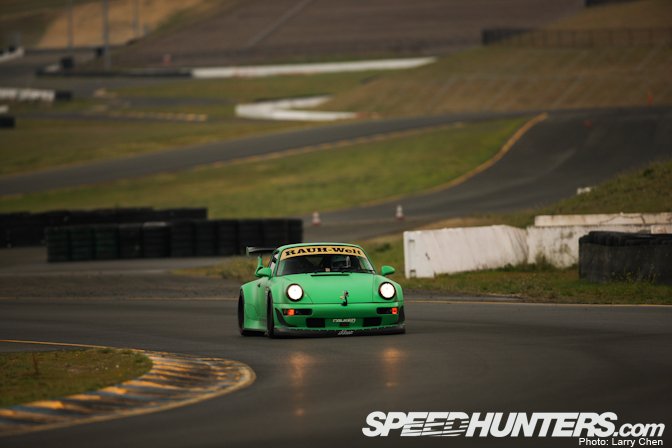 Larry: It definitely looks at home hugging those corners.
John: We knew this car wouldn't be bringing home any track records but it definitely looks proper on a circuit. If not for the background this could easily be one of Nakai's Idlers events at Tsukuba.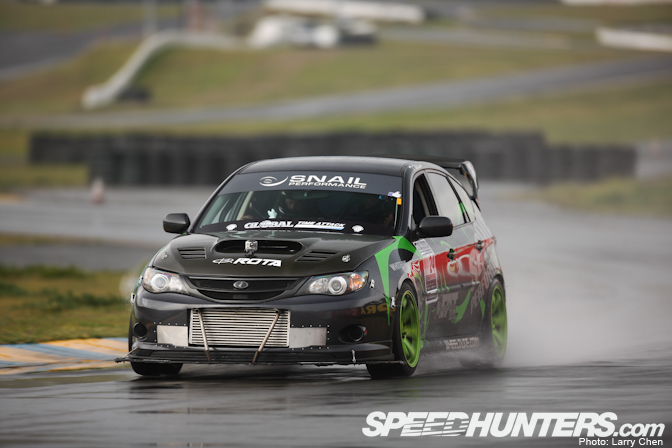 Larry: It's too bad that it rained on the first day.
John: We would normally never schedule something so late in the year in Northern California but the opportunity to run at Infineon as part of a larger NASA weekend was too great to pass up. We were fortunate that the track dried up and allowed our teams to run as fast as they did on the second day.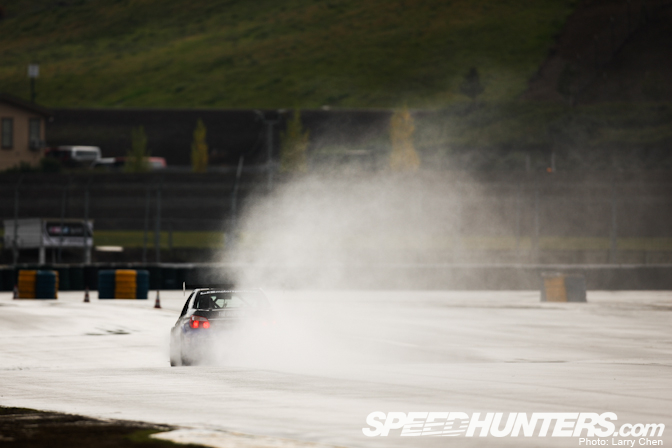 Larry: There were still some brave souls who drove their cars to the limit on the soaking wet track.
John: I think this one is the LIC Motorsports Limited GT AWD STI driven by Gary Sheehan. Here's a great video of some of Sheehan's wet water antics here. I can only imagine what LIC Motorsports co-owner – and certified obsessive compulsive – Noah Levy thought watching his baby get flogged around in the wet on Friday.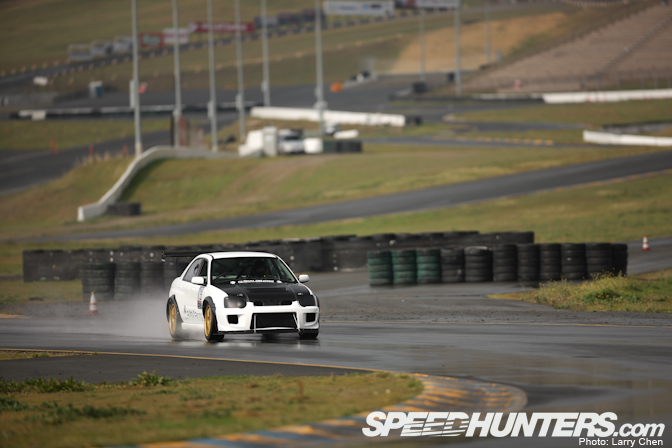 Larry: I think the guys who went out had some good rain practice.
John: Possibly, but many of the fastest teams opted to sit out on Friday with the hope for a dry fast track on Saturday.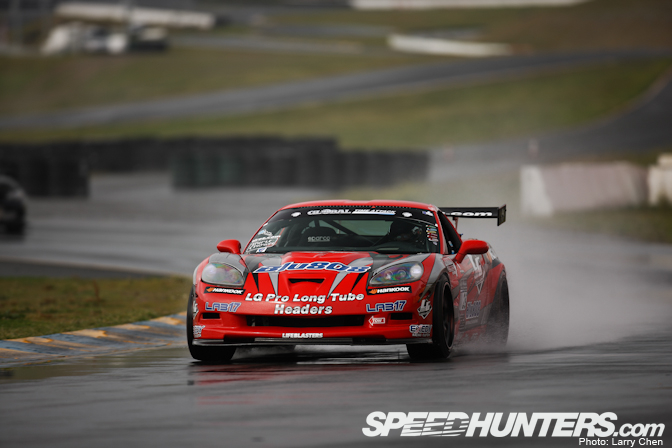 Larry: Luke Longberger was one of the nutty ones. Especially since his car is setup for drift.
John: I think this is the only time he was going straight. I knew you'd get the shot, Larry. You always do.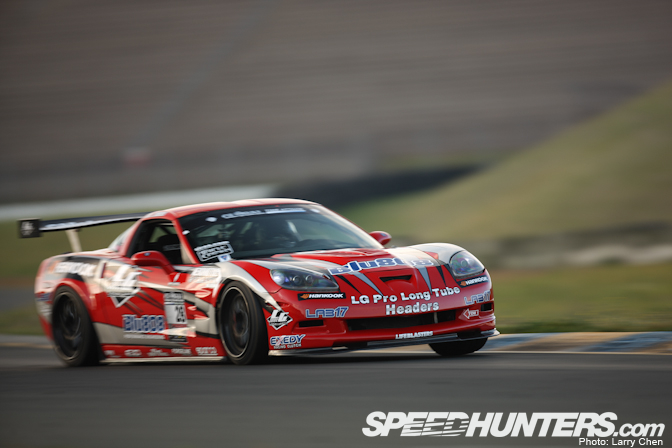 John: I originally invited Conrad Grunewald to Infineon but he couldn't get his FD Camaro converted in time. When I say "converted" I'm referring to the numerous suspension pieces and settings (most notably the brakes) that need to be changed from a drift to road race/time attack set up. Conrad put us in contact with Luke and he thrashed to convert everything needed to turn his Blu808 FD Corvette into a Limited GT class time attack beast.
Larry: Plus, the new livery is great. I heard a rumor that Luke might try to run Formula Drift and GTA on the same weekend at Road Atlanta.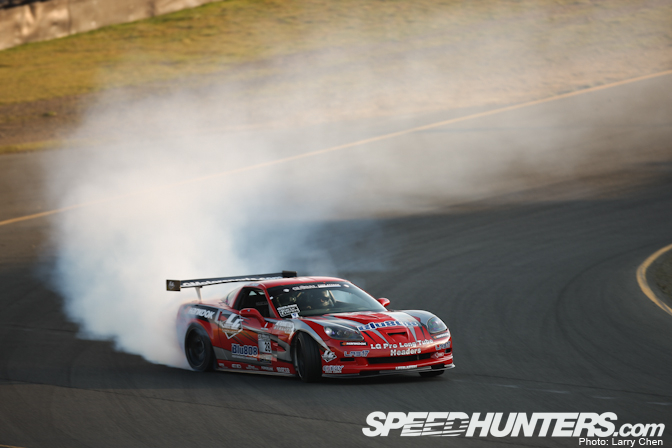 Larry: Luke was worried that the corner workers were going to black flag him for drifting.
John: He told me that they were actually applauding him. Kudos to the NASA Nor Cal course workers!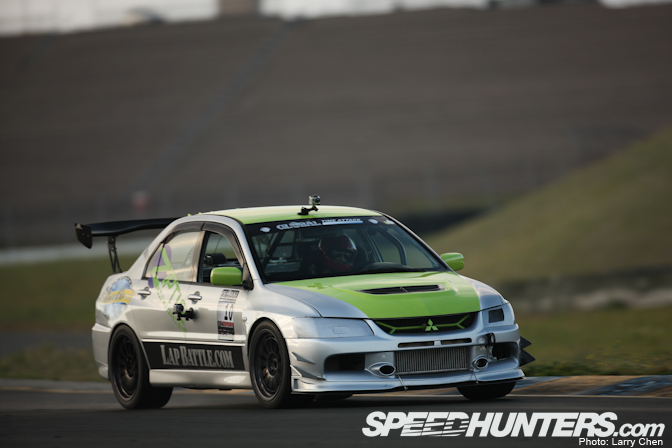 John: As the Lap Battle champion at Miller Motorsports Park Kyle Hatch was invited to compete and made the long trek from Utah in his RaceCo ZipTie Evo 8. Kyle came in Fourth place in Limited GT AWD with a 1:50.673. I called him Johnny Utah. Hey, it was either that or Big Love. Sorry, I have no other references to that state.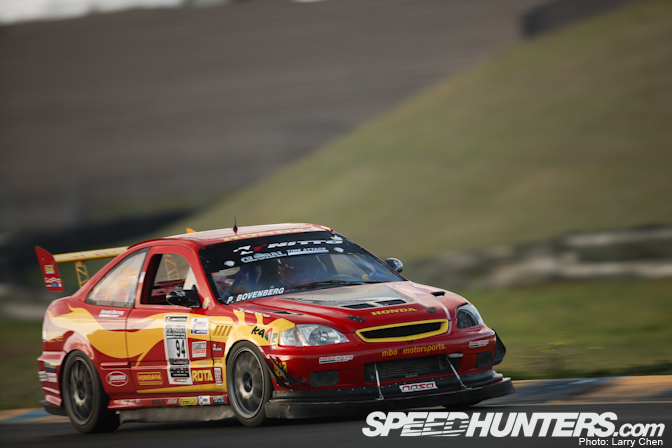 Larry: This car looks like it drove straight off the set of the first Fast & the Furious.
John: Didn't Ja Rule drive this one? Monica! That's Pete Bovenburg. He's a multiple-time USTCC Champion and his 1:51.964 was good for the win in Limited GT FF as well as a class record. We'll forgive his circa 2001 Modern Image livery because he's so damn fast.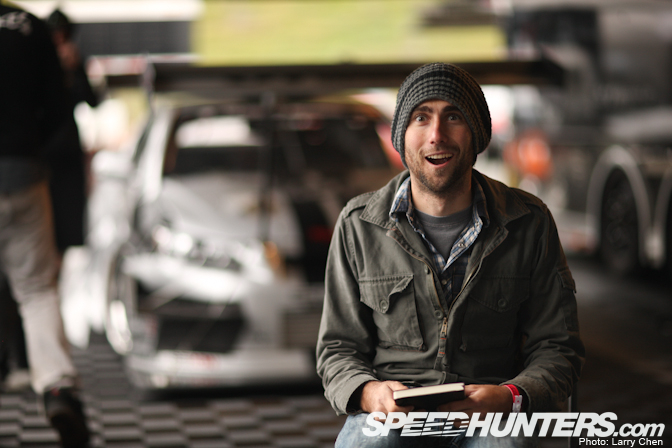 Larry: Keep your eye out for a video of epic proportions, from Speedhunters video guy, Will Roegge.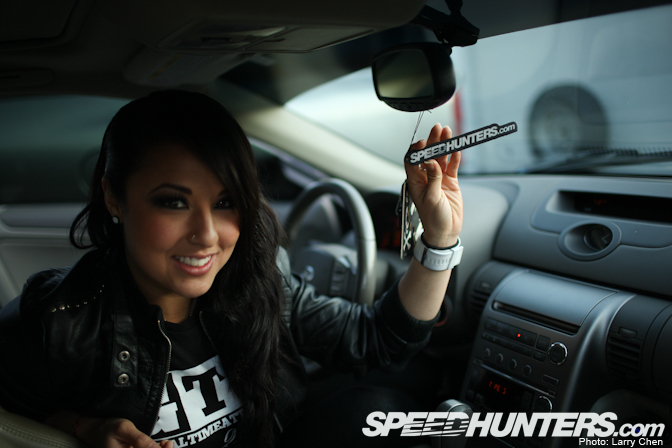 Larry: Team Need for Speed DJ, Miki Taka, was one of the official GTA girls.
John: Hi, Miki, hi, Miki, hi, Miki. We were supposed to go into the city on Saturday night, but I think I scared her off….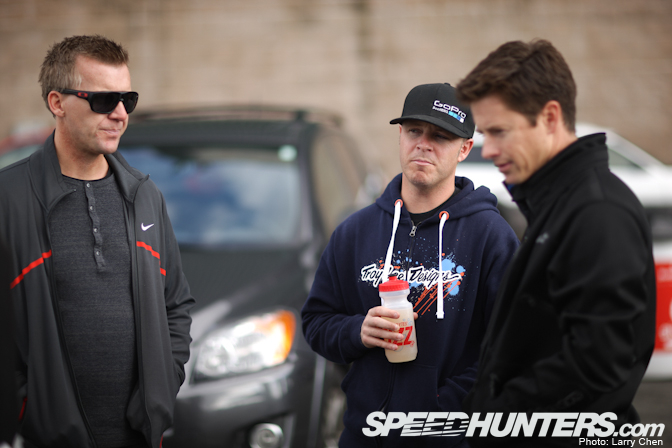 Larry: I am surprised that when these three came together they did not create a sideways driving vortex.
John: Samuel and Tanner were actually in the area filming a commercial (they're internationally renowned stunt drivers on the side).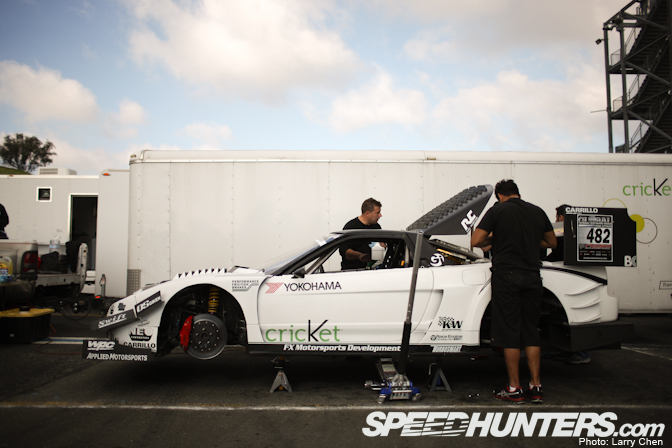 John: Yes, this is the infamous and rather reclusive FXMD NSX fresh off setting the overall time attack track record at Buttonwillow at the Super Lap Battle with a 1:40.980.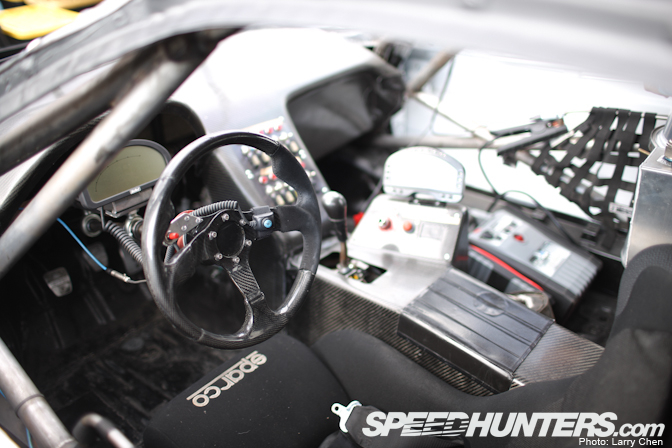 Larry: No cup holders?
John: No, but I think Tyler McQuarrie only needs to press the blue button and it will summon FXMD crew chief Radomir "Fes" Banda to bring him a Fanta. It's in his contract. Seriously.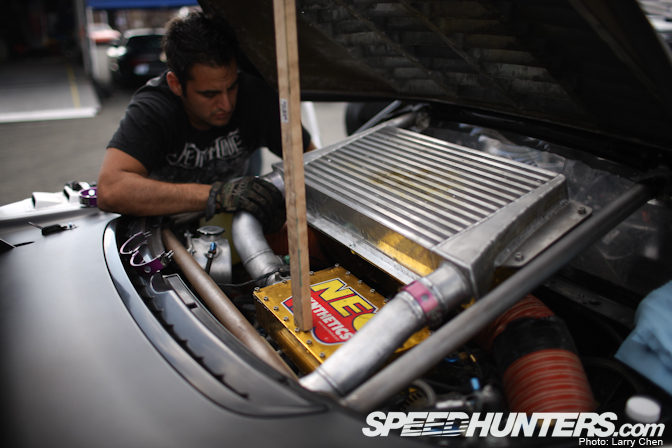 Larry: Just like that hood prop, everything on this car is function oriented.
John: That hood prop is a bespoke FXMD hand-fabricated piece. In all seriousness this car runs on E85 and the team believes they brought a bad batch to Infineon limiting the power output. Instead of the usual 700-plus horsepower the Unlimited GT NSX was hindered to less than 500hp to the wheels.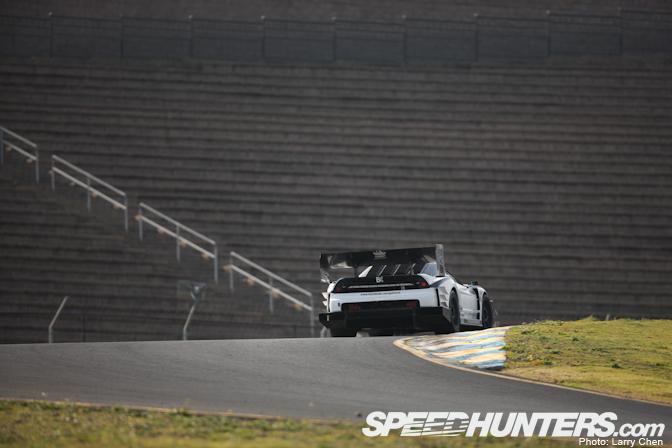 John: I always like to tease the FXMD crew about how truly "ghettolicious" their program is but after their two latest record assaults this is the view most of the top time attack teams have of their car. I am continually amazed at the performance of this team as well as GST Motorsports when compared to other time attack programs such as HKS and its CT230R and the Sierra Sierra Enterprises.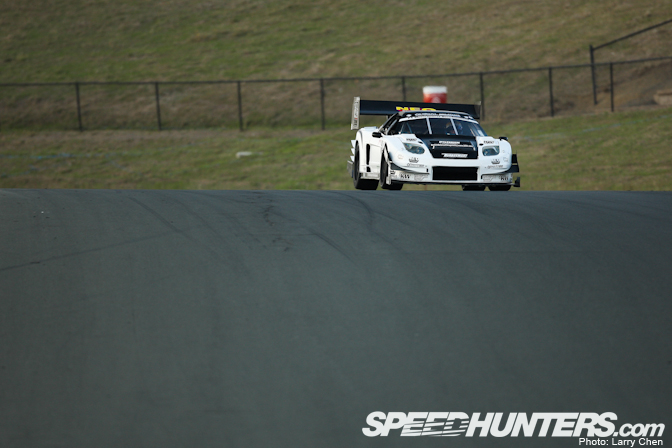 John: I think Tyler McQuarrie's 1:34.564 will be tough to top although I know of a certain Subaru Impreza team (GST) that might have something to say about that.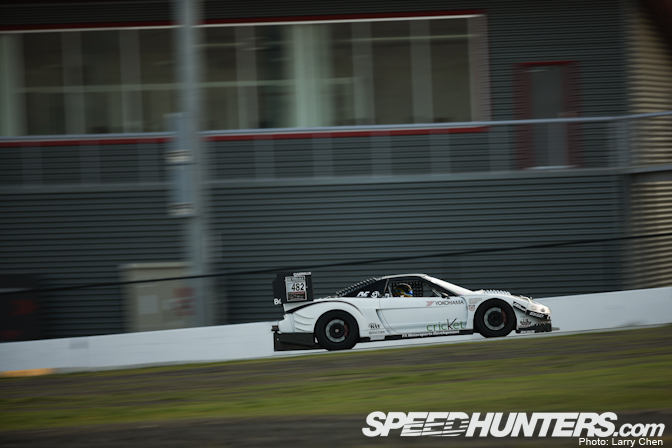 John: Look at the aero on the FXMD NSX. All credit goes to the team's aerodynamicist, Andrew Brilliant. This is one of the reasons Tyler aggravated an existing shoulder injury. The combination of no power steering, wide front tires and huge downforce took it's toll on Tyler's shoulder. Just look at all the wings and louvers! I think Andrew's been drinking the same Kool Aid as Rado. And after seeing the times FXMD has been throwing down all I can say is, 'Give me a swig.' But then I've never been one to turn down a drink.
Larry: That car also seems super reliable. I noticed Tyler did back to back to back hot-laps later in the day, when the air was a bit cooler.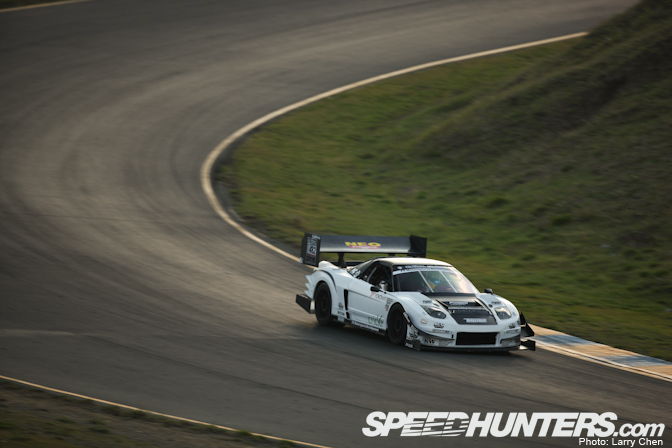 John: FXMD team principle Ken Namimatsu told me he's going to do whatever it takes to make our 2012 events. Wouldn't that be a treat seeing FX vs WORLD vs GST in a RWD-FWD-AWD battle?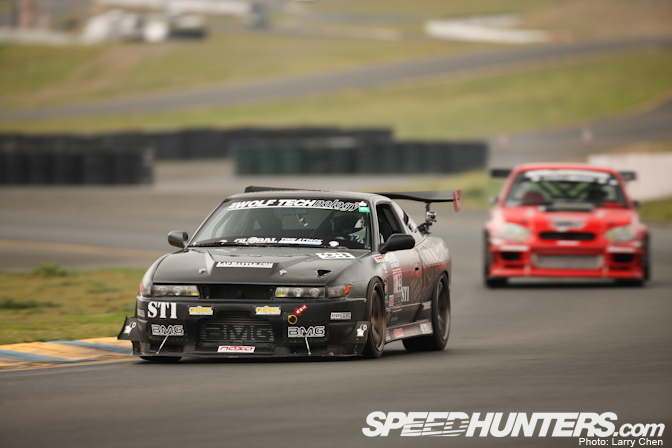 John: Matt "Hollywood" Guiver made the trip from Utah to drive the Biggie Motorsports Group Unlimited GT RWD Nissan 240SX. Unfortunately the car was burning oil and it never ran to its full potential. The car ran a 1:50.780 to take home Third place but I know it has more in it.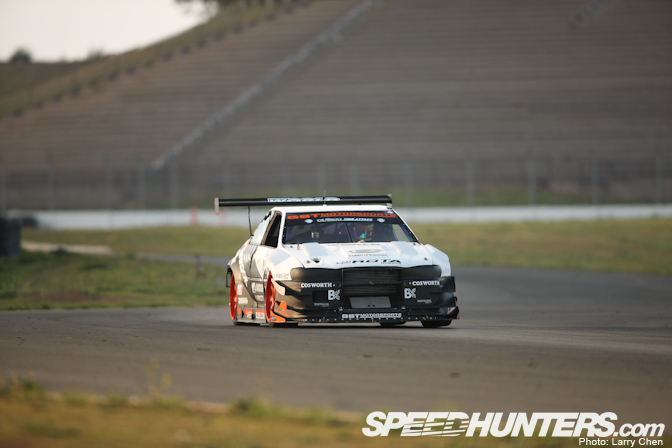 John: What do I say about Mike Warfield and his GST Motorsports crew. His driver, Jeff Westphal took down three class records, two time attack lap records and one overall track records in our first three events. Even with the might of the FXMD NSX this team was highly favored coming into Infineon. However a minor software glitch in the electronically-controlled sequential gearbox hampered the team's flier limiting them to a 1:37.058, which was good enough for a class record as well as the Unlimited GT AWD win. But I know this wasn't enough for Warfield and crew. I also know this was a bitter pill to swallow for Westphal who works alongside McQuarrie at Infineon's Jim Russell school.
Larry: I've followed this team for a few years now, and it's great to see the dedication Mike has to the sport of Time Attack. To think this car was basicly built in a garage amazes me still.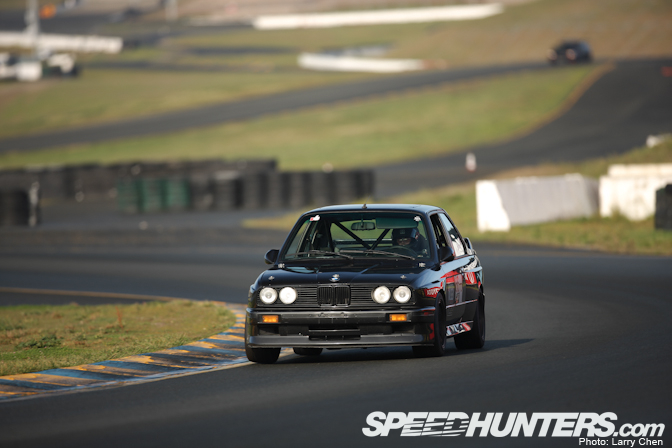 John: This is Sean Kohmescher and his Unlimited GT RWD E30 M3. Fourth place with a 1:55.528. Although he doesn't have fully flushed custom HRE wheels, now does he?
Larry: Linhbergh has fully flushed custom HRE wheels on his BMW E30. He needs to start running at GTA.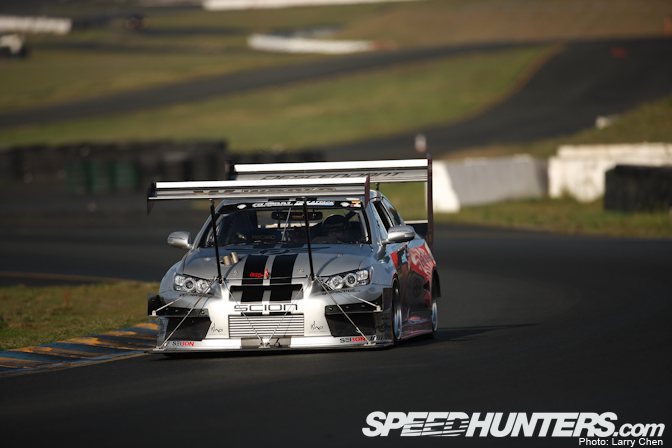 Larry: It seems like there are more and more wings on this Scion tC2 every time I see it.
John: We've given up on sending this car through GTA tech. We just call the FAA now.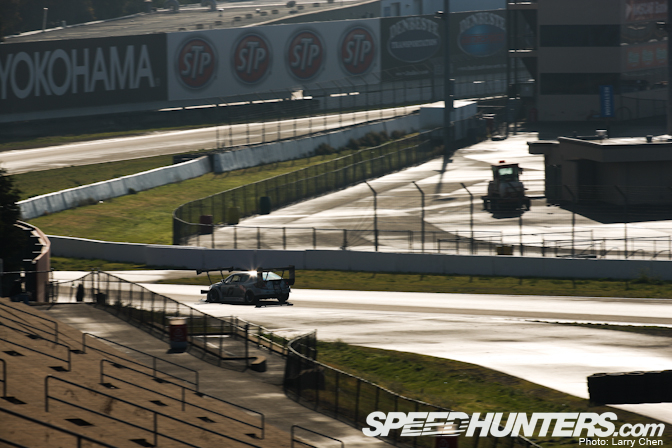 John: Chris Rado set a blazing 1:45.320 lap in the Team Need for Speed WORLD Racing Unlimited GT FF Scion tC. This was the team's only flying lap and were it not for a rare engine issue this car would have gone much faster. This car has so much time left in it, it's ridiculous.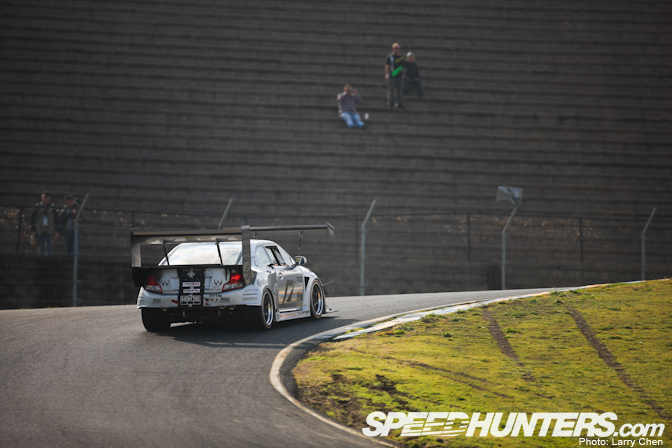 John: People may clown the aero but it works. Because of WORLD Racing's extensive drag racing history the team knows how to make big power from their 2.5L four-cylinder engines. With so much power on tap (sometimes in excess of 1,000hp?!) the Fwing 2.0 has problems putting it all to the ground, thus necessitating stupid crazy amounts of down-force. This car makes so much power the team can afford to run a two-inch wicker in the rear. It looks more like an NHRA Top Fuel wing than something built for time attack but it does work. Not everything need be Hella Flushunal, kids.
Larry: To make it even more like a fighter plane, Chris breaths oxygen from a tank mounted near the seat. The methanol exhaust overwhelms the cockpit, since the exhaust sticks out of the hood.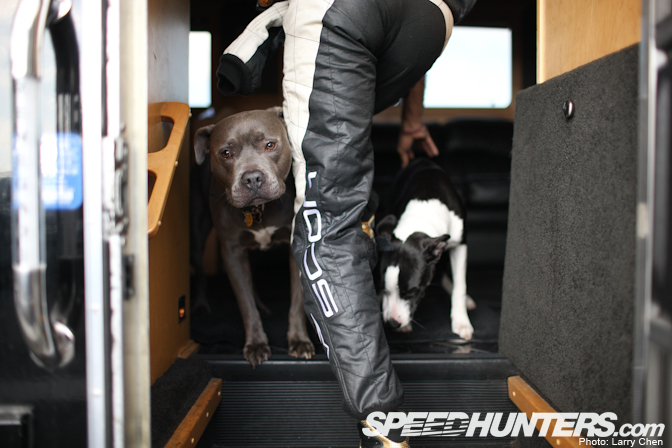 Larry: Every time I follow Chris and the World Racing team around, I look forward to hanging out with their two dogs.
John: The puppy, Philly on the right always acts like she owns me. I think she smells my fear (or my cologne, I am Persian after all).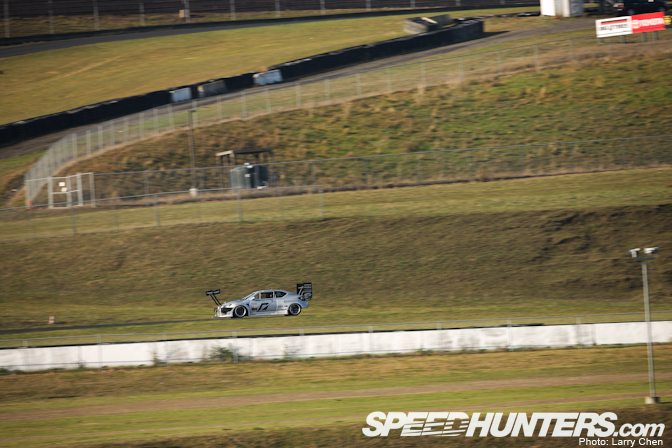 Larry: Before this event, Chris and the crew were already on the road from going to Super Lap battle a few days before GTA. Talk about cramming in events.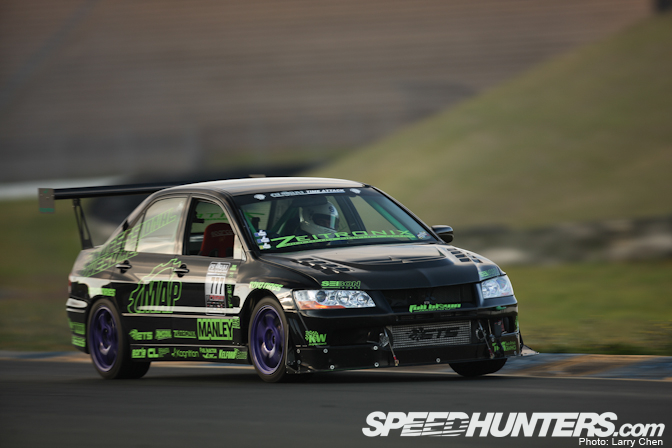 John: Professional Awesome have proven to be untouchable in the Street GT AWD ranks, with their driver, Daniel O'Donnell sometimes running with the Limited and Unlimited class cars. These guys made the very long trip from West Lafayette, Indiana (with Daniel's mom along for support and I can only assume to ensure his hair was combed for the pictures). The trip was well worth it as the team crushed the track record with a 1:47.648 in their trusty – and somewhat rare – Evo 7. It was a good thing Daniel's mom came along because his hair looked stunning atop the podium.
Larry: I like the purple wheels.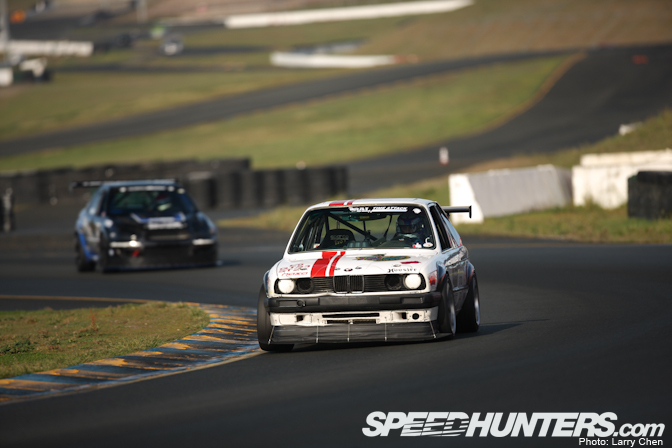 John: Will Faules drove the EDGE Motorsports BMW E30 Three Series in Unlimited GT RWD even though the car could have run in the Limited GT class. However the team only had Unlimited class Hoosiers at the ready. No matter as Will showed his home-track prowess in a car fitted with an only an E36 M3 drive-train and came in Second place in the class with a 1:46.116.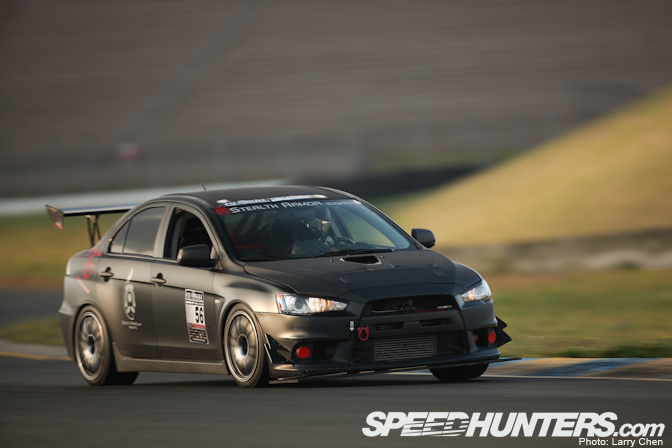 John: Another Limited class car that stepped up to Unlimited GT AWD because of tires alone was Russ Taylor in his FusionofIdeas.com Mitsubishi Evo X. Third place in class with a 1:56.201.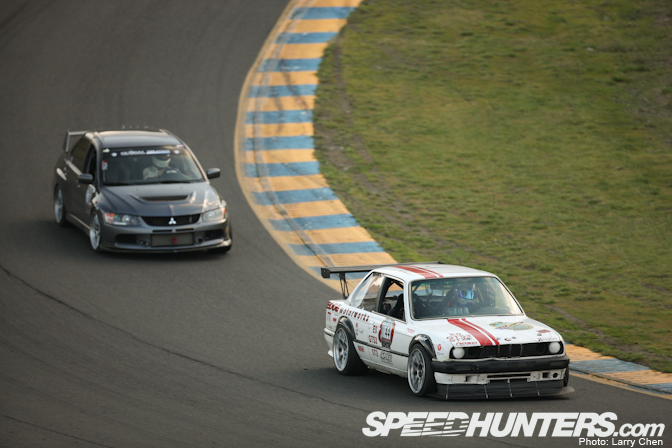 John: Sometimes the fastest line in time attack is behind that of a faster car. But then that's how I approach everything in life.
Larry: I should have known better than to let you chime in on this post.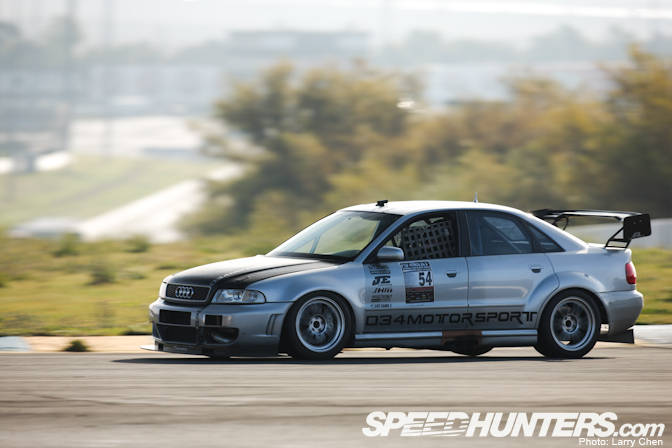 John: Christian Miller and the 034 Motorsport Audi A4 have not even looked at their car in a year. And Christian hasn't driven on Infineon in over three years but you couldn't tell. He was the fastest overall in the rain on Friday and for sometime on Saturday. In the end the team finished in Second place with a 1:43.261.
Larry: I thought Audi S4's were for getting groceries? This car is crazy fast with an even crazier driver. Christian was hopping those curbs like that car had off road suspension.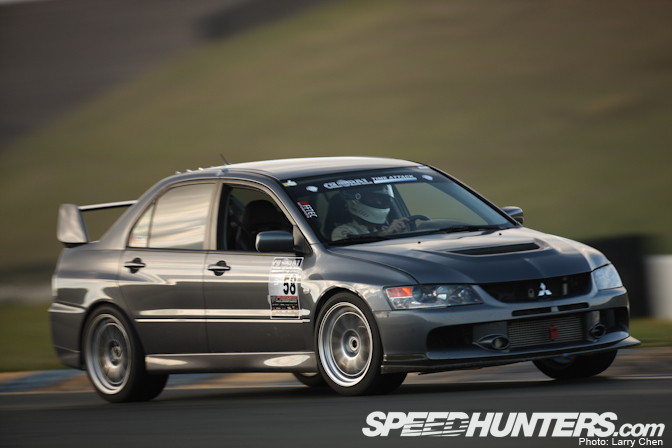 John: The FFTEC crew is known for doing the motor work on Mark Arcenal's RWB Illest Pandora One Porsche. They also brought out John Groff in their FFTEC Evo and in Street Class spec (save for tires and a cat) Groff managed a 1:49.596 to take Third in Limited GT AWD.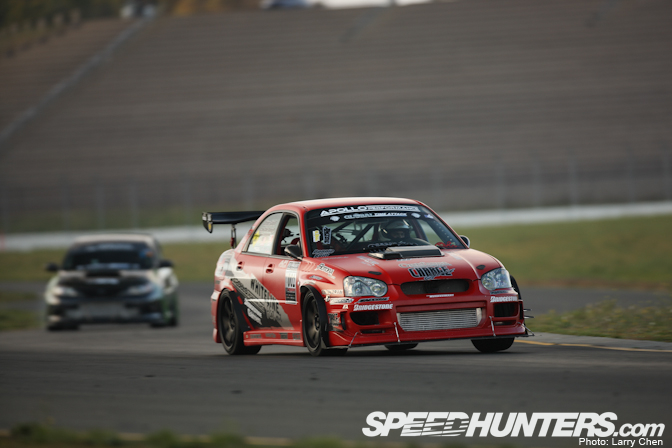 John: Gino Reyna and the Apollo Performance Street GT AWD Subaru WRX deserve the never-say-die award. Uh, if we had one of those, but unfortunately all they get is my undying admiration (which ain't worth much). The team lost a pinion gear and Adam Aquino of Double-A Engineering offered one up in a storage unit some 45 minutes away. After a quick drive and a thrash to get the part in the team sent Clint Boisdeau out in the last session on Saturday. His 1:56.716 put the team in Third place in class. But more than the time was the tenacity exhibited by this team.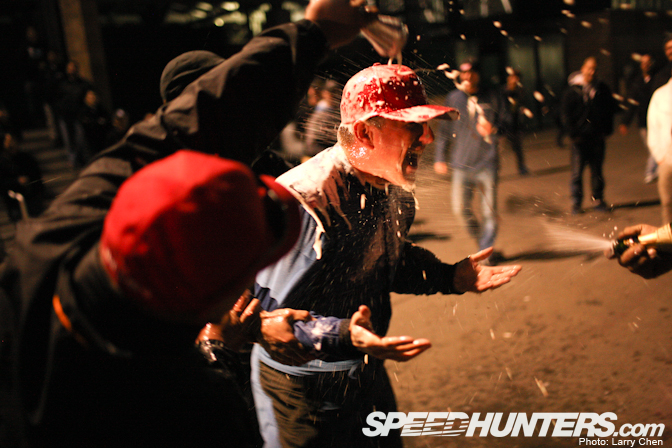 John: Here we see Gary Sheehan getting the full facial champagne spray after taking home the class record in the LIC Motorsports Limited GT AWD STI.
Larry: He deserved it.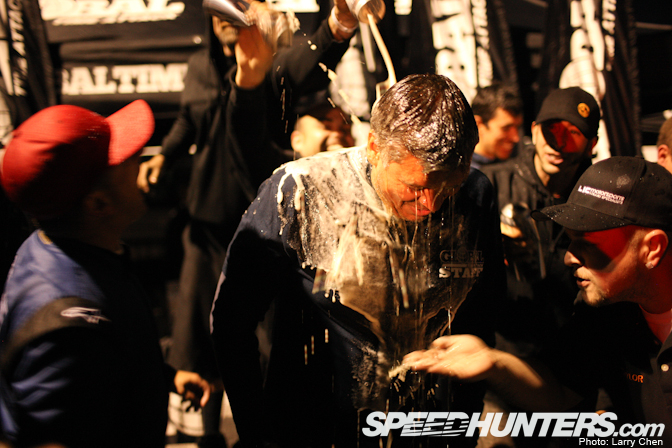 John: And yet somehow all I get is cheap champagne. Special thanks to Jason Dienhart for putting on a great inaugural season, Tony Szirka and his UMS Tuning crew for being our tech stewards, NASA for sanctioning the series, all of our teams and sponsors for support and a very special GTA fist pump and bro hug to you, Larry Chen for covering all of our events. See ya in 2012!
Larry: I always have a great time at GTA events. It's nice to get to experience new tracks, and also seeing new garage built cars. Then again, it's also neat to see engineering marvels, like Chris' Team Need for Speed Fwing tC2, fly around the course like a fighter jet.
Thanks to GTA and John Naderi for a great year of breaking records.
More Global Time Attack Stories on Speedhunters