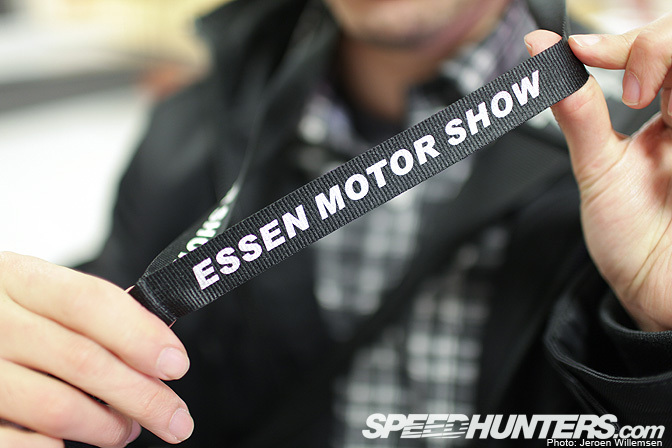 A couple of weeks ago I got an email from Rod, telling me that he was planning to join me during the Essen Motor Show. The last few years I have always been traveling alone to the Essen Motor Show, so this was a welcome change. The show gives a fairly accurate picture of the different styles and scenes in Germany and was a good opportunity for Rod to see it in person for the first time.
So after a small detour to pick Rod up at the Düsseldorf airport, we arrived at the giant convention center. We quickly picked up our press passes and made our way inside hall number 11 on the eastern side.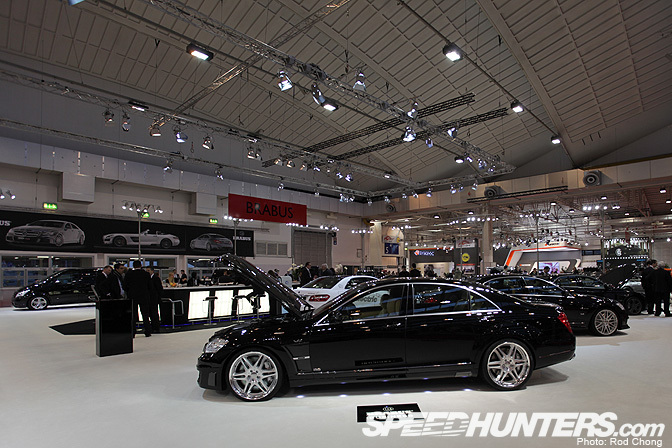 Hall number 11 has always been the domain of Brabus. This tuner is world famous for their crazy over-powered Mercedes creations; capable of shoehorning a V12 engine into almost every model.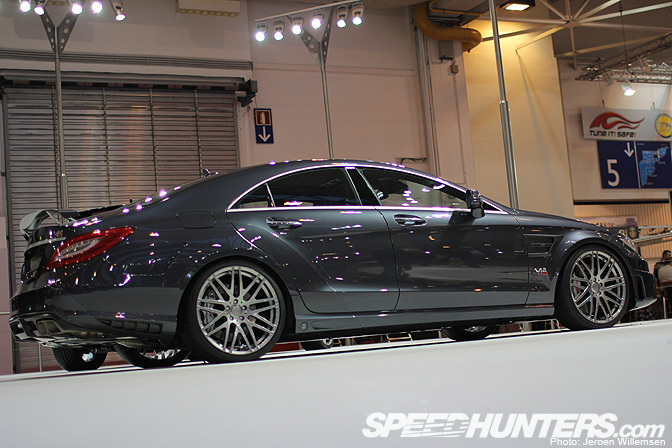 Brabus were proudly showing a new flagship model based on the Mercedes CLS called the Rocket 800.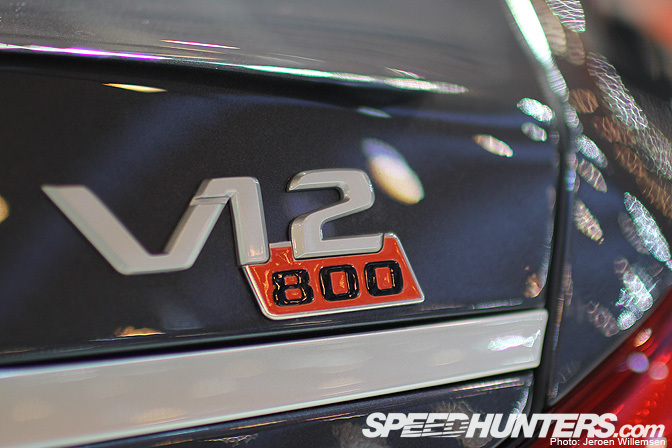 It features a hand build 6.3 liter biturbo V12 engine and can reach a theoretical top speed of 370km/h (without the limiter). The engine pushes out 800hp and 1420Nm that is available at 2100rpm. In spite of these advertised figures, the torque has been electronically limited to 1100Nm to spare the gearbox and clutch.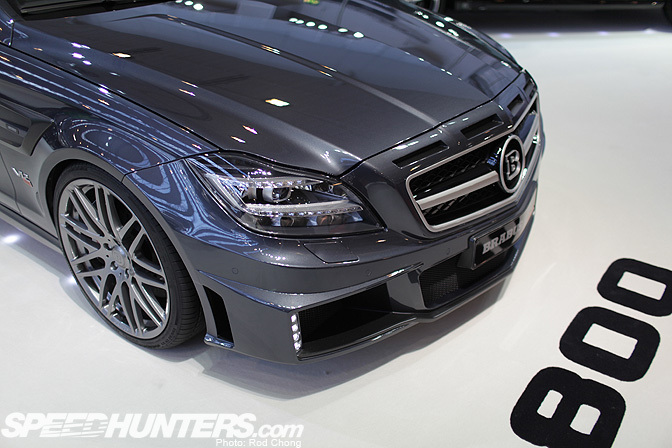 The Brabus cars aren't known for the subtle exterior styling. This Rocket features a carbon fiber bumper with a big Brabus badge up front. It also incorporates a set of LED running lights.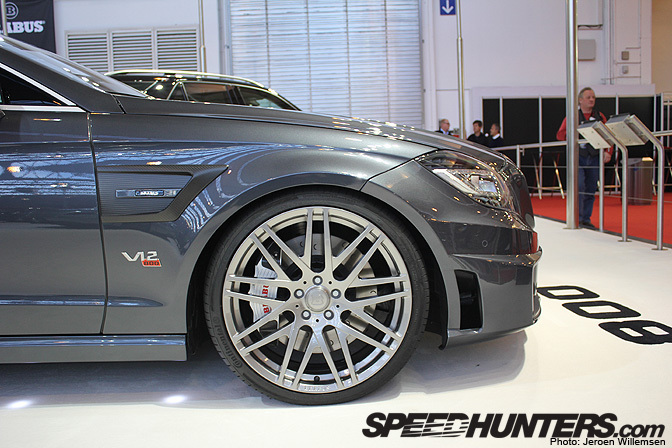 This car can literally stop on a dime thanks to these 12 pot calipers and 380mm steel brake discs. Brabus also has their own wheel program; these items are called the Monoblock F and come in 20″.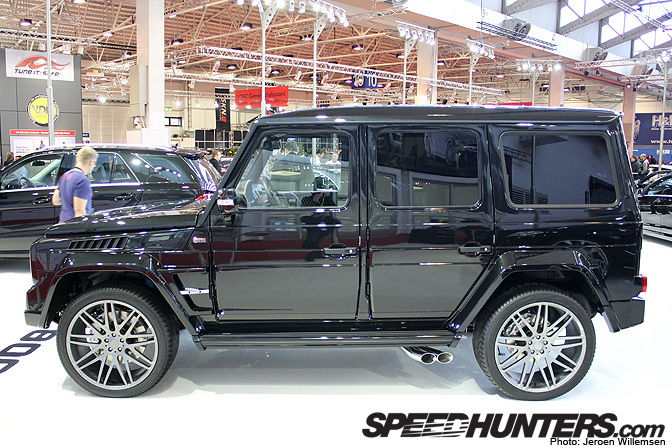 This is another one of their flagship cars, the Brabus 800 Widestar which is obviously based on the Mercedes G Wagon. It also features their V12 engine which expels its gasses through the side exit exhaust.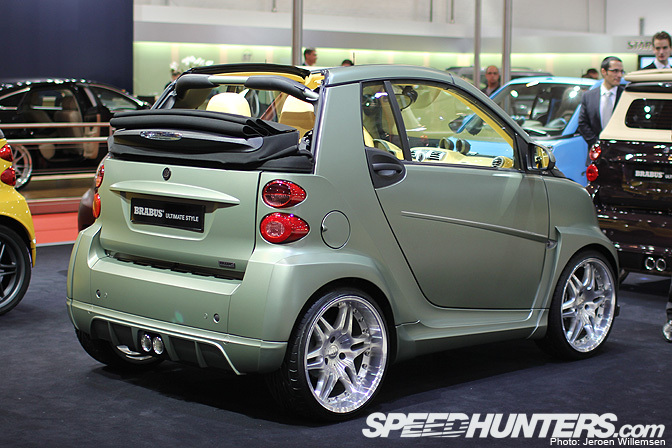 Brabus has invested a lot in their Smart program with this being their ultimate version. It features a wide body kit and huge 18″ monoblock wheels.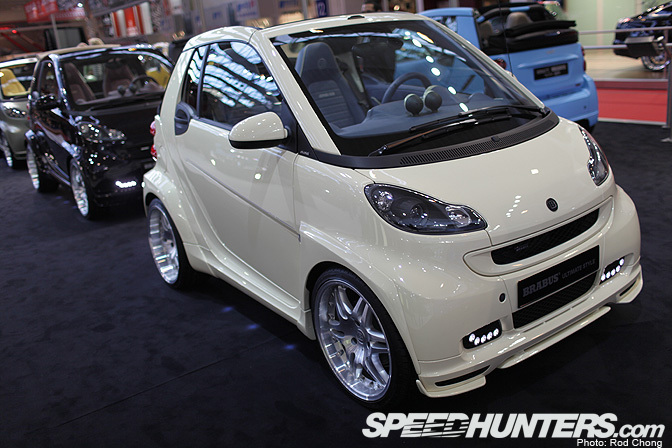 There were a lot of these little rockets in their booth!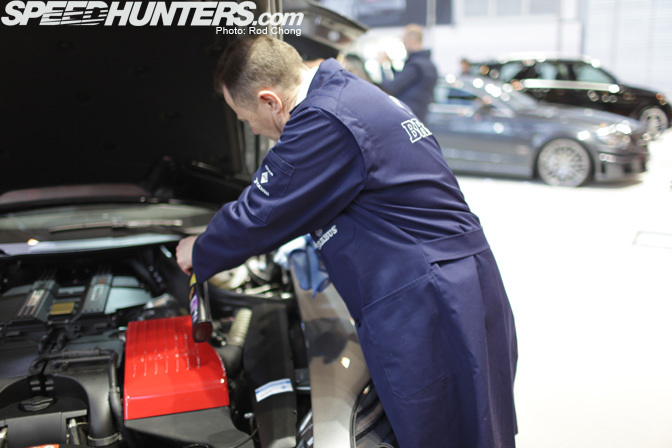 The whole time we were photographing the cars, we couldn't help but notice they were being continually cleaned by these men in blue Brabus overalls. That's perfection for you.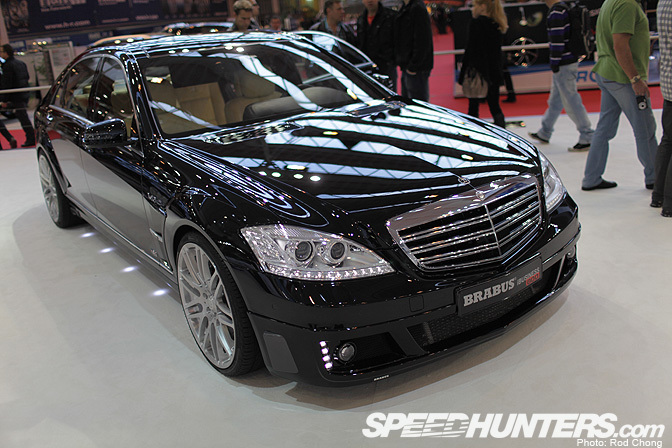 For the true business man with the 'time is money' philosophy there is this Brabus iBusiness. Inside you will find every Apple product that a man needs ranging from the Ipad to screens in the headrests.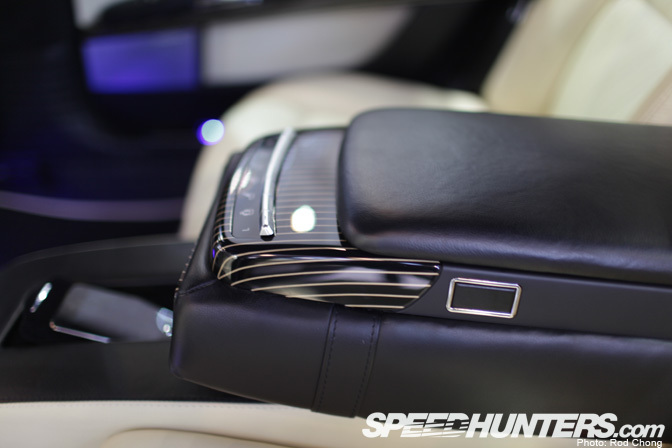 The level of finish is outstanding, you can choose which ever finish you want as long as bank account allows. We weren't sure of not if we approached on this pin striped finish.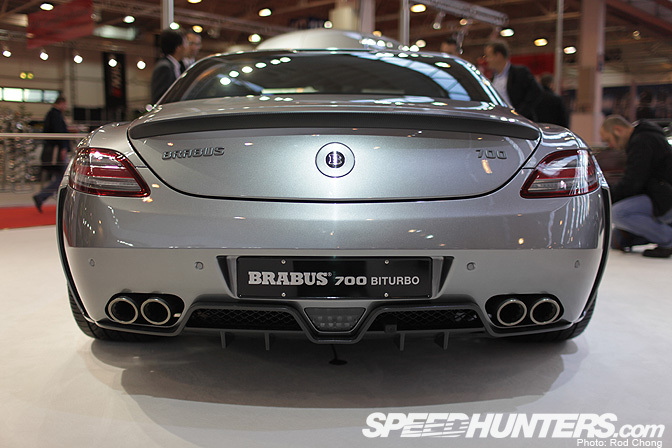 Brabus is also working hard to improve the SLS. At Essen they had two examples including this 700 Biturbo. I'll have a closer look at both the cars in a separate post.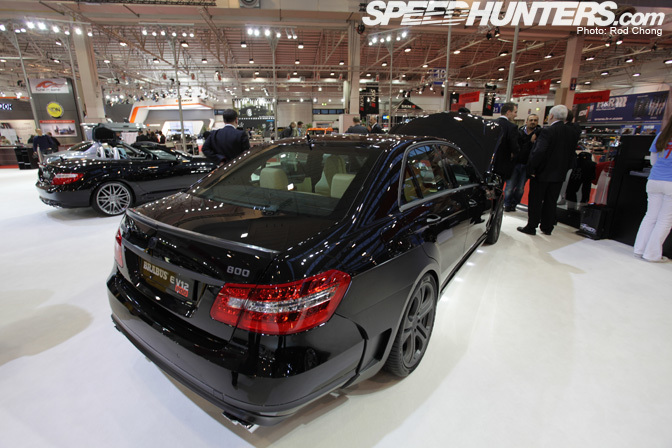 This Brabus E V12 800 has been built for the Autobahn. Again the builders at Brabus managed to squeeze a V12 engine inside the cramp engine bay. WIth a cost of €498.000, you'll need a hefty bank account to purchase a car like this.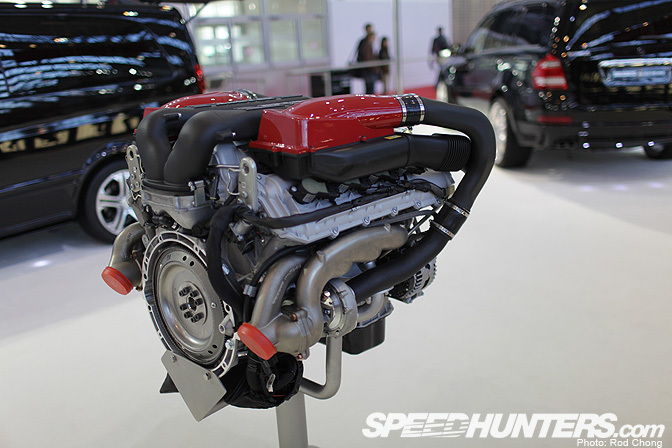 We were intrigued by this engine display in the Brabus booth.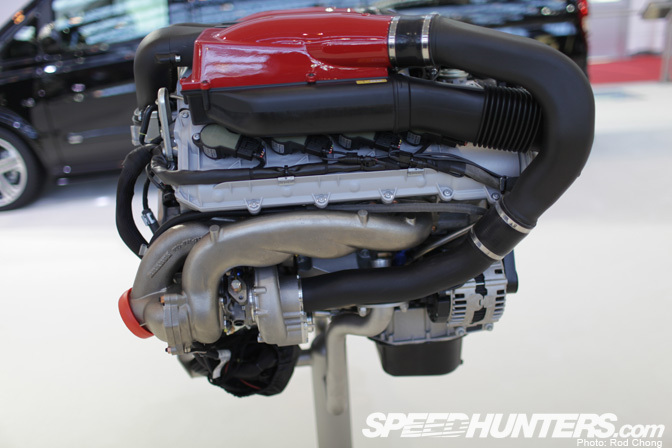 Especially the compact nature of its turbocharger setup. I can't recall seeing something so amazingly efficient with space before.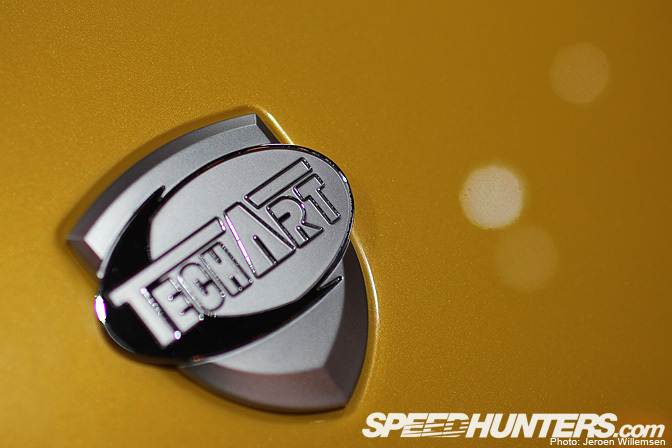 Techart is always a favorite of mine. This year they had some of their display vehicles in yellow, unlike 2010 when they had a matte white finish which, in my opinion, looked better. Both Rod and I thought the yellow was just a little loud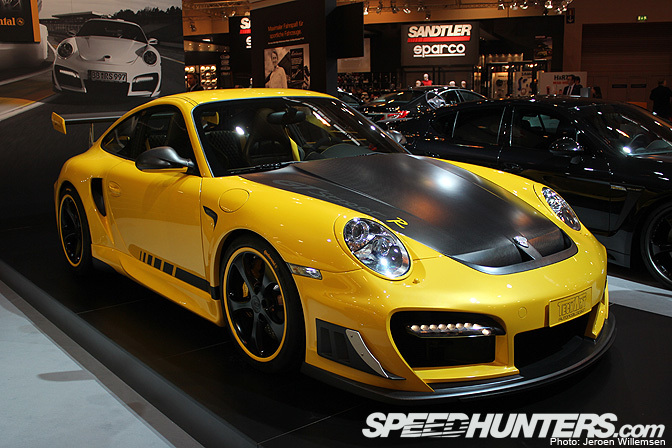 The top of the line model is this GTStreet R that is based on the 911 Turbo. This particular example featured the Techart TA 097/T3 power kit, giving the car 700hp and 880Nm of torque.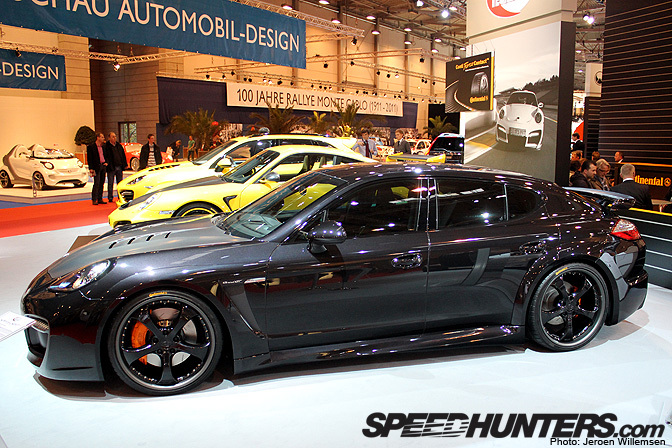 This is their take on the Porsche Panamera called the GrandGT, the perfect Autobahn cruiser. Instead of the Formula III design they normally use on the demo vehicles Techart decided to use the Formula wheel.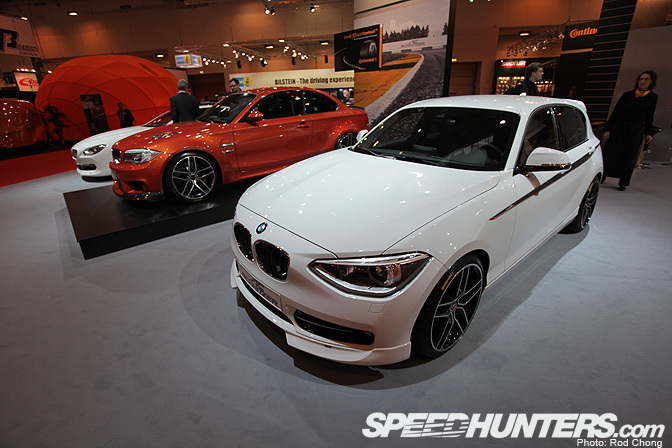 AC Schnitzer was one of the few that already had the new BMW 1 Series on display. At first I was a bit iffy on the new design but seeing several of them on the road changed my mind.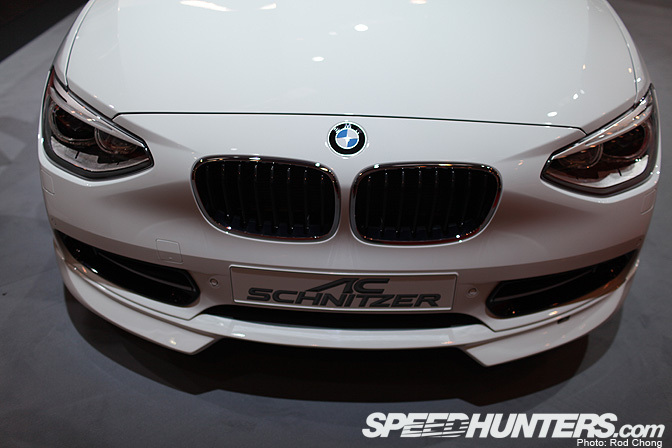 What do you think?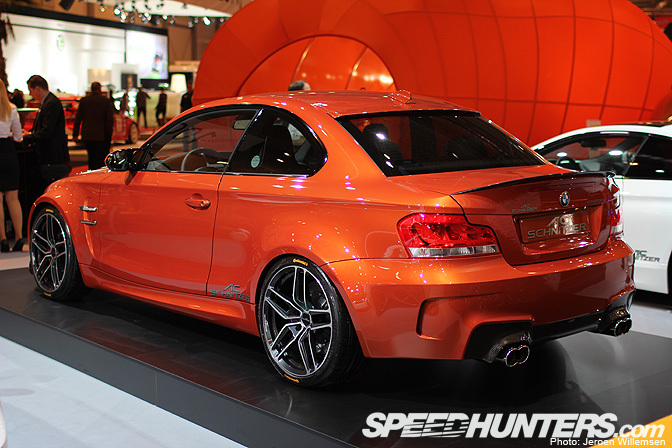 This is AC Schnitzer's take on the BMW 1M called the ACS1 Sport Coupe. It hosts a plethora of carbon goodies from the front to the back. You could consider the styling to be a bit on the wild side but you can buy every part separately should you want to pull things back some.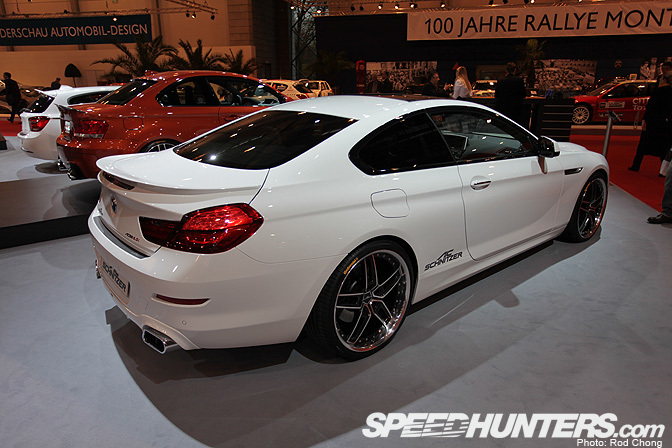 AC Schnitzer also debuted this ACS6 Coupe based on the new BMW 6 Series. Using a 650i power is raised from 407hp to 540hp making a 0-100mk/h sprint in 4.3 seconds possible.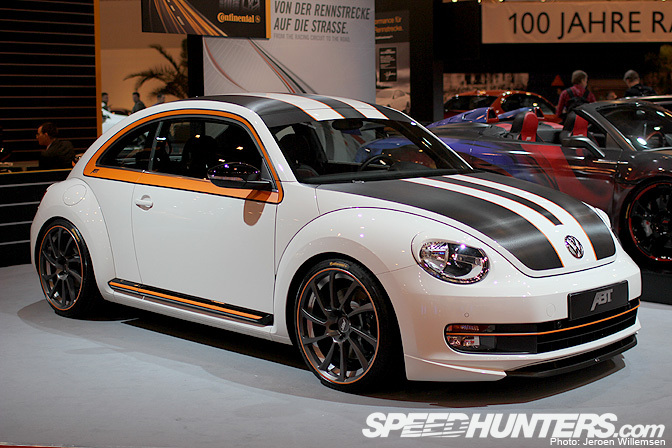 The only new Beetle I saw was this version build by ABT.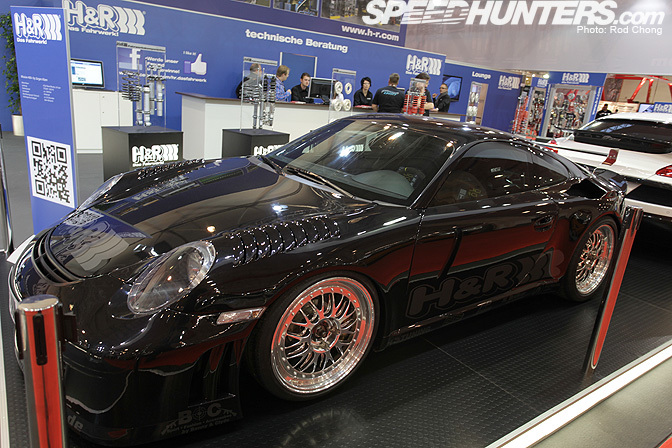 Tucked away inside H&R's booth was this Jurgen Alzen Motorsport Porsche dubbed the Mission 400 Plus. Its name already hints at its top speed capabilities. The rebuild 3.9 liter boxer engine is aided by two turbos giving the car 1055hp.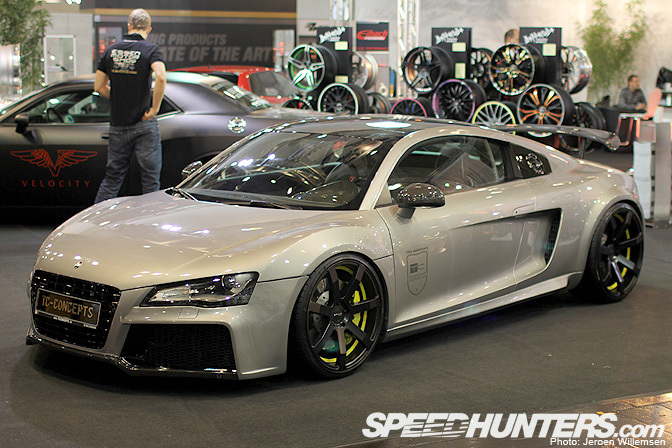 This is the R8 through the eyes of TC Concepts called the R8 Toxique. They made a new front bumper, sideskirts and rear bumper that has a built in diffuser.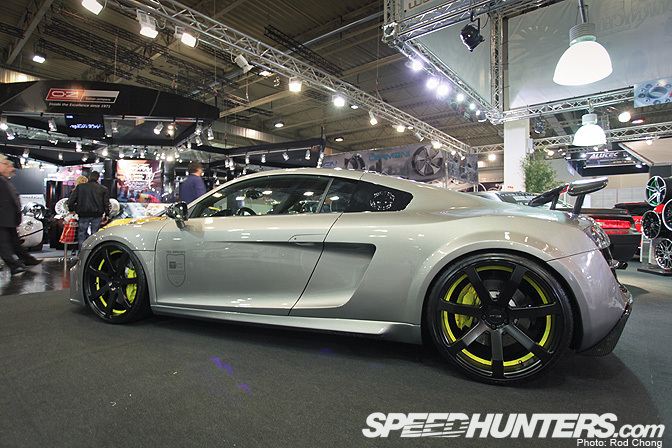 The thing that struck me the most is the deletion of the side blades.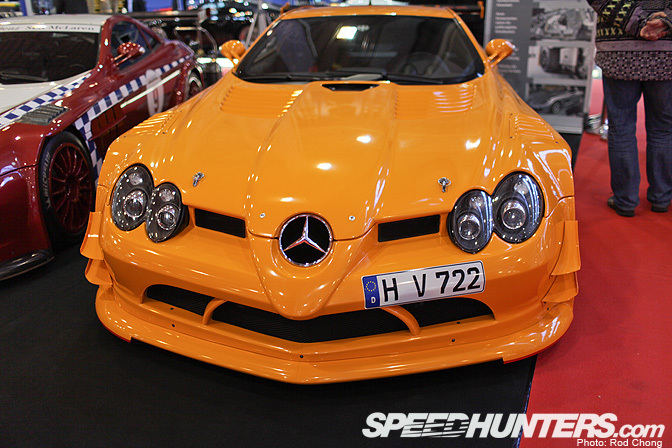 Can you believe that a car like this has a license plate? Crazy! Even more insane is that this widebody SLR is based on a limited edition McLaren SLR 722. There isn't a lot of info to be found but I did read it has more than 800bhp and a top speed of over 350mk/h.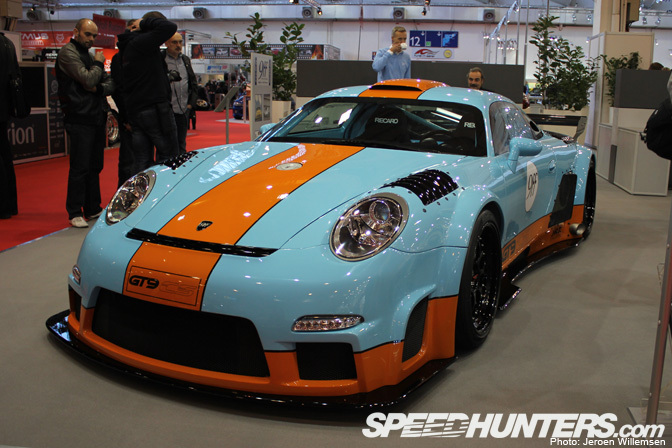 I'll have a full feature on this 9ff GT9 CS coming your way shortly.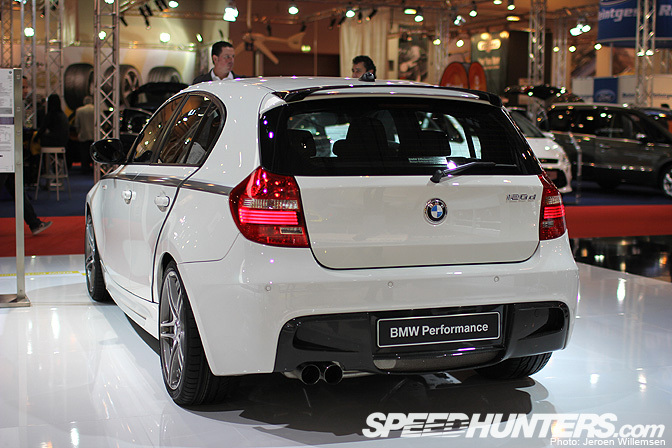 BMW was one of the few OEM manufacturers present. They had a cool setup that included cars with a full BMW Performance treatment. This new 1 Series was my favorite pick.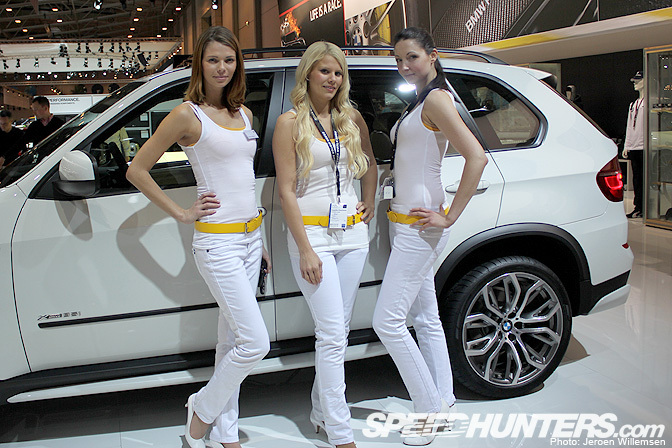 They had several hostesses walking around to provide information on their cars and aftermarket parts.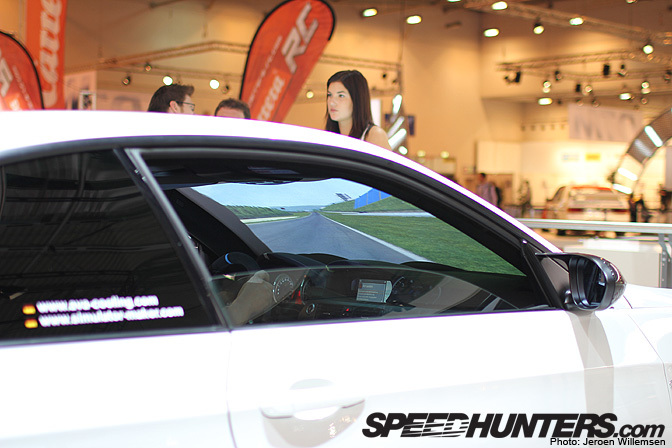 One thing Rod and I really liked was this BMW M3 that had been converted into a moving simulator that simulated g-forces.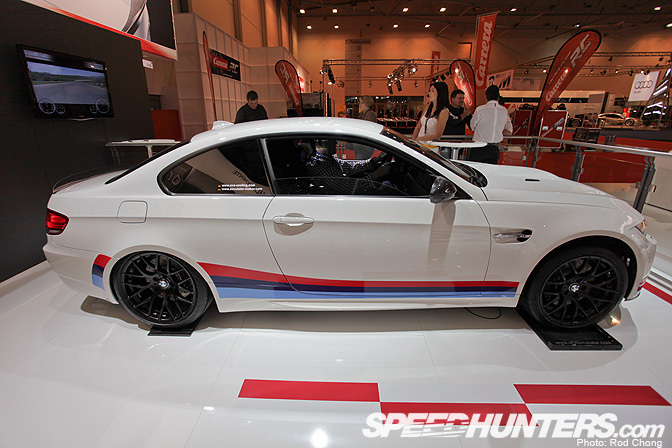 Too bad the queue was fairly long so we didn't have time to have a go.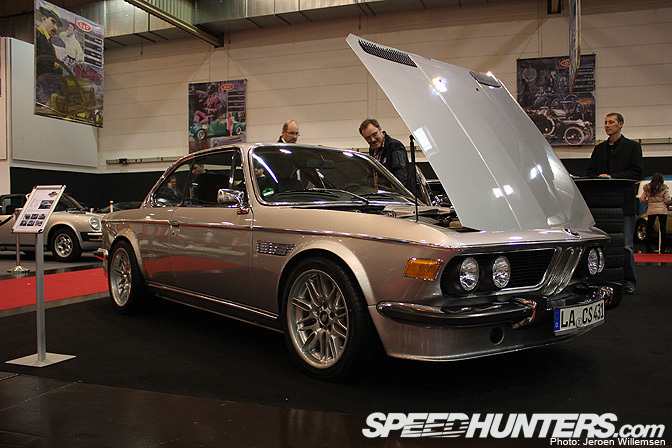 When we walked up to this BMW CS we noticed it wasn't sitting right, at least not in the way BMW had intended it.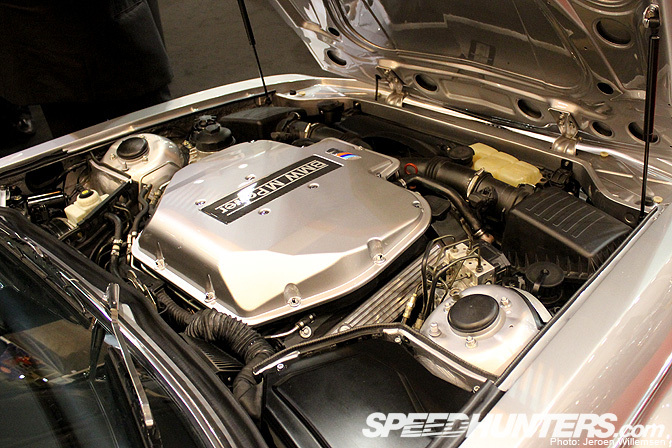 A closer inspection revealed this V8 engine straight out of a BMW M5.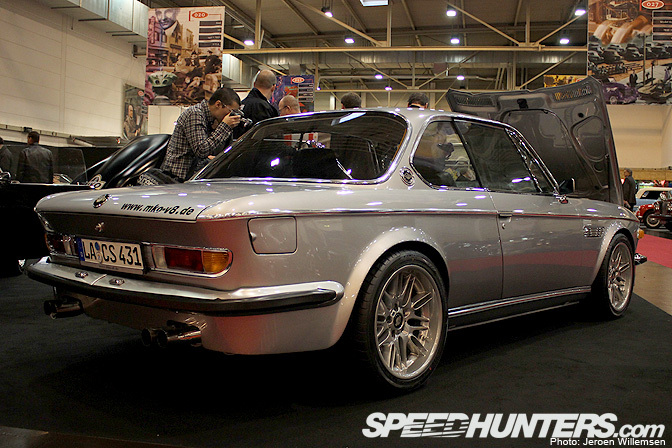 The entire car is based on the undercarriage of the M5. It also features the ABS and DSC systems, and was constructed by the guys from MKO V8.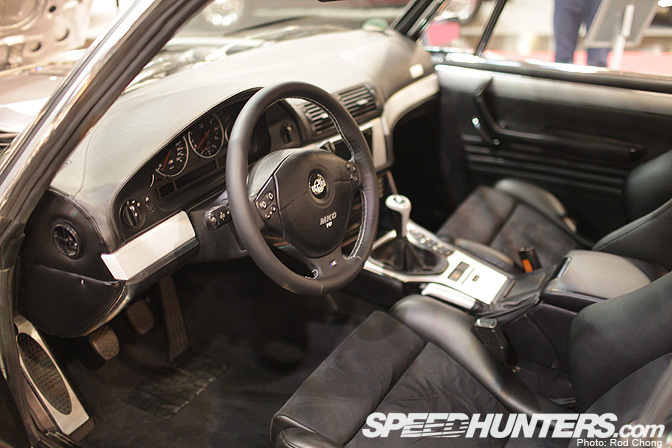 The complete cockpit has been updated too, giving the car the feel of a European Pro Touring project of sorts.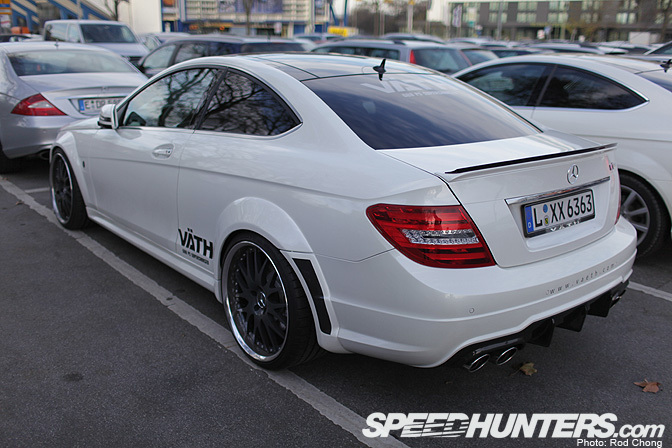 The carpark also had some cool cars including this supercharged Mercedes built by Väth.
In my next report I'll show you the race cars and drifters at the show.
-Jeroen Willemsen