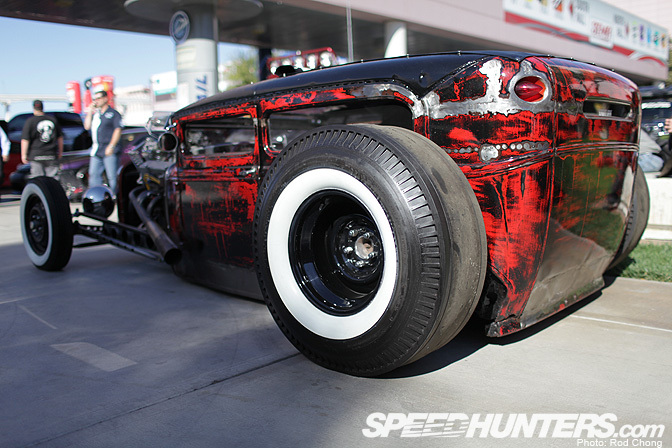 It's likely that Henry Ford would roll over in his grave, if he could see what people were doing to his beloved Model As. It makes you wonder what people will be doing to Honda Civic shells eighty years from now. Transformed into flying cars? Recycling bins? Teleportation pods?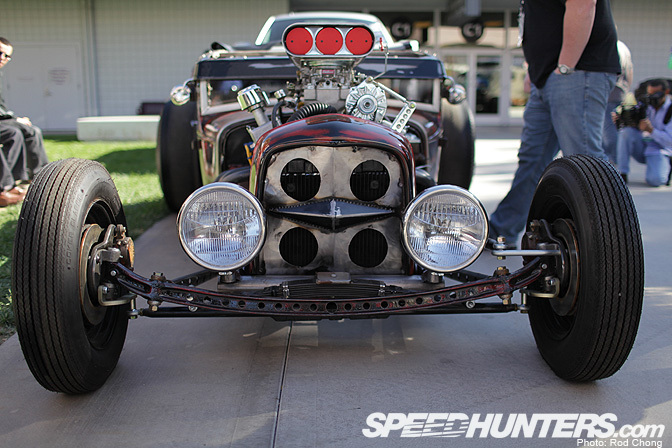 This 1930 Model A sedan has been so severely recreated as a zombified Hot Rod, it's hard to see much of the original machine. But I think this is the appeal! It's a great example of the Steam Punk styled creativity we're still seeing in the untraditional Hot Rod scene. 
Check out how low it sits next to the waist-line of the onlooker! Interestingly the '30 uses air ride to achieve its ground-scraping stance… It's not a set up you normally see on hot rods.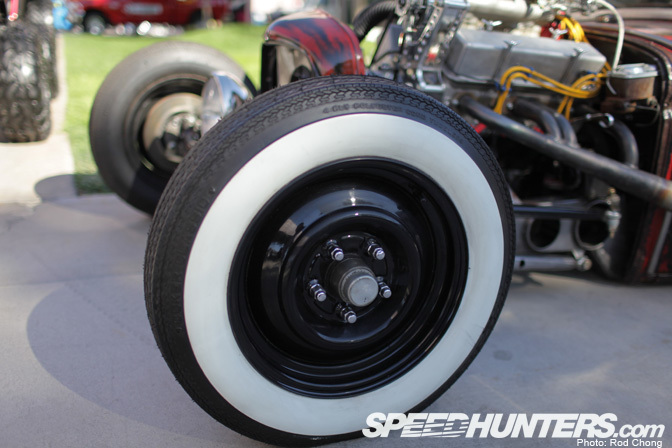 Here's a snap of the black glossy steels wrapped with classic Coker white walls. Pure class.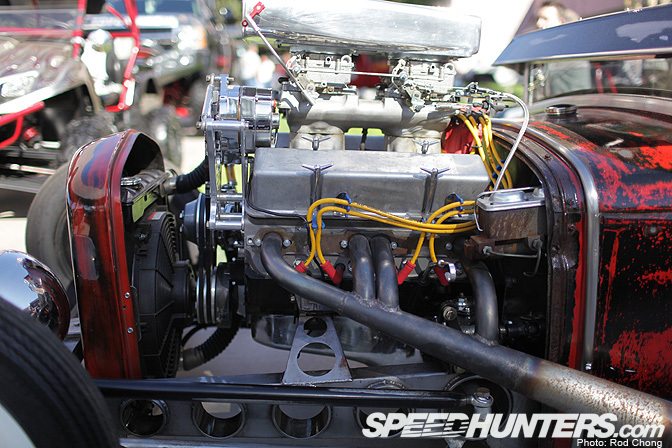 Powering the Model A is a freshly built 355 small block, breathing through a pair of CFM Holley carbs. If I were to be critical, I'm not a fan of the modern looking ignition… 
Also notice the gusseting on the frame rails. It's a nice detail theme which is repeated across the car.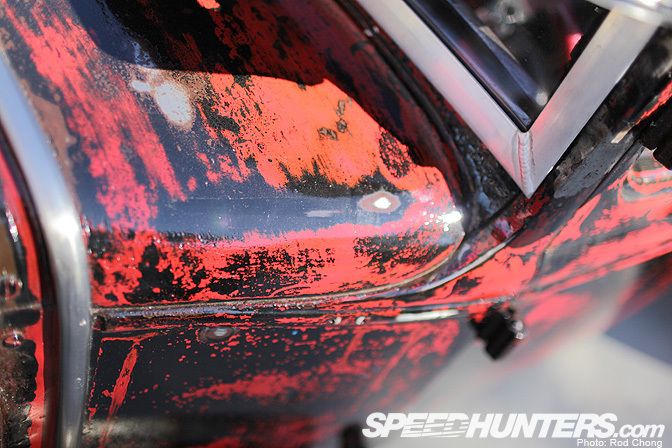 The Patina finish sits under a layer of clear coat, giving an interesting sheen to the visual texture. It's an unexpected combination of elements: shine and grime.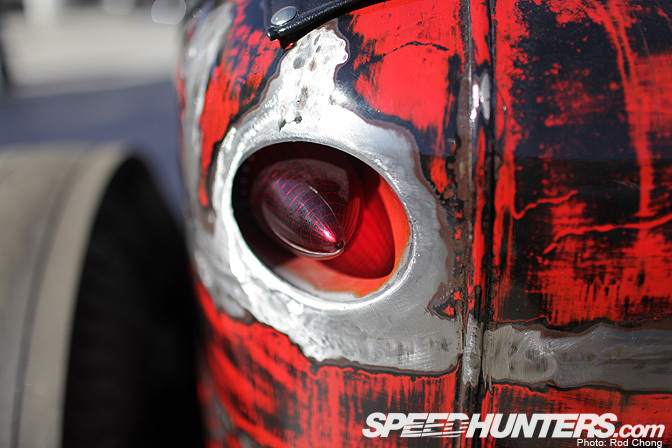 No effort has been made to cover up the metal work used to sink in those Cadillac tail-lights. It's all part of the visual style. The cut lines from the chop have also been left unpainted.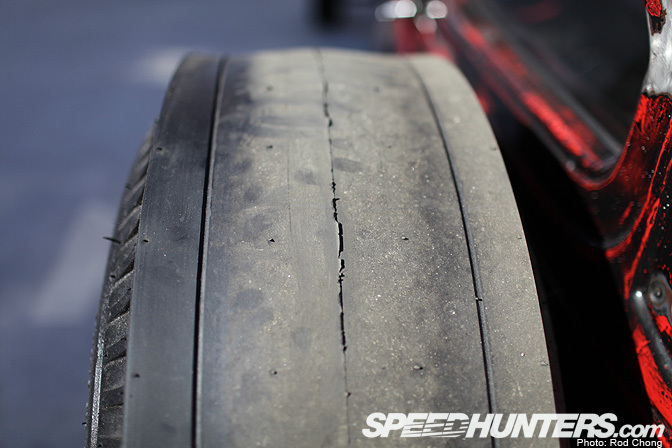 Looking at the Mickey Thompson cheater slicks reveals that this Rod appears to be largely unused. In fact it's a going to be auctioned off at Barrett Jackson in January 2012.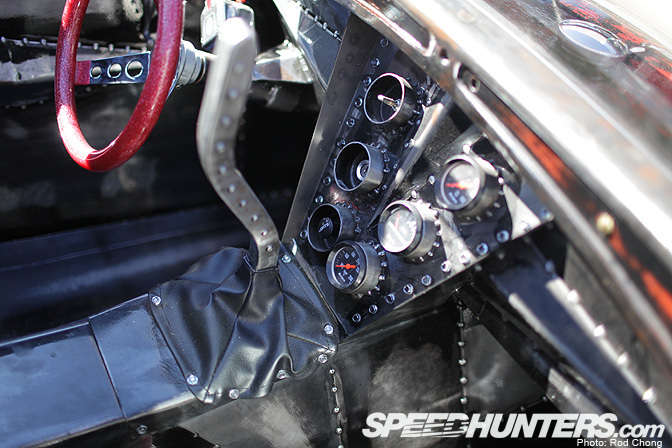 The interior has been entirely constructed from 16 gauge sheet metal. It's perhaps not so safe in the event of a car accident, but it's the inherit anti-health & safety aspect of this car which carries the appeal.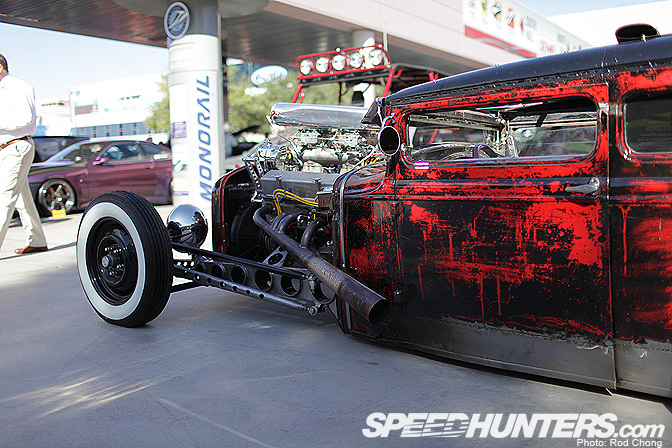 This Steam Punk-mobile is the exact opposite to all the shiny, high dollar PR cars that fills the halls of SEMA, and it's exactly why I've chosen to spotlight it for you
Dare to be different!
BTW any other ideas for usages of Honda Civic shells in the year 2100?
:Rod Chong