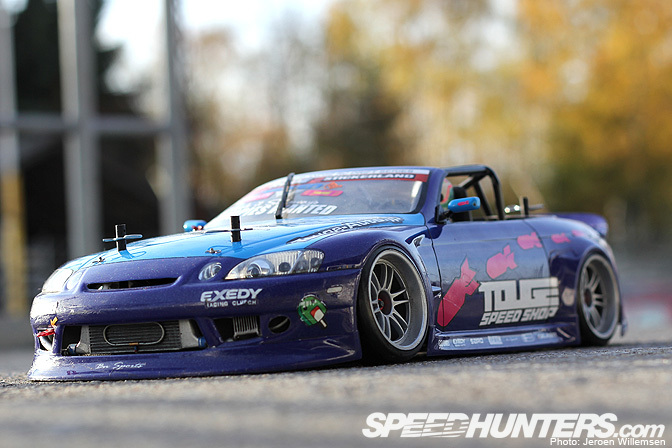 While
speaking to some of the RC drifters at the RC Mini Mobil Welt it seemed that it's not all
about the drifting itself. While drifting your car is the end goal; building
your car and making it look like a real car with all the details is even more important
for some. Take this Toyota Soarer build by Tijs Lochbaum for example.
It features
a lot of parts you just can't buy in the hobby store. Like the intercooler and
oilcooler behind the frontbumper. Tijs even thought about the intercooler spray
and small tow hook.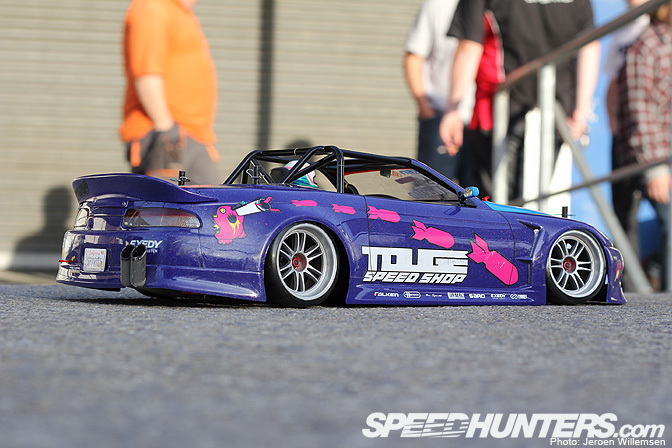 At the rear
we see a little Bosozoku flair with the double exhaust . Tijs is part of the
Team Wreck it Sideways in Holland and is very proud of the fact that they are
sponsored by Touge Automotive. The team cars all feature 'Turbozilla' shooting
rockets on the side of the car.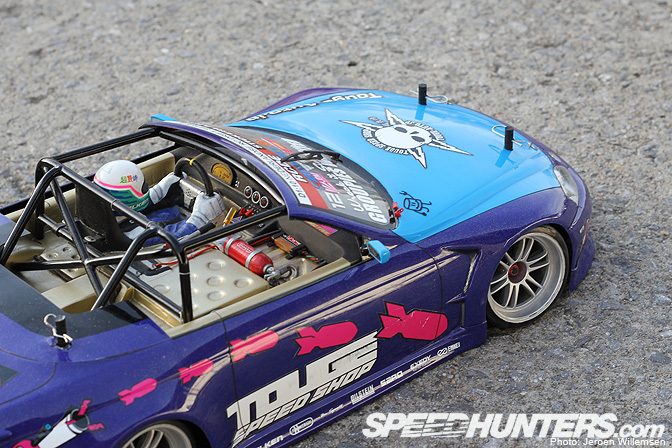 The body is
made by HPI and is based on the Toyota Soarer but as we all know they never made a
convertible. So Tijs used his Dremel tool to cut off the roof. He also
fabricated a custom rollcage and installed various items inside the interior to
enhance the realism.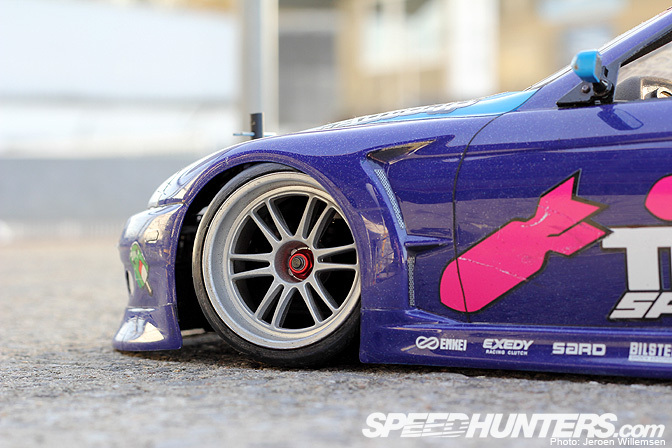 The wheels
resemble the real life Enkei RPF1 and feature a single lug system for easy access
and replacements.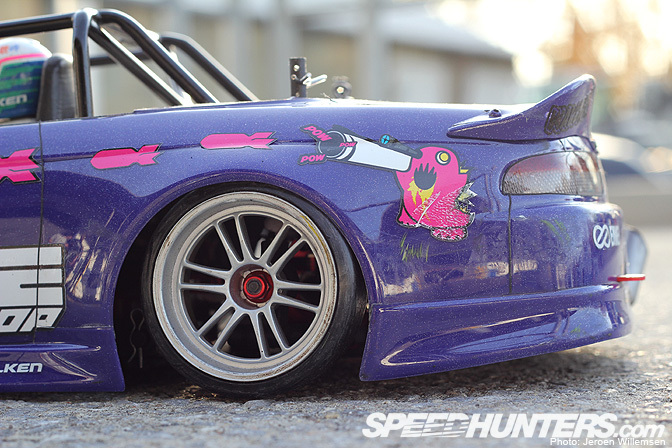 Here is a 'Turbozilla'
that already features some battle scars after close encounters with the wall
and other RC drifters.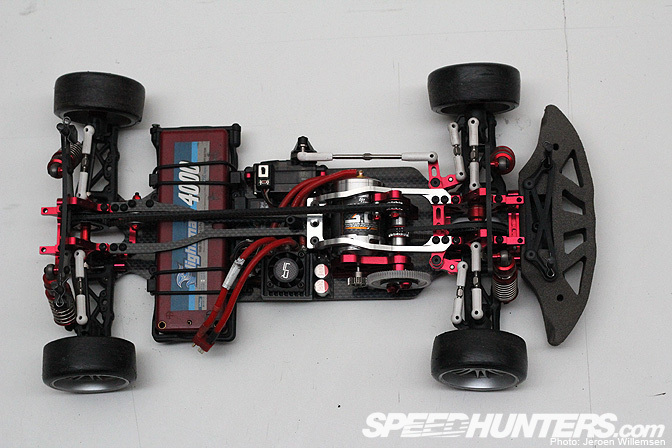 The body is
based on this Yokomo DRB chassis with cool red anodized parts. This is because this
chassis is a special pre order edition.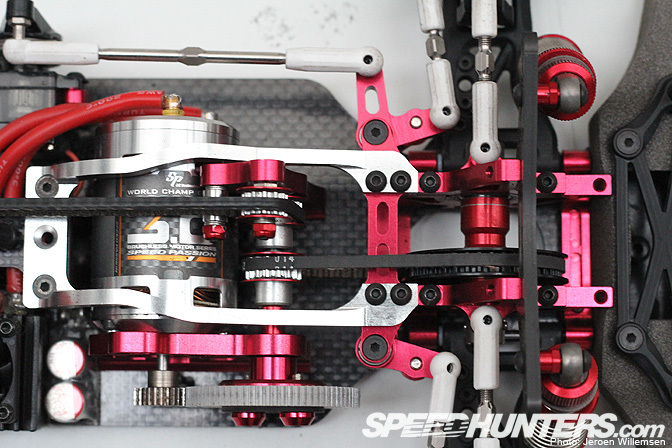 The Speedpassion
10.5t V3.0 engine is fixed to the chassis and powers the front and rear wheels.
The engine is controlled using ESC or electronic speed control made by
Hobbywing that has a special turbo function.
But there
is more. Because this car is belt driven Tijs changed the size of the pulleys in
such a way that the rear wheels turn faster than the front wheels. This in turn
results in oversteer making drifting easier. But almost every drifter has a different
setup so what works for Tijs might not work for everybody, it is all up to the
drifter himself.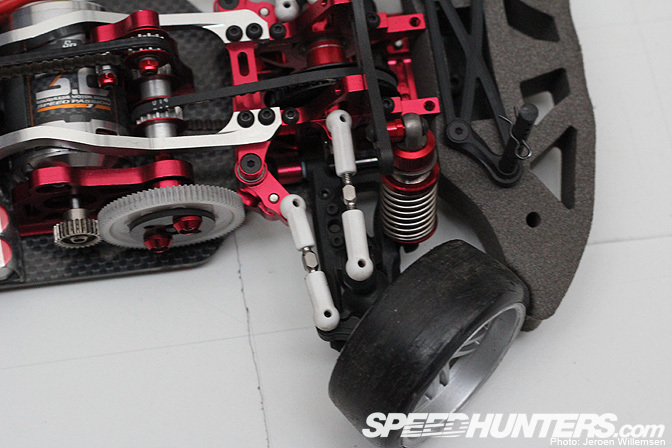 You can
even adjust the steering angle for maximum result.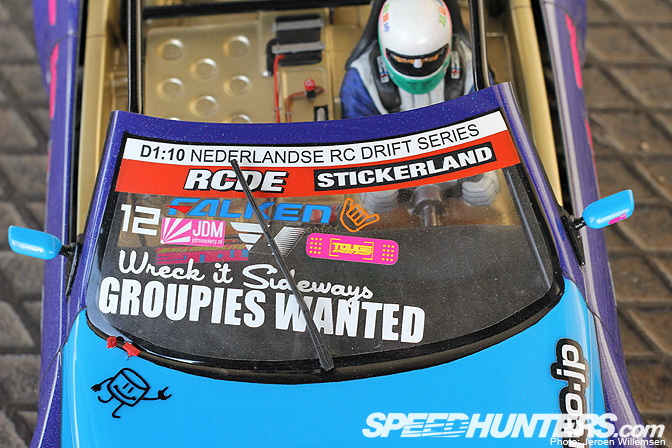 Tijs even
thought about the kill switches that cut of the power and fuel just above the
character on the hood. You can even spot the brake bias adjuster next to the
driver.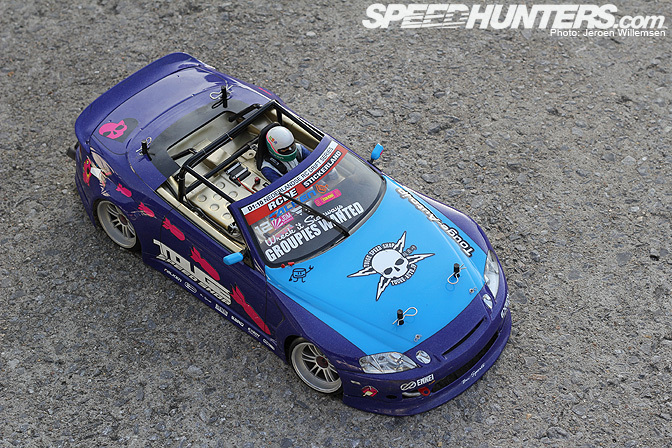 This was
one of the coolest RC cars I saw at the recent RC Drift event just because of
all the details. As much as RC drifting is a hobby, building them is maybe even
a bigger part of the hobby.
-Jeroen Willemsen
RC Drift | RC Drift Events | Team Wreck it Sideways