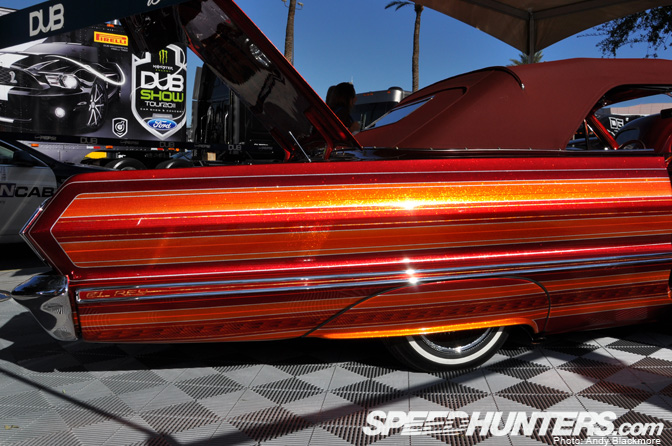 And now for something completely different…
One of the best things about SEMA is the eclectic mix of vehicles at the show. One of the biggest shows of any kind in North America, you get everything from rat rods to supercars, sub compacts to lowriders.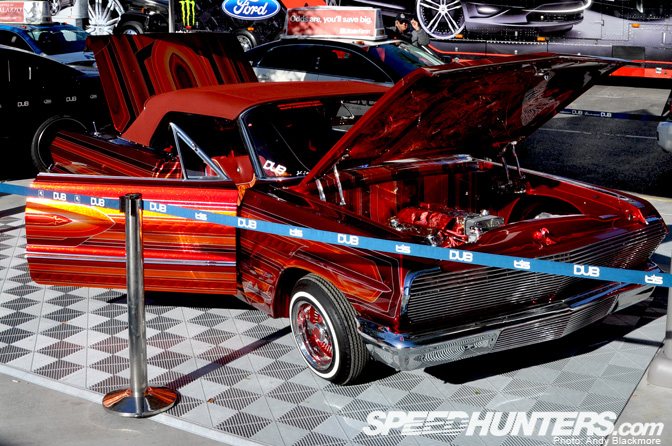 This particular 1963 Chevrolet Impala 'El Rey' stood out from the crowd and this was a great opportunity to touch on a a genre that we don't regularly cover. This was one of the stars of the show for me, even if this is not my usual car or genre of choice. You need to get out of your comfort zone sometimes and explore.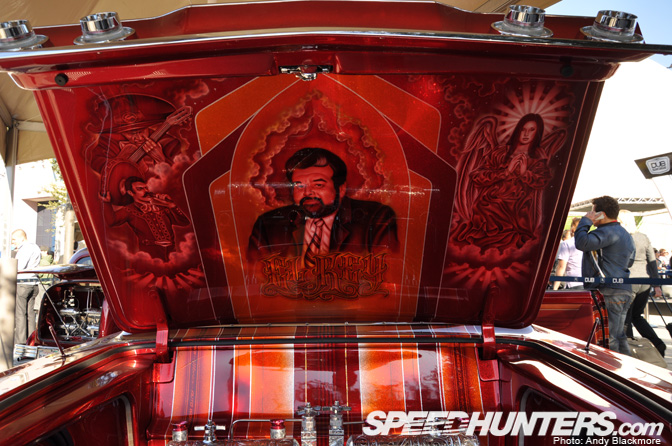 Albert De Alba Sr of 'Cal Blast', in Upland, California has been working on this lowrider for years. Like the Camaro I featured recently; this is another car that's been in the family for a long time. Albert, you see, has owned this car for 20 years.
The car is dedicated to his father in law, and previous owner, Luis Padilla, who is airbrushed on the inside of the trunk lid.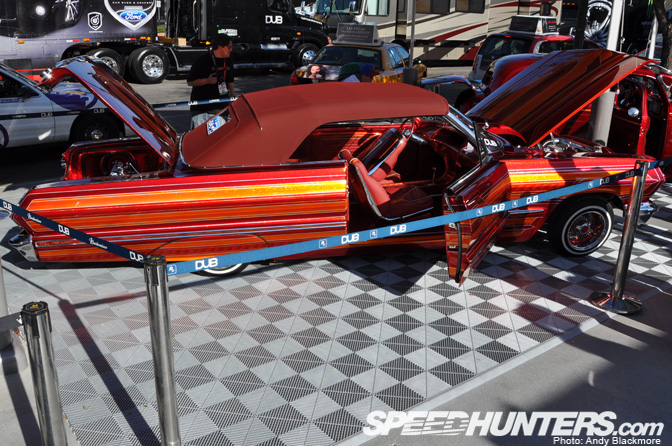 Albert painted the car in various Candy colors with assistance from Mario Auto works and a Tattoo artist for the murals.  The detailing on this is insane!
The long sleek 63 Impala is perfect for a lowrider. It looks as if it could glide along the outdoor show floor magically – even if those Tensa Barriers are in the way!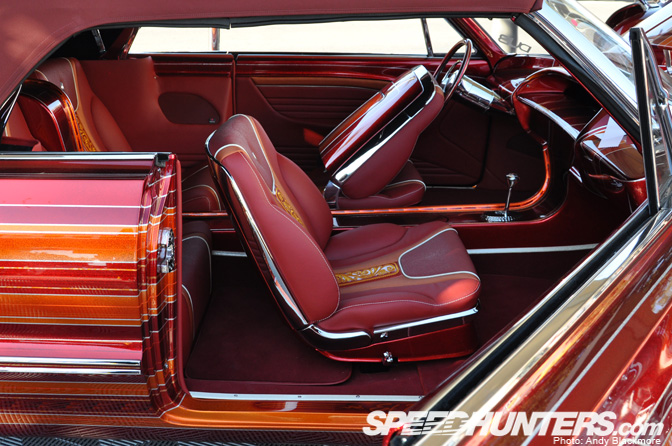 The interior is just as stunning as the exterior. Fantastic attention to detail by Elegance Auto Interiors.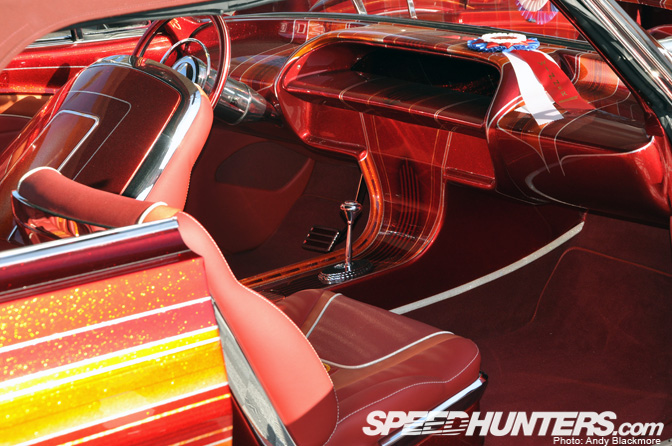 The dashboard is something else, complete with a new fabricated centrEsection.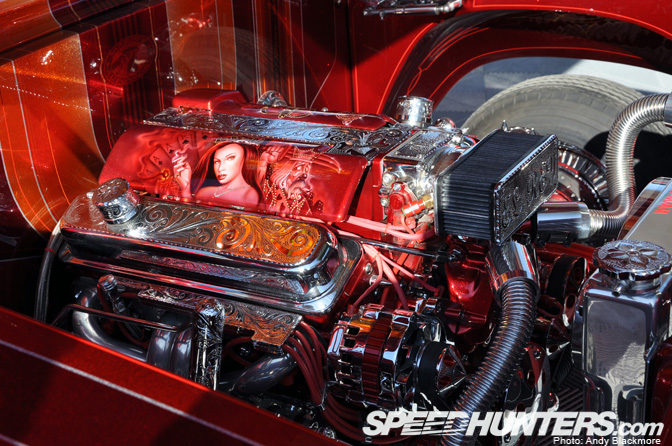 The engine bay continues the theme of red and orange hues with a Chevy 5.7 LTI replacing the stock unit.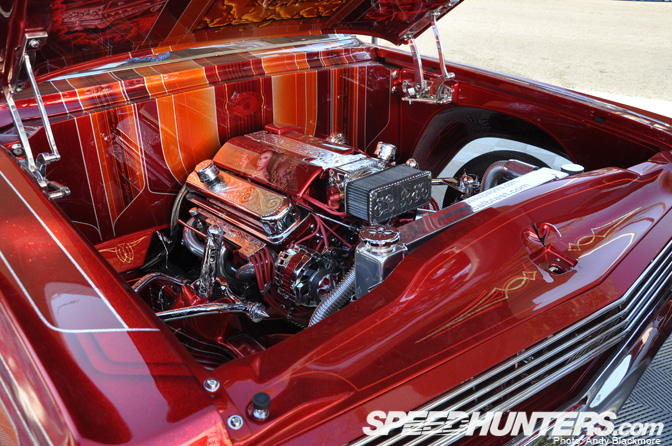 The engine bay itself is very clean with all the wires and ancillaries hidden. Note the cut-out fender wells.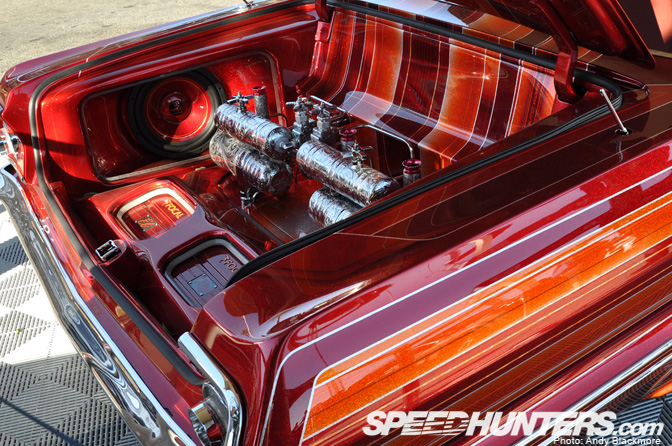 If we take a look at the rear, you'll see the hydraulics and audio have also been treated to the De Alba look.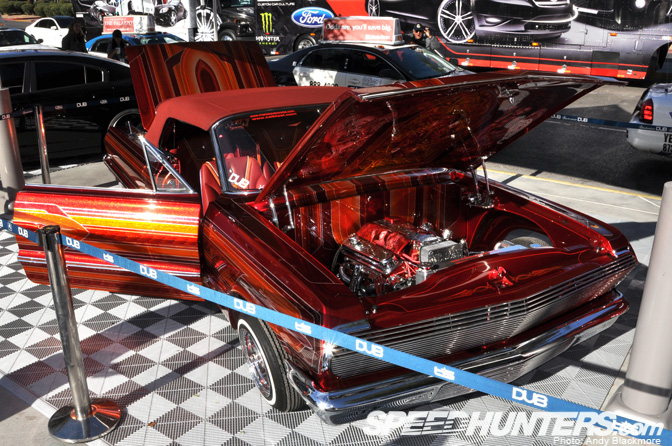 The front has a custom one-off grill that hides the headlamps. The bumper is also different; looks like it is based of a 62 Impala.
As you can imagine, this is a stunning build that has won a number of awards during the year including one of the Mothers Choice Award trophies at SEMA for Design Excellence.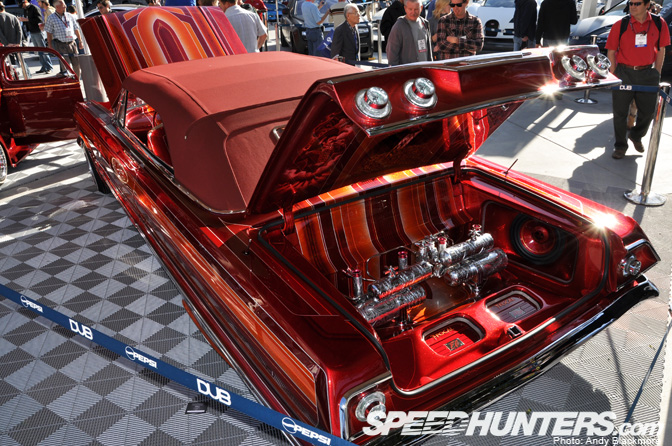 So what do you think of this extreme lowrider?
There is an extensive thread on the layitlow forums. Go on, get out of your comfort zone!
– Andy Blackmore
More 2011 SEMA Coverage on Speedhunters