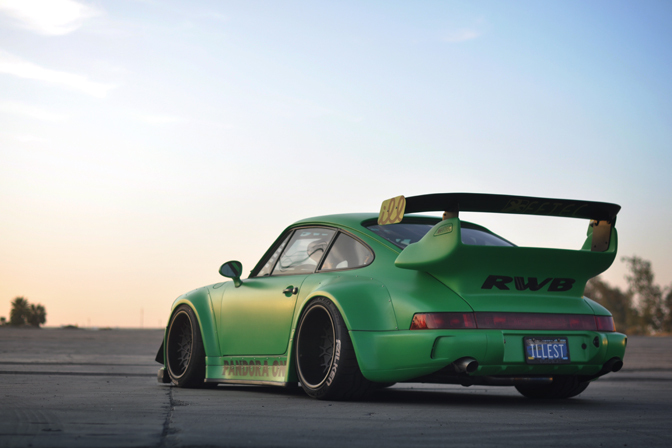 In just a couple of hours, countless modified cars will debut in the halls of the Las Vegas Convention Centre. The SEMA show is the juggernaut; the biggest aftermarket car event of them all. Amongst them, one particular car is certain to steal plenty of attention.
Separated by some 5100 miles, two hugely influential car builders, Mark Arcenal and Nakai-san, have collaborated to create a car that is sure to send ripples through both the American and Japanese car scenes. Say hello to their creation: the RWB Pandora One Porsche 911.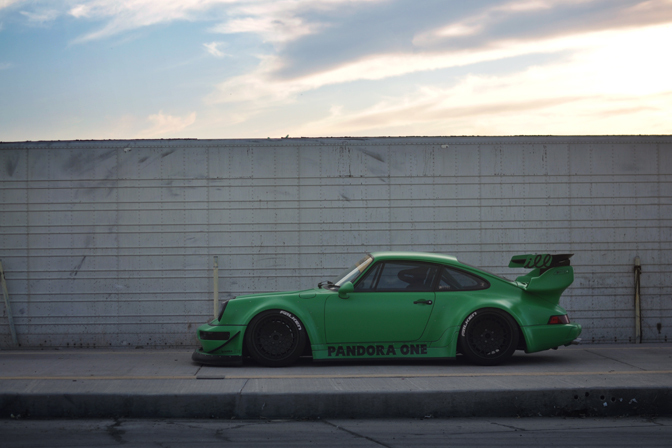 "It was very special to see Nakai do his work" Mark said. "It was inspirational to see how much dedication he puts into each build." Indeed, Nakai-san has quickly built a reputation as being an artisan who has dedicated his life to his craft.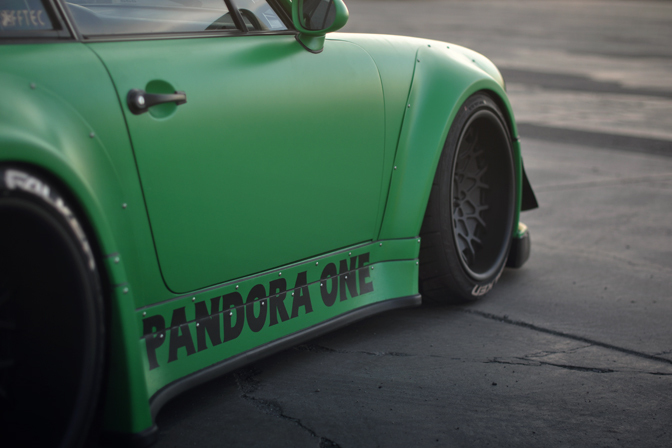 Each Rauh-Welt Porsche is given its own name from Nakai-san. For this particular Porsche, Nakai-san christened it Pandora One.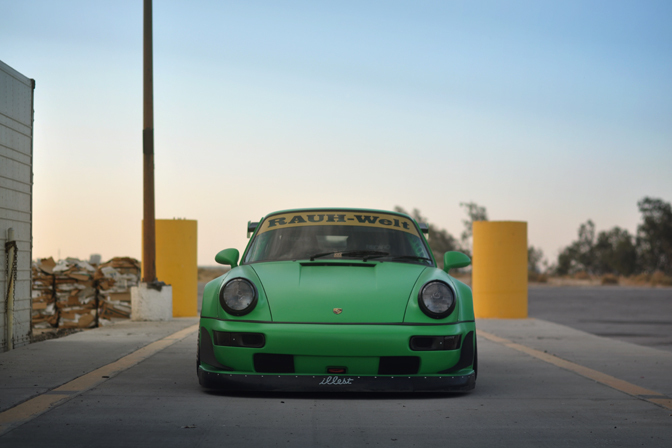 Pandora One is a fitting name don't you think?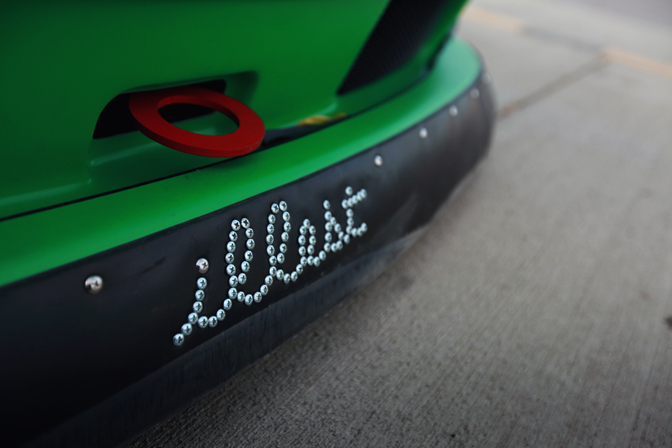 There are some personal touches that have been done too. On Mark's 964, the iconic Illest logo was created with screws in the lip.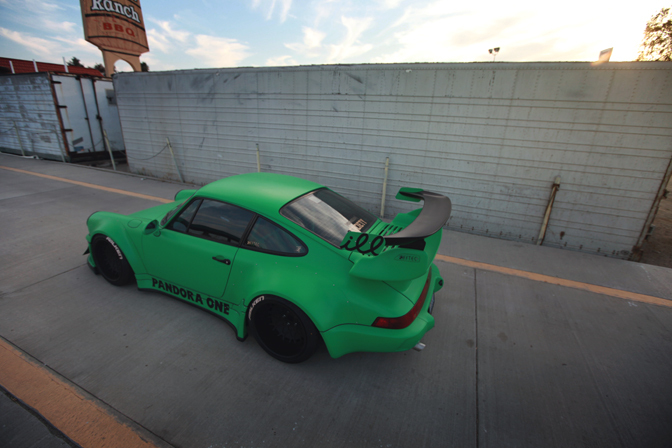 Mark purchased his 964 C4 four years ago after being inspired by RWB. "After I saw Nakai's Porsche I bought mine in 2007" Mark divulged. Little did he know that one day he would work hand-in-hand with Nakai-san to create the first US-built RWB Porsche.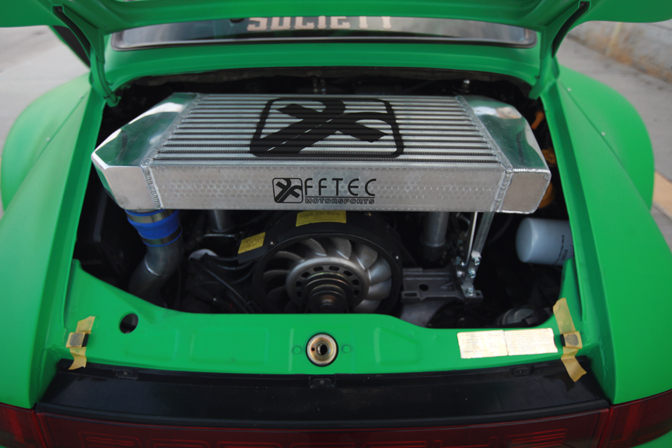 While many of RWB Porsches are built  for the street, the 964's focus is solely on racing. As such, the Porsche was dropped off at FFTEC Motorsports from Hayward for a full engine build.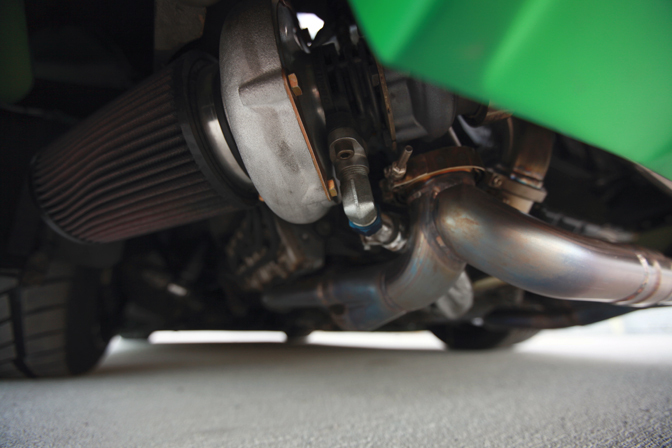 Pandora One was finished the day prior to our photoshoot, with the car completed in time for SEMA. The turbo motor has currently been tuned to only 6psi of boost and produced 398 horsepower on FFTEC's Mustang dyno. After SEMA, the crew will be looking to see how much power they can unlock with 15 psi.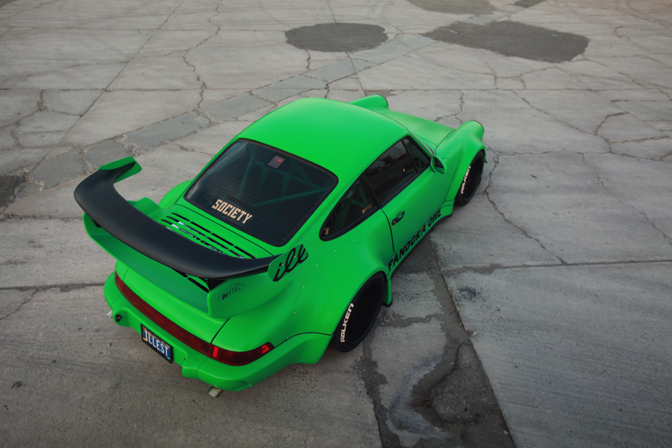 Before any of the modifications took place, the 964 was stripped down for a full roll-cage, which uses gussets to link to the pillars. FFTEC Motorsports were once again called in to handle the cage fabrication.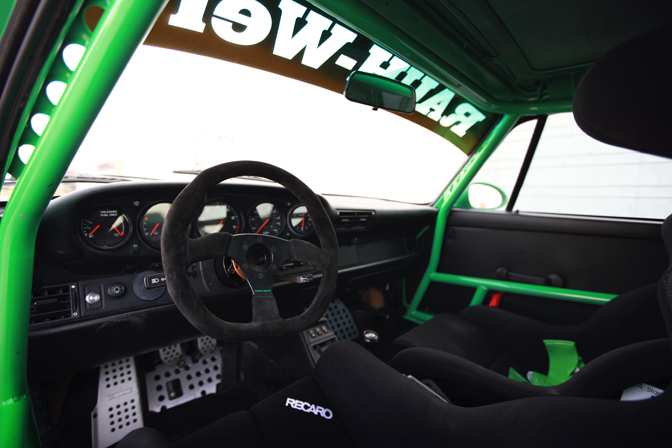 Two Recaro Pro-Racer SPG seats have been fitted along with Stack gauges.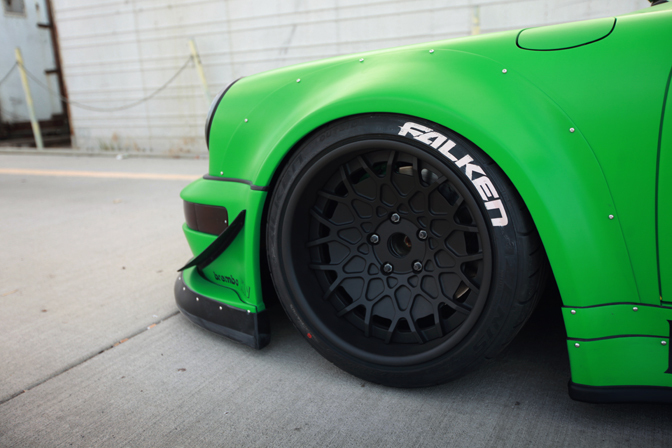 The Porsche rolls on exclusive 18-inch RWB wheels constructed by Rotiform. While there's been much discussion on the internet regarding these particular wheels, I personally think they look fantastic in sinister black.
Instead of idlers painted on the sidewalls, Pandora One runs the Falken logo on the 265/35 front and 315/30 rear Azenis tyres.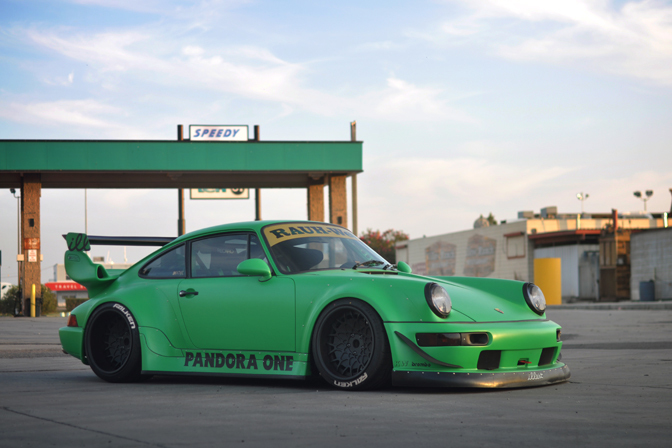 Behind the RWB Rotiform wheels are Brembo GT brakes, while the standard springs and shocks have been replaced with KW V3 coilovers. Mark has also fitted KW's HLS System, which is a remote-operated hydraulic lift that is fitted to the shock body. At the press of a button, the HLS extends up to 45mm (1.75-inches) to provide additional ground clearance. The HLS isn't an active part of the suspension, so it doesn't compress or create additional suspension movement.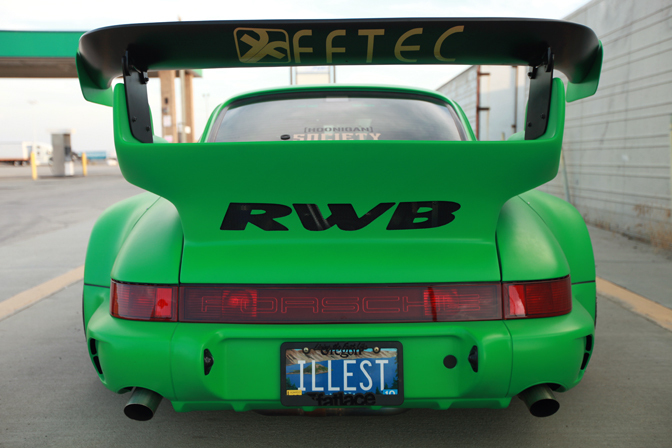 Pandora One features the full complement of Rauh-Welt Begriff aero, including the enormous rear wing. Once all of the RWB panels had arrived to US shores, the car was entrusted to TNT in Sacramento for the satin green paint to be applied.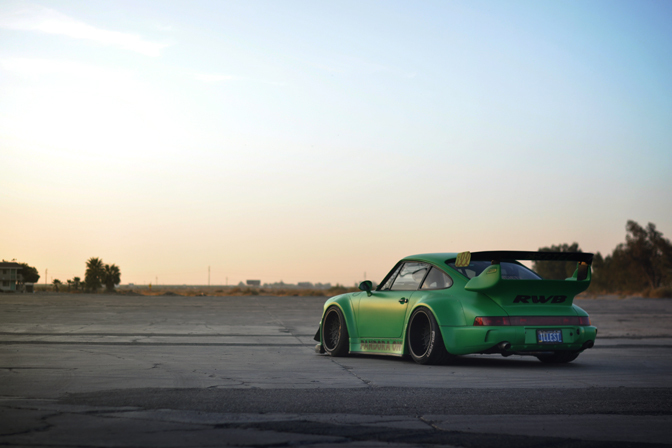 Over the course of the build, Mark has been providing me with updates on the car's progress. It was by no means a straight forward affair, with plenty of hard work and long nights spent piecing the 964 together. "I especially want to thank everyone involved on this build" Mark said. "Rob Daehn for managing the car's paint, the guys at FFTEC and of course, a huge thank you to Nakai and Toshi for our meetings in Japan and bringing Rauh-Welt to the USA."
With RWB branching out into Japan's Kansai region, Thailand, UK, Australia and now the US, it seems like one artist's work has suddenly captivated a worldwide audience. 
- Charles Kha
Photos by Jonathan Chow