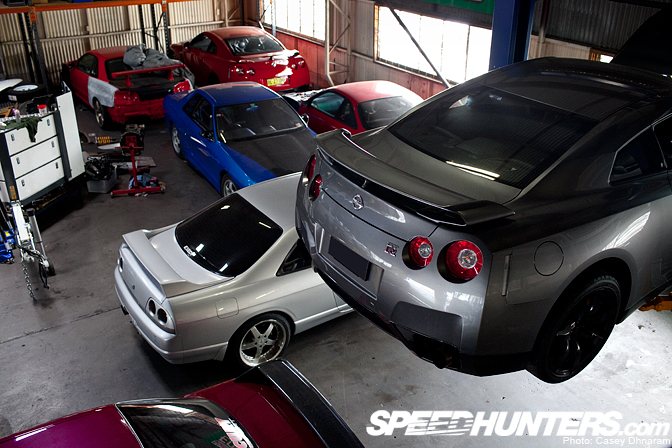 During my six years of photographing cars in Australia I've come across some passionate people, one of them being Trent Whyte from Mercury Motorsport. This family owned business, located in the Brisbane suburb of Wilston, started back in 2004.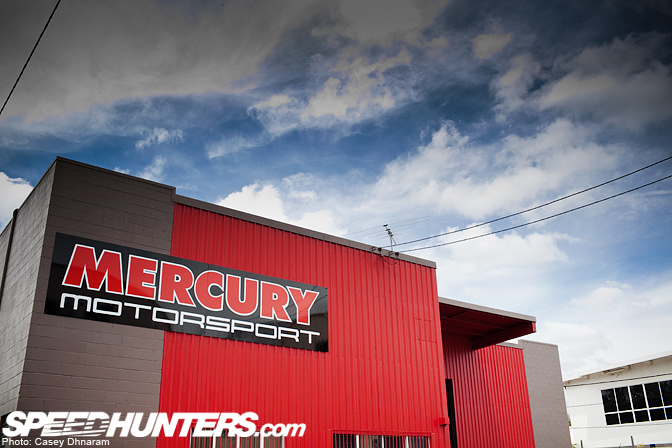 Over the years, Mercury Motorsport established a strong reputation for building a variety of potent street and race cars.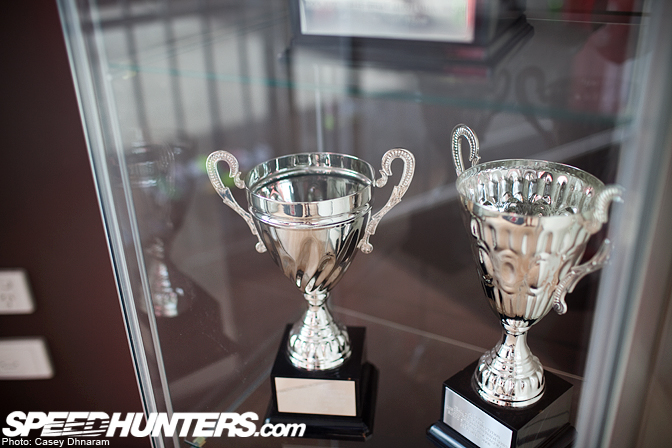 Walking into the front entrance you are greeted by a number of trophies.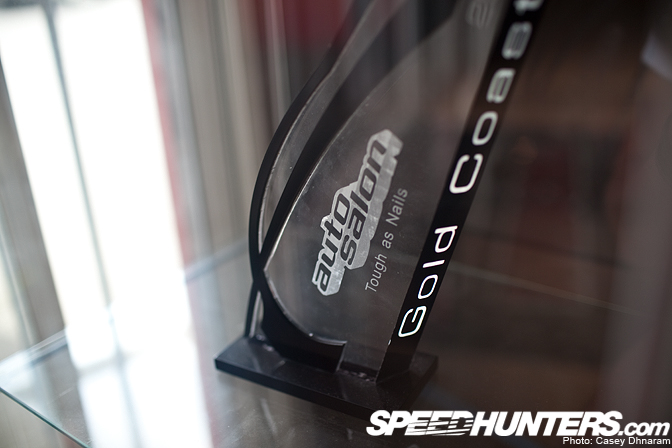 Auto Salon's Tough as Nails award…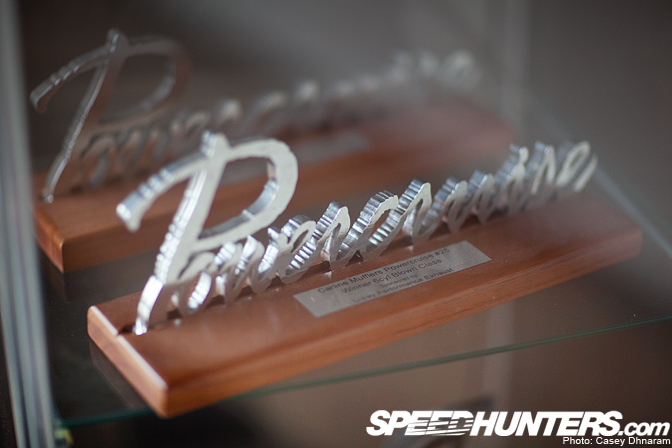 …Along with a number of Powercruise trophies.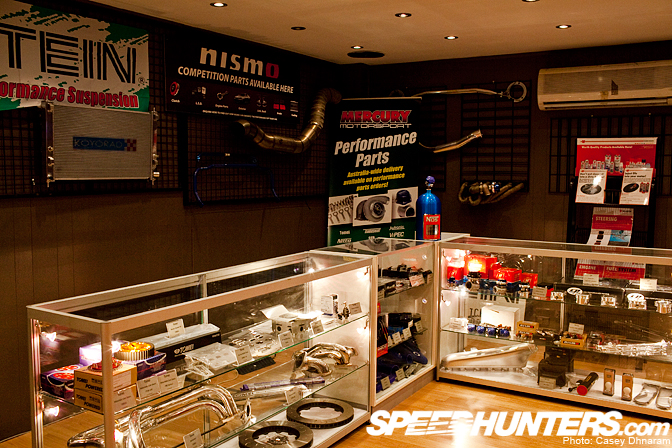 Their showroom and offices are located upstairs and have recently been renovated.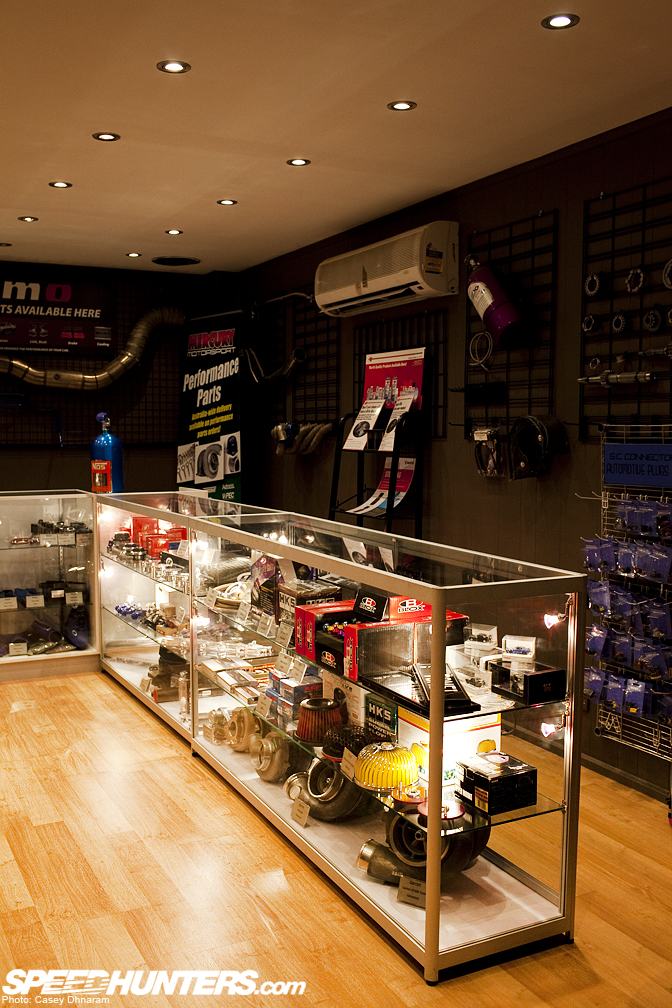 Along with a diverse range of parts, there's also a lounge and flat screen TV for the customers.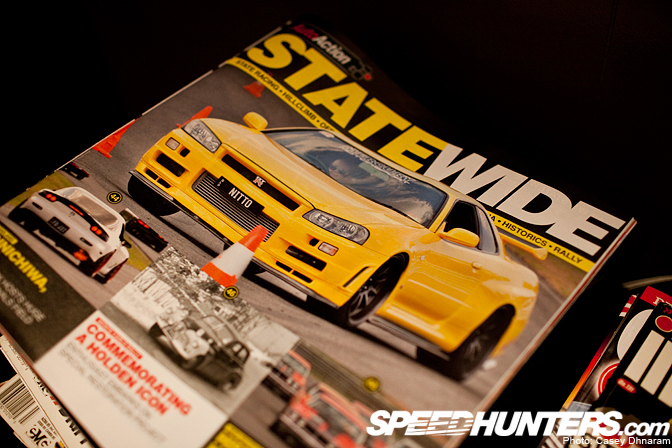 No garage is complete without a stack of automotive magazines. Gracing the cover of this magazine is the 'NITTO' R34 GT-R, which is owned by Trent's wife, Tessa…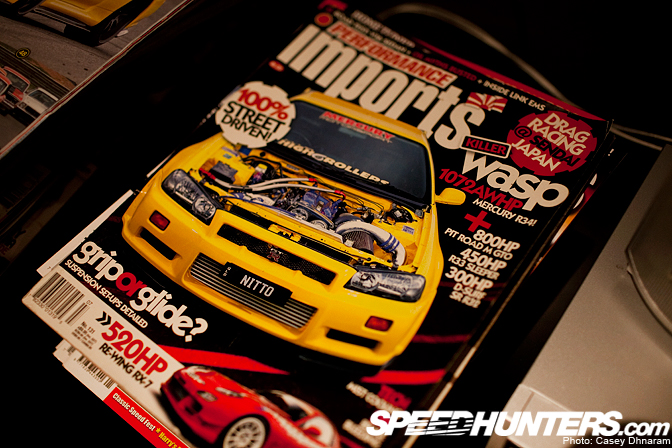 …It's also been on the cover for HPI. More on this machine later.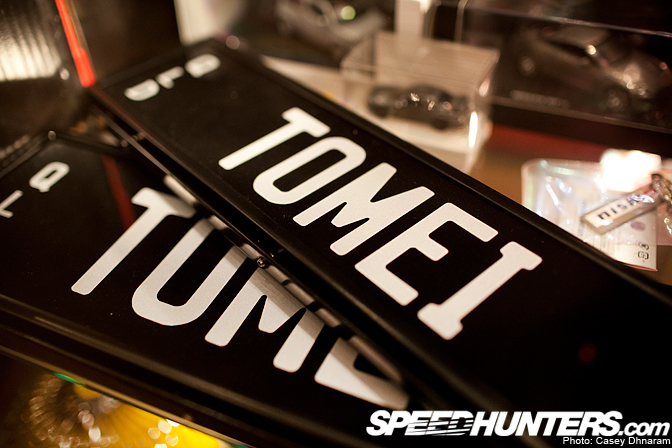 There are not only performance parts here. I also came across some unique registration plates such as these TOMEI ones.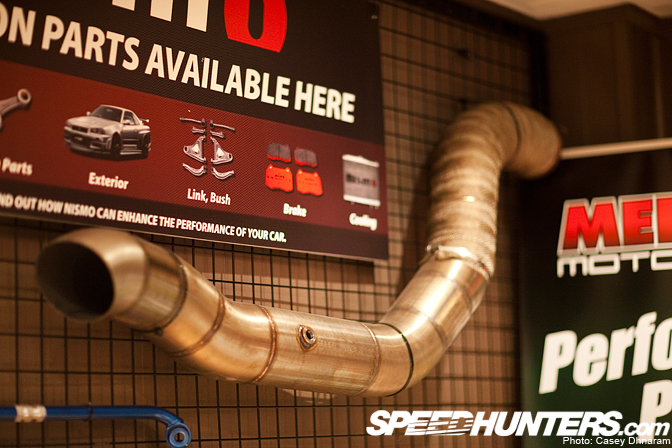 There were some interesting custom parts too, like this 5-inch dump pipe which was welded by Mercury's fabricators.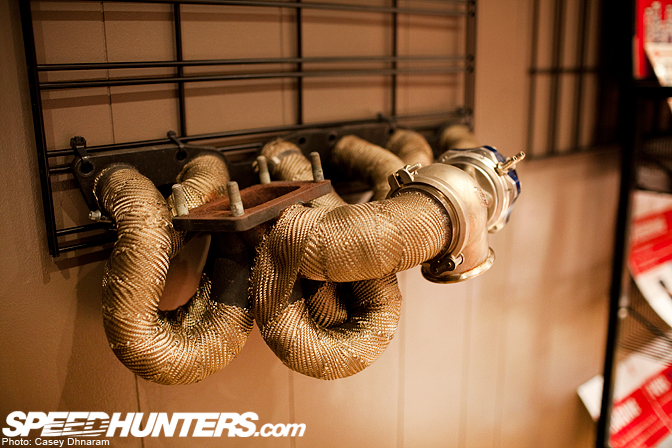 On display was this wrapped manifold with Turbosmart wastegate.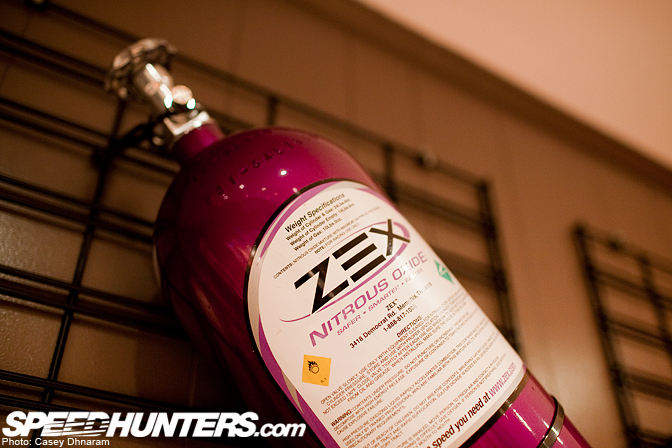 Anyone fancy some giggle gas?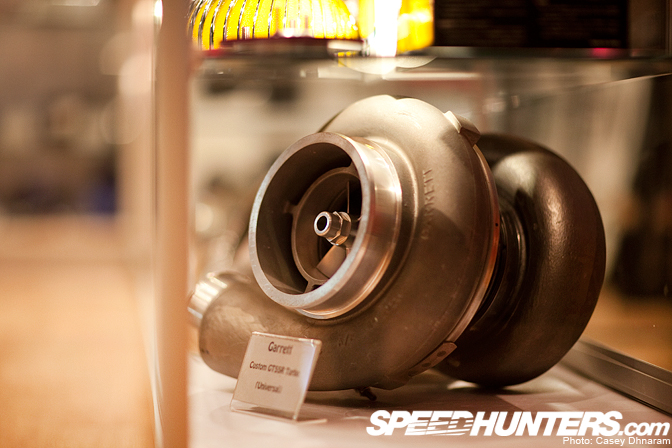 This Garrett GT55R turbo was one of the largest I've seen.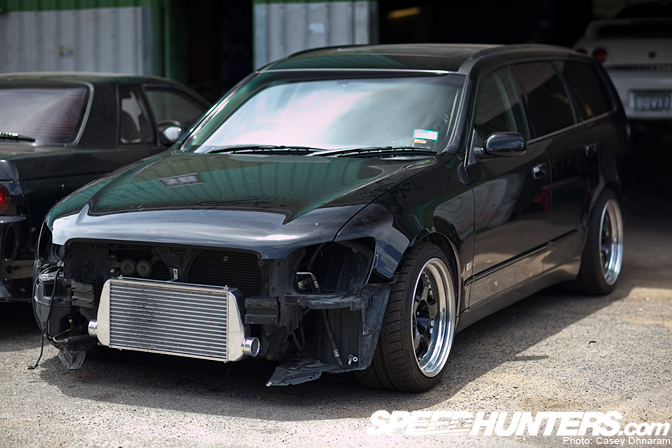 Exiting the main shop I began walking down to the rear garages, where I came across this Stagea…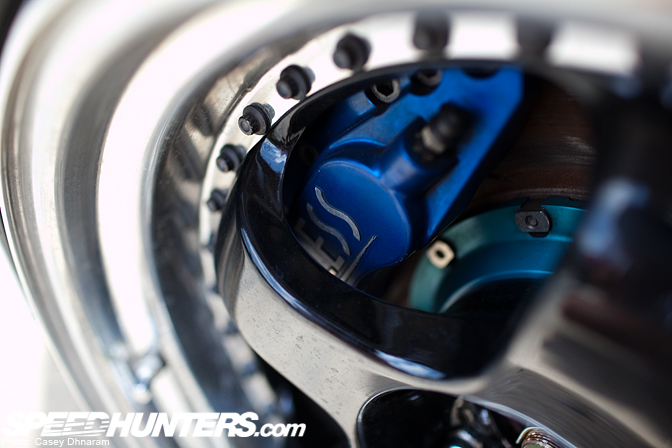 …Equipped with a large pair of Endless brakes.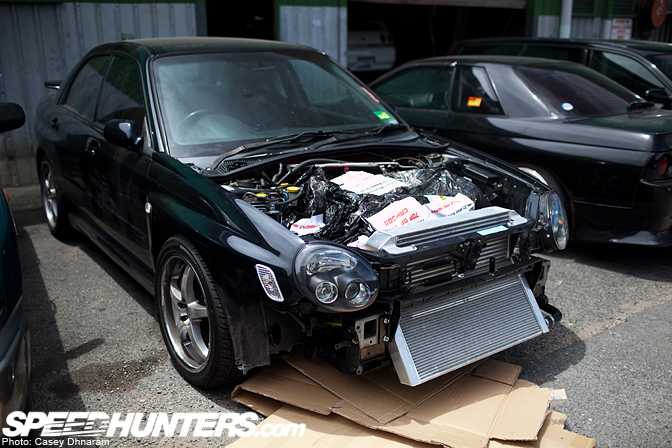 This bug-eye WRX was in the midst of receiving a fully built EJ25T.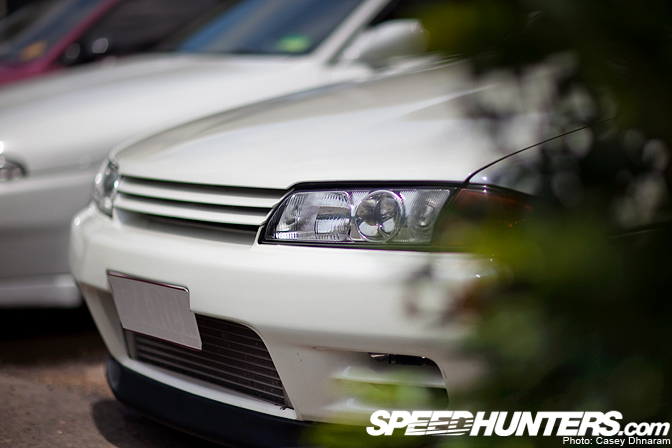 Many Australians have a soft spot for the GT-R, ever since they dominated our touring car series.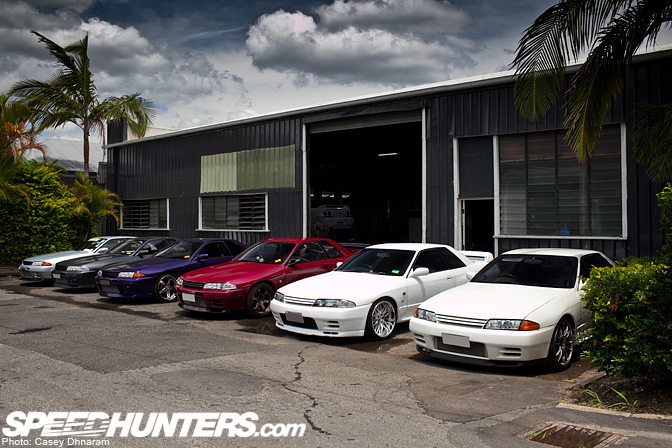 At Mercury, this amazing lineup of R32s are all owned by workers at Mercury Motorsport!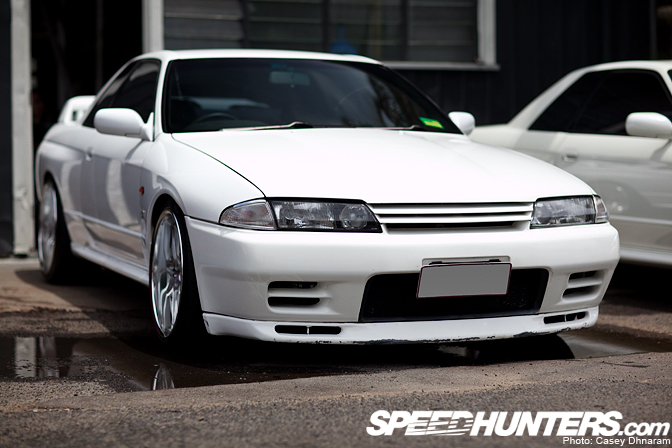 Here we have Chris Acworth's clean GT-R. Keep an eye out for a spotlight, which will be coming your way.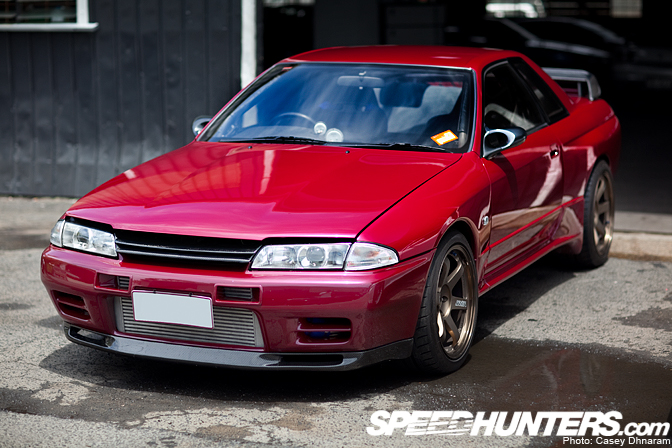 Next up we have this deep pink GT-R sitting on a gorgeous set of TE37s. Belonging to Mike Walpole, is produces 650hp at all four wheels.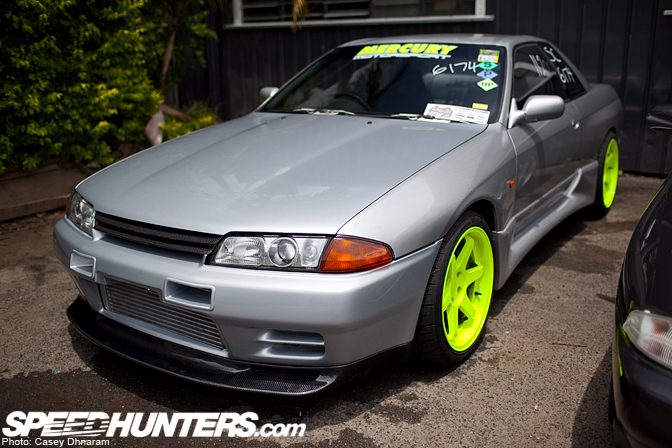 Finally, down the end we have Trent Whyte's 10 second GT-R. With a Tomei 2.8 stroker – and still retaining twin low-mounts – it produces 600hp at all four.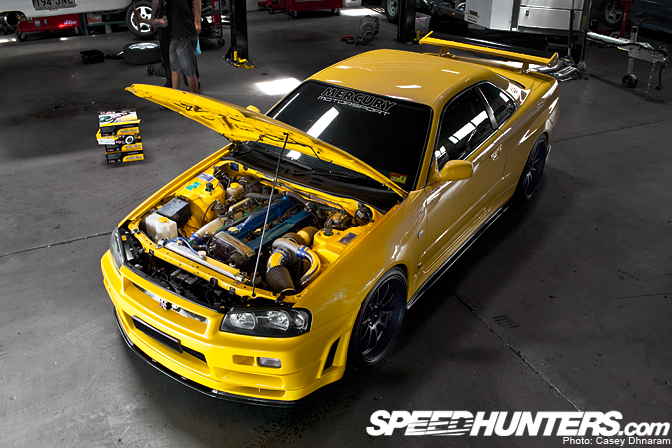 Inside the garage was Tessa's 'NITTO' R34 GT-R. A couple of months ago it produced a whopping 1072hp at all four wheels, making it one of the most powerful GT-Rs in the country.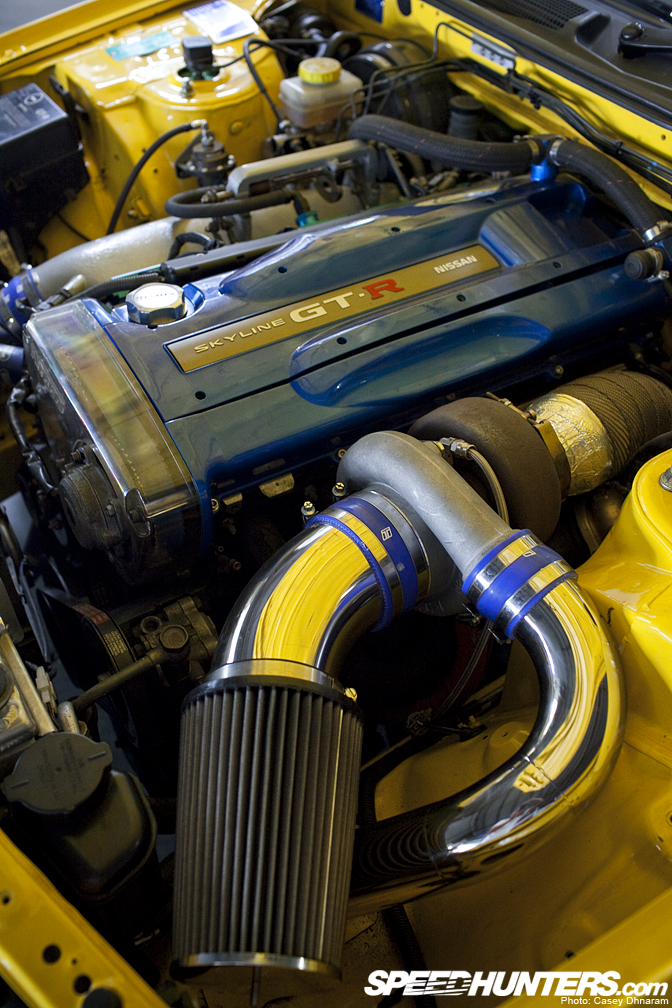 Of course, that much power isn't useable on the street, so a new setup was installed. This produces a more 'subtle' 620hp at all four.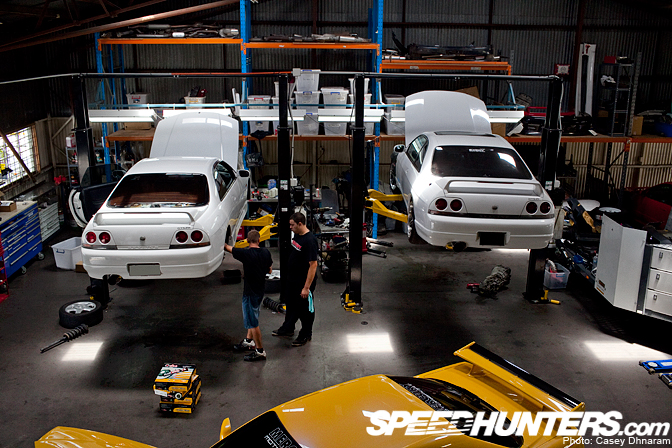 During my visit, a pair of customer R33 GTS-ts were on the hoists. They were receiving new Tein coilovers/DBA rotors and a clutch swap respectively. Don't be fooled by the number of Skylines though; Mercury Motorsports are heavily involved with a range of Japanese and Australian cars.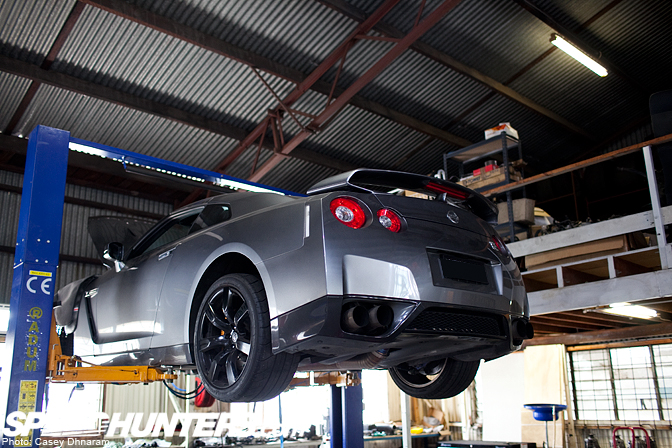 This R35 GT-R used to belong to Mark Hansen. You may remember Mark by his all-carbon Time Attack R35 which he raced at WTAC.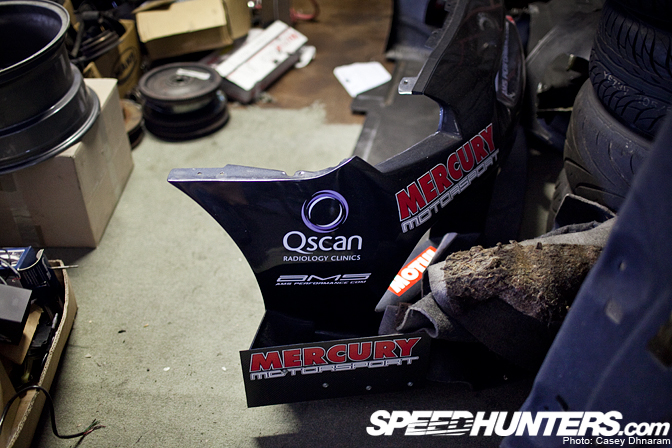 On the topic of Mark Hansen's R35 GT-R Time Attack machine, I found some spares upstairs. Here is the front bar. The car is currently being stripped back to the shell, with a rebuild to take place before the 2012 season.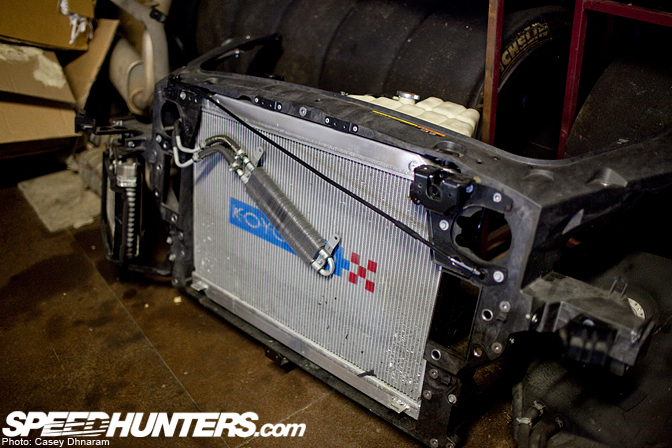 The front rad support was still in the workshop too even with the Koyorad radiator attached.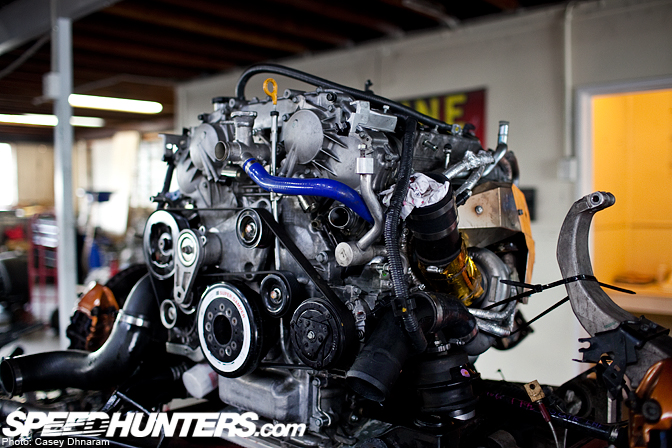 Downstairs were three R35 motors which were awaiting shipment to AMS in the States for major upgrades. This particular motor is from Mark's Time Attack car, which will receive block improvements.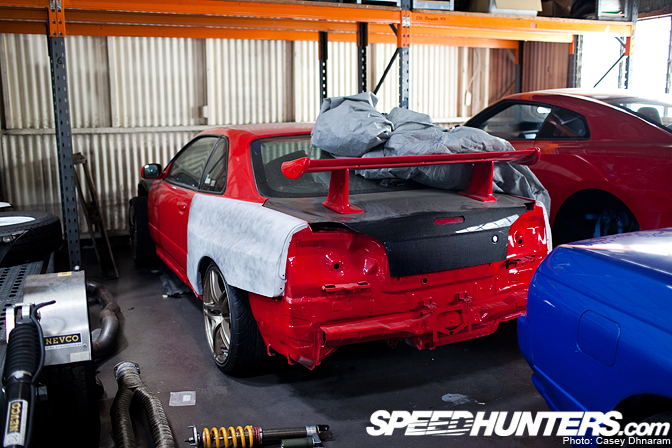 Over in the far corner were some more GT-Rs.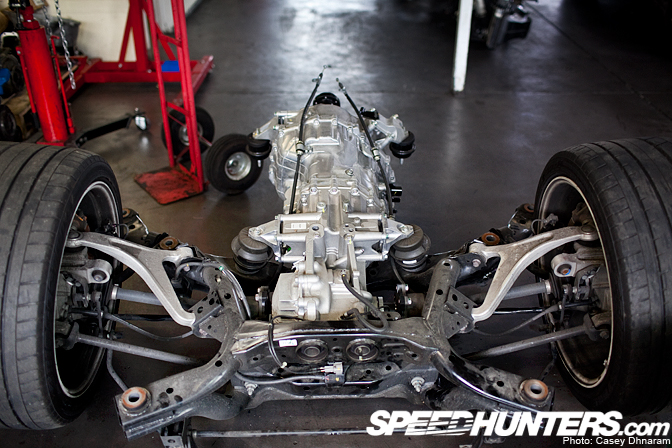 Around the garage you could find rear ends…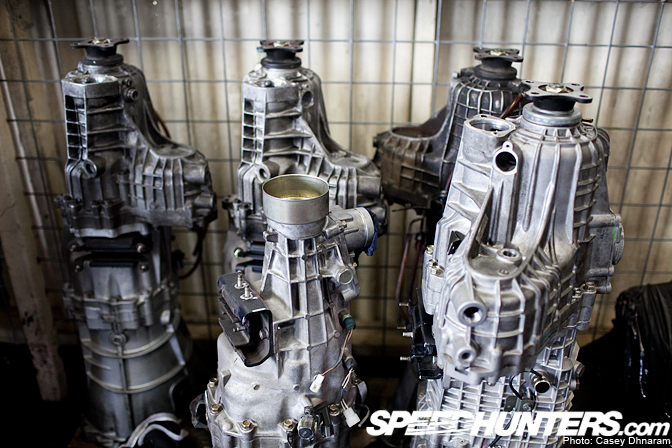 …And plenty of transmissions.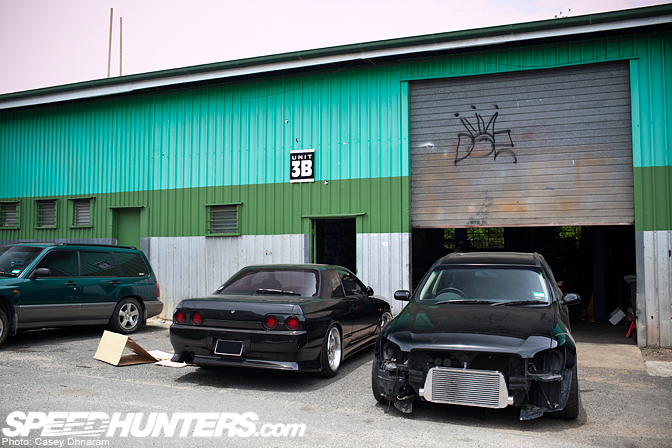 Opposite the garage is their fabrication workshop.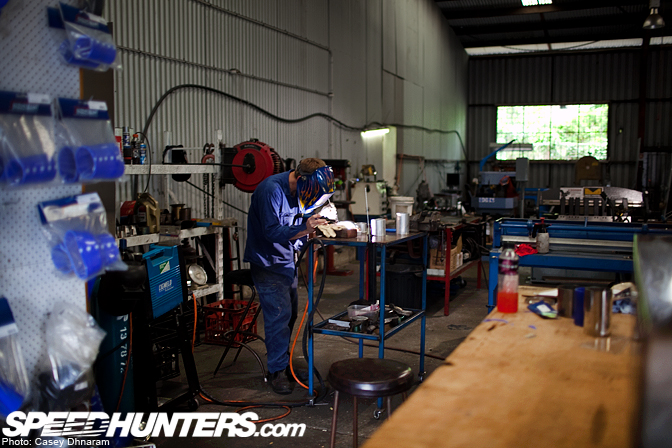 This, of course is where all the fabrication work is done. This is also where the Time Attack R35 GT-R was built.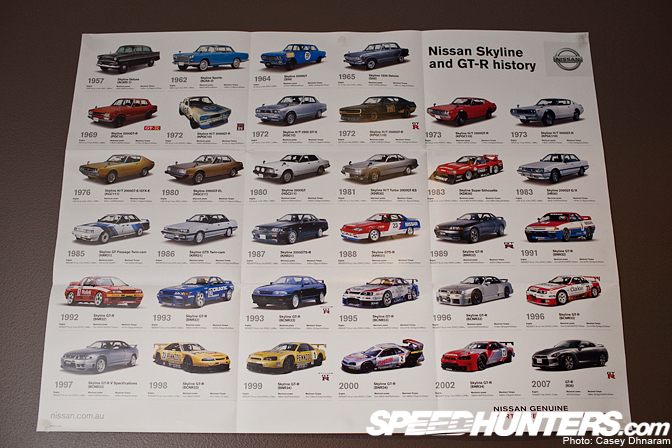 Inside I found this cool poster on the history of Skylines.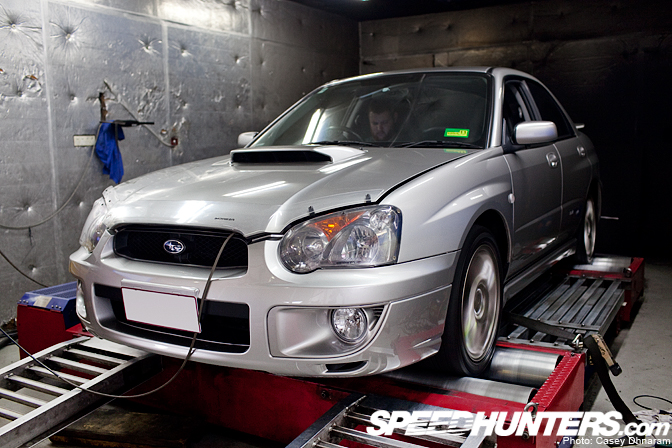 Mercury Motosports also have their own AWD dyno, housed in a dedicated dyno room. I plan on popping by one of their future dyno days to see what interesting cars come out of the woodwork.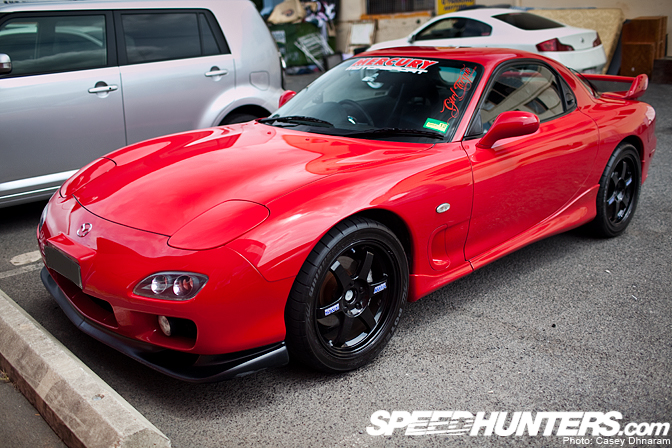 Out the front I spotted this vibrant FD3S RX-7 sitting on TE37s…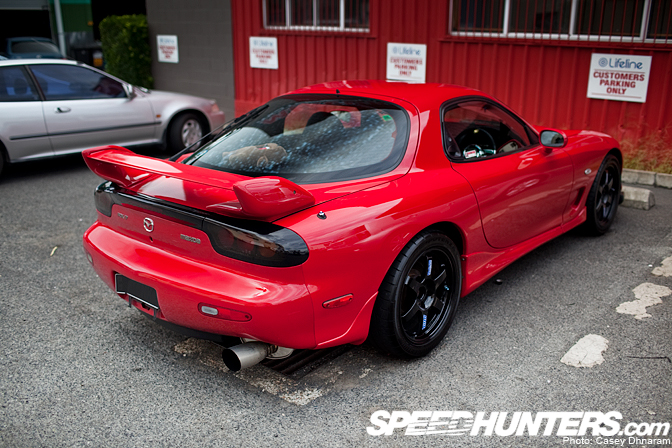 …Which belonged to the receptionist – Neeka.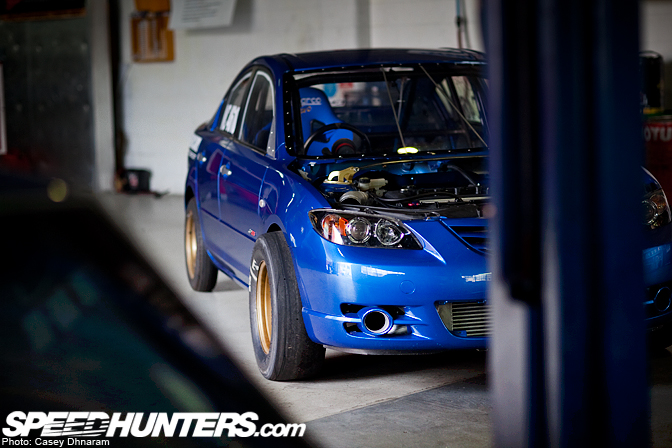 So that's it for Mercury Motorsport. One of Australia's leading garages. Stay tuned for a few features and spotlights!
-Casey