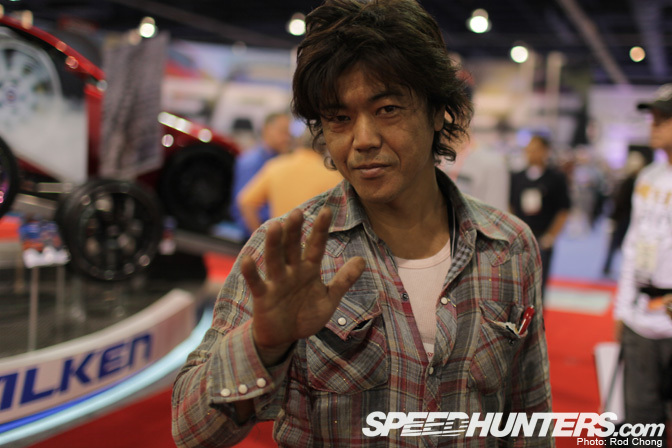 It's said that some 100 thousand people attend SEMA each year and I'll wager a guess, that the vast majority of them are not there to gawk at cars. No, most people go to SEMA to do business: to showcase new products, find new business partners and network, network, network. Sure everyone loves a well constructed customized car, but the main reason the aftermarket industry come to Vegas has more to do with business development and growing your business card collection than anything else.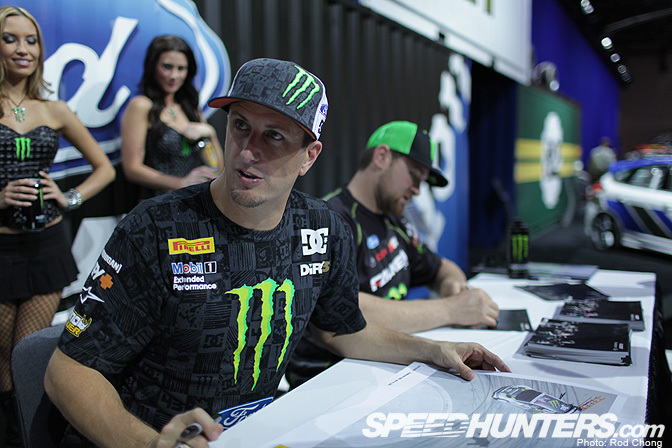 So to end our main SEMA show coverage, I'm going to write up a little bit of a different type of article…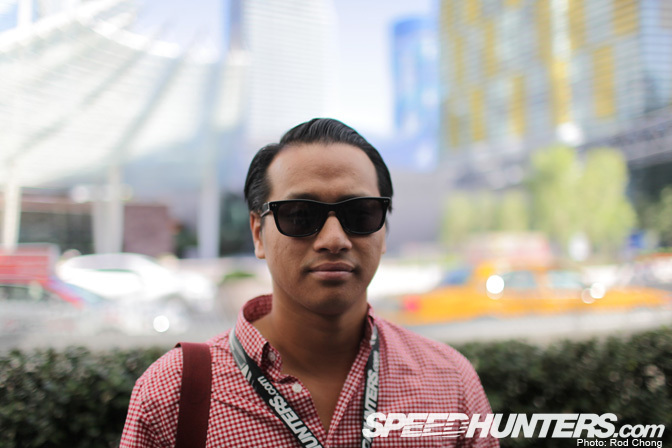 … and take you behind the scenes with me as I descended on the Las Vegas Convention Center with a schedule ram packed full of meetings. Along the way I'll show you some of the notable people and personalities I encountered at SEMA, plus throw in a few automotive observations…. Let's get started!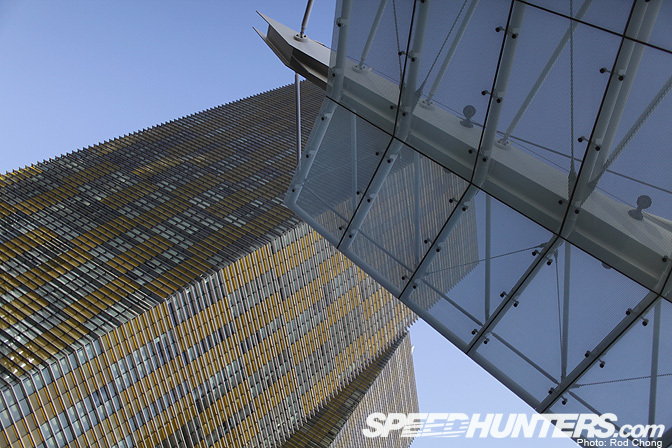 Most of the Speedhunters-TeamNFS crew decided to stay at the Aria or the Vdara hotels, both of which are part of the relatively new CityCenter complex. Interestingly, it's the largest privately funded architecture project in the history of the USA. For any fans of international architecture it's definitely worth a visit.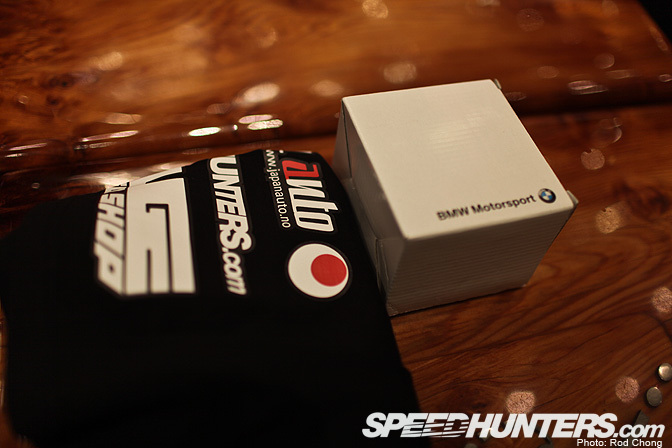 SEMA 2011 for me started with a Speedhunters production meeting with Mike Garrett, Andy Blackmore and Charles Kha to discuss our SEMA coverage and the future of the Speedhunters project. I brought each of them a present from Europe too. Pictured here, you can see the Touge Automotive X Speedhunters X Fredric Aasbo collab t-shirt I gave to Charles and the BMW Motorsport mug I gave to Andy.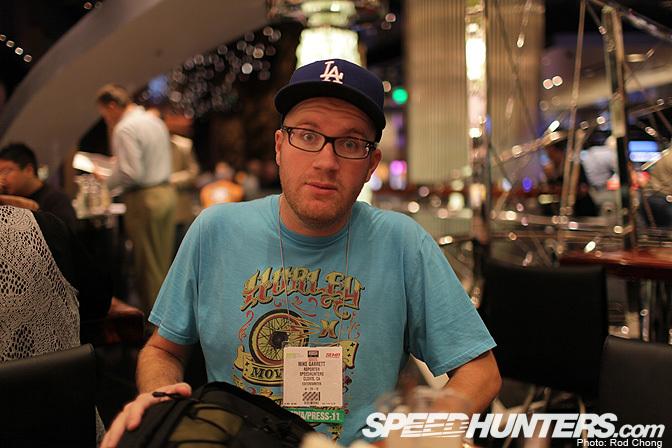 Everyone's favourite Auto Otaku: Mike Garrett.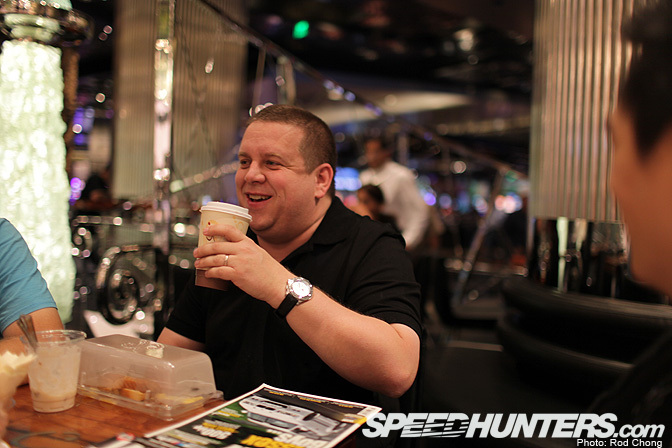 It was good to catch up with the crew. I haven't seen Andy Blackmore since the Nurburgring 24Hs this summer and always enjoy his company. Unfortunately, this was the only time I was to see him during my 3 days in Vegas…. that's how busy my schedule was!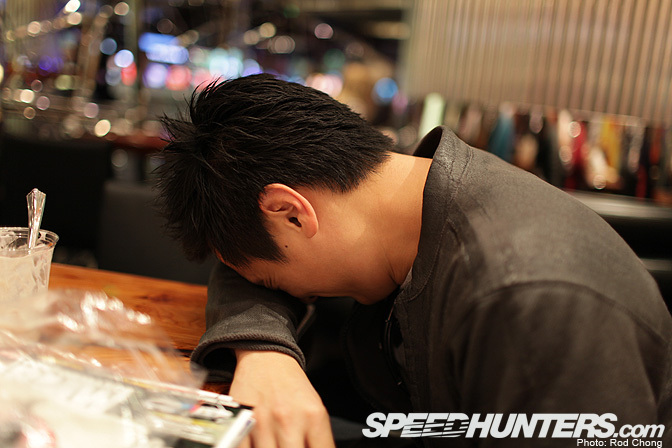 Charles Kha wasn't quite awake yet…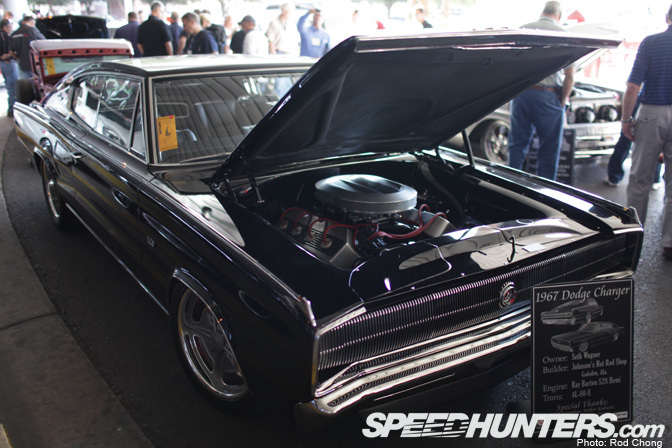 After our meeting, it was time to hop in a cab to the Las Vegas Convention Center. We disembarked at the North Hall, thus necessitating a walk down to the South Hall to get our registration badges. The good thing about this walk, is that you get to trot past a whole range of amazing cars, all parked up in front of the Convention Center.
Here's the first car I shot after landing at SEMA: this amazing all-black '67 Charger. The original Chargers are far less popular than the second gen models, but I prefer them. They're somehow less obvious.
While on the subject of black cars: this VIP Lexus showed perfect execution of the style. It's faultless.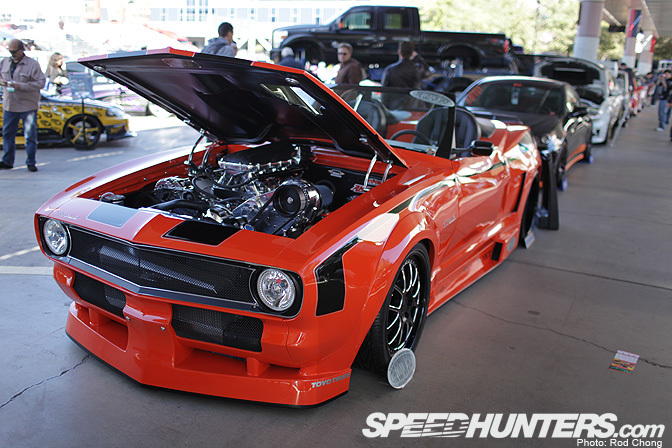 A few people at the show were talking about this Camaro. And while I'm not that big on the modern-meets-classic styling, it's still worth a mention.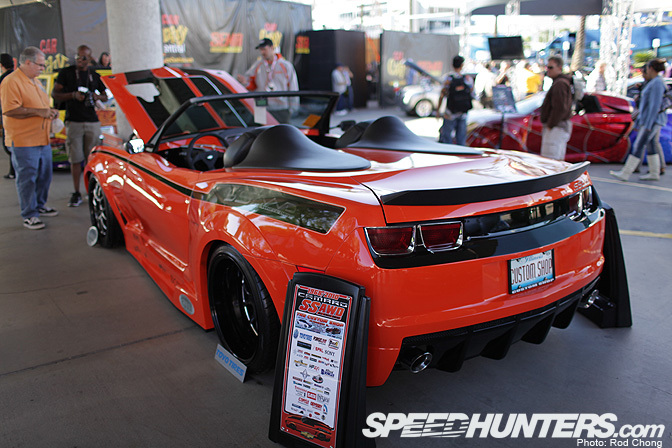 The reason? It mates the rear of a new Camaro with the front of an old machine which in itself is a bonkers idea. But what really makes this car ever more crazy is the fact that it's AWD.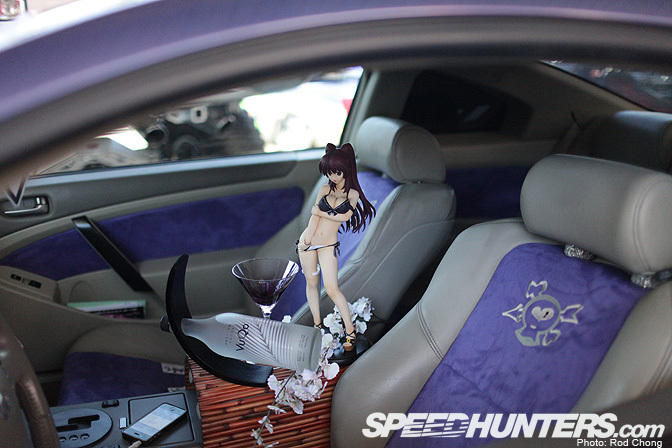 Itasha style.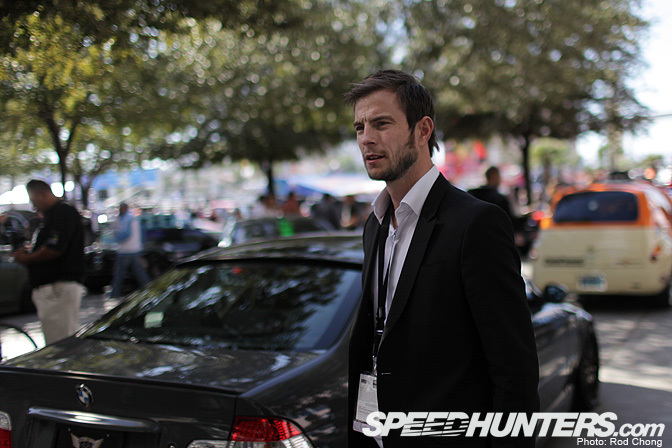 Most of my time at SEMA was spent acting as a bit of a host to EA DICE Executive Producer, Marcus Nilsson. I spend most of my time these days working with Marcus in Sweden, planning out new long term racing projects. So I thought it was essential for him to see the car crazy madness that is SEMA.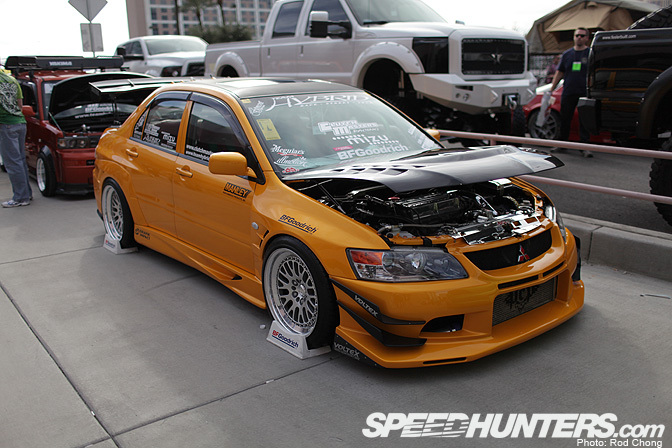 This shot was taken with us still walking down the line of cars here towards the South Hall… I was well impressed with this Time Attack spec, Voltex kitted Evo rolling on CCWs. Quite fine.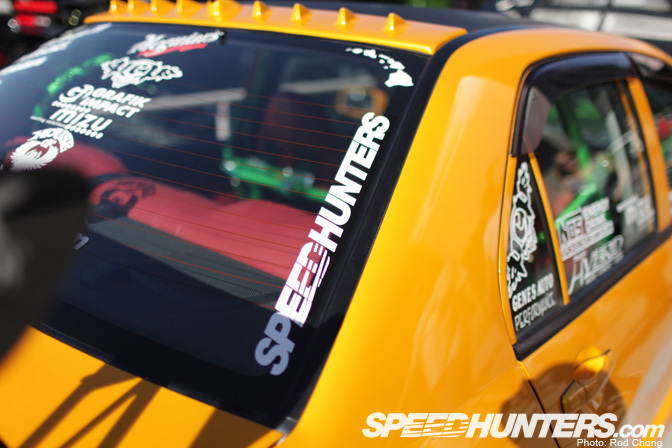 I need to commend the owner on their taste in stickers too!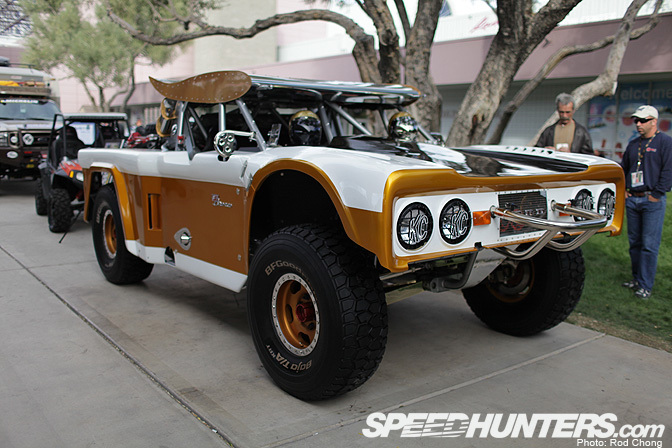 I don't normally pay attention to trucks, but this retro style Bronco off-roader was just too cool to ignore!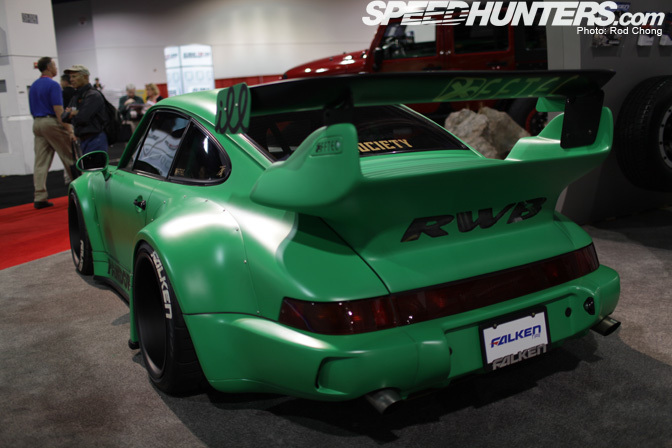 So our first business meeting was with Falken Tire. While arriving at their booth I was a little floored to see the Fatlace RWB Porsche in the flesh. It's no wonder the RWB  brand is gaining popularity around the world, the cars just ooze presence.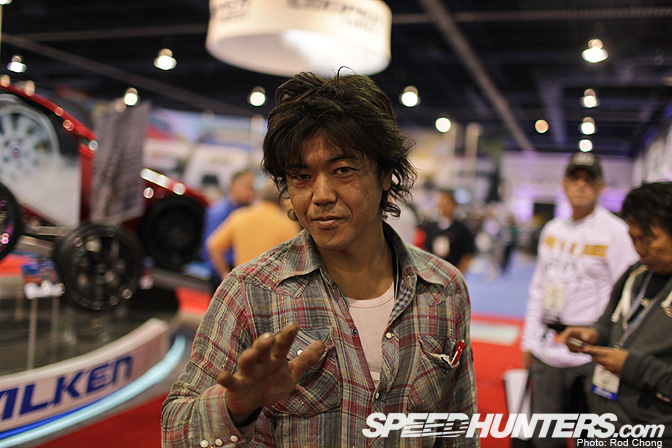 And then the man himself suddenly appeared: Nakai-san: the great innovator behind RAUH-Welt and prior to that: Rough World.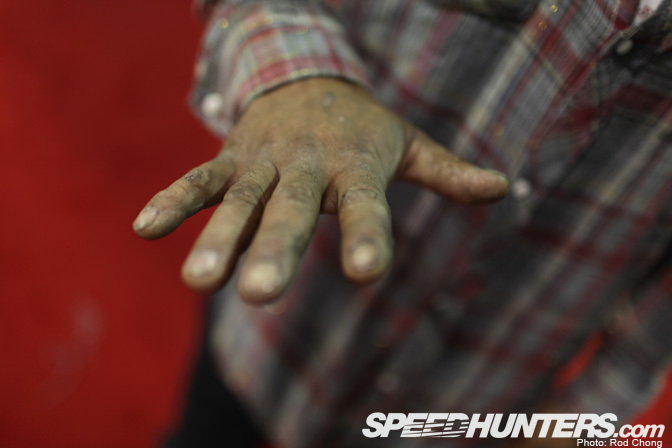 You can see these hands have seen a lifetime of shaping the materials of cars. Much respect there is.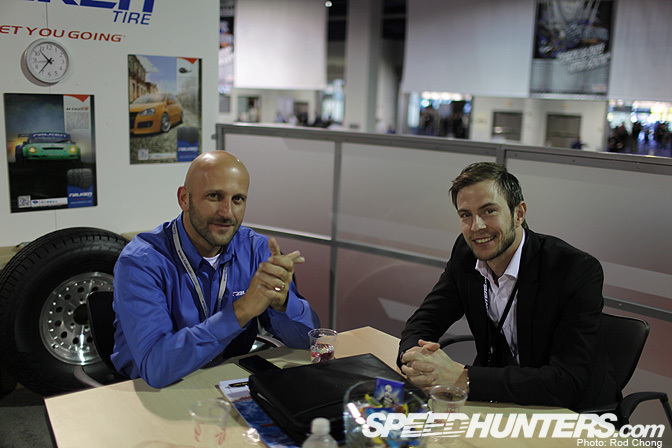 I had to quickly excuse myself from Nakai-san to get back to the Falken meeting, which had started without me. Here Marcus is talking to Nick Fousekis, the boss of the Team Falken drift and GT racing projects.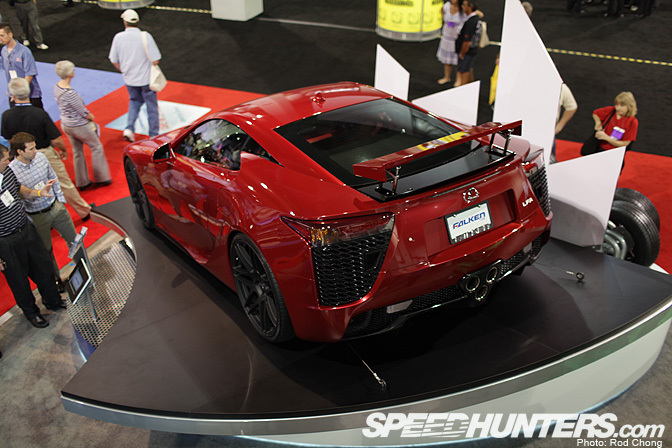 From the top of the Falken booth you could look down on the rest of the Falken display area, including their LF-A. The car was on loan from a dealership apparently.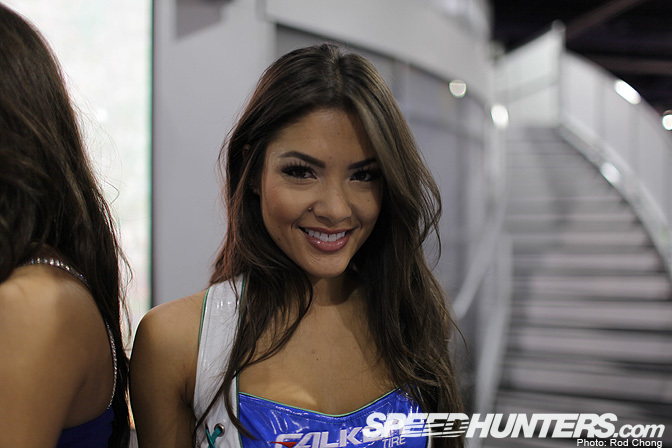 Oh hey Randyl… nice to see you.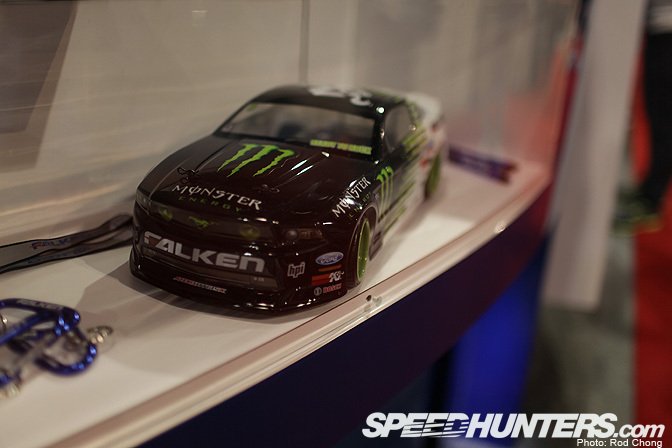 Falken was also showing off the HPI Vaughn Gittin JR Mustang RC drift car. I want!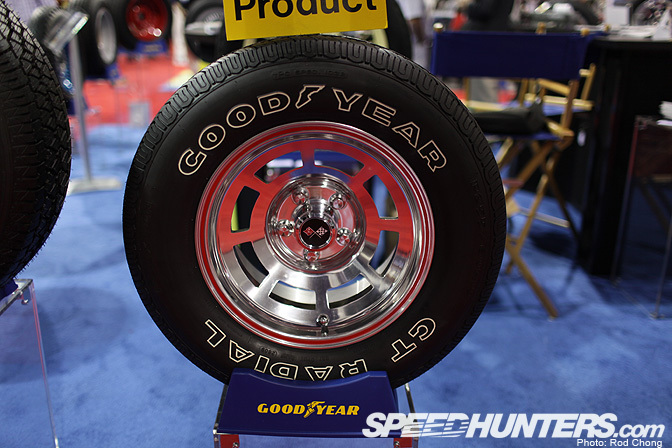 Wandering around the Wheel and Tire hall, I found a display of new "old" Goodyear tire products. This disco-tastic '70s style GT radial is a brand new release… somehow I find that quite ironic.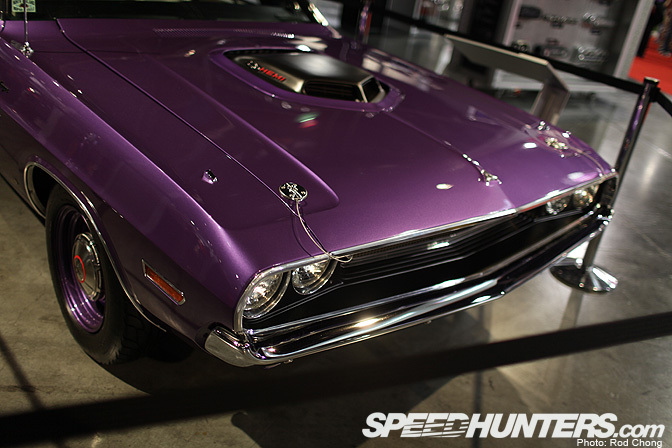 There's nothing like a good old-fashioned muscle car is there? They just don't make them like they used to!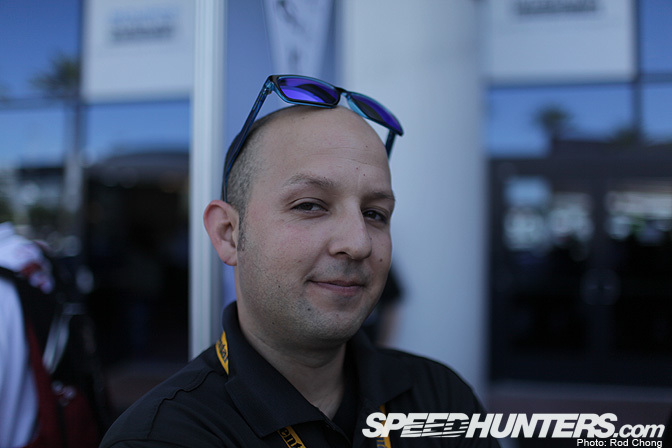 Our next meeting was to introduce Marcus to Chris Rado and the marketing manager of World Racing, Mike Alejos.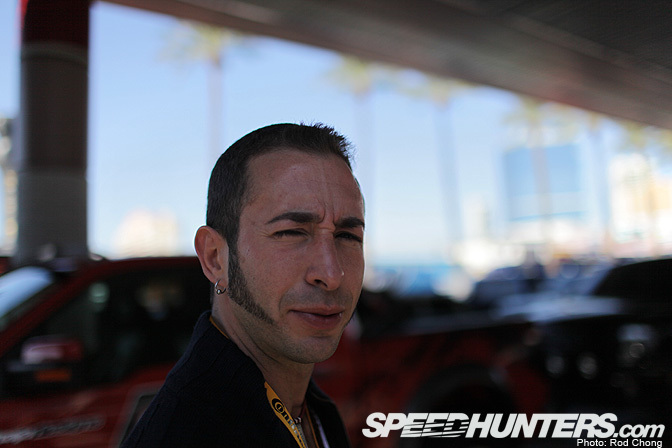 Chris Rado = Nutter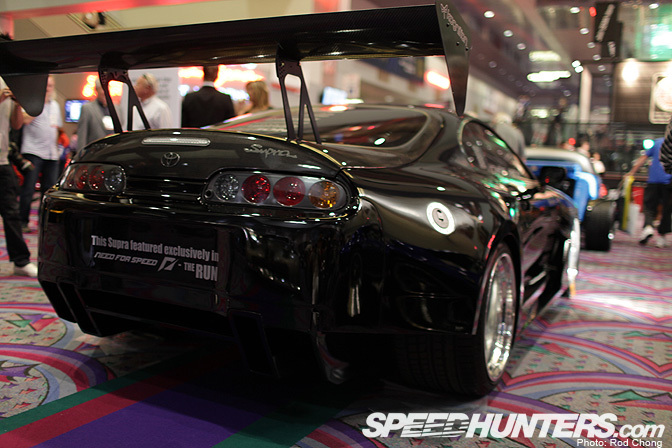 Chris Rado 2500 bhp Supra = Nutty.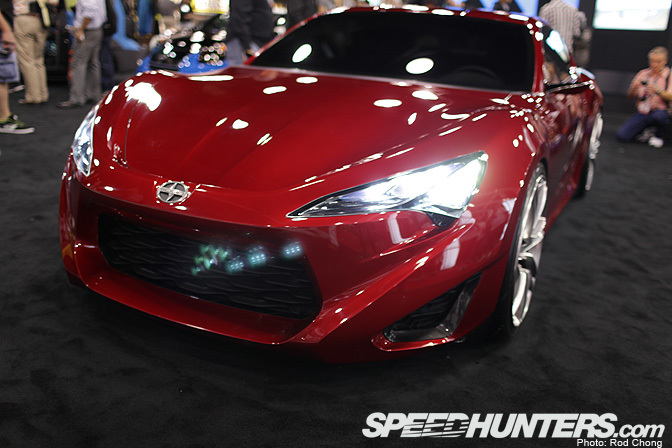 The FT86. I think I might buy one of these next year. The Scion concept looks absolutely stunning in the flesh. The thing I like about it the most? It's a small car!… In today's world of fat, expanding waistline, overbloated cars, it's a refreshing design. I MUST GET ONE!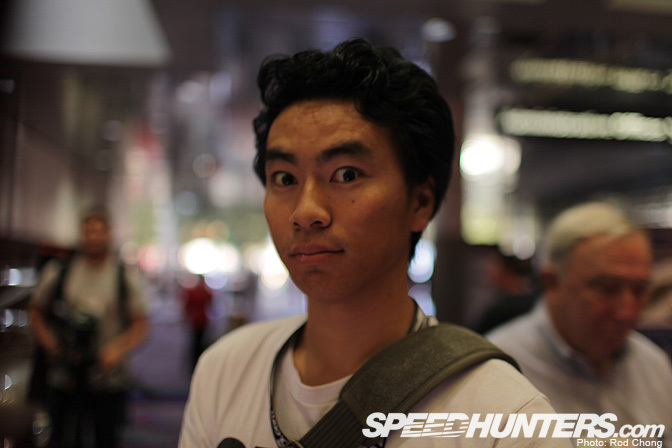 I remember it was a year ago that I first chatted with Larry Chen about joining the Speedhunters team. He's contributed some fantastic photos since then wouldn't you agree?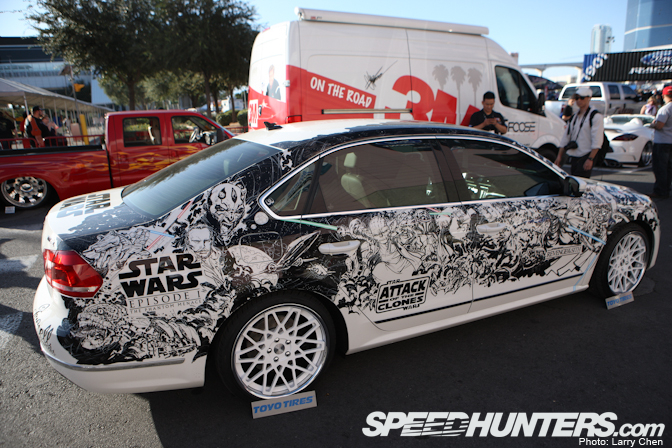 Here's another shot of that Star Wars themed VW Passat.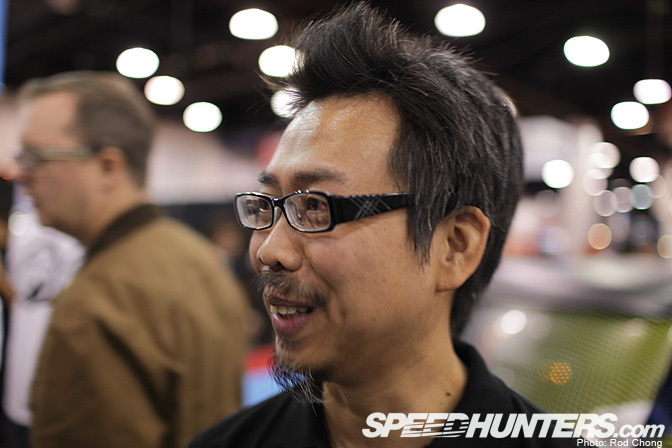 I finally met the automotive designer, Jon Sibal in person this year. He's quite the interesting guy, and like Nakai-san has a lot of "happeningness" swirling around him at the moment.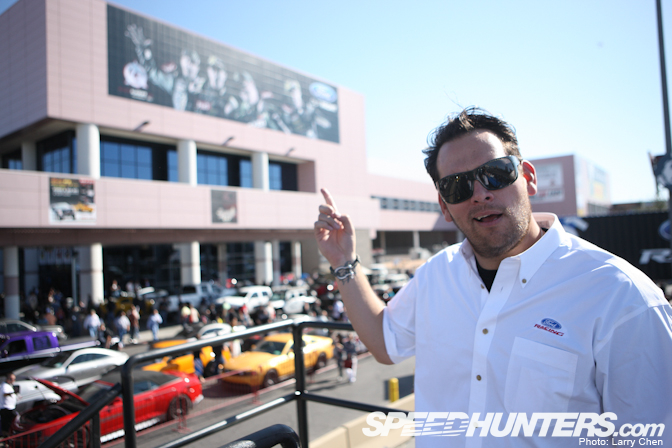 Here Jarod DeAnda, the voice of Formula D points to the huge poster of Ford's racing drivers which dominated the facade of the South Hall. Everyday we could look up and get our dose of giant Tanner Foust, Vaughn Gittin JR and Ken Block faces!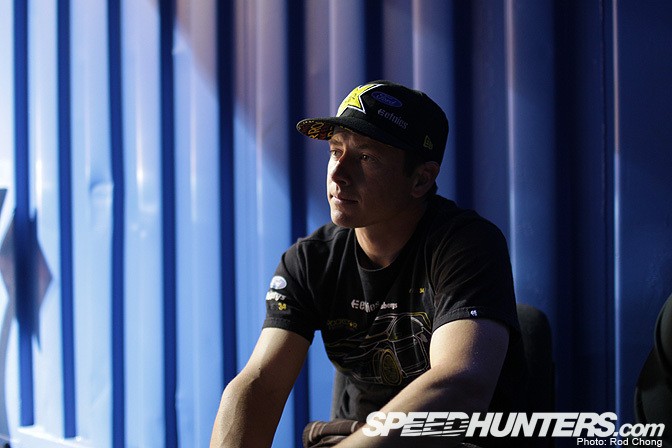 I had a chance to catch up with Tanner Foust for a few minutes to see how his post-drifting career is going. As always he's great company to sit and chat with.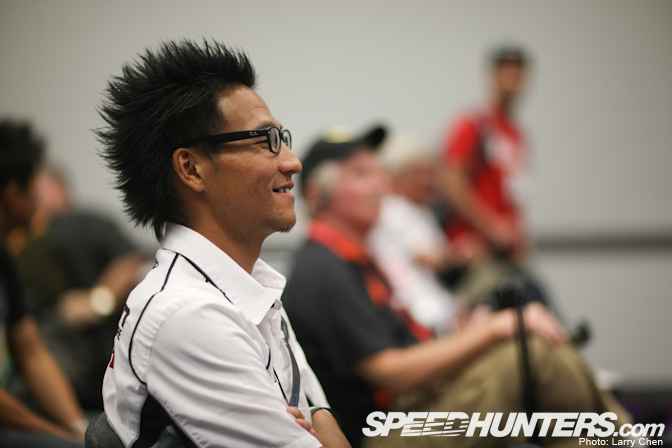 The Formula D press conference was a nice moment to quickly see all my old pals from previous years, including the newly crowned champion, Daijiro Yoshihara.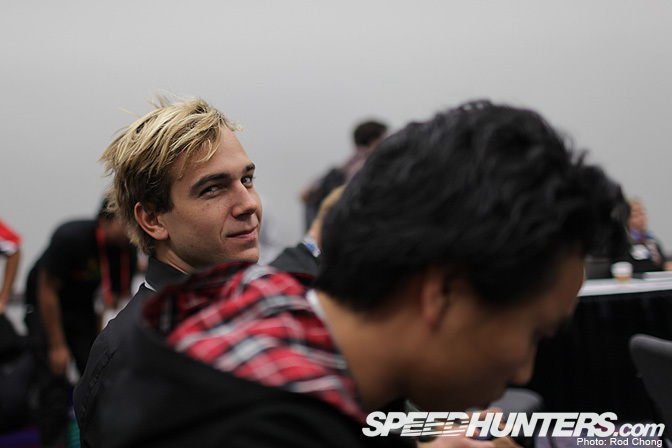 Hey Matt!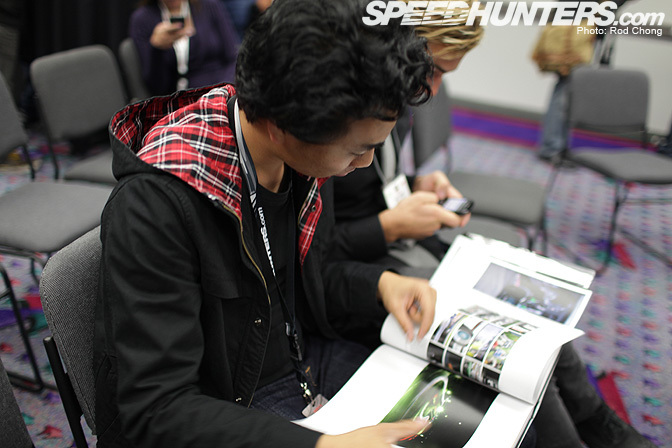 I brought one of our prototype Speedhunters Coffee-table photo books to SEMA to gauge interest… it certainly caught Larry Chen's attention!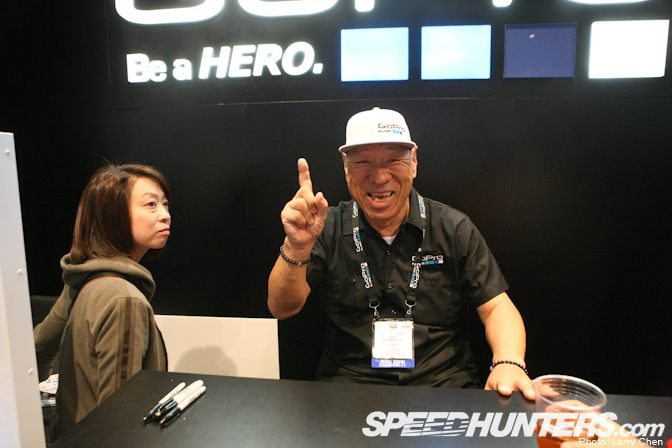 The king of the mountain: Monster Taijima.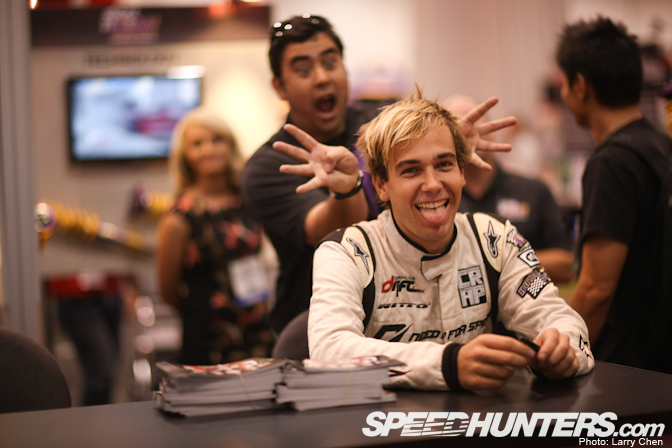 I bet that Matt Powers felt a little silly walking around SEMA in his driving suit. I wonder if he wore it from the hotel to the convention center!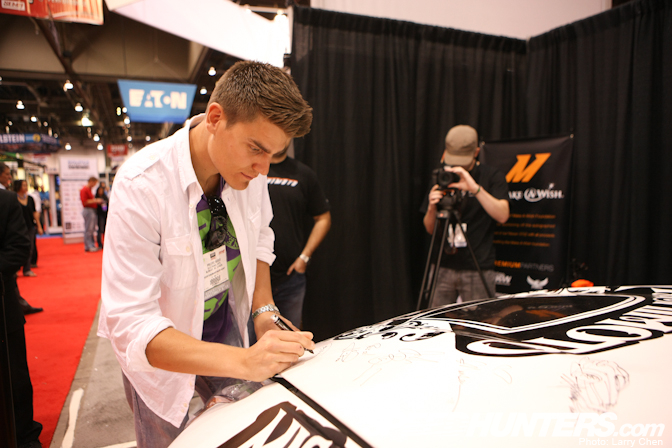 Fredric Aasbo was another guy in the family who I barely saw at all at SEMA I'm sorry to say.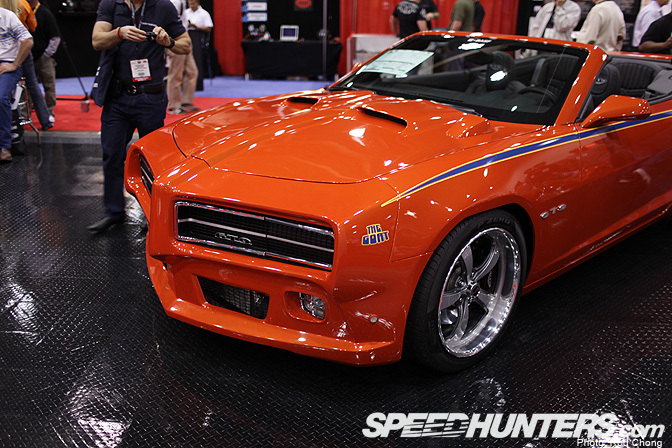 We've all seen various new-gen Camaro to Firebird conversions, but now it seems like a Camaro to GTO reface has also been done too. What do you think?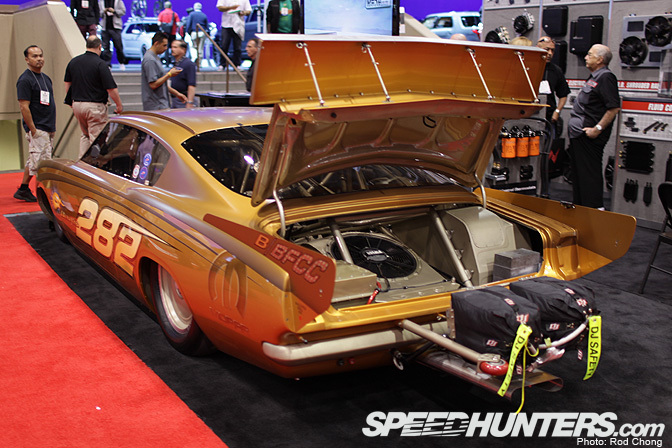 Ahh the Blowfish. The world's only 300 mph Barracuda. The workmanship on this car has to be seen to be believed.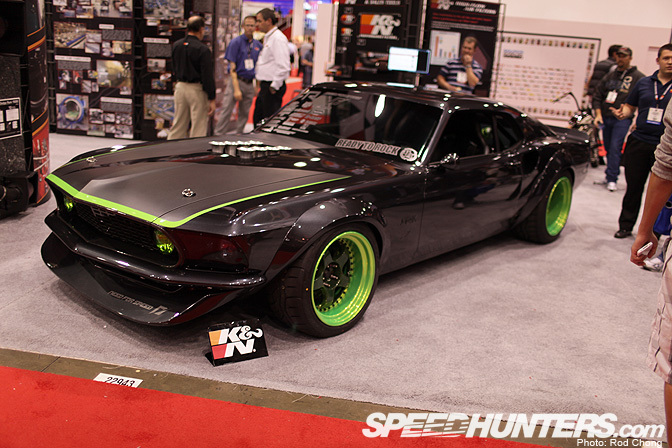 The now fully operational RTR-X was on display this year in the K&N booth. And like last year, it was attracting a lot of onlookers.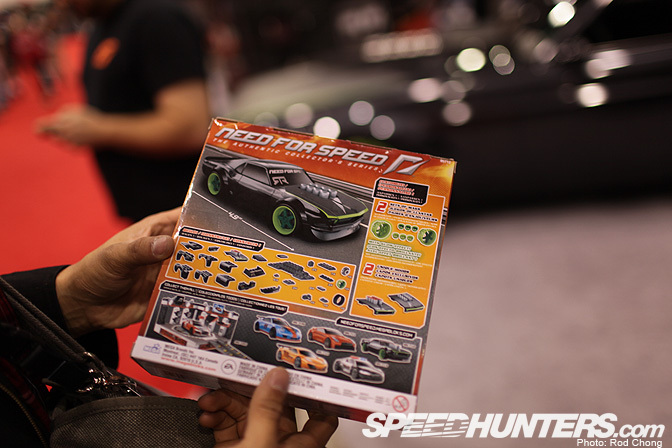 We were all very excited to see the new Megabloks RTR-X kit.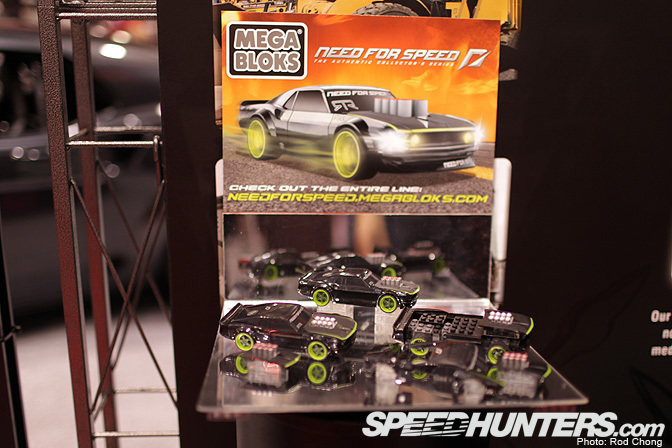 It's personally very satisfying to see what a great job that Megabloks has done with the model.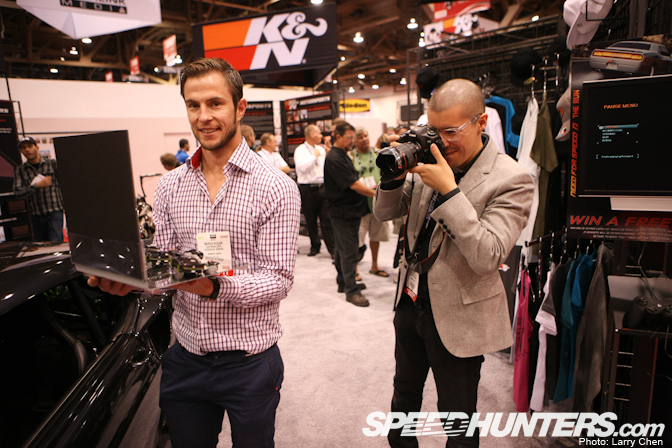 I had Marcus do a bit of promo-modelling for me too LOL.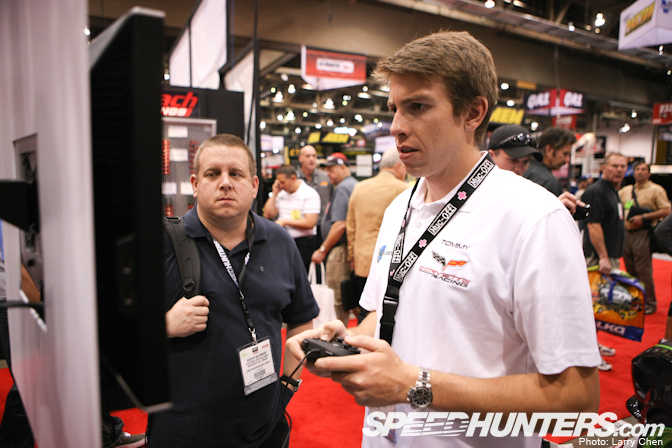 K&N was also showing the new Need for Speed The Run game, the latest offering from the EA Blackbox studio in Vancouver. Here Tommy Milner gives the game a whirl.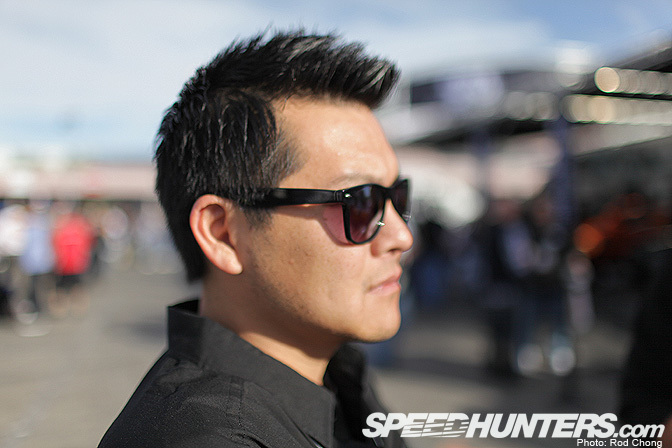 The President of Formula D: Jim Liaw.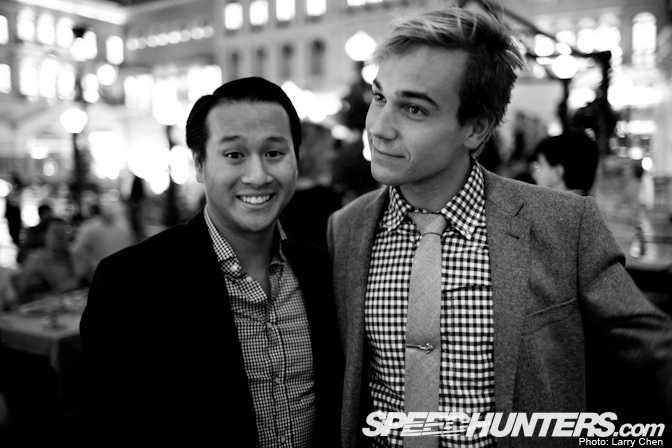 Speedhunters' photographer Linhbergh Nguyen and Team NFS drifter, Matt Powers get ready for our team dinner.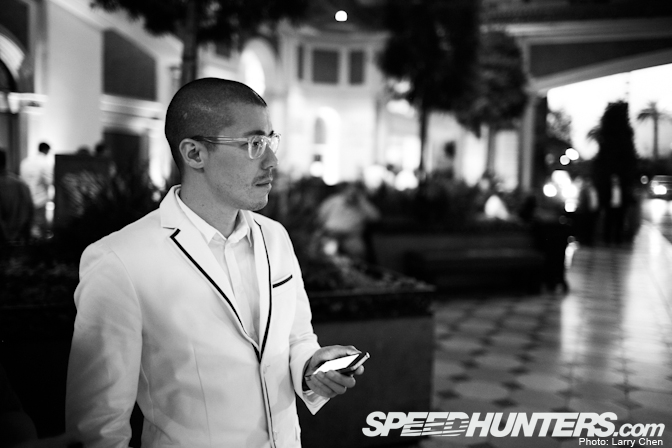 Well that's it for our SEMA coverage this year. I hope you enjoyed this quick look behind the scenes with the Speedhunters-Team NFS crew at SEMA 2011.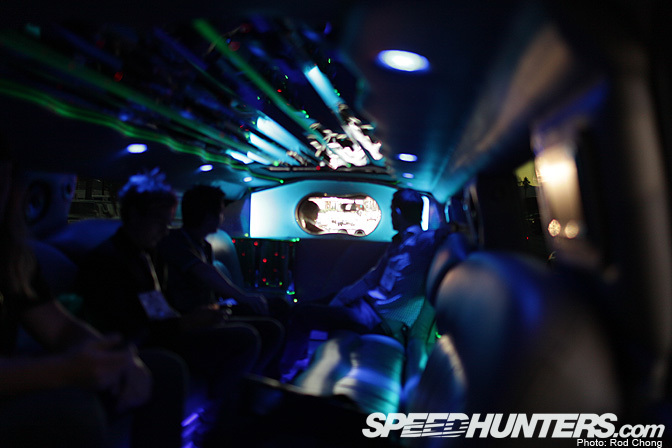 I leave you with this shot from the inside of a strange Hummer limo. After an hour of waiting in-line for a taxi at the end of a day of back-to-back meetings, a group of us got so irritated, we ended up coughing up the limo bill just to get out back to our hotel before dinner time… I'm not sure the 30 minute ride of pounding calypso music was worth it though… such is the strangeness of Vegas!
Until next time.
:Rod Chong
More SEMA 2011 Coverage on Speedhunters