In life, theres are always firsts for everything. This past week has been a whole check list of firsts and one of those is my first time in the country of China. I'm in the country following the drifting exploits of Team Need for Speed drivers, Matt Powers and Vaughn Gittin Jr., at the Yellow Dragon Sports Center in the city of Hang Zhou. The stadium usualy caters to football games (aka soccer) and also serves as a training facility for Olympians. But this week, the running track has been paved over and is now host to another round of the World Drift Series. 
The grid is filled with a good number of local drivers and a few international ones as well. One driver from hails from Japan, another from New Zealand, and there are five North American Formula D drivers: Vaughn Gittin Jr., Matt Powers, Ross Petty, Kyle Mohan and Josh Guild.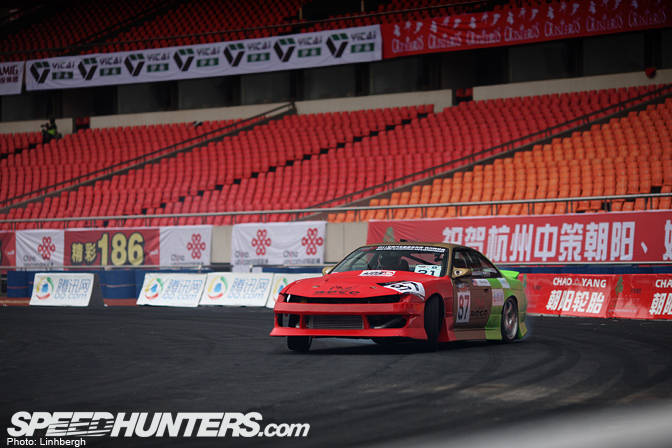 Last night was top 32 qualifying. And Ross Petty, with his impromptu-Boso'd out S14, surprised his fellow FD drivers and qualified first. It goes to show that sometimes all it takes is a good quality S-Chassis, a healthy SR20 and a lot of determination.
Competition day starts in a few hours and if qualifying was anything to go off of, it's definitely going to be something to look foward to.
-Linhbergh
More World Drift Series stories on Speedhunters