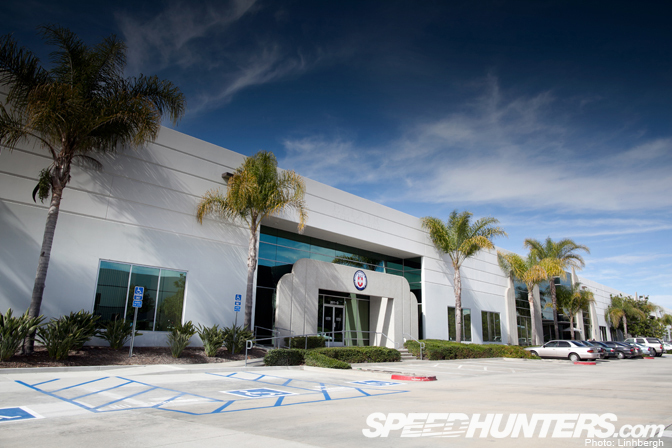 Chances are, if you've been to a car show, Formula Drift event, Road Race, or supercar meet in the past three decades, you've seen a set of HRE wheels. As one of the last remaining wheel companies designing, manufacturing and finishing wheels completely in-house, I thought it would be interesting to take you for a closer look at HRE and how we create what many consider the finest wheels in the world. HRE Wheels' 60,000 square foot facility is located in North San Diego County in Vista, CA. Every HRE forged wheel is manufactured in this unassuming building.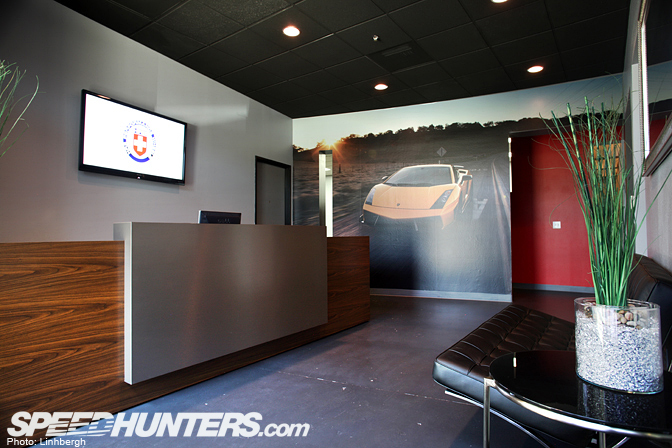 The entrance to the facility features some of our favorite photography of customer cars, HRE sponsored race cars and up close shots of our products to show off the detail that goes into every HRE wheel.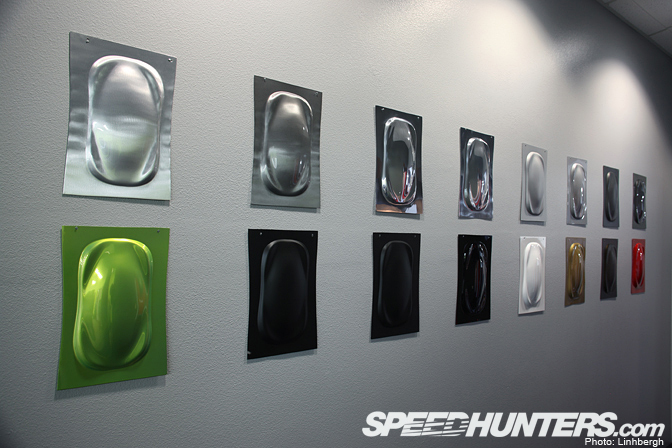 Along with offering all of our wheels in just about any configuration, we can finish your wheels in a variety of custom finishes. You may notice that green swatch on the left from a certain Falken Tire/Monster Energy drift machine.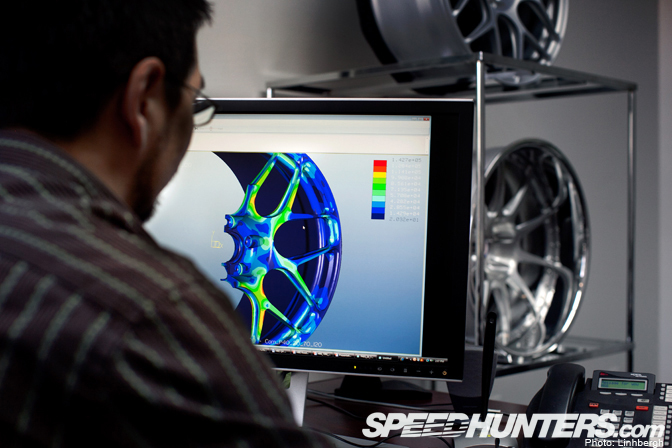 The first step for either Monoblok or 3-piece wheels starts with our engineers and designers coming up with the basic wheel design, then using a computer-modeling program called Finite Element Analysis (FEA) to test loads and strength. Our engineers can actually see how weight, speed and G-forces will affect the wheel before we ever make a prototype. This creates an incredibly strong, light, and refined wheel and is a major reason for HRE's signature styling.  Unlike other companies that design the wheel first then try to make the engineering work, our design is inspired by the engineering. "I-Beam" spokes may also look cool, but HRE uses them for their strength and lightweight characteristics. Once the design has been refined and tested many times, then it is ready to be manufactured.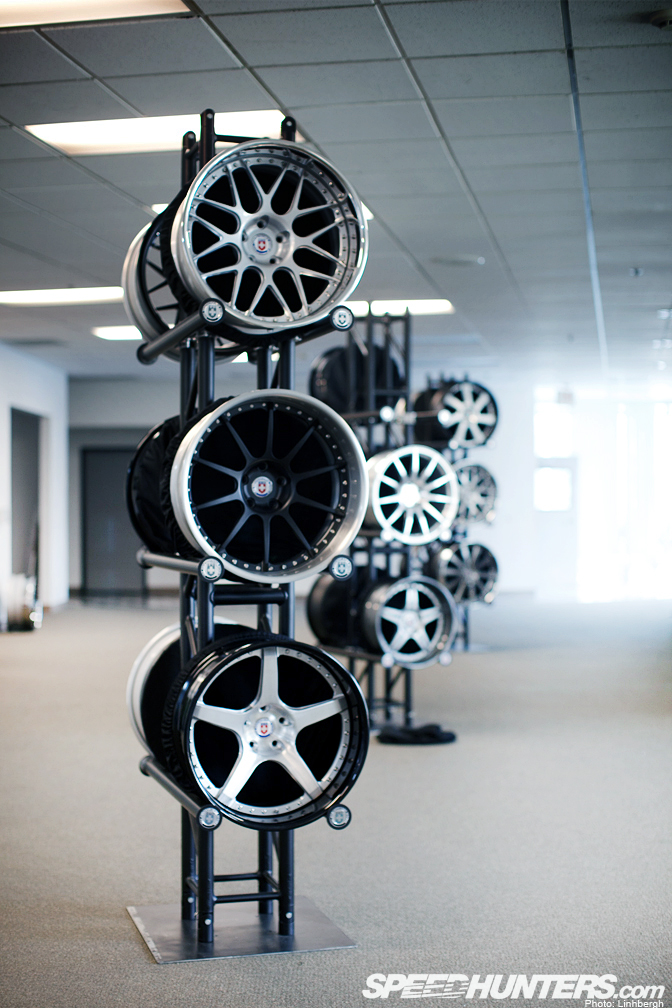 The showroom is packed with different wheel designs, from traditional P40 Monobloks and Competition Series 3-piece wheels to the latest 790RS designs and more. We pride ourselves on offering an almost endless list of custom finishes and bespoke options, from Brushed and Clear coated aluminum to custom colors, multi-color combinations as well as titanium hardware.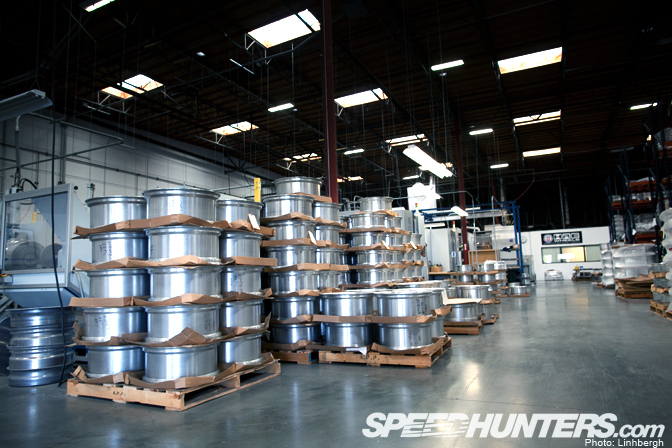 In our manufacturing area we stock millions of dollars worth of blank forgings and rim halves on our shelves. You won't find a single shelf with boxed wheels with a generic offset fitment waiting to be ordered. Every wheel and or set is made as ordered by the end user. 100% custom!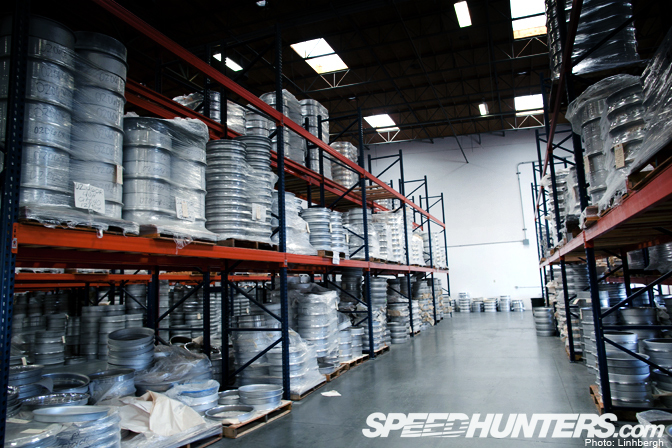 We design and build wheels to German TUV standards, a German government certification only bestowed on manufacturers that reach a very high level of quality. The manufacturing facility holds a TUV certification that requires us to build to these very specific standards. We are regularly audited by German TUV officials to ensure compliance and HRE must maintain this certification if we are to sell our products into Germany, Switzerland or Austria.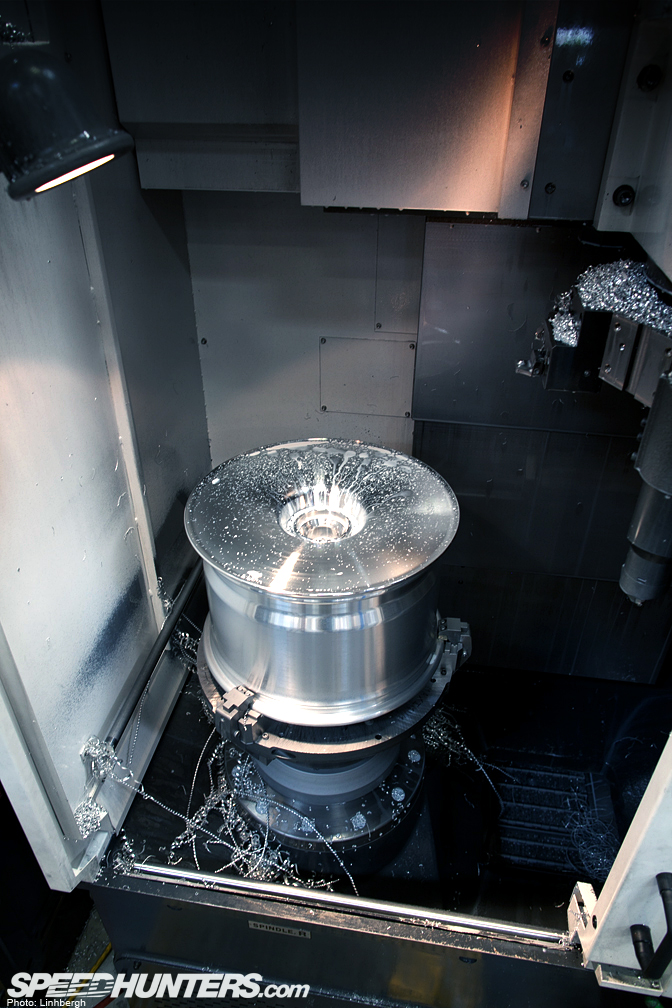 HRE's 1-piece forged Monoblok (we were the first to bring this style of wheel to the U.S. market in 1997) and the P40 more specifically, is our most popular model. These wheels are machined out of a single piece of forged/flow-formed aluminum: a log of aluminum is forged with heat and pressure into a round wheel shape. Then the entire part is loaded into a flow-forming machine to spin the barrel similar in fashion to the 3-piece rims halves. The difference being that the flow-forming machine is spinning the barrel from the solid forging much like the potter's wheel. After the raw spun-forging is created it is loaded into our CNC lathes and then CNC mills just as the 3-piece forgings but with bigger more advanced machines.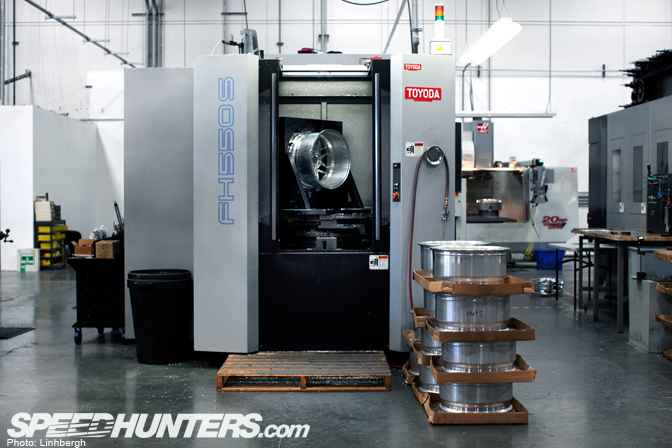 Different bits and tools machine away aluminum, much like a sculptor working on a block of marble, until the final shape is revealed. Throughout the machining process, over 80% of the material is removed, and the metal shavings are shipped to a recycler. Our recycler loves us!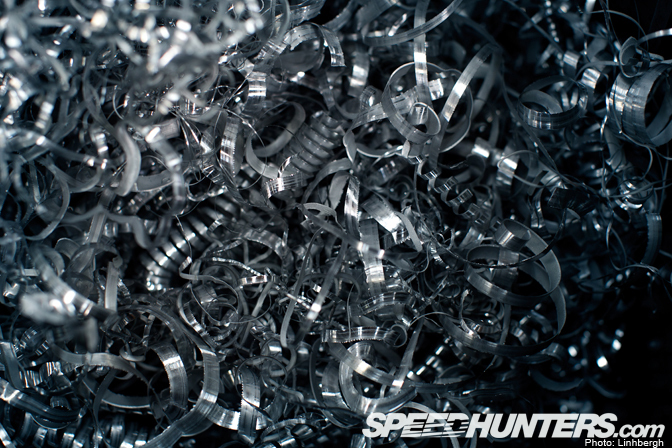 This is what the excess material coming off the forgings looks like in some cases. There is something about metal that is attractive no matter what form it's in.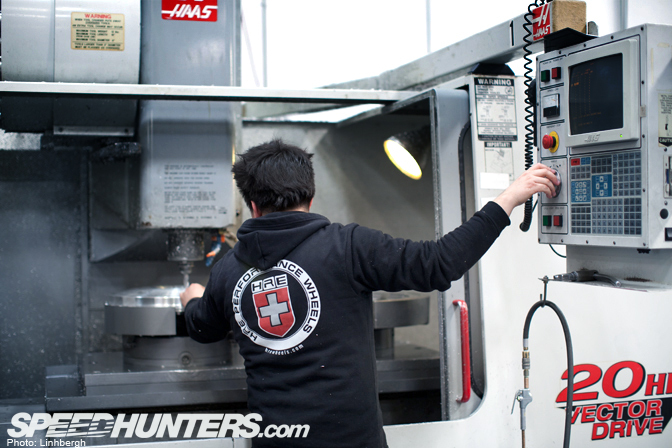 Just like the Monoblok wheel, the forged 1-piece center spoke section of the 3-piece wheel starts as an aerospace grade 6061-T6 aluminum billet (basically a log of aluminum about 8″ in diameter), which is forged with nearly a million pounds of force and intense heat into a forged disc. This refines the crystalline structure of the metal and makes it even stronger. We then take that forged disc and put it in a computer numerically controlled (CNC) lathe to create the side profile of the spokes. This defines the profile, or shape of the particular wheel style.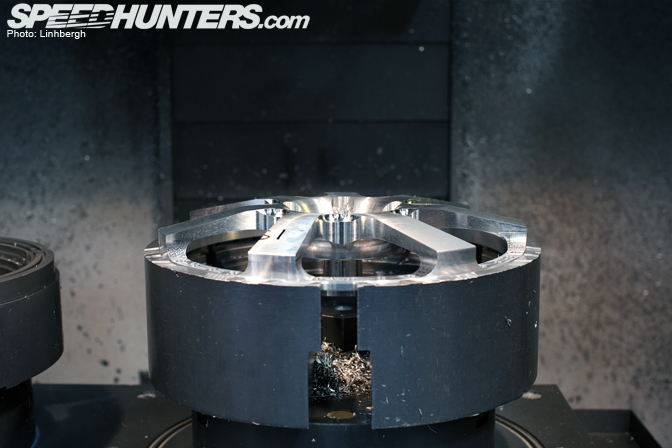 Then we take that lathed forging and put it into a CNC mill that precisely machines out the designs of the spokes giving the wheel its particular style.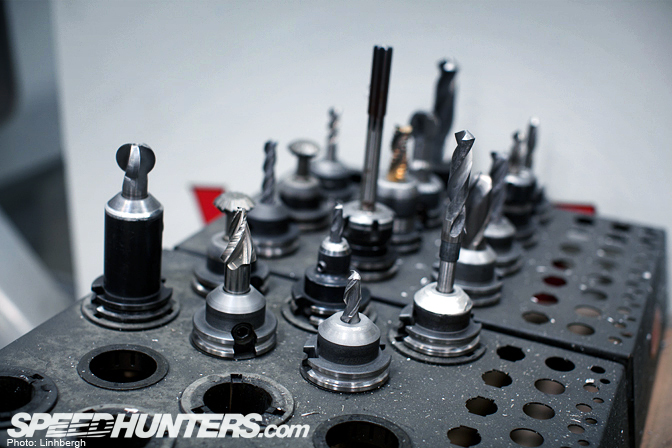 Da Vinci purportedly said that every sculpture already exists, hiding inside a block of marble. Ours start with alloy, not marble, and the tools are a little more advanced than a hammer and chisel, but the philosophy is the same.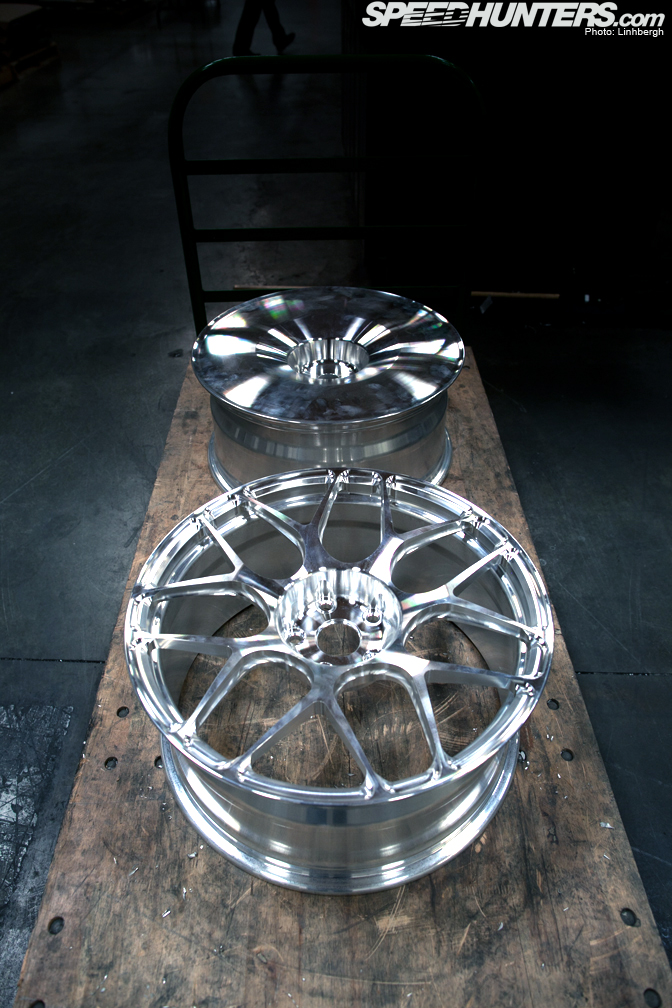 The vast majority of aluminum ends up going to the recycler after the machining process, but the result is a wheel that is not only light, it's also incredibly strong. This reduces unsprung weight and improves rotational inertia – which can shorten stopping distances and actually help acceleration and handling.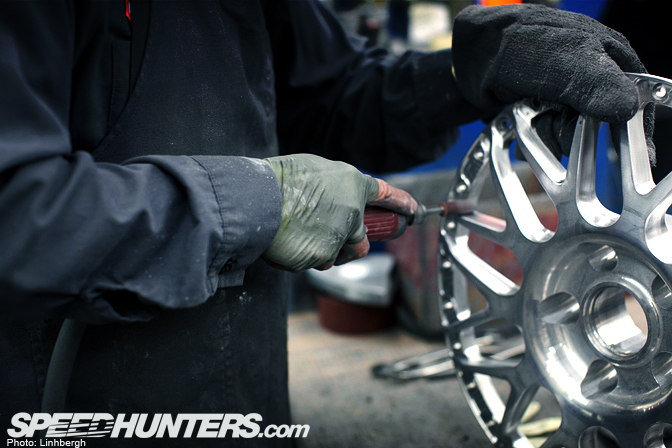 Once fully machined, whether one piece or three piece, the wheels are inspected, deburred, and the finishing process can involve anything from hand-polishing the wheel to powder coating it different colors, or a combination of all the above.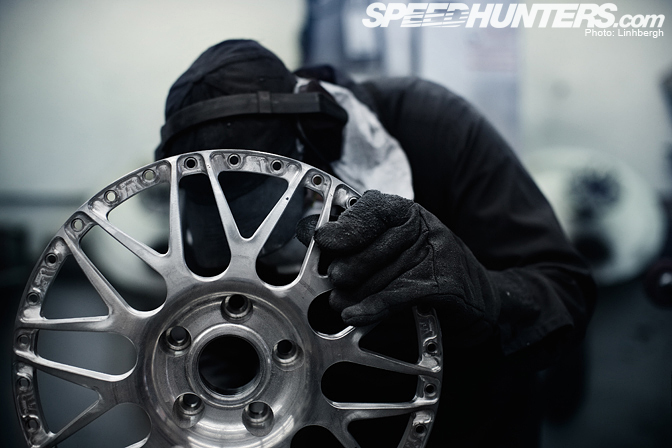 This is all done by hand at HRE and can take as long as 8 hours per wheel, depending on the level of customization.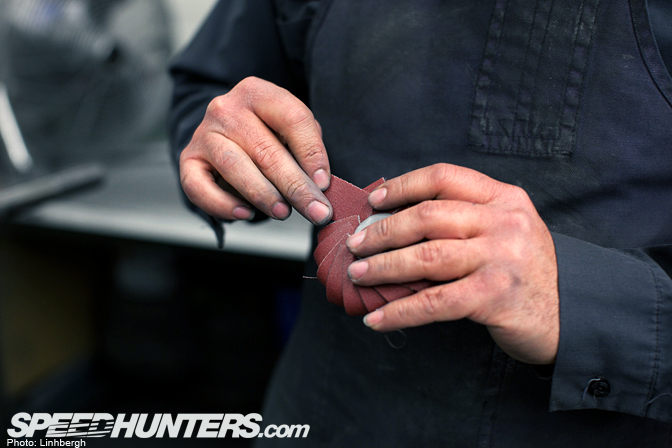 There are a lot of details that oftentimes go unnoticed by the end user but show in the final product. For instance, our finishing staff makes their own sanding discs by hand by cutting strips of sanding cloth and affixing them to the bits in their own very particular fashion. This particular artisan has been with the finishing crew at HRE Wheels for over 13 years, many times longer than most US wheel companies have been in business.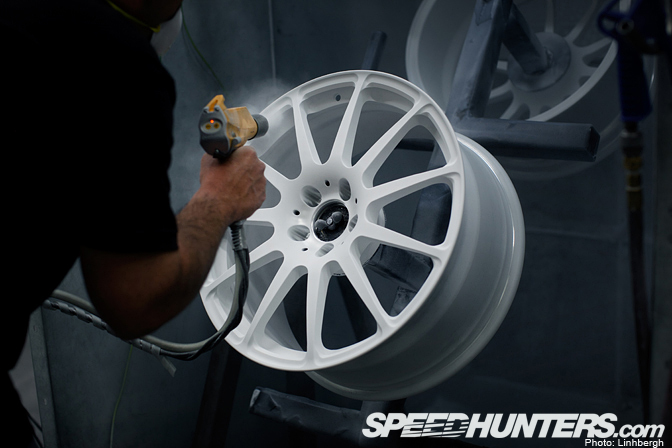 After a 12 step cleaning process including an ultrasonic bath and dried via filtered air, it's off for some color or clear coat. Even our powder coating process is different from most. HRE does all its powdercoating in-house, for two reasons. First – this allows us to strictly control the quality of the finish. Second, and most importantly, forged aluminum can lose some of its strength if the heat treatment is altered by a powder coating oven that's too hot. So, we strictly monitor the temperature of the ovens to ensure maximum strength and a perfect finish.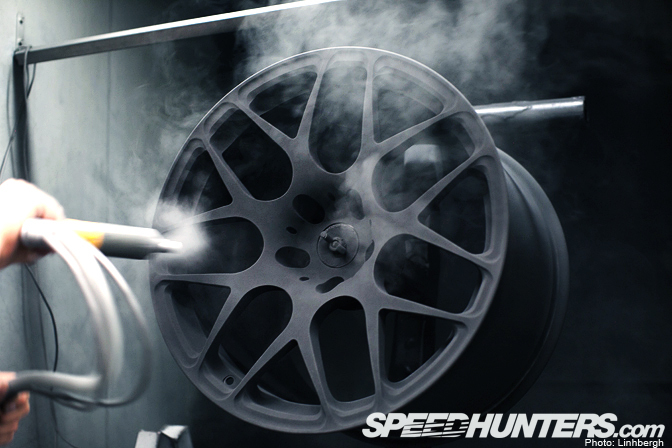 Here is the ever-popular HRE P40 being powder coated black. After the color is applied it goes into the oven to heat the product and cure it to the part. A lot of people don't know that powder coat is actually plastic particulate and is more robust than paint.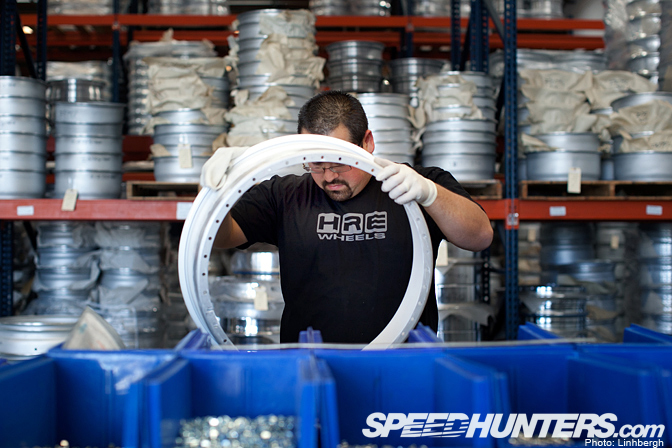 For 3-piece wheels, the parts are collated and gathered on shelves near the assembly area. All the parts are thoroughly inspected, wiped down and mated with the remainder of the components and off to have the seal applied to prevent air leaks after assembly.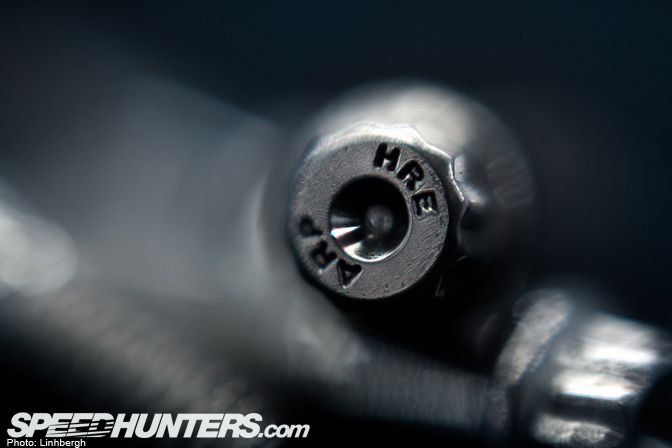 Each 3-piece wheel is assembled by hand and is precisely bolted together with either aircraft-grade private labeled stainless steel hardware from ARP or proprietary, German titanium bolts depending on the application.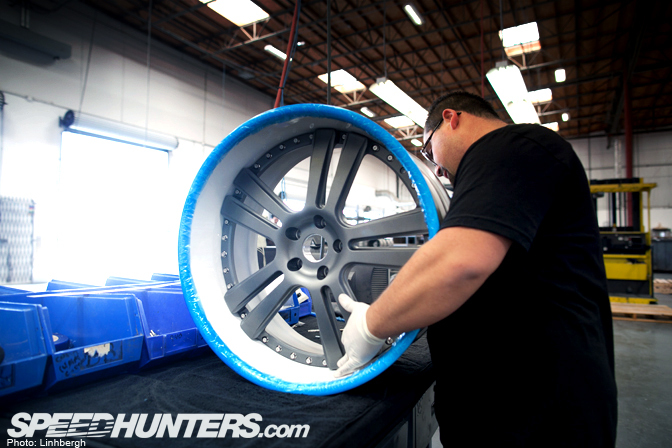 Final assembly is the last step in the wheel building process. All of the fasteners are torqued and the wheel goes through our strict Quality Control (QC) inspection again before it makes it to packaging.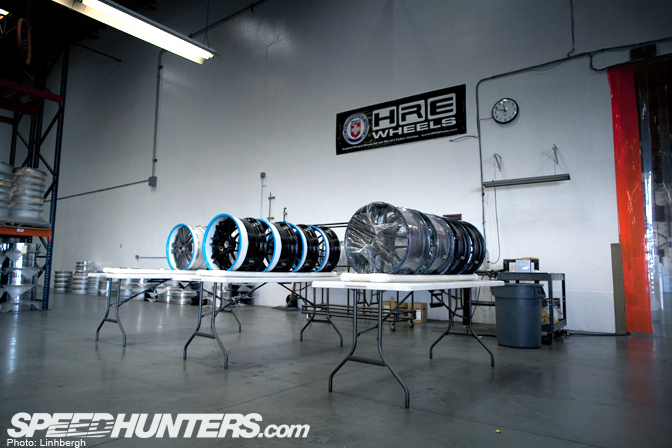 These wheels have passed final QC and been cleared for delivery to their new owners and will be boxed and sent out rather quickly.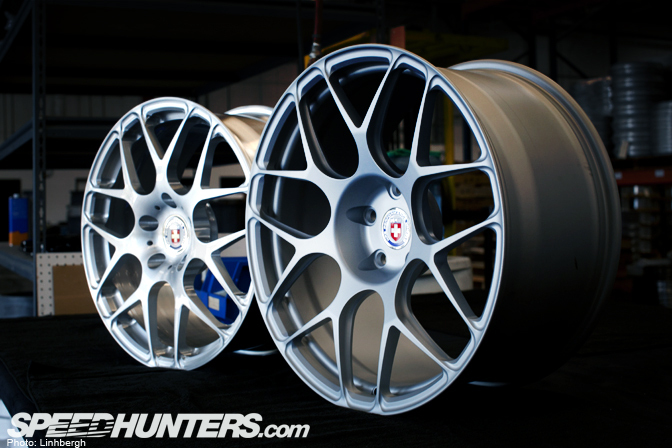 The final product is what makes us get up and come to work every day. It's the pride we have in our product and the joy we feel when we hear from our latest customer how much they love their new wheels. We are all big Speedhunters here at HRE, and it has been a privilege to share our passion with everyone.  If any of you are ever in the San Diego area and are interested in seeing the facility for yourself, make sure to give us a call! We'd love to show you around so you can see for yourself what separates us from the rest.
-Mickey
P.S. "Like" us on Facebook!
Speedhunters HRE Wheels stories