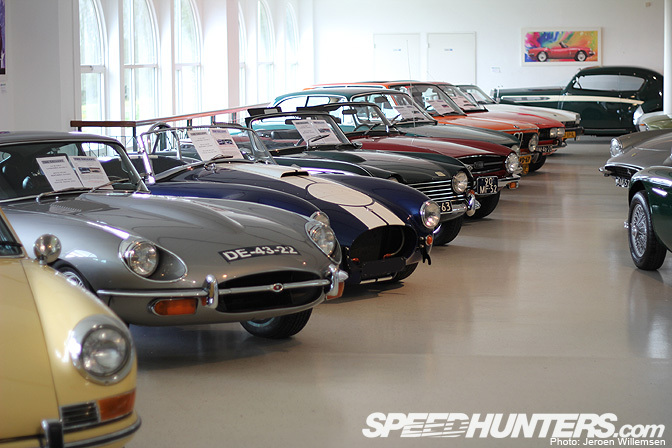 Sometimes the
greatest treasures are just around the corner. This was definitively the case
when I visited 'The Gallery' in my home town of Brummen. It is a classic car
dealer that started in 1977 with only a few cars but has since grown into a
large scale operation. The company is run by Nico Aaldering and his son Nick.
The two live and breathe classic cars and have become famous in the
world of classic car sales.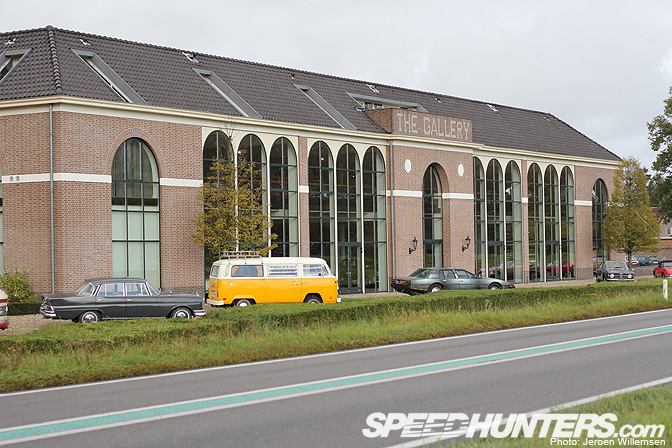 From humble
beginnings Nico has built himself an empire and was able to build this
impressive showroom in practically his backyard. The building lies right next
to a main road next to Brummen and every time I visit my parents or friends
that still live in the small village I'm confronted with this view.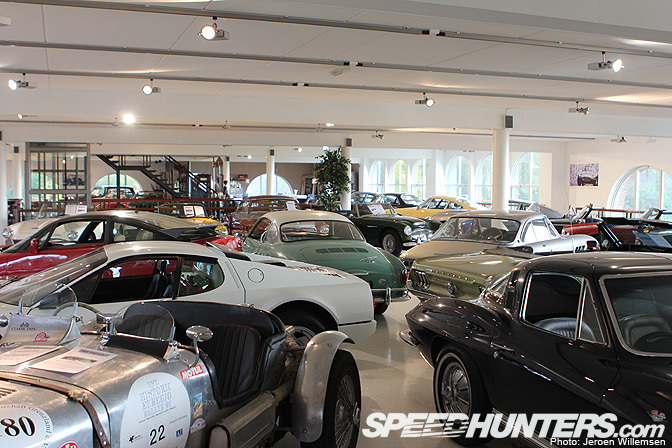 The
building itself is filled to the brim with cars from all ages and brands. All
the cars you see here are for sale but as much as it is a showroom you could
also call it a museum. You can visit 'The Gallery' from Monday till Saturday and
every first Sunday of the month.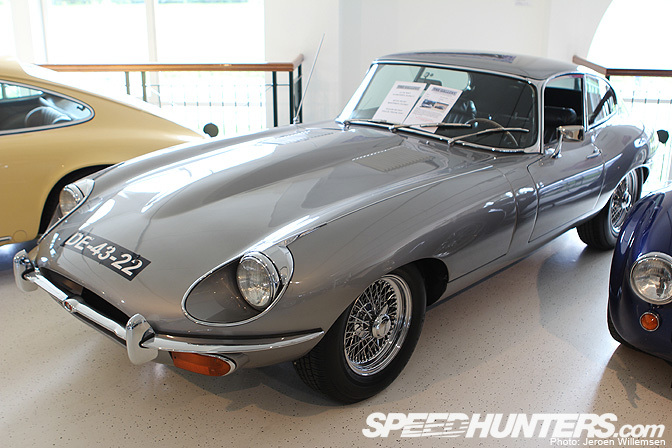 One of my
favorite cars inside was this silver Jaguar E Type. I have always had a soft
spot for the E Type series 2 especially in silver and as a Coupe. This 1970
model has been fully restored and is powered by the 4.2 litre inline-six engine.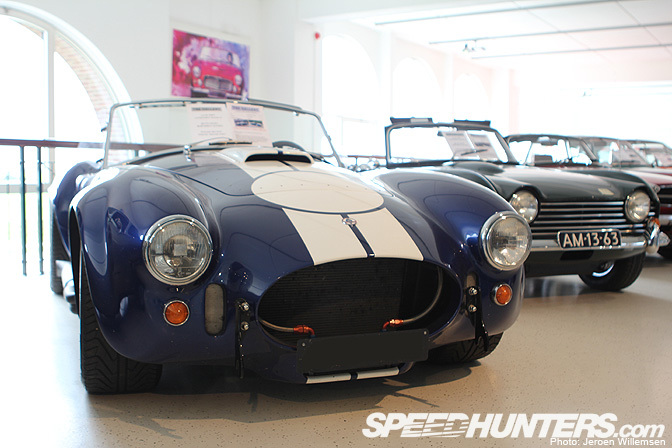 Right next
to it was this AC Cobra Superformance. This is just a sign of the sheer
diversity of cars present. This is actually a replica built by Superformance
using new parts and a growling V8.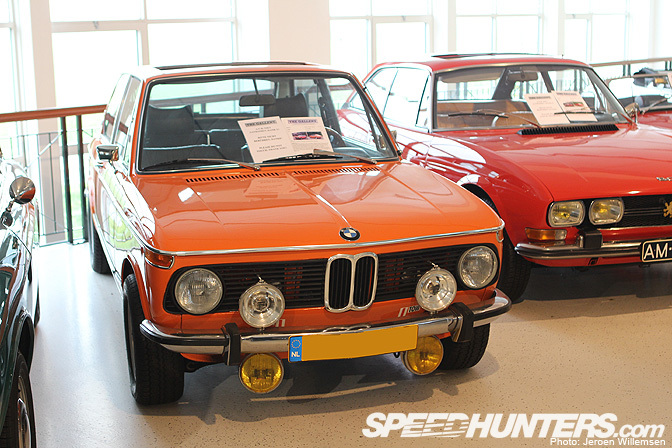 A bit
further down the row of cars was this orange BMW 2000 Tii Touring. It's a car
that was overshadowed by its brother, the 2002. This car has also been restored in
perfect condition and would look great during a classic rally.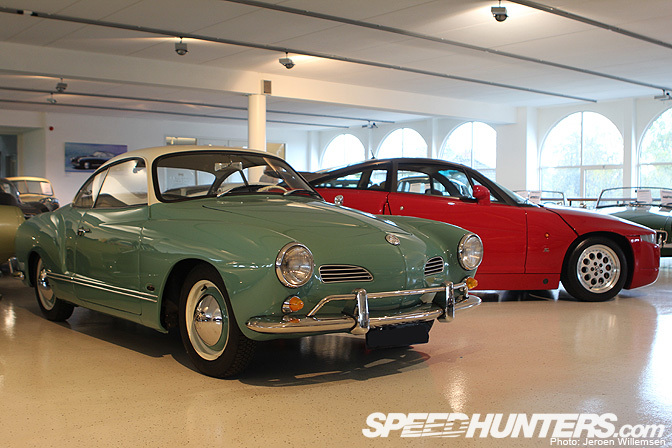 Where else
can you find a Karmann Ghia next to an Alfa Romeo SZ?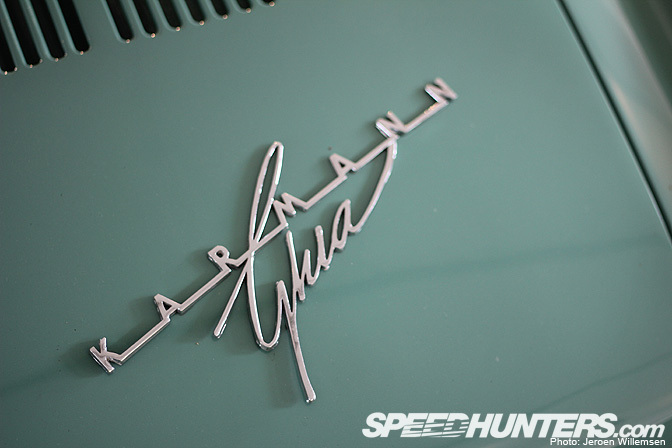 I almost
forgot how a pristine Karmann looked like after seeing so many rusted examples at
the various VW meetings in Holland.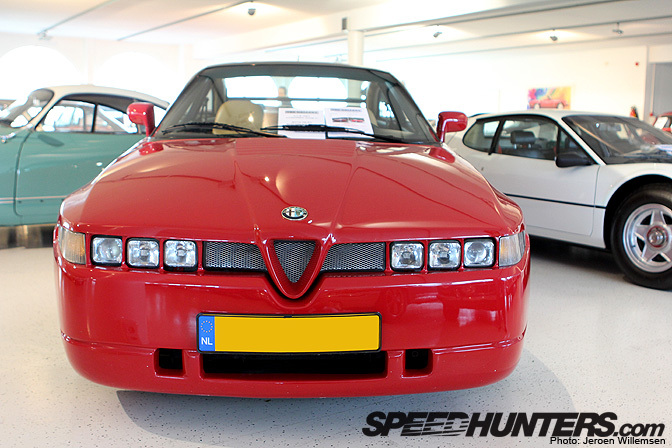 The SZ is a
car I can't get used to. It just looks disproportioned to me.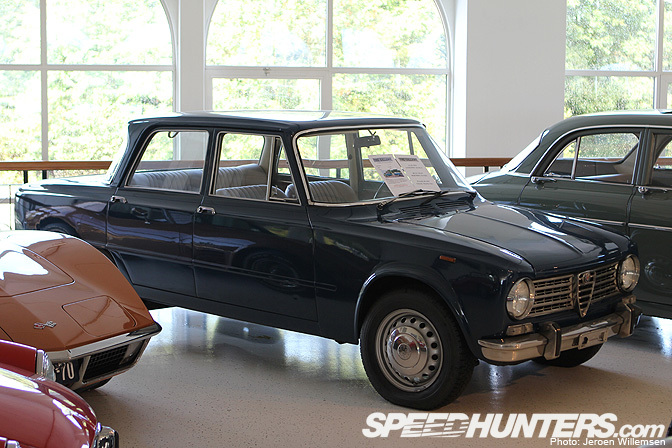 It's a
completely different story with this Giulia 1300. I absolutely loved this one.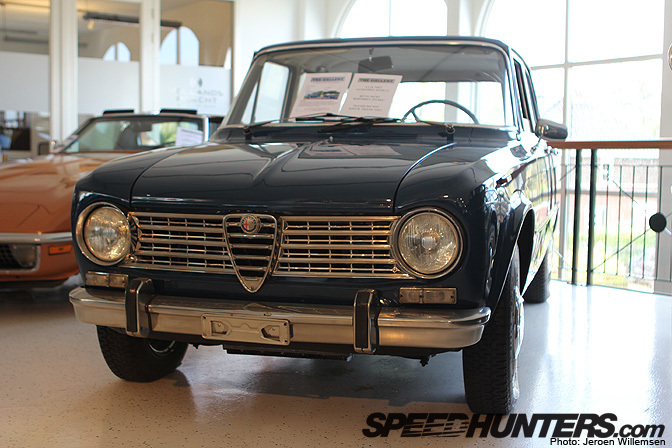 This is the
1966 Ti version which is one of the most sought after examples.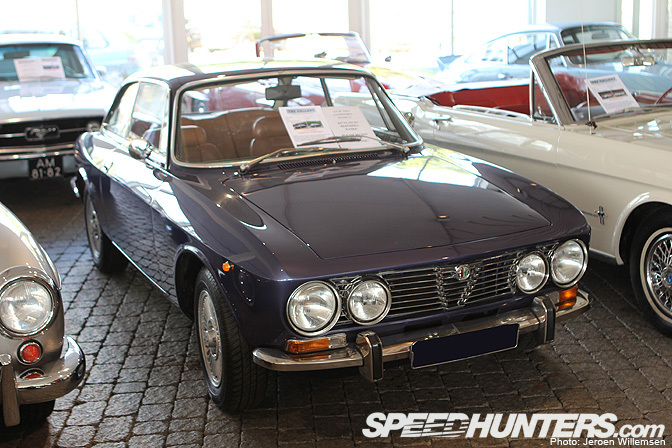 Another
cool Alfa Romeo was this 1974 GTV 2000 Bertone Coupe. These cars are becoming rare
so seeing this perfectly restored version brought a smile to my face.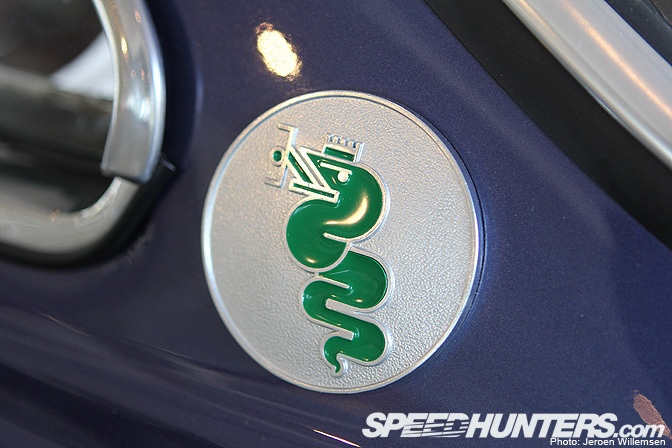 On the side
pillar I found this more modern take on the 'man eating snake' logo that Jonathan
discussed in his 'Art Of The Badge' posts.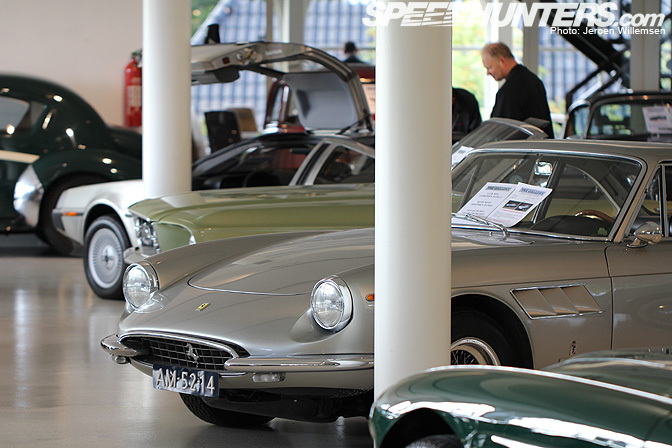 But there
were more Italian cars there including this 1967 Ferrari 330 GTC. It is the successor
to the beautiful 250 GT.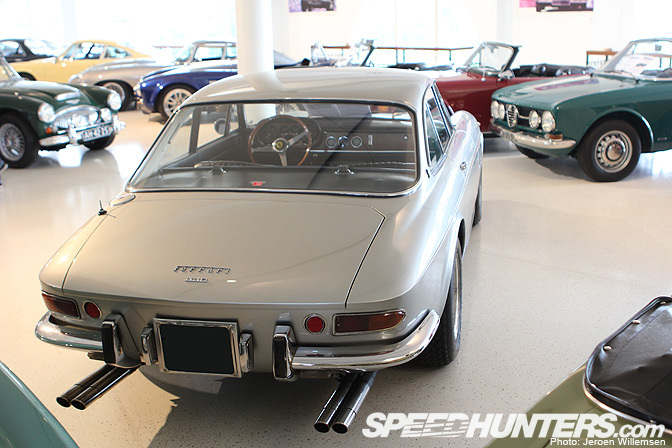 The car
uses a 4 litre V12 engine that makes a very throaty sound through the four long exhaust
pipes. You can check out a small video of the car and hear the sound it makes
in this youtube video.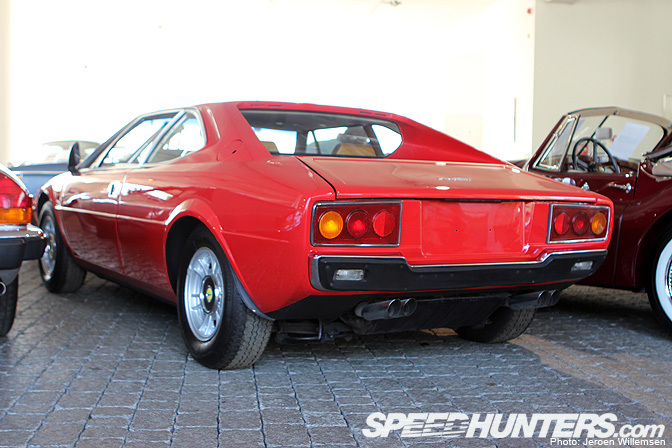 This is the
Ferrari 308 GT4 with a mid-engine V8.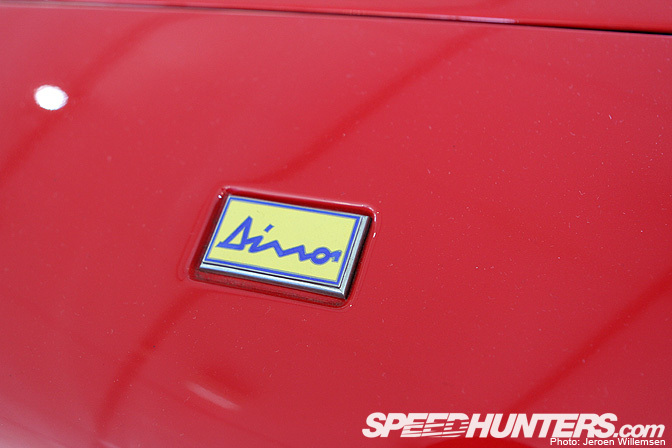 You won't
find any Ferrari badges on this car because it had the V8, the Ferrari badge
was reserved for the V12 cars. Until May 1976 all cars without the V12 were sold
with this Dino badge.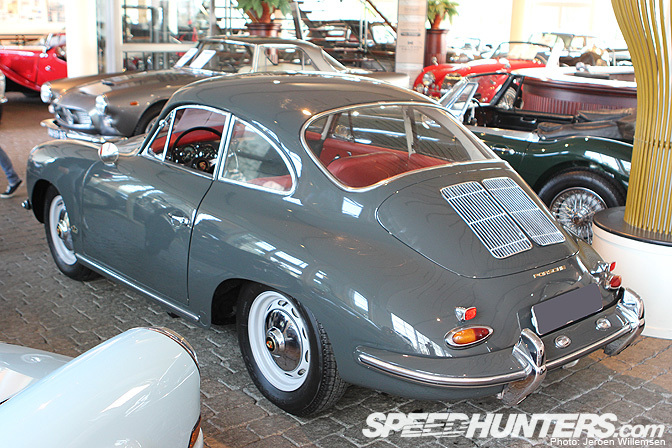 Right at
the entrance of the building was this immaculate Porsche 356 B with a grey exterior
and contrasting red upholstery. The
car comes with a complete history and official Porsche certificate.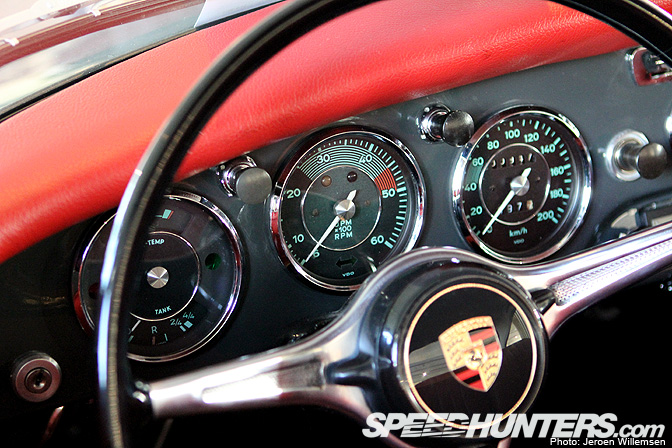 The
interior had been carefully restored to its original beauty with all the right
dials and switches. I would love to have a go and hear the car work its magic
above 4000RPM.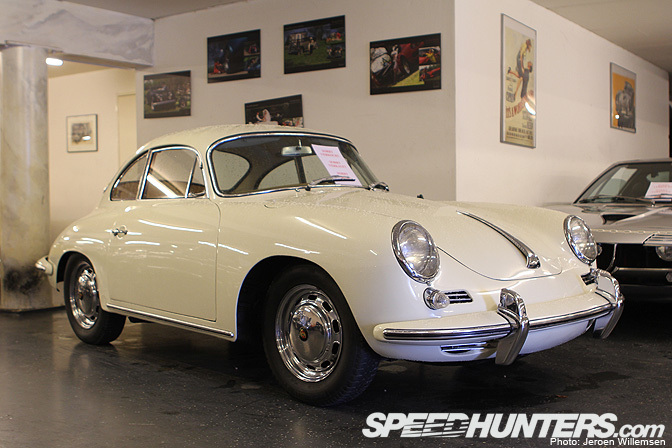 In the
cellar I found this 356 that already found a happy new owner and was awaiting delivery.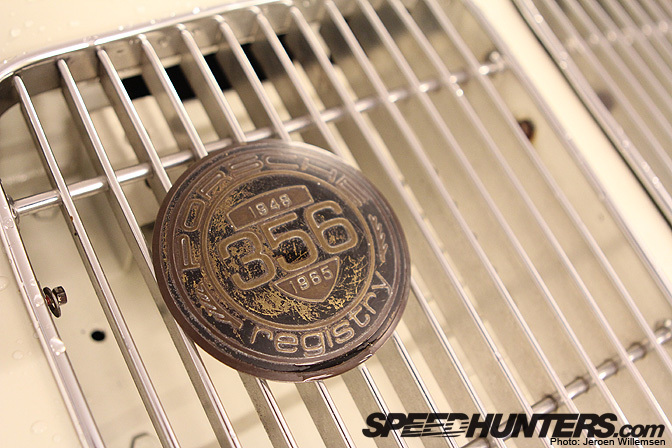 On the rear
engine cover I found this cool plaque from the 356 registry.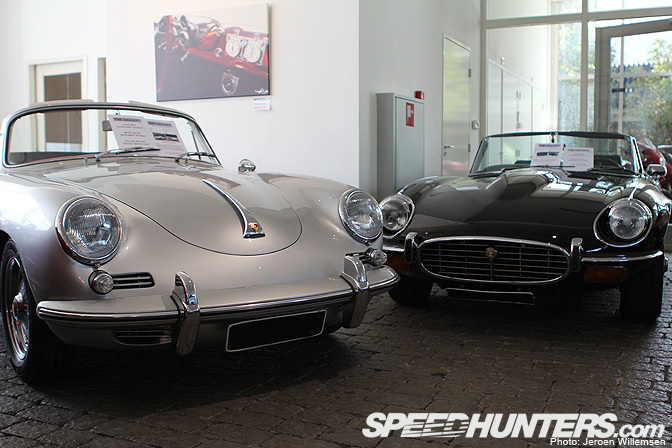 The 356
also came as a convertible but it's not really suited for the Dutch climate but
I wouldn't mind driving this to the Mediterranean. The E Type next to it was
also a convertible but with a bit more grunt under the hood.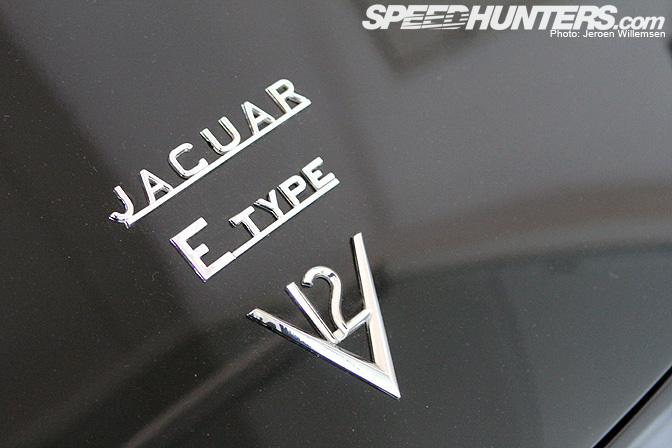 The E Type
had a V12 and the beloved manual gearbox. What a joy it would be to drive this
car with the sun in your face and the soundtrack of the V12 in your ears.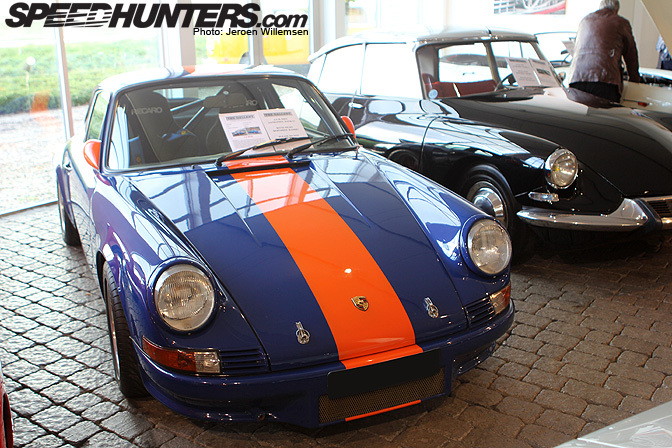 But there
were also some more modern classics like this 911. This one had also been
restored and converted to resemble the RSR 3.0 version. It has all the bits than can be found
on a original RSR including the engine.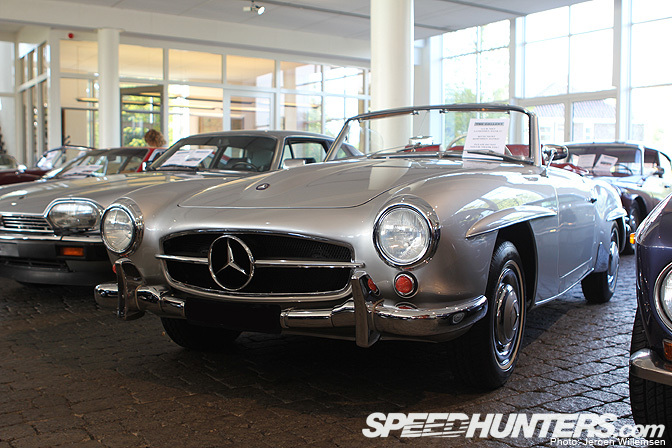 Even
Mercedes Benz was well presented with several 190 SL versions. This SL looked
stunning in silver.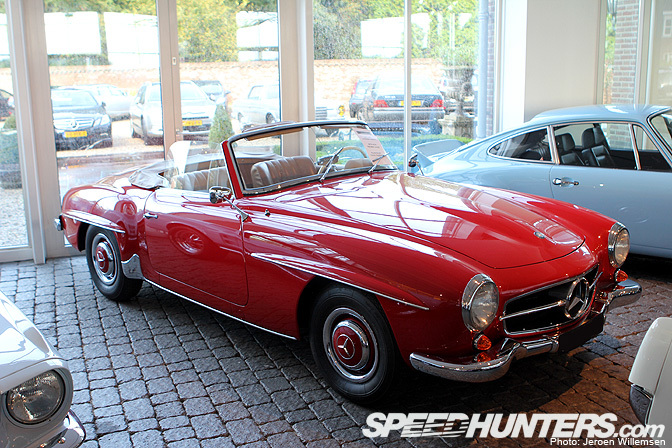 But you can
always go with red if that tickles your fancy just a bit more.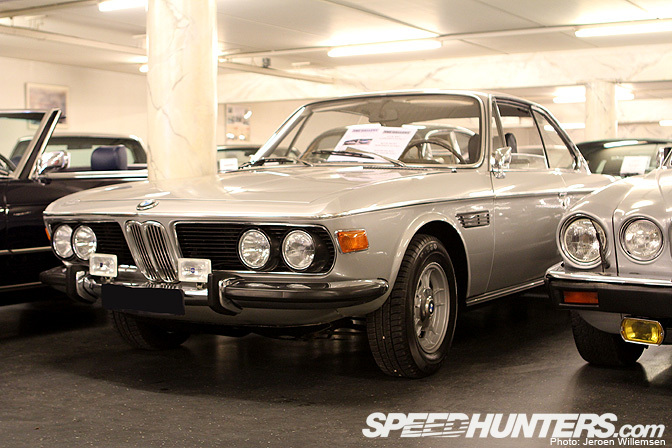 Ever since
I saw Mike Burroughs CS for the first time I have been wanting to see one for
myself. So it was a very cool surprise to see that 'The Gallery' had just
acquired this silver CS 2800 automatic.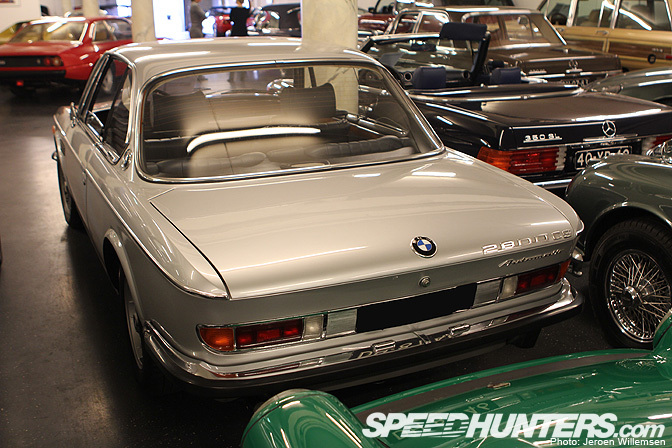 Is it weird
to immediately picture this car rolling on BBS wheels and bags with sparks
flying out from the rear?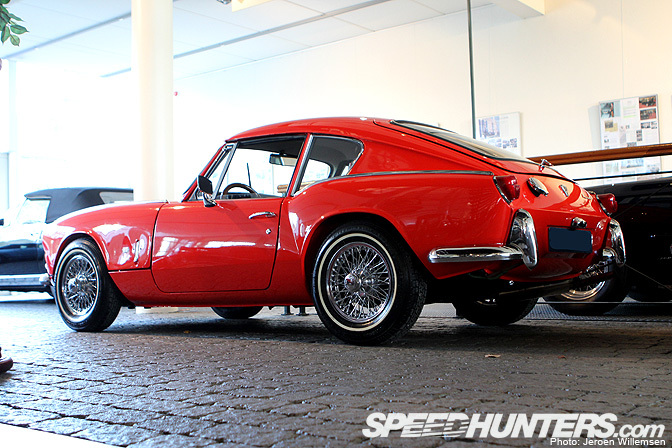 This
English Triumph GT6 MKI Overdrive looked exceptionally well with its bright red
paint job and wire mesh wheels. This car is also known as 'the poor man's E-type'
because of its similar fastback design and opening rear hatch.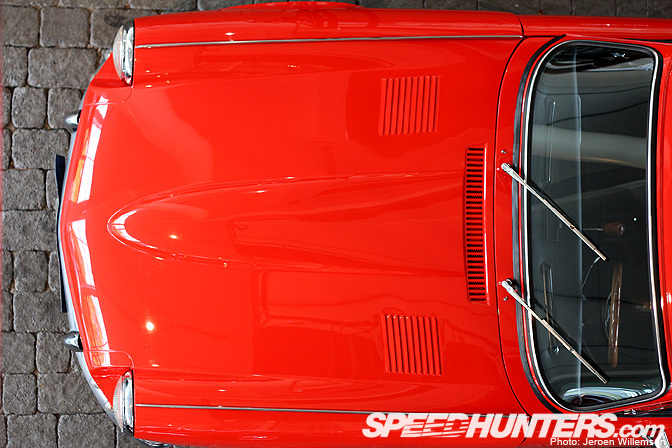 I always love
taking photos from cars from above cause it give a totally different perspective
of the cars lines.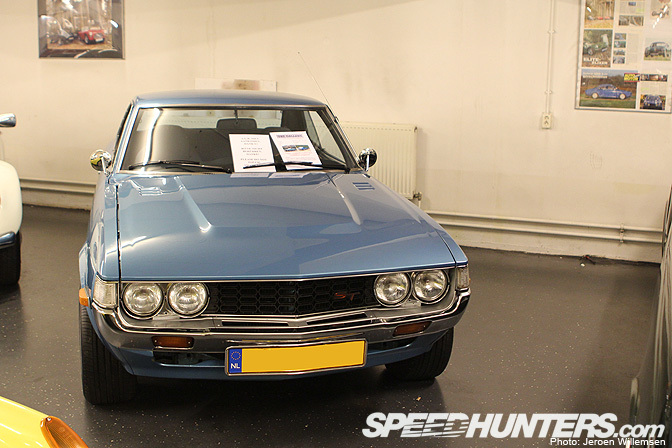 This was
the only Japanese car I found but it wouldn't be out of place at the recent
Japanese Classic Car Show that Mike featured.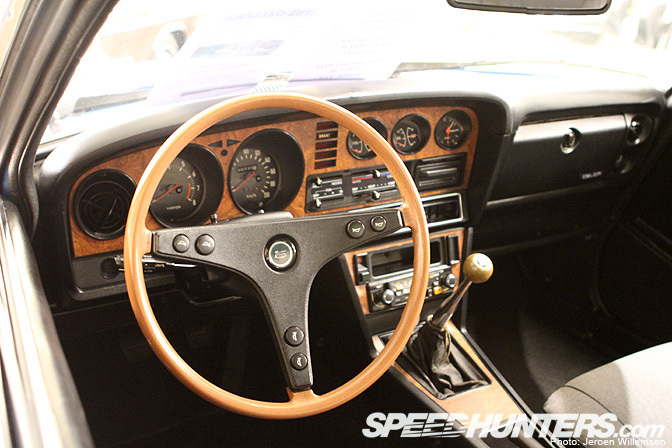 The Toyota
Celica ST 5-speed looked brand new inside and out. I was amazed by the fact it
had so many horn buttons on the steering wheel.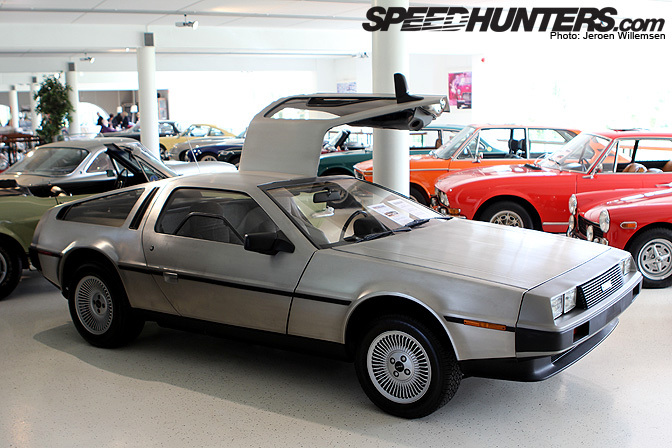 I'll end my
visit to 'The Gallery' with this original Delorean, that took me right back to
a lot of child hood memories.
I need to
thank Nico and Nick Aaldering for their hospitality during the day. I hope to
be coming back soon and see if they acquired some new and interesting vehicles.
-Jeroen
Willemsen