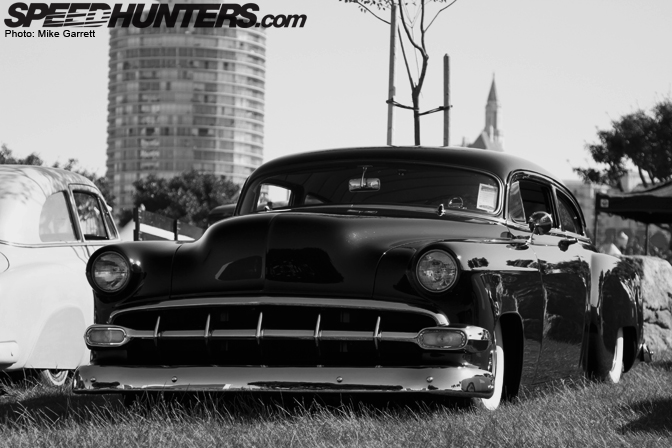 Now it's time to jump back into the time machine for another trip to the Long Beach Motorama. I think the organizers of this show deserve a big hand for making the Motorama one of the most unique Hot Rod and Custom shows in the world.
Now on to more great vintage machinery.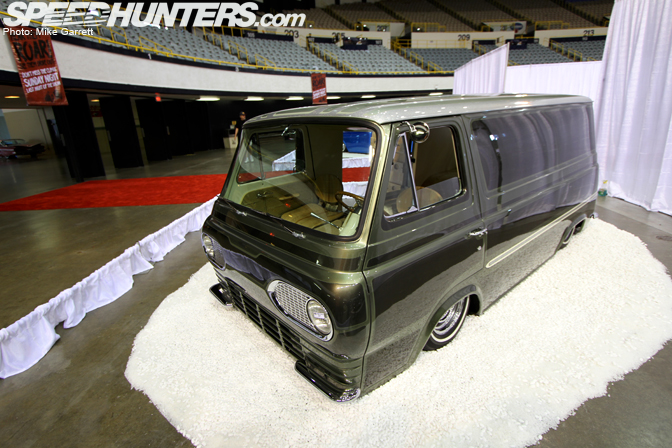 I never tire of seeing "Van Go". Here it is looking pretty under the lights of the arena.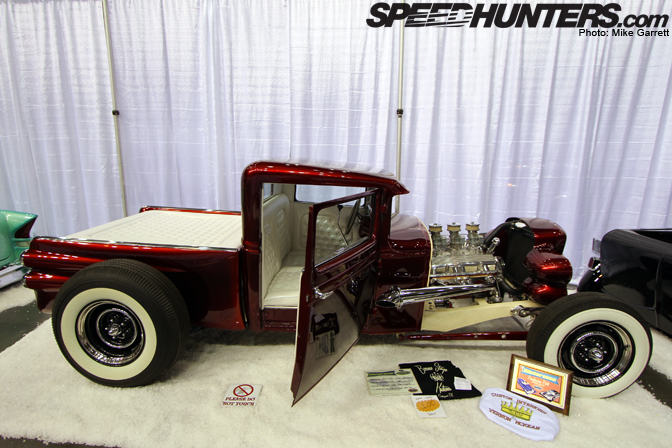 This '31 Ford Pickup made its way to Long Beach all the way from Center Point, Texas. Dig those custom fins on the bed!
Gloss red flames on satin black. Rad combo.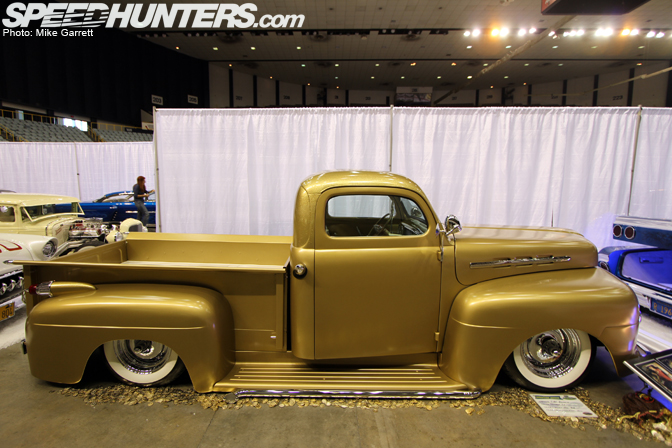 A '51 Ford Pickup in gold, tucking plenty of wheel.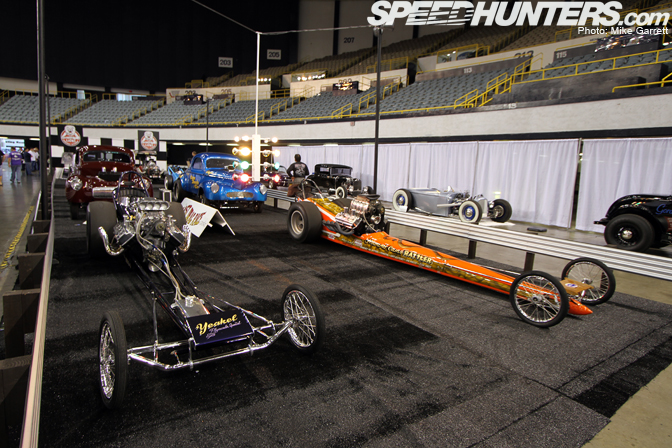 One of the this year's special displays was a life-size diorama of the staging lanes at Lions Drag Strip.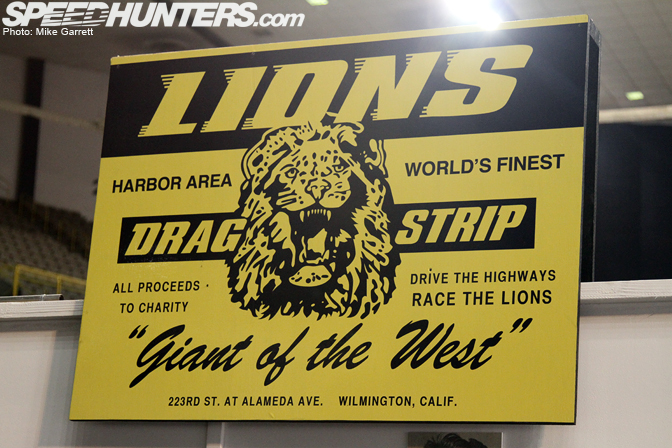 The drag strip, which was located in Wilmington just a few miles from the site of the LB Motorama is a legendary spot in drag racing history.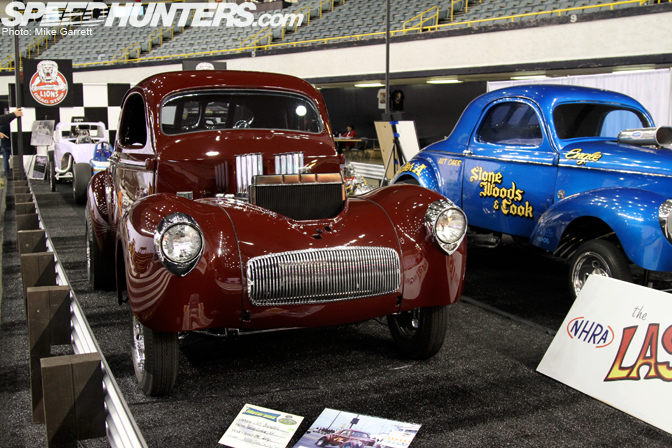 The display included a selection of vintage drag cars that saw action at Lions back in the day.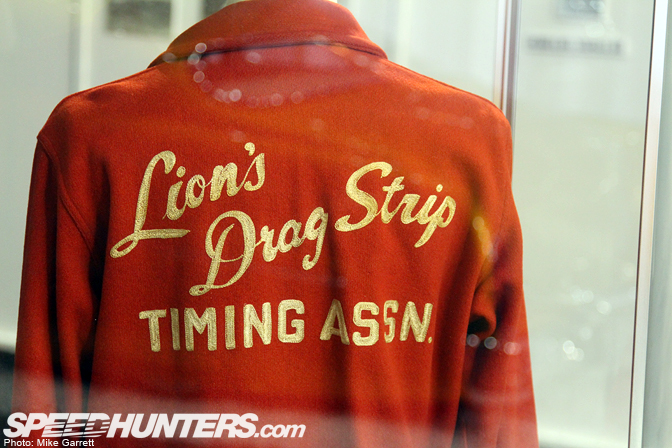 As well as various artifacts from the history of the track.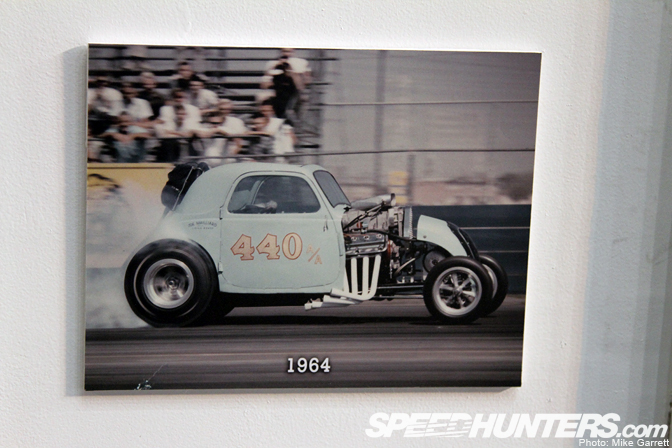 Plus lots of cool vintage photos, like this shot from '64.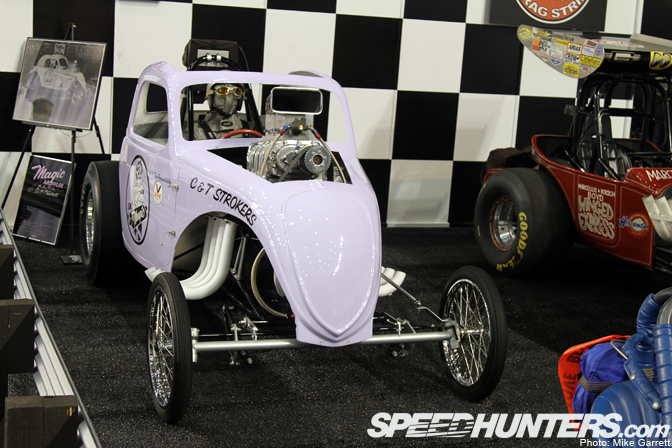 Even standing still, you can feel the untameable nature of the "Magic Muffler" altered. If you've ever seen one of these cars go down the drag strip you'll know what I'm talking about.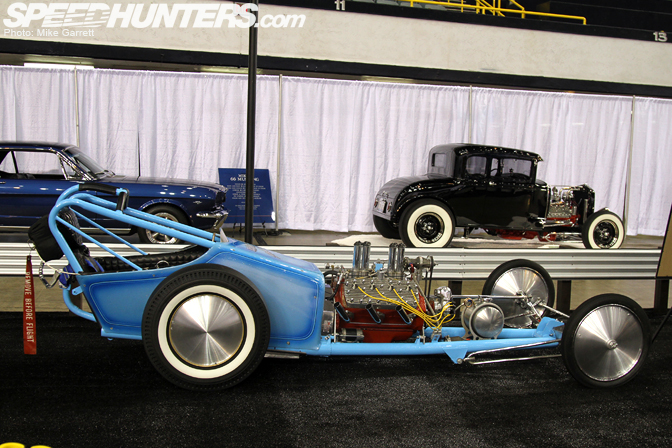 Also part of the Lions display was this Flathead-powered rail dragster.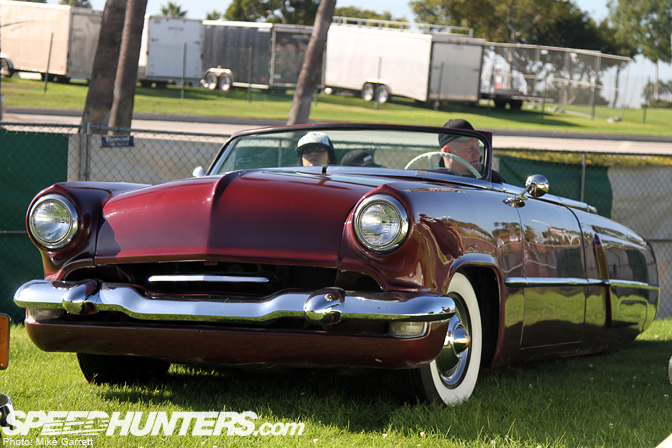 A chopped drop top with skirts and nose-high stance. Kustom to the bone.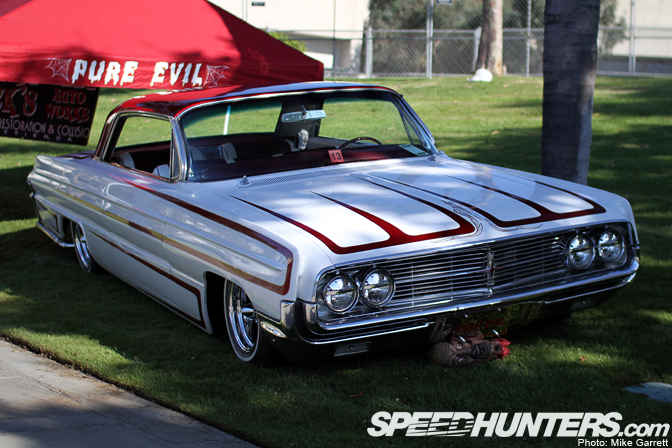 Nice scallop job on this Oldsmobile, which happens to have a severed zombie head under its front bumper.
A couple custom bikes on display inside the arena.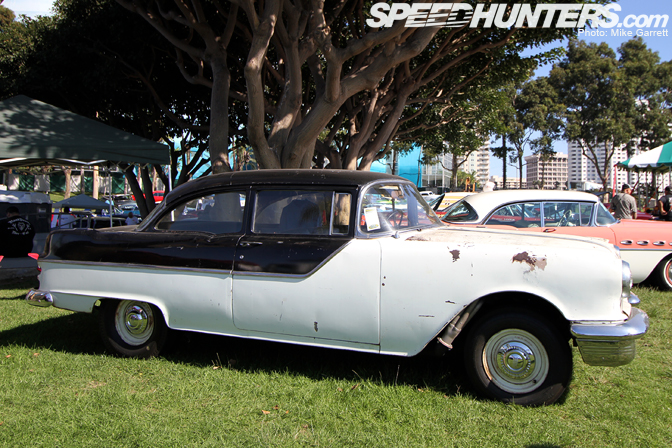 This Pontiac looks pretty basic on the outside, but the headers hint at something gnarly under the hood.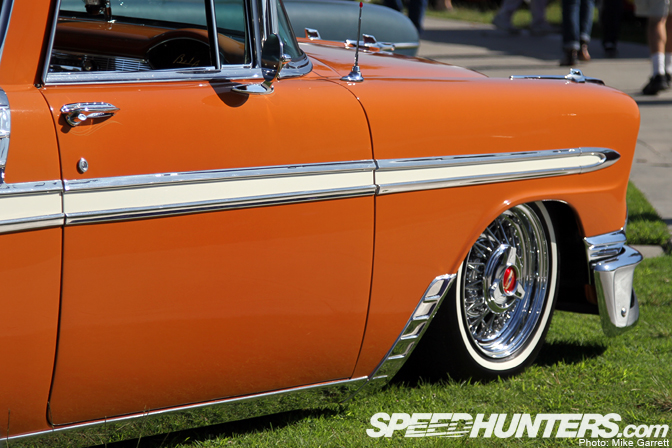 Lowdown Nomad on wire wheels.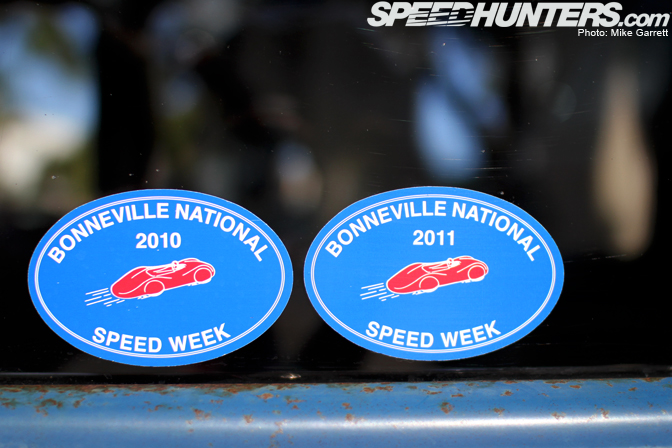 Badges of honor.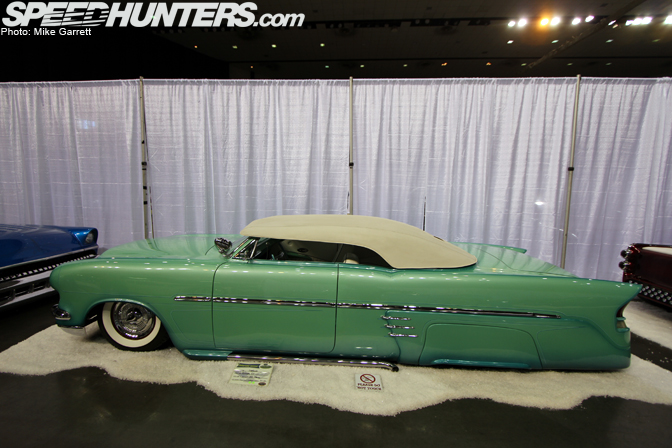 This '57 Chevy Convertible was being shown in the "Radical Custom" category. Radical indeed.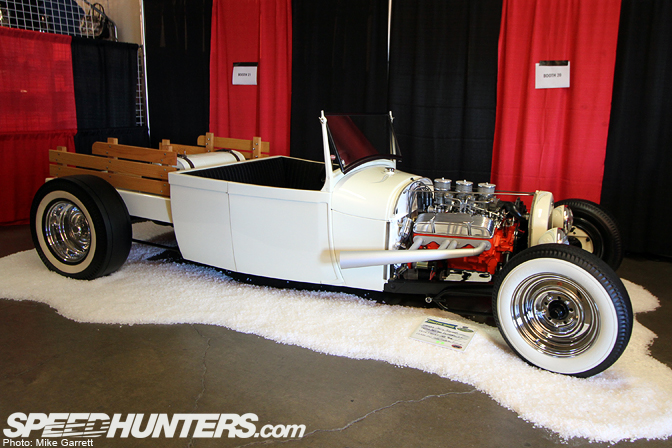 This '29 Roadster Pickup was minty. I especially like the wood stakes in the bed.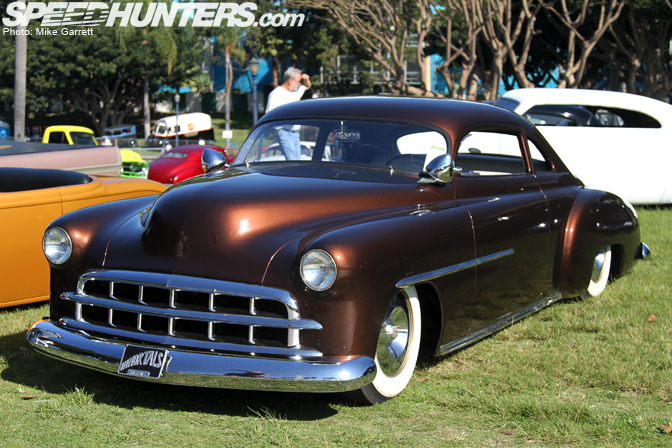 There are so many ways to do a '49-'54 Chevy. If I had one it was most likely look like this '50 Coupe.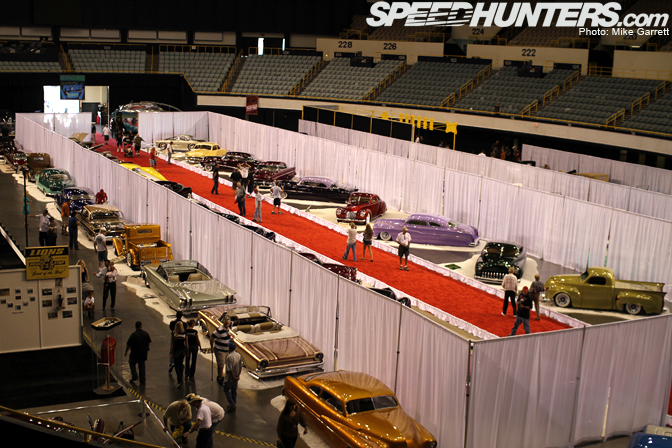 More from Long Beach tomorrow!
-Mike Garrett