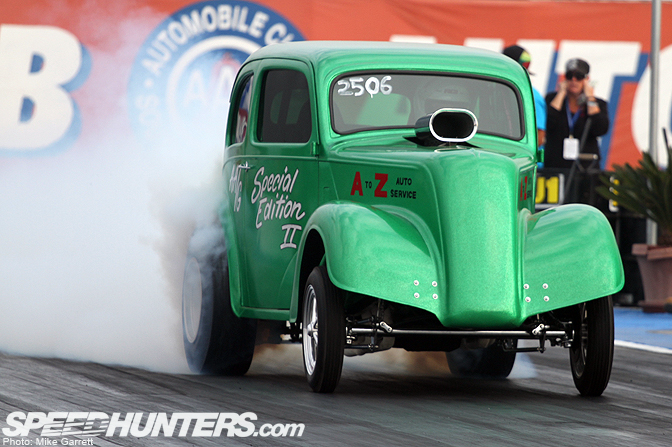 It's time for more nitro, more wheel stands, more burnouts, and more of everything that's great about nostalgia drag racing.
Here's the second part of my coverage from the 2011 California Hot Rod Reunion.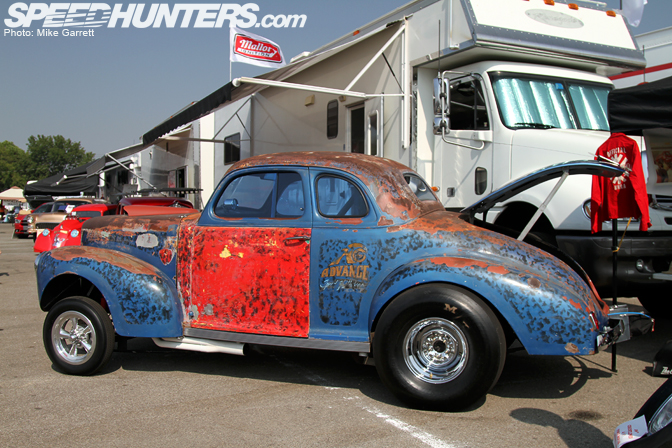 Now this is just awesome. From the faded paint to the open headers and the big Mickey Thompsons that hardly clear the fenders.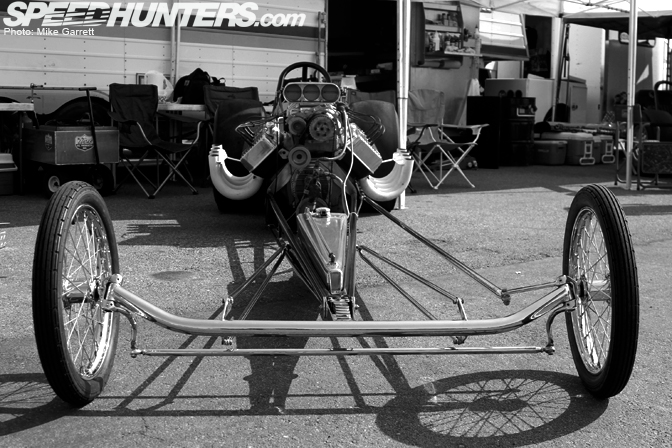 Another rail job powered by what else but a blown Hemi.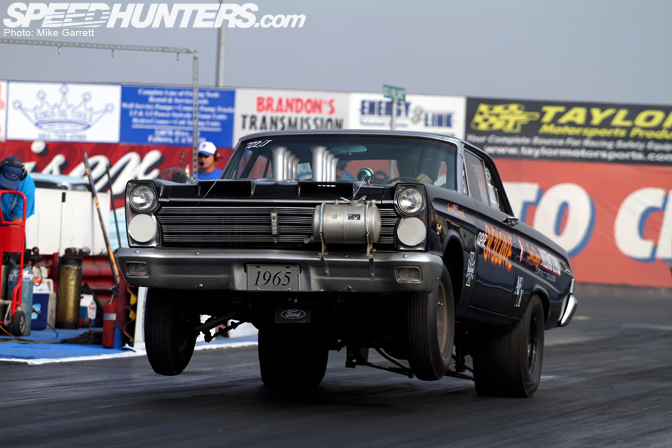 A 427-powered Mercury AF/X car easily pops the front wheels off the line, with slicks wrinkling under the force of the launch.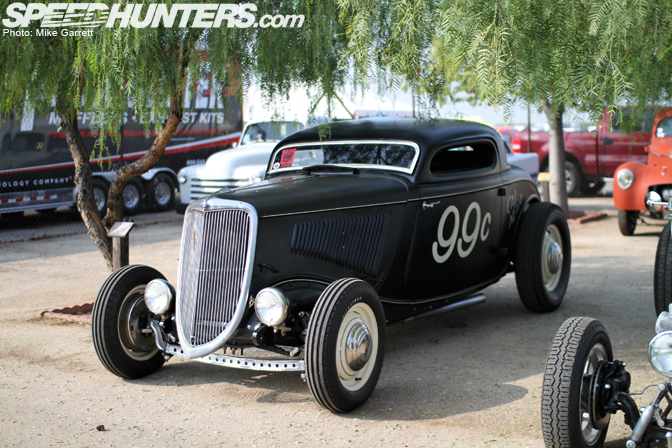 This heavily chopped Coupe looks like it came straight from Bonneville or El Mirage, circa 1950.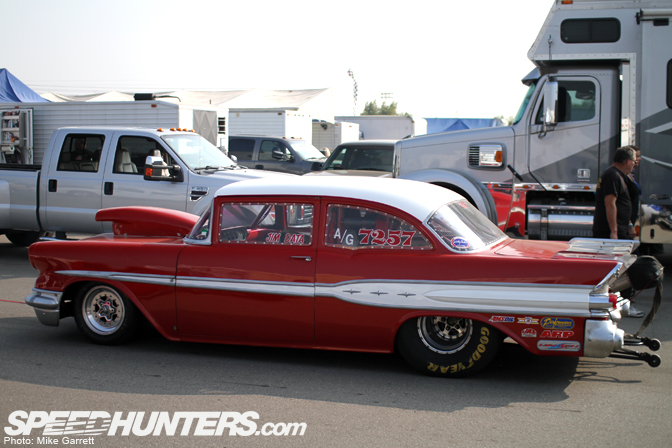 This drag car might be built out of a '57 Pontiac, but the rear tubs, big scoop and low stance or purely modern.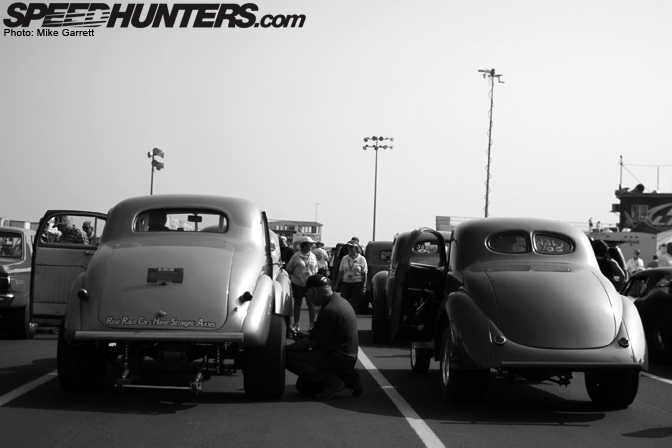 Chevy and Willys gassers sit side by side in the staging lanes prior to qualifying.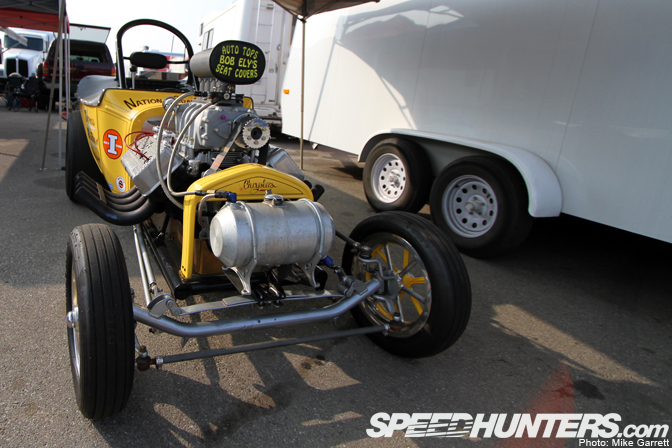 A quiet moment for this open-top Hemi-powered beast in the pits.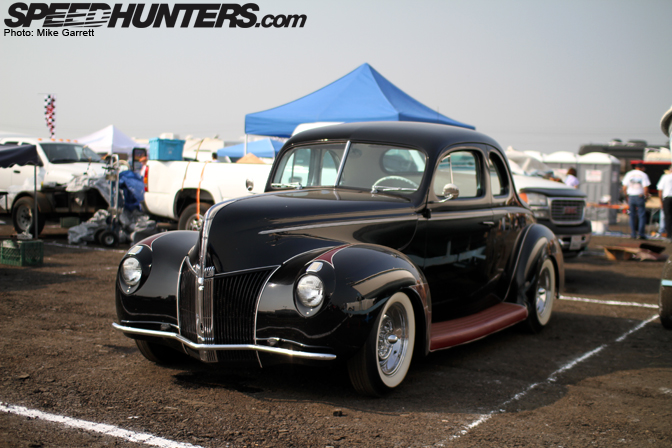 Found this very retro Ford Coupe custom tucked away in the swap meet area.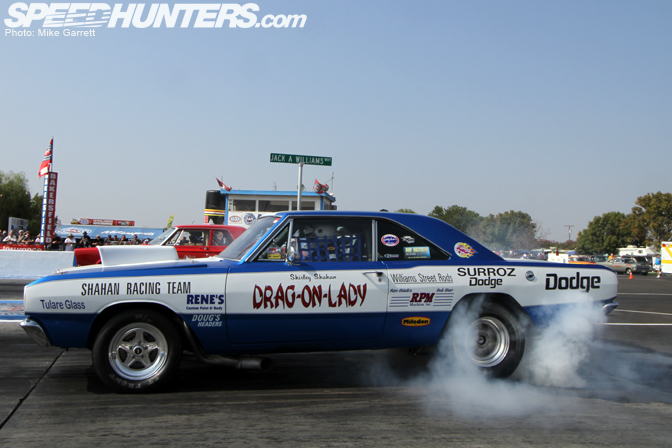 The Drag-On-Lady Dodge Dart warms the tires before staging.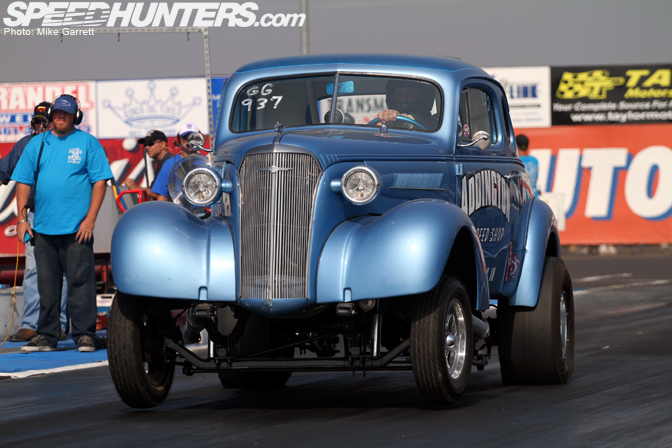 This straight axle '37 Chevy made its way to Bakersfield all the way from Indiana.
Another cool old front-engine dragster comes off the line with Flathead thrust,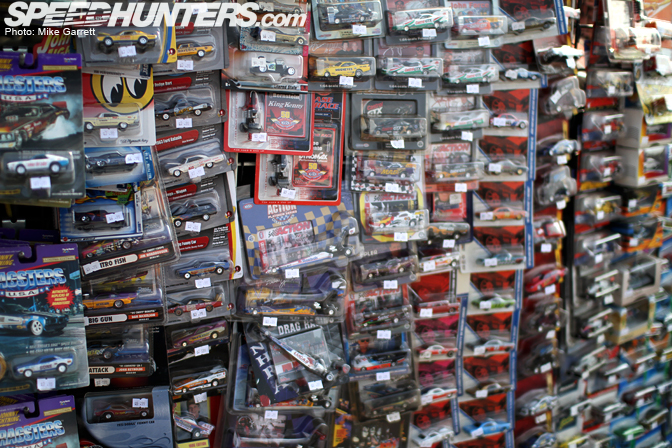 Diecast heaven. How many famous race cars can you spot in the group?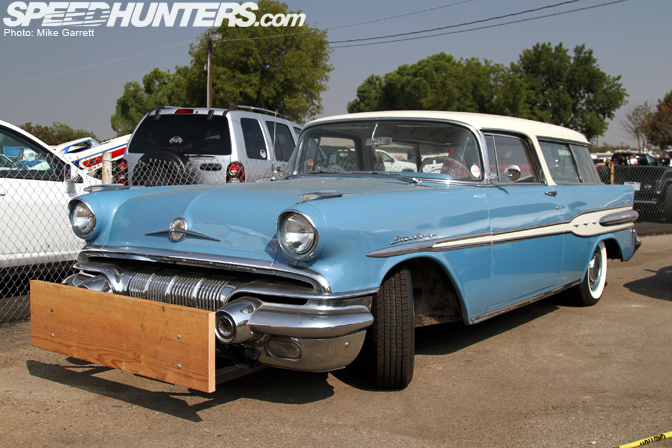 Ah yes the push vehicles. Always a fun part about a trip to the Hot Rod Reunion. This '57 Pontiac Safari out of Montana was pretty sweet.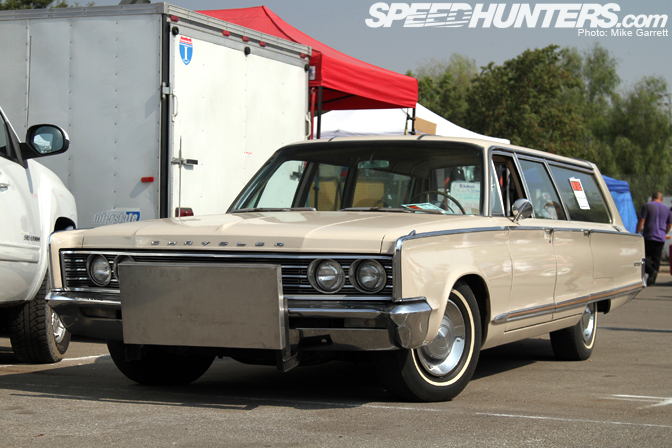 As was this clean old Chrysler.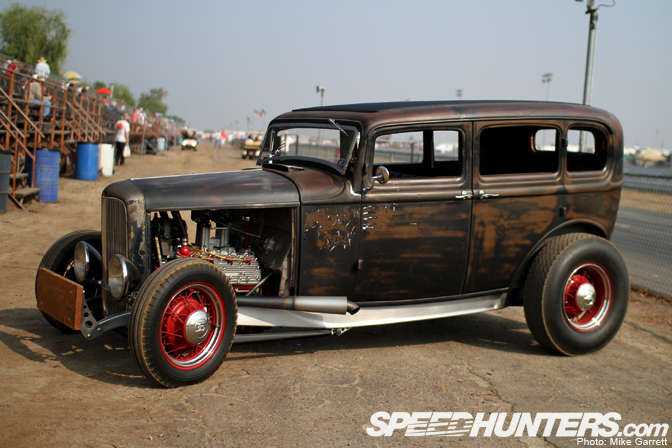 Who says a push car has to be a station wagon?
When it comes to support vehicles though, nothing is cooler than the colorful Dodge transporters used by Tom McEwen and Don Prudhomme. You might remember when Rod saw this rig under construction during his visit to Don Prudhomme's race shop last year.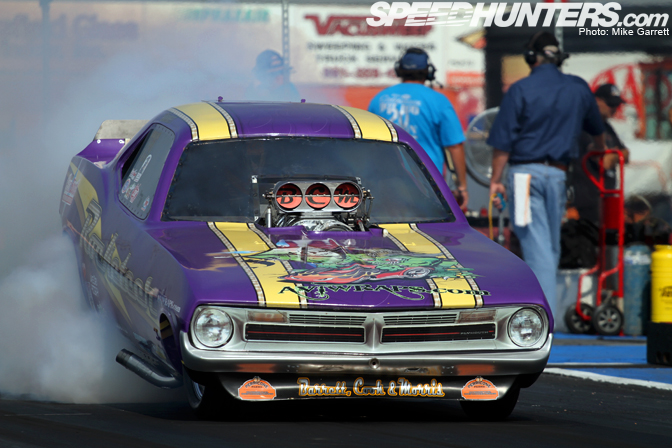 As dramatic as this photo is, the funny car experience is nothing without the sound and the smell. It's something that everyone needs to see in person at least once.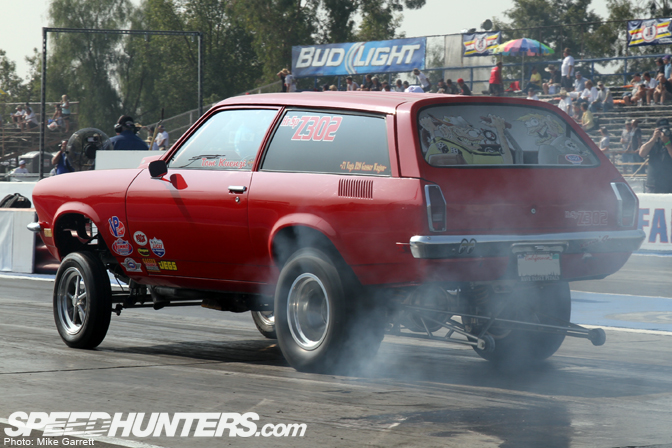 A high-riding straight axle Chevy Vega lights 'em up.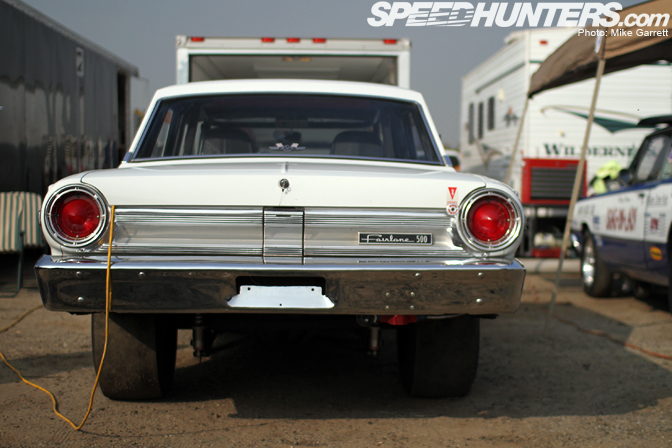 The business end of a Ford Thunderbolt. Or would the business end be up front where the 427 sits? Either way, she cuts a mean profile.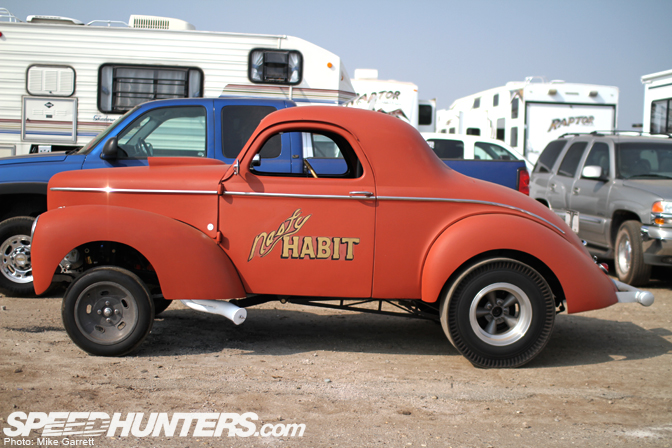 A little slice of WIllys perfection.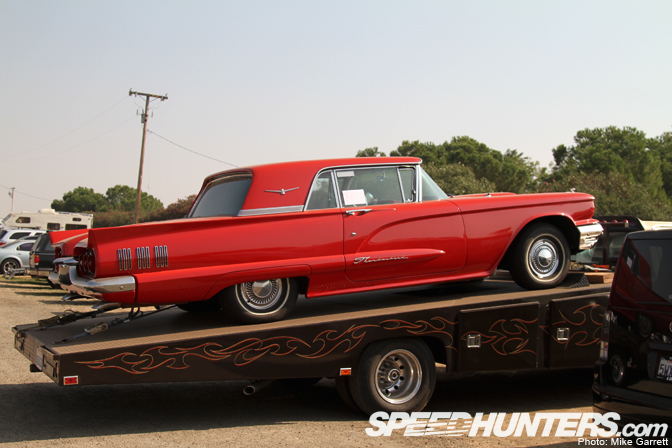 Is anyone looking for a clean Thunderbird? This one was for sale out in the parking lot.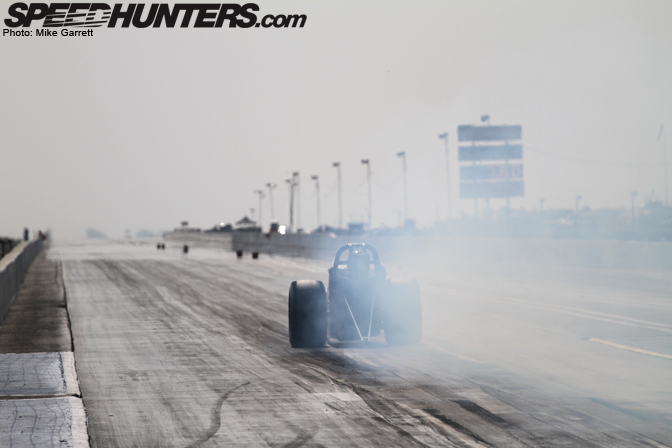 That'll do it for part two. Tomorrow I'll be back with more as we do a little Wheelhunting at the Hot Rod Reunion.
-Mike Garrett
California Hot Rod Reunion 2011 Pt.1