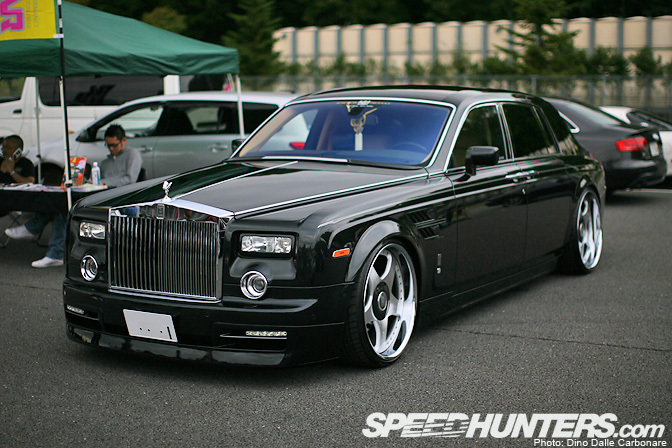 I think most people watched in awe as the Junction Produce Rolls Royce Phantom drove into the paddock at the Hellaflush Japan show. Getting recognition from the guys that started the whole VIP movement certainly means something for this first meeting. For this second part of the coverage I will continuing with a nice mix of cars, I think it wouldn't do the show justice if I start splitting up the cars into various categories as the best part of Hellaflush was seeing completely different cars and styles with every step you took. So from a Rolls Royce on 24-inch wheels…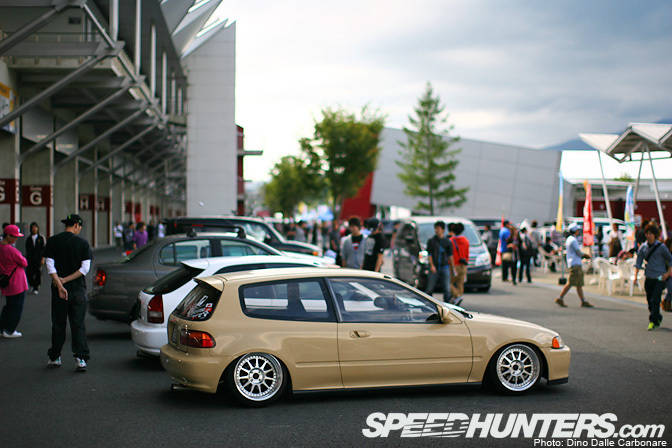 …we swiftly move on to a slammed EG6…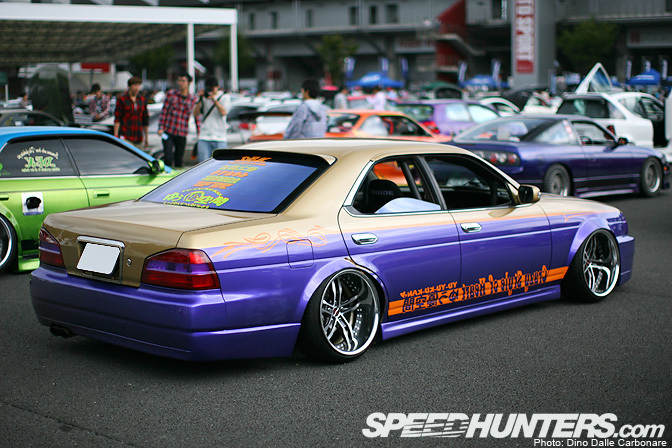 …and a colorful drift spec Nissan Laurel.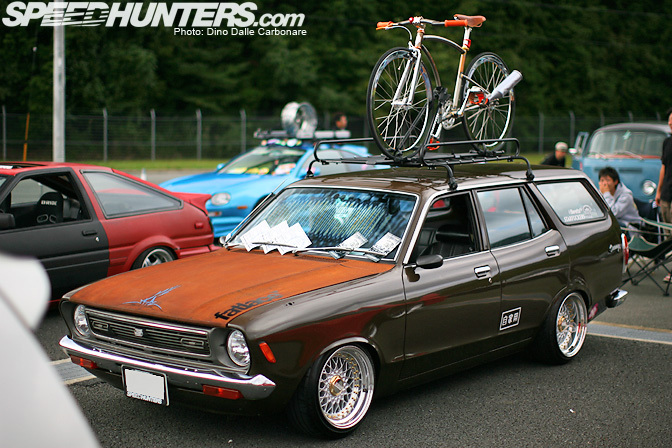 This oldschool Sunny wagon was pretty cool but I spotted a fake Speedhunters sticker in the back so I had to give the owner a couple of real ones to replace it with!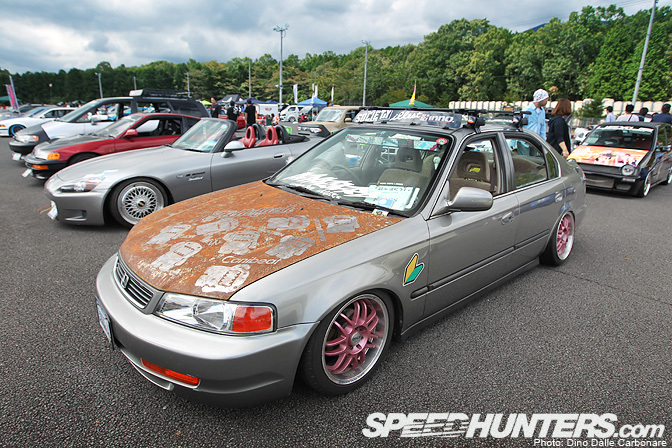 I was actually really surprised to see so many fans of our site, but this particular Honda Accord owner did something far more original than applying a simple sticker…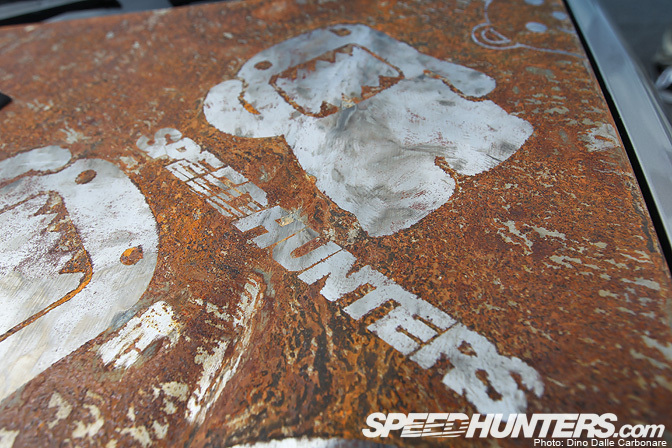 …he grinded the logo onto his rusty hood along with a few Domo-kun! Very cool.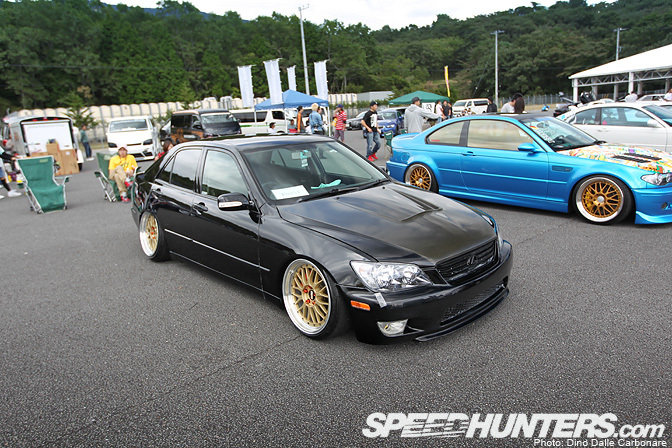 Simplicity often speaks a thousand words…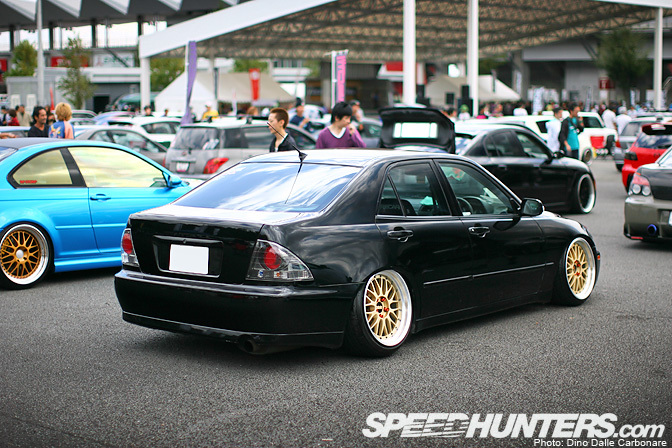 …something this clean and to the point Altezza perfectly showed.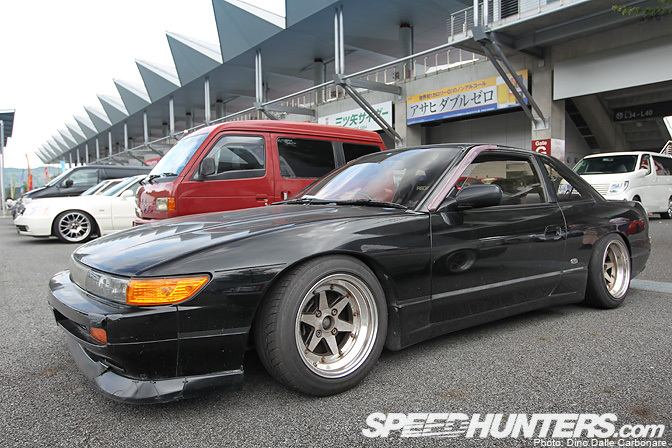 The owner of this S13 took full advantage of his 4-lug hubs and bolted on some oldschool wheels. Can't argue with a choice like that!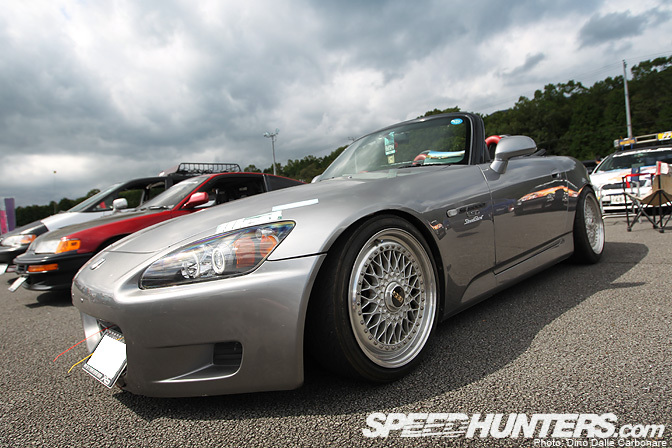 And on the subject of older design wheels or more modern cars, this S2000 pulls off the look rather well.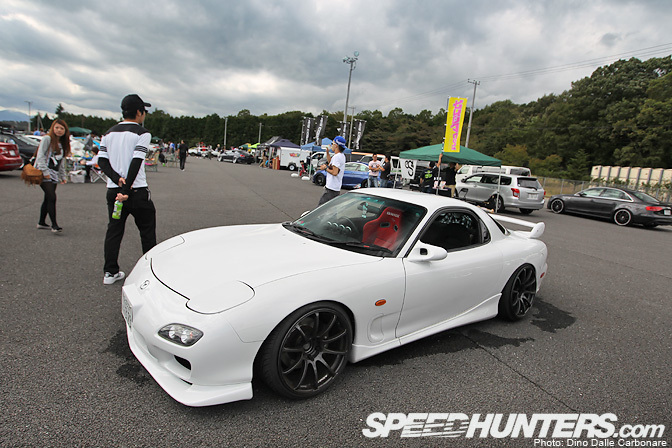 This owner of this RX-7 came up all the way from Kyoto to enter the car in the show. The dark silver Yokohama Advan RS suit the white FD very well with great choice of offset.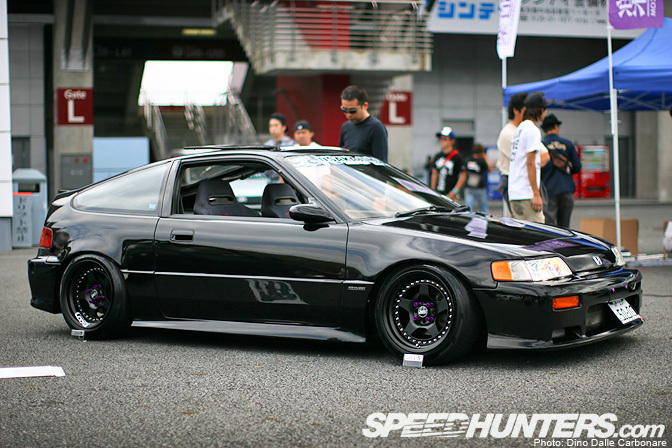 This has to be one of my most favorite cars from the show. You can expect a full feature on this Osaka JDM CRX…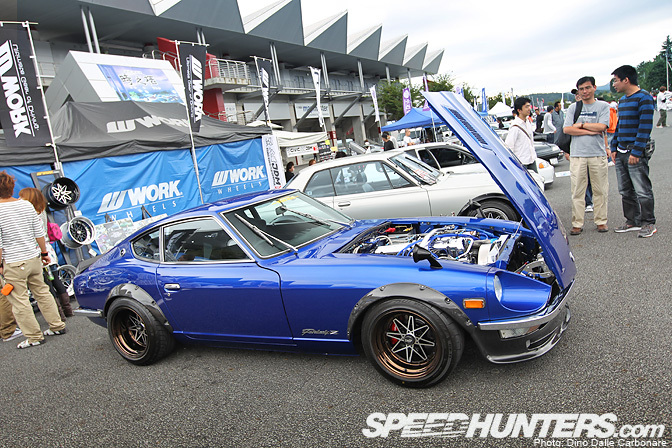 …as well as this simply awesome S30 from Star Road. When not drooling over the exterior it was hard not to get down on your knees and take a closer look at the cool new Equip 03s Work has just released. The old school rims are now available with a anodized bronze lip…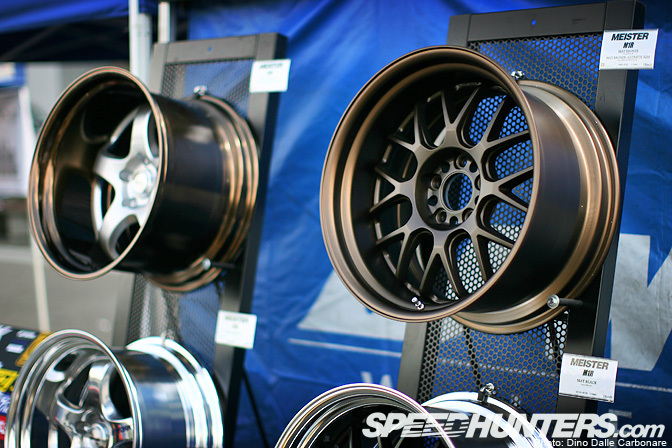 …the same treatment that is now offered on the Meister S1R. Personally it was the M1R above that grabbed my attention…especially after seeing them fitted to the slammed green JZX90 and the 326Power Sentia at the King of Sedan Festival the other weekend.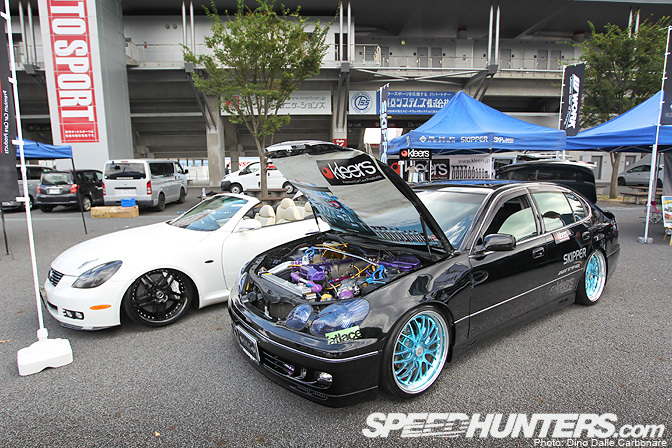 Skipper and Do-Luck combined forces to bring these two cars to the show. It was the Aristo however that everyone was looking at, as on top of the looks…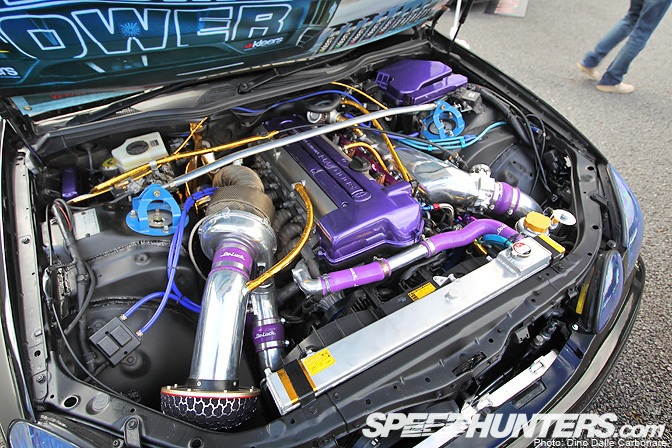 …it had all the performance anyone would ever want or need form a big sedan like this. That's a 600 HP Do-Luck tuned 2JZ right there.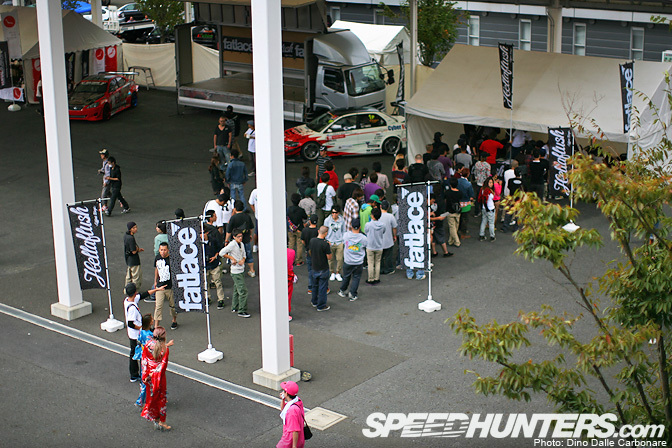 There was a steady line at the Fatlace booth all day…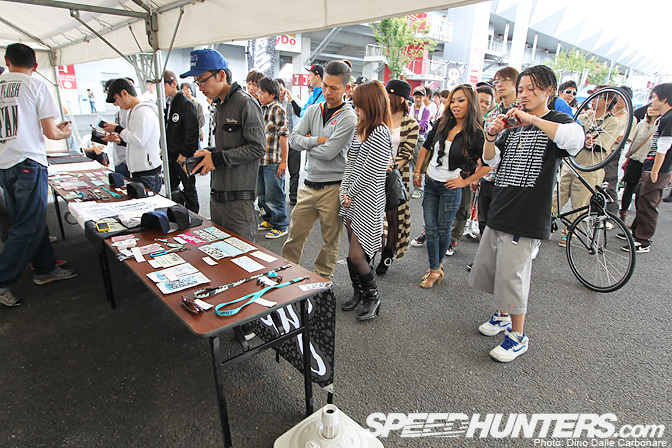 …as Japanese fans waited patiently to get their hands on some merchandise.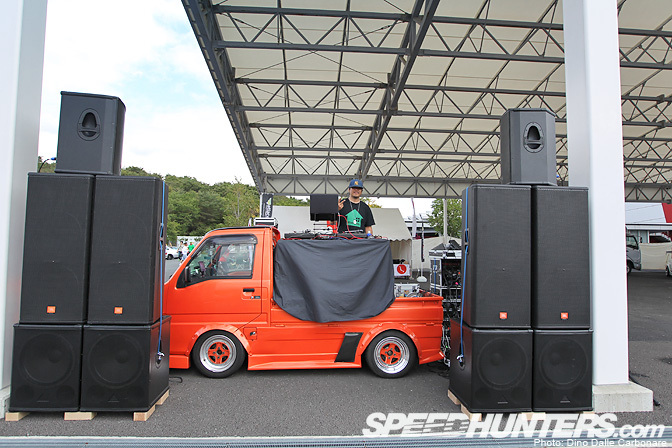 Big props goes out to the DJ that worked hard all day keeping the music pumping through the massive speaker set up.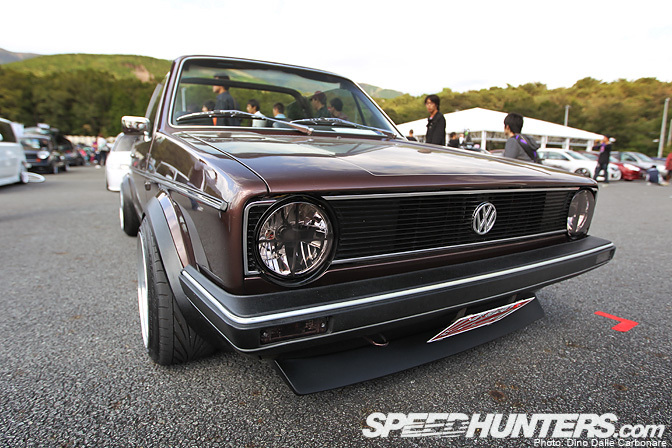 Hellaflush Golf MKI.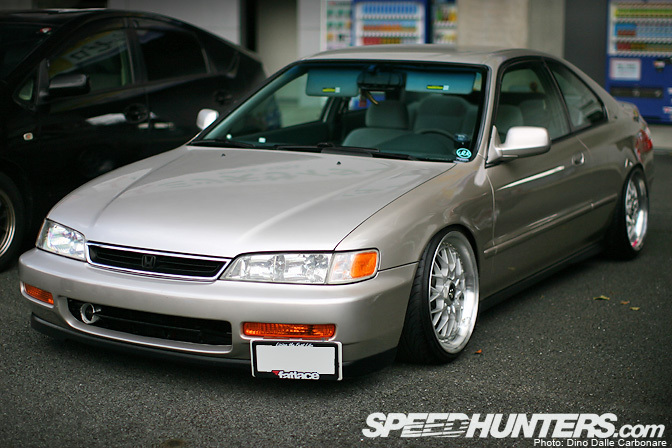 I drove the sedan version of the CD Accord for many years before getting the Legacy so that front grill remains a very familiar look and one I always take a few seconds to reminisce over. Still great looking cars today especially equipped with appropriatly fitted wheels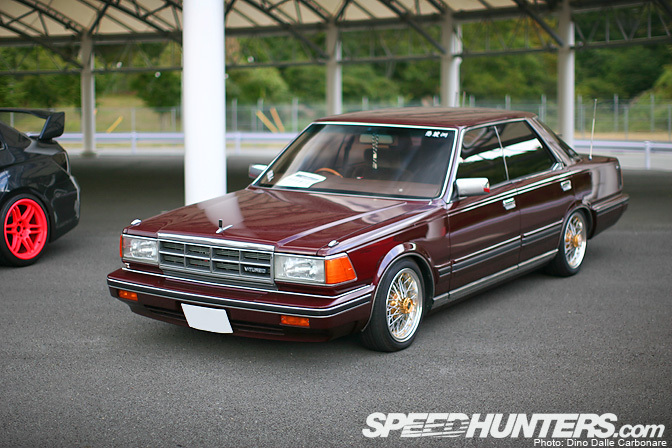 JDM all the way!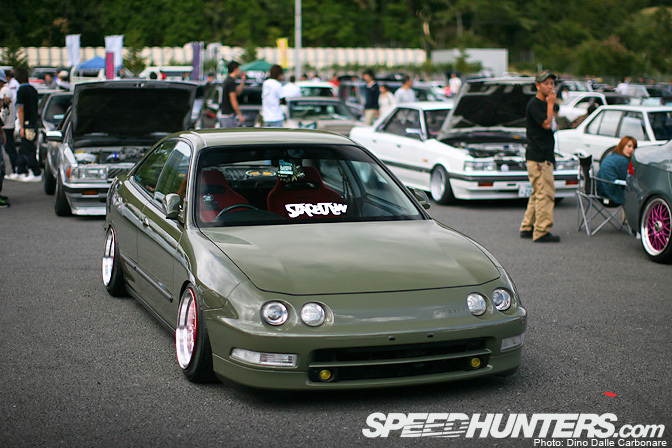 These bug-eyed DC2s are getting rare in Japan so it's always nice when I spot one. Loved the military green the owner chose to repaint the car in…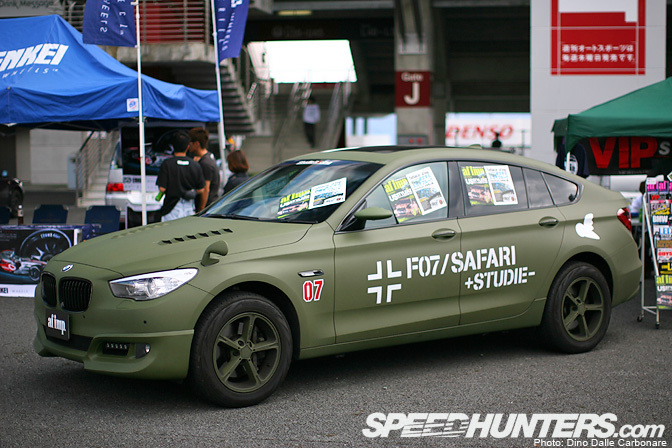 …however why this 5-series GT in a similar shade of green was present really puzzled me. This is Studie's demo car but surely they could have brought along something a little more ground-hugging.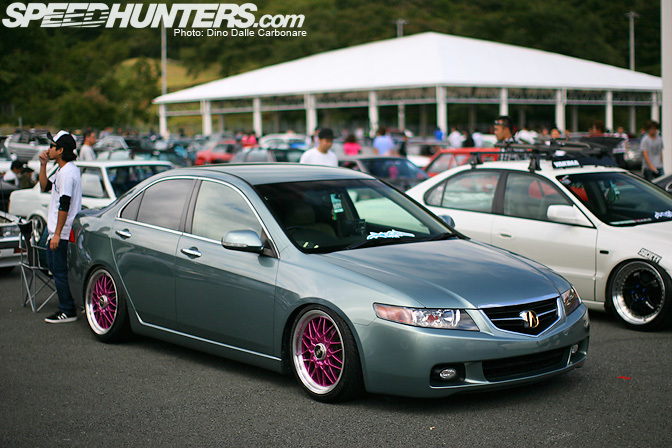 The Acura grille conversion seems to be as popular as Infiniti conversions for Nissans and Lexus ones for Toyotas. Something to stand a little bit out from the crowd…on top of the pink wheels of course!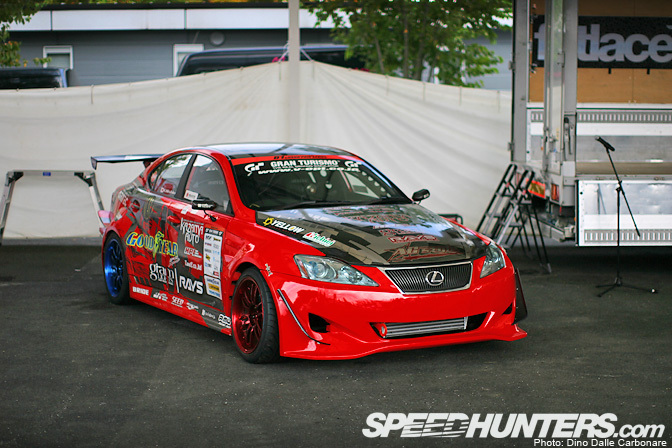 Next to the Fatlace booth was Nishio-san's Team Kazama Auto 2JZ powered D1 Lexus IS.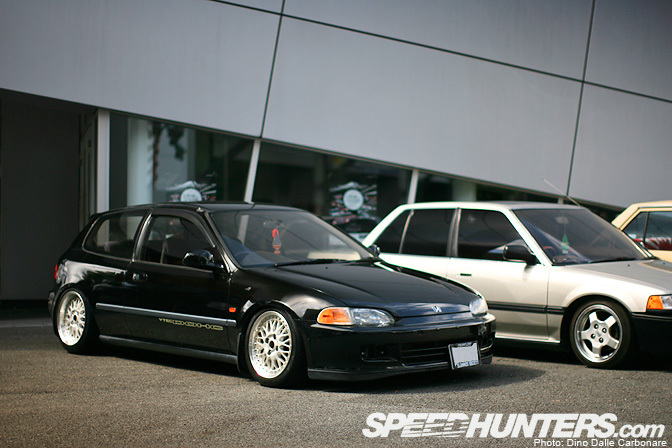 I will have to continue with a few more Hondas…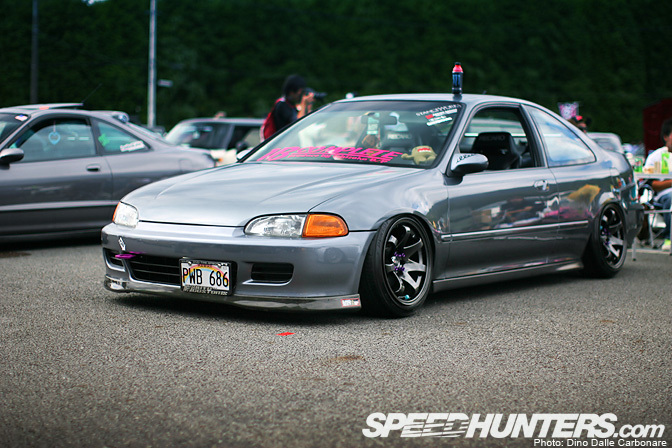 …cars that have since the beginning dominated the import scene in the US and that fans of the movement in Japan have emulated in their own ways.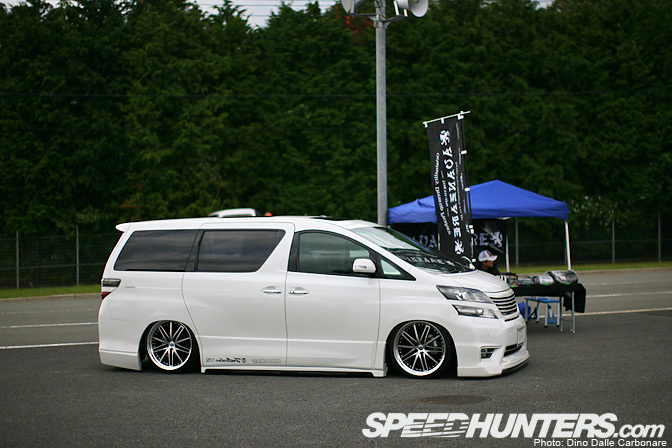 You just couldn't have a meeting like this and not see at least one fully decked out minivan like this Toyota Vellfire slammed on 20-inch wheels.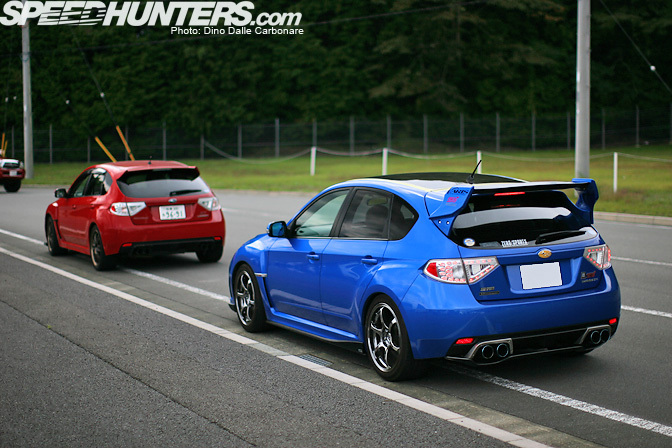 These two Impreza's weren't part of the display but I couldn't help but grab a few shots.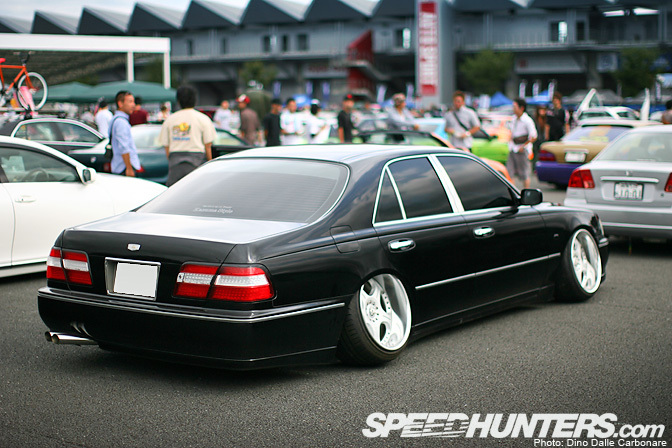 Oh no! The dreaded onikyan! You either love it, hate it, or can attempt to understand it.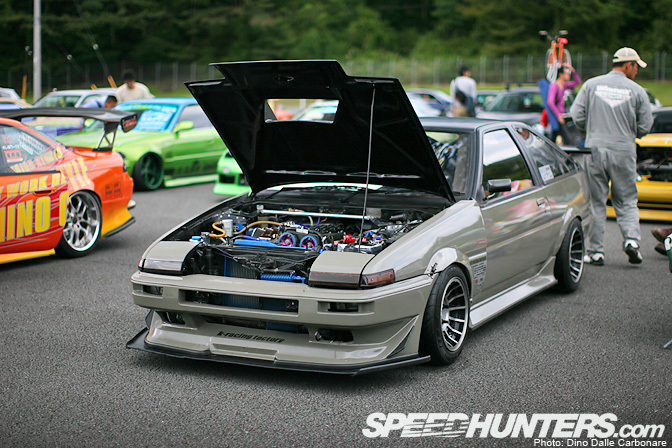 K-Racing Factory were set up next to the Hosino Car Style cars with this great little AE86.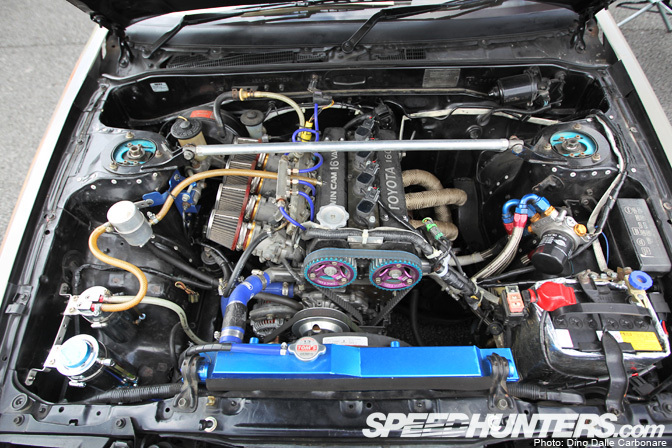 Sound must be to die for.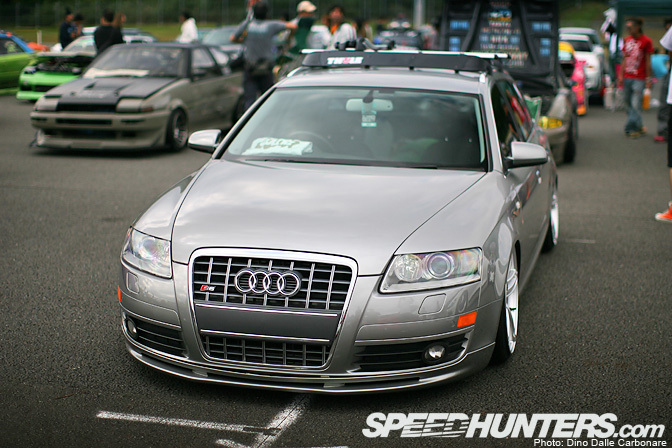 By now you should all know how much I like wagons and this S6 Avant literally an inch off the ground looked very hot. Seems like Thule roof racks are a must…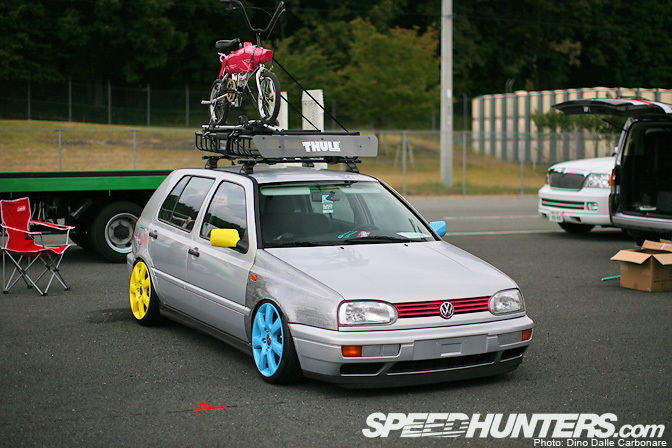 …on a lot of cars.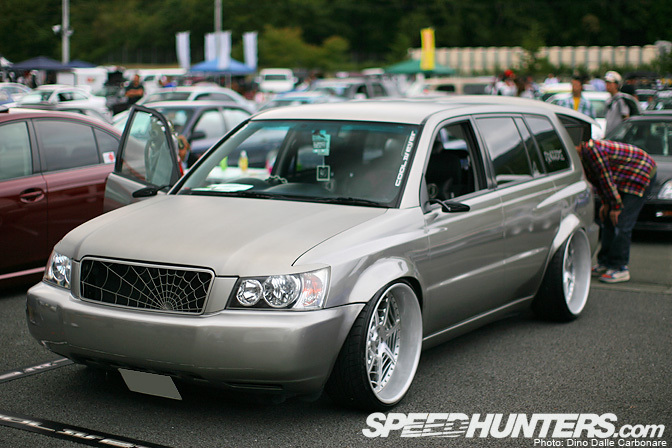 This is a Toyota Kluger like I have never seen before. Admittedly these are vehicles that I just don't notice around the streets of Japan, however the spider web theme and widened fenders on this one were hard to ignore.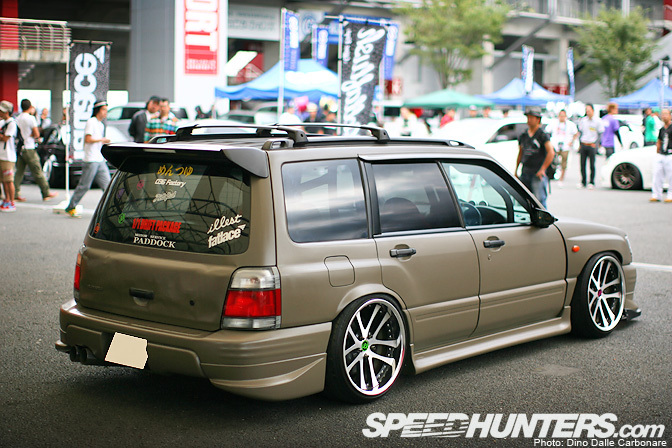 This Forester was picked by the Fatlace crew as one of the best cars of the show…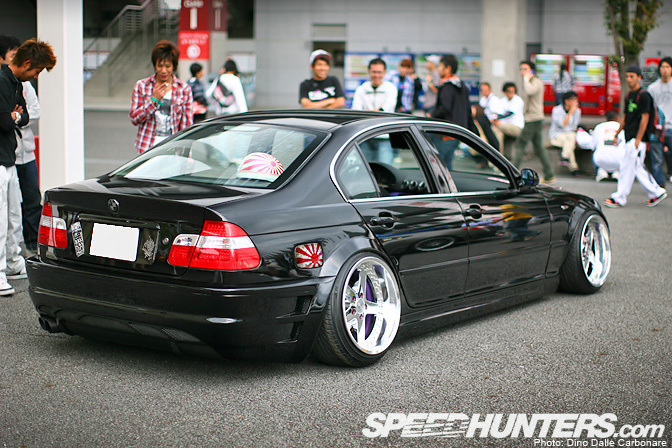 …as was this E46 on Equip E05s.
Back soon with Part 3.
Hellaflush Japan coverage on Speedhunters
-Dino Dalle Carbonare