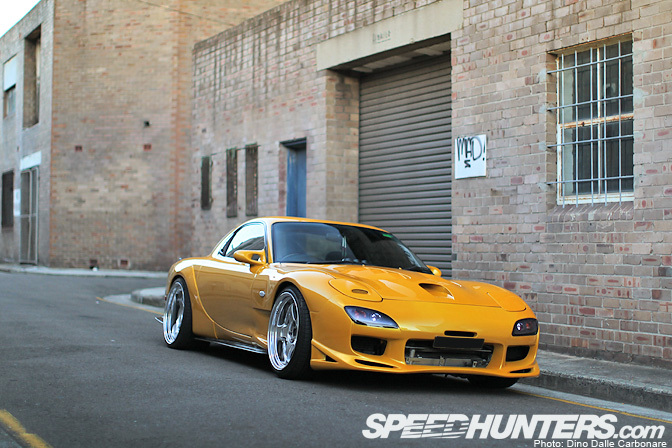 The FD will be 20 years old next year. It's hard to believe that it's been around for so long, but the 13B-powered beast continues to captivate the minds of rotor-heads the world over. Mazda really nailed it when they created this final generation of the RX-7, from the neutral handling, to the explosive delivery of its rotary engine and of course its timeless design.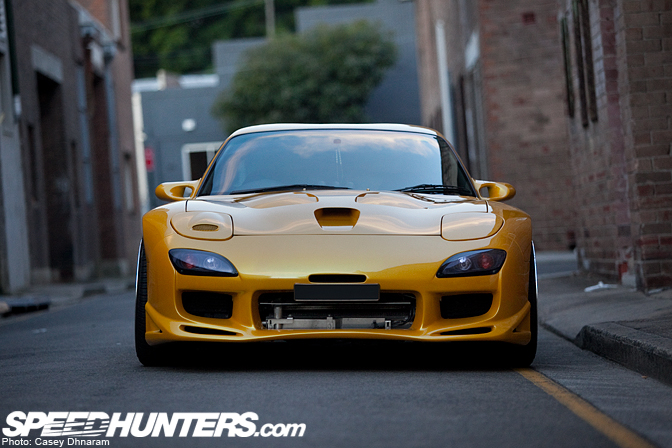 There is no other car out there, especially one that is almost 20 years old, which lends itself so well to anything from mild aesthetic upgrades to complete transformations. The FD is the epitome of the tuner car and while in Sydney in August we were reminded of this as we got the chance to immortalize…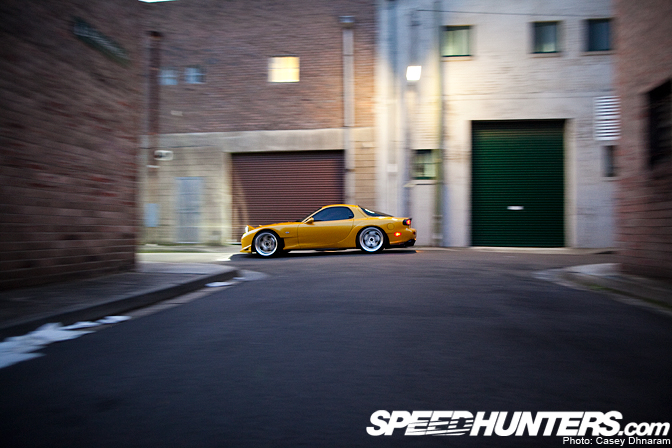 …a very special example. When Ras, the owner of the mustard yellow beast you see here, rolled in at the agreed upon meeting point we were all blown away at how unique the car looked.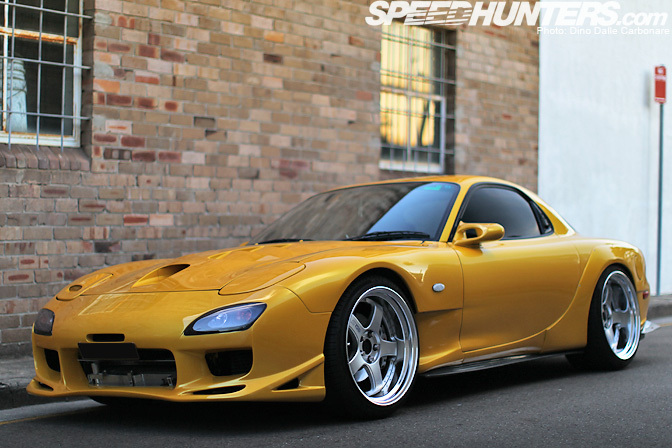 Sitting on a set of deeply dished SSR Professors SP1s, it ticked all the boxes when it came to stance.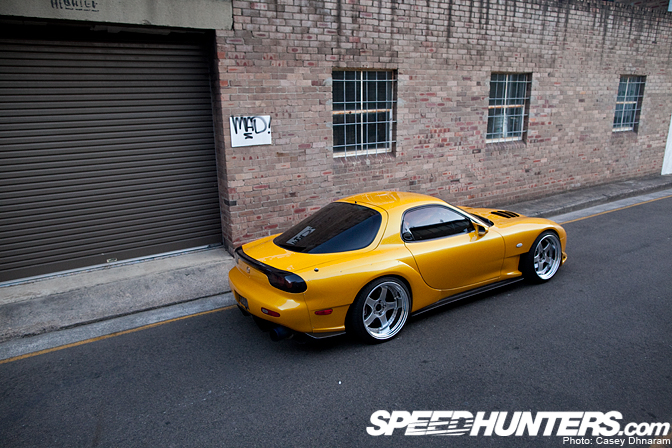 It might not be showcar-low but Ras had to keep the car useable on Sydney's streets as this, believe it or not, is his daily driver.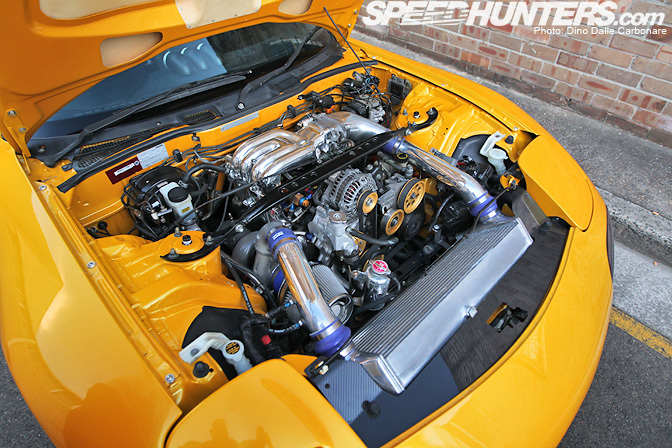 Taking care of the performance side of things is the ported 13B which has been joined by a Garrett T04Z single turbo mounted on a ceramic-coated custom exhaust manifold.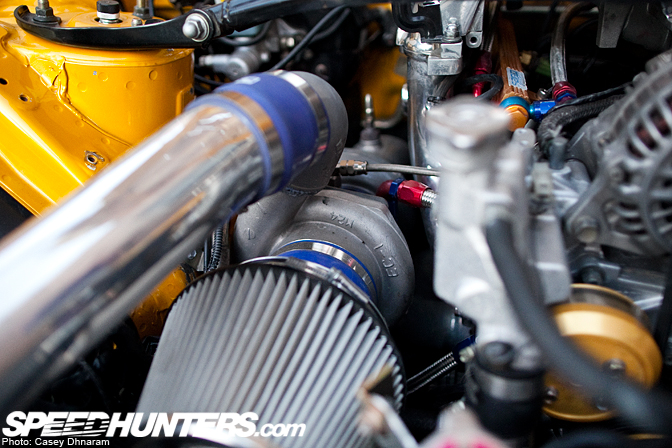 This supplies enough boost to allow the engine to crank out a solid 400 HP with more on tap if Ras ever wanted to go a bit wilder. With the primary objective of creating an amazing looking car, a lot of attention has been given to even the smallest of details…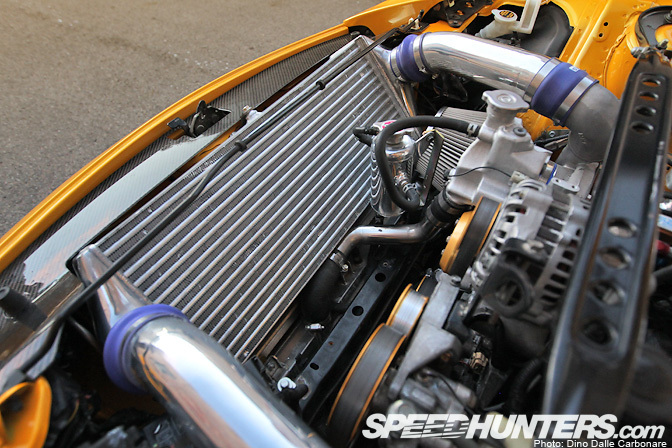 …from the polished pipes that plumb the V-mounted intercooler in place…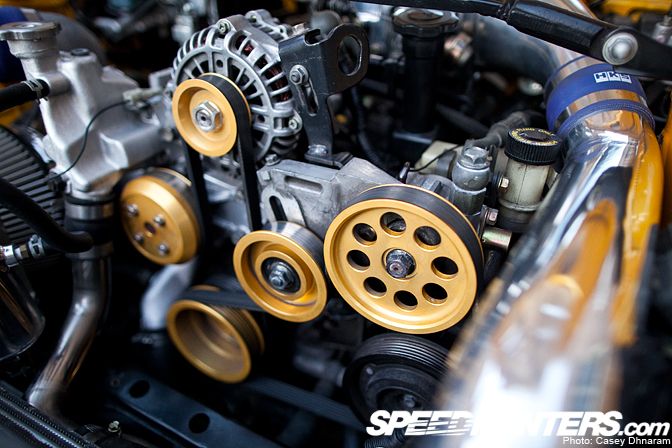 …to the various color-matched lightweight pulleys.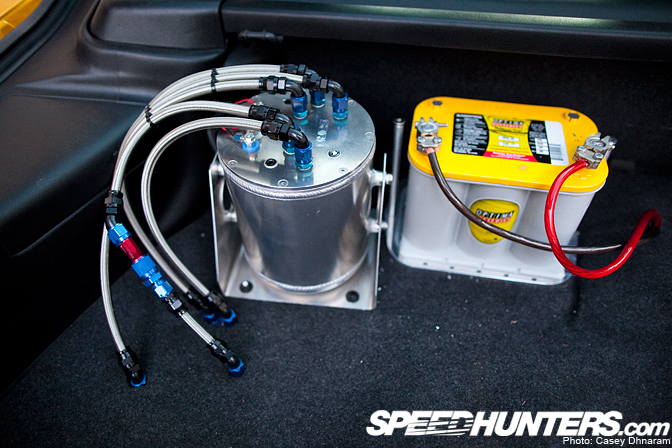 Back in the trunk area is where the fuel system lives with a neatly positioned collector tank next to the Optima yellow-top battery.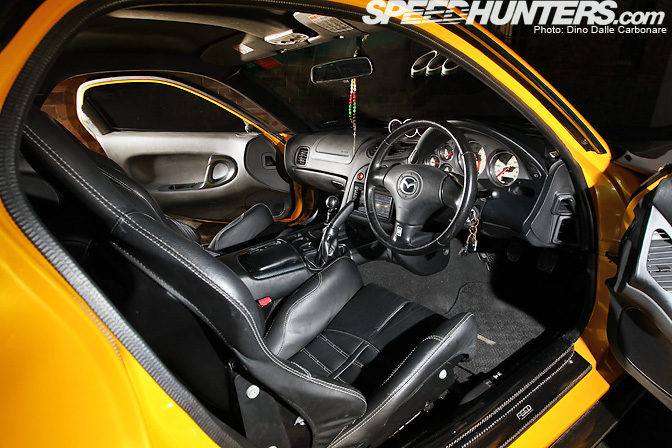 Seeing this is a daily driven car Ras had no intention of sacrificing comfort so you will not be finding a stripped out interior and an intrusive roll cage.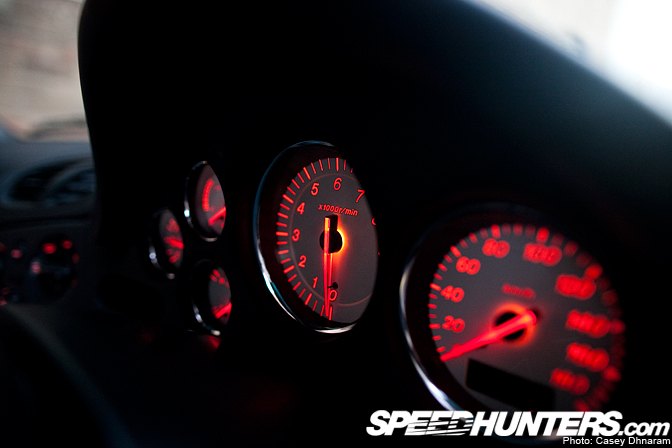 What you will be greeted with when you swing the driver-side door open…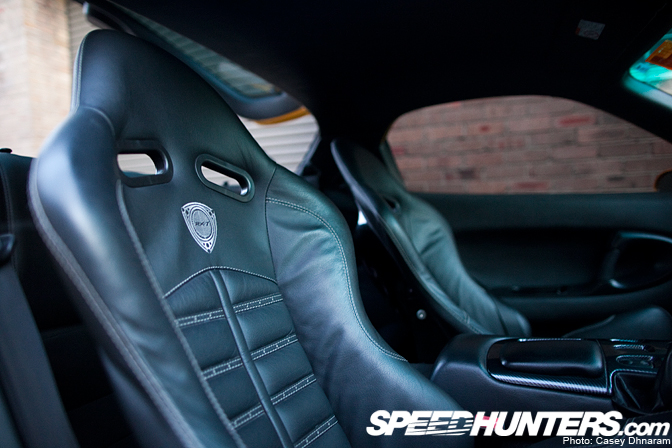 …will be custom-upholstered Bride Low Max Gias reclinable bucket seats, a triplet of Defi gauges and…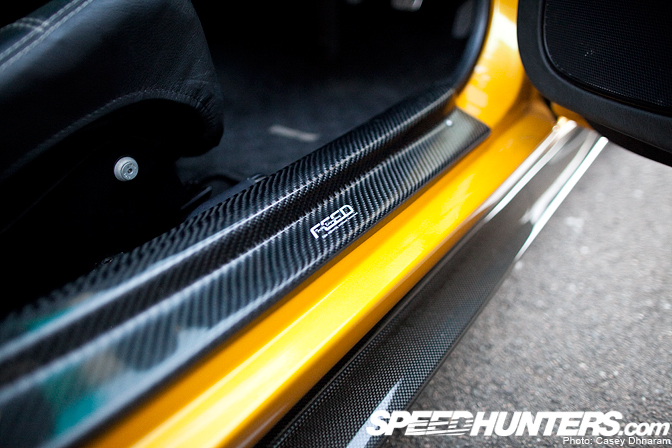 …very nice Feed carbon sill protectors. Other details include a Blitz turbo timer and an ARC titanium shift knob.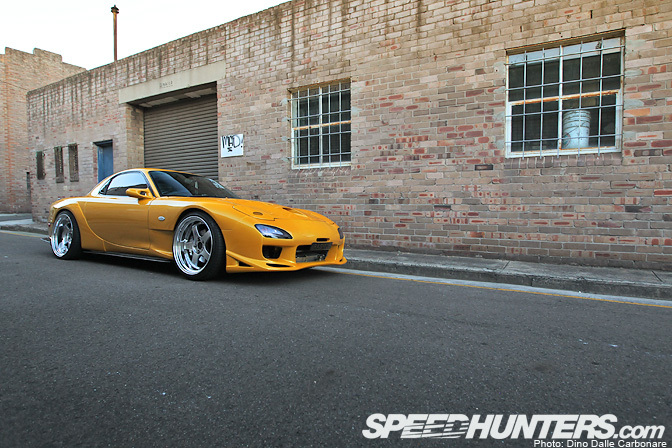 Injecting some toughness into the exterior is a full widebody Fujita Engineering aero package made up of a Ver.2 front bumper…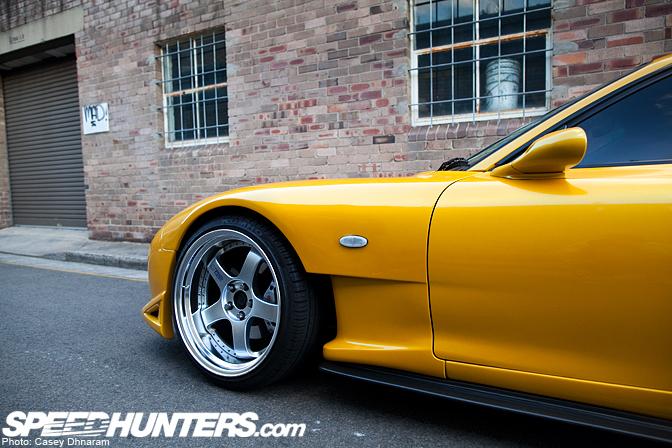 …wider GT-like front fenders…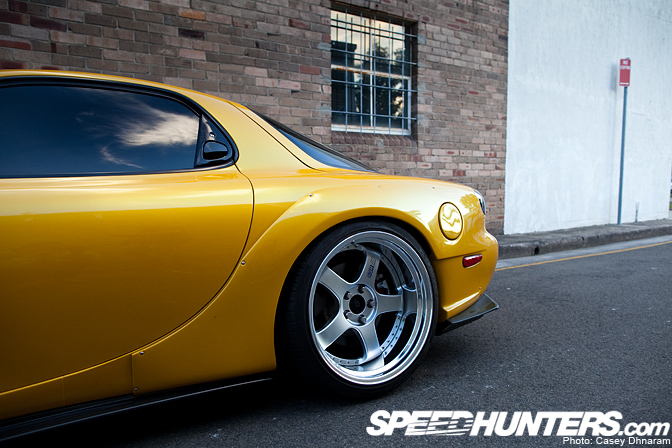 …and these overfenders out back, riveted in place for added effect.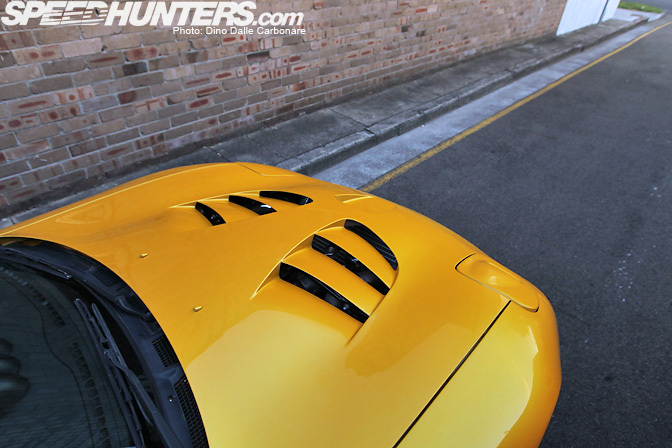 Ras went with an authentic Scoot vented hood which helps extract hot air from the engine bay via the two large louvered openings.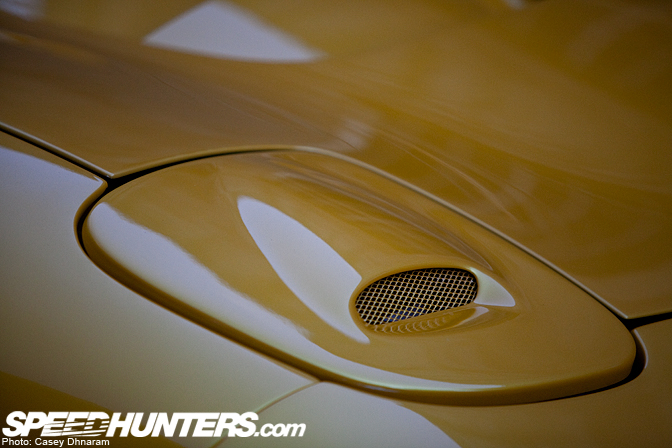 The driver side headlight cover has been replaced with this Feed intake which allows air to be directed towards that big T04Z.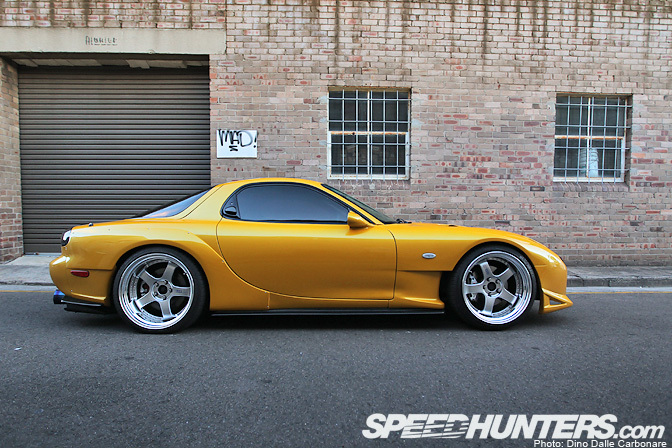 Feed carbon side skirts are a great addition, giving the RX7 a more ground-hugging stance.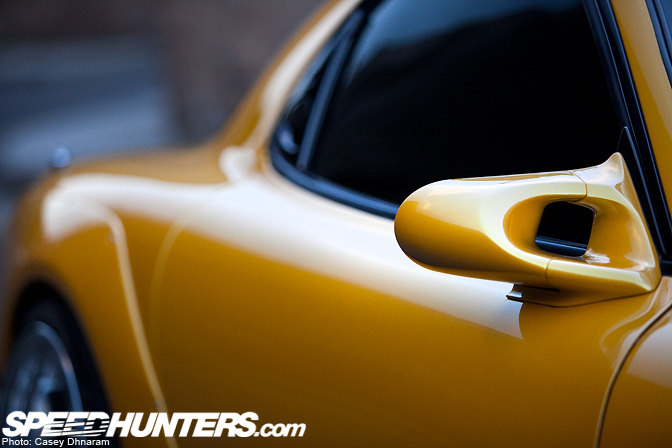 Finishing touches include Ganador side mirrors…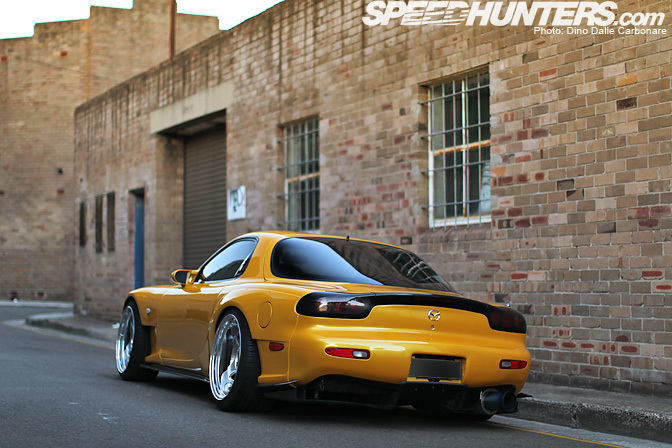 …and a Bodyform carbon rear diffuser. It is however the massive…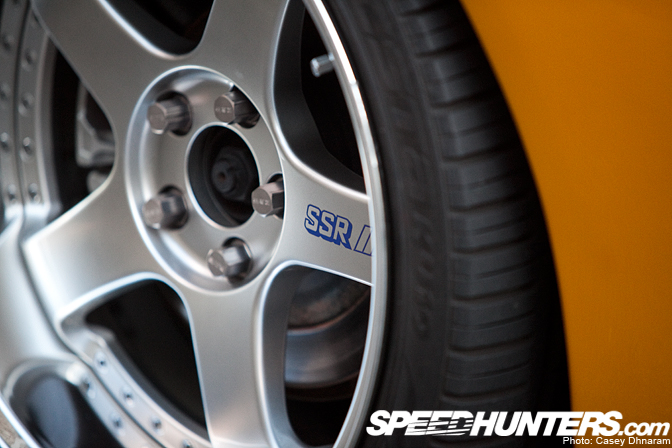 …19-inch SSRs that really set off the car's stance. These huge rollers, 9.5J front and 11J rear, are wrapped in Kumho KU19 tires measuring 245/35 up front and wider 275/45 at the rear. Seeing his FD is quite the nimble, lightweight car, Ras has decided to stick with the stock Mazda brakes for the time being, fitting upgraded pads all round.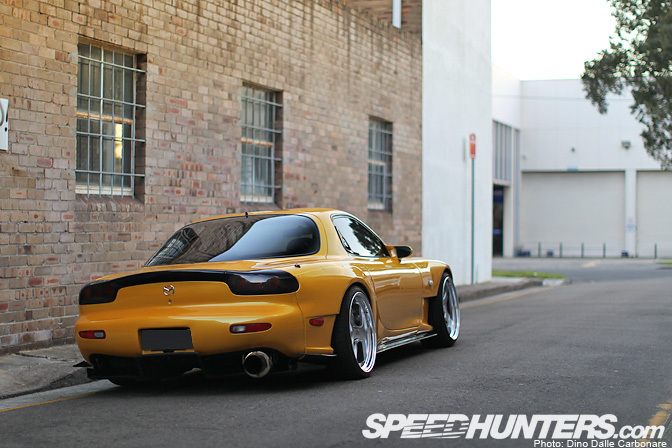 I personally really liked the uncluttered rear end with no spoiler, leaving the original lines to be fully appreciated. It might turn 20 years old next year, but the FD certainly looks as fresh as the day it rolled out of the factory in Hiroshima. 
-Dino Dalle Carbonare
Pictures Casey Dhnaram & Dino Dalle Carbonare