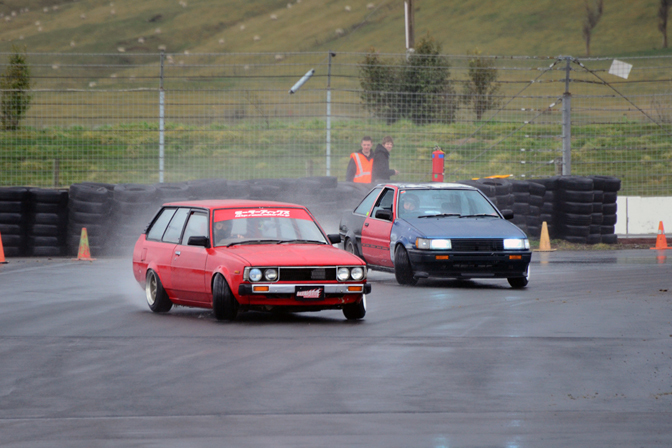 As we all know '86 Day' passed a couple of weeks ago and large numbers of old Corollas convened all over the world to celebrate. In previous years I hadn't seen much emphasis put on this day by AE86 enthusiasts in New Zealand but thankfully this year broke that trend. An AE86 trackday was arranged at Taupo Motorsport Park in the central North Island. In typical old car fashion some owners ran into troubles leading up to the event so a few other makes and models lined up to fill the spots.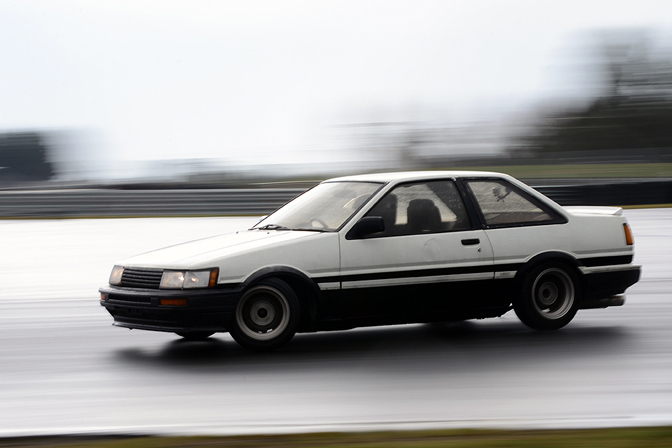 The man behind the event was Keisuke Nagashima who owns this Levin notch-back. The car recently arrived from Japan where he had purchased it a few years ago when living there. He was keen to get it out on the track and thought, why not organize a trackday to coincide with '86 Day'.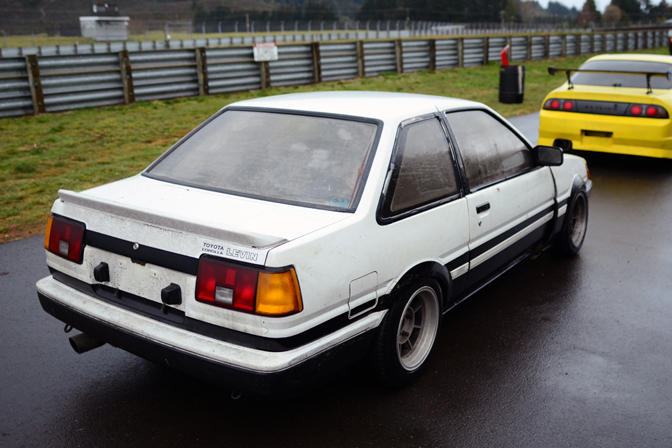 The Levin is currently going through the process of becoming road legal and a general tidy up. Keisuke filled the car with extra parts and enough wheels for about 5 other cars before it left Japan, I bet he's stoked to finally have everything here.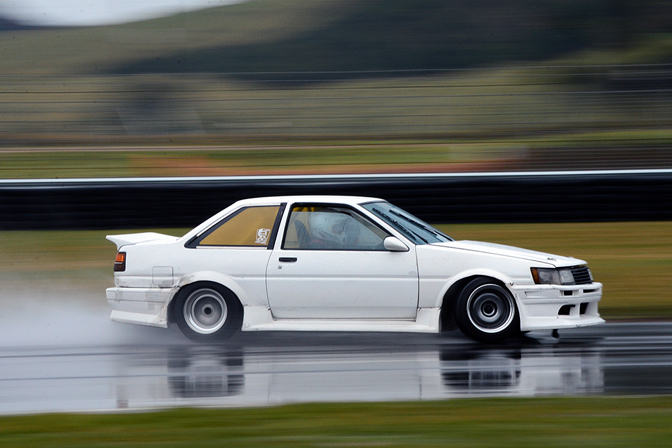 Unfortunately August is one our wettest months, sitting right in the middle of winter. And the weather didn't disappoint, it didn't really stop raining all day. Which wasn't so nice for us folk standing in the in-field but probably helped the majority of Corollas which aren't blessed with too much power from the factory.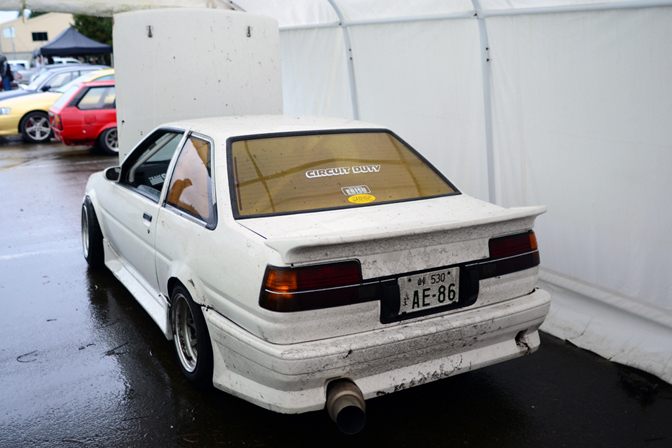 One car that could spin the wheels regardless of weather was this Levin, owned by D1NZ Head Judge Nick Teeboon. Nick used to campaign this car in the D1NZ series before retiring it and now brings it out for the odd trackday.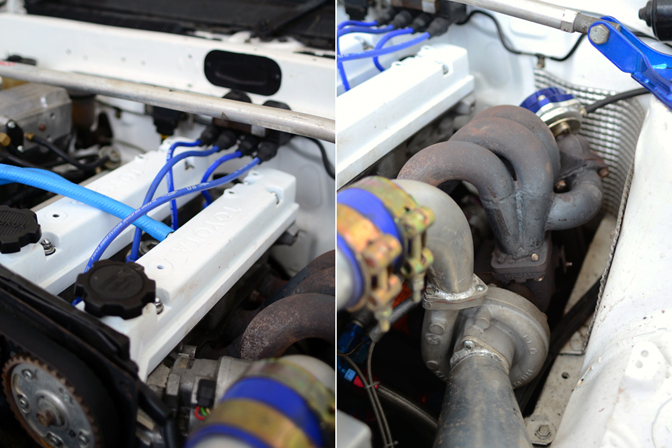 It's powered by a 4AGTE smallport producing just under 200kw!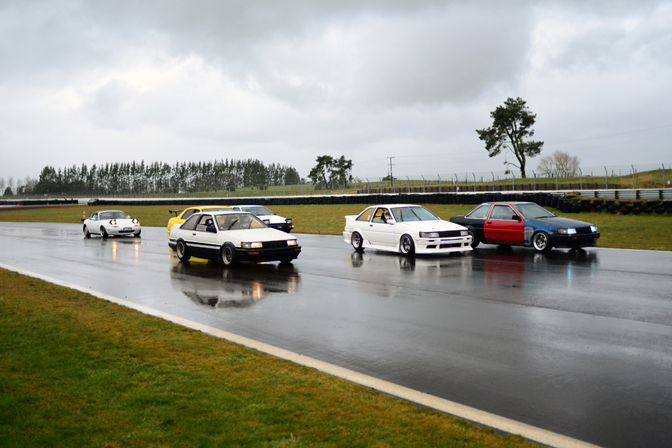 I think this event would have been one of the largest AE86 gatherings ever held in NZ, I counted a total of 12 Corollas at one point. It was amazing to see so many classics at one place.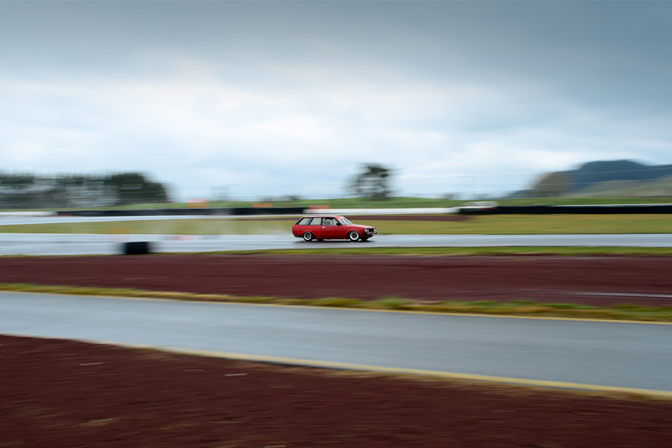 Adam from C's Garage was there in his super loud KE70 wagon. This car has been setup really well using his own 'Billspeer' knuckles, it looks like so much fun to drive!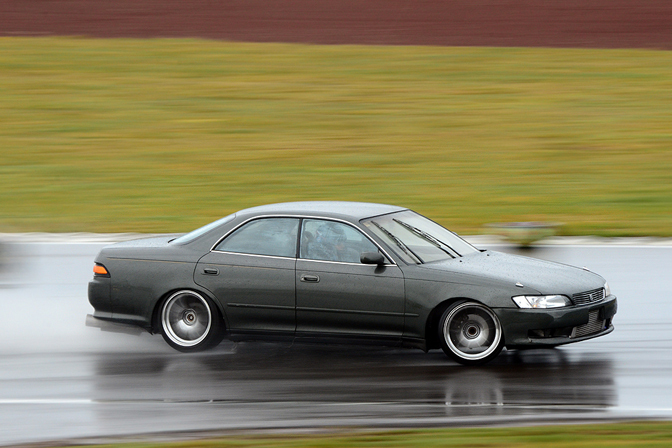 Although the day was dominated by old Corollas the odd newer Toyota made an appearance, like this JZX90 Mark II …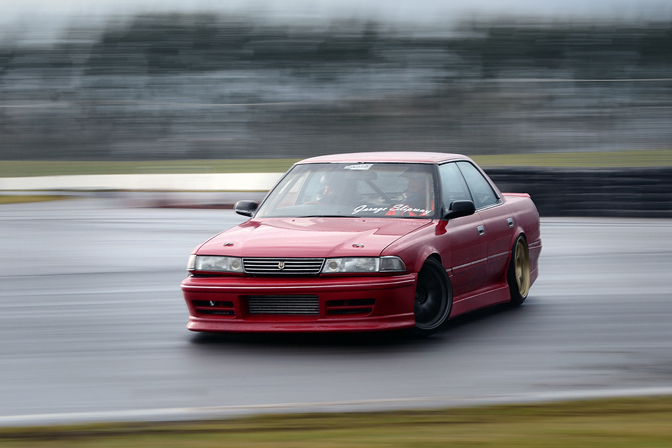 … and this slightly older JZX81, both powered by 1JZGTE's.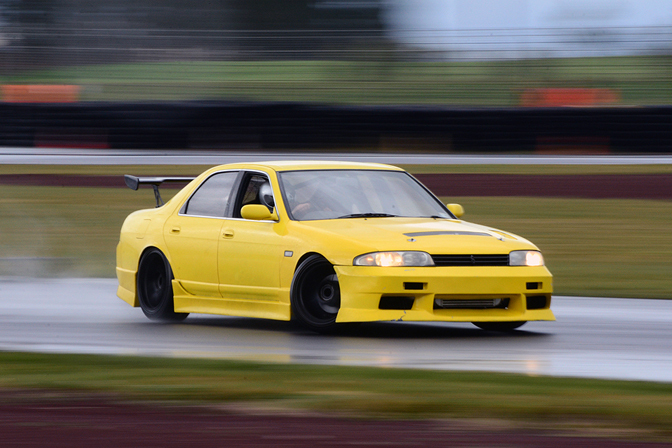 A couple of real strangers showed up too. This 4-door R33 was driving well all day. The track is quite small and technical, probably more suited to smaller cars.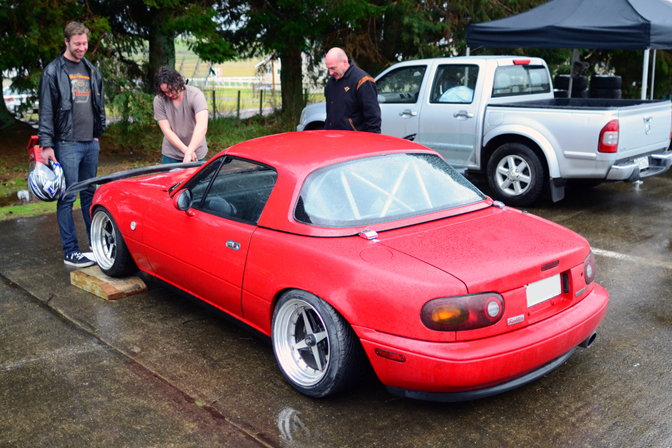 This Miata looked awesome on a set of Work Equip 01's, unfortunately I didn't get an action shot of it but it you can imagine how cool it would have looked!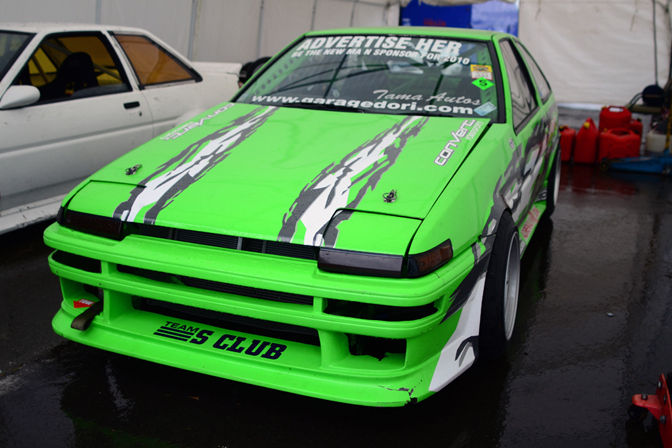 Brendan Duncker, another ex-D1NZ driver, brought his Trueno down form Auckland. The bright green brought some colour into what was a very dull and dark day at the track.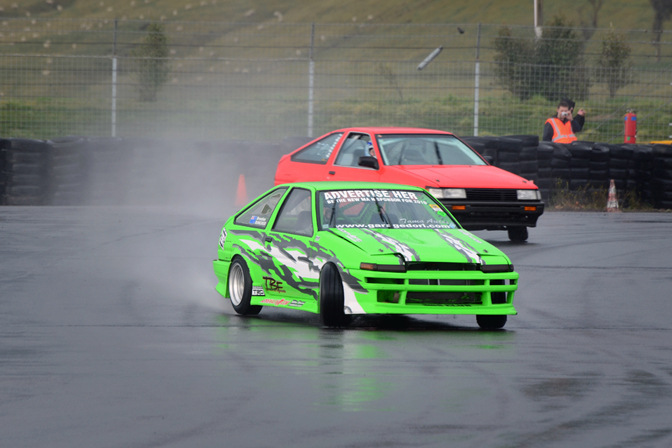 The car is powered by a triple rotor 18A, which is made from 12A housings as opposed to 13B housings, It sounds AMAZING!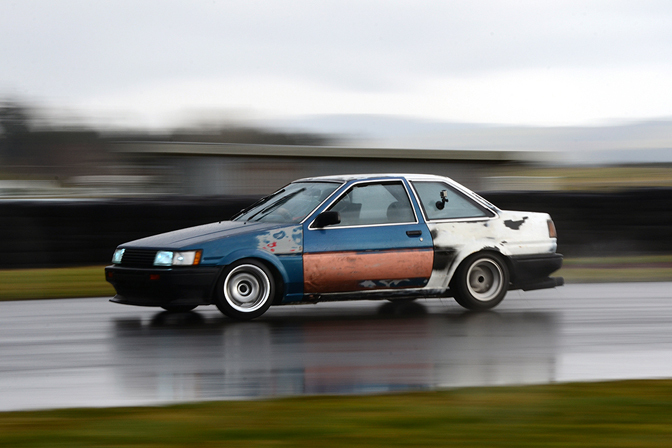 I think its safe to say that over half of the Corollas in attendance were Levin notch-backs, this particular one was sporting a few different colored panels.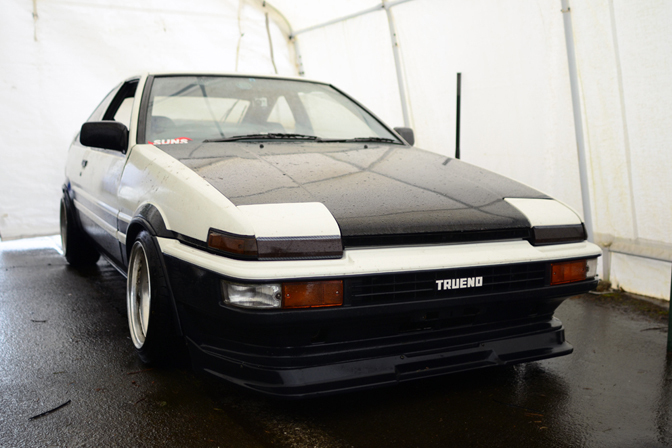 I spotted this Trueno hatch-back sheltering from the rain. It was sitting on a set of SSR MK III wheels, looking like something you would see on the streets of Japan.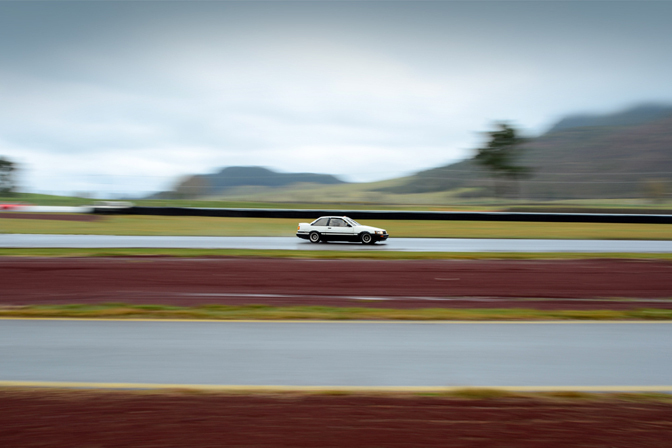 There were brief pauses in the rain but the clouds didn't show any sign of letting up. A lot of the cars had trouble keeping the windscreen clear because it was so cold outside.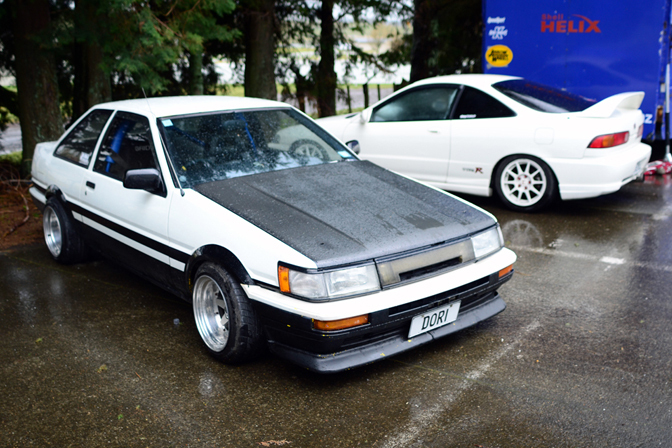 A few Corollas had made the trip down just to spectate, this Levin looked like it was itching to get out on the track. You really can't go wrong with small wide wheels on these cars. Perfection.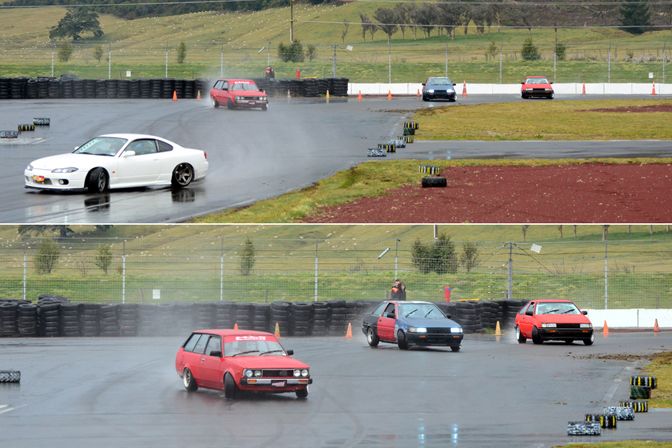 I'll leave you with this shot that really sums up the day for me. Although the weather was terrible the action both on and off the track was amazing. Seeing 4 or 5, sometimes 6 car trains flying round this tight little track was nothing short of spectacular. See you next year, August 6th.
My good friend Olly Jepson also made this video you may wish to check out.
Cheers!
Roo Wills