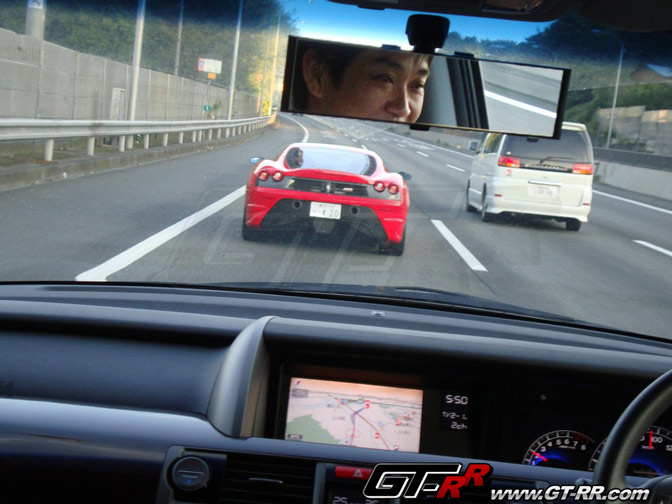 GT-R owners and worshippers throughout Japan take a special yearly pilgrimage to Fuji Speedway for the holy day known as "R's Meeting." The story of my travels to this GT-R Mecca transcends GT-R ownership and fandom, of which I joyfully participate, and takes on an even greater meaning. For myself and my colleague Kristoffer, this trip represented the first time in 11 years that Bulletproof Automotive entered the Japanese market as a local seller. After all of those years representing Japanese tuning shops abroad we returned to Japan armed with an unwieldy box of our own USA-made original parts to re-introduce ourselves to the country and market where we found our beginning more than a decade ago. So the story of the foreign company continues, proudly returning to Japan for the biggest GT-R event of the year to run a booth under the Bulletproof and GT-RR banner of American-made GT-R tuning parts. Skipping past the awkwardness of carrying a huge front spoiler box through the crowded subway system of Tokyo, past the joint effort of Do-Luck and Vertex helping with last minute printing of booth banners for us, past the generosity of Do-Luck providing us with booth staffing and support, we find ourselves on the highway at 6am Sunday morning on our way from Yokohama to Fuji Speedway. I find myself feeling awkwardly guilty snapping the picture of the Ferrari F430 Scuderia above on the Tomei Expressway while my friend Mr. Ito of Do-Luck drives and smiles in the rearview mirror. Why is it that all cars somehow look better on Japanese freeways than on US ones? I did not come to Tokyo to see a Ferrari, I came to see GT-Rs and lots of them.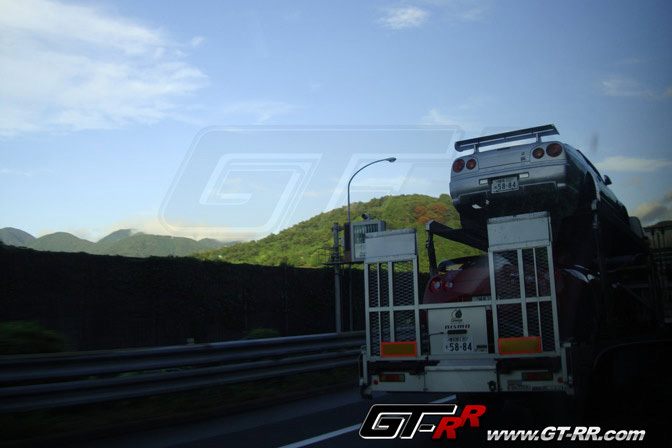 Shortly after we get our first taste of the GT-R, a trailer stacked with an R34 and an R35, driven by Kobayashi-san of MCR. Little did we know that Kobayashi-san would be next to our booth and that his cars would be the first GT-Rs we saw in the morning and also the last GT-Rs we would see while packing up at the end of R's Meeting.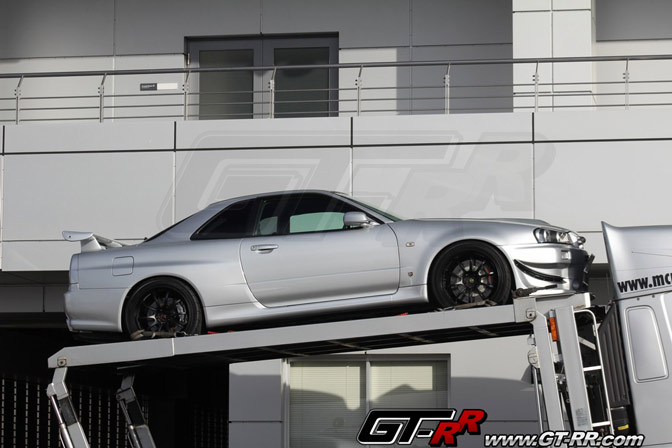 As we arrived at Fuji for booth setup, the random buzzing by of GT-Rs was intoxicating. GT-Rs were swarming everywhere and it was an experience that even for the well-seasoned owner of a GT-R specialty business easily overwhelmed my senses and left me in awe. Early morning sights included the unloading of MCR's pristine R34.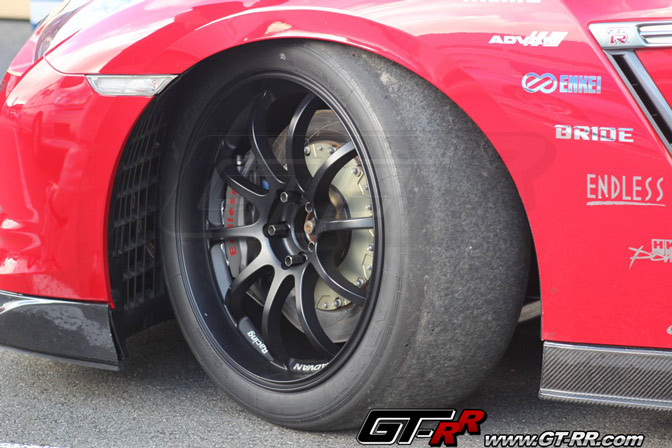 As well as gems like the ungodly expensive 20" Advan racing slicks and Endless Mono-6 big brake kit on MCR's R35.  At last check the 20" slicks are something in the neighborhood of $1200 per tire…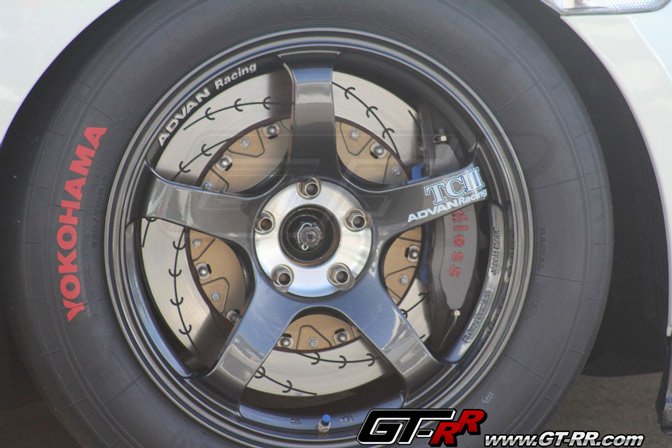 …so some companies like HKS Kansai utilized a more modest 18" slick on their R35 GT-R. Paired with not so modest Endless Mono-6 brakes, it provided the rare picture of a brake system completely filling an already large wheel.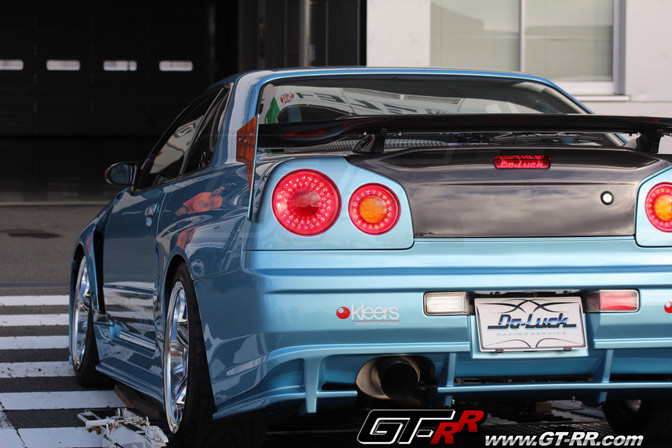 After inspecting our booth neighbors MCR and HKS Kansai we unloaded Do-Luck's highly underrated and pristine R34 off of the trailer and prepared it for the booth. The remainder of the day involved quick jaunts to document what seemed to be thousands of GT-Rs of every variety and style. The sheer quantity of GT-Rs was truly unfair in some ways because it led to myself and others overlooking some of the highest quality modified GT-Rs in the world. There was simply too much to see. Nobody, regardless of how experienced or serious they were, could possibly have given the proper amount of attention to all of the GT-Rs there that deserved it. As such I humbly will report on some of the GT-Rs which caught our eye. With more than 1000 pictures taken, this recap below is an unjust, yet necessary abbreviation, of the epic event. A short video walk through was taken to try and give a feel of the true scale of R's Meeting. In the video you'll see a real-time walk through from R34's to R33's to R32s to Ken Mary's and Hakosukas. Regretfully there were 100+ R35s parked elsewhere that did not make this video, but nonetheless in just a few minutes it encapsulates the highlights of the entire GT-R vehicle brand history including even the mythic 4-door Nismo 400R.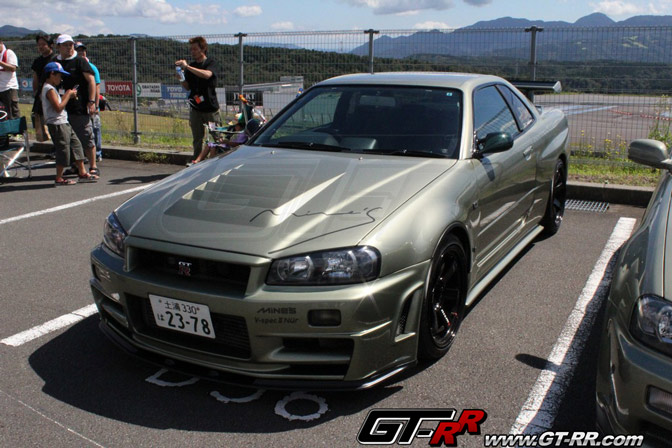 Everyone has their favorites, this was my favorite R34 at the event. A Millennium Jade R34 GT-R Vspec II Nür modified tastefully with Mine's and Nismo parts.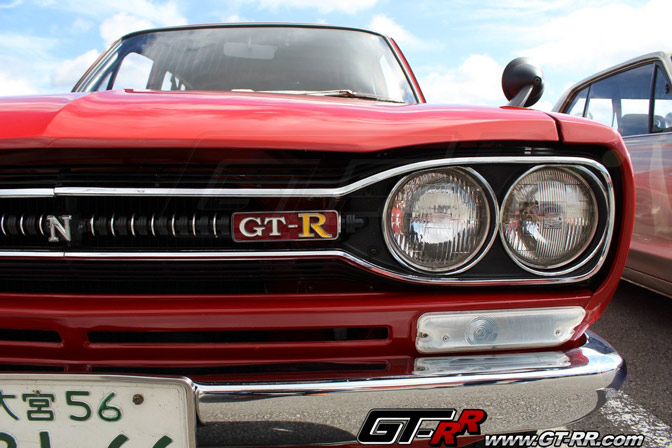 To appreciate the present we must acknowledge where it all came from and respect our elders. The young ones might think the "R" was always red but checking out the classic PGC10 GT-R will show that the "R" was at one point yellow.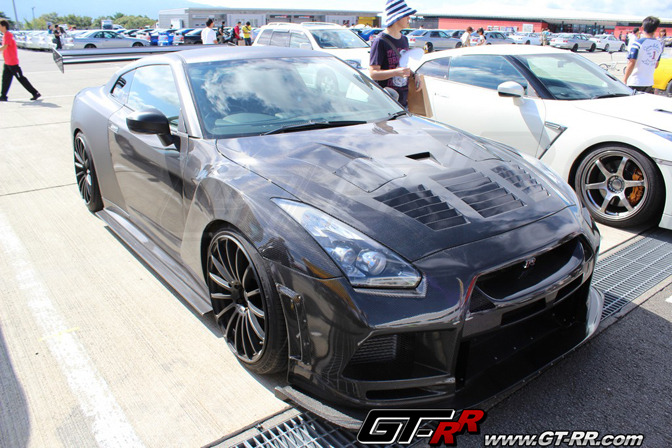 The full spectrum of GT-Rs were present and to show that lets jump from the oldest to the most modern. Here's Nobuteru Taniguchi's R35 fresh off of a recent Option magazine cover sporting the full Top Racing dry carbon widebody kit. Just don't look too close and notice that he used carbon look vinyl for the rear fenders and the roof, two parts that Top Racing do not make.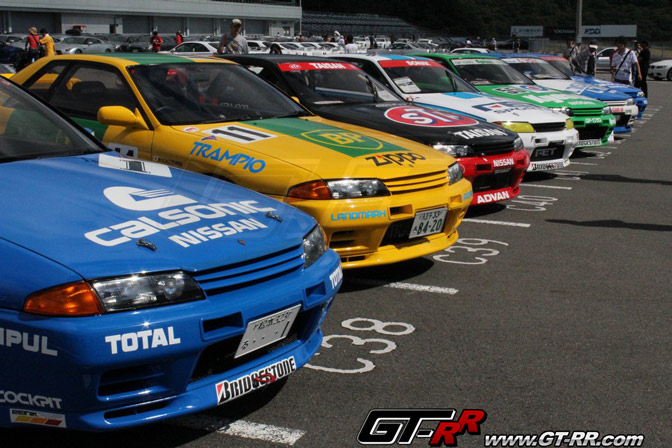 A rainbow lineup of R32 Gr.A replicas were stacked together for a nostalgic photo op.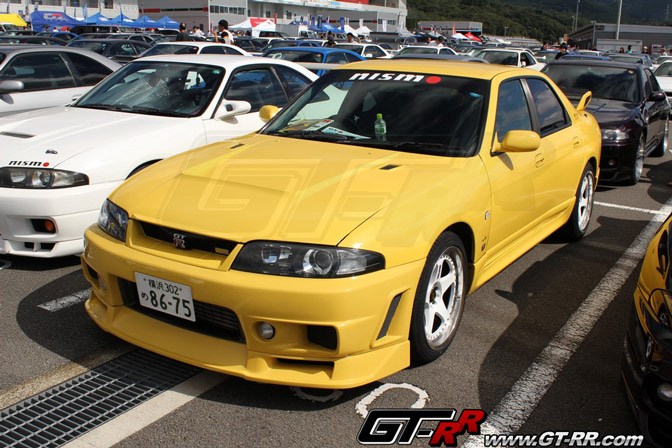 There is nothing quite more rare than this one of a kind Nissan Autech produced Nismo 400R 4 door R33 GT-R.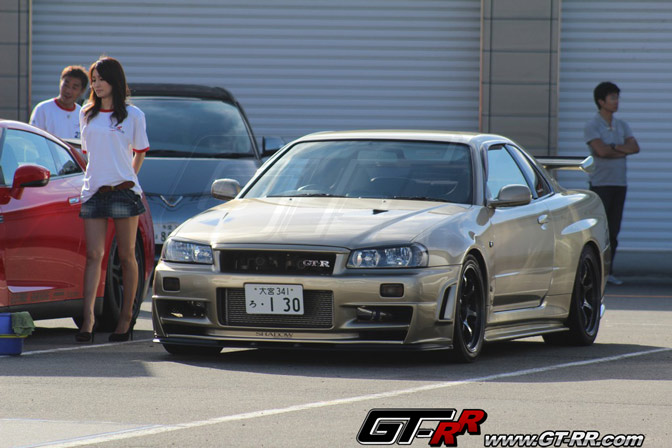 The day was truly about GT-Rs and not flashy displays or models. With that being said, Shadow Sports brought out a skimpy clothed model which we captured next to the equally if not more sexy Shadow R34 GT-R demo car.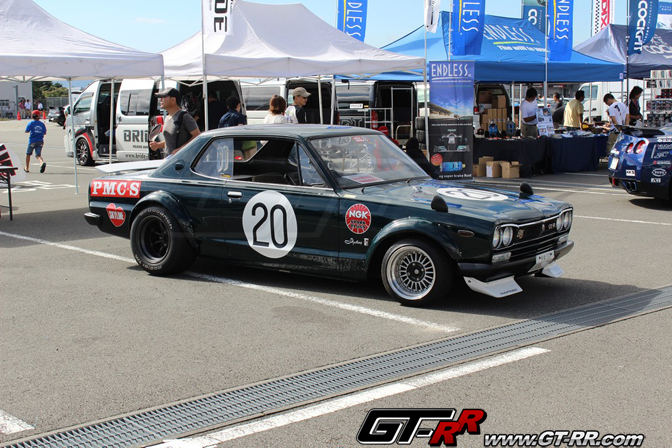 The OGs kept it hardcore with racing Hakosukas like this aggressive ride.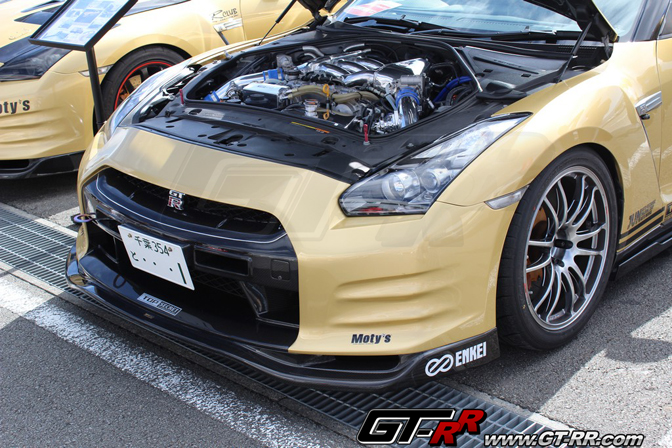 Top Secret was there sporting multiple gold R35s. In the picture above you might find it interesting to notice that Top Secret's longtime affiliation with RAYS wheels is now switched to Enkei for their latest demo car. For R35 guys, you'll also notice the hood open to show off Top Secret's latest modification of an oversized intake plenum.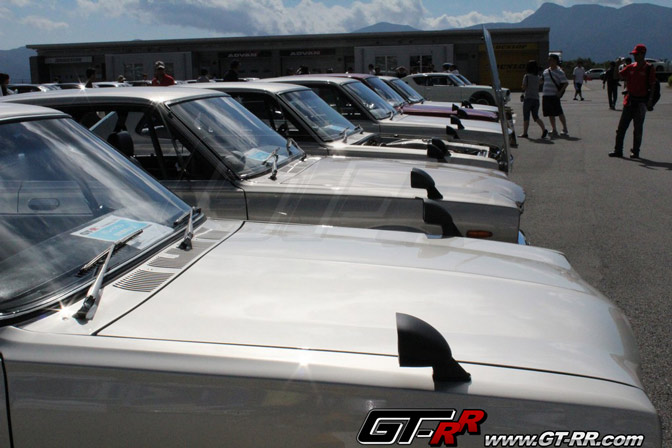 For those who like car line-up shots and for those who didn't check out the youtube video above, here are a couple of shots for you. It's not too often one can get so many Hakosuka GT-Rs in one location, with a few Ken Mary GT-Rs in the background for good measure.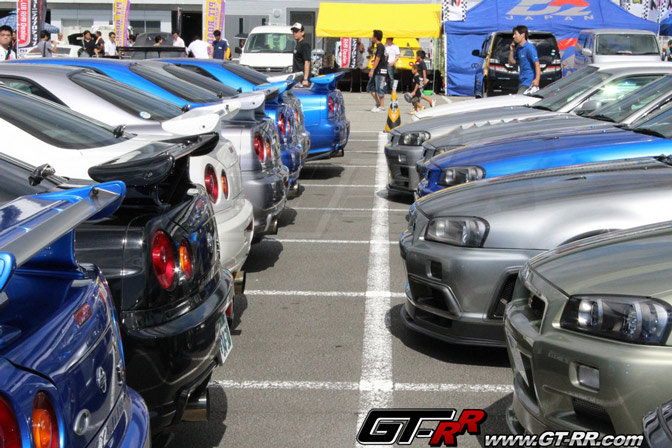 And here, so many choice R34's in one location make it difficult to notice and appreciate the fine details of each tuned example.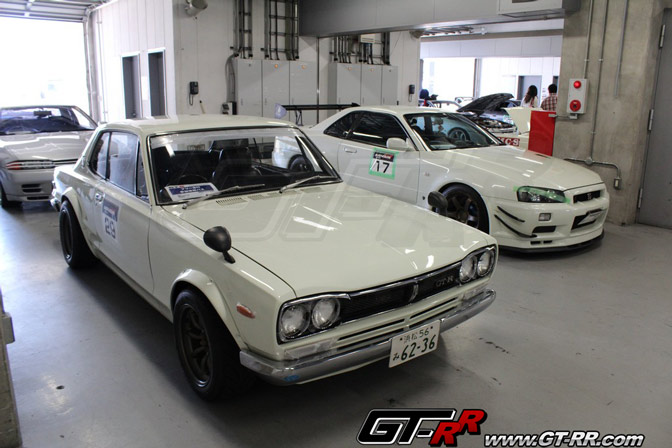 A quick walk into the garage shows a scene of three generations of the family hanging out pre-race.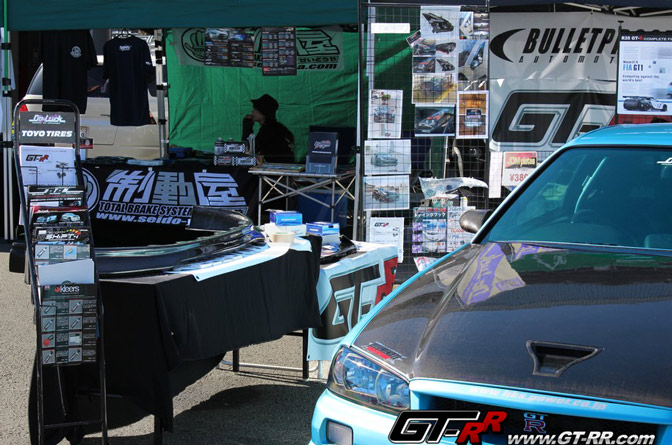 As the day came to a close we balanced between feelings of heat exhaustion and sincere appreciation for the momentous occasion. We saw the best selection of GT-Rs in our lives, yet we also had the satisfaction of returning to Japan to re-introduce our GT-R business to the Japanese market, alongside the many companies which we already distribute for internationally. It was a phenomenal day and as I took a last picture of our booth at Fuji I felt the joy and profound level of appreciation for our friends in Japan who helped us to make the dream of having our own booth at the R's Meeting possible.
All The Best,?Ben
Visit our Facebook page here