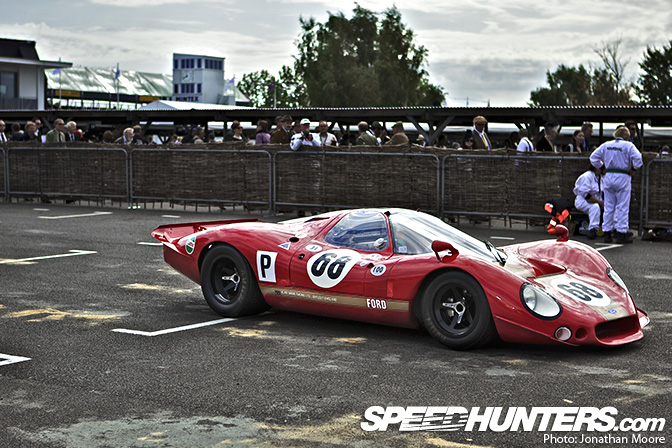 ?
This year's Goodwood Revival was packed with celebrations of big-number anniversaries. 50 years of the Jaguar E-Type, 75 years of the Spitfire and 50 years since the late Phil Hill became the only driver to win both the Le Mans 24 Hours and the F1 World Championship in the same year – all saw tributes paid over the three-day event, but two centenaries also had their turn in the spotlight.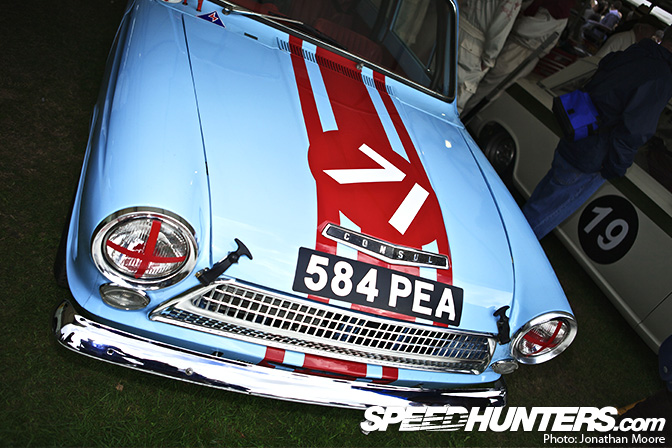 Firstly, the Ford Motor Company of Great Britain put on an enormous display of vehicles spread over the entire site, both in the racing paddocks and in the static display areas. Ford are no strangers to the Revival, with a horde of Cortinas always three-wheeling round during the touring car races, but 100 examples from the 100 years Ford have operated in the UK were gathered together.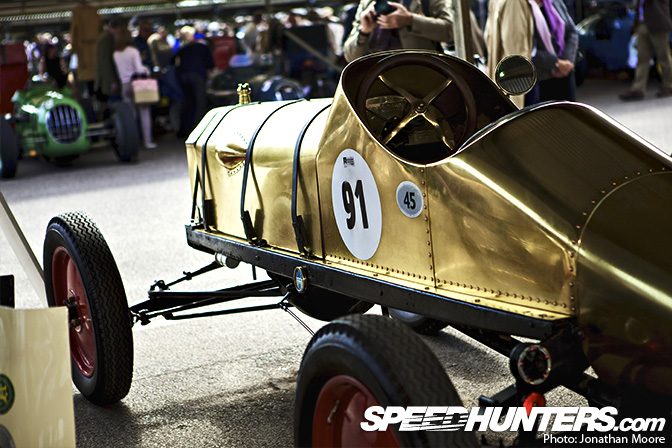 The Fords on show ranged from 1911 – the year Ford began manufacturing cars in the UK (cars had actually been imported since 1903, soon after the company was founded) – to 1971. An extra half dozen years were tacked on to the formal Revival operating period to squeeze in a couple more Blue Oval classics.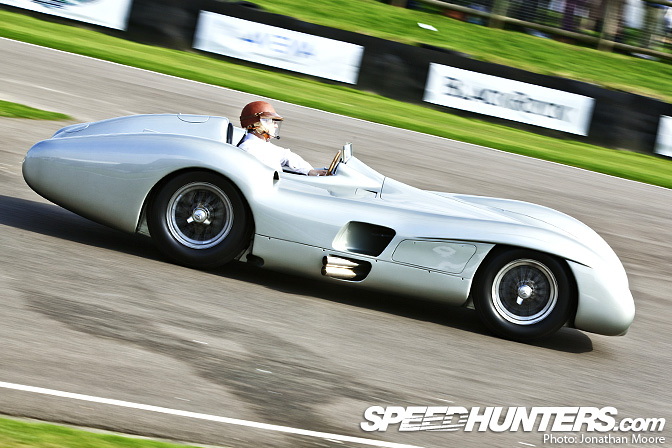 Next up was a celebration of the legend of Juan Manuel Fangio. Fangio. 'El Maestro'. Born in 1911, died a legend in 1995 – the man who, with effortless style, mastered the art of racing the fearsomely heavy, dangerously fast cars at the birth of Formula One. The classic picture is of him, sleeves rolled up and flimsy helmet on, leaning kart-style out of these big F1 machines as he bullied them through corners and on to victory after victory.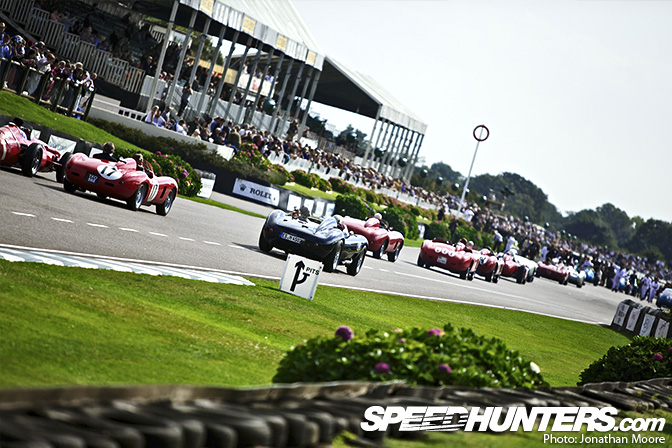 Quite a few of the cars had been specially shipped over from the Museo Fangio in Buenos Aires: 26 cars in total took to the track each day to put in mass demonstration laps.Famous drivers took to the wheels of their hero's cars, including F1 drivers Stirling Moss, Jackie Stewart, Tony Brooks and Hans Hermann, and also Fangio's nephew Juan Manuel Fangio II.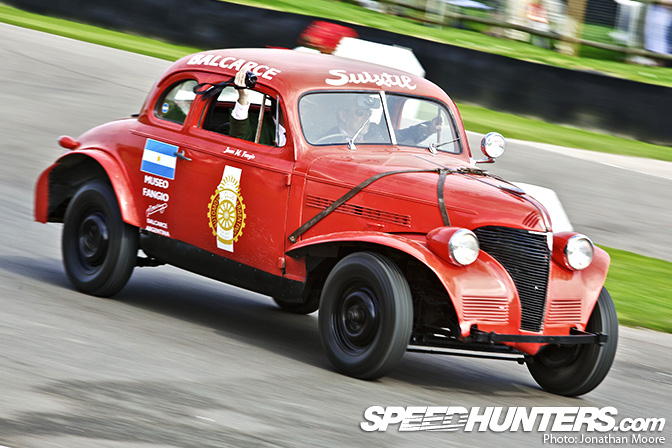 The earliest car in Fangio's armoury was the Chevrolet Coupé Turismo Carretera with which he begun his 20-year string of successes. Fangio was the national champion in his home country of Argentina for two years running, 1940 and '41, in the dirt-racing, Baja-style Chevy.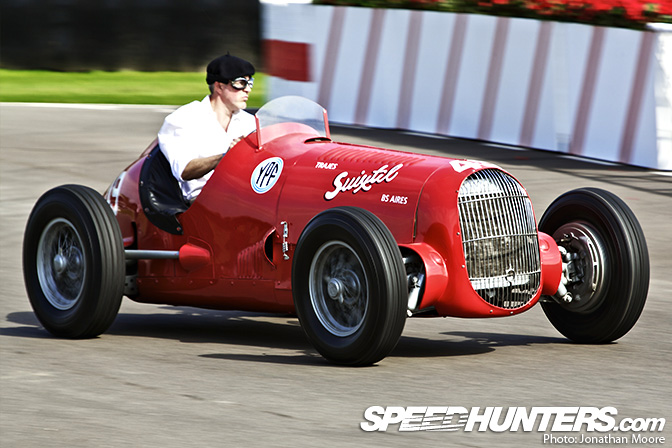 Single-seaters soon beckoned, and between '47 and '49 he scored multiple victories in Argentina and Uruguay in his 4-litre, straight-six Volpi-Chevrolet 'La Petiza'.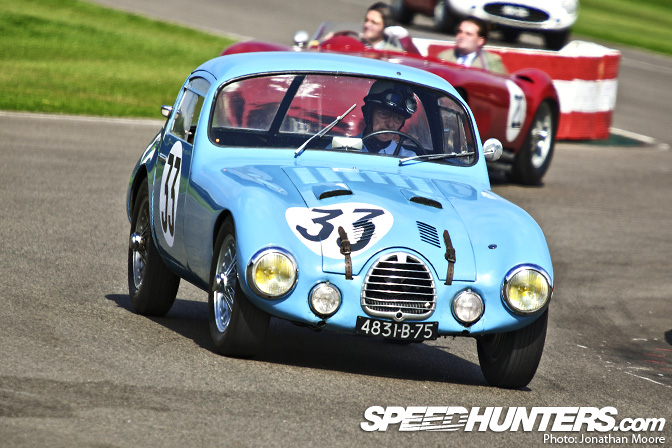 ?
In 1950 he made his Le Mans 24 Hours in this Simca Gordini Berlinette – his co-driver was the equally famous José Froilán González, but the pair were forced to retire after 95 laps with mechanical trouble. His early forays into F1 werea in Gordini single-seaters, before swapping to Maseratis and then becoming an Alfa factory driver in '50 – winning his first F1 World Title in '51 at the ripe age of 40 years old.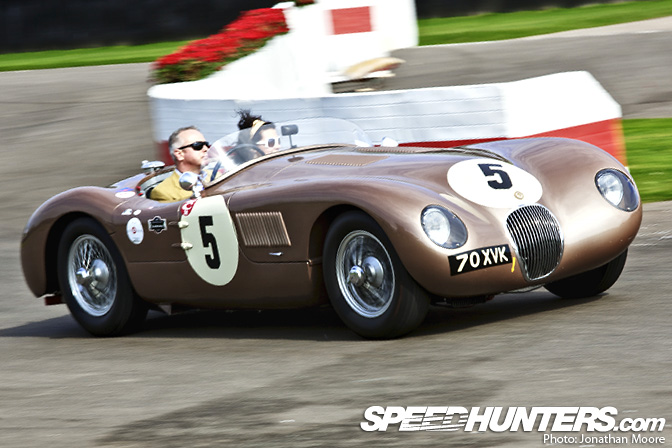 Fangio might be synonymous with Italian marques, but his road-going (and very raceable) car? This 1952 Jaguar C-Type.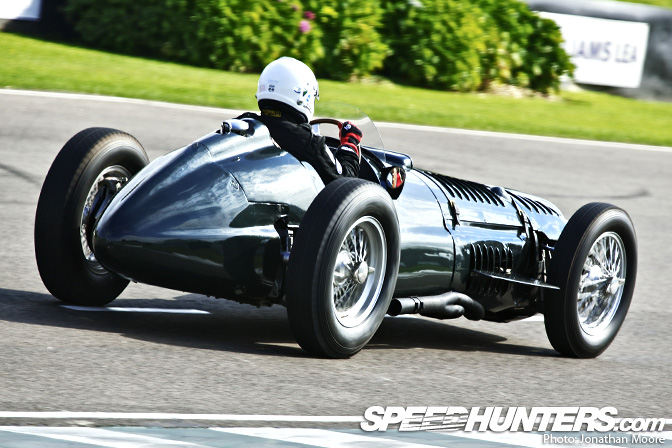 Fangio raced a BRM V16 for the 1952 season after his regular Alfa Romeo team had withdrawn from the championship following a regs change (yes, even then). He also drove this P15 at Goodwood in 1953).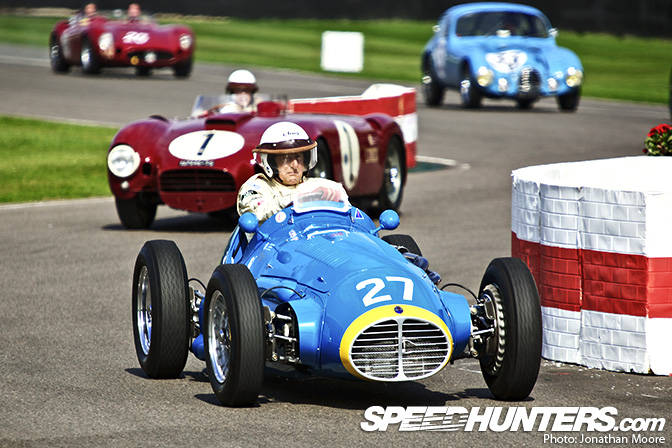 He also drove a Maserati A6GCM that season, but was badly injured after crashing in a Maserati at Monza the day after racing the BRM at Dundrod in Northern Ireland.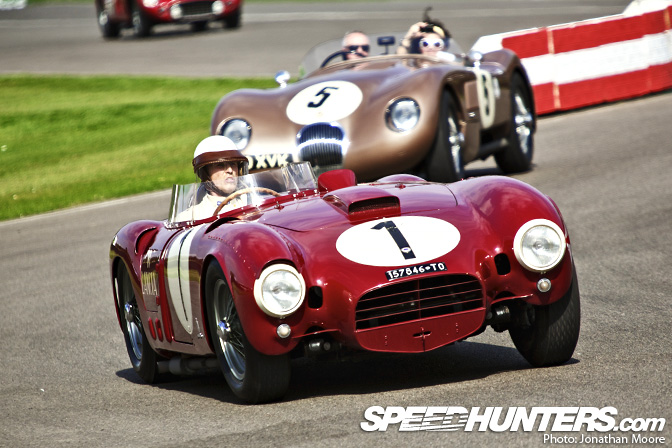 A return to health meant a return to winning: Fangio took the Lancia D24 to victory in the 1953 Carrera Panamericana.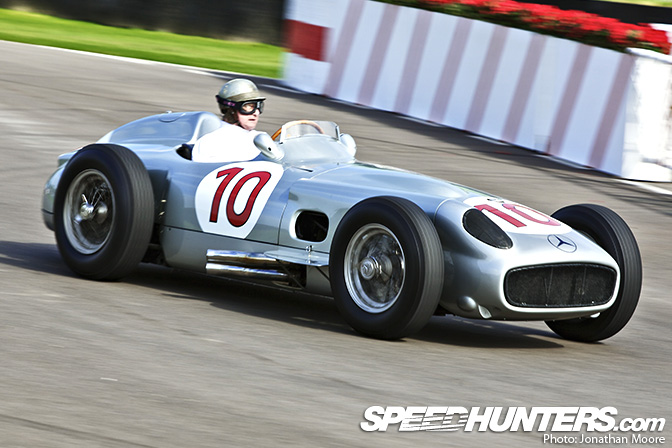 He swapped to Mercedes when they entered F1 during the 1954 season. In the mighty W196 he won eight of 12 races he entered and his second F1 title.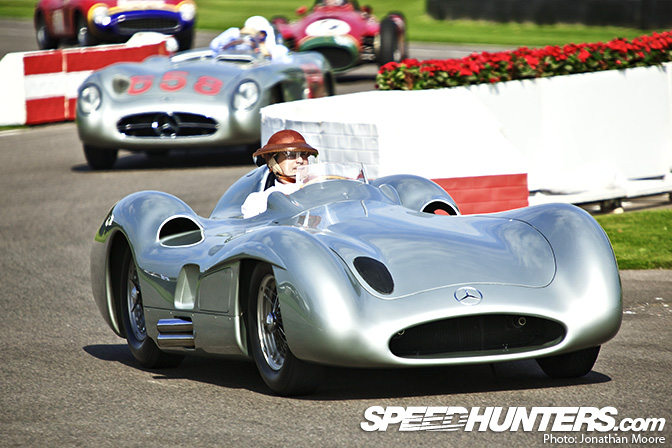 The car was swapped to all-enclosing 'Streamliner' bodywork for the super-fast slipstreamer tracks like Reims. Predictably, Fangio took a win first time out in the car.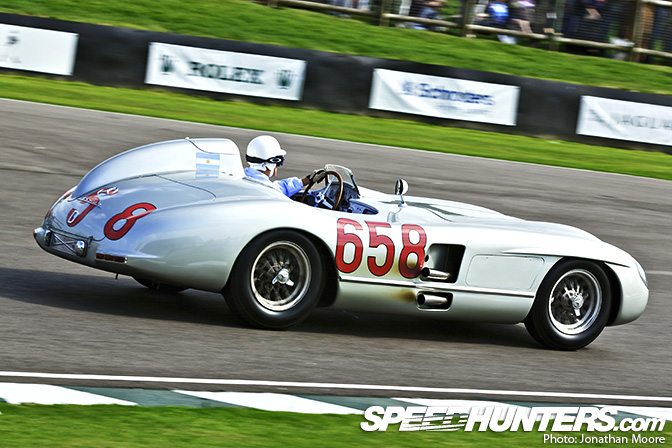 The venerable Stirling Moss, Fangio's protégé and team-mate, drove Fangio's 1955 F1-championship winning Mercedes 300SLR at the Revival. The scorch-marks from the exhausts demonstrate that this is no tame show-car. Fangio himself swapped to Ferrari for the 1956 F1 season – and won it. He then swapped to Maserati for 1957, his final year in F1 – and won the championship for a fifth time with a final tally of 24 Grand Prix victories from 51 starts.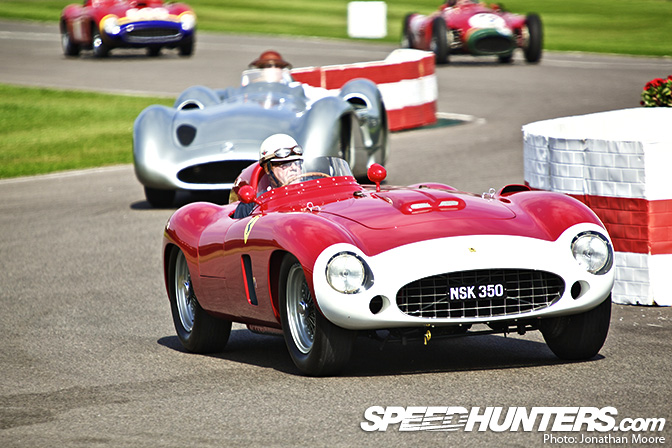 Two of Fangio's V12 Ferrari 290MMs were demonstrated (in one he'd finished fourth in the 1956 Mille Miglia and in the other he was third at the Nurburgring 1000km) and two 860 Monzas. I can't even begin to imagine the combined value of just those four cars, let alone the entire display.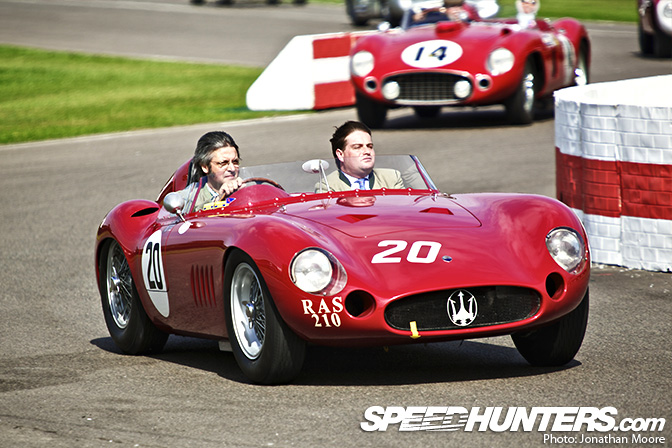 Two Maseratis from his (as-usual) dove-tailed sportscar programme during 1957 showed off cars in which he won the Sebring 12 Hours and Beunos Aires 1000km.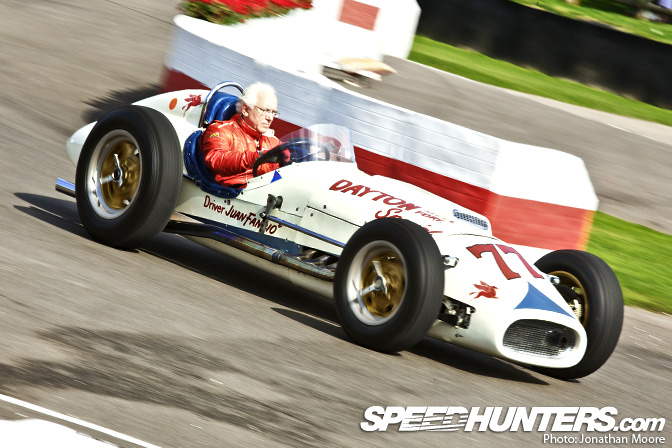 Along with a final pair of F1 outings, Fangio's last challenge was to attempt to take on the Indianapolis 500 in 1958 in the (deep breath) Kurtis-Kraft Offenhauser 'Dayton Steel Foundry Special', and a failure to qualify did nothing to tarnish his enduring reputation.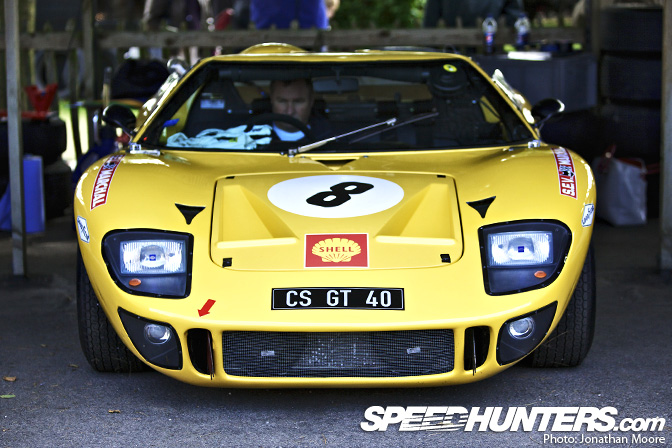 So, on to Ford. Half a dozen GT40s were competing in the Whitsum Trophy for sports-racing prototypes, another two were being used as safety cars during and between races, plus road-going prototypes and roadsters were on display.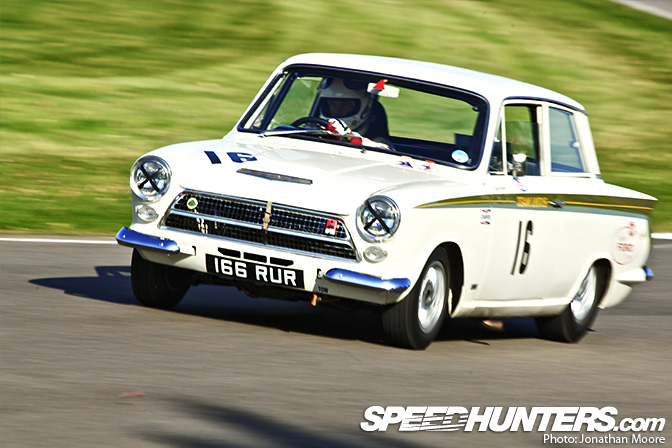 Lotus-Cortinas were the product of a successful partnership with Lotus that stemmed from their Formula One programme; Ford-made Cosworth engines supplied the majority of the period F1 grids.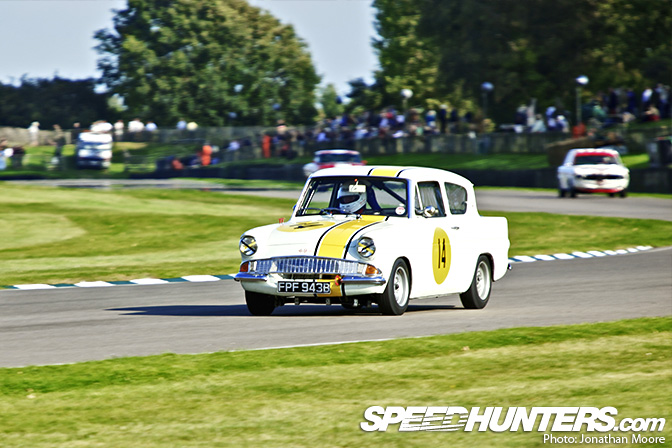 ?
But with all the Cortina love, the Anglia shouldn't be overlooked. Over one and a half million were made, and to this day they make agile, darting race-cars.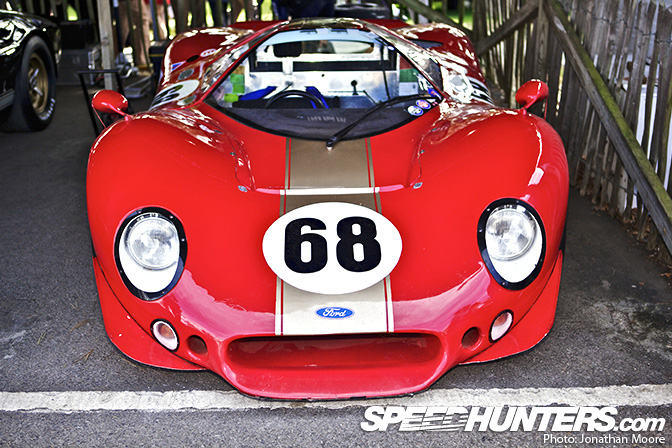 The 1968 Group 6 Ford F3L used the aforementioned Cosworth F1 engine, which gave it considerable pace – but not reliability, or more importantly, any downforce at the rear. So, despite its curvaceous lines and great potential the car only raced for a season – and drivers of the calibre of John Surtees and Jack Brabham refused to drive the car because of its high-speed instability.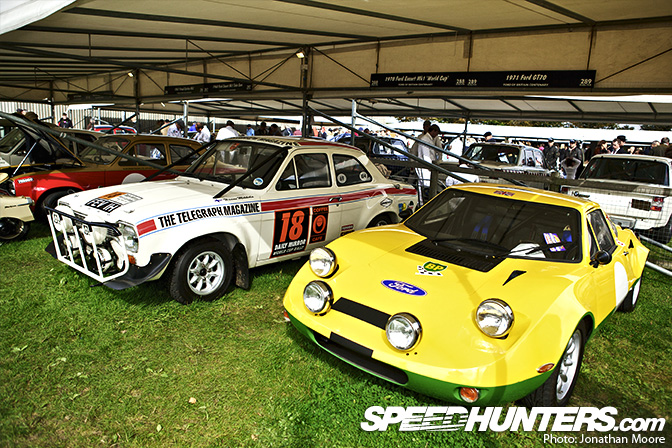 There was a dedicated tent for racing Fords not taking part in the actual on-track Revival races, which housed Escorts, Capris, Zephyrs and the 1971 GT70. This car was originally developed for rallying – it did compete in a limited number of events before being permanently retired in favour of the Escort.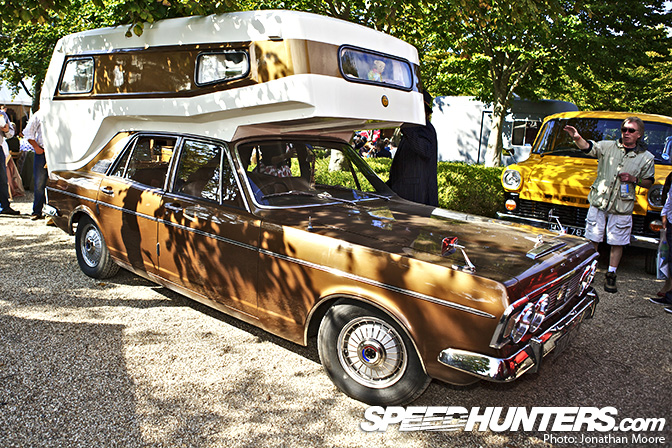 Amongst the number of Ford tractors, trucks and Transits were a number of limited-production Ford specials customised by other companies, like this Zephyr camper.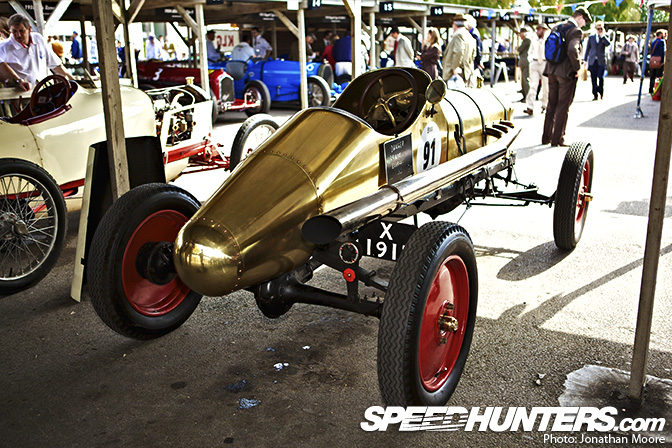 I'll finish up with one of the oldest – and most unique – Fords on display: the Golden Ford 1911 Model T. This brass-bodied racer was raced in the presence of Henry Ford himself, and won several times – involuting a victory at the legendary Brooklands oval circuit in 1912. The chassis had sat discarded in a barn in the Midlands of England until the 1980s, when it was rediscovered, recognised and, eventually, rebuilt. And it can still get up the Brooklands Test Hill in under 10 seconds. Not bad for a 100-year-old.
Jonathan Moore
Goodwood Revival stories on Speedhunters