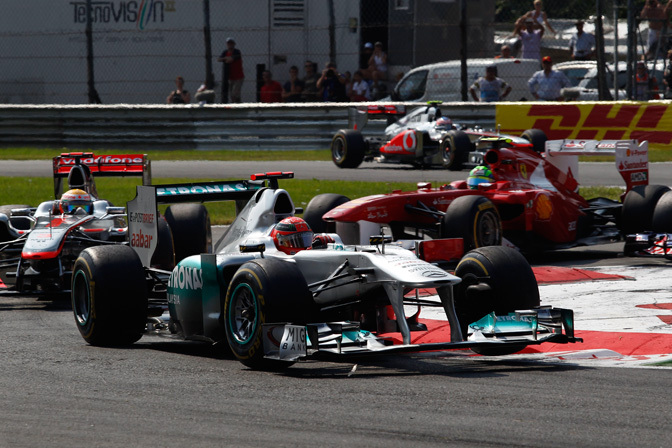 In the build up to last weekend's Italian Grand Prix, some were feeling that it would signal a turning point in this year's season. The high speed Monza circuit was tipped to be a track that wouldn't suit Red Bull Racing, with some teams hoping it would see an end to Vettel's domination.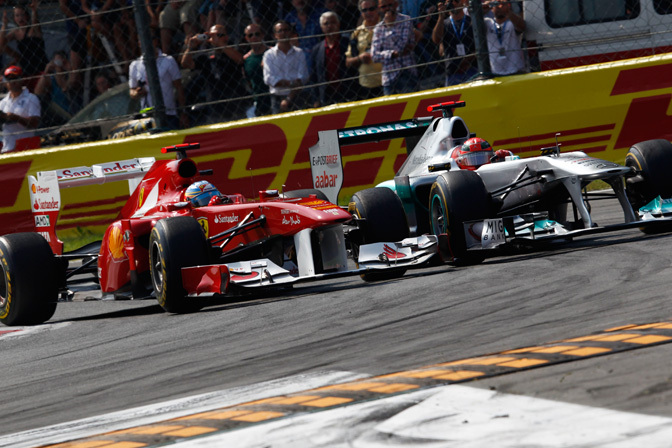 Of course, the tifosi were hoping that a scarlet Ferrari would be leading the field – and that's exactly what unfolded on the opening lap. Starting from fourth, Fernando Alonso rocketed off the line and into the lead. The opening lap also saw Antonio Liuzzi lose control of his HRT, sliding dangerously into Nico Rosberg and Vitaly Petrov to bring the safety car out.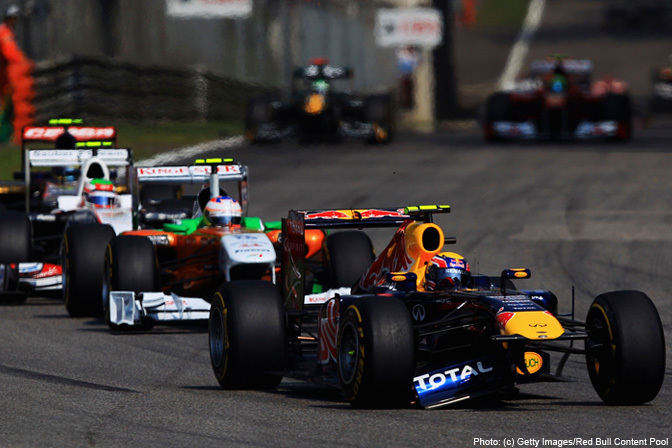 Mark Webber once again had a disastrous start, dropping down into the pack by the first corner. Things were made worse on Lap 5 when Webber collided with Felipe Massa while trying to pass.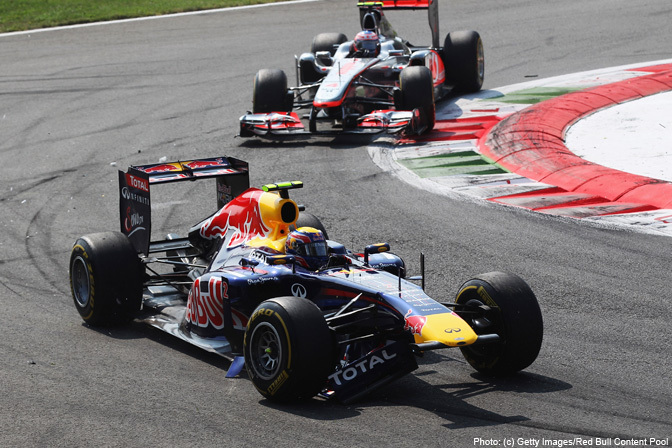 While Massa was able to continue to eventually finish sixth, Webber wouldn't be so fortunate. With the wing firmly lodged beneath his RBR, Webber speared off at Curva Parabolica, just one corner away from making it back to the pits.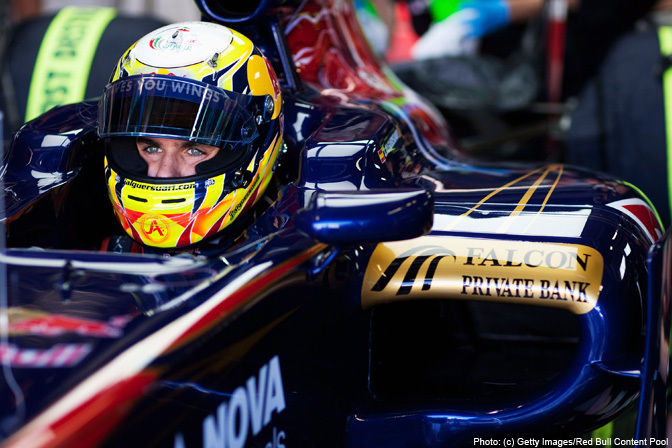 Jaime Alguersuari – who also happens to be a DJ in Spain – put in an impressive race in the Toro Rosso, jumping from 18th on the grid to seventh by the chequered flag.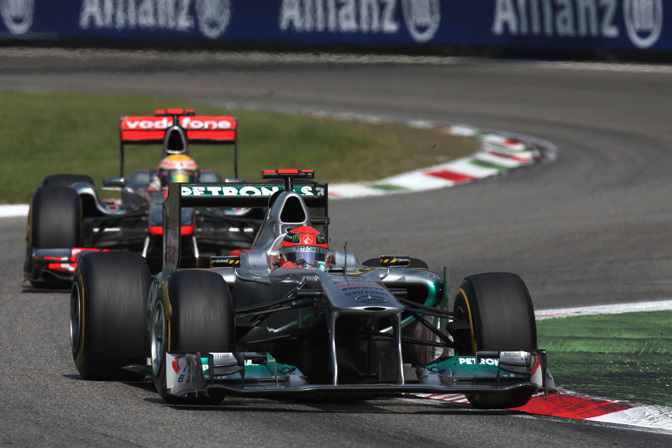 Opinions have been divided over the return of seven-time World Champion Michael Schumacher. Although he's struggled to match team-mate Nico Rosberg, Schumi has proven quite competitive in the last few races. That form continued at the Italian Grand Prix, where Schumacher looked exactly like he did in his prime…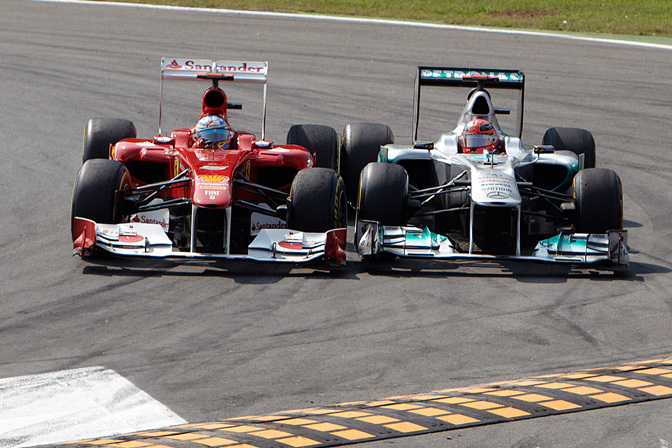 …Of course, one of the things Schumacher is most famous for is his aggressive driving style which made him one of the most difficult people to pass.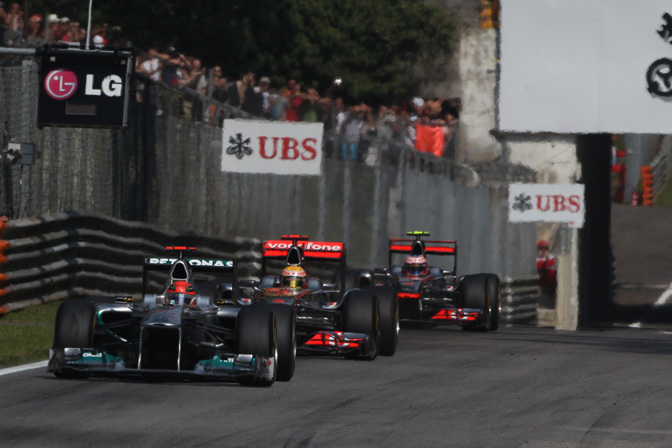 After the restart Lewis Hamilton was caught snoozing allowing Schumacher to overtake. For the 16 laps that ensued, Hamilton – himself recently dubbed 'too aggressive' by the press – battled to try and find a way past Schumacher's Mercedes. If you watched the Italian GP, we'd love to hear your thoughts. Was Schumacher's blocking exactly what F1 needs, or did he cross the line?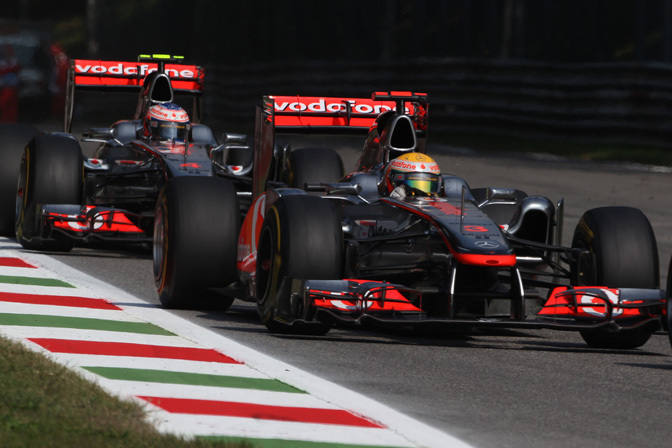 Hamilton's team-mate, Jenson Button, again struggled at the beginning of the race. After initially dropping to seventh, Button fought his way back before passing both Hamilton and Schumacher in quick succession.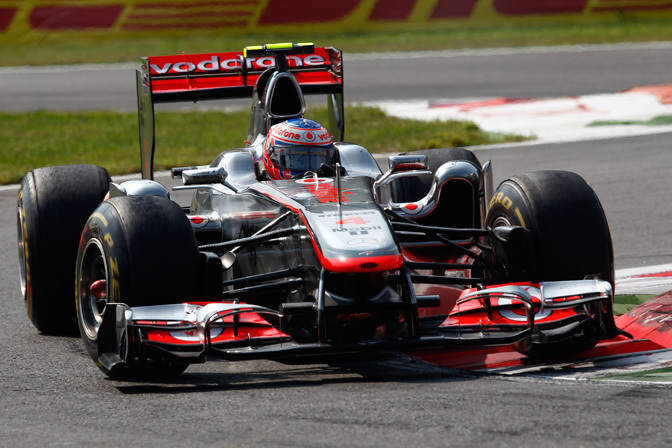 Button would continue fighting his way up the field, passing Alonso to claim the second step on the podium. McLaren would rue their poor start; with Hamilton and Button recording the fastest laps of the race, they felt they had the pace to challenge Vettel.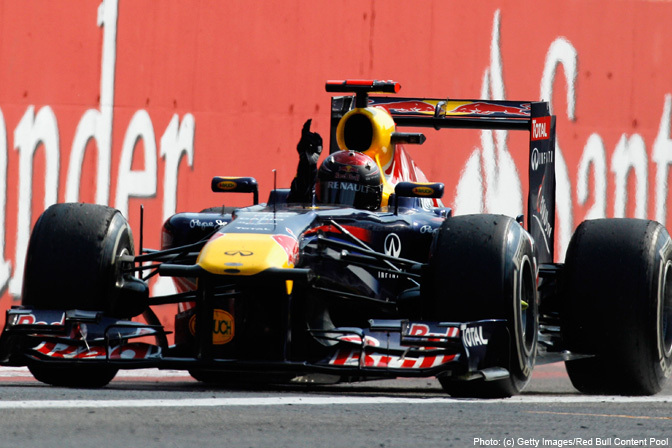 It was an action-packed Italian Grand Prix, and it was easy to forget that Vettel was all alone up front for a good portion of the race. In spite of the predictions that RBR would struggle at Monza, they proved the opposite. Vettel smashed out a shocking qualifying lap – half a second clear of Hamilton and seven-tenths faster than team-mate Webber – and although he had to pull a brave move to reclaim the lead from Alonso, went on to win the race convincingly.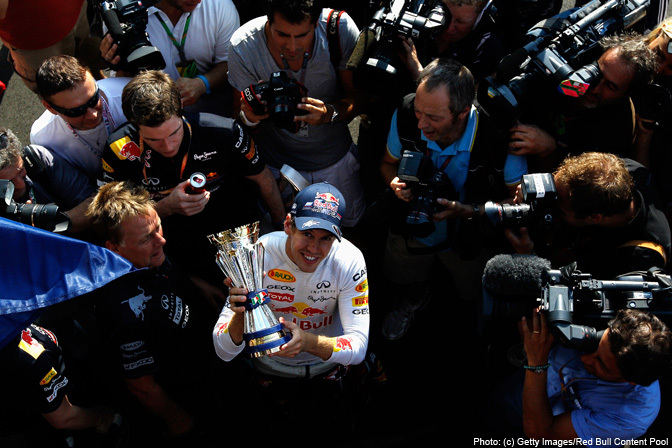 Mathematically, Sebastian Vettel could clinch the championship as early as the next race on the streets of Singapore. Will anyone be able to stop him?
- Charles Kha
Photos by Getty Images, Red Bull Content Pool, Mercedes-GP, Vodafone McLaren Mercedes Media Centre