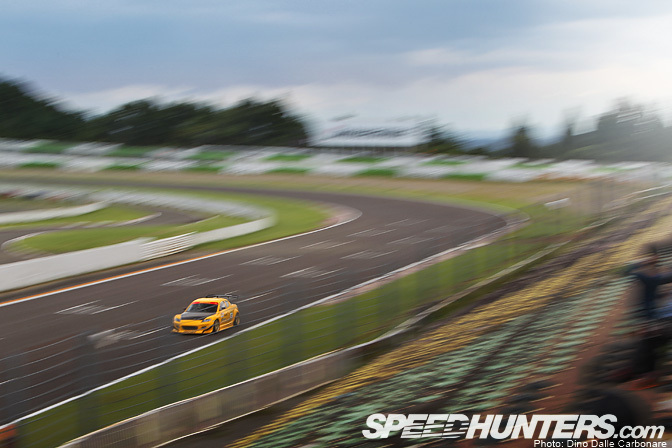 With superb driving conditions at their disposal those that were participating in the Roadster & Rotary Meeting really went for it when it came to setting lap times. This first picture shows Naoki Hattori at the wheel of the Pan Speed RX-8 setting his fastest time of the day, a 1'58″087.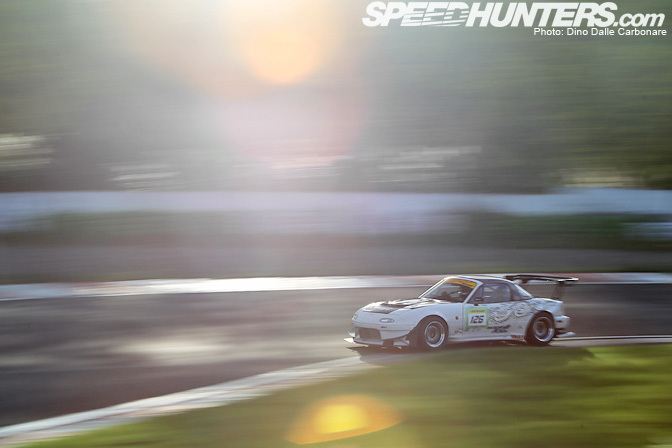 Right behind him in the little Auto Garage K2 NA was Matsubara-san managing a 2'00″335, an extremely fast time for a Roadster. To put that into perspective this little demo car was right on pace with the fastest privateer entries…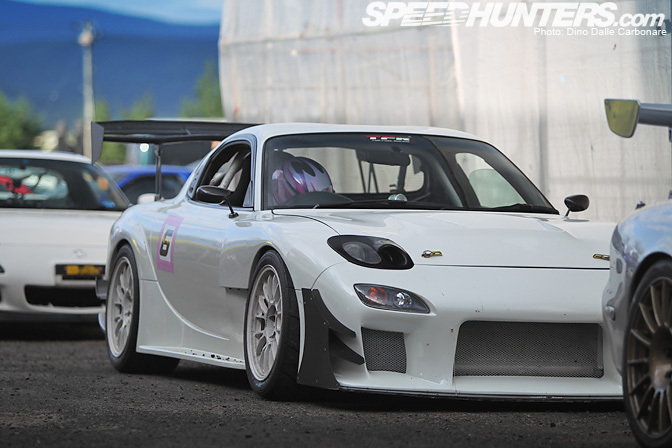 …in the Rotary class. This Top Fuel Racing FD driven my Kumiko Matsushima, apparently the fastest girl RX-7 driver in Tsukuba, recorded a fastest lap of 2'00″373. In Tsukuba everyone is trying to smash that magical 1-minute barrier, at Hi Land you need to dip below 2-min to start playing with the big boys.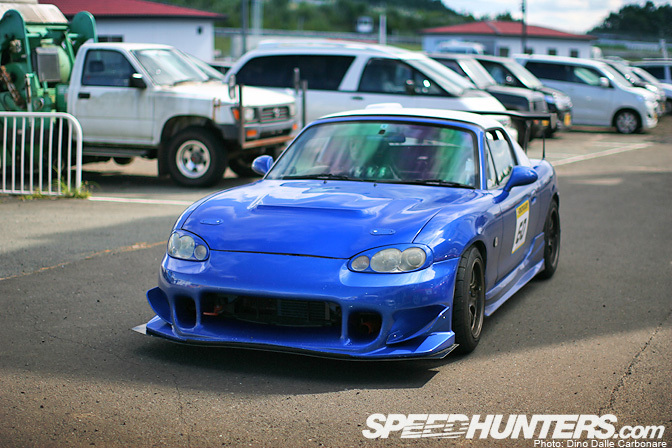 Spotted this full track prepped NB as it was exiting the track…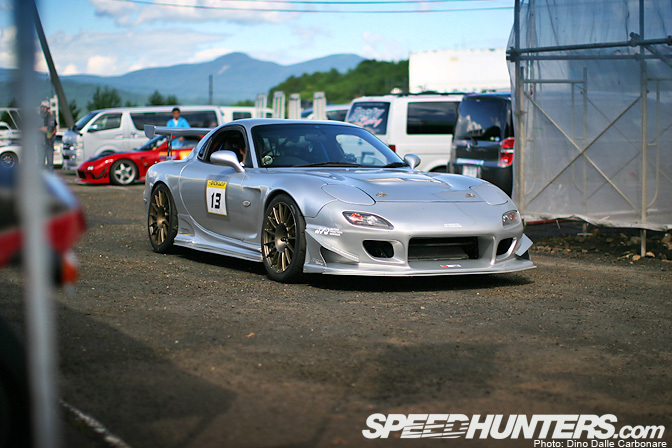 …as the Rotary guys were getting ready for their session.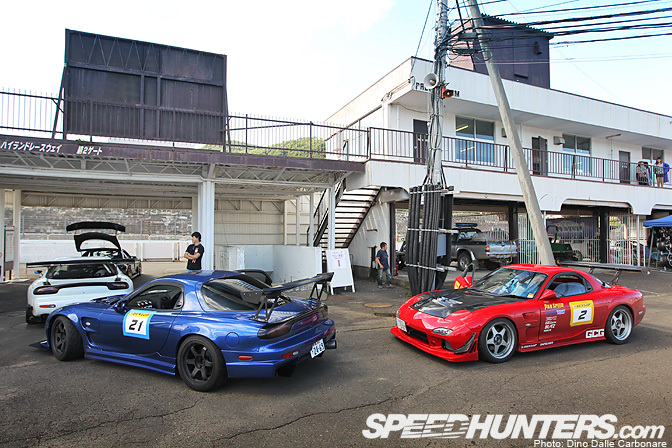 You can expect to see a feature on the red Pan Speed FD3S here in the coming months. This particular car is built as a boost-up-tune package, retaining the stock engine and twin-turbo set up but concentrating on extracting the best possible performance and response. It had a few unlucky moments at Hi Land when one of the tires burst while Tsukamoto-san of Rev Speed was at the wheel and later on in the day was involved in a collision during the Rotary class race. Nonetheless I'm sure it will be all fixed up in no time.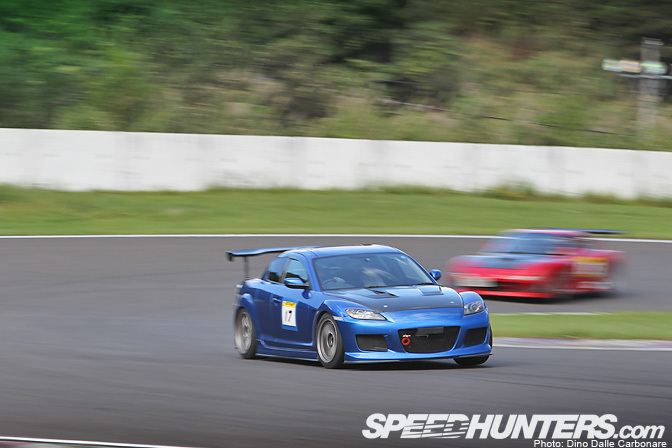 An RX-8 owner having a great time out on track. Having driven at Hi Land countless times myself I can safely say it's one of the best and most challenging tracks in the country, made especially exciting thanks to all the elevation changes.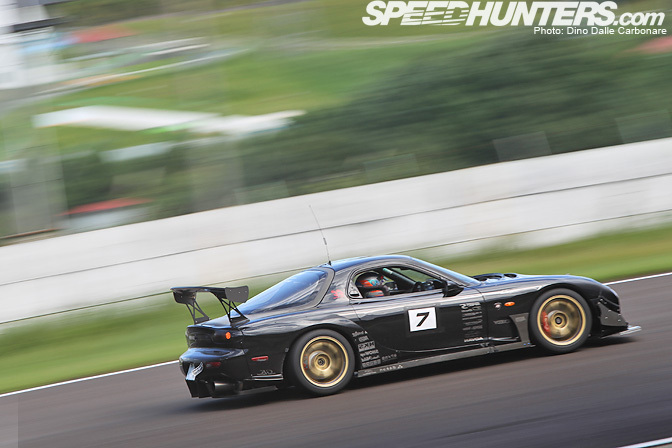 This Feed-built FD was the fastest car in the Rotary class with an impressive 1'59″938. However it isn't until you see the demo car class out in action that you realize…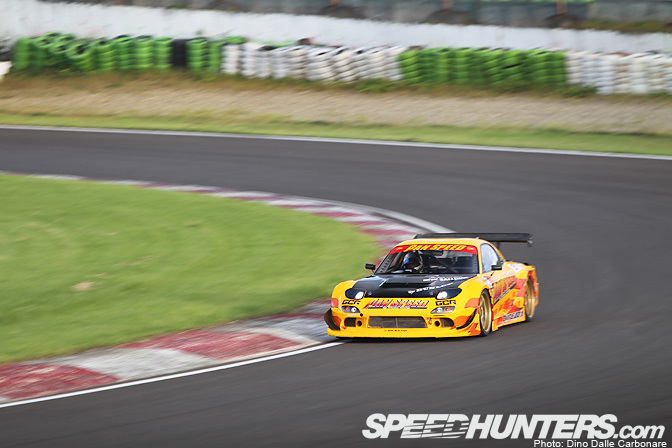 …just how much faster these time attack beasts really are. Early in the day Sasaki-san managed to set the track record with a low 1'50". After years of being faced with wet conditions at the event he was finally glad to be blessed with close to perfect conditions to show all what the Pan Speed RX-7 can really do at Hi Land. But he didn't stop there. After a few minor adjustments to the suspension he went out again in the afternoon shaving off close to 2-seconds, posting a 1'48″689.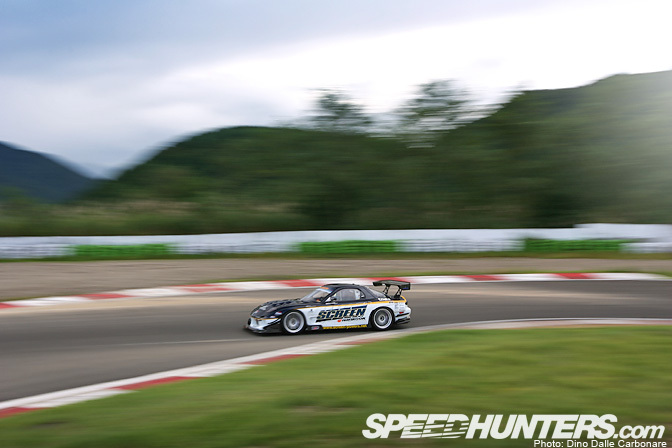 Masahiro Sasaki in the Screen RX-7 was out to do the same as the Pan Speed team and managed an equally impressive 1'49″694, but still over a second off the pace. I couldn't help but wonder what the Revolution FD would be able to do at Hi Land!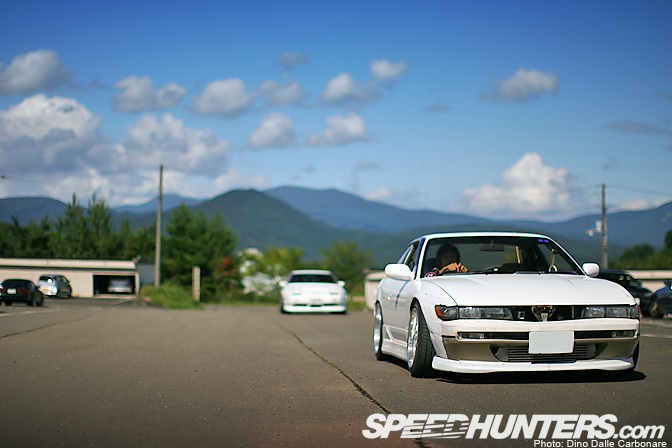 In early afternoon I spotted a few beaten up drift cars driving through the paddock. Their destination was the little drift course, where a small soukoukai event was being held. Sadly I was unable to check out what was going there as I spent most of the day making my way through overgrown grass to access the best shooting spots at Hi Land.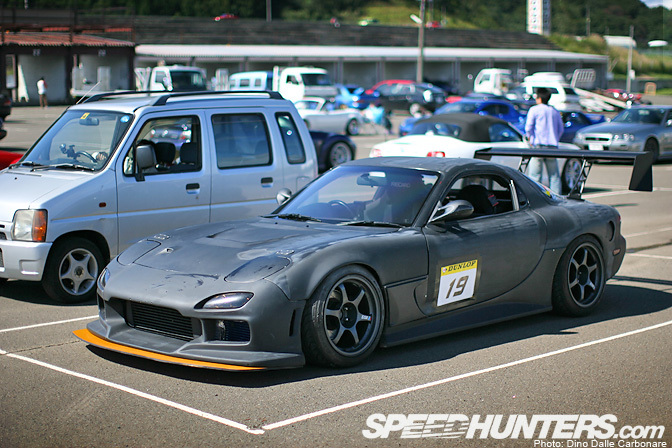 Thought this matte black FD…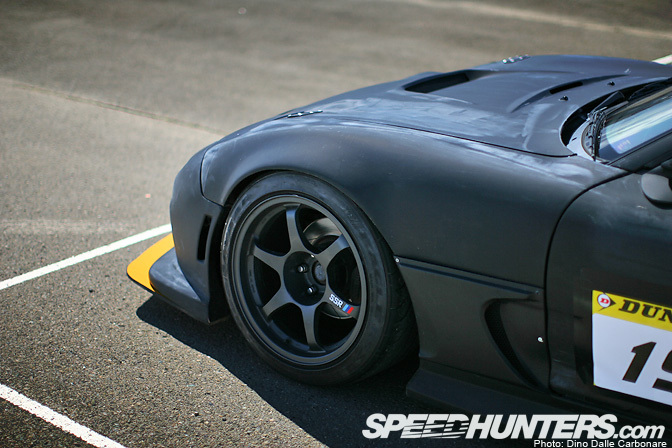 …on SSR Type-Cs looked really cool but never actually got to see it in action on track.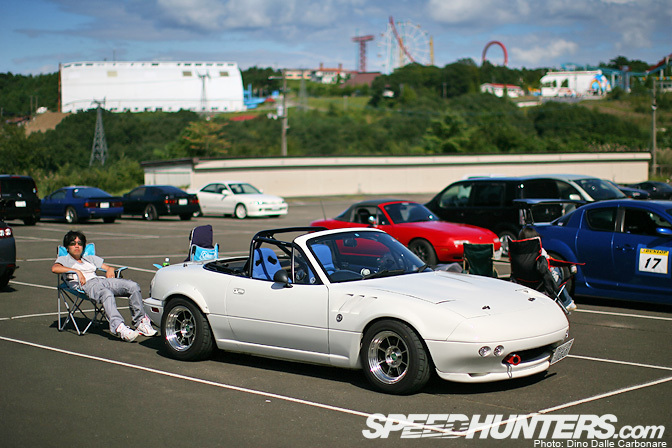 More NA Roadster goodness. Check out the fender vents!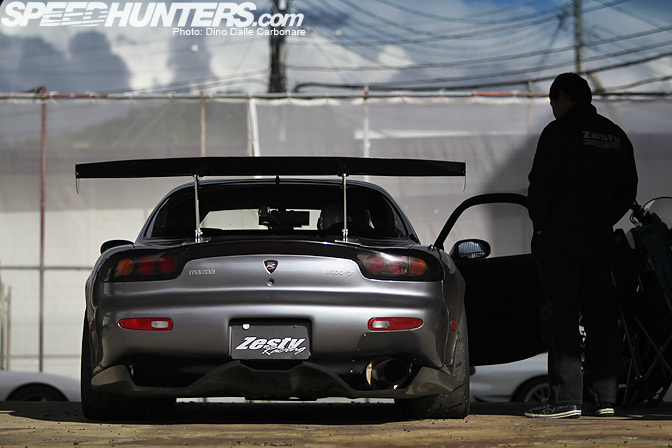 A menacing rear view of the Zesty Racing FD. This is a local shop from Sendai which specializes in a variety of cars.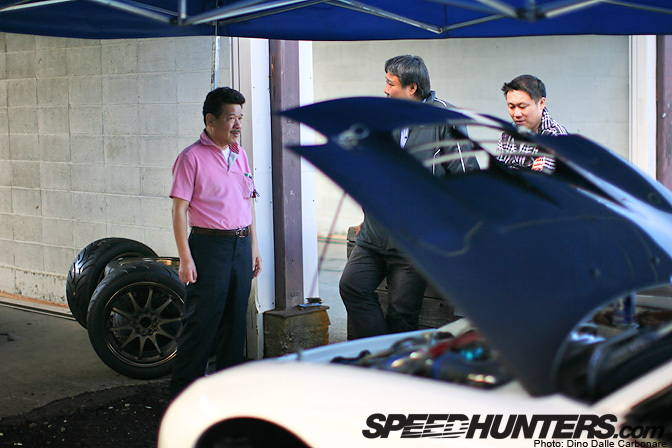 The man behind Pan Speed, Komoriya-san, seen here chatting cars and set ups with a couple of rotary enthusiasts.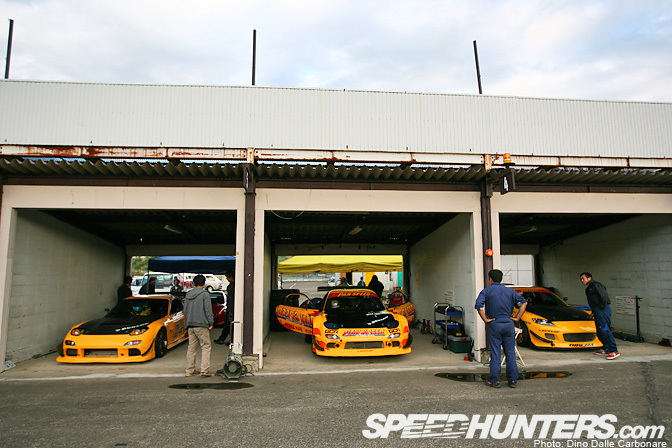 Komoriya-san had an impressive line up of cars at Hi Land…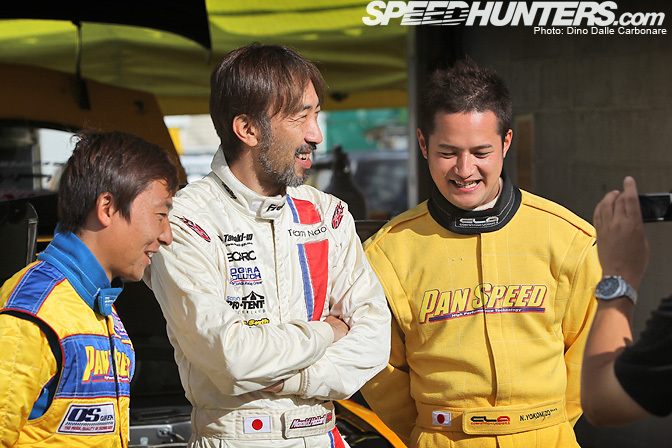 …and in order to get the best out of each demo car got some of the best pro drivers in the business to drive them. From left to right we have Super GT Driver Sasaki Kouta who drove the main demo car, now retired Super GT driver and ex Best Motoring presenter Naoki Hattori who was in charge of the RX-8 with up and coming race driver Taku Bamba who drove the Street King RX-7. In this picture they are all being interviewed by the editor of Rev Speed Magazine, Tsukamoto-san.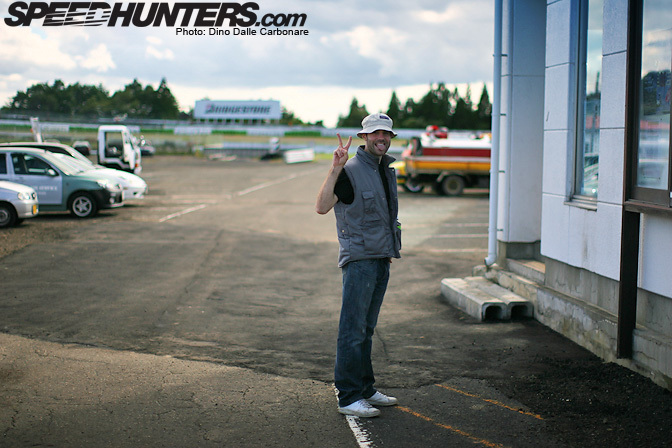 Another local celebrity present at the event was Jean-Christophe Pepino, editor of the French tuning magazine Autoworks, and resident of Sendai. If you recall JC recently did a guest blog on the Autoworks Festival that was held along with the Team Orange guys in Paris.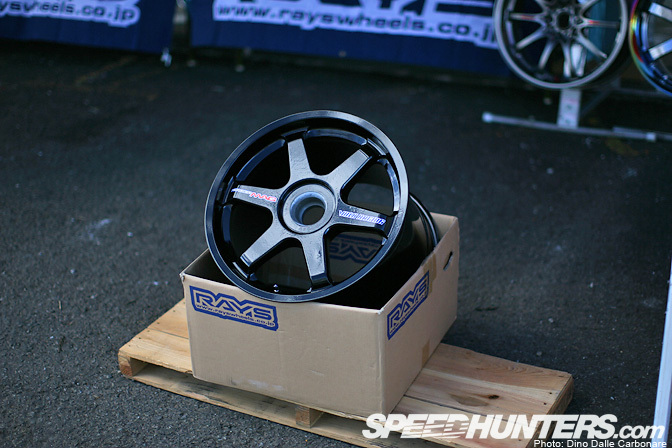 Rays Engineering set up a mouthwatering selection of race-oriented wheels, starting off with this center-lock Super GT forged-magnesium TE37 as used on GT500 Super GT cars…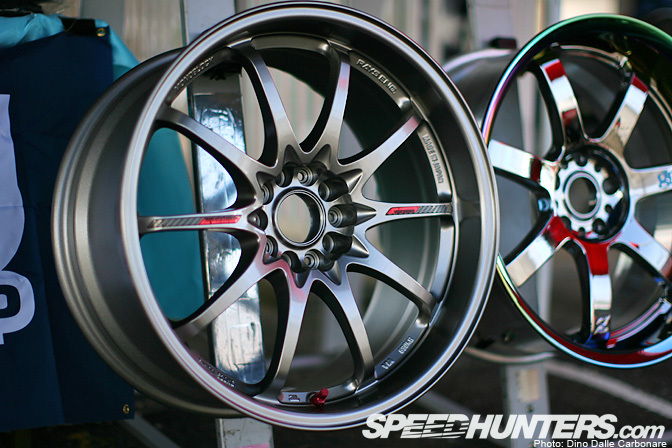 …and moving on to lightweight Volk Racing CE28N Genesis.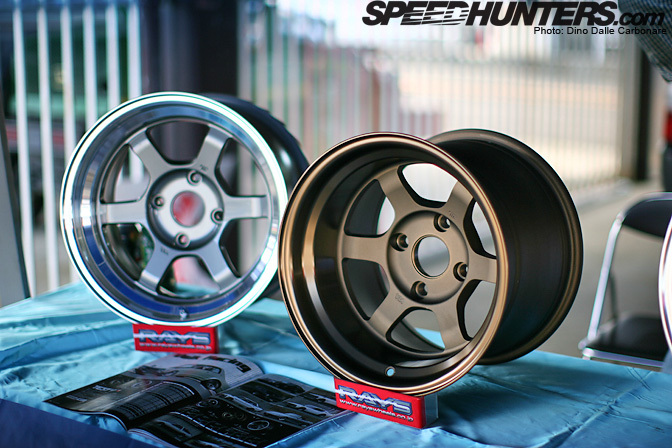 How can we forget the TE37Vs for those among us with vintage rides!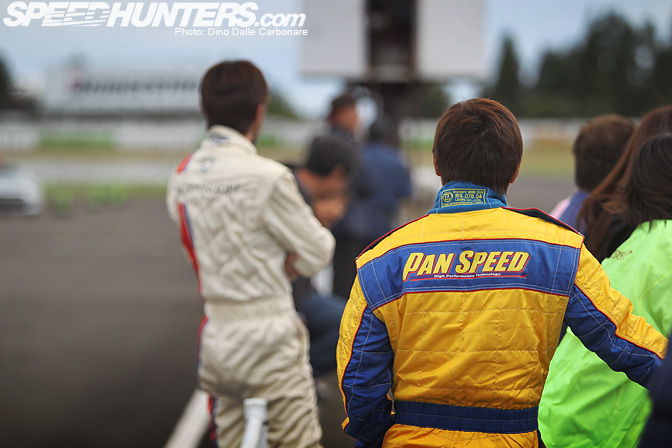 Here is Sasaki-san on the pit wall checking out the start of the Roadster Race…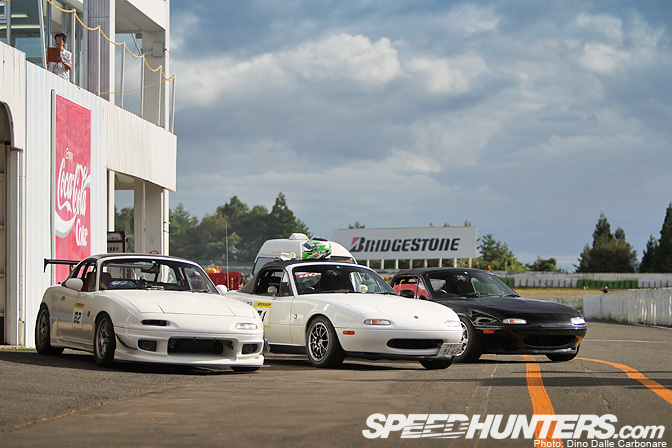 …a tightly fought battle where these three cars came out victorious.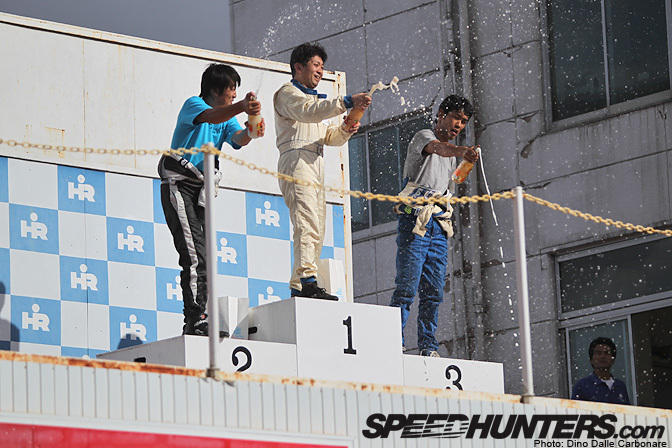 The top three finishers enjoying their time on the podium.
I've got plent more to show you in Part 3 with action from the demo car race.
Roaster & Rotary Meeting 2011 coverage on Speedhunters 
-Dino Dalle Carbonare