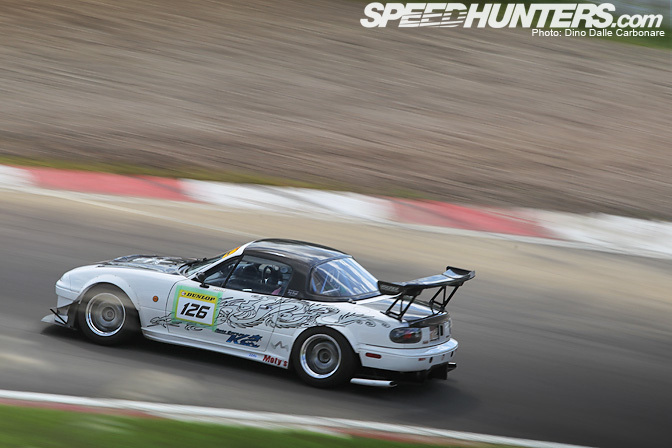 I've been doing quite a lot of traveling this month, making the trek down to Osaka in order to cover the King of Sedan Festival. I came back to Tokyo for three days, just enough time to post up the coverage from the year's biggest VIP meeting before shooting off once again, this time by train thankfully, up to Sendai in the northern part of Japan. My destination, just like last year, was to be Sendai Hi Land…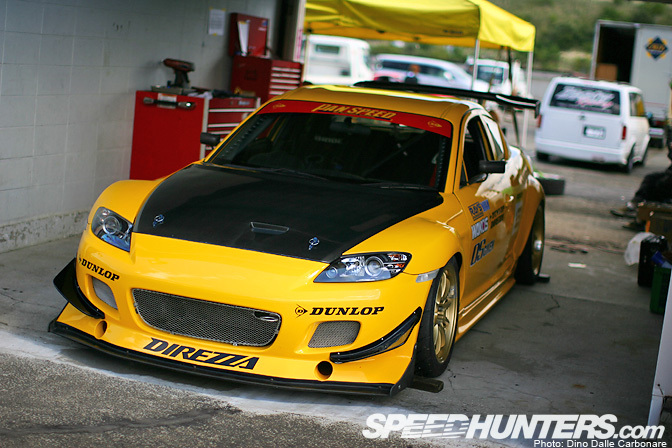 …and the yearly meeting of Roadsters and Rotaries. It's hard to believe that over six months have already passed since the massive earthquake and tsunami hit the area and after a few hours spent driving around the small costal towns that got destroyed by the tidal wave, it really shows how vulnerable we all are, but most of all just how strong the Japanese are.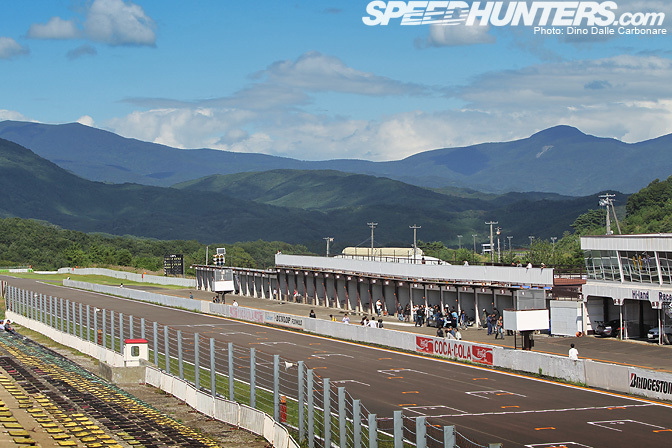 Sendai Hi Land is the perfect example. Back on March 11th the race track was badly damaged by the strong shake with sections of the circuit literally dropping down the slopes of the series of mountains it is perched on. The owners worked hard to fix it, including building a whole new access road to the track as the old one literally disappeared.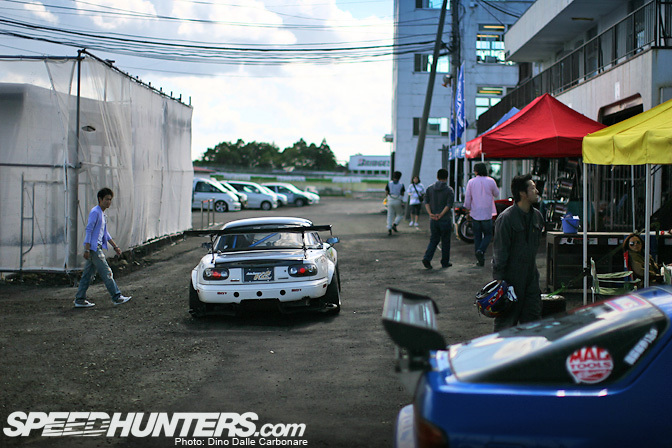 Damage is very much still visible everywhere, from the massive cracks and bumps that have opened up and formed all around the paddock as well as some of the buildings that are soon to be knocked down after suffering massive structural damage. But no matter how much evidence of just how strong Mother Nature can be it was the unrelenting drive of Japanese car enthusiasts that really shined through this particular event. Things, as they say, must go on.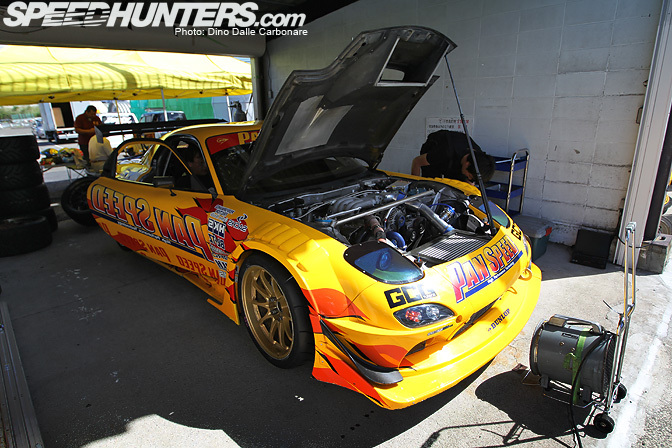 So what better way than to continue what has become a tradition, the Roadster and Rotary Meeting, which for years now has been the place to head to for a day of fun on-track action and friendly races. Like last year I was tagging along with the Pan Speed guys which on top of their blisteringly fast FD3S demo car…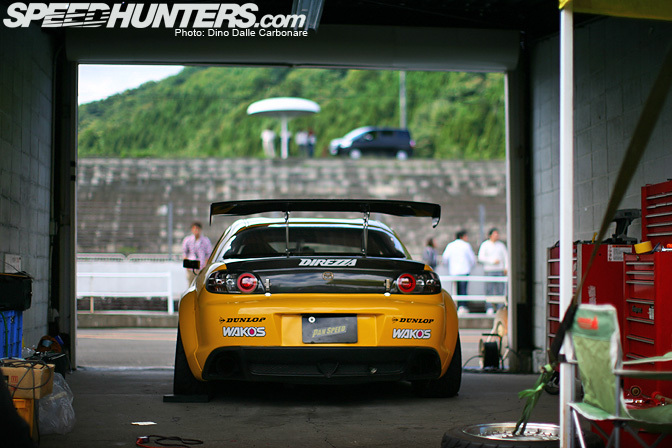 …brought out their RX-8 time attack car…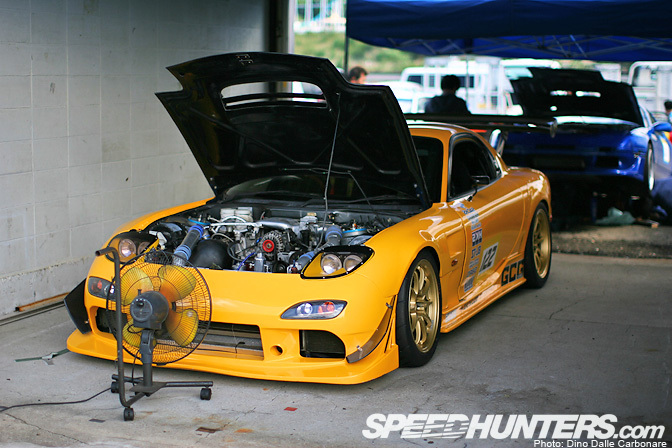 …as well as their "Street King," a car that proves just how fast street-legal RX-7s can be once you let Komoriya-san of Pan Speed tinker with your car!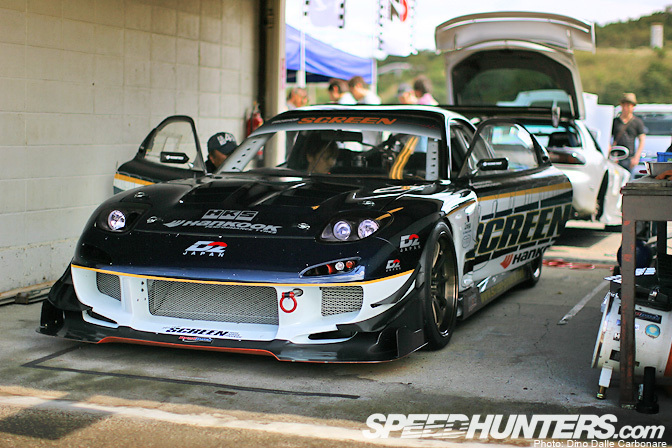 Arch rivals Screen were there too with their FD, and like every year the event sort of turns into a time attack contest between them and Pan Speed as they try to see who can post the fastest lap. Finally, after years of rain at this event, the skies over Hi Land circuit were very blue with warm track conditions pretty much perfect for some serious driving. Records were broken, and then broken once again, but more on that in Part 2.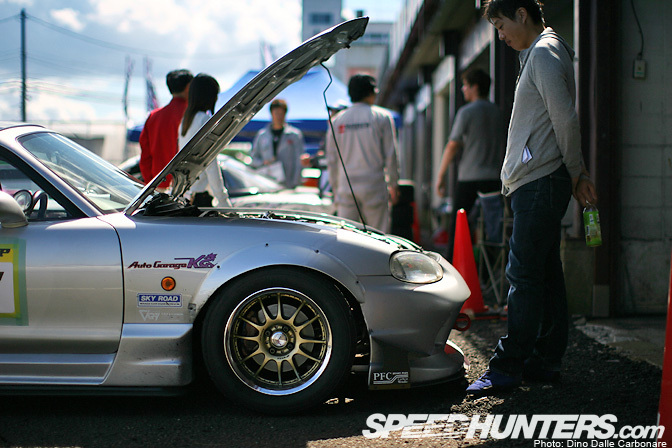 First up I want to give you an idea of the vast selection of cars that show up to this event, from cool little Roadster from Auto Garage K2 in Aomori…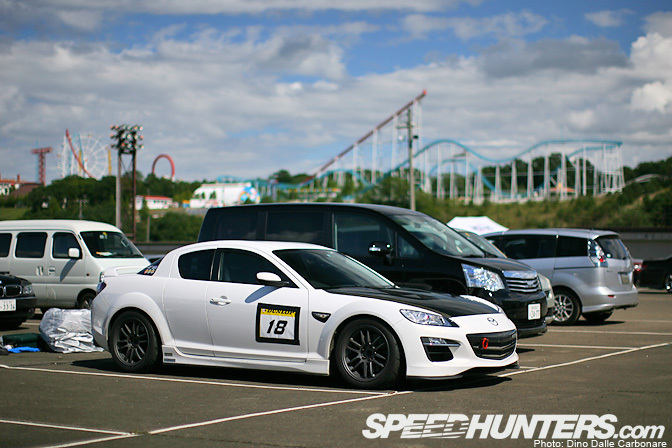 …to regular street cars entered into the soukoukai part of the event where privateers can enjoy a few sessions out on track. It's quite saddening to think that with the RX-8 out of production there are no more rotary powered Mazdas currently on sale. This is a situation that I hope will change sooner, rather than later!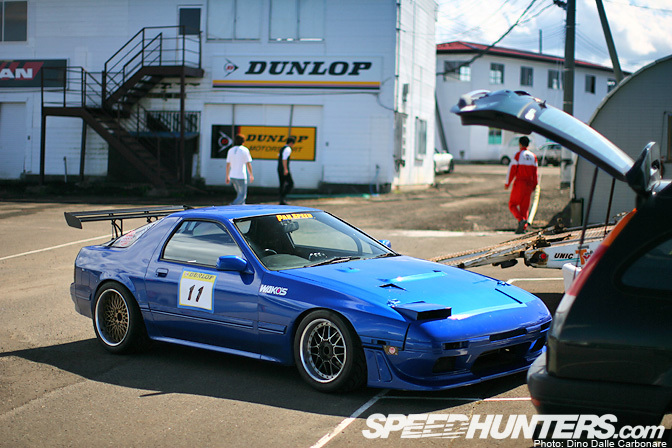 You may remember this blue FC from last year's event, an extremely fast car that has been built and set up by Pan Speed.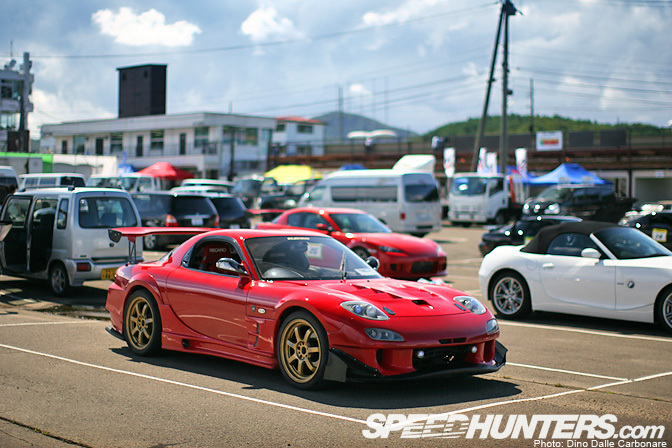 This isn't a huge event by any means, but it's the quality of the cars that participate in it that makes it so special, not to mention the people, true gear heads that enjoy driving on the limit.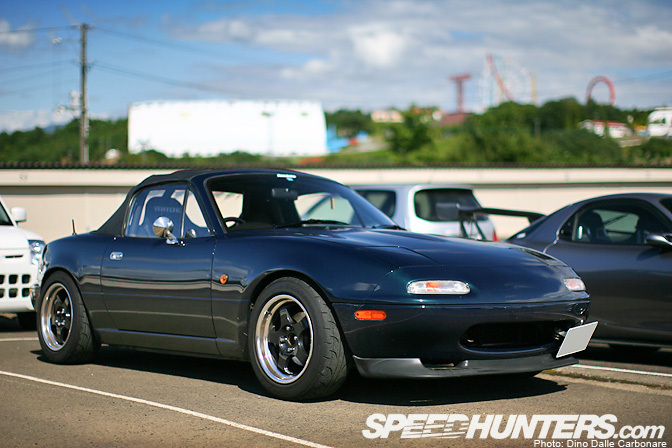 Simplicity often is the best way to go about things.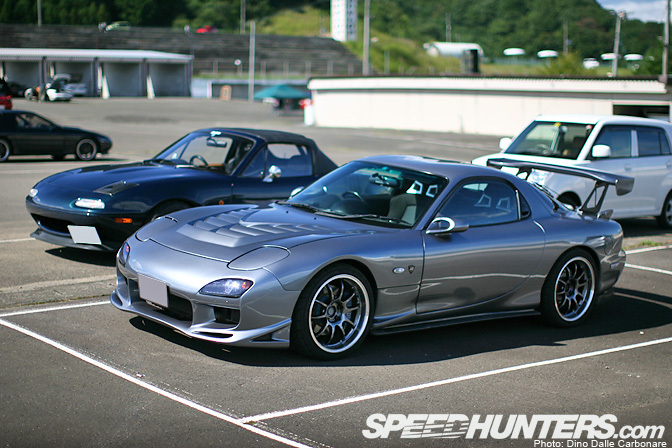 Being a national holiday the event attracted some people who just stopped by to check out what was going on, probably also curious to see how the track is recovering after the earthquake.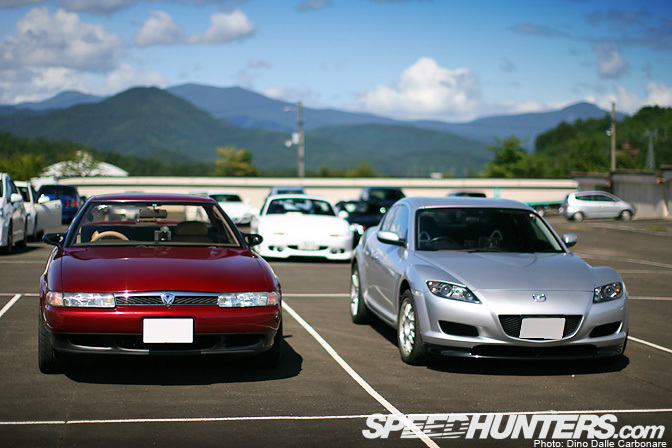 While strolling through the paddock I came across some rarities like this JC Cosmo…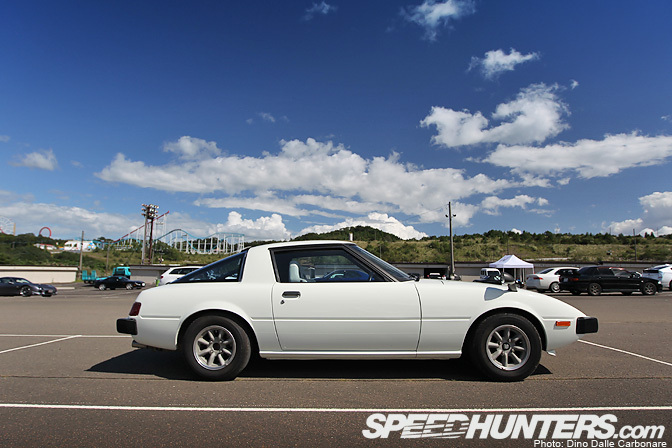 …and a spotless SA22C on Watanabes. In the background of some of these shots you can see the Sendai Hi Land Amusement Park side of the complex. On top of this and the track there is also a go-cart track, the famous drag strip a golf course and even an off-road course! Back in the day there also used to be a small ski resort and a camping site so it's pretty much one heck of a place to head to!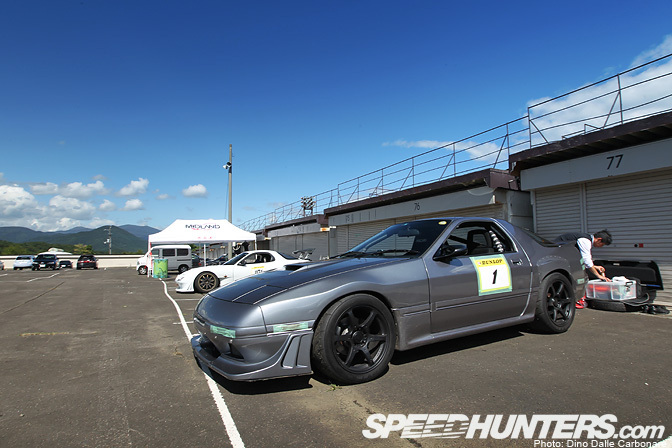 More FC goodness with this beautifully maintained example running on Rays Engineering Volk Racing G2s.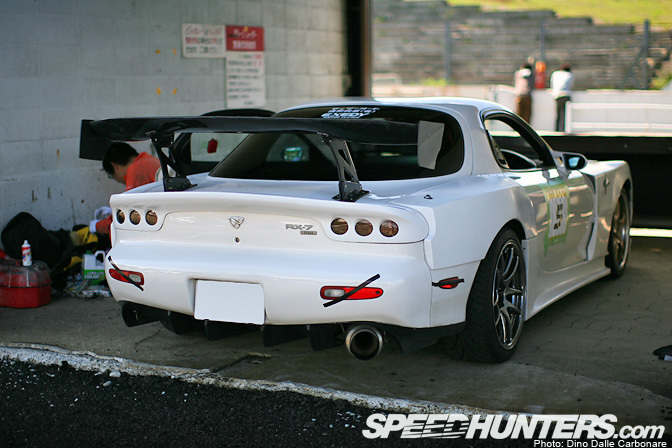 Spotted this privately owned widebody FD sitting all alone in one of the pits. Not too sure what aero that is, it almost looks custom made.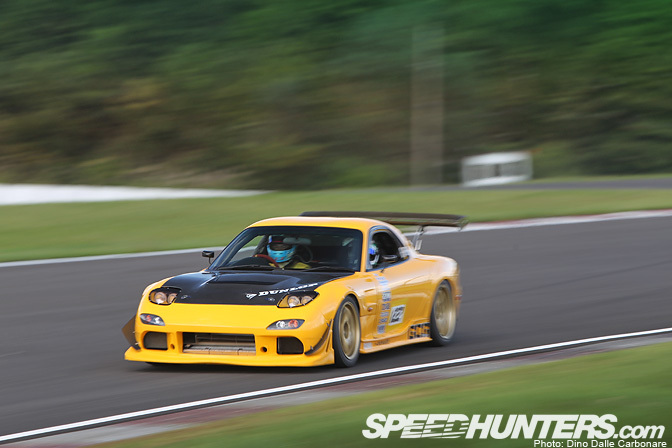 Here is pro driver Taku Bamba trying to coax a record braking lap from the Pan Speed FD.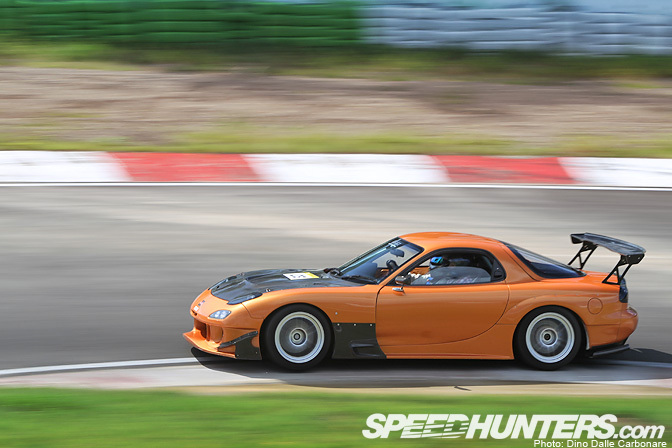 The Suzuki Jikou demo car as it makes its way through the infield chicane.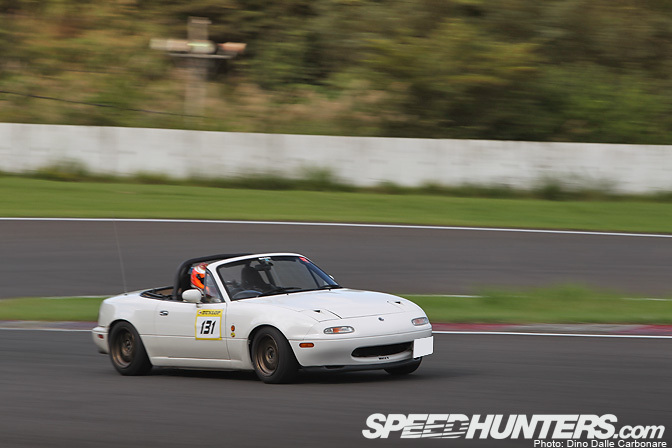 The cars were divided up into three main classes; the Roadsters, the Rotaries, which included all generations of RX-7…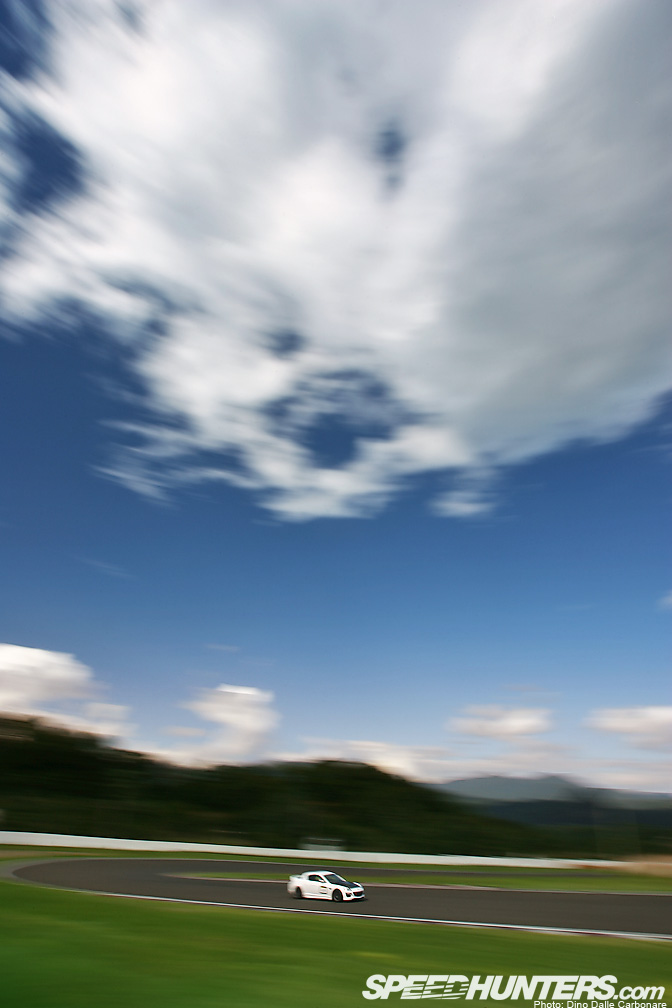 …and RX-8s, and then the demo cars. After the day's session each class had it's own race with a proper grid start.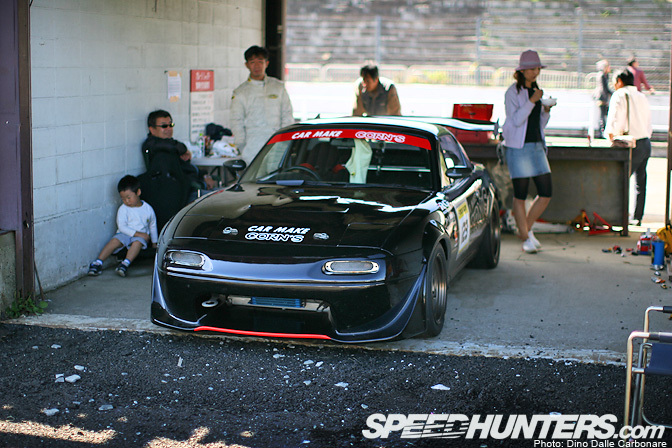 I hope this has whet your appetite as I've got a lot more to show you including a spotlight on this Corn's NA8. Check back soon!
-Dino Dalle Carbonare