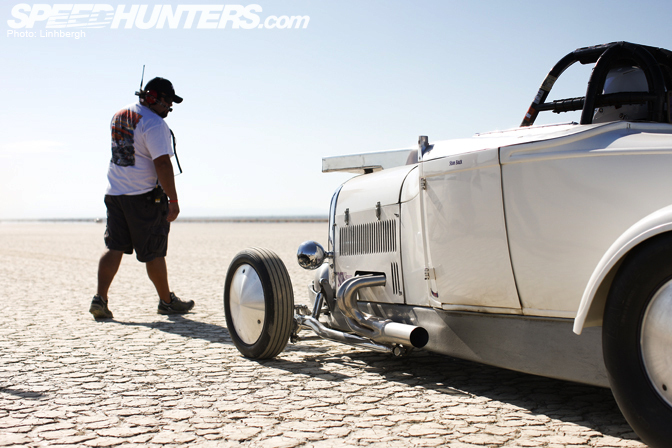 Land speed racing at the El Mirage dry lake bed is quite a bit different than that of the salt flats of Utah. It's a much smaller event with a much more relaxed atmosphere.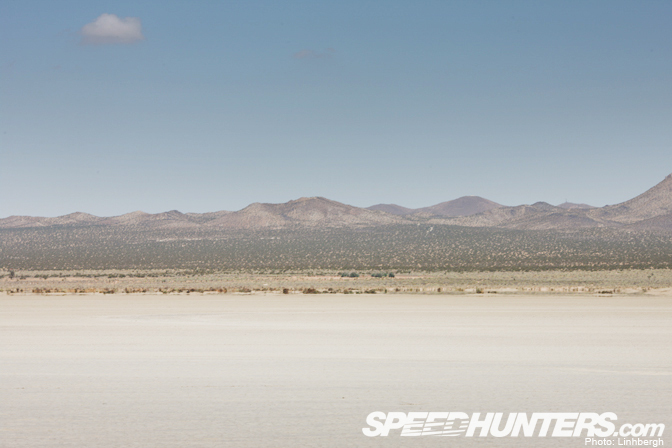 The one thing Bonneville and El Mirage share is that both events take place in front of some more-than-beautiful natural backdrops.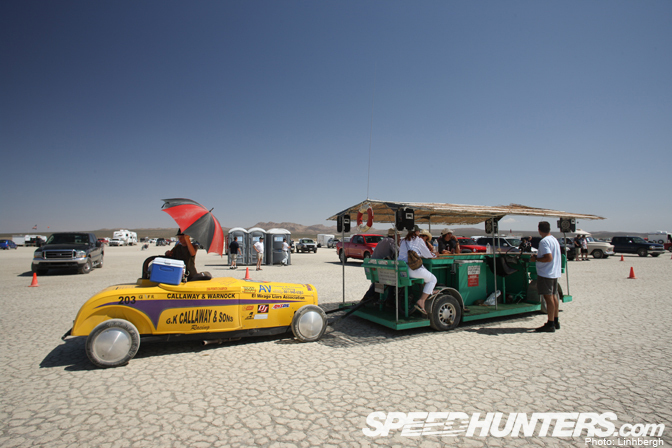 I thought the strange and whimsical quirkiness was a Bonneville Speedweek thing, but apparently it extends all the way to California at El Mirage. The custom made green vehicle in front of the yellow roadster acts as a towing car as well as…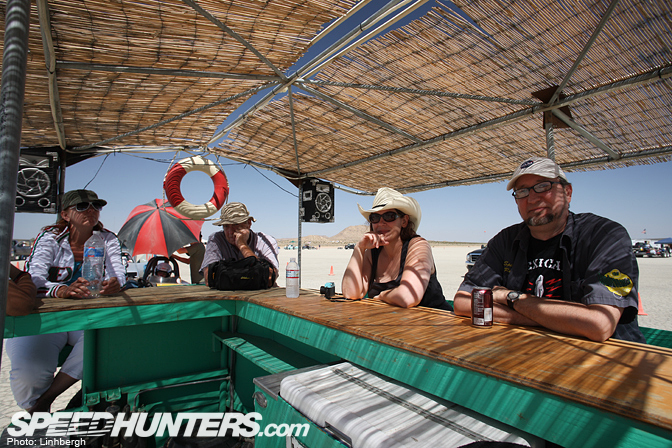 …a rolling bar! Who would've thought?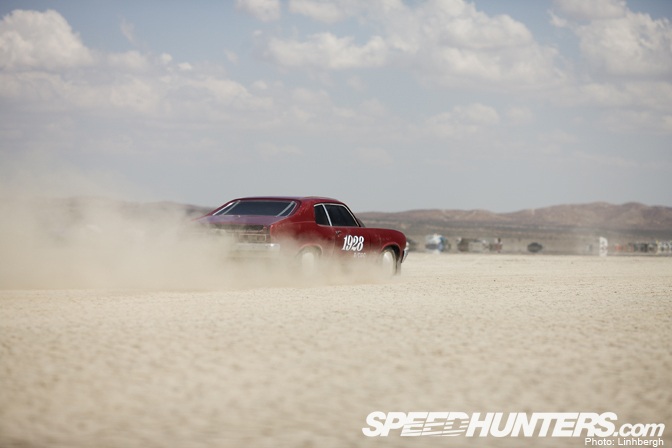 A Chevy Nova launches from the start line.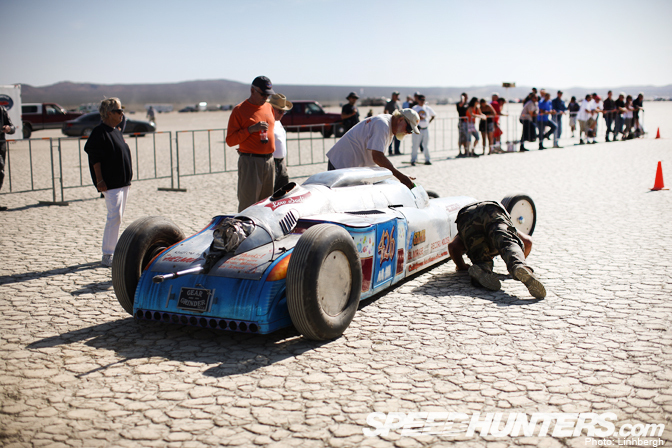 Some of these cars look as though they were designed my Hot Wheels car designers. They may look like giant toys on the outside…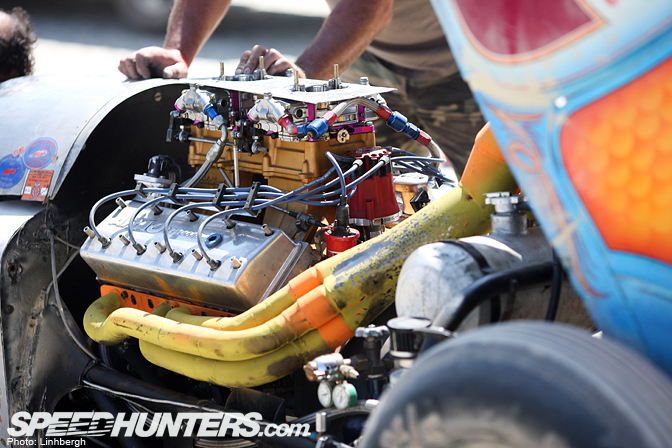 …but they're all business on the inside.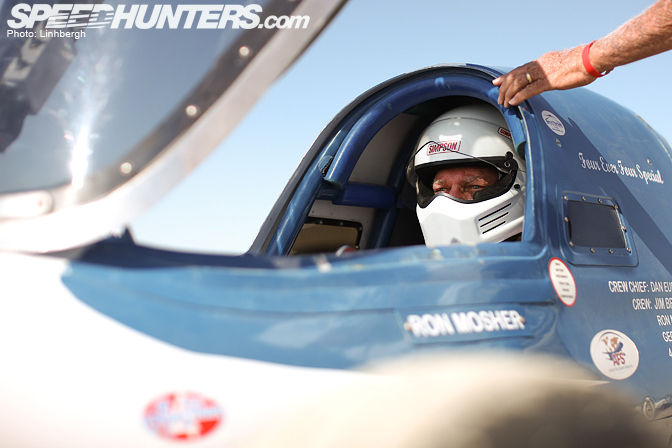 The eyes of a land speed racer: intense, yet calm.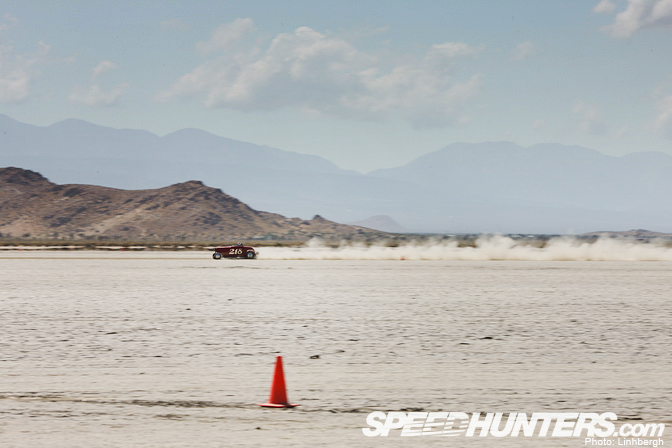 A roadster plows down the lake bed leaving a trail of dust.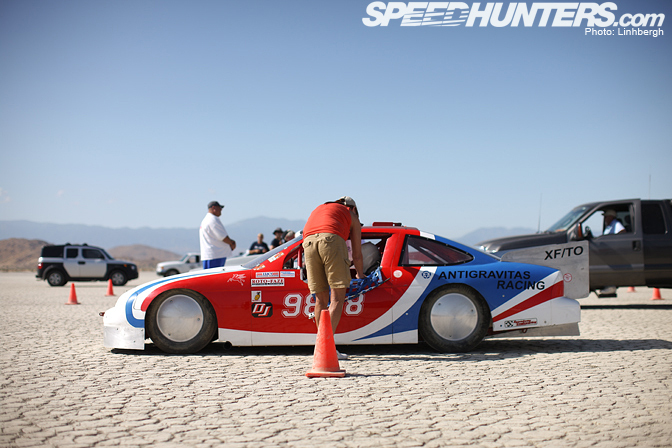 What astonishes me most about attending land speed events is the sheer variety of cars that come out.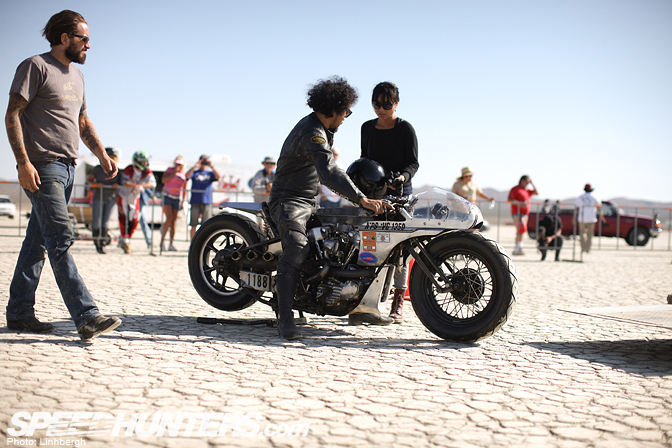 Shinya Kimura from Chabott Engineering does some last minute checks before he heads off to the front of the starting line.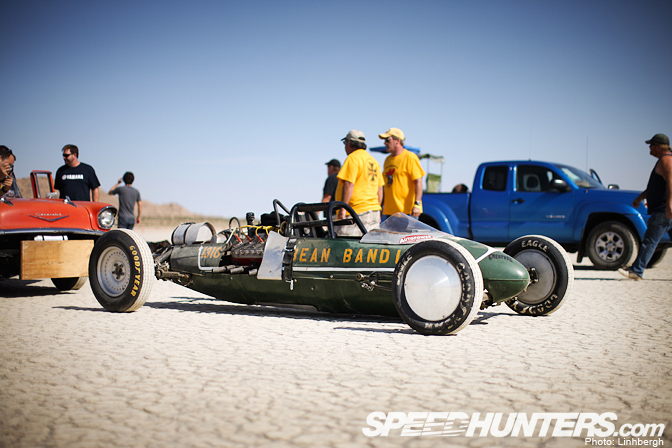 I absolutely loved this bellytanker. It looks as though it's a mix of a post-WWII fighter plane, an early grand prix car and a time-machine. Its push car was none other than the '57 Chevy wagon, from Bonneville, dubbed the Bromad.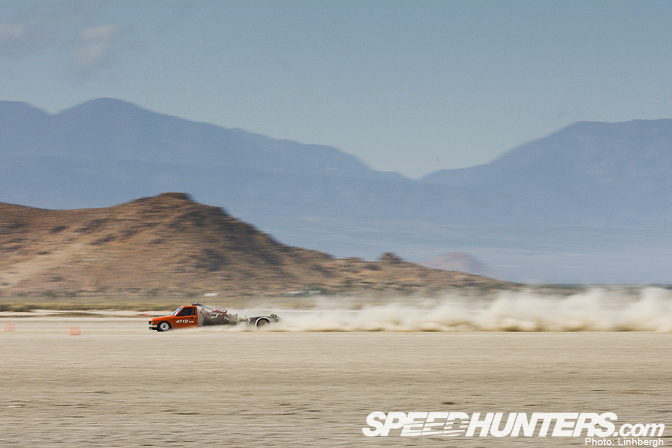 There so much variety out at El Mirage. Like this pick-up truck which houses a giant semi-truck motor in its elongated rear end.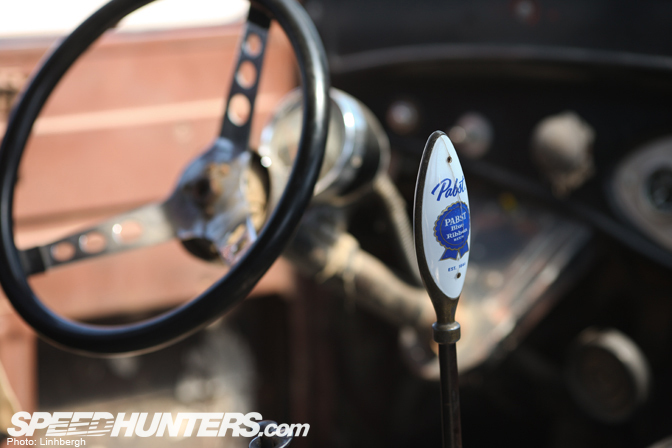 Grassroots drifting has bubble shift knobs, and the hot rod scene has beer tap shifters.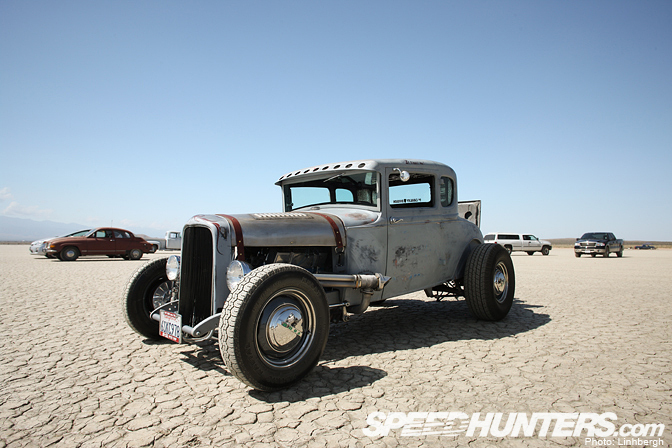 Another rare hot rod spotting at El Mirage, this Ford Model A.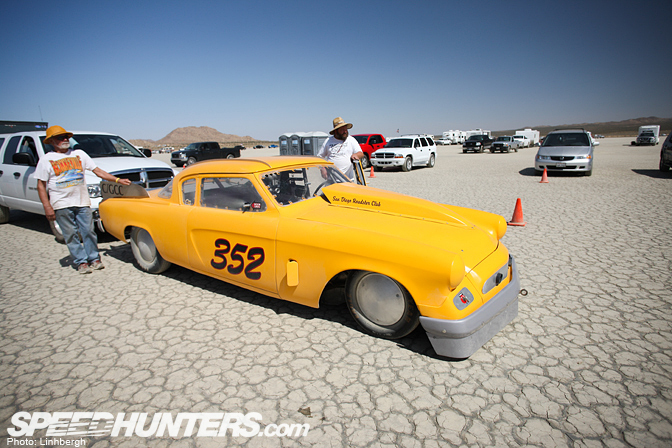 Good thing about having a yellow car, like this Studebaker, out on the dry lake bed is that its hard to tell just how dusted it actually is.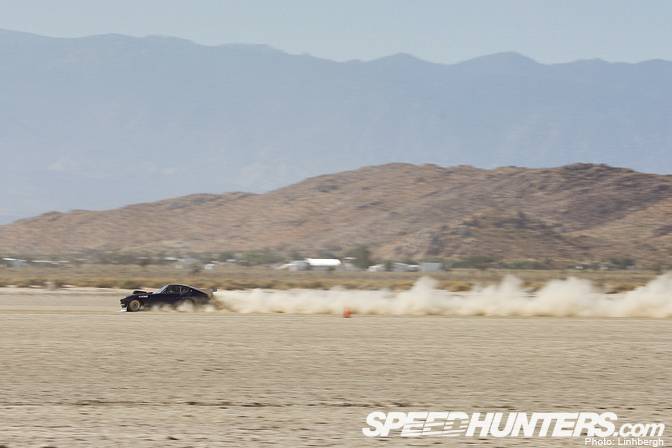 But when you have a darker car like this blue 240Z, you definitely can see the extent of the dust collecting.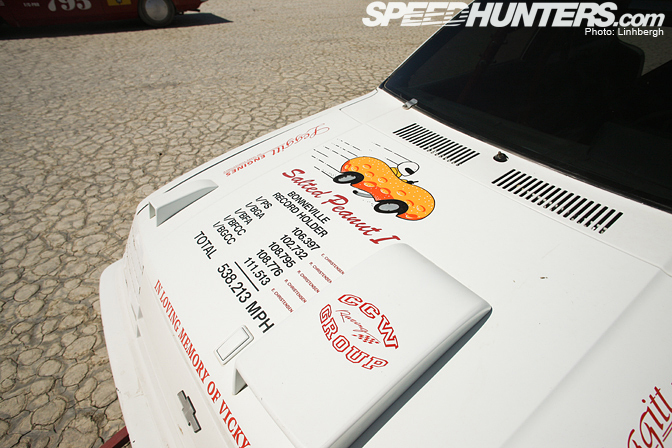 What is the Salted Peanut?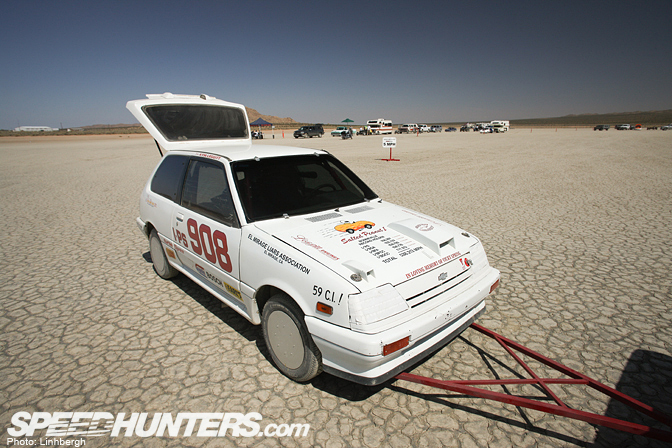 A Chevy Sprint!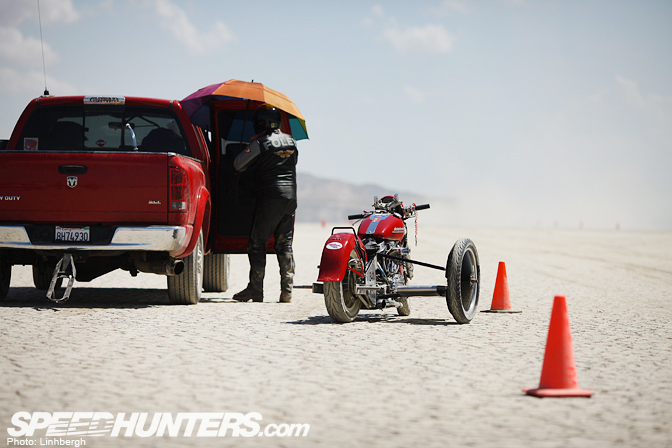 One of the things about land speed racing that i've noticed is that it will always have a grassroots, built-in-my-garage attitude. Even at Bonneville when the big companies come out with their 400MPH monsters, the team and everything around them still feel as though they've built their car from someone's garage.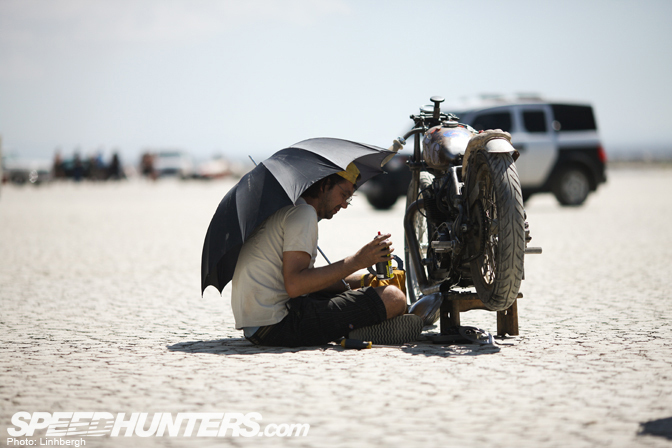 This is also the case for El Mirage, and this photo of this racer fixing his own bike under the heat of the sun exemplifies just that.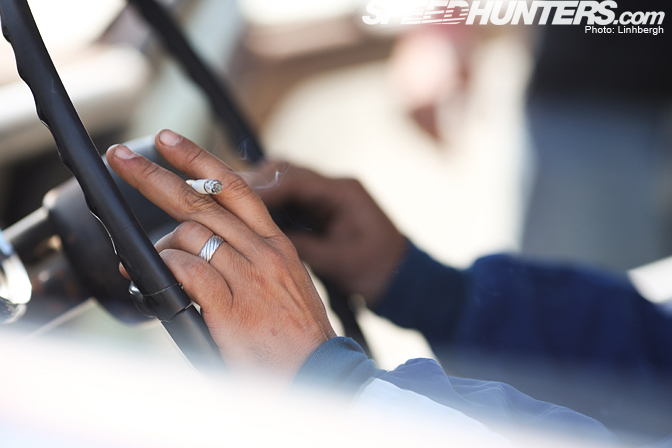 Hot rod culture runs deep at any LSR event.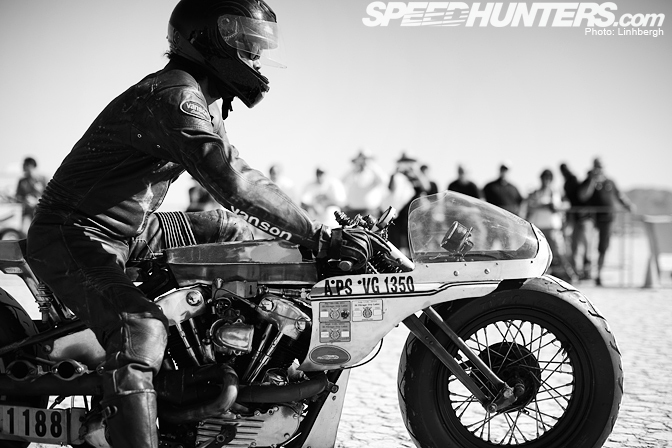 Shinya Kimura sitting on the line, with his custom built motorcycle, waiting for this run.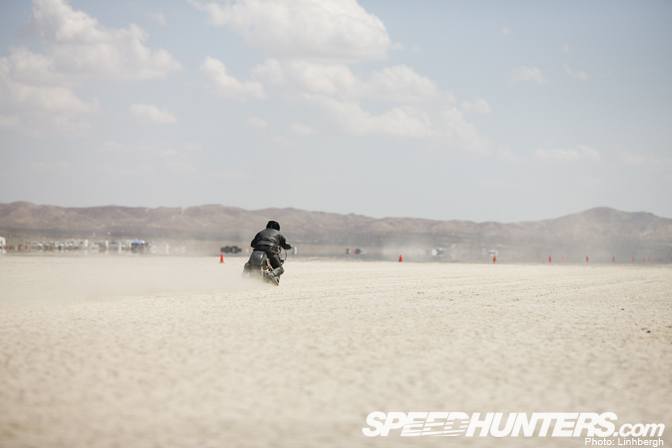 It was hard to take photos of cars launching off the line as they leave behind a huge cloud of dust in their wake. Motorcycles, on the other hand, were much easier.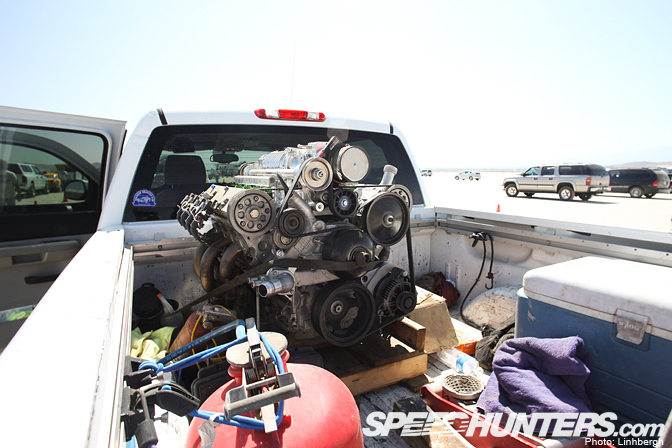 In the world of racing, you never know when you'll need a spare engine.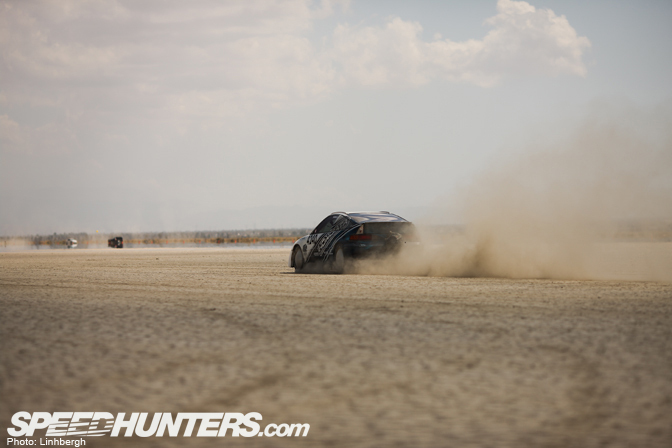 There weren't too many imports out, but it was once again good to see the Hondata CR-X out on the dry lake bed of El Mirage.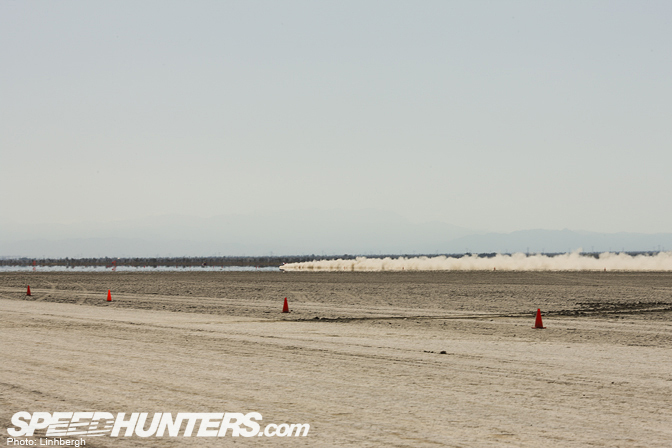 The turn out at this event was rather small as the threat of rain kept a lot of participants from coming out. But those that did make it out were the hardcore bunch of land speed racers whom are dedicated to their motorsport discipline.
This was the last El Mirage event of the year but I'm already looking forward to both this magical dry lake bed next year.
-Linhbergh