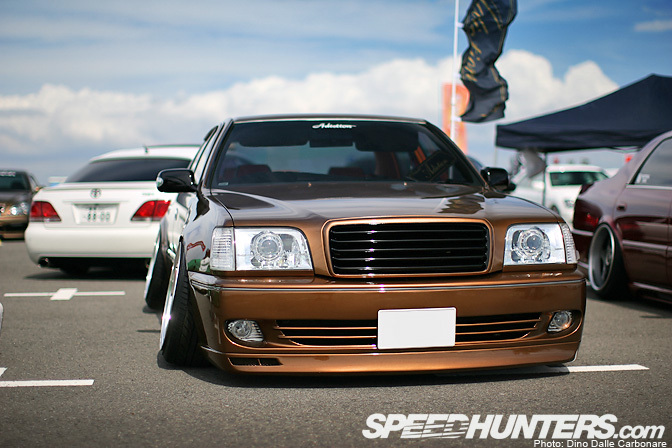 At one point during the day, walking through the hundreds of slammed VIP rides at the King of Sedan Festival, I realized I had to start to be a little more selective as there was no way I would have had the time to shoot each and every one present. On top of hunting down as many controversial cars running onikyan (demon camber)…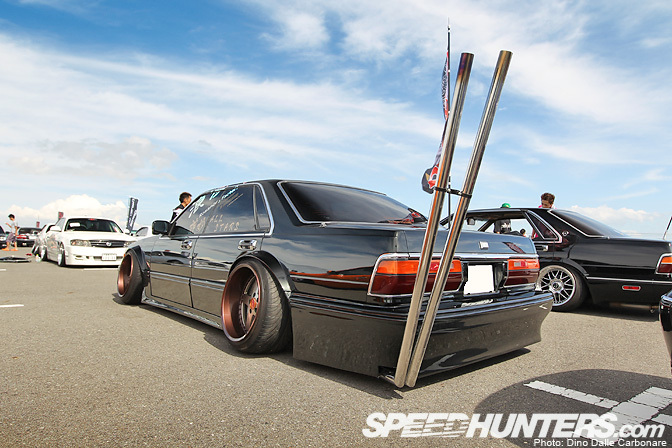 …there were others out there that tried to attract attention in a variety of different ways, some…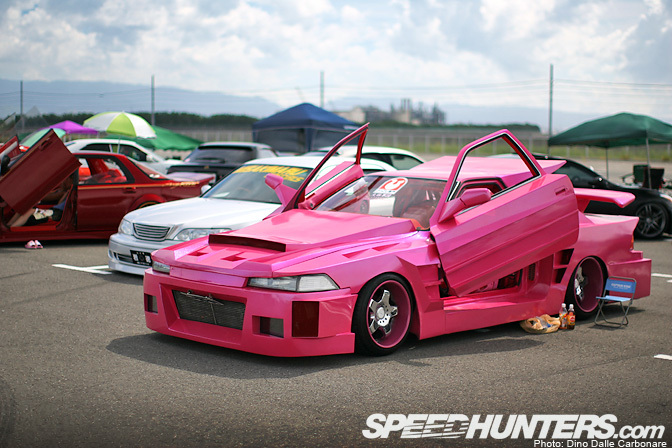 …more extreme than others! This was one of only a few full-on bosozoku cars present at the meet, sporting a full custom body conversion almost completely hiding the lines of the R30 Skyline it is based on.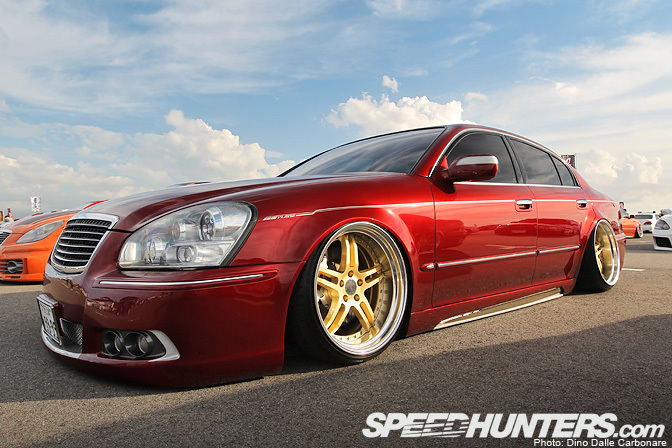 And on to a totally different Nissan, one of my favorite from the show. This F50 Cima was smooth as could be, with gently widened fenders…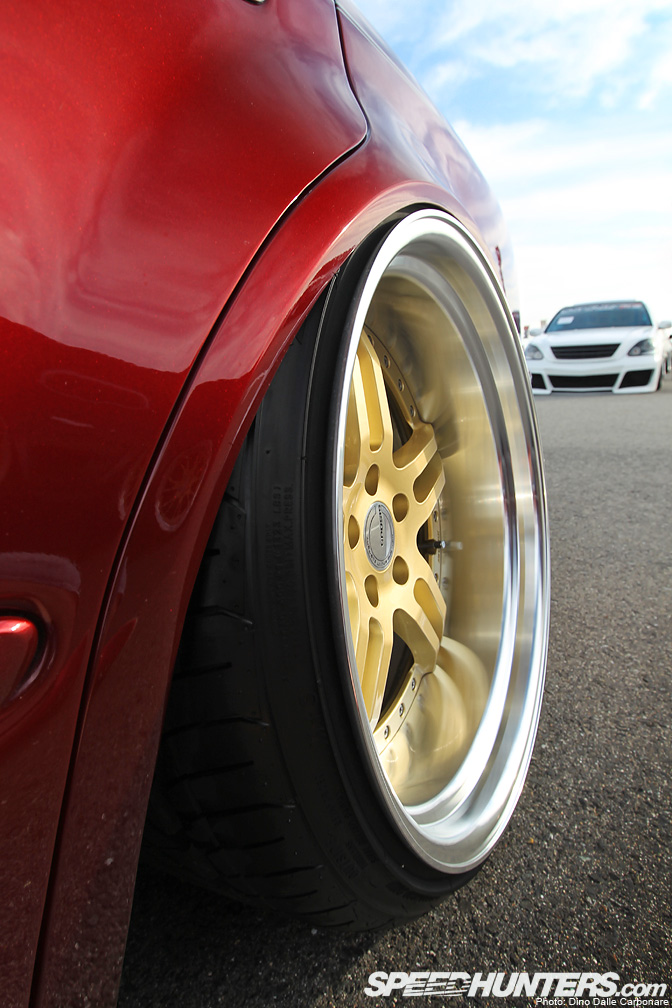 …stretching over the tires and meeting up perfectly with the rim of the wheels in its lowered show-stance.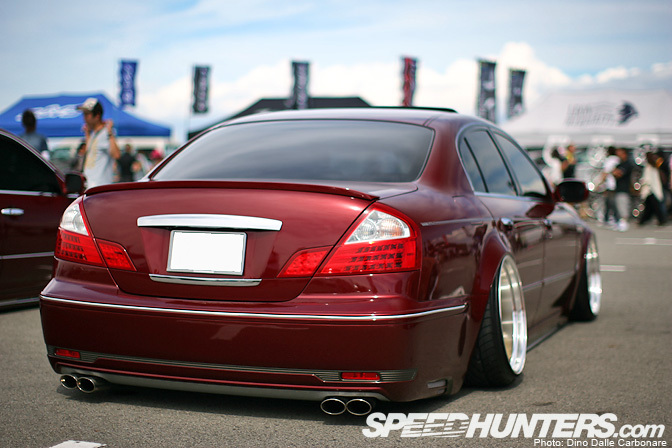 The back reveals an equally smooth look with all badges removed for a clean and uncluttered exectution.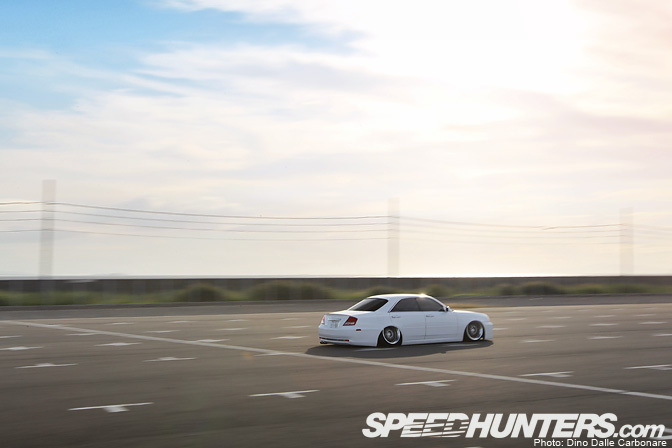 Half way through the afternoon a bunch of cars began moving around as owners started to line up their rides together with members of their respective clubs to grab a few shots to remember the day. It was a great opportunity to get such rare cars in action!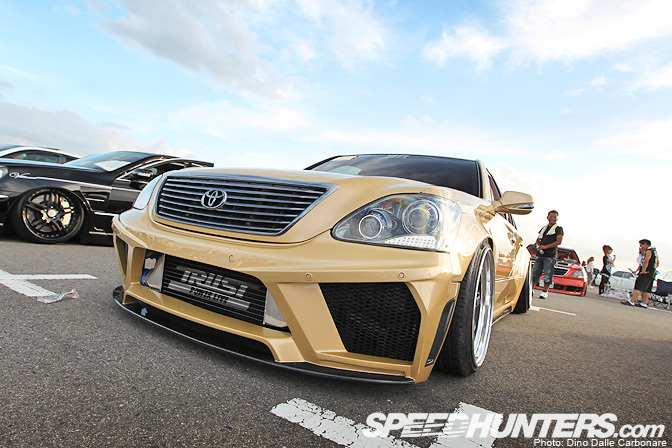 I'm guessing some inspiration was taken from Lamborghini when creating this custom bumper. Opens up a good deal of space for that polished GReddy intercooler to poke out from.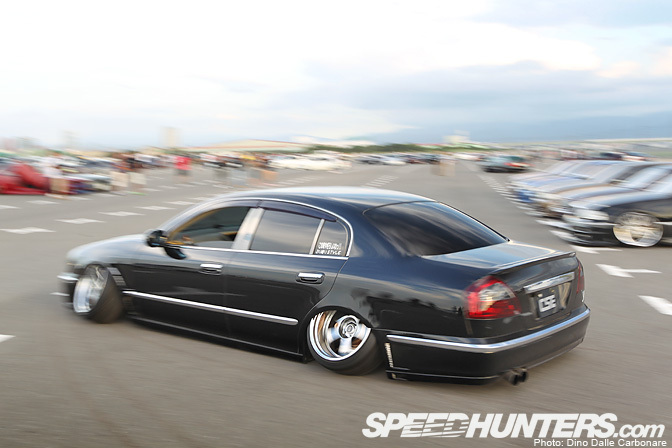 This Cima looked like a low flying UFO as it began to do laps around the massive parking area. The close to 30º of camber caused the tires to leave thin, almost bicycle-sized black marks on the tarmac. This is about as much onikyan you can run before you are running on the rim itself!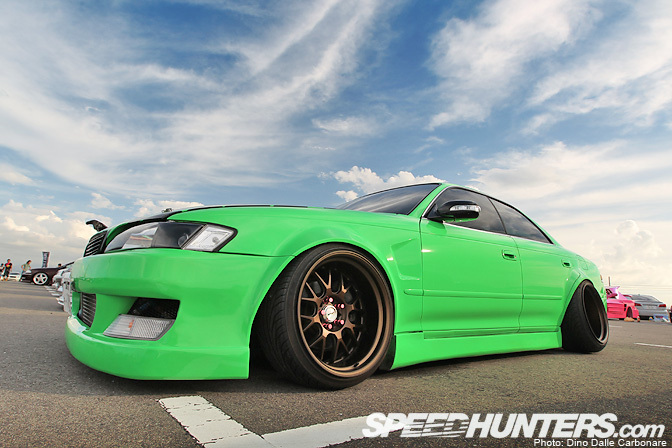 This more drift-oriented JXZ90 Mark II caught my attention, not so much for its eye catching bright green color…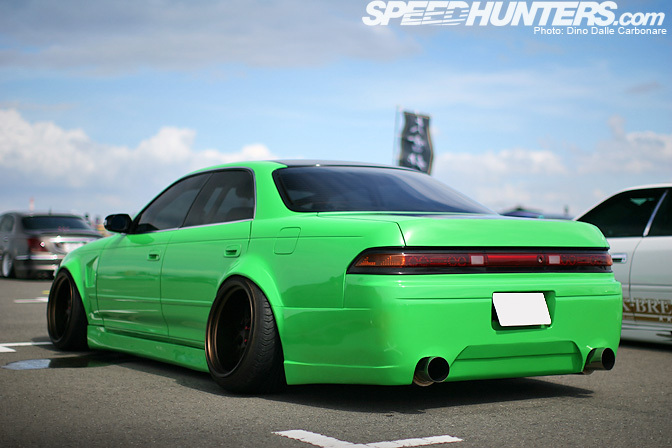 …but for the way it sat on its Meister MR1s.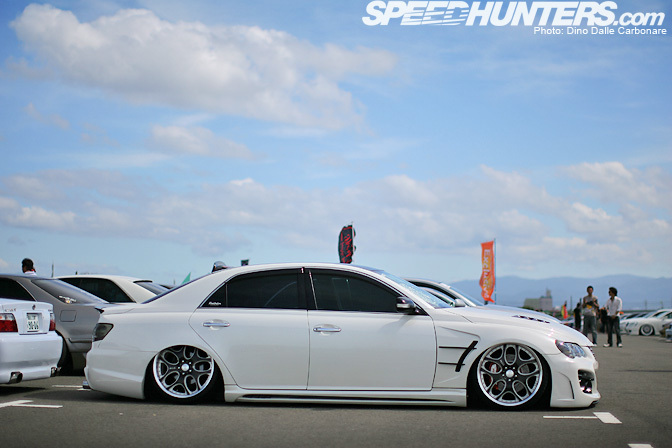 I was surprised to see the Mark X being such a sought after car in the scene with tons of examples present.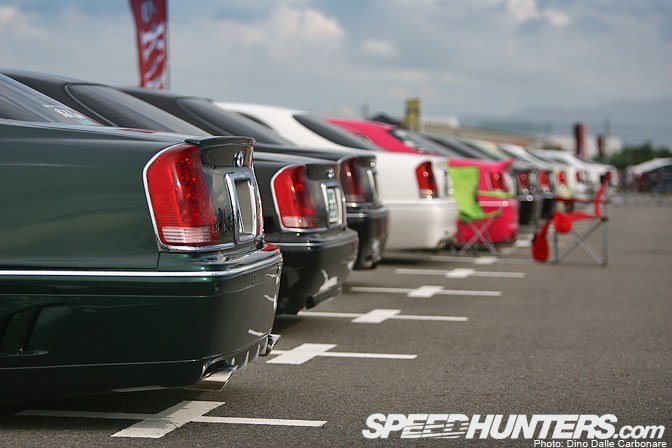 Among the sea of Toyotas…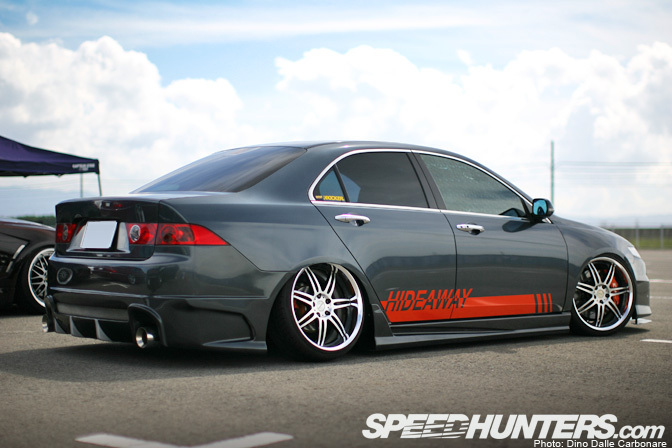 …I was pretty surprised to find this CL7 Accord from Hidaway, proving that any sedan can be given a VIP treatment.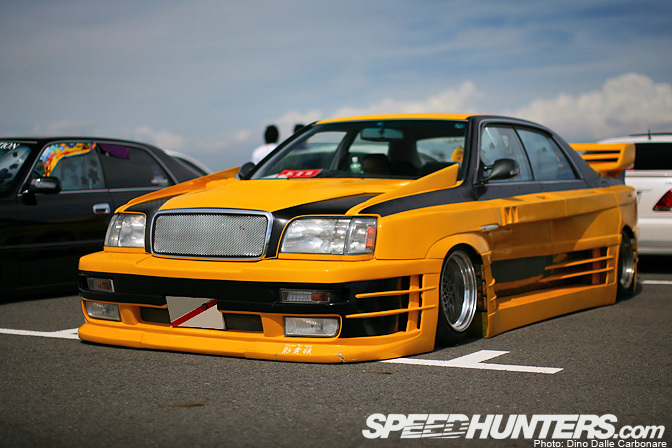 The custom transformation on this Crown won the owner a best of category award!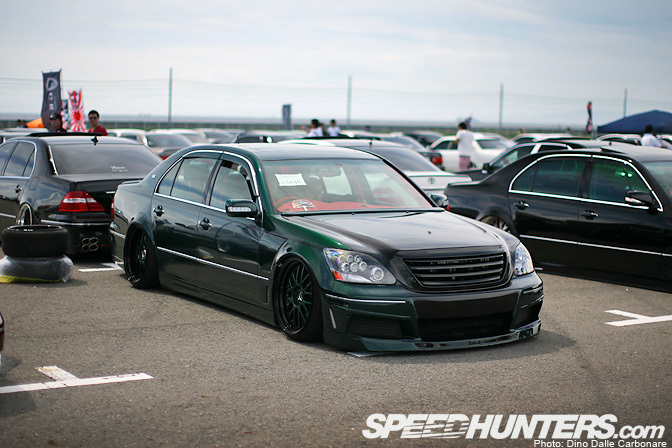 One other aspect that is getting popular in the more show oriented VIP scene is light/headlight tuning…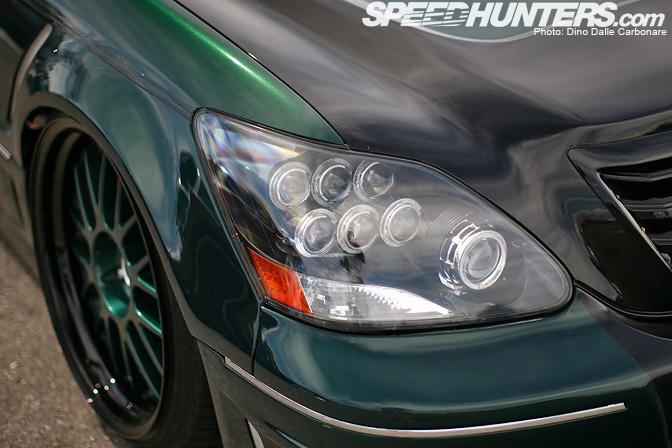 …as is perfectly shown here inside the units of this Celsior. Adding tons of little factory-like projectors is the way to do it and not surprisingly some get pretty creative.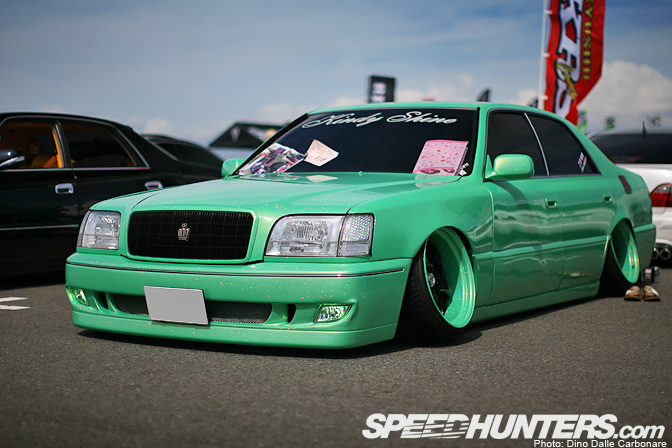 This Crown shows just how varied and accepting the bippu movement has become.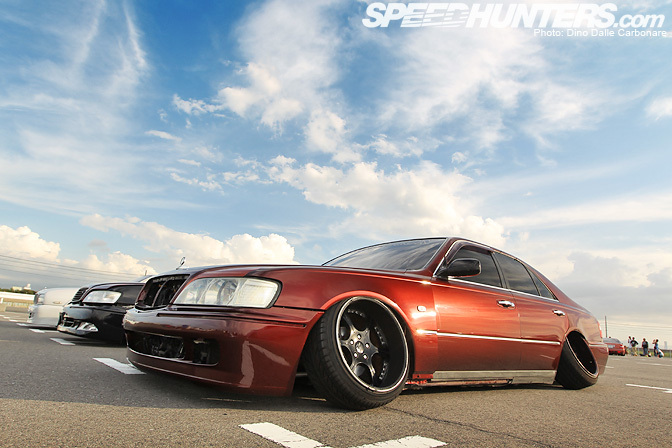 Either the skirts were removed on this Cima to allow it to sit so low, or they flew off while on the way to the show!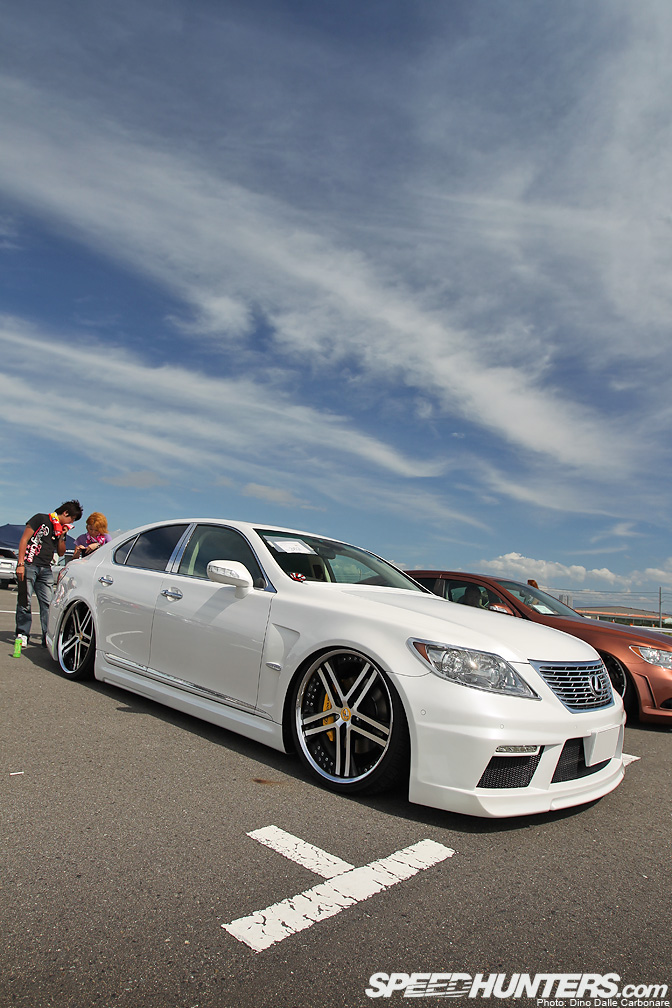 Do you prefer your sedans to be of the extralarge variety? Then Toyota has got your covered. If the Lexus LS is far too modern for you…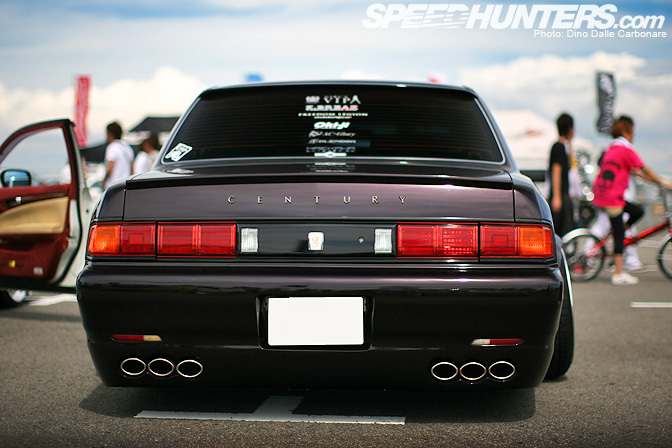 …the Toyota Century is still on sale and remains to this day the only V12 powered Japanese car on the market!
I'll be back soon with Part 4 so stay tuned for more slammed sedan goodness!
King Of Sedan Festival coverage on Speedhunters
-Dino Dalle Carbonare