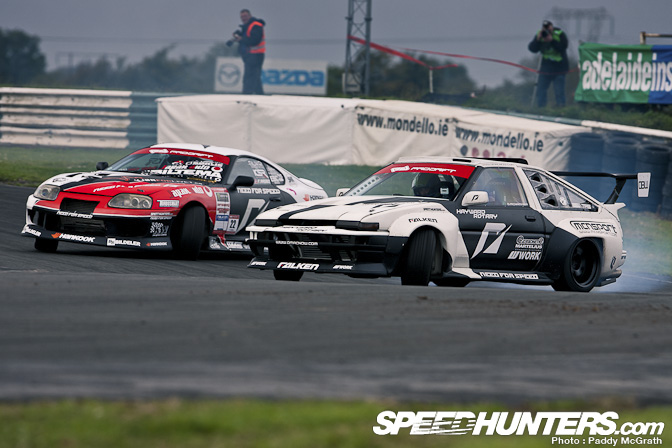 Fredric: Hello Speedhunters! Here's part one of our writeup from the Prodrift Finals at Mondello Park in Ireland. It was an absolutely incredible weekend and in all seriousness it was one of the absolutely best drifting events I have ever attended. Every time I have met my Irish friends around the world they have always put a smile on my face, but visiting them at their home turf took it to a whole new level.
It was about to get crazy.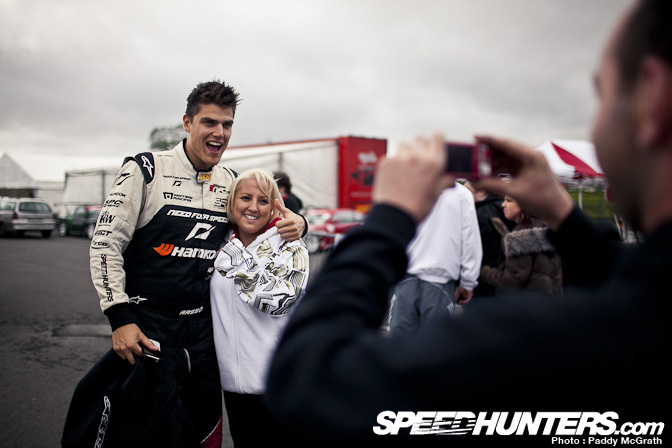 Fredric: The Prodrift Finals at Mondello Park was the second and last event of the 2011 Team Need for Speed European drifting tour. Once we got to the track we were greeted by drivers, teams and drift fans – thanks to all of you for coming over and saying hi!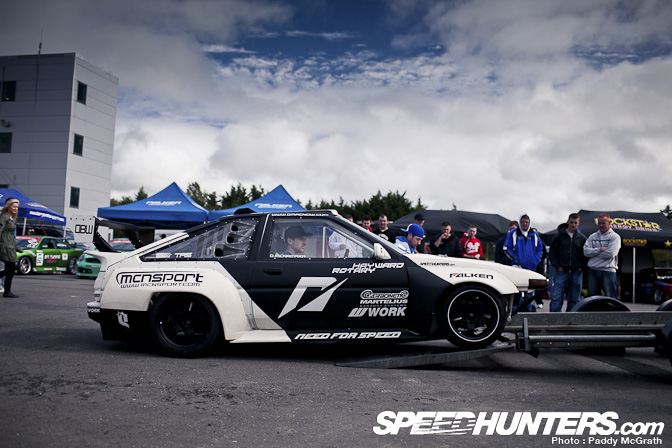 Darren: Hello Speedhunters and welcome to Ireland!! I have to agree with Freddy that this was one of the best drift events i have ever attended. I'm so proud of what the Irish scene has achieved over the years. So welcome to what is effectively my home track and enjoy the spectacle that is Prodrift….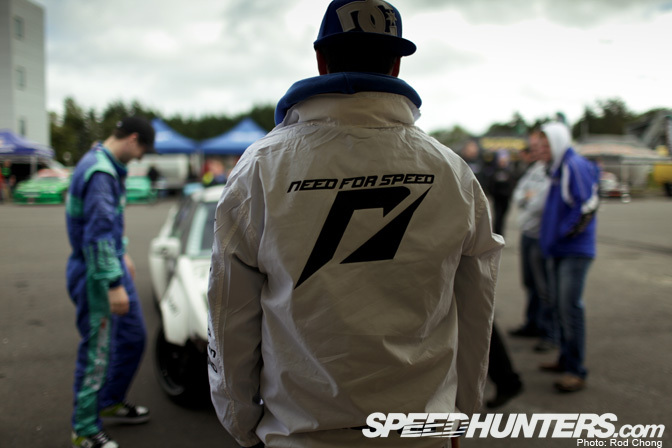 Fredric: In between the BDC finals at Silverstone and the Prodrift finals, Darren and his crew invited us to prepare the Supra at their shop. It was a great week where we hung out, worked on cars, wrote Speedhunters blogs and raced gokarts. Thanks for all the kind hospitality, Darren. I hope I can recoup the favour one day! Maybe next year?
Darren: It was my pleasure to have you guys and the legendary Supra at MCNSPORT HQ and don't worry i will be calling to Norway to drift some Audi Quattros on your frozen lakes so please arrange some ex Group B cars for me thank you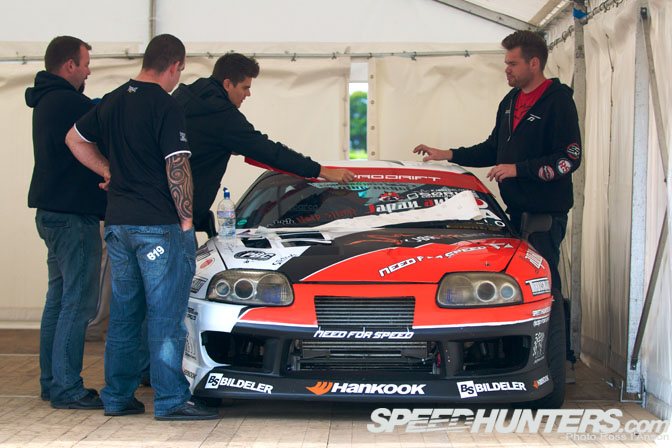 Fredric: Thanks to Need for Speed we had a cool pit setup that even had wooden floors! I almost brought out the dancing shoes!
Darren: Yes a friend of mine hooked us up pretty good with this marquee. Big thanks Tom!!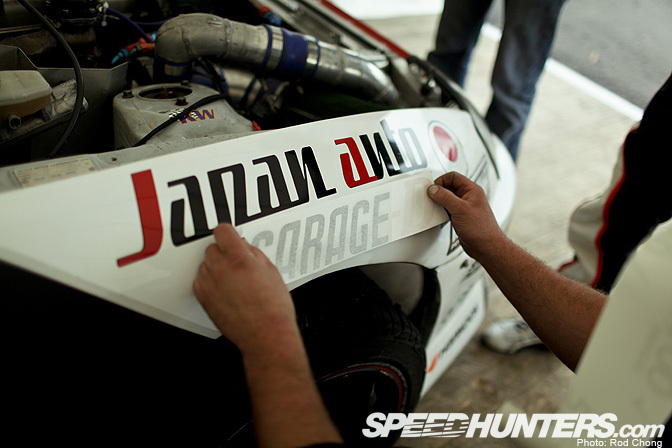 Fredric: Just like the McNamaras helped us out during our stay in Ireland, Julian and Walton Smith of Garage D helped us out the week before and we ran some Garage D courtesy stickers. What they have going on at Garage D is really cool. When we got there in the first place, we were greeted by true drifter (in every sense!) Faruk Kugay who shelved up the biggest assembled JDM car part collection I have ever seen. If you own an S or R chassis in the UK, Garage D is your one stop shop – but you probably know that already.
From what I gather Julian pretty much grew up near you, huh, Darren?
Darren: Yes Julien grew up only 20mins from me. There must be something in the water around here as the Deanes, the Lenihans, Julien, Mulvey and myself, we all live within a 15mile radius. Its pretty amazing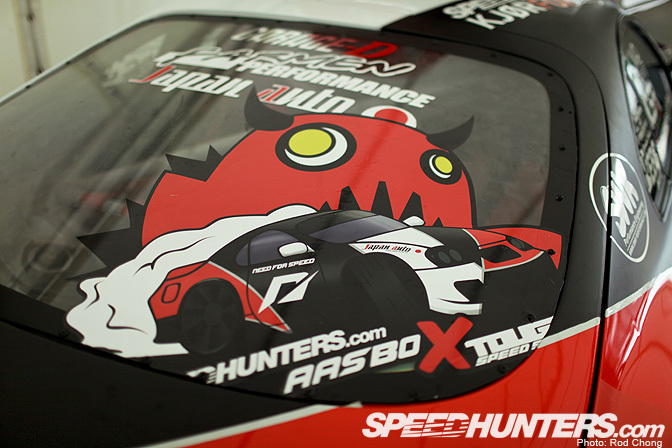 Fredric: HUGE Touge Automotive Turbozilla sticker! Good thing I don't have a rear view mirror or I'd get pretty scared.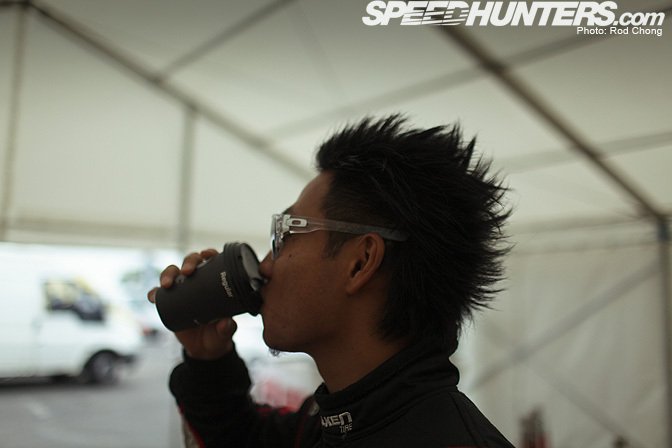 Fredric: And as we were setting up, this guy showed up! Crazy tan for an Irish guy…
Darren: Ok………….if you say so Freddy. Anyway…….. It was really cool to see Dai walking around Mondello Park. Its something i never thought would happen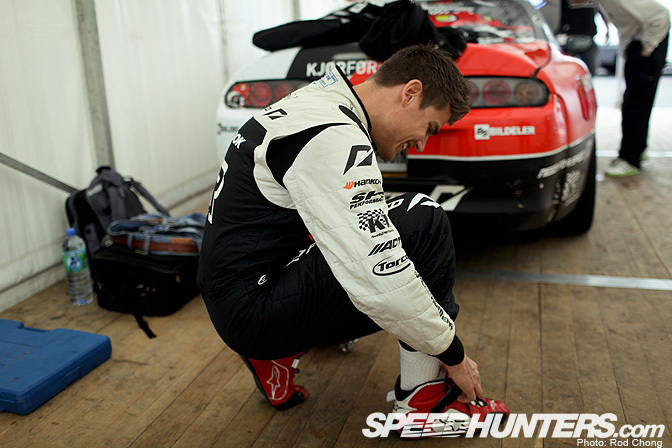 Fredric: Dai and I had been messing around on Twitter over his Crème Brulèe (Cleme Blulee!) a little bit since before Formula Drift Las Vegas, and it is always a pleasure seeing him. He is such a great guy both on and off track, and I swear he's real life anime cartoon character!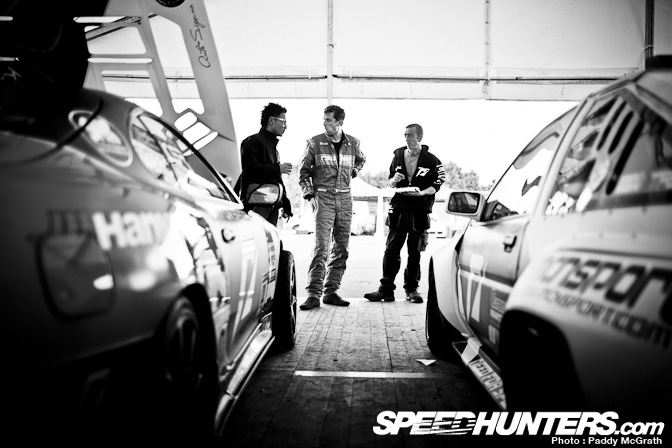 Fredric: How much for a pair of your front fenders, Darren?
Darren: You have serious stance issues going on!!!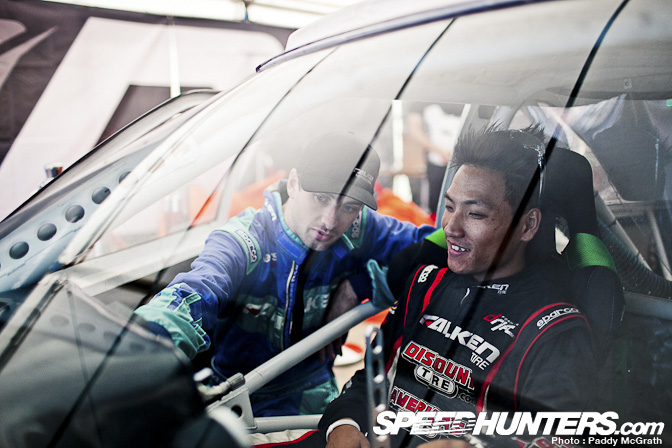 Darren: Being an 86 guy, Dai couldn't wait to see the D-Mac86. I was showing him how to use the electronic water pump and power steering.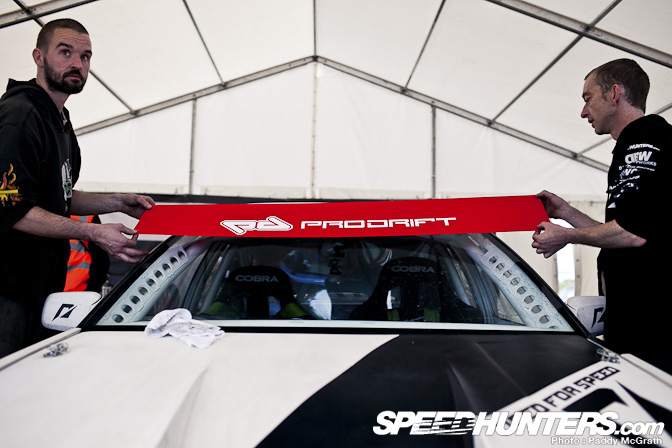 Fredric: A little bit of red makes the car so much fresher! It almost doesn't look like it's from 1983 anymore!
Darren: Ha……………Ha……….. At least my car doesn't look like it has been drifting since 1983 unlike the Supra….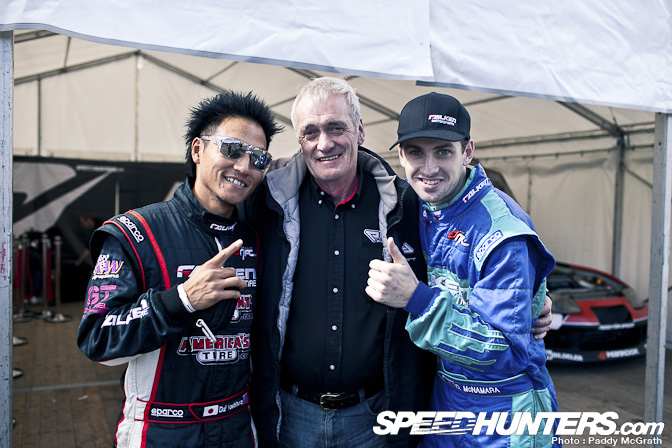 Fredric: There are three true legends in this picture, that is for sure. However, not to take anything away from your and Dai's posing here (ever thought of doing a boy band duo act by the way?), but I think Poppa Deane still has the edge here. You can just tell he's been around and about for a car race or two.
Darren: Coming second to Papa Deane on a list of legends is OK by me. One of the coolest and most knowledgeable guys you'll meet anywhere in the world. All the Prodrift staff really are A1!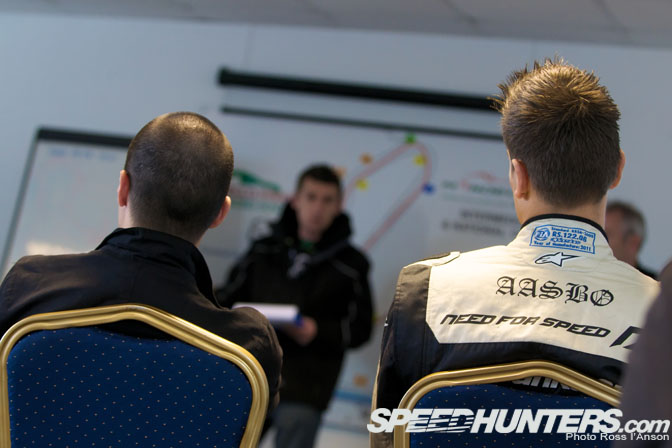 Fredric: The Prodrift driver's meetings are serious business and very, very good.
Darren: "Freddy don't look now but i think thats THE Rod Chong sitting next to you….."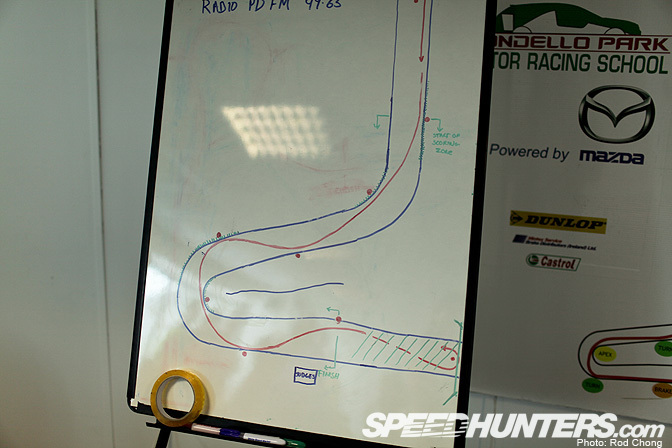 Fredric: A total of three meetings were held during the course of the weekend and for the judging, every detail is thoroughly laid out to make sure all drivers are on the same page. Great stuff!!
Darren: Ya couldn't agree more. One of the reasons for the calibre of drivers we see at PD events is the Judges and their criteria.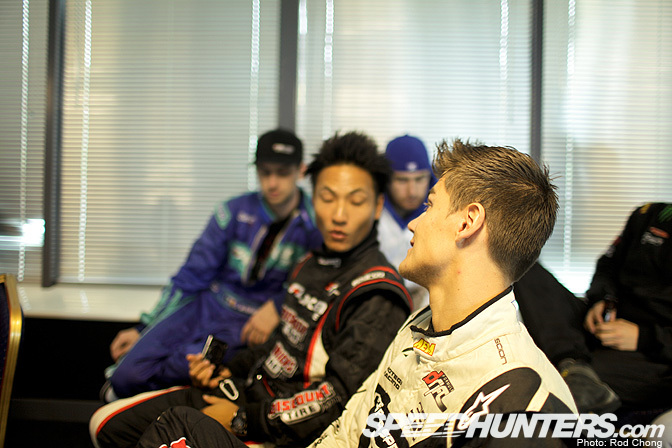 Fredric: I think you, Darren, are saying "Can't they just give me the trophy already, I have work to do" while Dai is practicing his "Cleme Blulée" or something.
Darren: And you Freddy are thinking "I'm just gonna go out there and drive like a gangsta!!" doing your usual smile and nod act with no clue what anyone has just said or what is going on.
Fredric: Pardon me? Sorry, I didn't get that!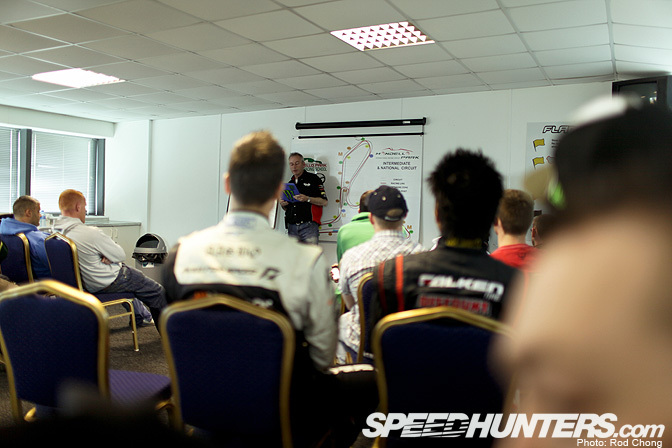 Fredric: Kieran is the head judge and doing a great job on keeping the field on the right track. Kieran later told me he should have docked some points for my qualification runs after I luckily beat him at a pretty informal kart race we had down in Limerick the week before. Do I remember correctly if I think I beat this Dmac guy too?
Darren: Haha no if i remember correctly i slowed down to leave you catch up as i was getting bored out in front.
Fredric: Of course.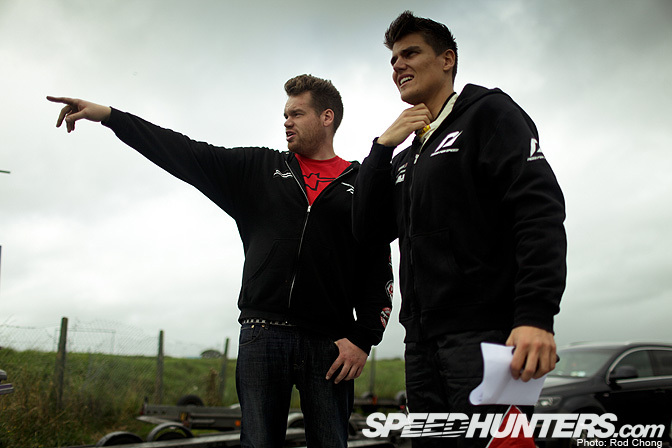 Fredric: With this being the first time in Ireland and to Mondello Park, I had to try to learn the course fairly quickly. This has been a Prodrift circuit for at least half a decade now, which definitely added to the crazy competition we were about to face. Steffen and I were discussing the track and I was trying to figure out a plan of how to try and learn from these guys! We were on a different tire than usual and had a lot of figuring out to do.
Darren: The tire spec rule is one of the major factors that made this such a good event i think. For anyone who doesn't know. PD have a rule that says rear tires must be road legal and above 170 thread wear which puts most guys on pretty much the same spec of tire and means you don't have to spend a fortune on tires to be competitive.
Fredric: Totally agree, and with everyone on pretty much the same tire and width, it also forces teams to work on weight reduction and mechanical grip to get the speed. It's basically like FD was before the tire rule when certain cars were extremely light and fast.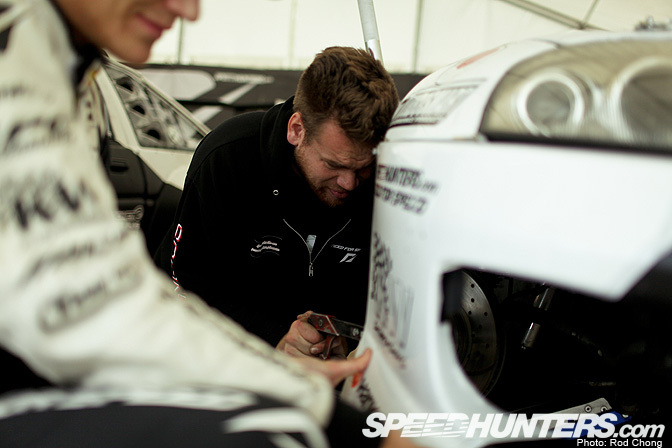 Fredric: We were playing with some different wheel offset configurations up front and ran into some rubbing issues which we had to accommodate. With the saw.
Darren: Just when i though the stance couldn't get any worse……………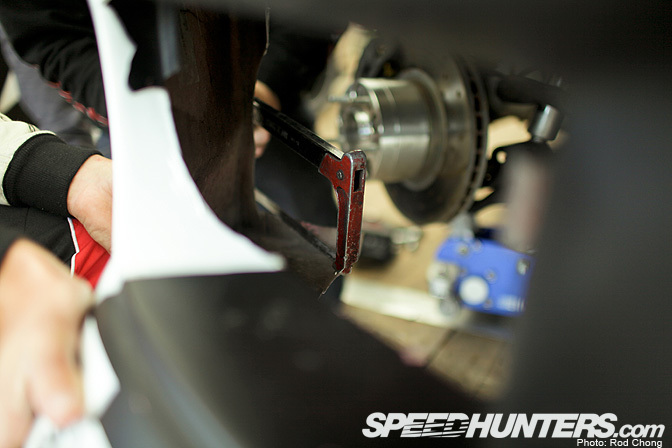 Fredric: The saw might not be all the way up there with the sledgehammer, the zip ties, the duct tape and the bubble gum, but it's an important tool nonetheless.
Darren: A great day for the MCNSPORT shop hacksaw which makes its first appearance on Speedhunters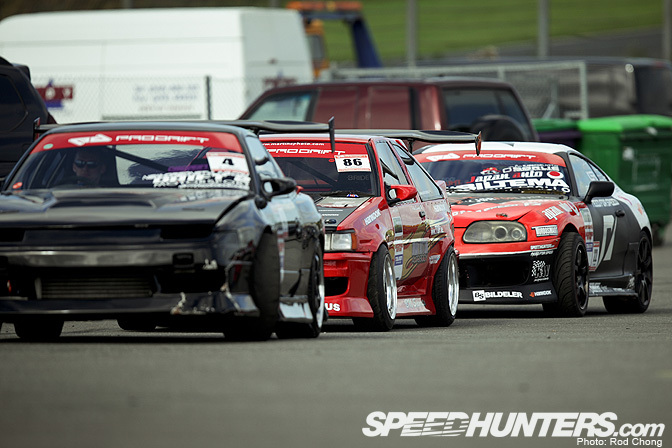 Fredric: In front of me is the Corolla of fellow Hankook driver Alan Sinnott, who was sitting first in the championship and ended up taking the title at this event despite a top 16 loss. He brings an absolutely bad ass show to the track, congrats again, Alan!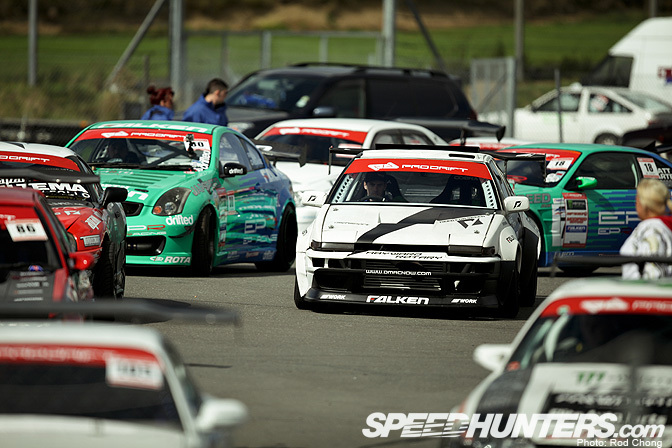 Darren: Excitement and nerves here for me. I couldn't wait to get out on the Mondello reverse track again its been way too long. But the fantastic line up of drivers meant big pressure to succeed. This is how it should be!!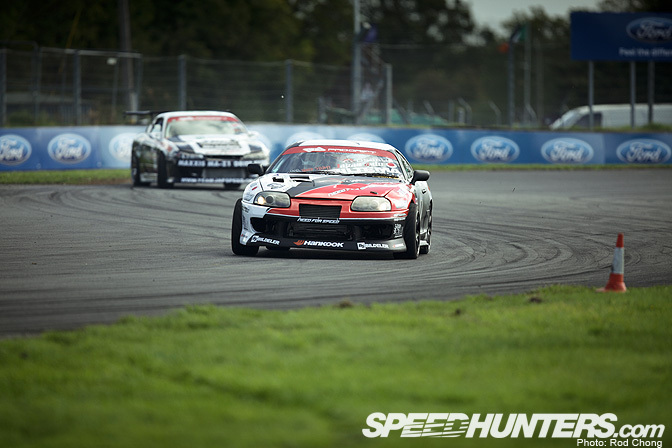 Fredric: When I start off a weekend, I usually aim to do one sighting lap to get an impression of the grip and try to learn the line and various brake and turn in points. Sometimes there is extremely limited time and I just jump right into it, but since I had never driven this course previously and had never been on these tires it definitely made sense here!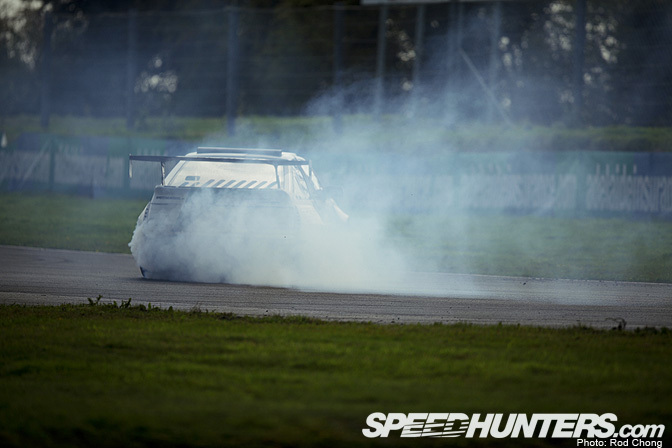 Darren: I know this place so well i knew i could pull off a half decent run straight out the box. Time to feel the car out and heat up those Falkens.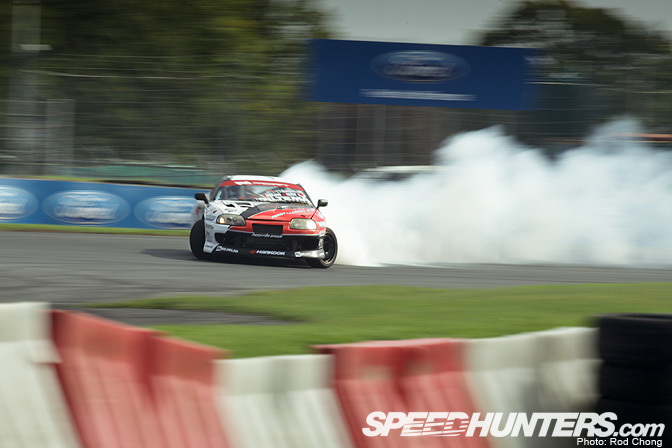 Fredric: For my second run, I went out there full drift as well. It was far from a stunner but at least I got round the course!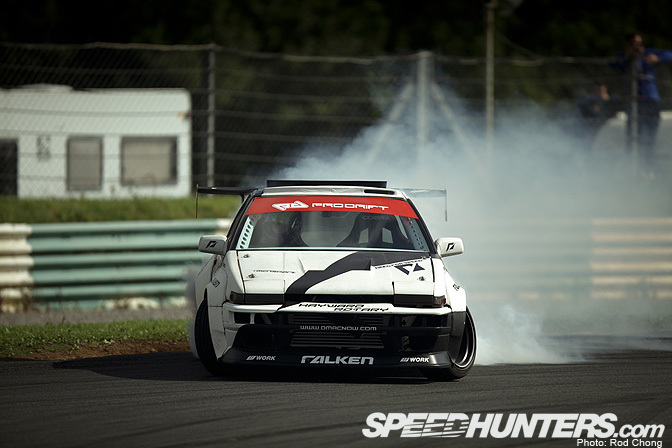 Darren: The car felt pretty good on first impression and I was really starting to enjoy myself out there. The scream off the 13B makes me just want to keep running over and over again.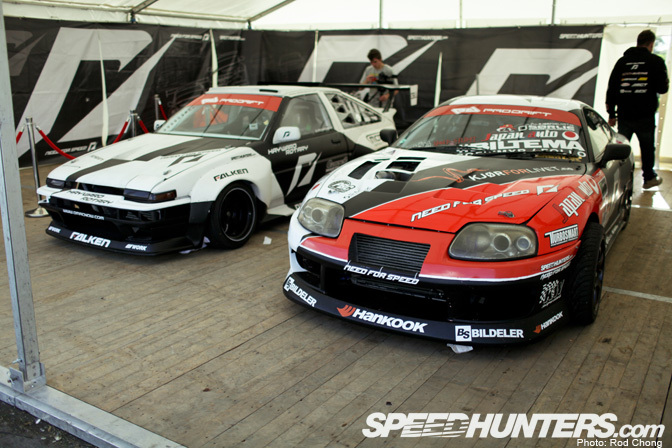 Fredric: This was the last event of our Team Need for Speed Europe Tour, and it had been an amazing experience. Both our Gatebil take and British Drifting Championship participation and victory at Silverstone has yielded experiences I will never forget! The Europe tour is one of Rod Chong's babies and I think it's a big, big thing to be trusted and given the faith to join such a program!
Darren: I have to say i never thought this tour would turn out to be so much fun. Me and my guys have had an absolute blast at the 2 UK events we attended and of course here on home turf. All the hard work we put into building a new car has really paid off and the reception we have gotten everywhere has been overwhelming.
So thank you to everyone who came out to the events and of course thank you Need for Speed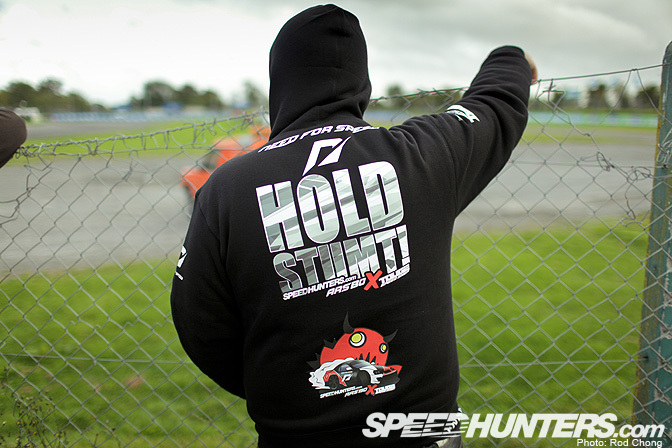 Fredric: Steffen rocking the Touge Automotive x Speedhunters x Aasbo hoodie. The graphic designer in me digs the silver mirror finish of Hold Stumt. It's almost like the letters are cut out and Steffen's back of steel shines through!
Darren: OK……………………
Fredric: Didn't you know he's the Teflon Don?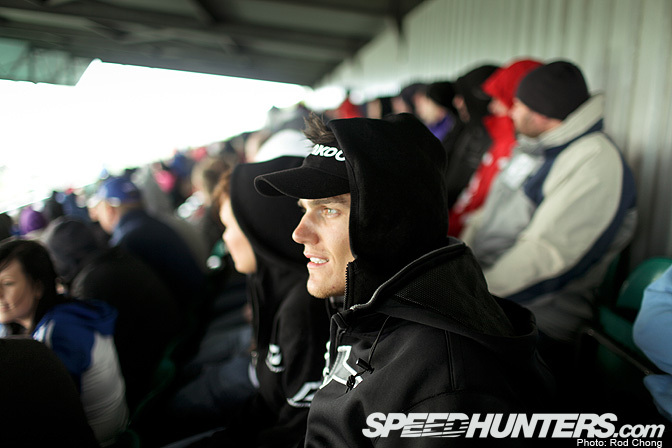 Fredric: After Saturday's practice, and with Sunday's qualification and top 16 battles yet to commence, we watched through the Semi Pro finals. There was some absolutely legendary drifting! Enduring crazy wind and rain, these guys battled the conditions and some of the runs were flawless… Next to zero corrections and a very committed line through the very tricky first section of the course.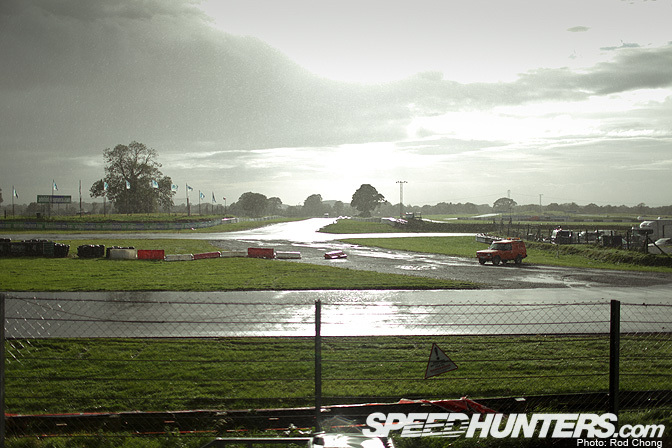 Fredric: I was very, very impressed with the level of drifting even in semi pro. I think the best way to describe it is that all of these guys were there to win, and no matter how big or small their budget was, or how new to drifting they were – they were giving it absolutely everything they had. There is no wonder Ireland produces some of the best drifting drivers in the universe!
Darren: Freddy, on behalf of the people of Ireland I'd like to thank you for coming and giving us the opportunity to kick your ass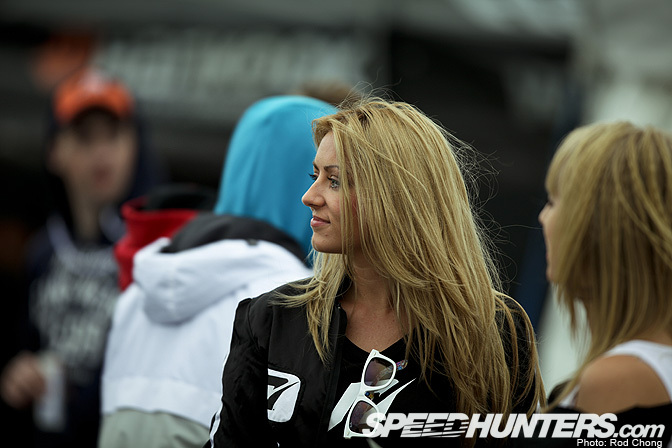 Fredric: Sunday, Sunday, SUNDAY! The big day came around and everybody were all smiles! Amy, was on our team as a NFS spokesmodel and it was great seeing her again! She drifts a battle ship grey FC in Semi Pro. More of that, please!
Darren: I have to agree here. More girls and more rotaries!!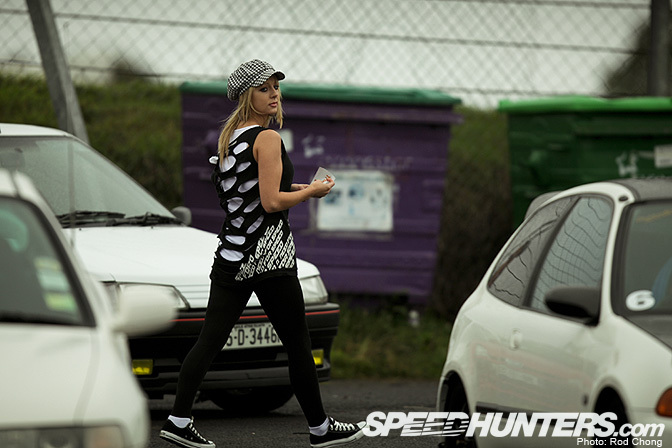 Fredric: Linda was our second grid girl and they were all trawling the pits having a jolly good time. I like how the NFS girls we have are allowed to be themselves and it makes for a good vibe in the pits.
Darren: A jolly good time you say.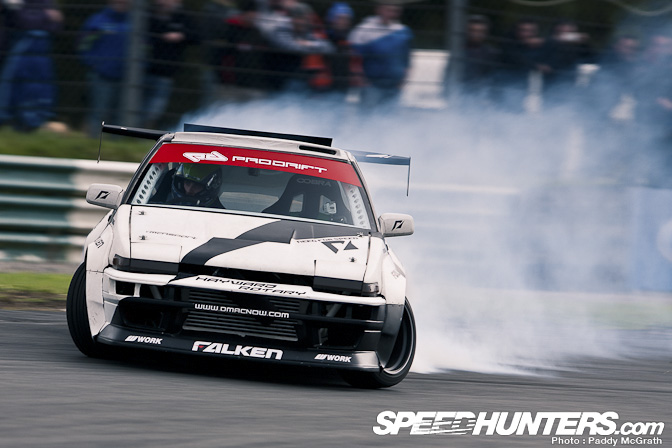 Darren: Practice time!! We had one short practice session before the serious business of Qualifying began. I was trying to dial in my suspension and tire pressure settings. I was having a problem with the rear suspension which was making the transition very tricky for me. This coupled with our steering system made the car quite challenging to drive. There was nothing i could do at the track so i was going to have to drive through these problems.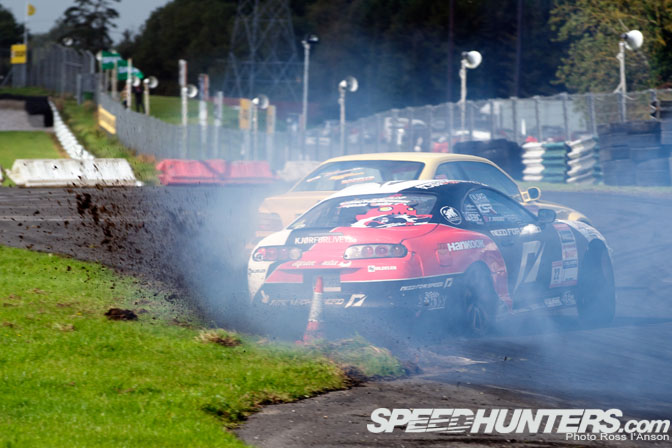 Fredric: Yeehaw, dirt dropping! I always wanted to be like Orido!
Darren: Your not quite there yet buddy, keep trying though……haha
Fredric: Isn't Orido called the Crash King? I guess I'm not that far off then?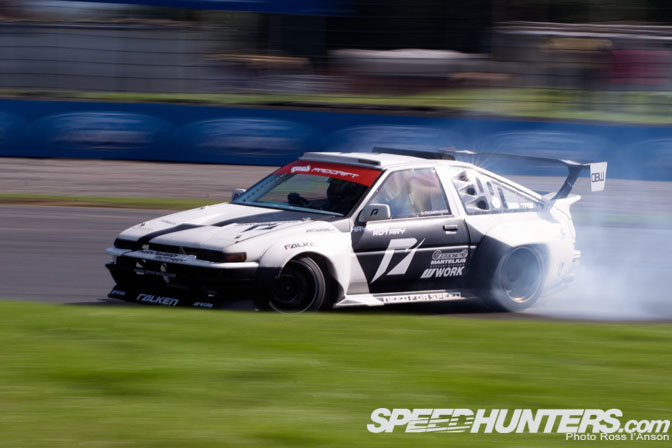 Darren: A new car brings new car bugs and challenges. We had made all the changes we could at the track and now as we say back home it is "sh*t or bust".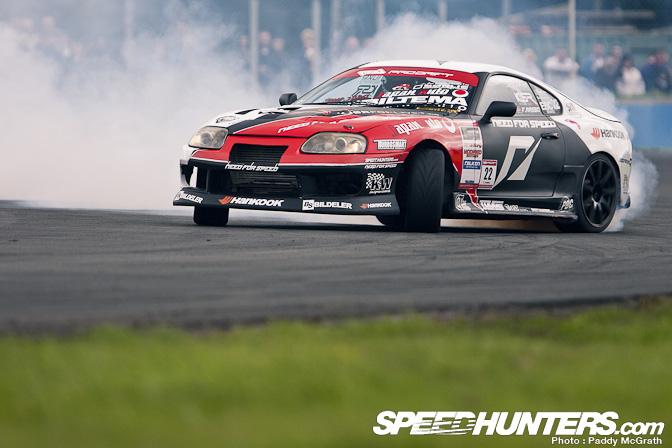 Fredric: I use pictures to get an idea of how the cars alignment works out, with the various leaning and squatting through the turns and over bumps and crests. With that in mind, the Speedhunters army of photographers is a big help and a key setup tool. There is always a crystal clear snap from every angle, thanks guys!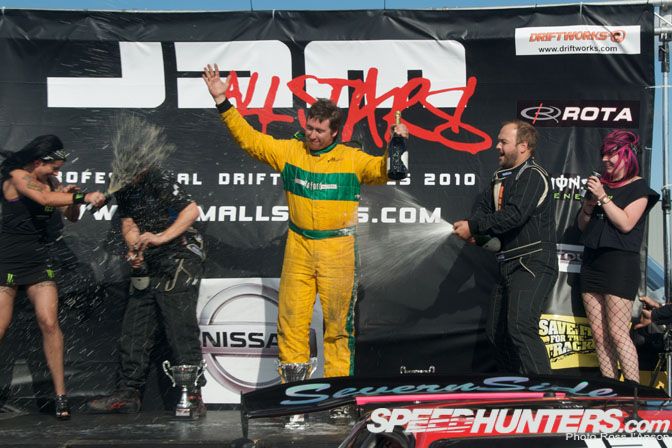 Fredric: It's funny how the Corolla is per definition a small car, where as the Supra is a big car when actually some of their dimensions are not that far off each other. The Supra is a lot heavier though, probably over 300 kgs which is the biggest disadvantage with the chassis and the engine setup.
Darren: Have you been measuring my car?? We have managed to make this 86 look very large though, It just doesn't look small next to the Supra and the Nissans anymore. This 86 will not be intimidated!!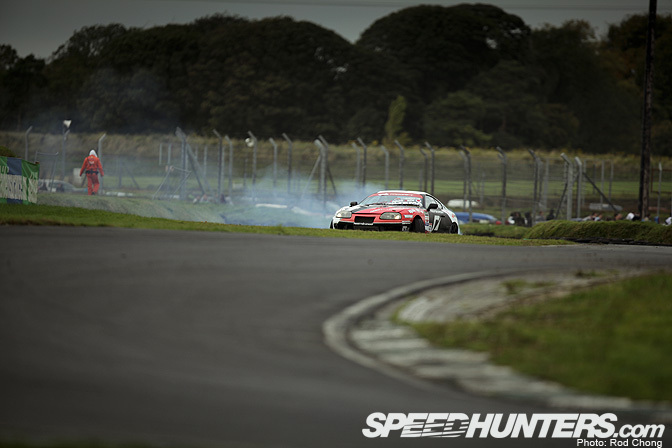 Fredric: Queue Jaws theme music here. It was qualification time!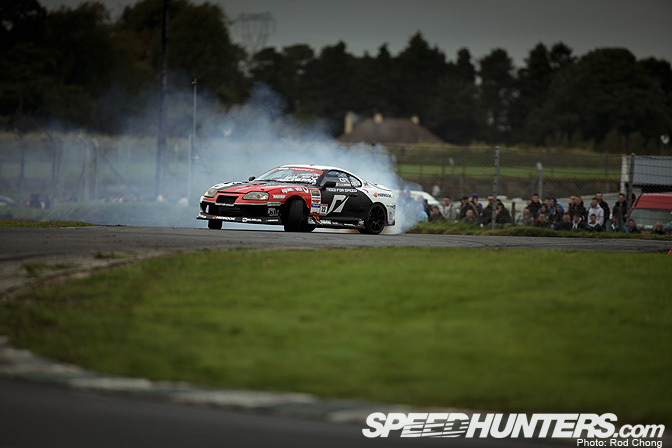 Fredric: This was actually the last out of the two runs we got. The weather had been on and off but the track remained dry for the qualification runs. I had put in a banker for my first run and went harder for my second.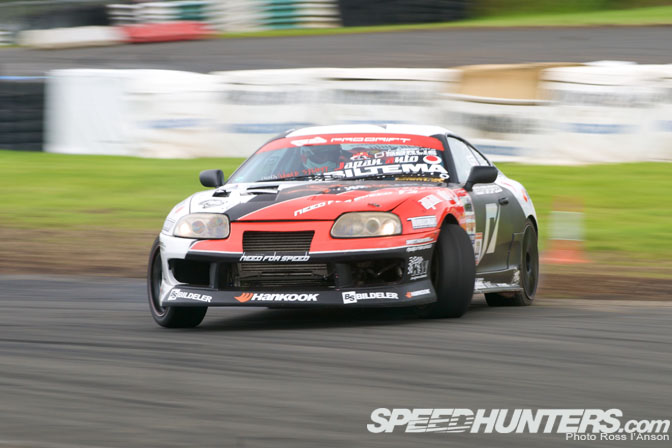 Fredric: The first turn is tricky as it's blind, and it has a crest going in which lifts the car at entry, before you squat hard and grip up a lot mid turn before it shoots you out light again. Very cool and hard to get absolutely right! !
I came through the first turn as fast as I could exiting at the rumble strip by the clip, which was what the judges were asking for. However, the speed gun showed I was 10 km/h slower through the inner clip than the fastest guys. I think this is where the 200-300 extra kgs over the S-chassis and Corolla guys come into play along with me probably not being fully to grips with the course. The slower speed automatically deducted a lot of points as per the Prodrift judging criteria.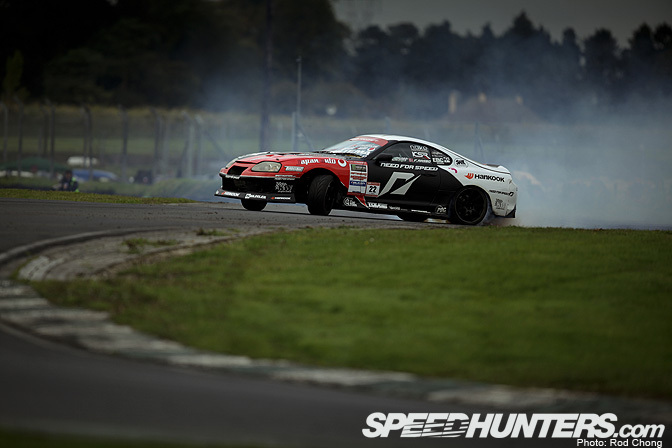 Fredric: I got back on the throttle to whip the car around for the transition to turn two…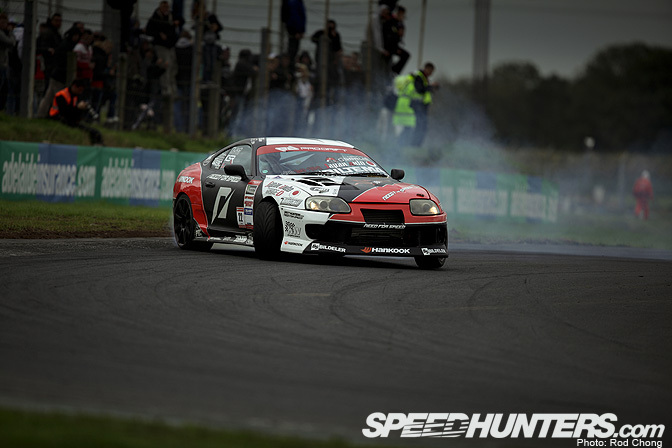 Fredric: …and got the car out on the next outer clip.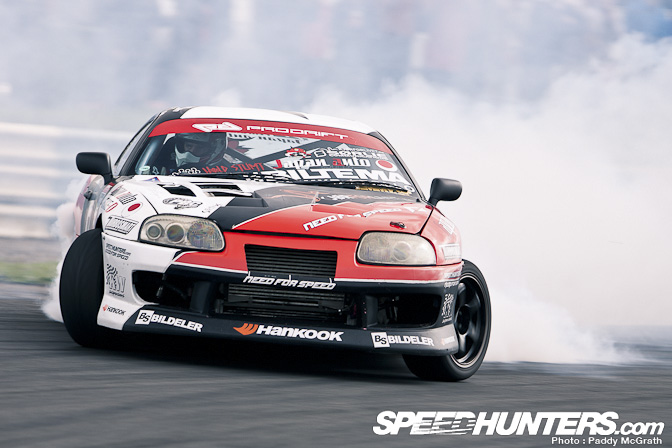 Fredric: Then, I got back on the throttle…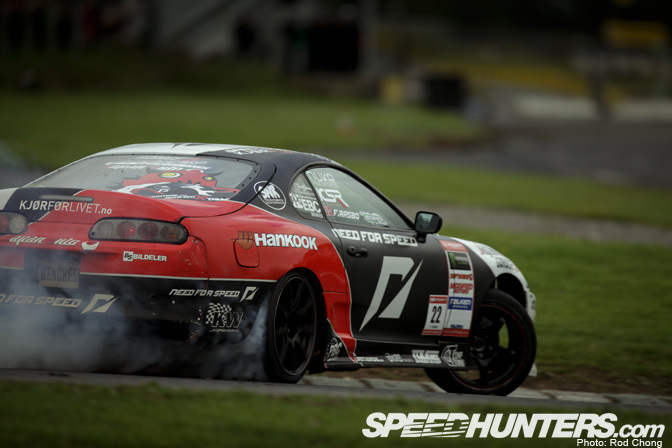 Fredric: … passed the next clip…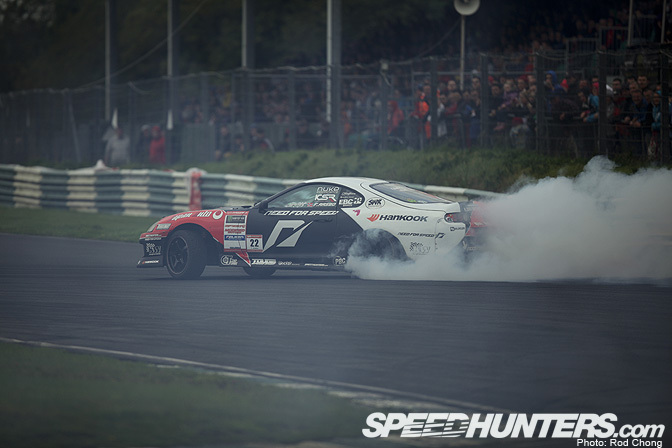 Fredric: And held stumt from there and out.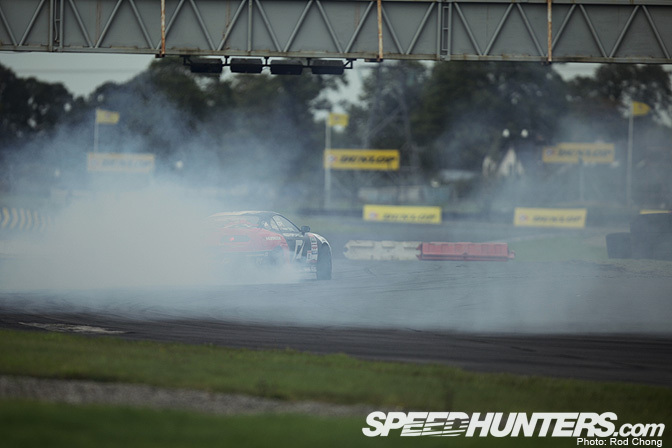 Fredric: It was so much fun to let loose a little bit and just go for it. And after everyone had gotten their first score in, the judges awarded us the best score thus far! But would it last? All of the top guys had their second run to go as they all had previous championship points.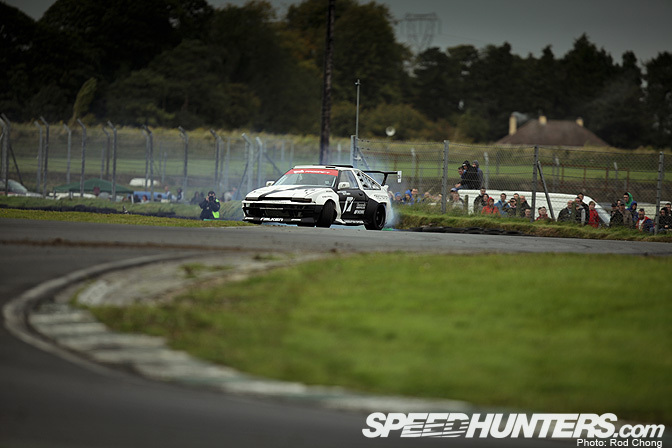 Darren: Would it last???………………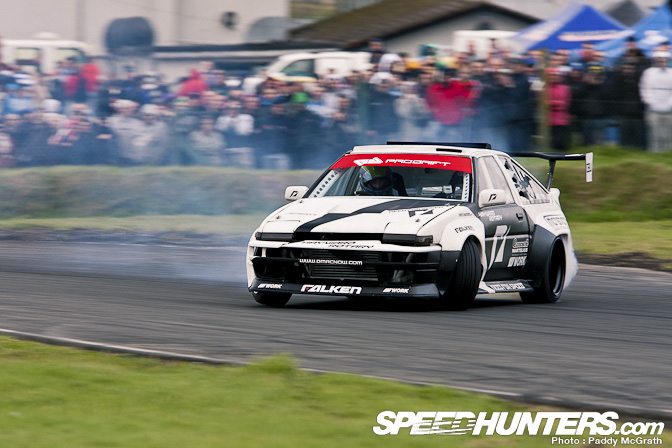 Darren: Nooooooo cos i was on a mission!! Before i start i have to say this was the most entertaining qualifying session ever. My first run put me on top until Freddy knock me down on his second and then Phil Morrison knocked us both down. My entry on my second run above was the second fastest of the session and warped my FRP door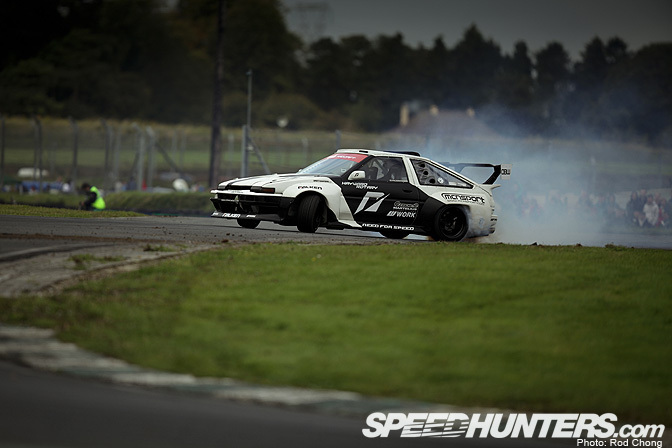 Darren: My angle was very good…..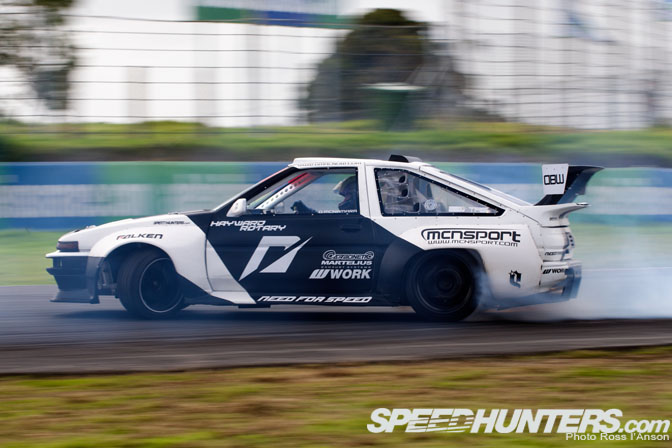 Darren: And I'm sure the rotary on boost made a big impact!!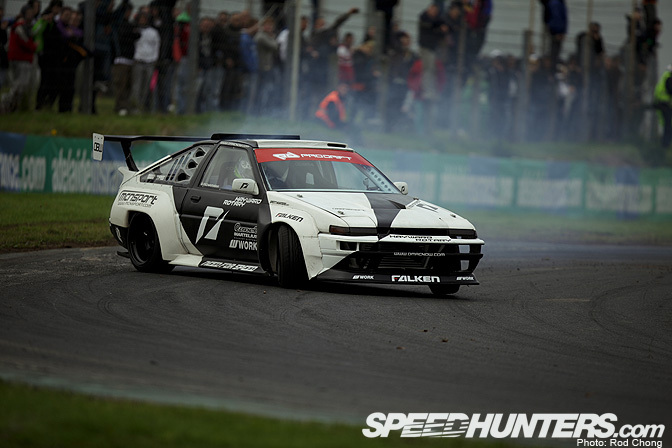 Darren: I transitioned violently, hit and left the outside clip…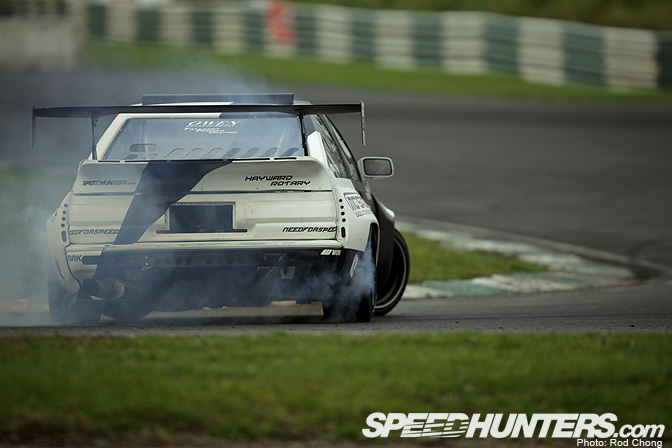 Darren: Changed down to third and got back on the power…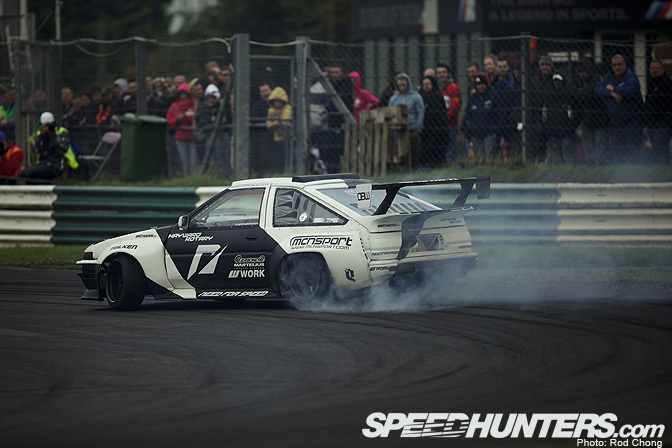 Darren: Nailed the second last outside clip…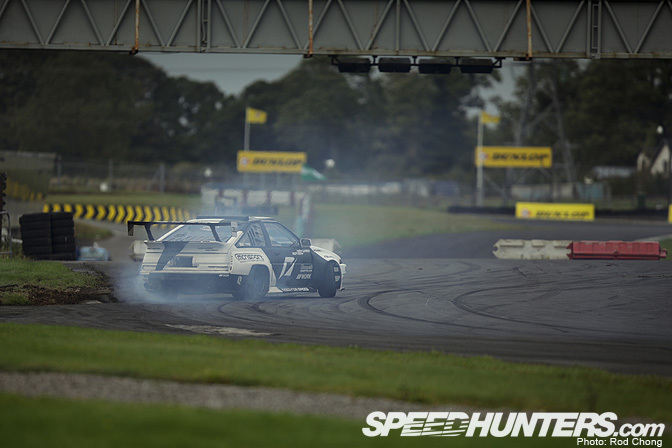 Darren: And nailed the last clip across the finish line. We were awarded the top score of the day qualified in first place. I was absolutely delighted to be so competitive and having so much fun doing it. This reminds me of the old D1 i fell in love with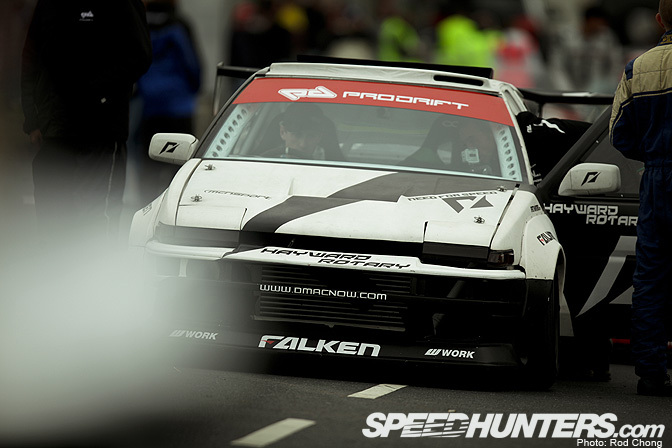 Fredric: The coolest thing about Prodrift, is that the qualification is just to determine who qualifies for the Top 16 spots. The actual grid is determined by one, all-out run called the Superlap…
Darren: Yes so basically all you did before was ensure your place in the knockout stages (Top16).
Now the 16 drivers start again on zero and have 1 all out run to impress the judges. The judges themselves have now only got 10 points to give, 3 judges so a max of 30 points. Follow me?
All this hype created really brings the crowd into it and a fantastic atmosphere was created. PD i take my Falken hat off to you this was tremendous entertainment!!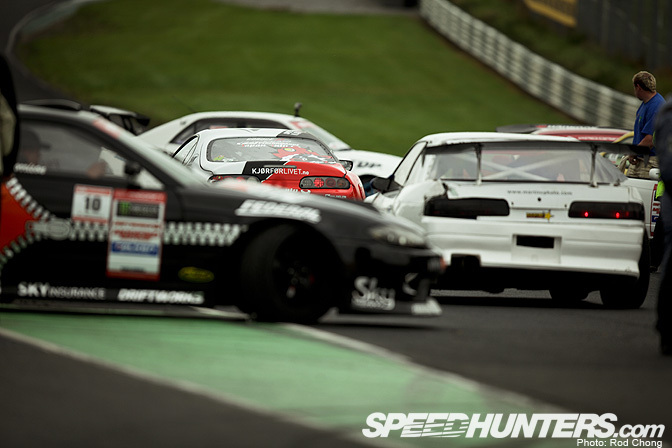 Fredric: And as the Pro field was halved after the initial qualification, the top 16 drivers rolled out for the Superlap. As we were in for Top 16 already, the mantra was "all or nothing!"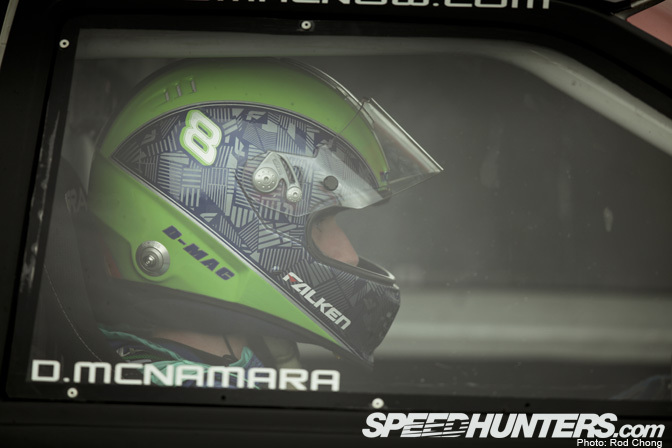 Fredric: "Come on, 86. If you won't take me to heaven, I'll drive you straaaaight to hell!"
Darren: Yes Fredric thanks for that! I remember seeing drops of rain on my windscreen. I was telling the marshals "Come on lets go!!" I thought that if i ran in the dry and it started to rain i would have a major advantage. I psyched myself up to the last!!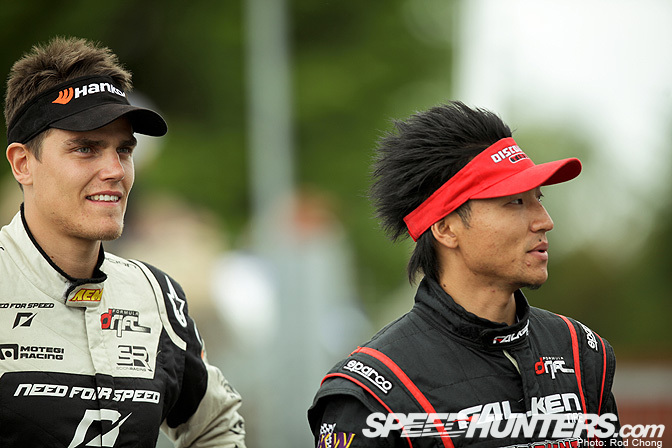 Fredric: The crowd was getting all amped out for the Superlap. It was clear it was a big thing. While waiting in turn, all of the drivers got over by the finish area to watch!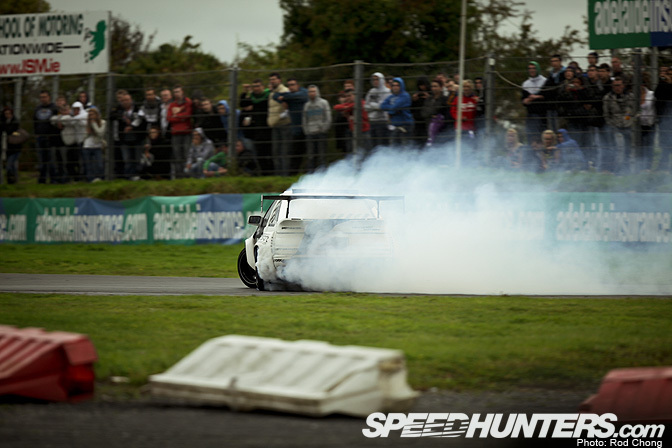 Darren: My entry was spectacular (if i do say so myself) I caught it perfectly on full throttle….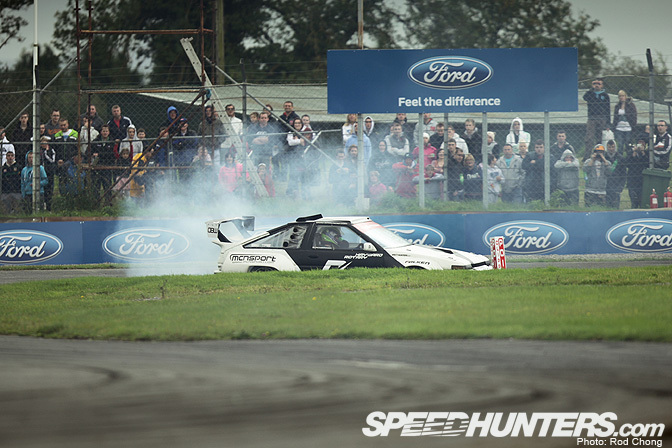 Darren: But………it wasn't to be…. My rear suspension problem came to bite me in the ass and the car just wouldn't stick at the transition and cause me to spin out.
Fredric: I thought you were just getting "bored out in front" again.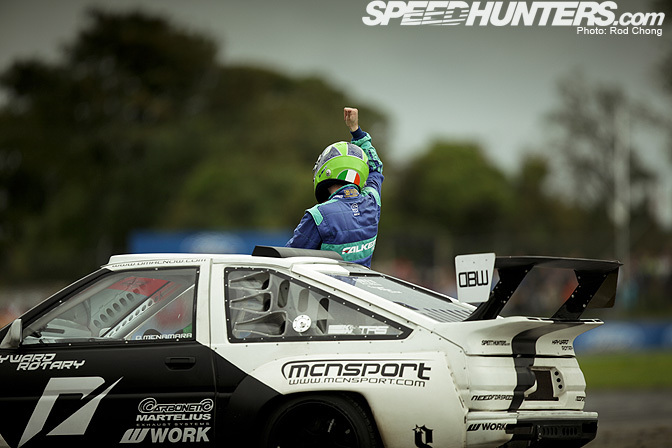 Darren: I threw a big tantrum inside the car then got out to wave to the crowd. I was sickened i didn't pull it off, it would have been an awesome run!!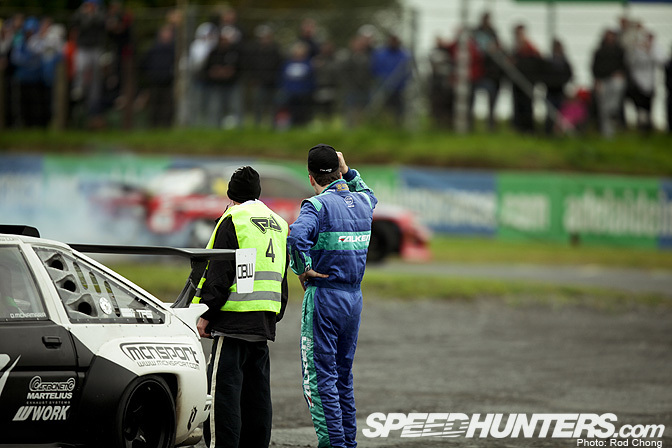 Darren: James Deane was up next and i was doing a little judging of my own. If none of the other drivers spun then i would be against the number 1 Qualifier on the Superlap.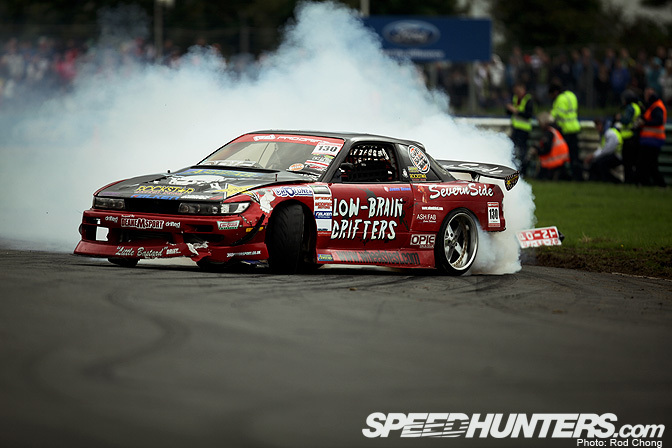 Darren: I watched James Deane run next and he seemed to be taking it easy. James just scraped in to the Top16 in sixteenth place after mechanical issues in Qualifying. He would still be very dangerous in tandem and was on a roll in the UK events prior to PD.
Fredric: Although James didn't get all the way up there in qual, his consistency and absolutely top notch chase runs really gave it all away. James Deane is an amazing driver – simple as. He's a guy of extreme talent and extreme humility and I sincerely hope he can get a seat in Formula Drift for 2012!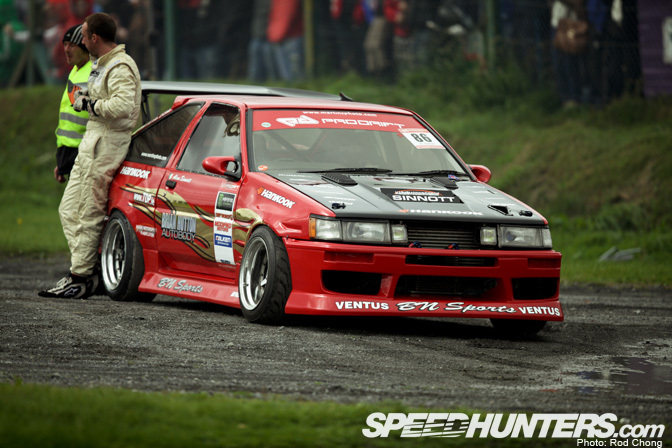 Fredric: Prodrift Championship leader at this point, Alan Sinnot, stuck as the top Superlap qualifier with all of the Prodrift pirates challenging him throughout the session.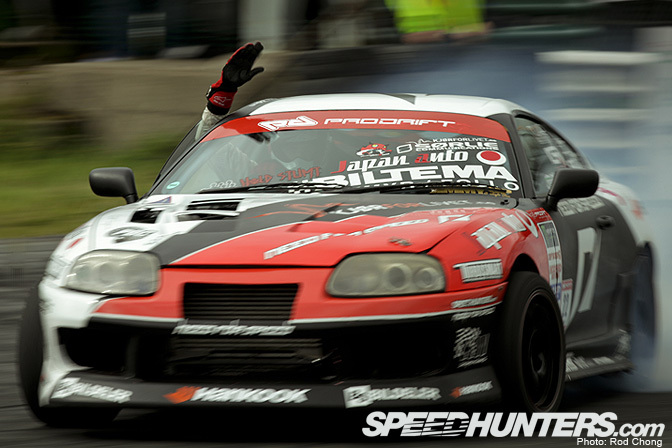 Fredric: I was third to last to head out for my run, and when it was my turn I went out there smiling. I was deeply impressed by how Prodrift was going down and how the drivers, the judges and the crowd all hyped each other up.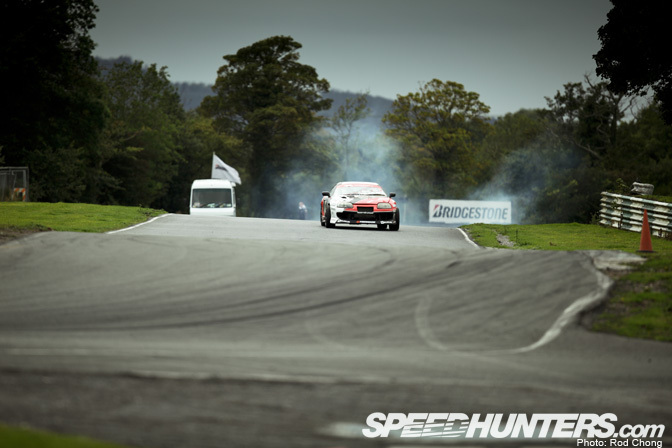 Fredric: I was ready to have some fun!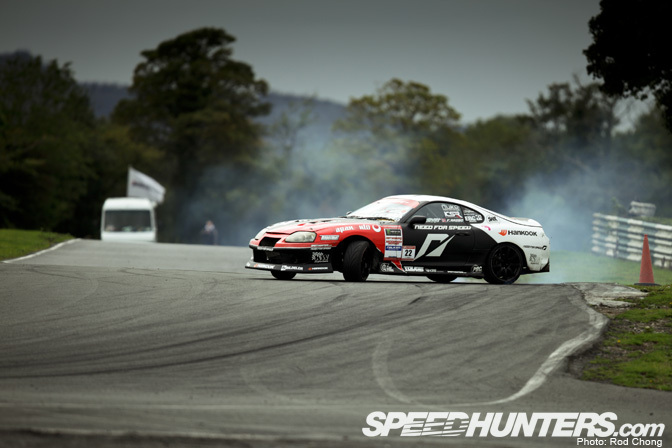 Fredric: I flicked it in as violently as I could, and later on Rod told me the crowd had gotten crazy cheering as I entered. That really warms my heart!! I hope to be able to continue to put on a show and develop this style further.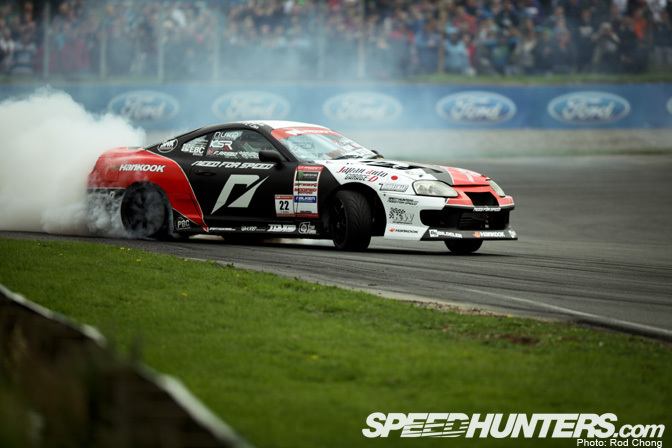 Fredric: I steered the Supra through the course like a tank, trying to unleash its power at all the right places. It might not have been as precise or elegant as the other lightweights out there, but at least we left a few marks!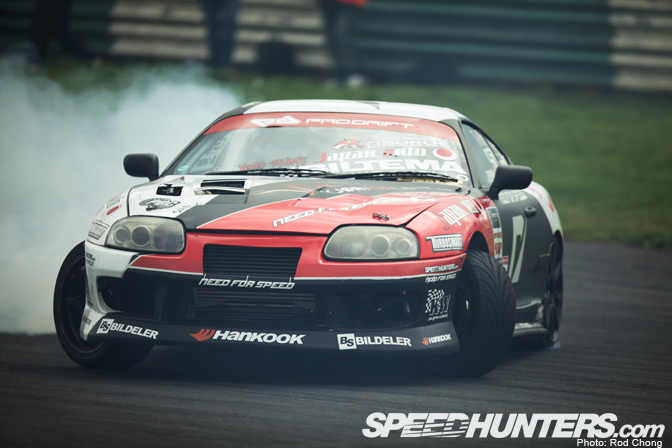 Fredric: I flicked it over by the last outer clip and exited the course in a donut before parking to hear the verdict.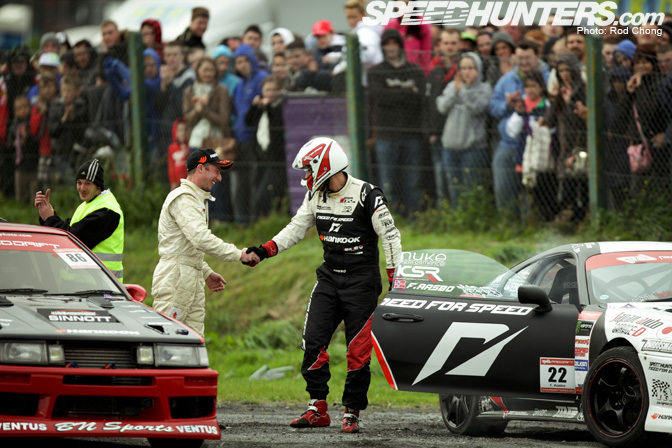 Fredric: We got the second highest score! We qualified second at the Superlap!!
Darren: By winning the Superlap Alan Sinnott clinched the Prodrift Irish Championship for 2011. Big congrats to Alan for all his hard work and great driving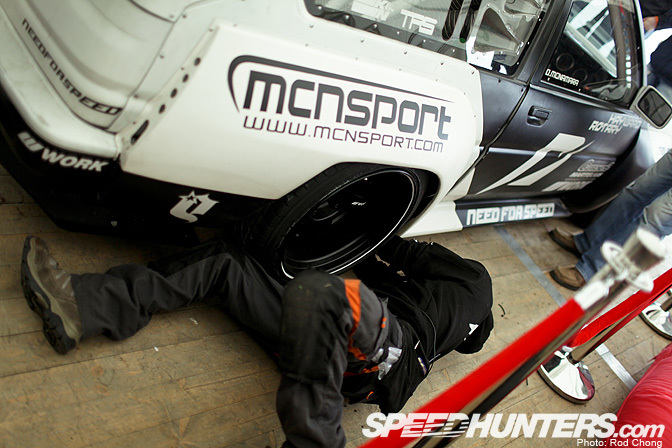 Darren: We retired to the pits to see if there was anything we could do to improve the problem we were having.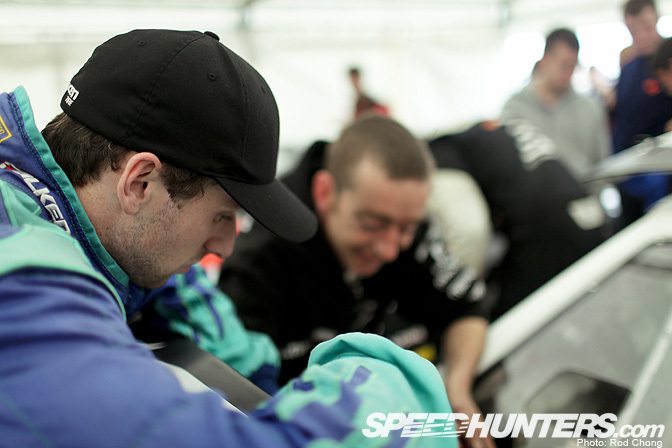 Darren: I was deep in thought……. While leading i was in control and i could drive around the problem, we had proved this in qualifying. But when following and having to adapt to the other car in front as well it became very tricky.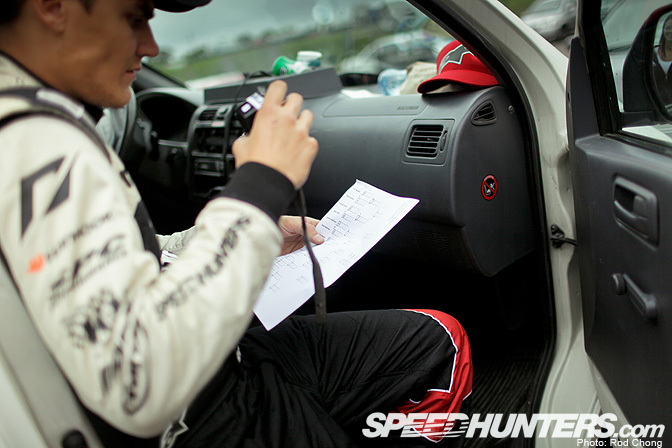 Fredric: With qualifying over with, the real deal began. I looked through the grid and some footage my girlfriend Wenche had kindly shot during practice. We were facing Mike Deane in the first battle. Battling previous Prodrift Champion and James Deane's brother at Mondello wouldn't be easy…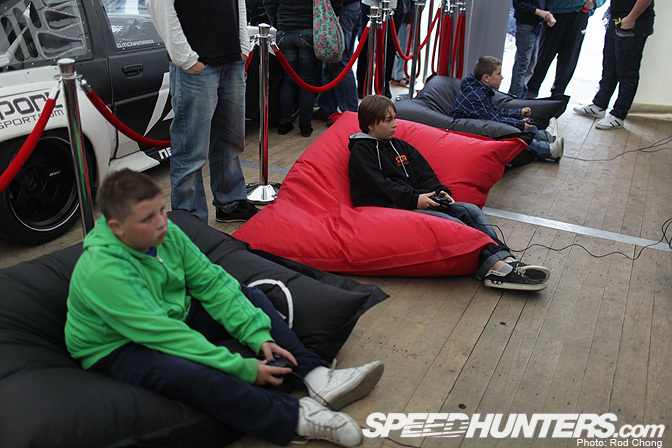 Fredric: Back in the pits our Euro NFS Electro Lounge was up and running. Plenty of kids got to try The Run for the first time!
Darren: Being the biggest kid of all, i was at the track early in the morn to "test" the equipment before the general public arrived. Its a service i provide you know…..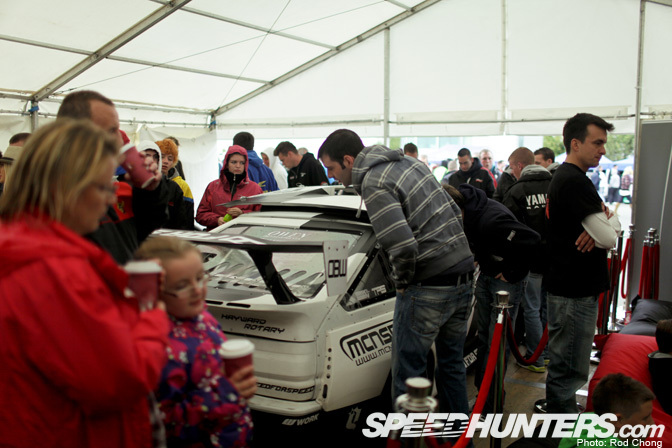 Darren: A huge crowd had gathered around the 1983 D-Mac86…… And no one was looking at the Supra……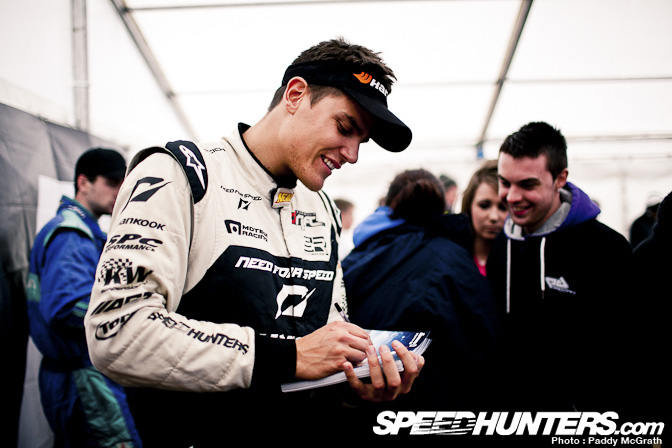 Fredric: Plenty of guys came by our pits and it's incredible to see how much people know about what we've been up to in the States and elsewhere!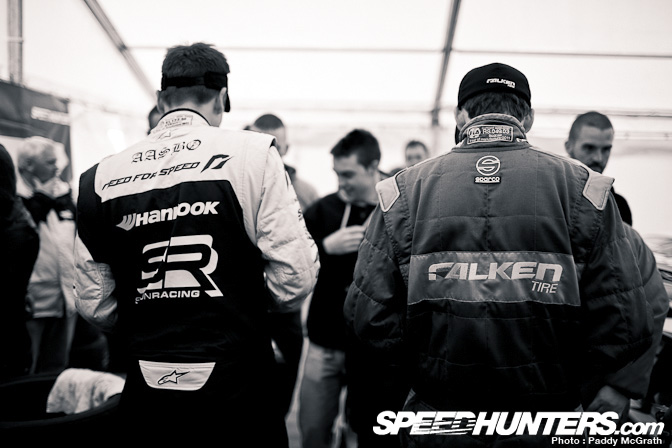 Fredric: Drivers on duty! We handed out a bunch of our car posters.
Darren: The reaction we get from the fans is always great and my god there was a lot of people here!!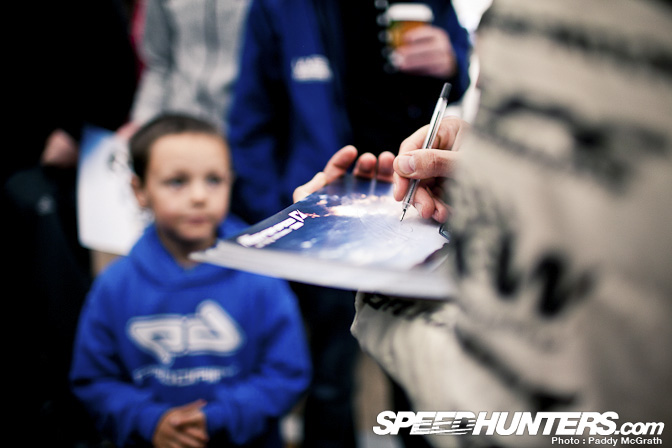 Fredric: Apparently Prodrift hoodies are a big fashion statement at Irish schools, and I think that speaks volumes of what Prodrift has achieved. I dare to say no other country has such a big awareness of drifting among the general public… That's obviously without having been to Japan, but with a population of 4 million Prodrift is the biggest circuit based motorsport in Ireland!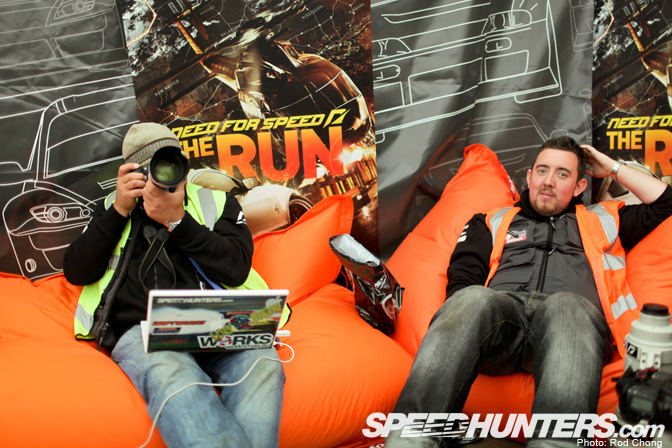 Fredric: These two guys… Ross and Paddy absolutely crack me up! They brought us to dinner on Friday and gave us a lesson in British and Irish humour! So dark, so harsh and so funny! I wish I could put it all in print for you to read.
Darren: I'm your biggest fan i'll follow you until you love me Papa……………. Paparazzi!!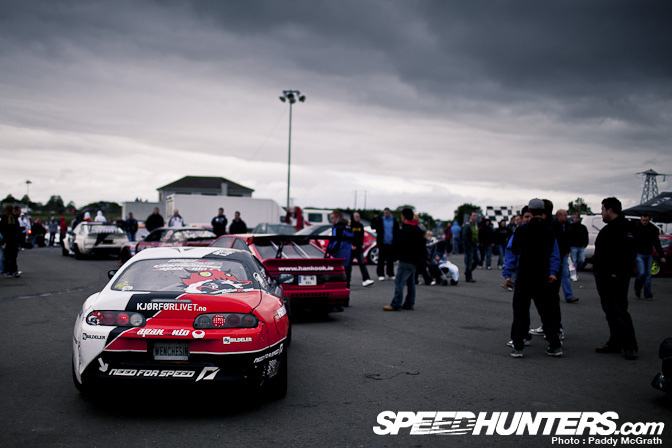 Fredric: And then, it was time to head out for the top 16 and the finals of the biggest Prodrift event ever, and I felt like I was heading to the arena with a bunch of gladiators, lions and pirates. I told Wenche it had been nice getting to know her and buckled up.
Darren: This was it…..Track temps were down and the foreigners were up. The Irish would be taking no prisoners today!!
More Fredric Aasbo Stories on Speedhunters
More Darren McNamara Stories on Speedhunters