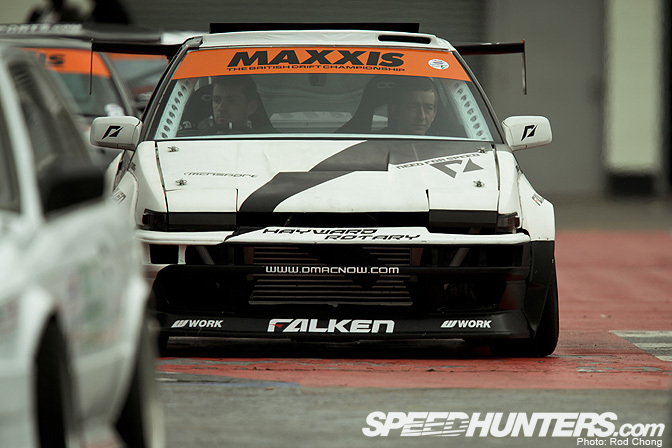 Darren: Hello Speedhunters!! And welcome to the competition launch of the D-Mac86 on home soil (well sort of)  I've been looking forward to returning to one of my old stomping grounds, Silverstone circuit in the UK for quite some time. I left the UK drift scene a good while ago after my D1GP success in Silverstone led me to Irwindale and Formula D.
My initial excitement for returning to European competition was dampened by the unknowns of a new car build. It was going to be really difficult to win this event and we had to remember not to expect too much from our first competition outing in the new car.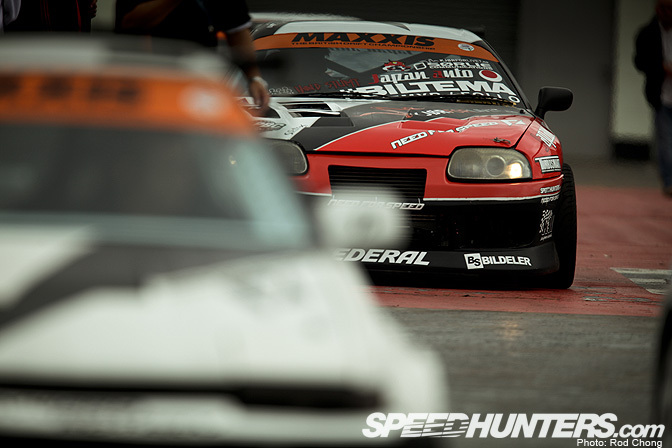 Fredric: Hello fellow Speedhunters! The UK and Irish drifting scene was what fueled my interest in drifting first place. I spent my time keeping tabs on you, Darren, and the other top drivers touring the circuits drifting. I also spent my school scholarship on purchasing a couple of JDM cars from Japan and the UK and importing them to Norway, but never got to drift on the isles.
But with the launch of Team Need for Speed's European drift program, our small team would get to compete where it sort of started here in Europe: at the Silverstone Circuit in England. We were set to do the British Drift Championship Super Pro competition at the Trax show, and for me it was a MAJOR dream come true.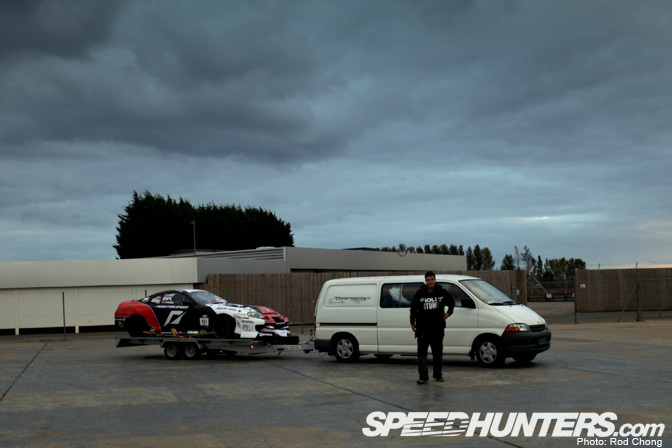 Fredric: This is the Team Need for Speed Japan Auto Supra, and my trusty (and crusty!) 90hp Toyota Hiace van. Both cars are crammed full of tires, parts and fuel. Reverse rake van FTW!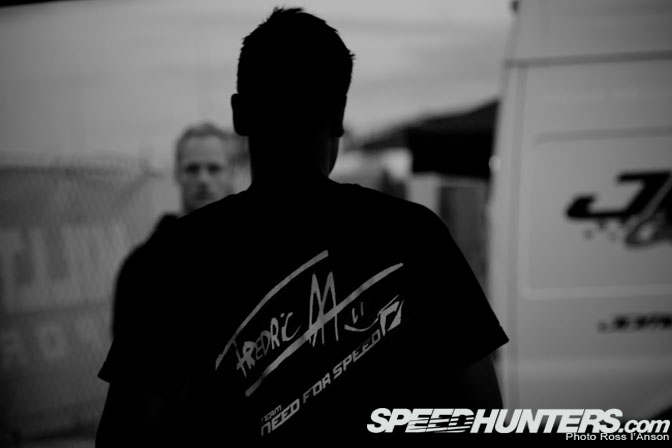 Fredric: The trip from Norway to Silverstone was a long one and it all started at Las Vegas Formula Drift the weekend before. Steffen and I flew out of Vegas on a red eye flight on Sunday morning, going north of the hurricane riddled US East Coast, arriving home in Norway on Monday. My drifting partner and great help Steffen, my dad and myself assembled the Supra over the next 48 hours, before we hit the road Wednesday night. Then, we boarded the ferry in Denmark on Thursday and arrived in the UK on Friday.
From then on, it was all a lot of fun. The Garage D guys took great care of us for some final car prep, and once we got to the track Saturday night we meet the Speedhunters crew, including NFS GT3 driver Edward Sandstrom. Good times!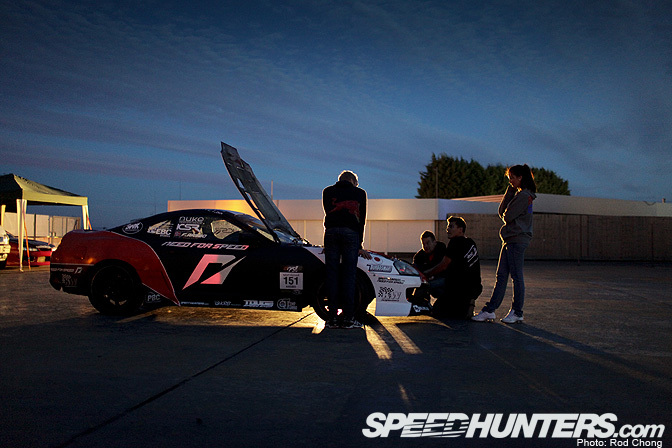 Fredric: I have yet to see a drift car that is a fully finished project. There is always a to do-list and it seems to me a race car will always be a little bit of a work in progress with an unclear destiny.
I am sure you feel the same, Darren?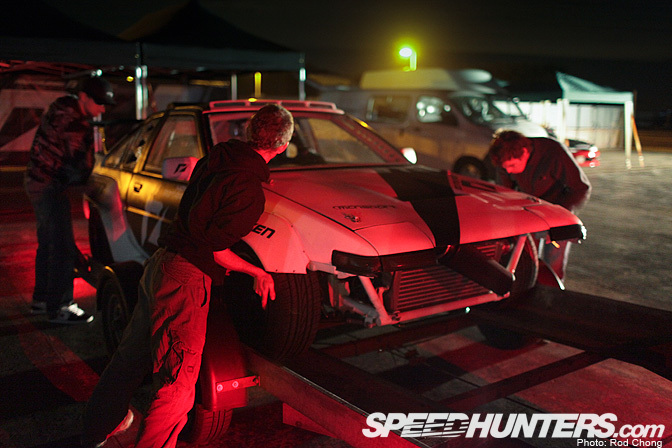 Darren: Tell me about it…
Even though Ireland and England are pretty close together it's still an 11 hour journey so me and the crew were pretty wrecked by the time we arrived. I was just happy and proud to show my creation to the rest of the team in person for the first time. I think the car really has a presence about it.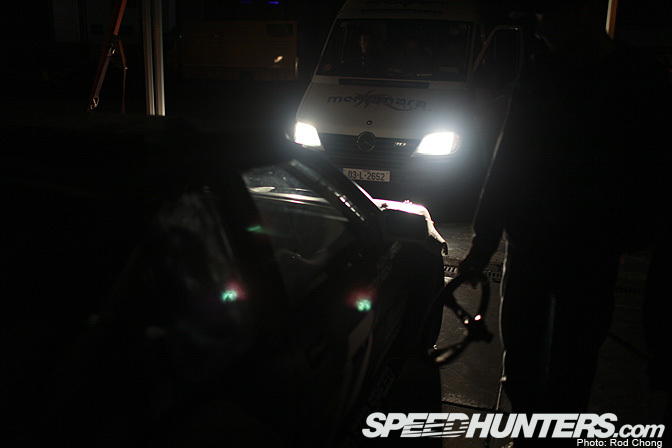 Darren: Thats my trusty Sprinter in the background. I knew beating Freddy's Supra on track would be very difficult but my Sprinter would take his Hiace any day of the week!!
Fredric: Hehe, I guess I can live with that. On a serious note you should bring the van up to Norway this winter and we'll see.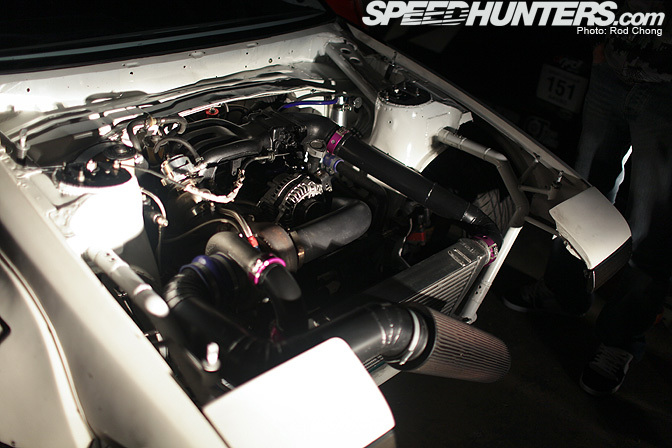 Darren: We removed the hood to reveal the rotary goodness and even though it was probably far too late at night, we couldn't resist firing up the Hayward Bridgeported 13b and letting the brap echo through the Silverstone paddock.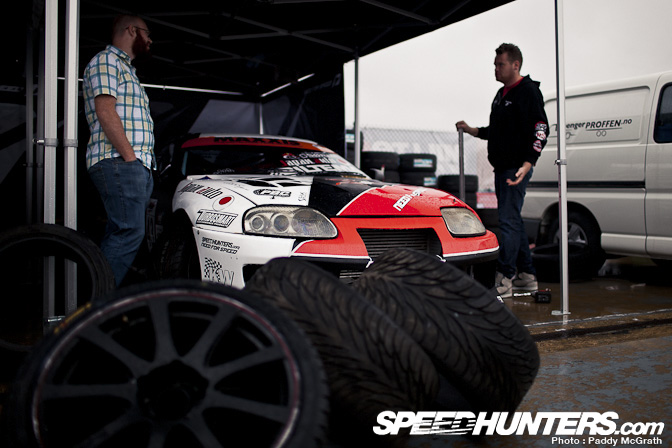 Fredric: The following morning, Ben Broke Smith from Driftworks and 1JZ fame came by.  I spent a week at his pad two years ago trying to assemble a US drift program, and we've hung out a couple times in the US but this time it was a long time no see moment. He's grown a pretty solid beard, and was a more manly Bon Bon I'd say.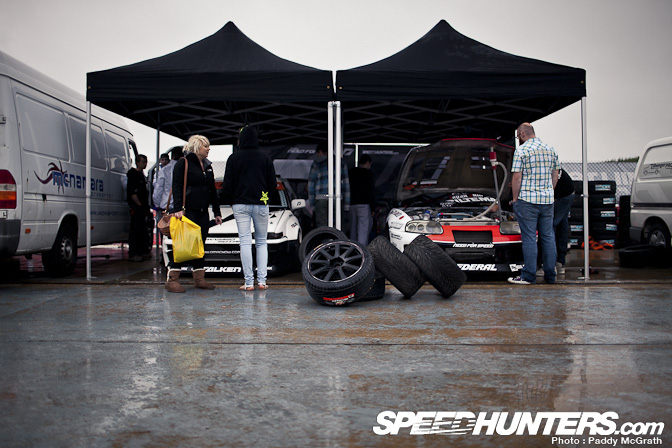 Fredric: Sometime later that weekend, we got to see Ben drift his "old man green" and tan interiored E36 M3 Convertible, with the vert down, waving to the crowd like JFK. It looked very wrong, but still so right!
Darren: You're just trying to be nice! It just looked wrong!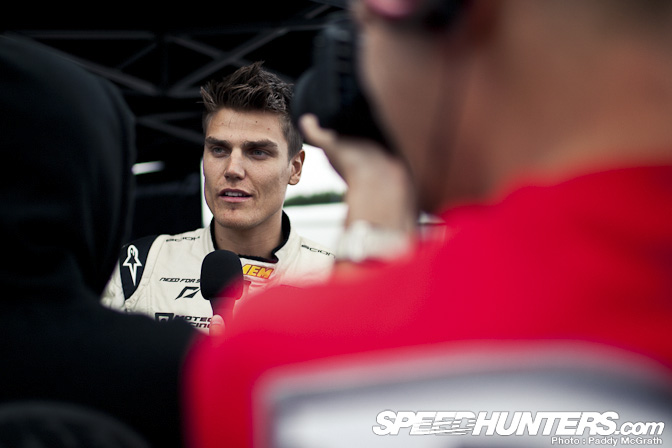 Fredric: Stephen Brooks & Co runs the video side of BDC and does an absolutely brilliant job! They came around for an interview and it was fun.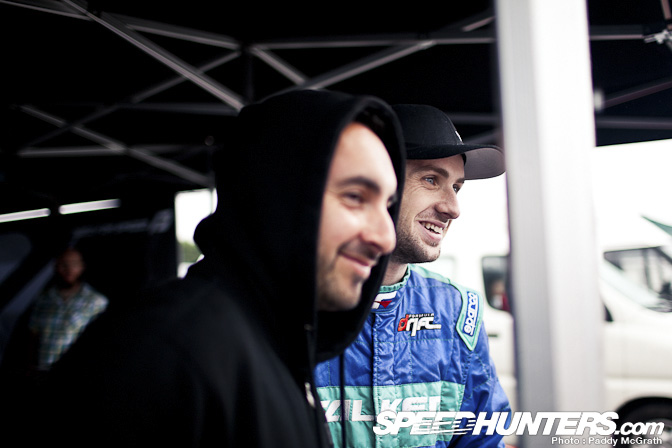 Fredric: The brits like to make a point of my last name being Aasbo and how it reads similar to ASBO, the abbreviation for Anti Social Behavior Order, which is a tag given to youth that have problems behaving. Do you have that ASBO thing in Ireland too?
Darren: You trying to say we're anti-social? I guess us Irish do have that kind of reputation though…….
I'd like to move on to the next picture please.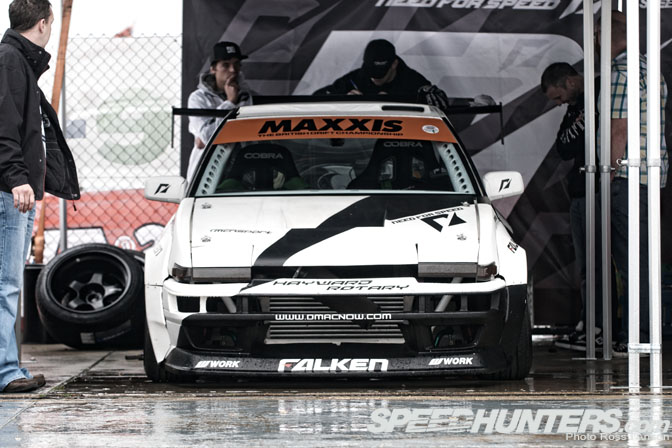 Darren: Meanwhile…….. it continued to piss rain! So we left the car on stands and waited until closer to game time to make a decision on setup and tires.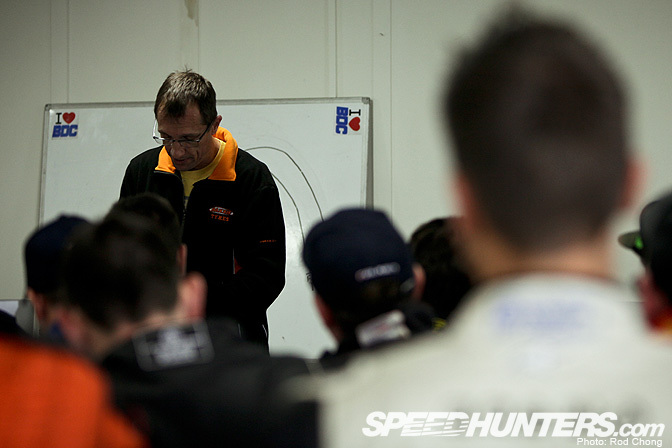 Darren: Drivers meeting time and it's a much more laid back affair in Europe compared to the very serious Formula D meetings me and Freddy are used to. Judging from the look on his face I think Freddy may have been struggling to translate the Queens English……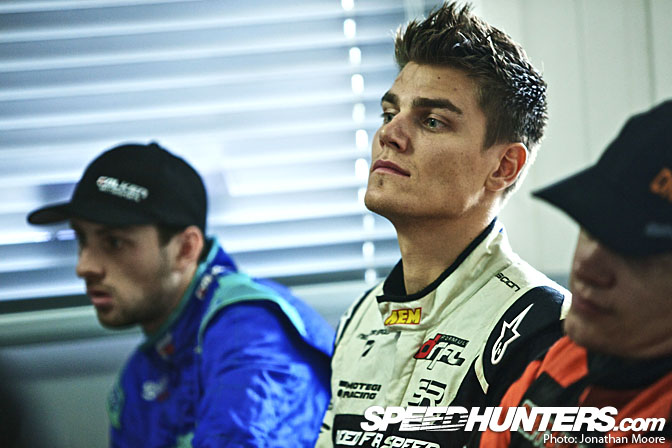 Fredric: Hahaha, you are right. After spending so much time in the US watching Baywatch and hanging with the dudes I am getting pretty used to American English. At Silverstone, there were so many dialects everywhere, from English to Irish to Welsh to Scottish to Julian Smith's Kiwi-Irish-English. And with everybody knowing each other and speaking so fast it's pretty hard to follow.
By the way, I think it sometimes sounds like you are speaking with a nose clip, Darren! Like "hey, I'm Dadden!"
Darren: Speaking with a nose clip???? At least i don't sound like the Chef from the Muppet show.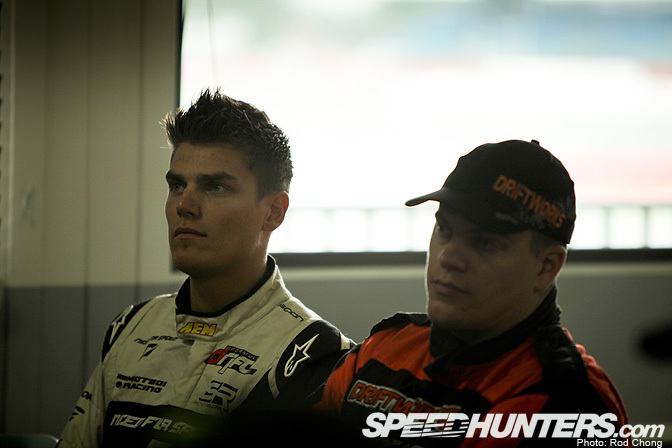 Fredric: Hahaha! Muppet show huh? I wonder which muppet Phil would be!?
Darren: Animal, Driftworks orange and all. No doubt about it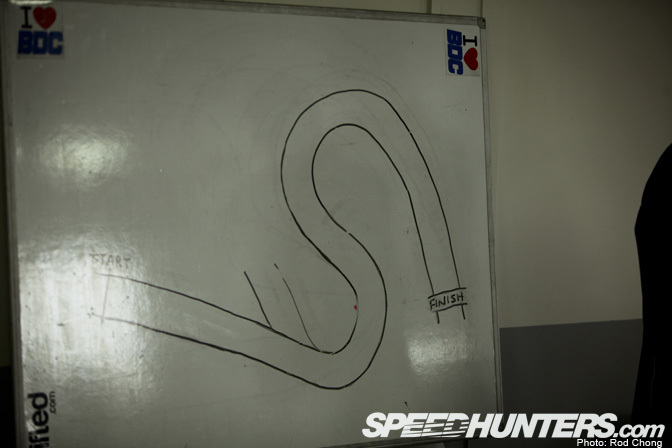 Fredric: I had been looking forward to actually driving at Silverstone for sooo long. It seems to be holy ground for drifting in the UK and I have been watching a lot of the video edits that have come out of there, but I actually hadn't grasped that the entry is so close to being a double apex.
Darren: I had of course driven here before so i knew what to expect. There really is only one way you can run this track so no surprises for me here.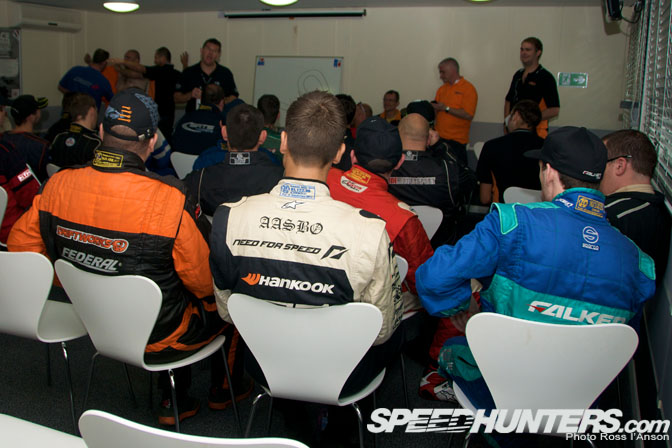 Fredric: The back of the bus.
Darren: Trouble makers always go to the back.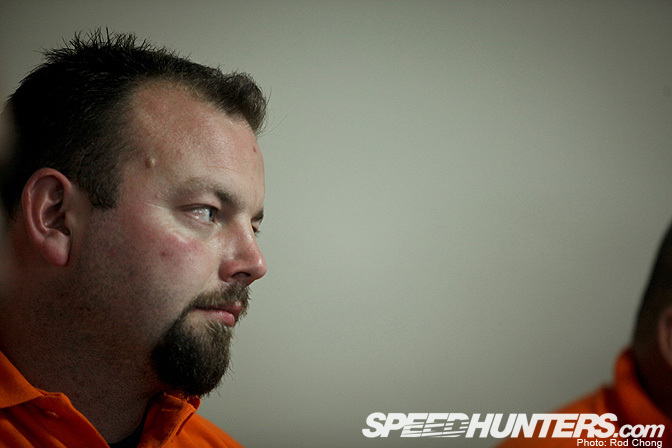 Fredric: This is Julian Smith, one of the absolute pioneers of drifting in the UK and head judge in BDC. I still remember the videos of him drifting his E30 almost ten years ago. He was a BIG inspiration to why I took the little money I had and spent it – and more – on getting an E30 as my first drift car. Darren, do you remember the Fifth Gear episode where Julian is on as a drift instructor
Darren: No…..cant say i seen that one…. I remember Tiff entered a few events back in the day and got his *** handed to him.
Fredric: Well, Julian is trying to learn Tiff Needell how to drift, and Tiff is scared of grabbing fourth gear, so Julian lays down one of his legendary one liners. "Tiff's having a hard time finding fourth. It's just below third." That just sounds so British to me!
Darren: Julian's Irish not British Freddy!!
Fredric: Oi sorry! Isn't he actually a Kiwi, raised in Ireland and now living in the UK? Anyway, you island people crack me up!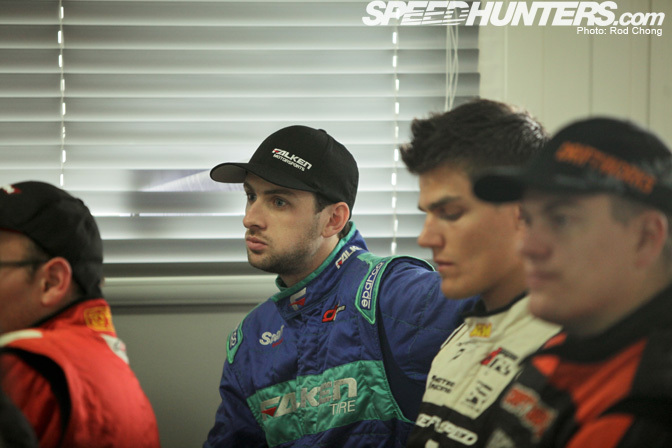 Fredric: Why do we all look so serious? Phil looks angry and I look like half asleep, maybe because I only got some three hours of sleep or so the night before. And you look all dreamy. I think I know what you are dreaming of.
Darren: What are you on about? I might have been dreaming of sunshine at that point. You do know "all dreamy" means something completely different in the US don't you?
Fredric: Hahaha, it dawns on me now. So after all it turns out I don't understand American English neither!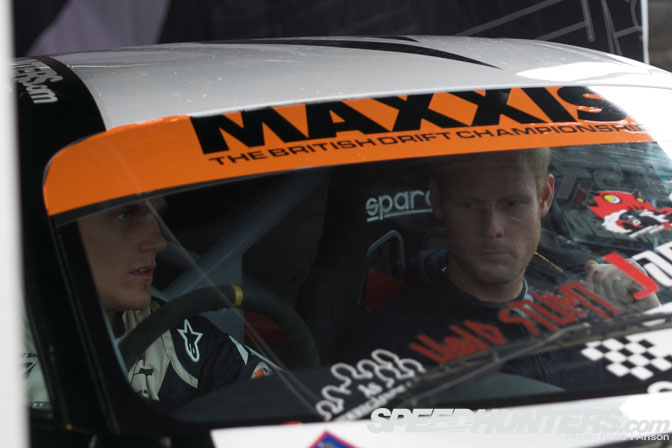 Fredric: I got to take Edward out for a spin in practice. There was only half an hour practice allotted for all the drivers, so being a newcomer at this track I really tried to make the most of it. It was all about seeing if I could learn the course somewhat during only a handful runs. Thanks for the pointers at the drivers meeting.
Darren: Go left then go right. It's pretty simple.
Fredric: Thanks again. I think I didn't really learn the track properly ever. That entry is just so bad ass and I think it takes a lot of commitment, aim and precision to tackle it absolutely right!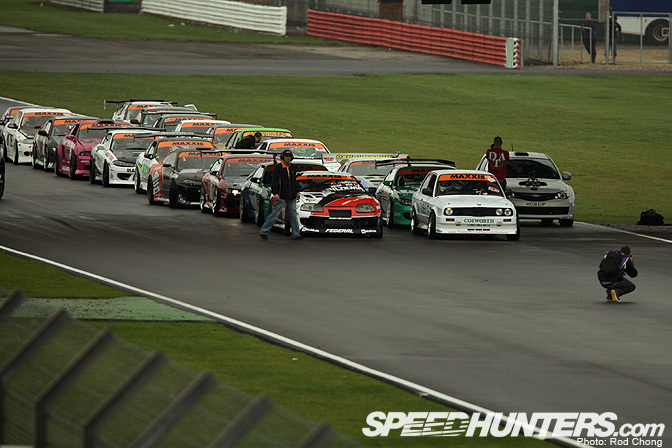 Fredric: Having Edward in the car was really cool, because with him being such an experienced race car driver he sees all the details in an instant and he grasped the core of drifting so fast. For instance, he asked if the line the judges wanted to see is without exception, or if we could run a "wet line" like you would normally do in racing to avoid the slippery dry line.
Darren: That is a pretty good question alright. This was a pretty weird time for me. Lining up for my first run on a judged course against other drivers. I had no idea what to expect from the new car. It was a fingers crossed moment.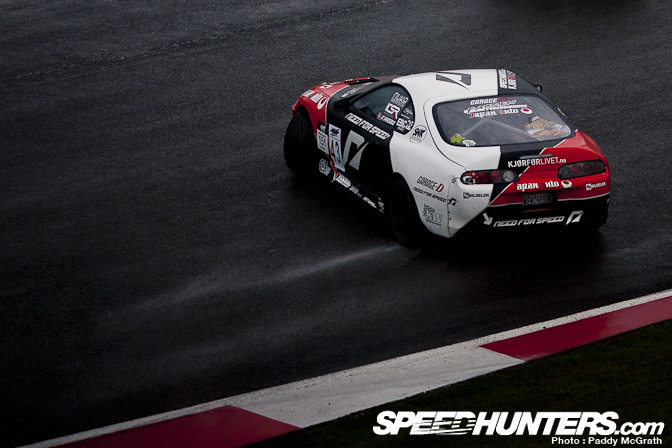 Fredric: I tried to be aggressive but it's hard in the wet as the car doesn't want to hook up, and having never driven here before I tried to learn where it would grip and where it would slip. It was a lot of fun though, albeit definitely being a very focused practice session for me!
Darren: I knew this is what i would be up against. People in well proven well tested cars driving very aggressively. Maybe not the best track to bring a new car…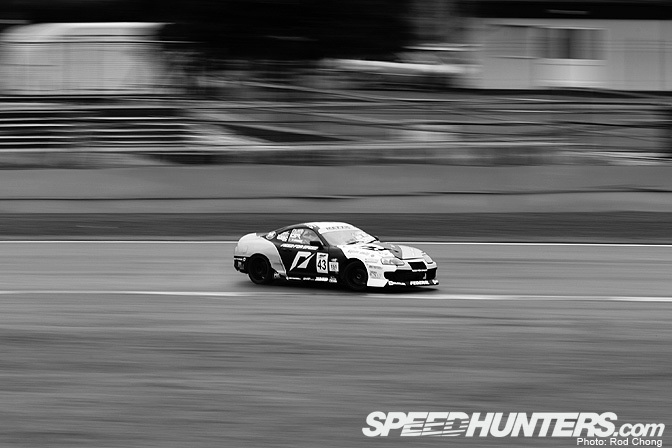 Fredric: I really tried to feather the throttle and get the power down as it's even more about grip in wet weather like this. At this point we didn't know if the weather would remain damp and wet for the rest of the day. It's not like Vegas the weekend before, where the wet track dried up in a matter of minutes.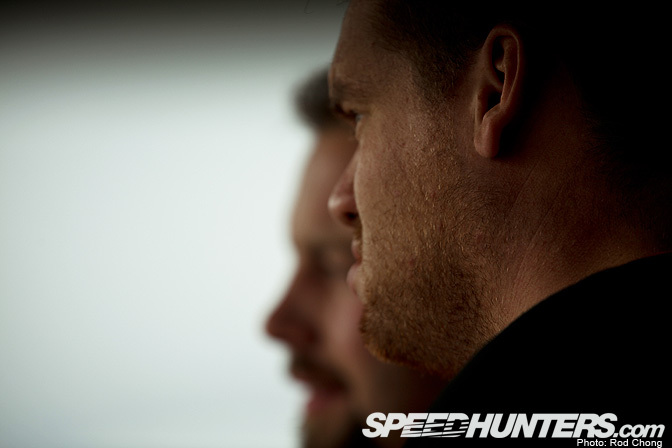 Fredric: Steffen was up by the judges tower for the one and only practice session to help us both get an overview of the track and our competition. Since we were running a very tight ship with basically just the two of us and Wenche helping out in the pits, we didn't have any radios.
I feel like the way we ran our show at this event was sort of our "old school" way of doing it – instead of having everything catered for, we went by gut feeling for the most part.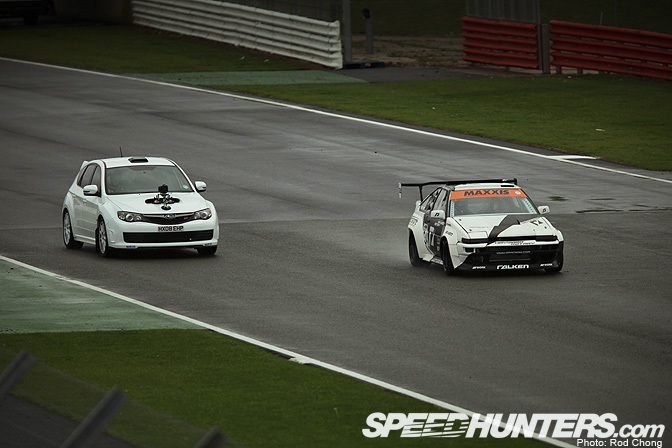 Darren: Right, then it was my turn and just to add a little more pressure i have the BDC camera car chasing me. I knew he wouldn't have much trouble keeping up with me in these conditions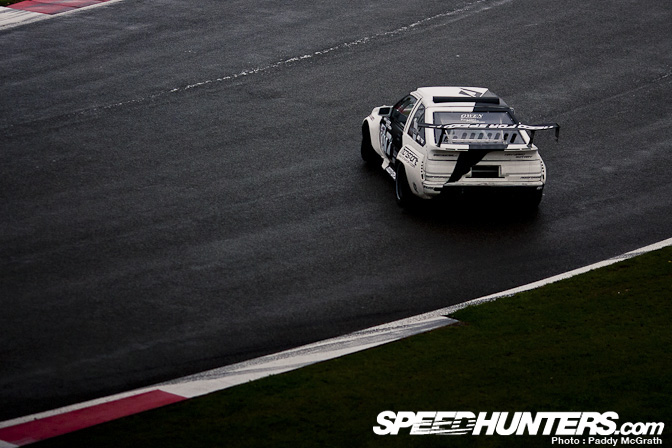 Darren: I was nursing the car into turn one. I was very important for me to do complete runs at this stage with no mistakes or spins just to get some feedback from the new chassis.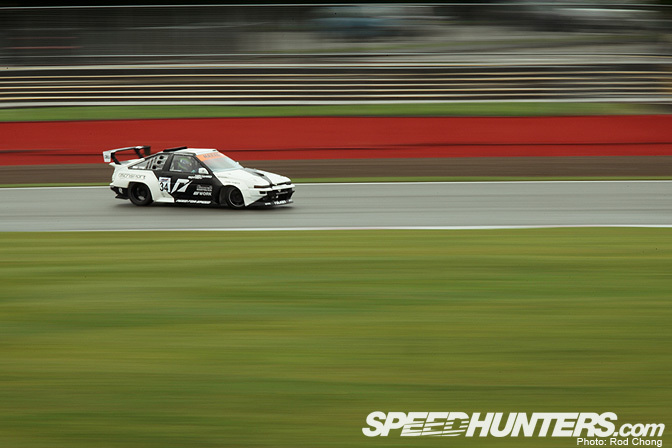 Darren: I had zero grip on turn 2 and i mean zero!! A few times the motor was right down to idle and the car was still sideways. I just couldn't find any grip anywhere on the track.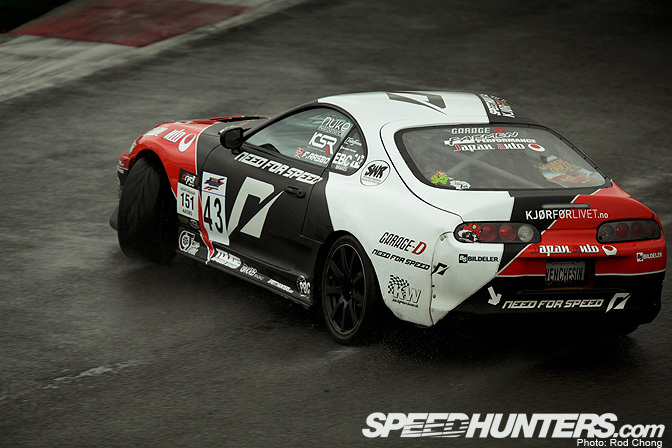 Fredric: During practice I had a crazy snappy spin at the entry and I immediately recognized it as an issue I was struggling with back in Qatar in March: The hydraulic handbrake remained on and wouldn't let the rear wheels go before I did a solid dab at the brake. Clamping the brakes at the entry when the handbrake is stuck is pretty much a guaranteed spin, especially in the rain!
I finished practice but this issue really had me holding back and I was hoping that we could sort it out once in the pits.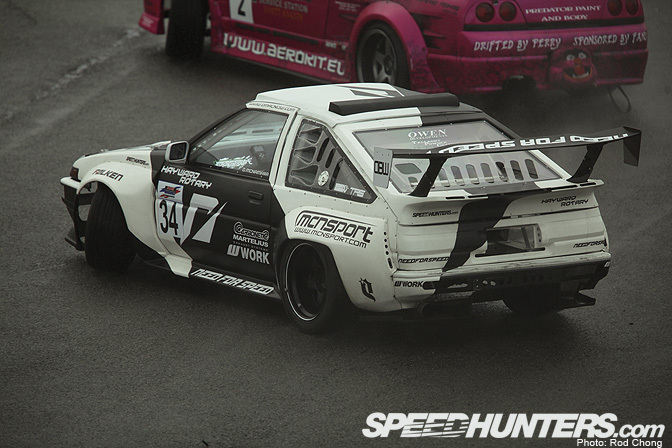 Darren: I had gone with a different size Falken Tire and spring rate for the wet but still could get no grip. I ran with Simon Perry in the pink Skyline a good few times and he was very consistent and always pulled about a car length on me. It was pointless to try and develop the new car in these conditions and i was gonna be in trouble if it didn't dry up for competition. Frustrating times…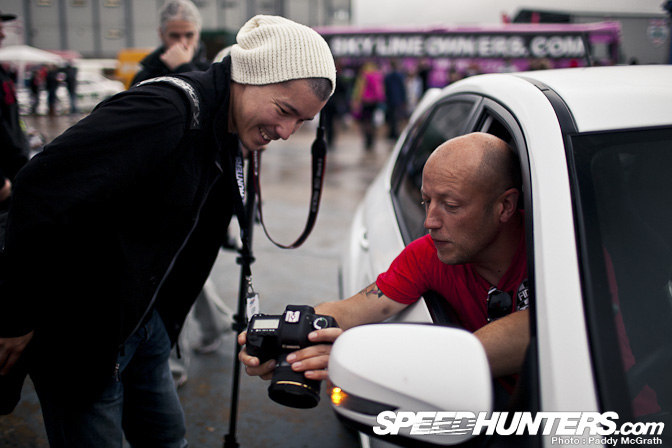 Darren: Rod and Steve Brooks looked pretty happy with the footage from the camera car but I was thinking to myself he must have been in first gear. Need more grip!!!
Fredric: Well, welcome to drifting!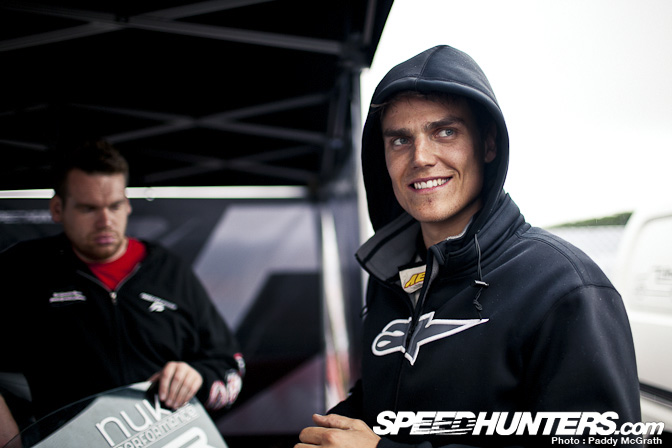 Fredric: As I came back into the pits we had a quick discussion and after chatting to a couple of the other teams and drivers we found out that it was most likely due to a faulty hydraulic handbrake cylinder.
I scoured the pits for a replacement cylinder and Wesley Keating had one that he gave to us. Wes, you are such a legend!!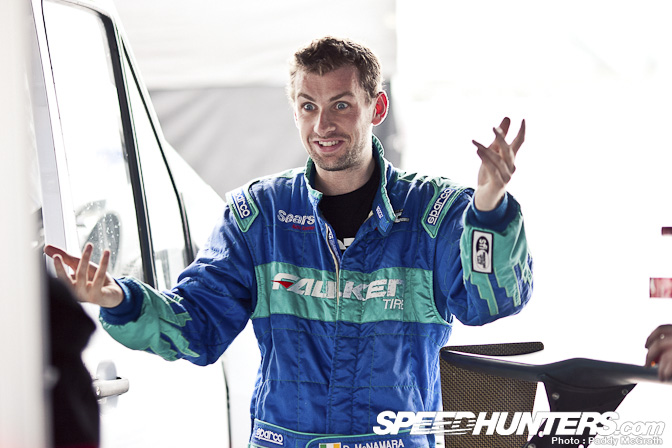 Darren: I was completely bemused with the conditions and lack of grip. All i could do was throw my hands up and smile. We were pathetic in the wet. Where's my American sunshine?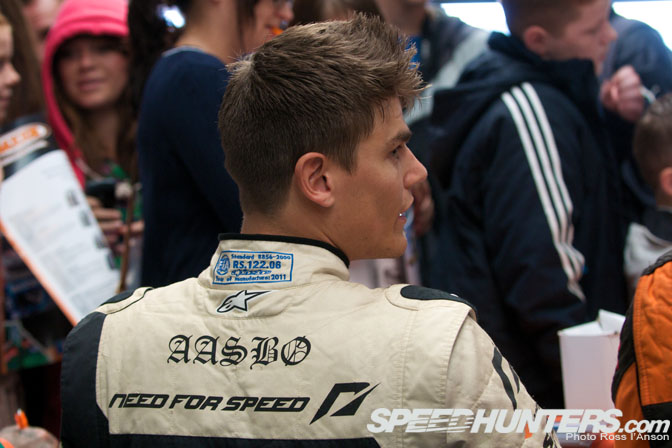 Fredric : I was rushed to the autograph session and got there last as we were working out the handbrake issue. Steffen, Happy-Darren and Damien, Dmac's mechanics, went at replacing the handbrake slave cylinder while I was gone. Again, you guys are absolutely legends!!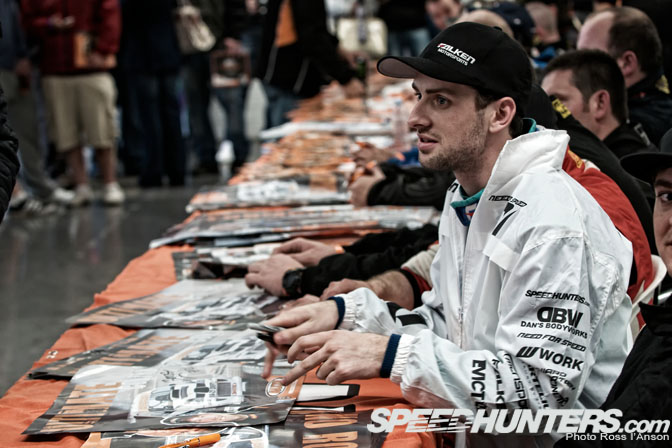 Darren: I got my official D-Mac86 rain jacket out to keep my suit dry and sat at the Irish portion of the signing table.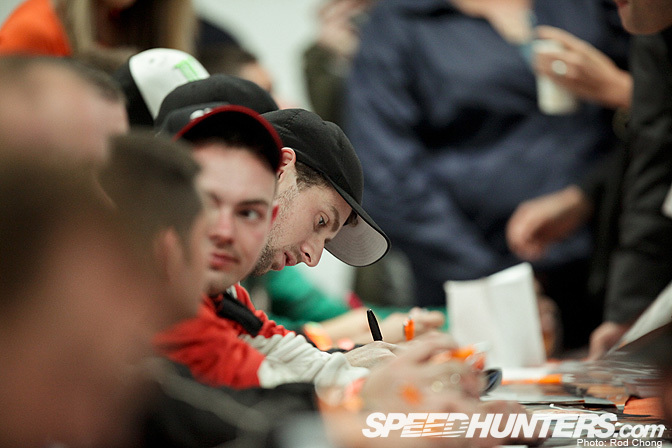 Darren: It was a lot busier than i expected and it looks like the fanbase has grown in the UK while I've been away.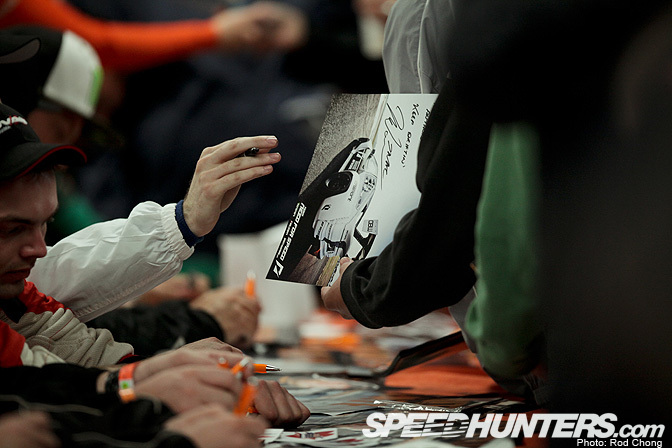 Darren: Quite a lot of people got a signed copy of the new D-Mac86 hero cards. So many people said they had followed the build on Speedhunters and it was really nice to be able to meet them and show them the car in person rather than on their computer screens.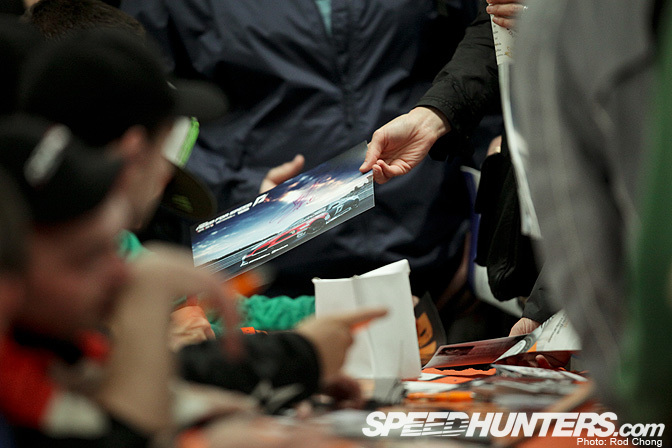 Fredric: Thanks to the amazing NFS team I had some cool shots of the Supra hardparked at Gatebil Rudskogen that I handed out. Plenty of the people that came over knew a whole lot about what we have been up to which I think is very cool and strange at the same time! It seems like Formula Drift is becoming more and more international these days and I think the Driftstream plays a huge role in that.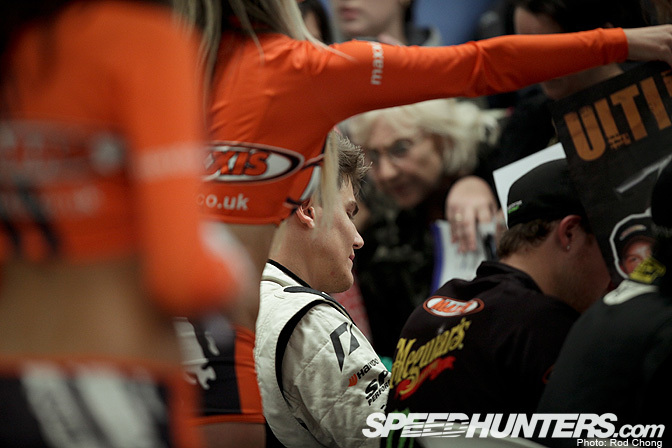 Fredric: The Maxxis girls asked me what it was like in the US and so forth and they were all really cool but again I had real problems understanding what they said! It was sort of embarrassing and I think I said yes and no a couple of times not really knowing what I was replying to.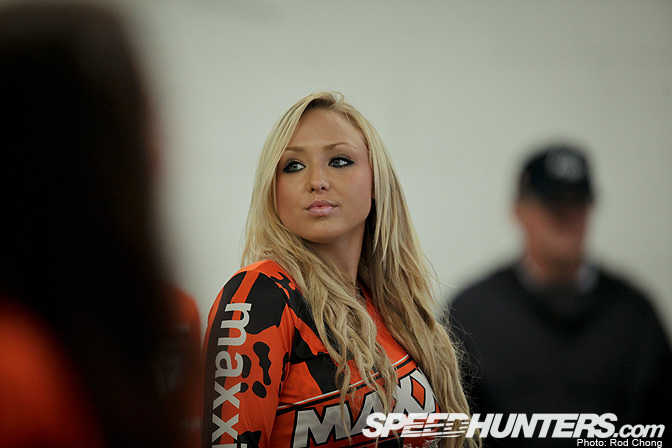 Fredric: I am very sorry!
Darren: They were pretty easy on the eye too, especially one of them, the brunette one. Very very nice!
Fredric: And you're still dreamy.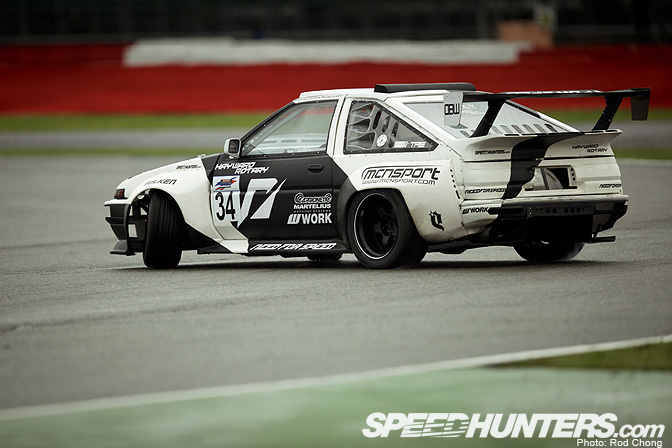 Darren: Ok Qualifying time…. And the track was still wet although it had stopped raining and I was hoping a dry line might emerge. Thankfully line was going to be more important than speed and i was pretty confident of getting into the top16.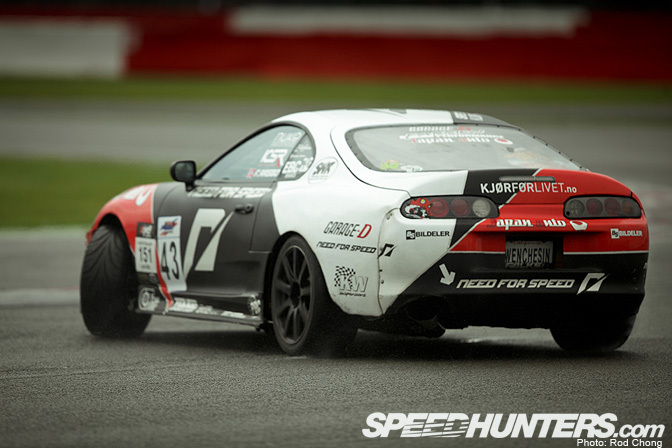 Fredric: The qualification setup was very similar to what we are used to in Formula Drift, with two qual runs and no warm up lap. We were driving on a slick and patchy track and I would say we were all facing pretty challenging conditions with the track drying up more and more after each run.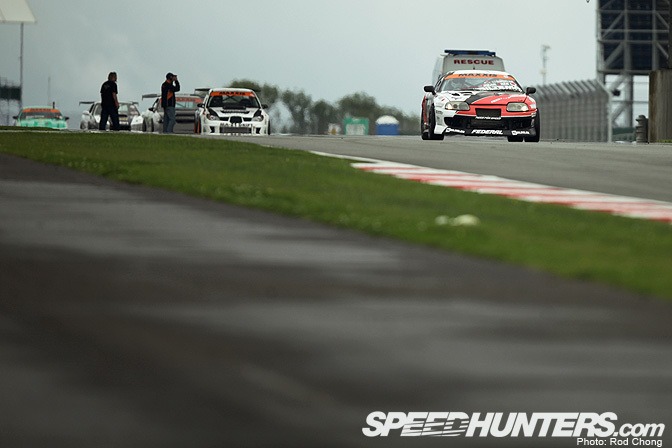 Fredric: After two qual runs it was announced that we would all get a third try. I decided to try to flick it pretty hard and shoot for a backwards entry.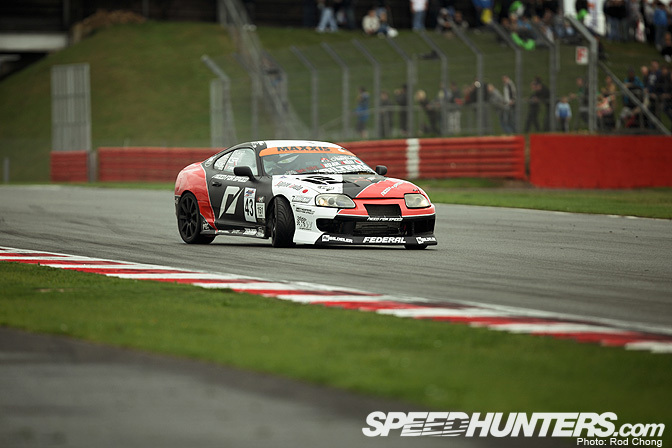 Fredric: I gave it a dab on the brakes as I started the rotation to flick it as hard as I could in the greasy conditions.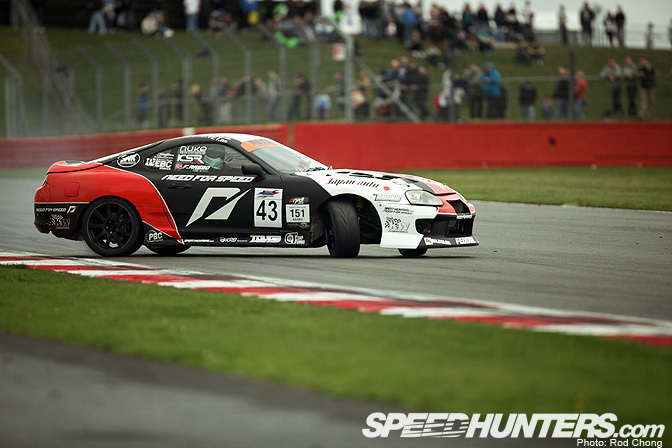 Fredric: It came round…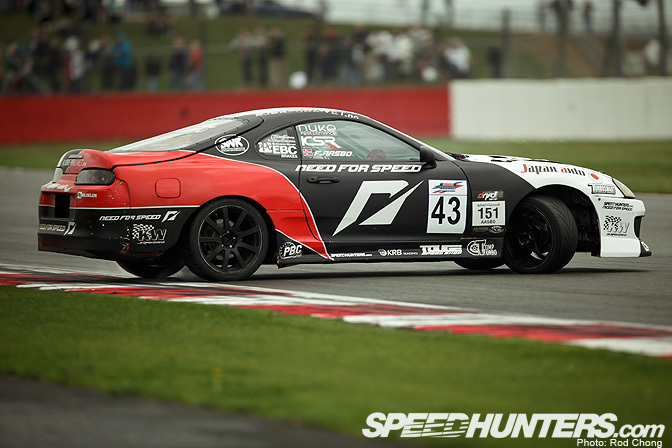 Fredric: And around some more. I was going backwards and did save the entry, but it was followed by a big, bad correction and I would spin in the transition going into turn two. It was a blast though, trying to push the envelope a little on an absolutely world class drift course!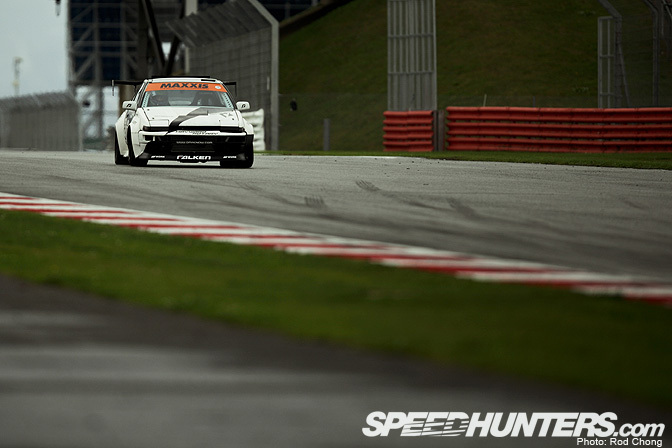 Darren: Everybody want to go backwards these days…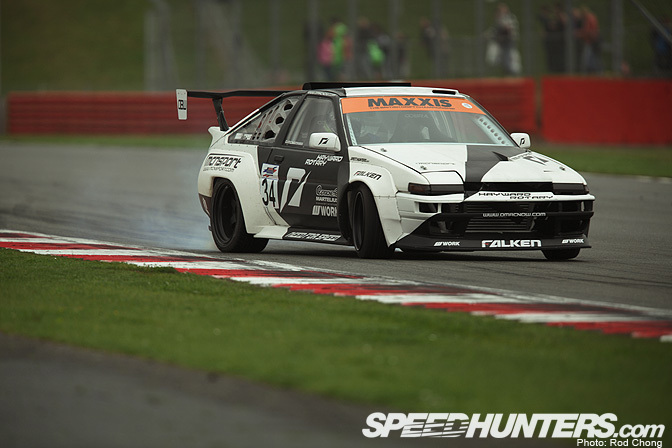 Darren: So i decided to go forwards.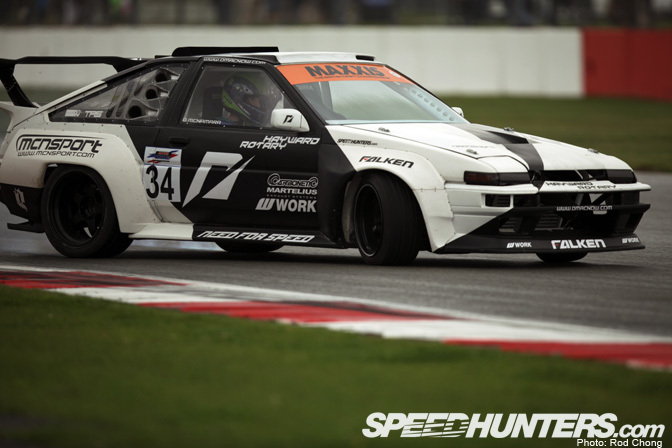 Darren: Truth is i just couldn't be aggressive on the entries as the car would get to a certain angle of no return so to speak.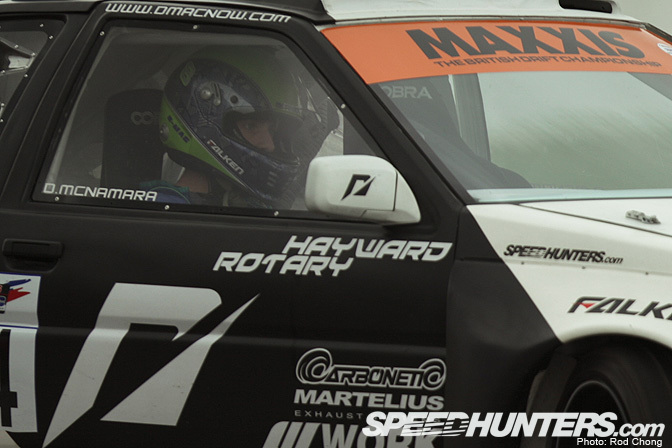 Darren: So as this was qualifying I needed to be a bit cautious. You can see i had blocked off 3 of the 4 cockpit air intakes to keep the rain off me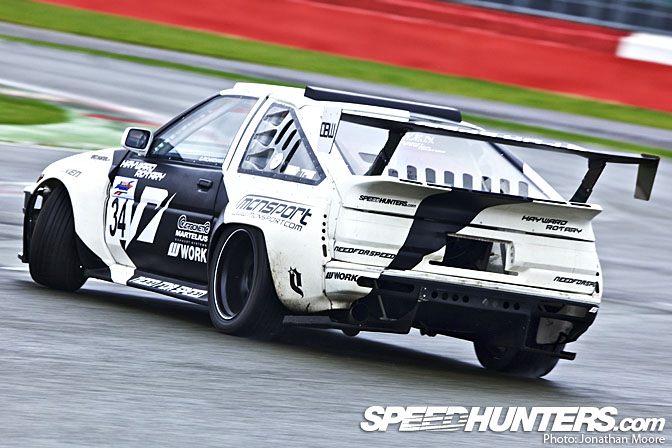 Darren: I know I'm a Corolla guy but damn this car looks good!! My wet setup 275 Falken rear tires are not as hellaflush as my smaller dry setup tires but still.
Fredric: I love how extreme the car looks. It looks to be on steroids.
Darren: Qualifying went well and we actually ended up getting 4 runs in total. Run 3 was by far my best as the track started to dry. Run 4 was almost completely dry and my wet setup was undrivable at that stage.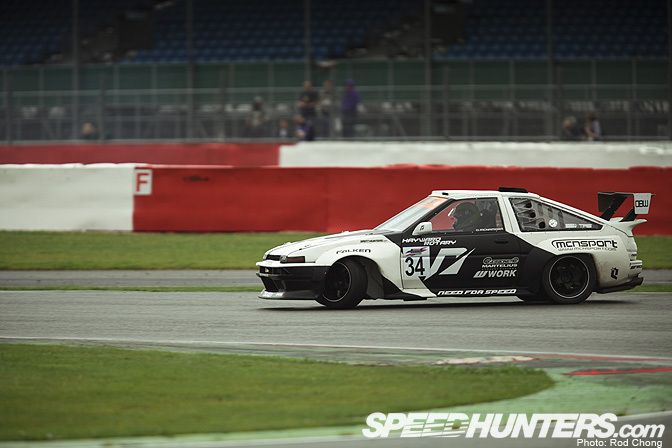 Darren: The front wheels were tucking themselves into the front bumper because of our front steer rack. A first for an 86. Looks weird though…
Fredric: I think it looks good. Kind of like a baby Supra, that hasn't grown up yet!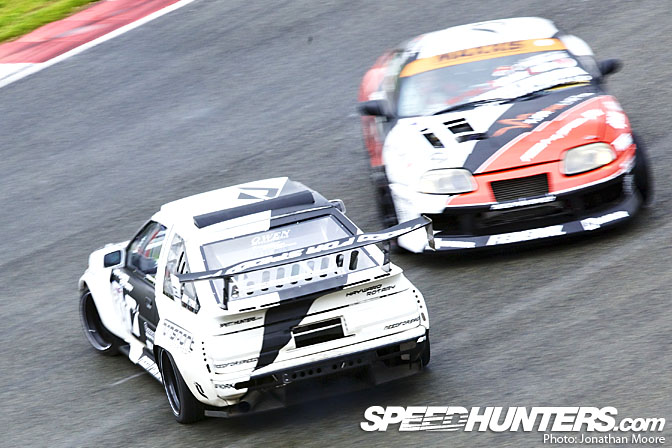 Fredric: As we rolled down the straight after the qualifying session, everybody started burning out and showing off. Darren waved at me and gave me the twin donut handsign. I nodded! What I had forgotten at the time was that NO DONUTS was clearly stated at the drivers meeting…
Darren: Ya this was my idea. I thought the no donut rule was just for the start line and since we were drifting this part of the course in 4th gear a couple of 1st gear donuts would be fine but no???? What is any motorsport event without some celebratory donuts? Im sure if it was Jenson Button it would have been ok.
Fredric: Honestly, I think the way to do it is to drum up a high profile global challenge style entry competition at Silverstone, order some nice weather and put Bernie Ecclestone and his friends up there as VVVIP guest judges. It would be an honor for us and hopefully cool for them. And if it still fails, just give them some nitrous.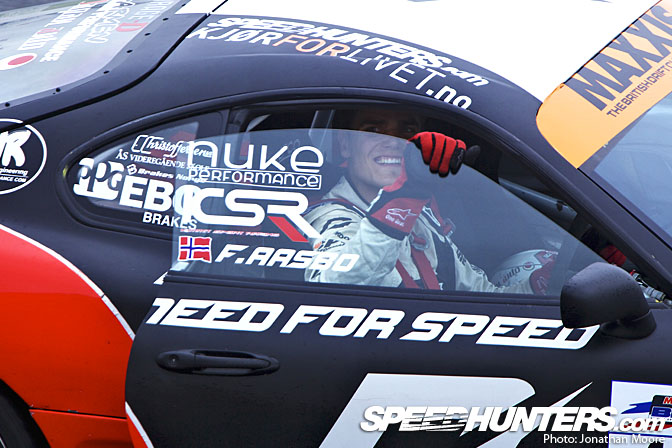 Fredric: We drove off the track and I didn't know if I was allowed to smile or not. I was sorry for not obeying to the rules but still amped up after qualifying.
Darren: This is Freddy laughing in the face of authority or maybe just not understanding that he had been just given out to.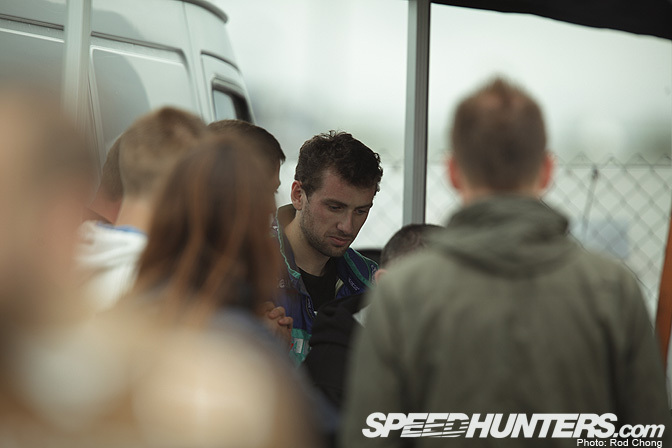 Fredric: Although I don't understand why, you said you are sometimes being called Grumpy-Darren. Is it Grumpy-Darren we are seeing here?
Darren: That's a long story really. This is more "processing what has just happened Darren"…
Fredric: I remember you saying "is the track made of gold or something?", and in some ways I think it is. It's that much fun!!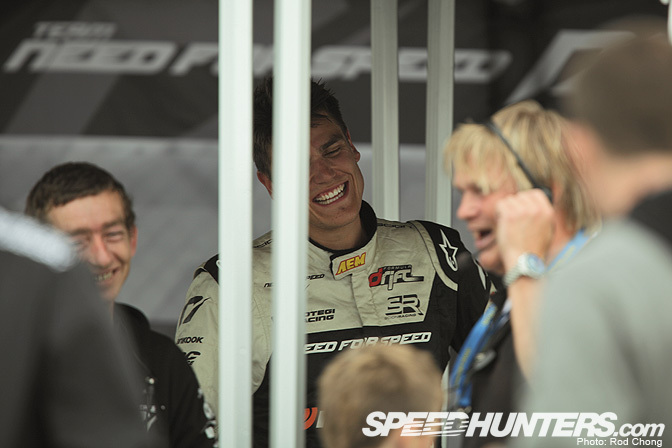 Fredric: This is Happy-Fredric! Here with DMAC's mechanic Happy-Darren on the one side and the BDC scrutineer on the other side. The scrutineer got very angry following our twin donuts but lit up like a sun just after as he found out I had only understood a fraction of what he said! We could all joke about it later. I think that's how it should be.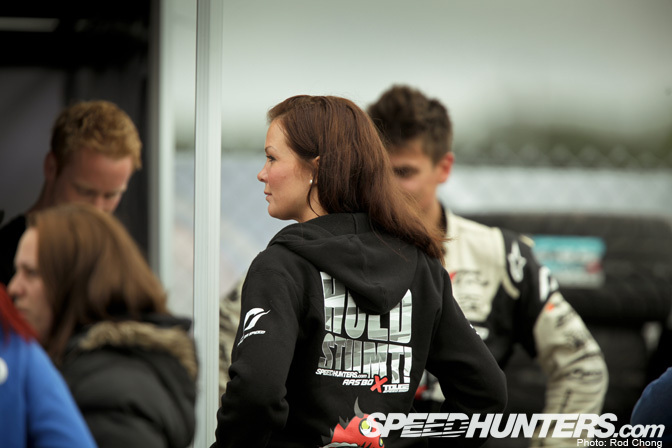 Fredric: Touge Automotive made some new gear for our Euro tour and I love it! It features Need for Speed, Japan Auto and Speedhunters signage along with Touge's trademark mascot Turbozilla. It also has HOLD STUMT printed in large all over the back! That went well with my goal for the weekend – keeping up the steam all the way through.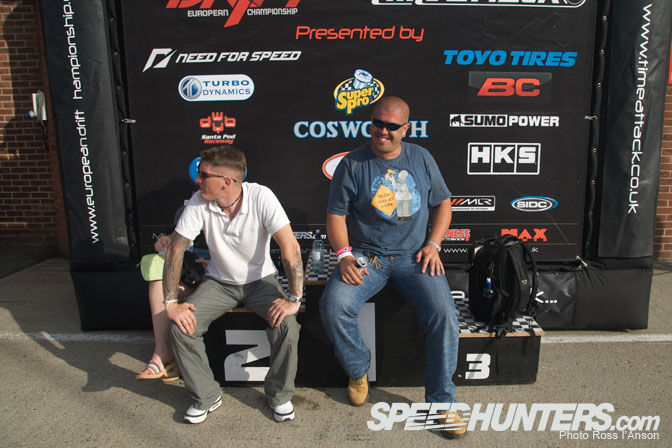 Fredric: As we were waiting for the qualifying scores I didn't really know what to expect as I had heard no scores. I guess that right here, I was just trying to understand all the various dialects – again!
Darren: Pretty sure there was a lot of peoples scores called out at this stage and I was turning to my spotter Dan thinking we did better than i was expecting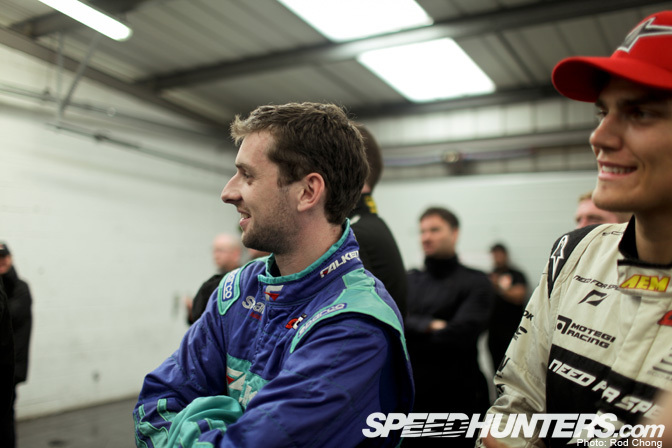 Fredric: A lot of jokes were thrown around.
Darren: Ya there was but i think you were just laughing cos everyone else was laughing.
Fredric: Let me tell you how it sounded to me, as I stood there in between the Irish, Scottish and English guys: "Oi chap hahahaha straight craic like lad tirty noin points off the bat bloody supra good job oi oi oi". So you are right. I wish I understood more!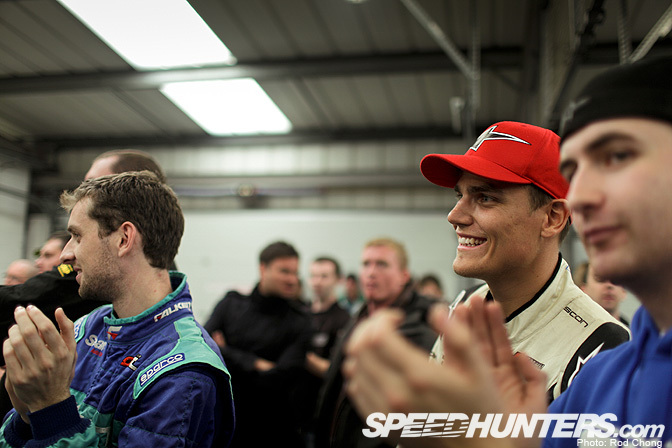 Fredric: It's great to see that the BDC community is a big family, just like drifting is everywhere else I've been. Darren qualified fifth, and we qualified second! Yes!!
Darren: Smiles all round on a job well done i think.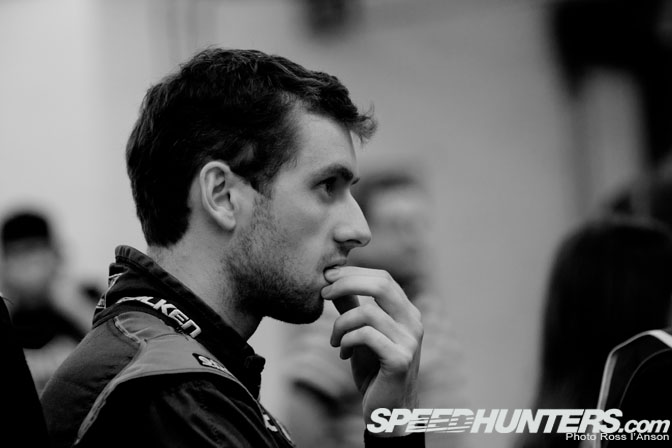 Darren: Now, apparently this is the exact moment when i heard Freddy qualified 2nd and I do look pretty concerned but truth is I was fully expecting to be out-qualified by more than 4 people and i knew Freddy would be near the top in that bloody Supra.
Fredric: I am very impressed by how you've progressed through the weekend knowing how fresh this build is. Like a pro!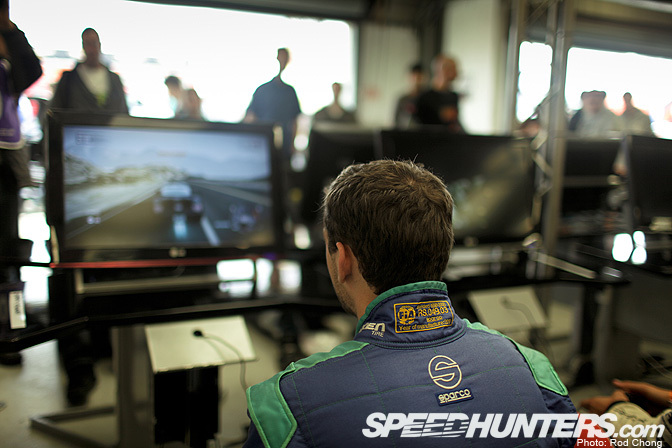 Darren: So after the drivers meeting i finally got a chance to head to the Need for Speed gaming area and try out "The Run" for the first time. I love gaming as some of you may know and didn't have time to try this out in Vegas and once i sat down i was hooked. It was very easy to just pick up and play for the first time but I would have really liked to get into the story line of the game.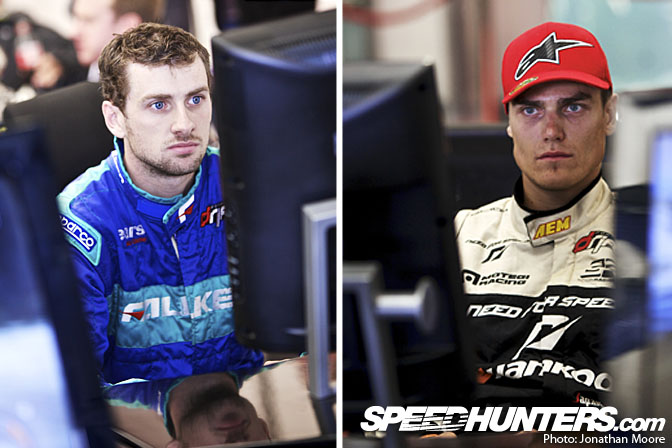 Darren: I can beat you in my Sprinter van and I can beat you in this game!!!!
Fredric: All for the fun, huh. Not serious at all. Hahaha!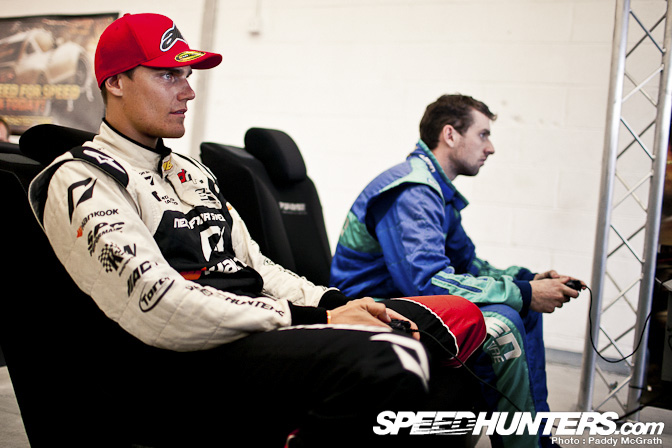 Fredric: I really like The Run. It's pretty much the dream come true for anyone out there that's dreaming of doing rallies like the Gumball 3000, Cannonball, Bullrun and so forth – just jump in a car and blast across the United States. The physics are great and the gameplay even greater as it just draws you in. Just look at these two guys!
Darren: Totally agree with that. Racing supercars across country never gets old.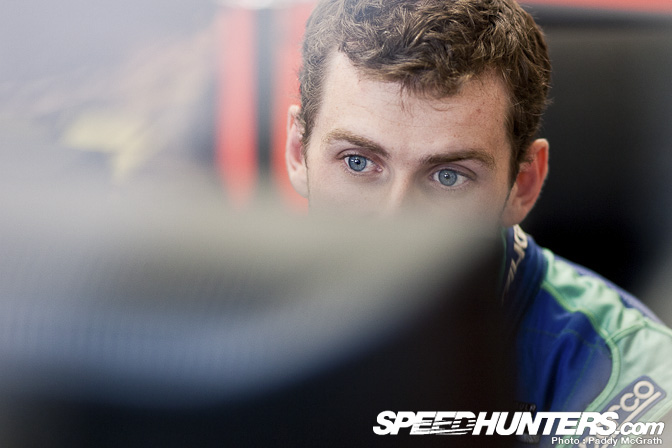 Fredric: Darren McNamara. The Man. The Myth. The Bullet. The Hobbitt from Buttevant, Ireland!
Darren: Yes Freddy, thank you for the introduction. Needless to say I kicked Freddy's ass on "The Run" but I knew it was going to be a bit harder on track. It was nearly game time and time to put down the joypad and pick up the steering wheel. A dry Silverstone track awaits…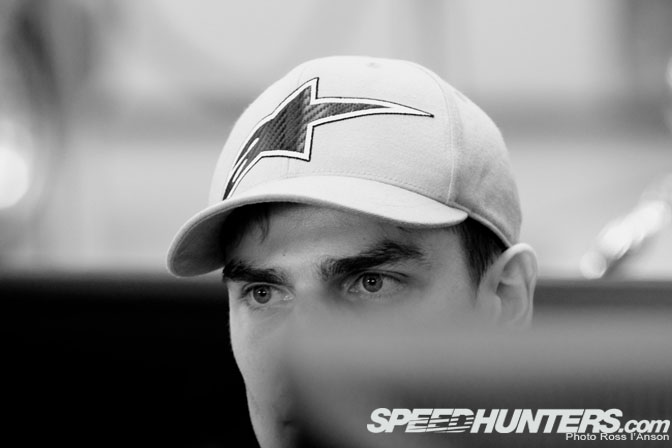 Fredric: Darren was already well into the game once I got there and luckily got through the course once without totaling the car. Churning in the back of my head, though, was getting ready for what was about to go down: The British Drift Championship Super Pro Finals at Silverstone. The track was drying up by the minute. The heat was on, the stars were aligning, and I felt an urgent need to use the restroom…
Part2 coming soon.
More Trax Show coverage on Speedhunters 
More Team NFS UK-Ireland Drift Tour 2011 stories