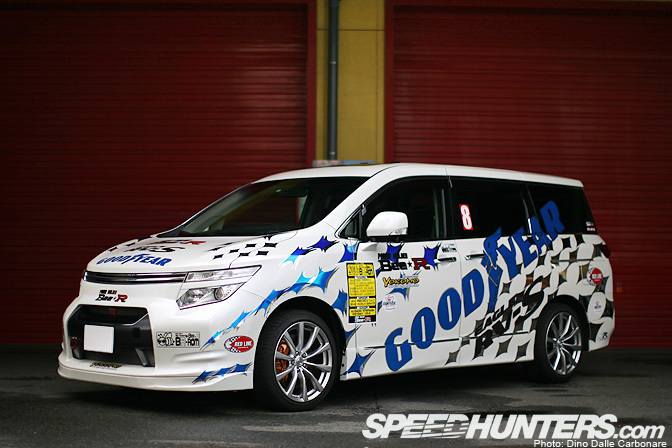 It's been quite a while since I dropped by the Bee-R workshop in Machida and said hello to Imai-san. So that's exactly what I did the other week, and as always you can be sure to find the guys there working away on some awesome cars. But more on that a little later on. First up I want to concentrate on the Nissan Elgrand project that Imai-san has embarked on. Most of you will know that a lot of people in the tuning world like to kick back and commute around in big comfortable vans like the Elgrand or Toyota's top of the line Alpahard and Vellfire. It makes sense as these vans are like mobile living rooms packed with tons of cool entertainment features like digital TV, surround sound, DVD players and of course first-class rivaling reclinable chairs. If you are going to spend most of your weekends stuck in traffic to and from events, these are pretty much the perfect vehicles to do that in.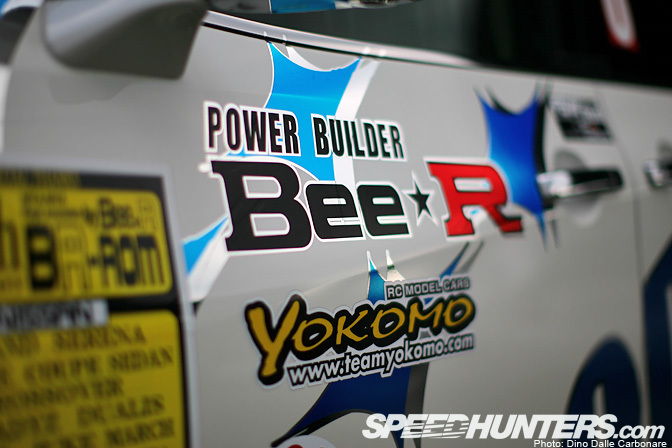 But Imai-san was hardly going to leave his big Nissan van stock.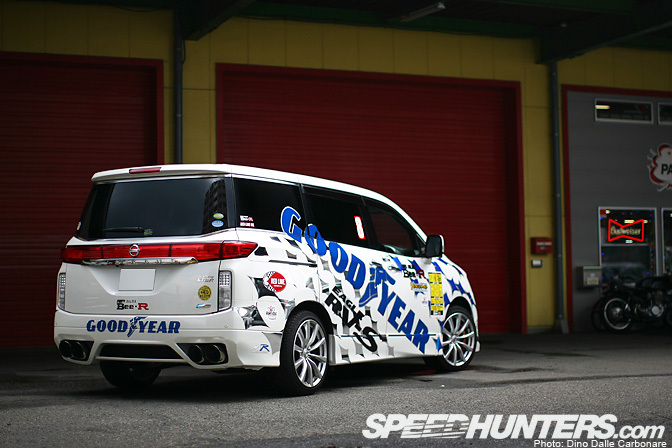 Often these vans work rather well as mobile advertizing canvases, and on top of the Good Year D1-GP livery the Bee-R Elgrand sports a few curious and familiar visual changes.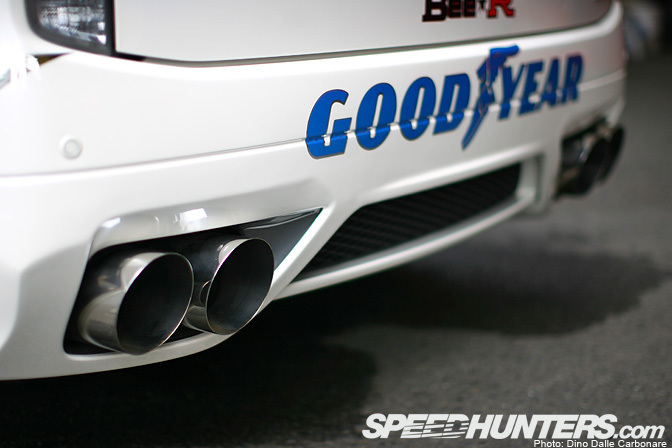 This rear end treatment looks very much like the lower bumper part and massive quad tail pipes found on the R35 GT-R…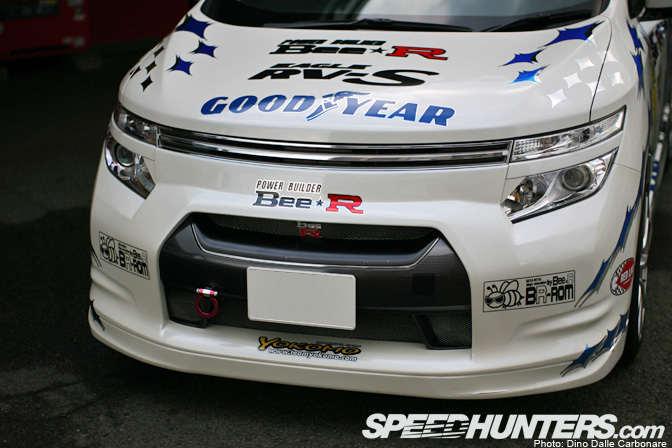 …as does this front bumper and grille. Turns out the E52 is the pretty much the same width as Nissan's supercar slayer, so the GT-R aero was grafted on quite easily!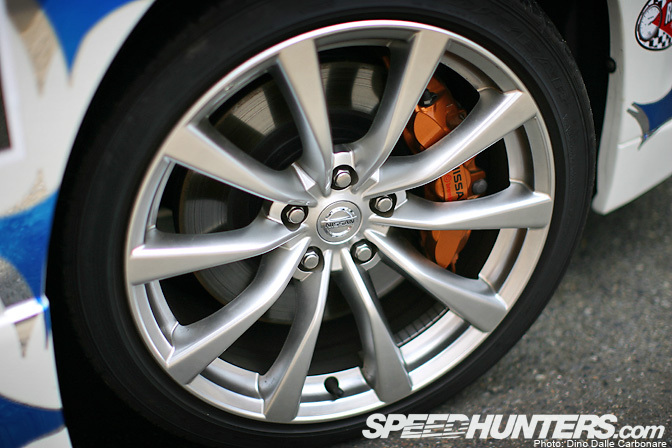 Under the hood the VQ35DE powering all four wheels via the CVT transmission is still stock, but Imai-san has upgraded the braking with a set of Brembo 6-pot calipers from…you guessed it…an R35 GT-R. These help stop the 2+ ton beast a little better than the somewhat lacking stock items.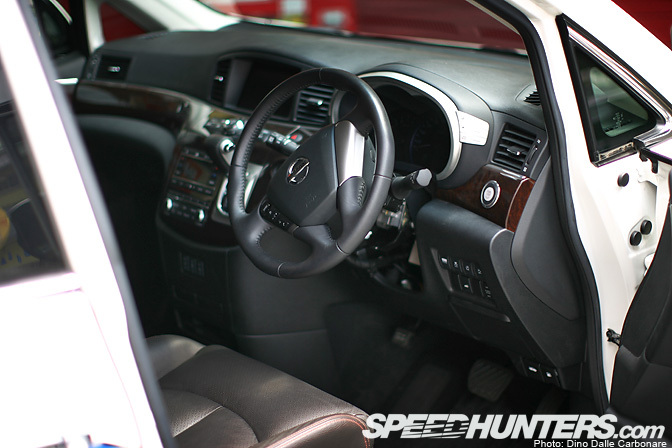 The comfortable interior has been left untouched, it's loaded with so many toys there isn't much you really need to do.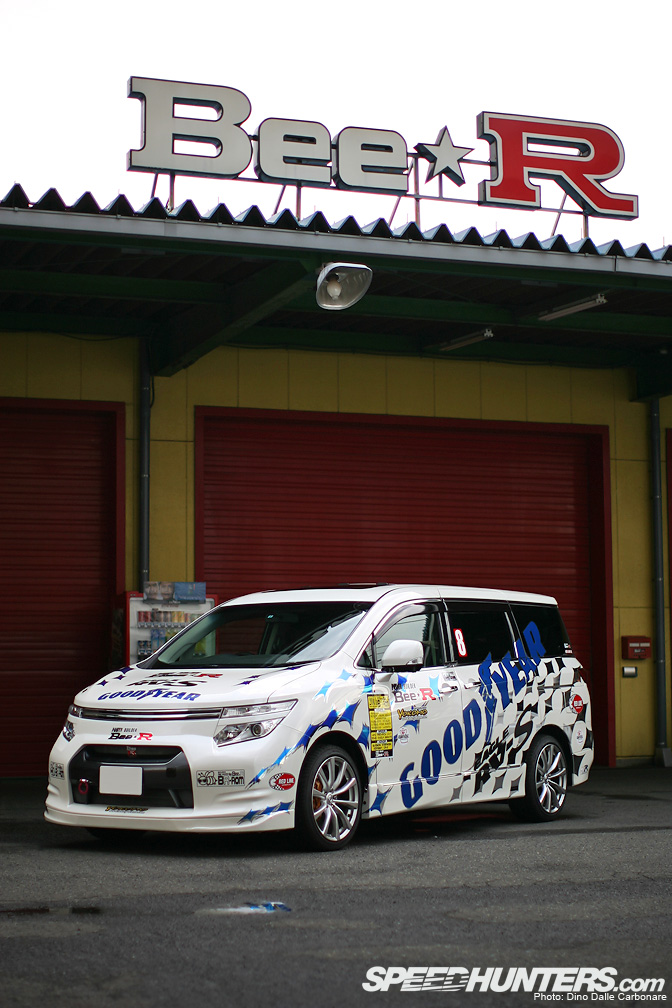 Next the E52 is due to be fitted with more suitable wheels, other items that might be borrowed from the R35 maybe? 
-Dino Dalle Carbonare