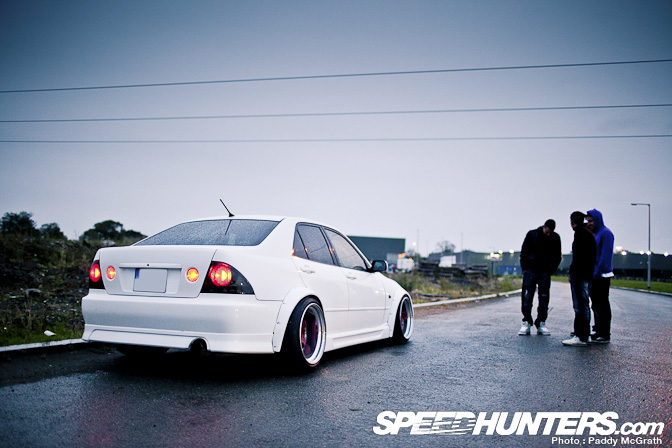 One of the biggest divides within the automotive community in recent times has been the constant and continuing argument regarding form and function, stance and performance. So many believe you can either have one or the other but never both. It still amazes me how riled up some can get over this difference in opinions and the amount of hate that can be generated.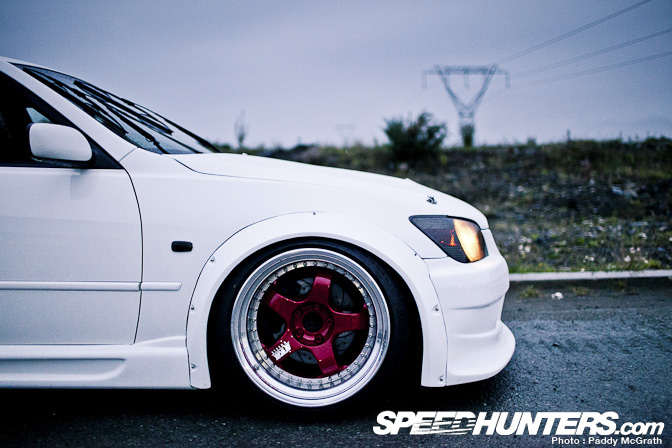 On one side of the argument, you have those who are primarily interested in aesthethics and creating something which can be seen as an extension of who they are.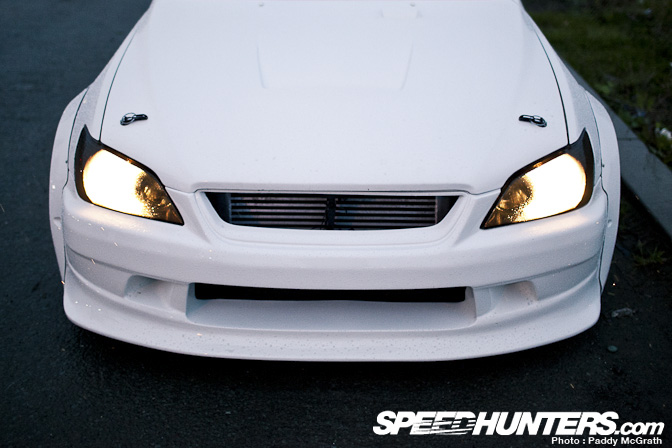 On the other side, you have those who want to extract the absolute maximum amount of performance from a car at any cost.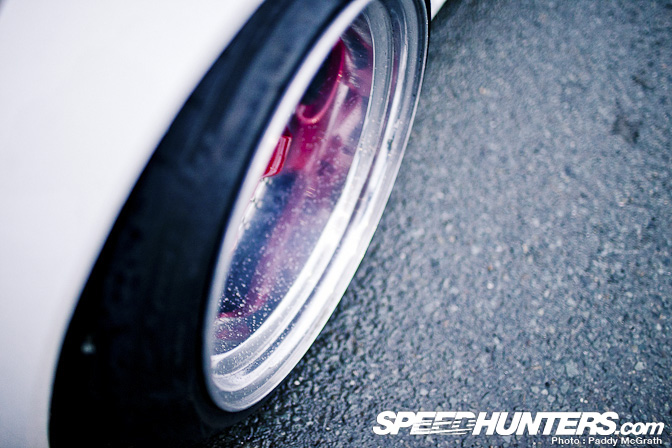 But here is the thing about this whole argument – it's entirely and completely and utterly pointless.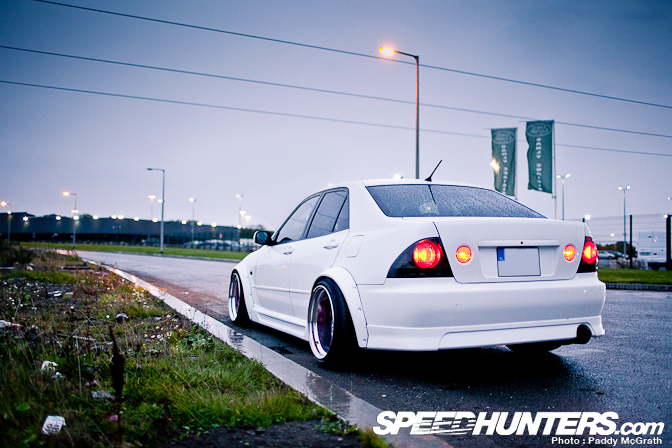 Nobody is right and nobody is wrong and those who spend their time storing such hate for the opposition is really missing out on what it's like to be a true petrolhead.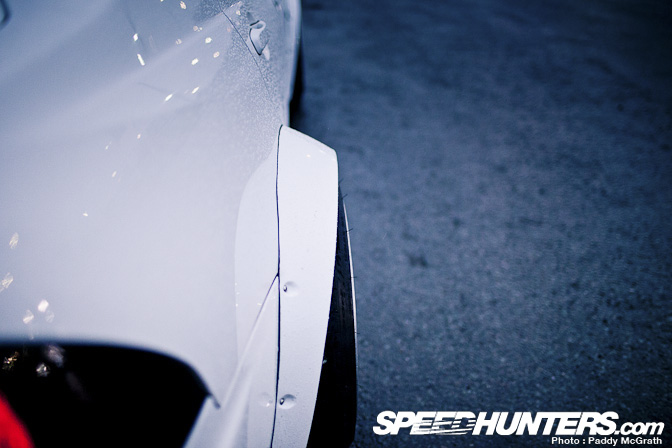 As Speedhunters we should all hold no hatred towards any aspect of the automotive world. Sure, we don't have to like everything we see – it would be a boring world if we were all to like the same things, right?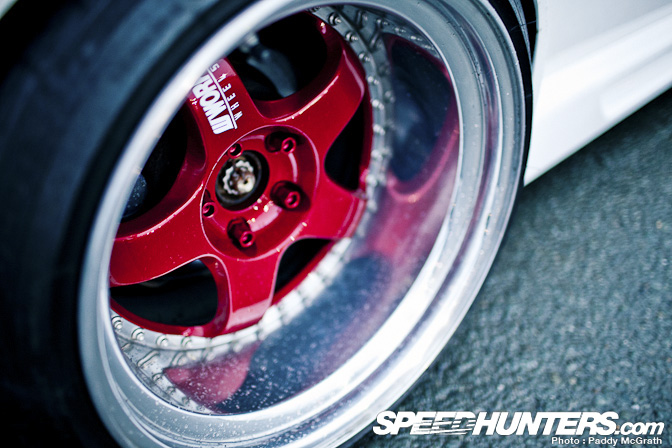 But similarly, there is nothing to gain for hating on something. Hate is nothing but wasted energy. If you don't like something, pay it no heed and instead spend the energy on something you love.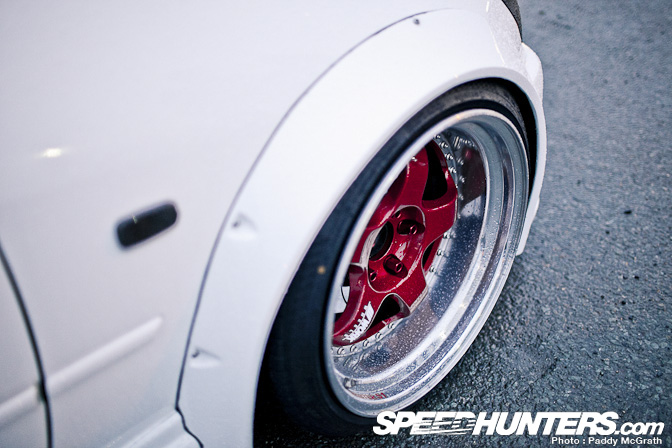 The last few years have seen the rapid rise of the Hellaflush and Stance movements. I'll be the first to admit that I didn't really get it at first but as time progressed and I had the opportunity to check these cars out in person, I began to appreciate why one would go to such extreme lengths to get a car and wheel combination to sit just right.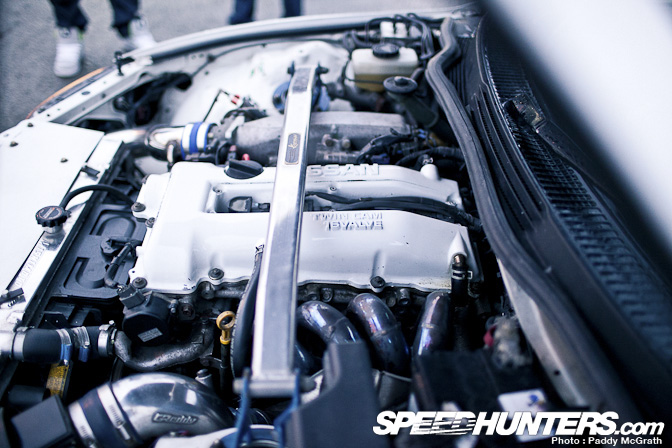 Brendan Gordon faced not only this challenge of sitting his Toyota Altezza with such aggressive fitment but also wanted to back up the looks with the power to match.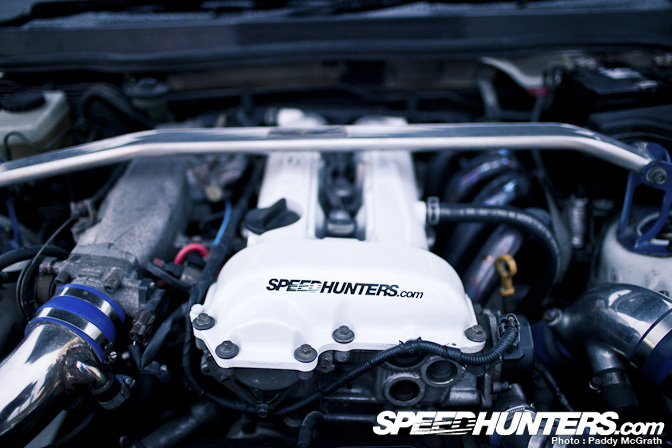 The Toyota Altezza comes with a Yamaha Beams 3SGE engine as standard and although it's a more than capable unit, it's quite expensive to extract power from the normally aspirated unit. After keeping tabs on the build of the SR20 powered Wexican Motorsport Altezza of Martin Ffrench, Brendan knew that going with the SR20 motor was a step in the right direction.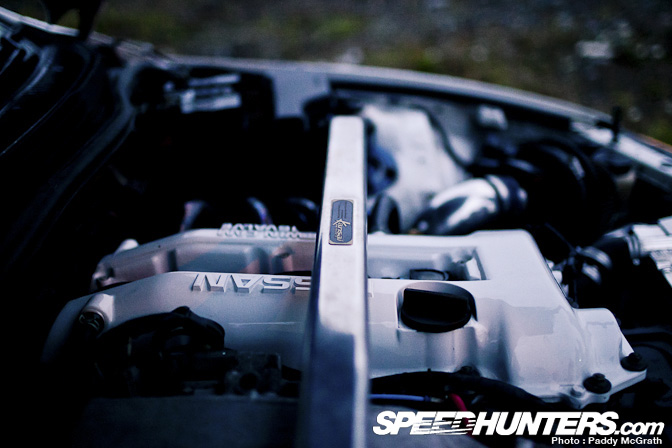 After contacting Wexican Motorsport, it wasn't long before the car was returned to Brendan with boosted Nissan power – 323BHP & 358LB/FT to be precise with plenty more left in reserve should he get bored of the power in the future.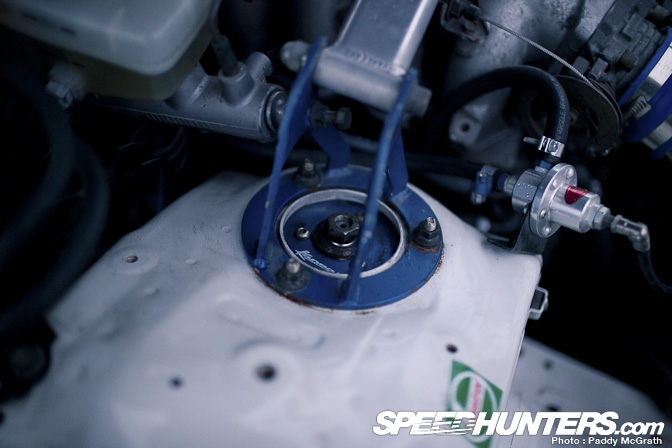 HKS Kansai coilovers were already on the car when it was originally imported from Japan so they were perfect for the job at hand.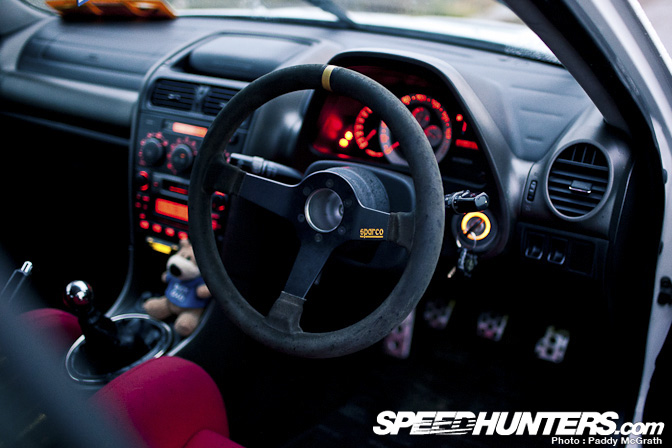 The interior has been kept relatively stock with the exception of a Sparco wheel …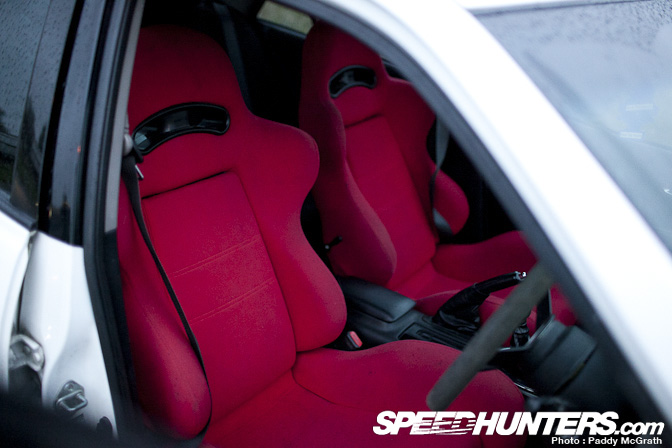 … and a pair of Runfree seats.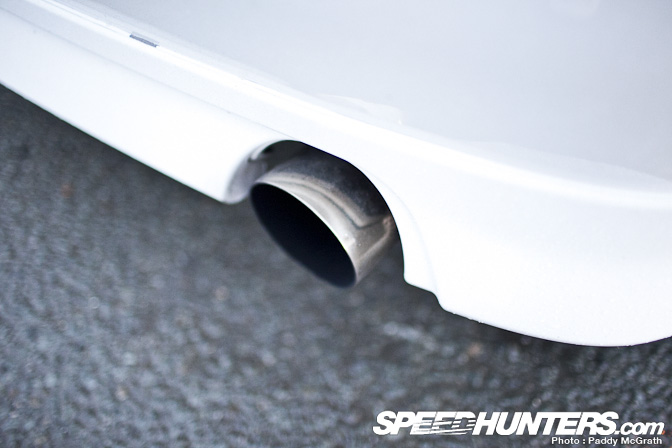 The exhaust system is a combination of a Japspeed manifold, HKS downpipe and HKS back box.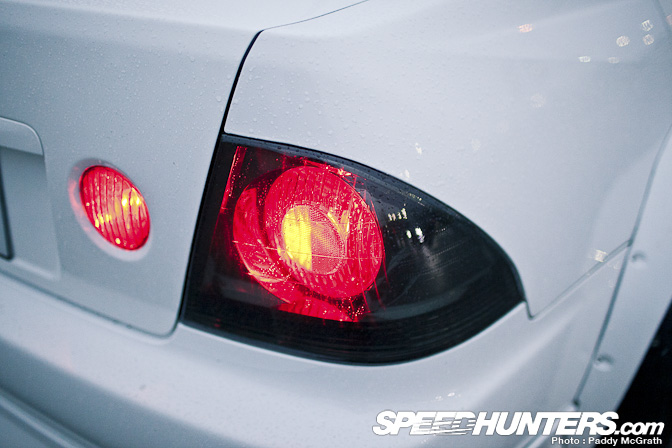 Styling has been kept relatively subtle spare for the Wexican Motorsport overfenders and bodykit to accommodate the rather large Work Meister S1s …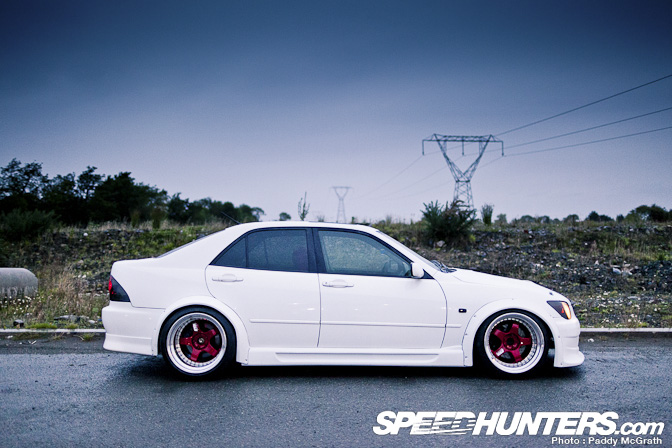 … which come in at a rather respectable 18×11 ET10 up front and a monstrous 18×13.5 ET-10 out back.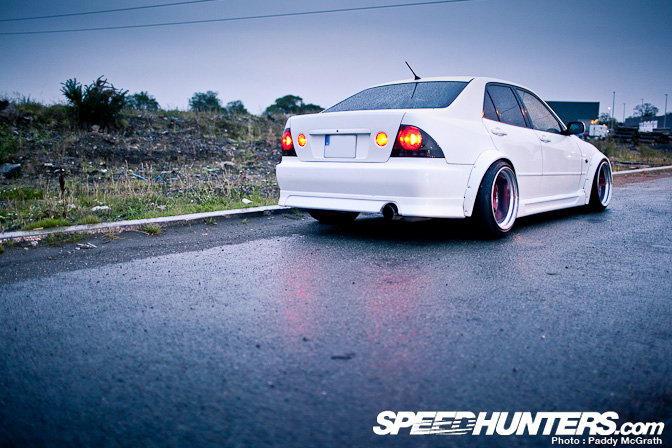 Say what you will but I always love cars that blur boundaries like this.
It works and although taste is subjective, I think it looks quite good.
Regardless, it's a big enough world out there – can't we all just get along? 
-
Paddy McGrath
Altezza Stories on Speedhunters
Vehicle Specification
Toyota Altezza
Year : 1998
Mileage : 97,000klms
NCT : 10 / 2012
Tax : 10 / 2011
Engine
S14 (Early) SR20DET Engine
Japspeed Manifold
Greddy T517Z Turbo
New Greddy Adjustable Actuator
Mishimoto S13 Alloy Radiator with
Altezza Fans  
Altezza Expansion Tank
Just Jap S14 Intercooler
Sard Fuel Pressure Regulator
GTR Skyline Fuel Pump
S15 460cc Injectors
Z32 AFM
Blitz Uras Air Filter
HKS Altezza Downpipe
HKS Exhaust Box
Apexi Power FC & Commander
Blitz Dual Solenoid Boost controller
HKS Turbo Timer
Altezza Cat (Will pass NCT every time)
Wexican Motorsport Sub frame
Wexican Motorsport Radiator Mounts
Wexican Motorsport Intercooler Mounts
Wexican Motorsport Hard pipe Kit
Wexican Motorsport Slam Panel
Wexican Motorsport Fuel Return Line
Nismo Solid Engine Mounts
Lighting Loom Wire Tuck
Rocker Cover painted Toyota 040 Super white
Transmission 
S14 (Early) Gearbox
Exedy Single Plate Clutch
Braided Clutch Fluid line
Wexican Motorsport  Custom Prop shaft
Wexican Motorsport Gearbox Sub frame
Nismo Solid Gearbox Mounts
Altezza Rear Diff
Brakes
Callipers rebuilt with all new seals
Black Diamond Grooved & Dimpled Discs
EBC Green  Pads
Suspension
HKS Kansai Coilovers
New HKS Perch Rings
HKS Tower Brace
Wheels
Work Meister 3 Piece S1's
Front 18 x 11J : +10 offset : 255 / 30 ZR18
Rear 18 x 13.5JJ : -10 offset : 315 / 20 ZR18
Polished Dish
Custom 3 Stage Red Pearl Centre's
TSR Decals
Exterior
Wexican Motorsport Front Bumper
Wexican Motorsport Side-Skirts
Wexican Motorsport Over Fenders
Wexican Motorsport Carbon Fibre Vented Bonnet
TRD Rear Lip
Sparco Bonnet Catches
Lights Tinted with Laminex Race Film
Interior
Runfree Seats
Sparco Steering Wheel
Boss Kit
Performance
Mapped by Trackday Performance
323bhp @ Flywheel
358lbs Torque @ Flywheel