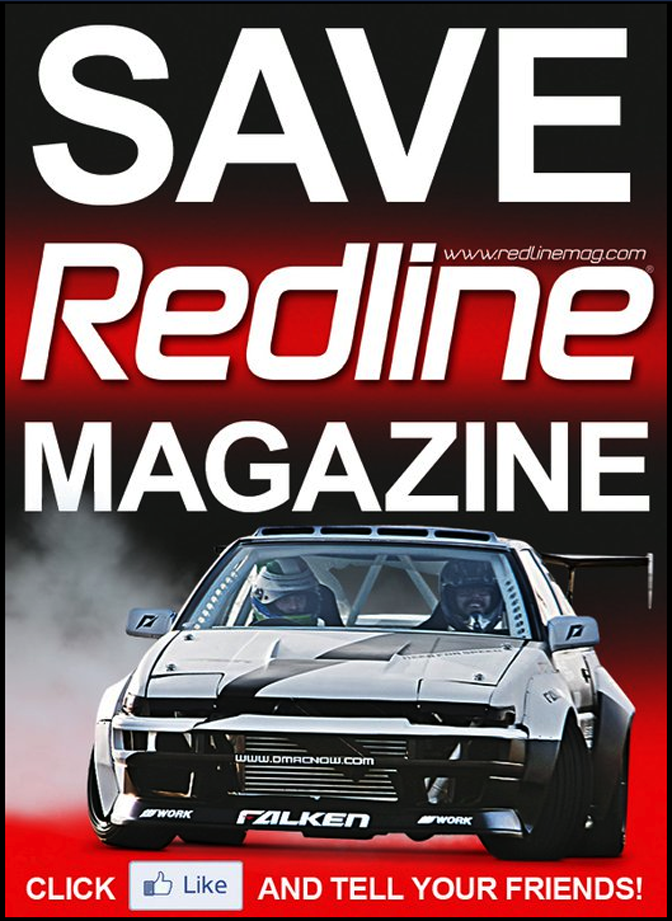 Hey guys, I'm coming to you this evening on behalf of some good friends and fellow petrolheads who are in need of our help. Due to a series of cutbacks across the board at their publishing house, Redline Magazine in the UK are facing imminent closure. The meeting to decided their fate is this Friday August 26th. The entire Redline crew are amongst some of the most dedicated and passionate guys in our industry and they need to be allowed to continue sharing their enthusiasm and passion with us. 
What can you do ?
If you have a Facebook account, get on their and Like the 'Save Redline Magazine' page.
If Redline appears on your store's shelves every month, get out there and pick up the lastest issue as soon as you can. 
If you want to know why you should help these guys out, here are just a couple of reasons we could come up with …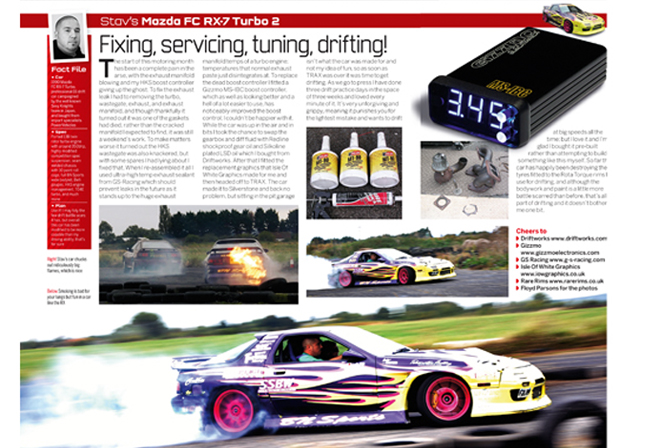 The Redline staff are all true tuning fanatics, and because of that their own projects are always great to see. Deputy Editor Stav owns the former Sexy Knights D1SL FC3S RX-7, and as this spread from the Projects sections shows, he is far from shy in using it hard and getting his hands dirty repairing and tuning it himself.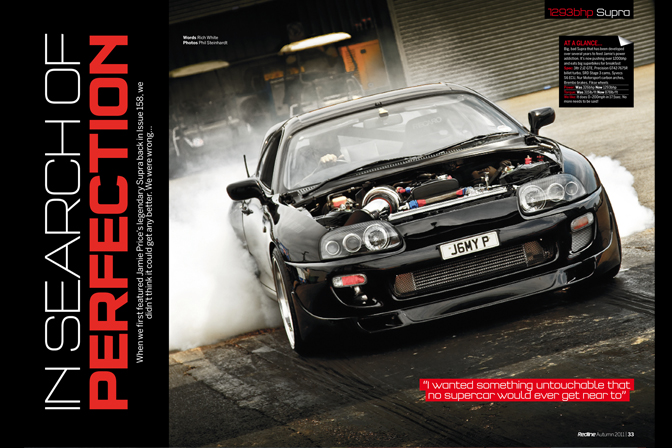 Issue 172 of Redline Magazine is out now, and the cover car is a fully road legal Toyota Supra with a small matter of 1293bhp. Carbon wide arches, and a proven 0-200mph time over six seconds faster than a Bugatti Veyron are just two of the incredible aspects of this car.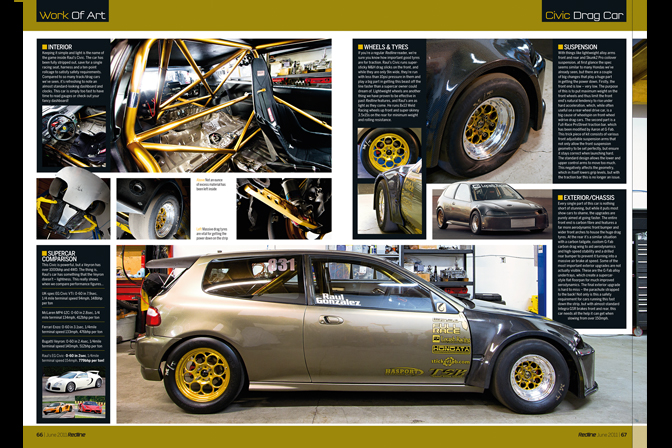 Redline feature cars from all over the world, including this stunning EG Civic from the USA. A mix of incredible power and attention to detail make it an ideal Redline feature car, and the fact it's a home built car rather than a company demo car is just icing on the cake.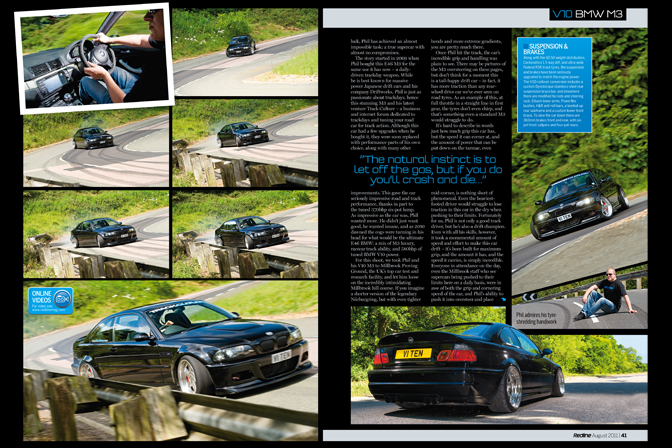 Another recent cover car was the TrackCulture E46 M3, powered by a tuned V10 lump from the E60 M5. While it has show car looks and quality, when the owner is former UK drift champion Phil Morrison, the car is truly used to the limits with Phil throwing the car inches from the Armco on the photoshoot.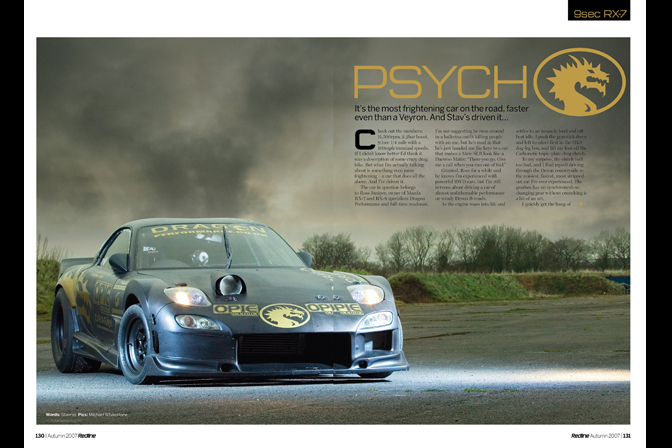 Giving a journalist the keys to a FD RX-7 that can do 0-160mph in 9seconds sounds like a recipe for disaster, but that's exactly what Dragon Performance did in 2007. Driving a drag car revving to 11500rpm and running on Q16 on UK roads isn't something Deputy Editor Stav will forget in a hurry.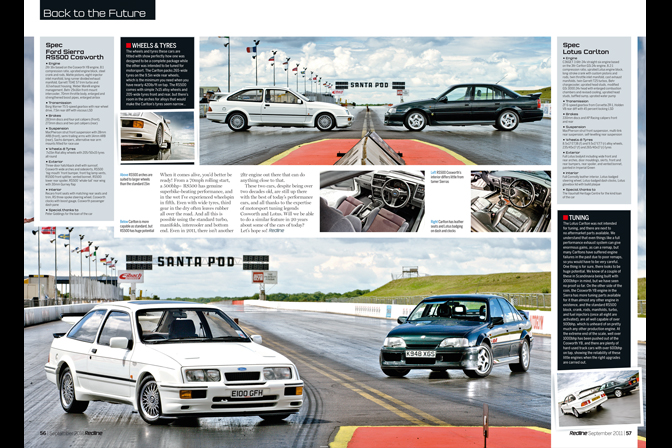 Two of the most popular car manufacturers in the UK are Ford and Vauxhall, and recently Redline did a Ford vs Vauxhall special edition. One of the features was this, a head to head comparison between the most iconic Ford and Vauxhall ever made, the Sierra RS500 Cosworth, and the Lotus Carlton.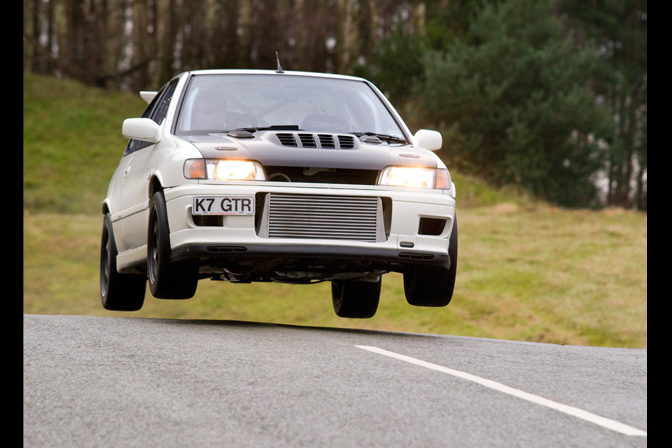 As mentioned, the Redline team have their own awesome tuned cars, and some develop to become cover cars, like Rich's 400bhp+ Nissan Sunny GTI-R. As you can see, he was far from shy in using this rally homologation special as it was intended!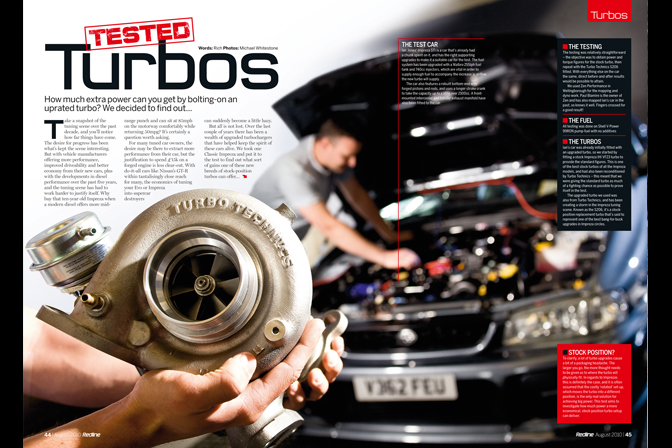 Rather than just preach about how much extra power a product is claimed to give, Redline put new products to the test. Whether its a new 500bhp+ turbo or ported cylinder heads, Redline strap them to dynos and flow benches to find out, as these features show.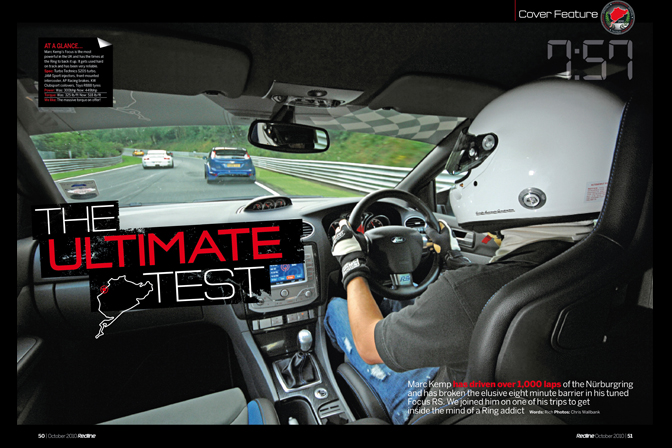 It may be hundreds of miles away in Germany, but Redline often head to the iconic Nürburgring Nordschleife to put cars to the test and run features on how to prepare and enjoy the readers own trips to the 'Green Hell'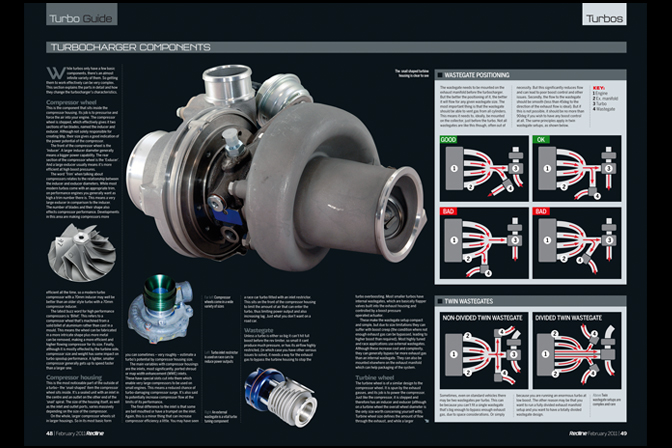 We're sure you read some magazine tech features and feel a little let down by the content, but tech articles are some Redline major in, showing the readers in detail not only how to make their car as fast as possible for the money they spend, but in an easy to understand and interesting way.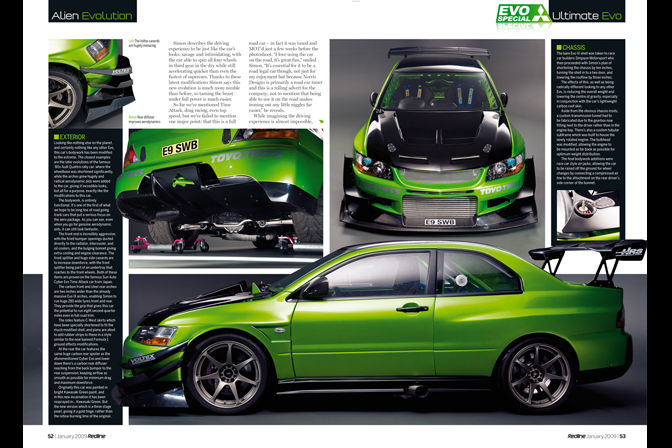 The UK really is one of the greatest places to be when it comes to wild road legal cars, and the Norris Designs short wheelbase Mitsubishi Evo IX is a great example. Can you get a 2door 950bhp track monster road legal in your country? You can in the UK, and you can usually find full detailed features on these kind of wild creations in Redline Magazine.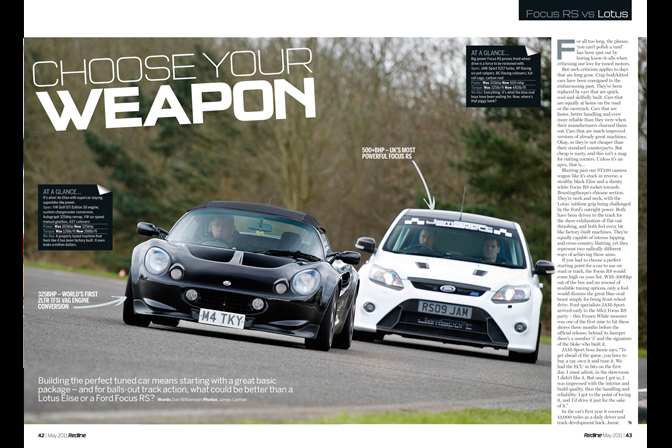 Track Days are hugely popular in the UK, and the variety of cars used never ceases to amaze us. What would you choose, a lightweight Lotus Elise with a MkV Golf GTI lump with 400lb/ft, or a Focus RS with over 500bhp?
Last, but not least, Redline are always keen to push the fact that cars are to be driven, not hard parked, and no matter what the spec of your car is, using it is fun. In this feature they took a lightly tuned £700 Mercedes to a drift event, showing you really don't need to have a big spec car to have fun; you just need to get behind the wheel and give it a go!
-