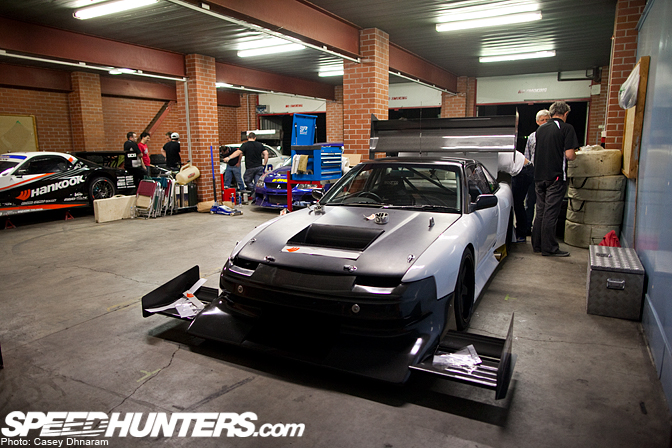 Since landing yesterday morning in Sydney it's been non-stop speedhunting all the way. We will have much to show you from the shops we are currently visiting, but first things first. We are here for the World Time Attack Challenge after all! So after a busy day shooting some feature cars Casey, Matt and I headed off to Eastern Creek Raceway, while Charles returned to the hotel in order to begin getting some posts online.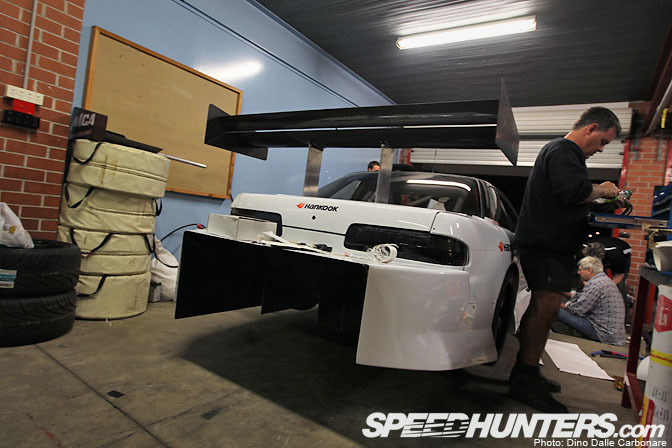 We weren't too sure what we would find at the track at 7 pm, but it seemed everyone was still very busy getting their cars and pits in order. It turned out to be a great time get familiar with some of the cars that had already arrived. Needless to say we were very much impressed with this first glimpse!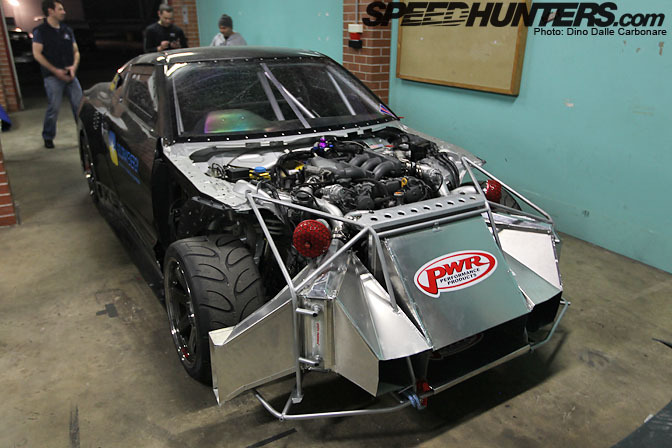 Ever since landing here yesterday I've been hearing a lot about two very special GT-Rs that will be running at the event. This is one of them, the GT Auto Garage R35.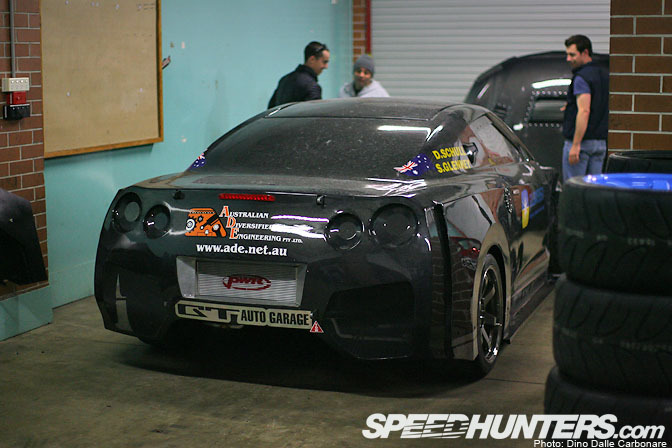 It's one of the first full-on time attack 35's I've seen, along with Mark Hansens's car that Casey caught testing at a recent shakedown test.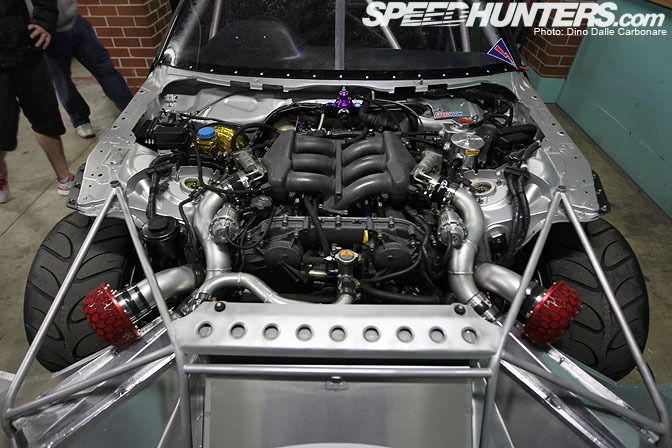 It's great seeing the new-gen GT-R being taken to these levels of tune and I, along with a lot of people out there I'm sure, can't wait to see both of these carbon fiber beasts in action!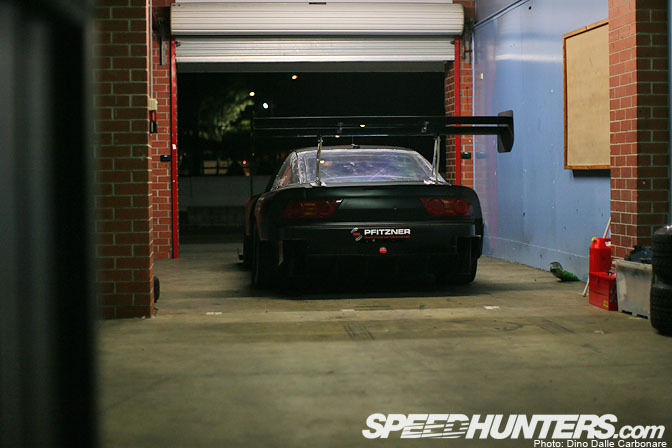 We spotted this sinister looking widebody RPS13 quietly parked in one of the first pit garages we walked past.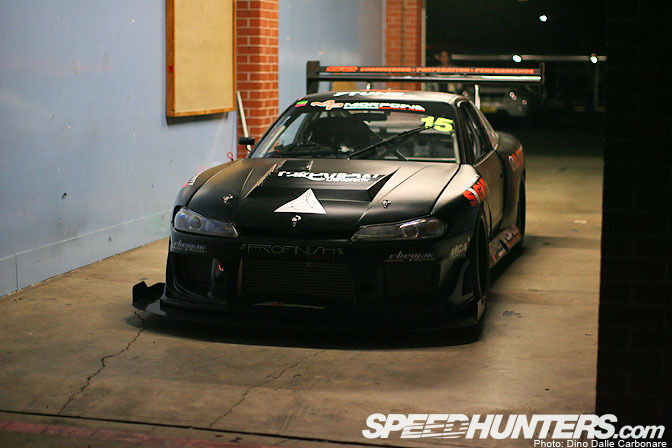 If pumped fenders and a flat black paint job aren't enough to make an 180SX look mean, an S15-front end conversion will certainly add more appeal.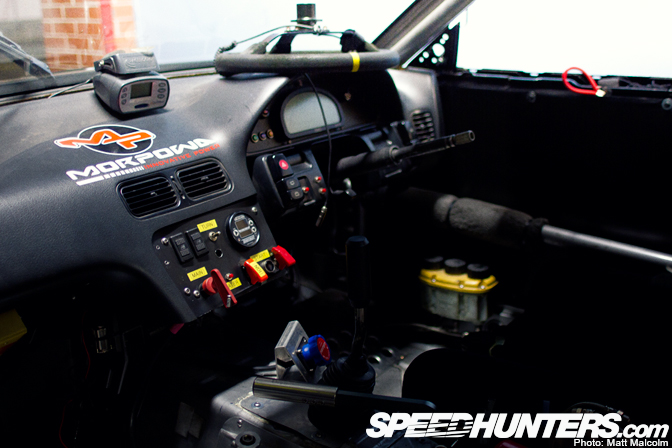 A quick look inside. I've already began noticing that tuners, various race teams and tuning shops out here have really taken the WTAC very seriously for 2011. Just walking in the pits tonight I saw so many impressive cars! Competition will be fierce this weekend!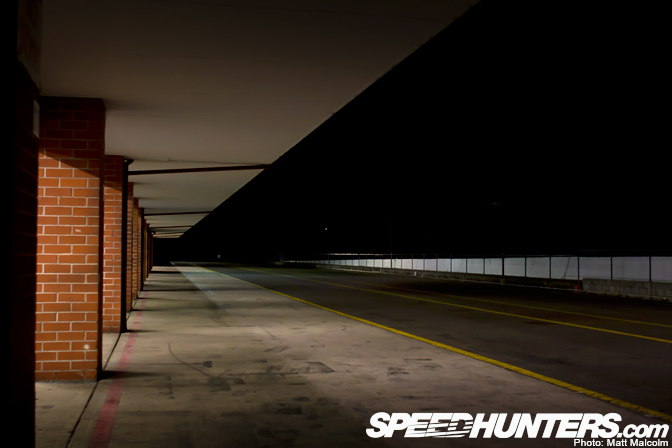 A very quiet pit lane. All hell will break loose here from tomorrow.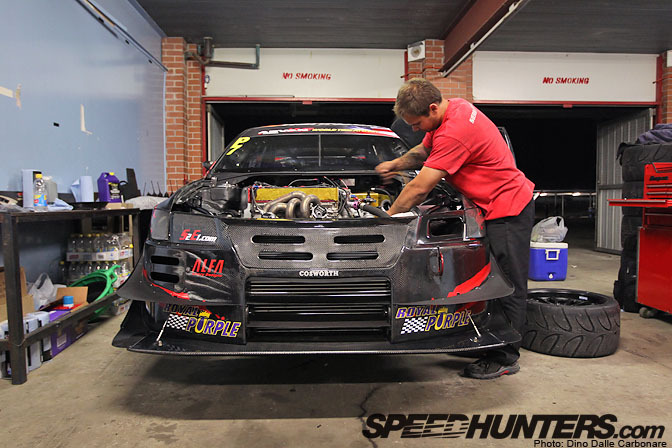 The Sierra Sierra guys were very busy setting up their Evo and were just about to corner-weigh it to fine tune the weight balance.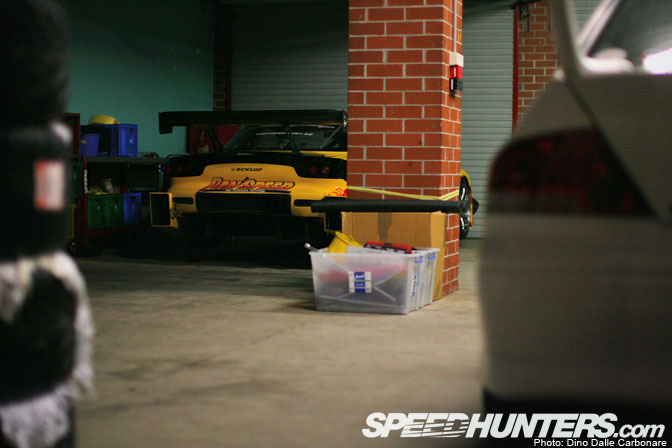 All of the Japanese teams and drivers arrived in Sydney early this morning. After a busy day unpacking the cars and organizing their pit areas most returned to their hotels for a much needed rest. We really liked how the Pan Speed…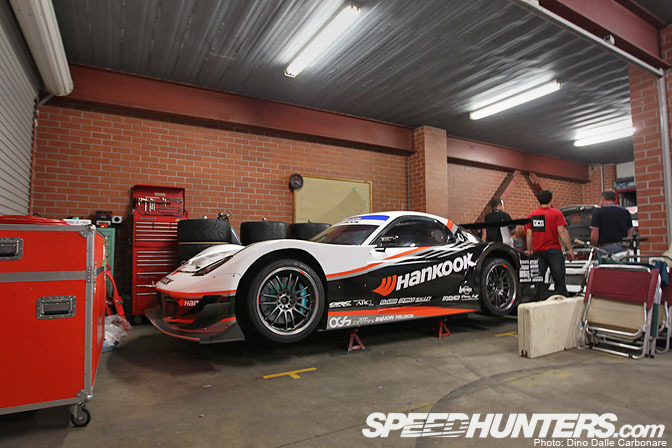 …and Revolution guys had meticulously set up their spaces in true Japanese efficiency!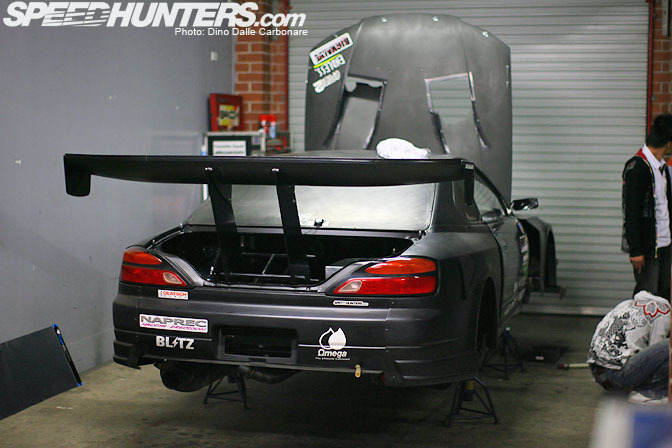 Under-Suzuki and his web-famous Scorch Racing carbon S15 Silvia were taking things much easier. We dropped by their pit to say hello…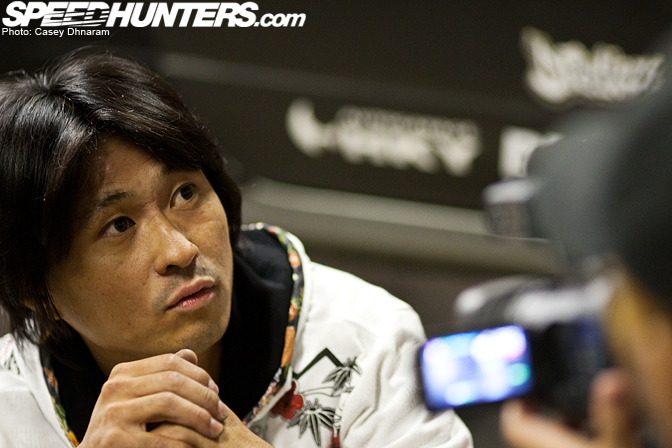 …just as Suzuki-san was tryoing to figure out where to apply all of his sponsor stickers. Ever since he decided to participate in the WTAC, the Video Option crew has been following all the preparation that has gone into fixing the car after the unexpected engine failure earlier this year.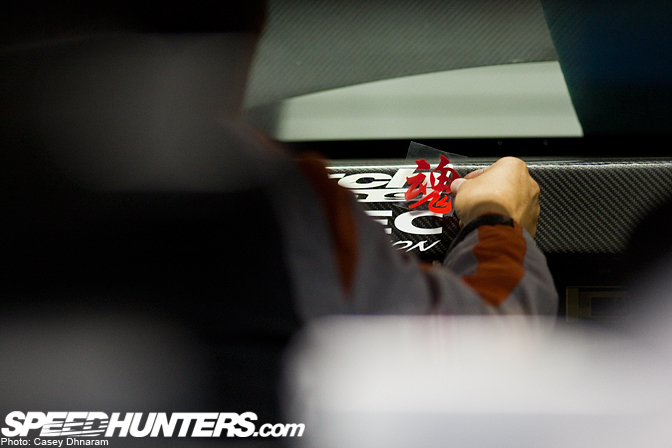 As Ian Baker, the man behind the WTAC, told me Suzuki-san's car will be looking very different tomorrow. I guess we will have to wait and see what will happen over night!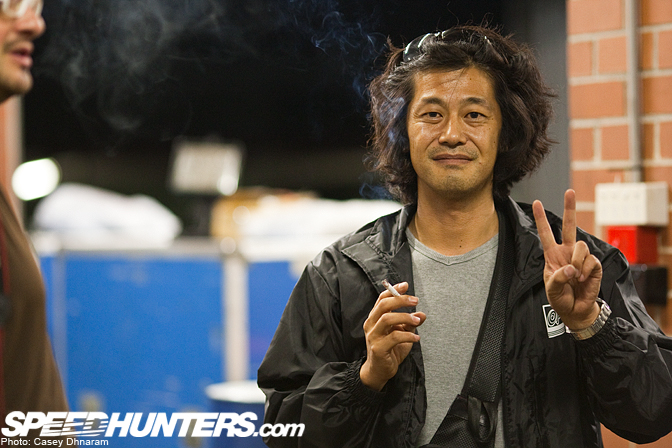 Option2 editor, Kachi-san has also come downunder to follow the event and cover it for his magazine.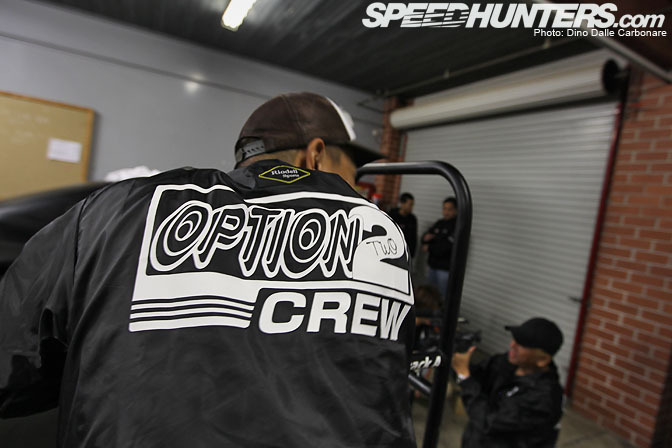 Option2 Crew jackets! How cool!!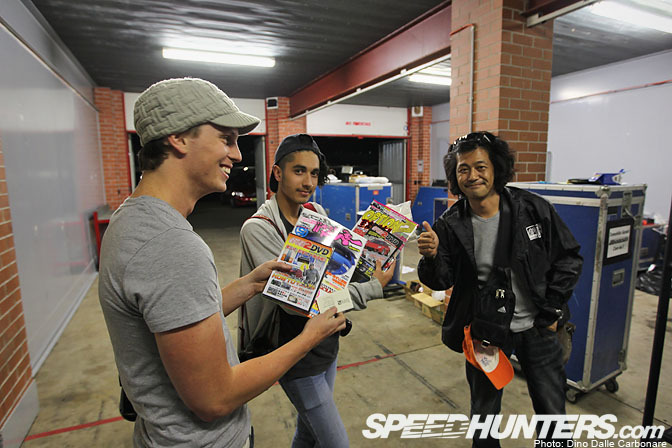 Here are Matt and Casey receiving a couple of Option2 magazines and DVDs to add to their JDM collection.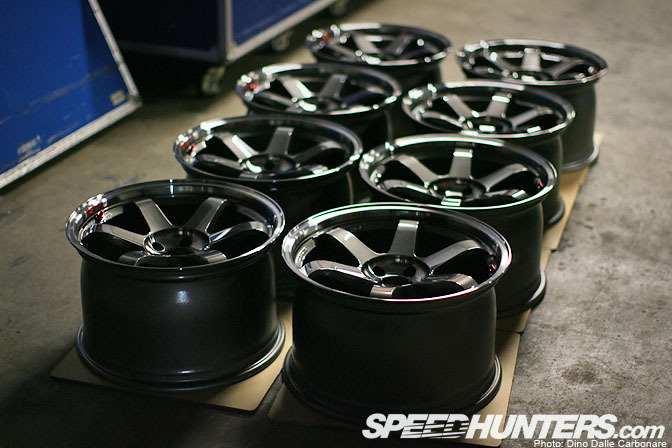 Suzuki-san had two sets of freshly unboxed TE37SLs lined up on the pit floor. They looked so good in dark metallic silver and topped off with anodized red valve stems!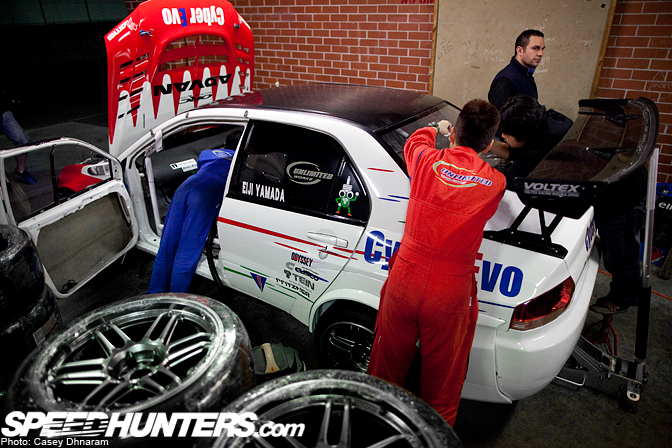 Next door the Unlimited Works guys were busy prepping the Cyber Evo so that Tarzan Yamada can abuse it out on track tomorrow. The winners of last year's event aren't taking any chances and have worked extra hard to guarantee that they have the best package possible to defend their title.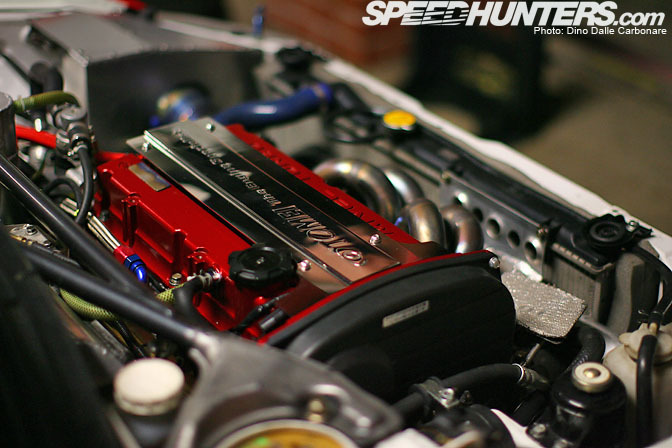 No more blown engines this year! That's a specially buit 4G63 sporting contless Tomei Powered parts sitting in the engine bay, and if this happens to develop problems they have a spare motor ready too.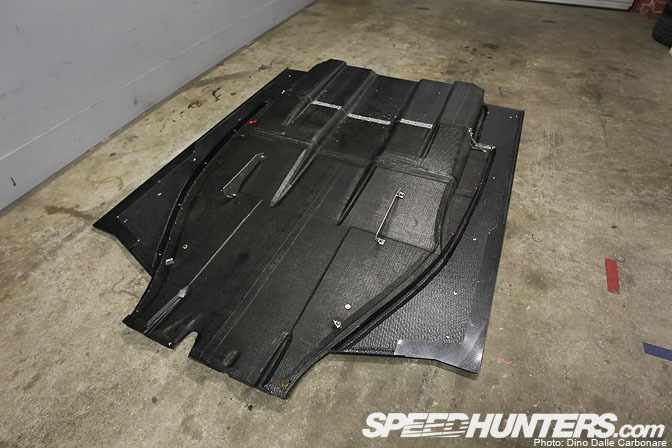 The guys at Voltex have gone all out in developing this complex carbon undercover that will help suck the car onto the tarmac.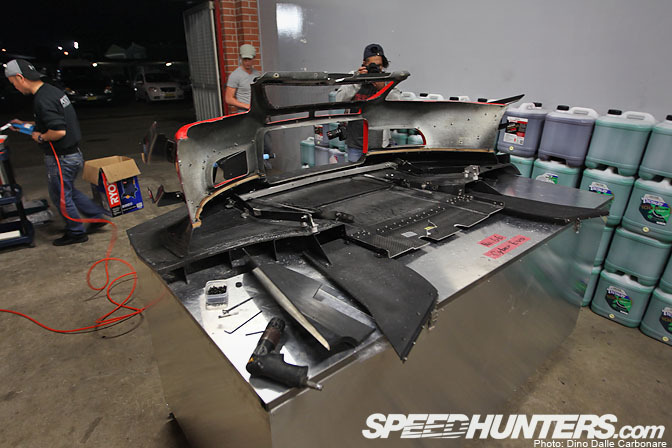 It will be joined by an equally complex front diffuser and special air guides that will direct as much air as possible towards the massive 8-pot Brembo front calipers.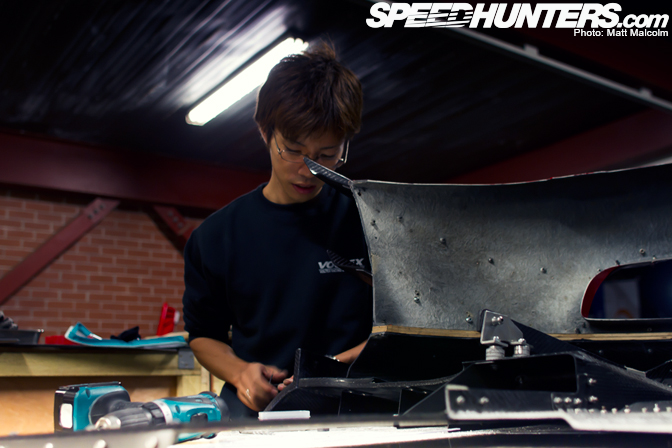 Here is one of the Voltex crew busy at work fabricating mounting brackets.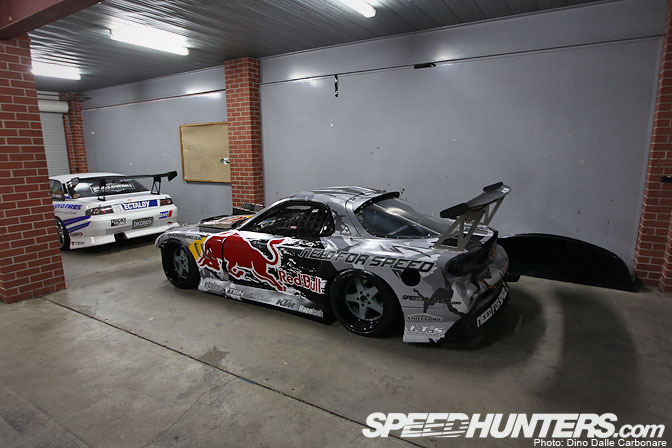 As we left the track I stopped by where some of the drift cars are being kept and took a little peek at Mad Mike's FD. The car's new livery is nothing short of badass! Can't wait for this event to start and hear all these cars in action!
Make sure you check back daily to keep up to date with our updates from Eastern Creek.
-Dino Dalle Carbonare