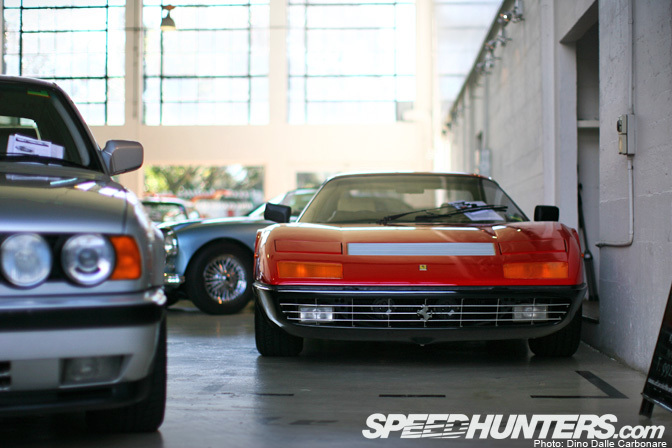 Early one morning we stopped by one of Sydney's many hidden automotive gems. Located a stone's throw over the iconic Sydney Harbour Bridge is an incredible classic car showroom. It's always a pleasure to get some exposure to iconic models that have shaped the history of the performance car, and the Classic Throttle Shop is one place that definitely packs a vast and eclectic collection.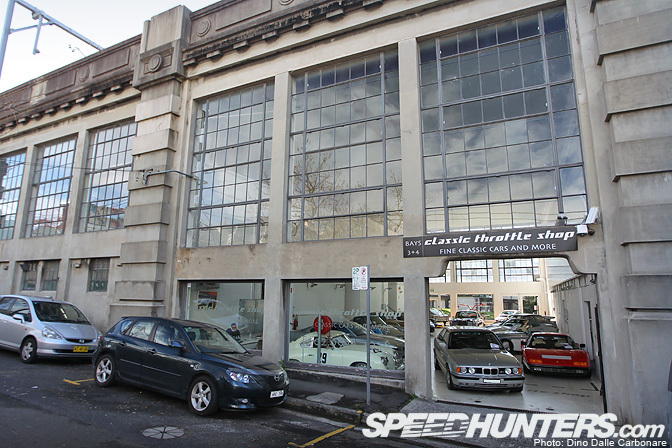 The Classic Throttle Shop is located in a stunning warehouse on the northern side of the Harbour Bridge and lies beneath one of Sydney's many train lines.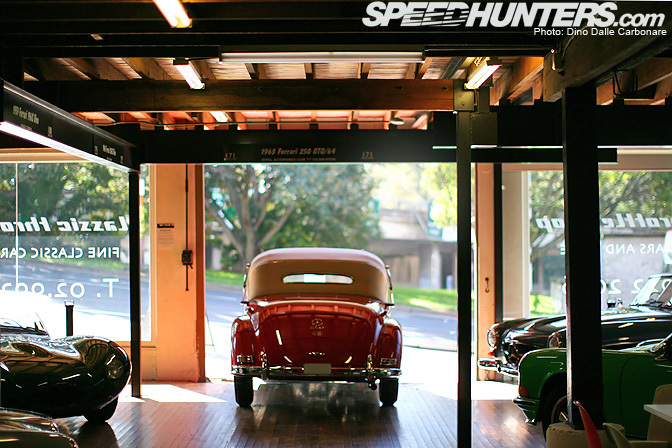 This is one place that caters only to the very best and authentic vintage cars.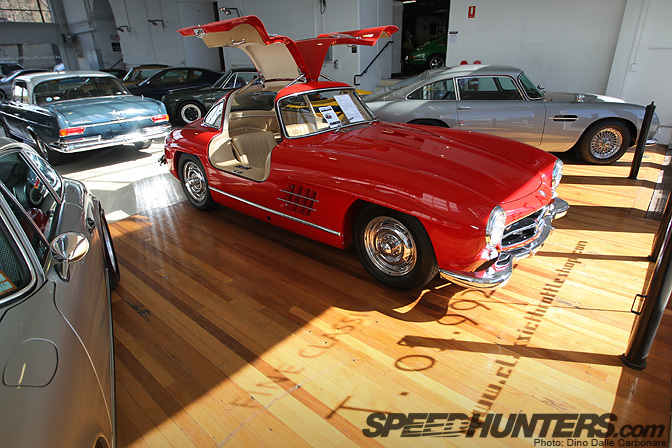 It was the sight of this 1955 Mercedes Benz 300 SL through the main shop window that made us decide to stop…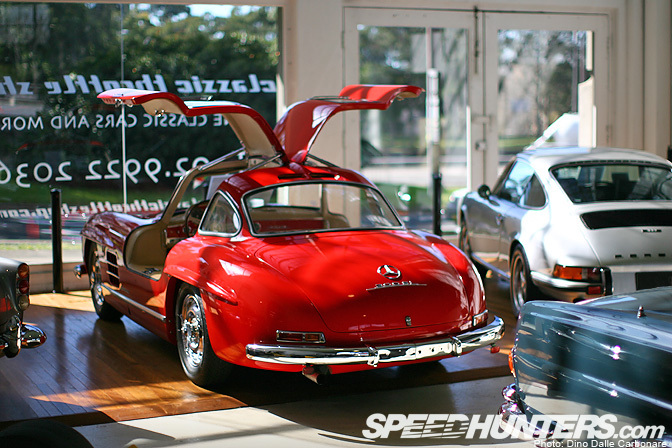 …probably one of the most recognized cars on the planet. This is where designers of the new SLS AMG drew inspiration from.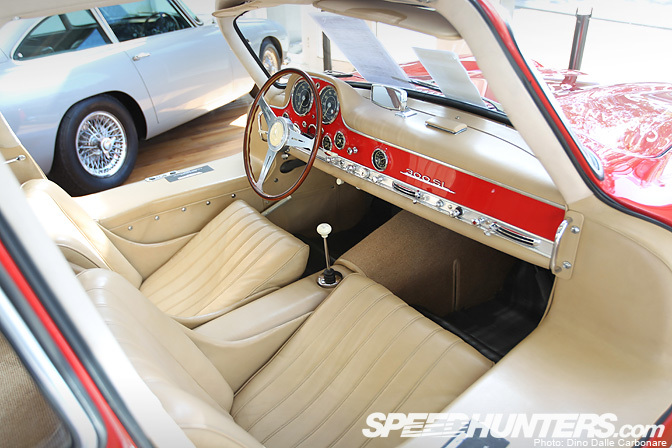 This particular example was in truly pristine condition. It was fully restored in America in the early Nineties, where it won several national Concourse events. It was later shipped to Australia to take its position within a large collection.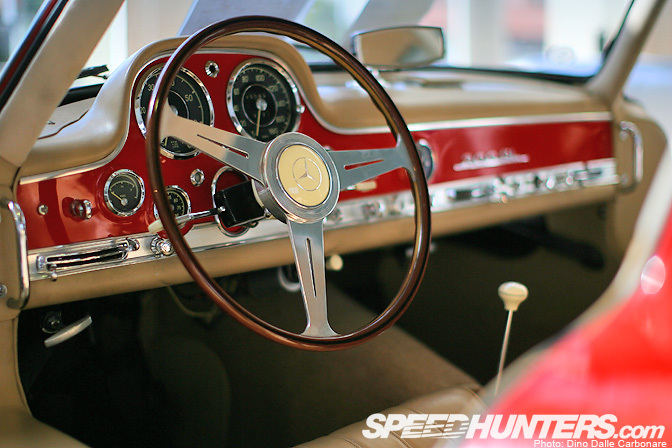 Every chrome part has been polished to a perfect shine. This restoration saw the 300 SL stripped back to a bare chassis. This example had the very rare Rudge wheels and the elusive belly pans. Cars have come a long way since the fifties when these were built…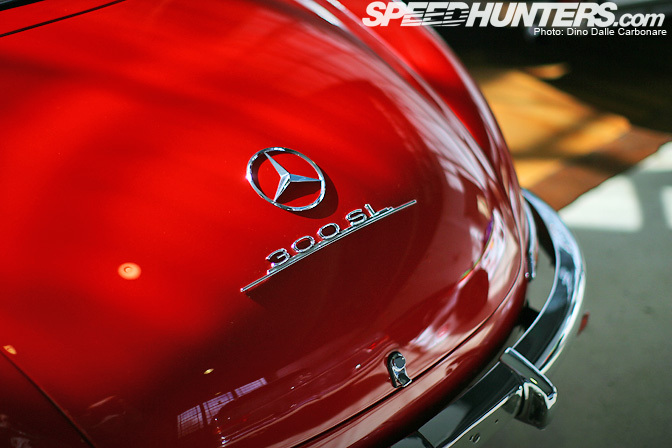 …but it's obvious the 300SL was a supercar ahead of its time back then, both in its design, equipment levels and performance.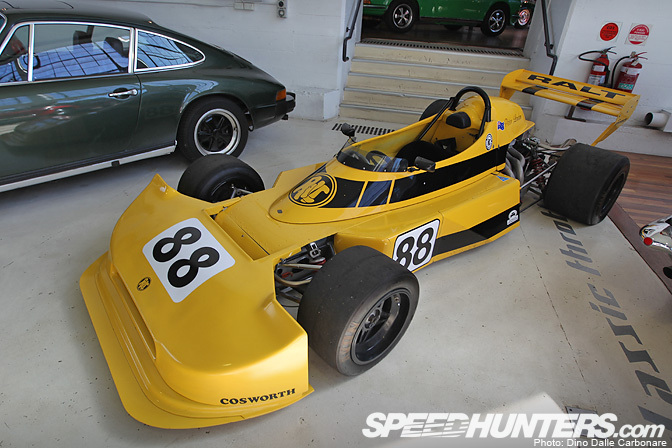 A nice collection wouldn't be complete without a race car; this is a Ralt RT1 single seater from 1978.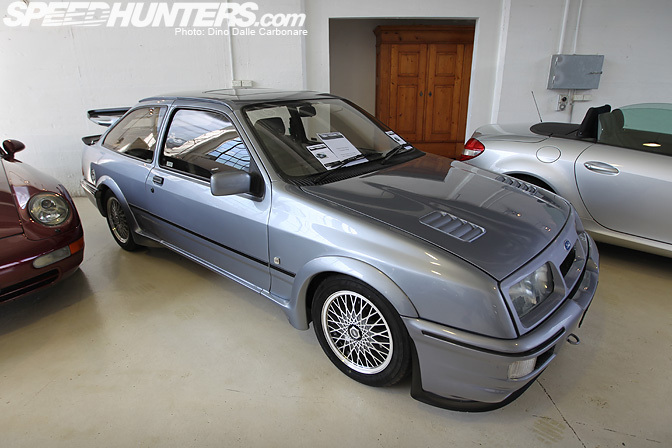 The Classic Throttle Shop not only deals in vintage cars, but also modern classics like this Sierra RS Cosworth. On previous visits, Charles has spotted mint low mileage R32 Skyline GT-Rs and NA Miatas.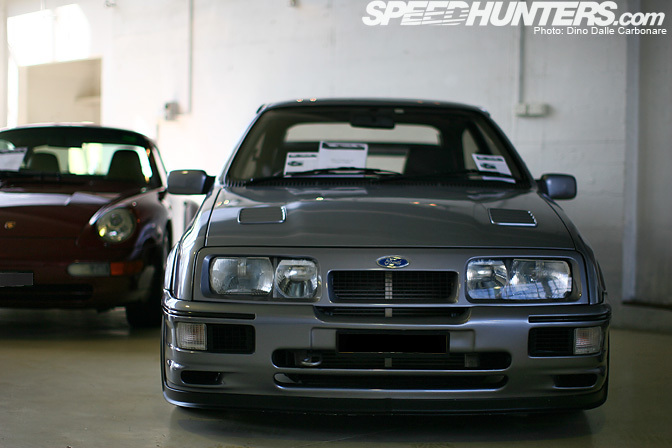 Don't you just love these old eighties cars! I grew up in the UK, and in 1987 this was one of the most desirable cars out there, a true supercar killer!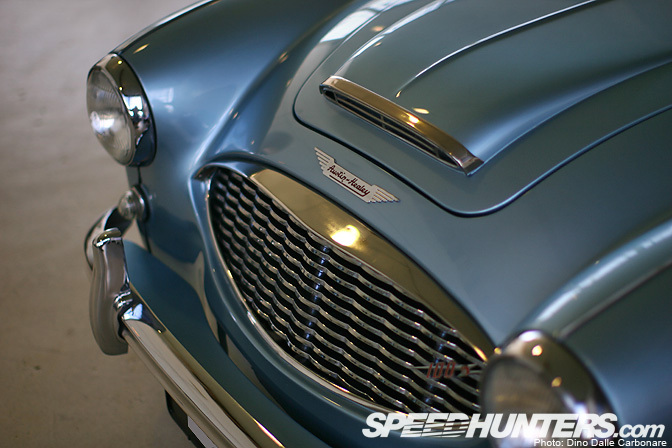 In a corner of the collection I spotted the familiar front end…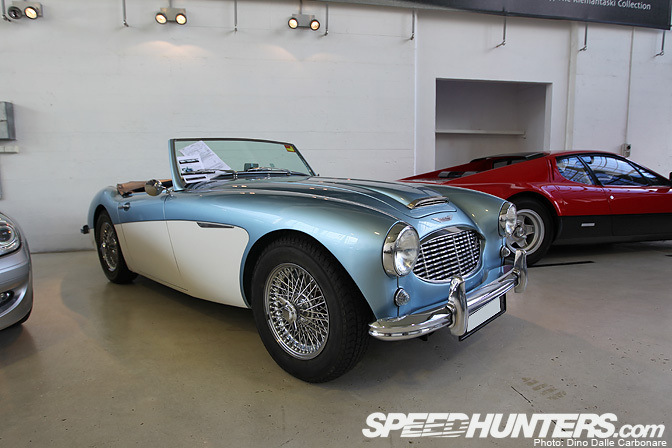 …of an Austin Healy 100/6. This beautifully styled 1956 British drop top is powered by a 2.4L straight six that allowed it to hit 100 mph, hence its name. The "6" stands for the number of cylinders.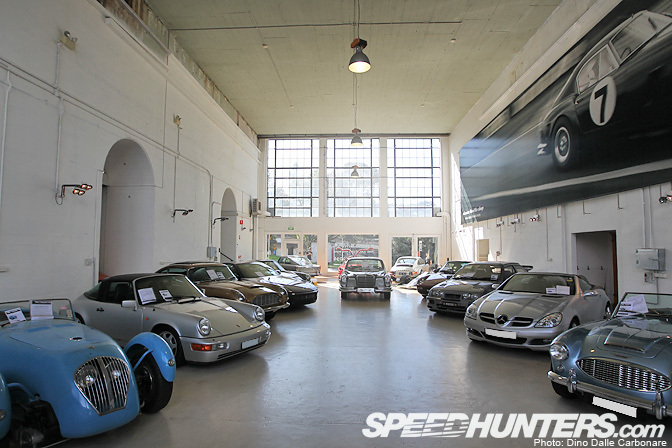 Quite the sight right!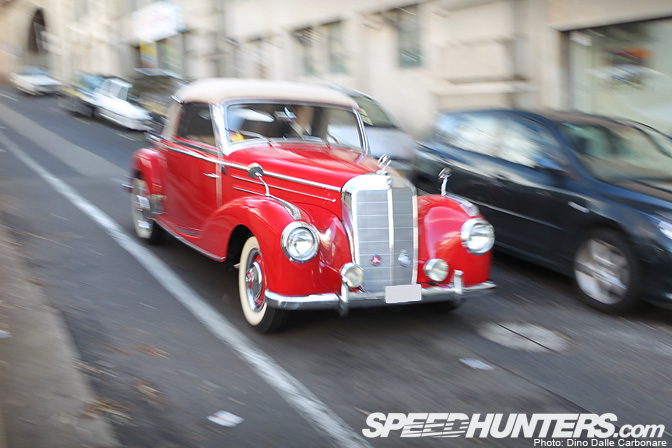 As I was shooting outside the back of the shop the red 1952 Mercedes Benz 220 Cabriolet that I spotted earlier on, third picture from the top, drove past.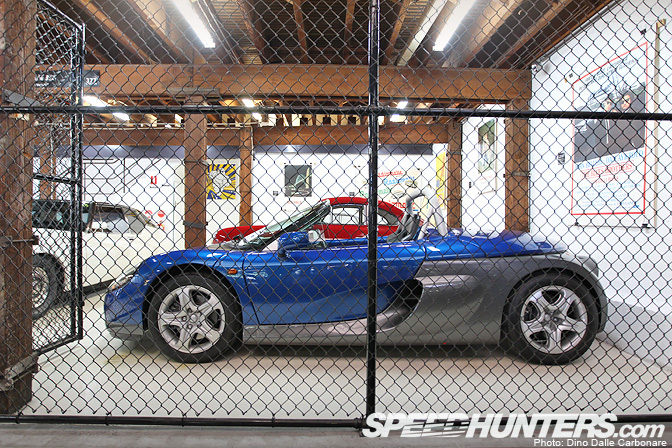 A 1998 Renault Sport Spider. Perhaps not a classic in everyone's books, but certainly rare nonetheless.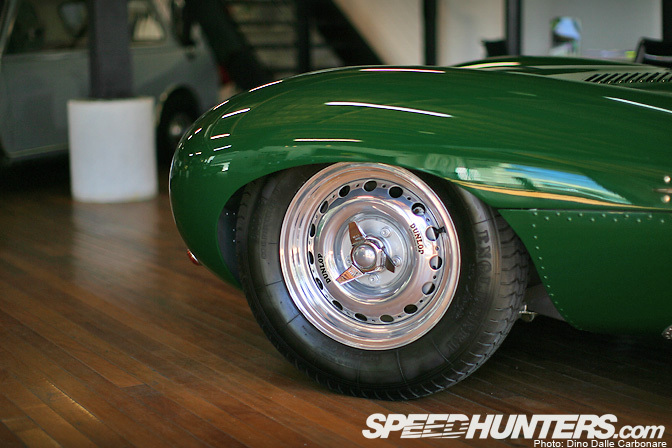 Can you guess what car this front fender belongs to? The color should give it away…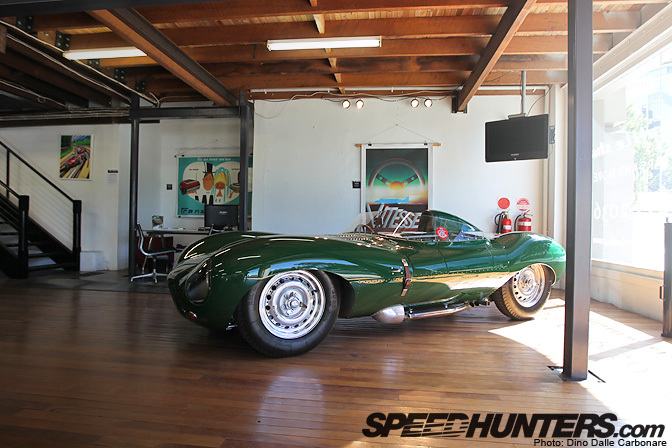 It is indeed a 1955 Jaguar D-Type, a car that won three consecutive Le Mans titles in 1955/56/57. Cars like this fetch well over a couple of million dollars at auction, but this particular car is actually a far more affordable replica built back in the late eighties. It's an almost exact reproduction of the real thing and a stunning machine to look at.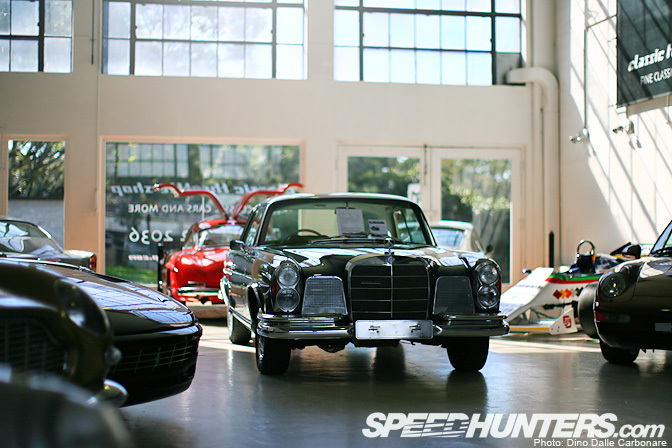 Yet another classic and rare Benz, this time a 1962 220SE coupe.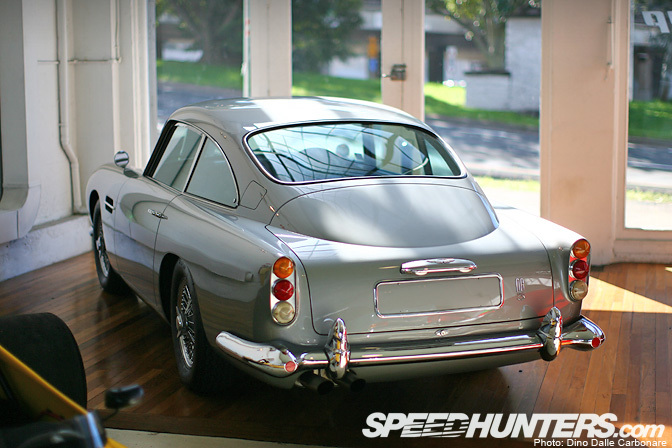 Well hello Mr. Bond! This is one of two 1965 Aston Martin DB5s…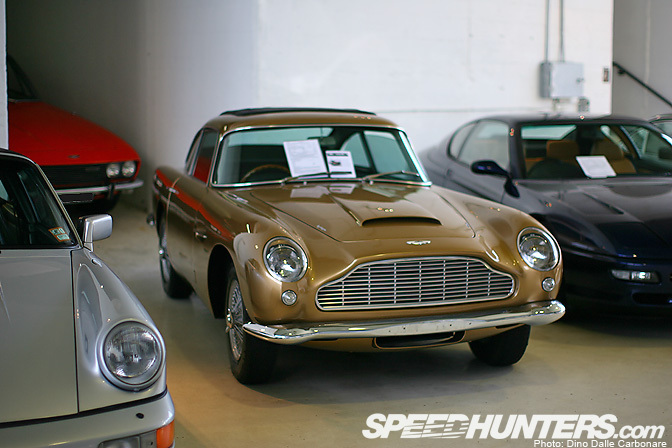 …that were present in the shop.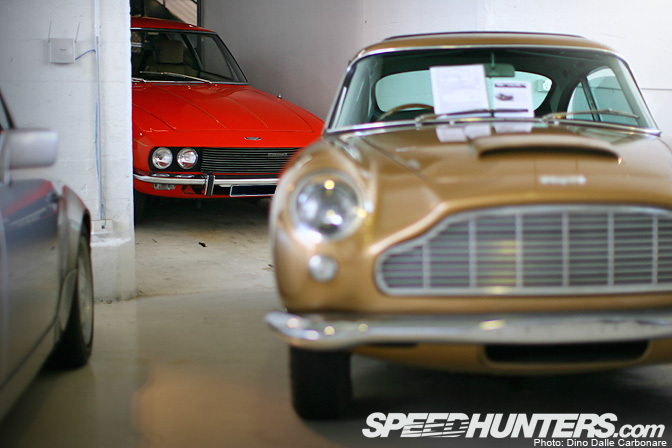 It was hard not to notice this bright red British classic…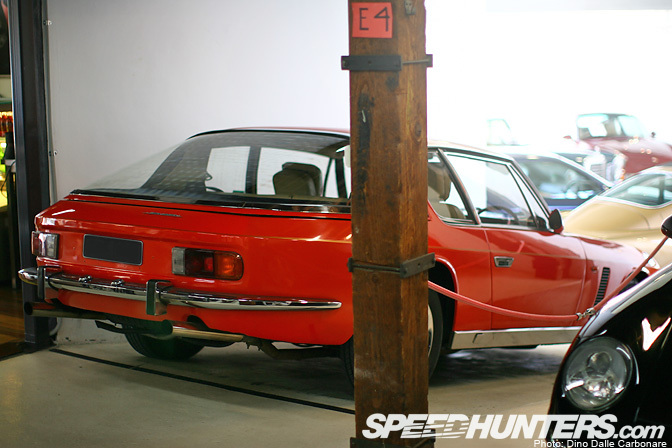 …a 1971 Jensen Interceptor II. Not the prettiest, nor the most reliable of cars, but one of those weird creations that will always stand out for their uniqueness. Powering this car is a 6.2L Chrysler V8 mated to a 3-speed automatic transmission.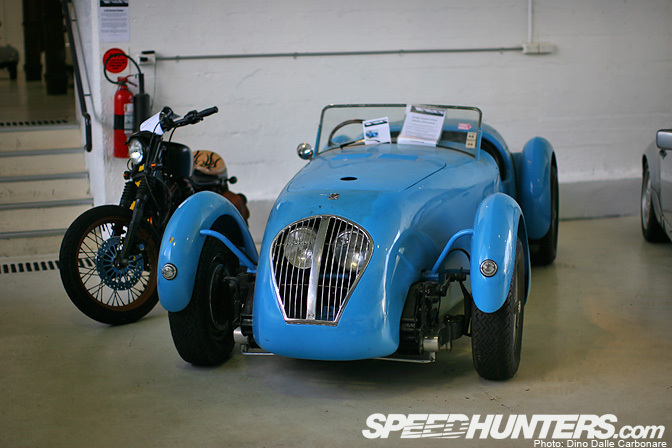 Here is a very rare find. This is one of only 85 Healey Silverstones that are left, a late forties classic racer.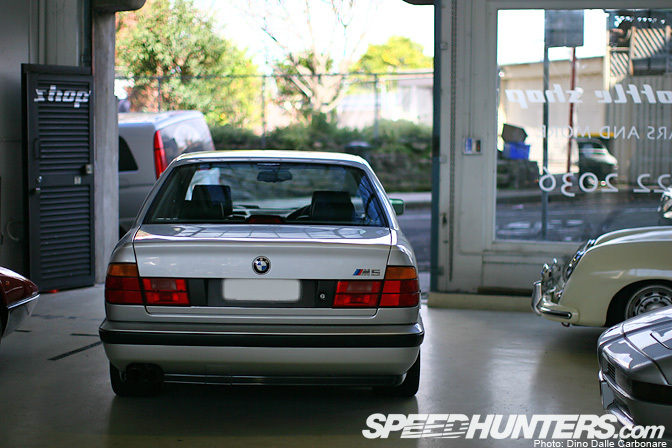 BMW E34 M5 goodness.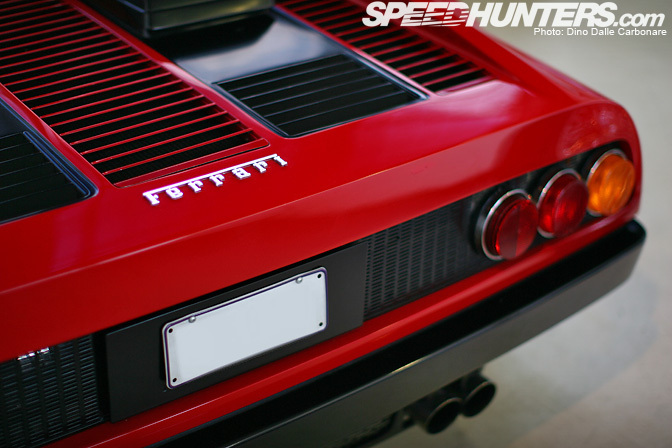 One of my favorites in the whole showroom was this 1973 Ferrari 365 BB, where "BB" stands for Berlinetta Boxer. This 180º V12 (it's actually technically not a boxer) gave way to the 512BB and then the Testarossa of the mid-eighties. This was Ferrari's first mid-engine 12-cylinder car, replacing the front engine Daytona.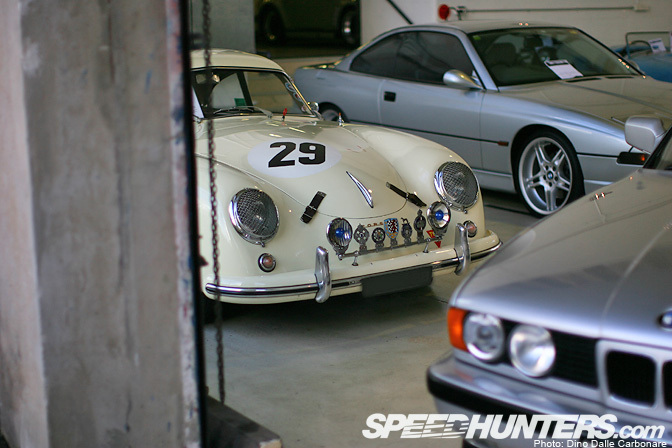 This 1953 Porsche 356 Pre A was truly stunning. Originally it was purchased by racing driver Ted Wooley who campaigned the car in many events, including Goodwood in 1954. This 356 Pre A has a long history of racing in everything from Rally Soleil Cannes to the Brighton speed trials. It also won the Silverstone production car race in 1954. Its loving restoration took five years to compete and, in 2008, it was invited to the Goodwood Revival where it ran in the Fordwater Trophy.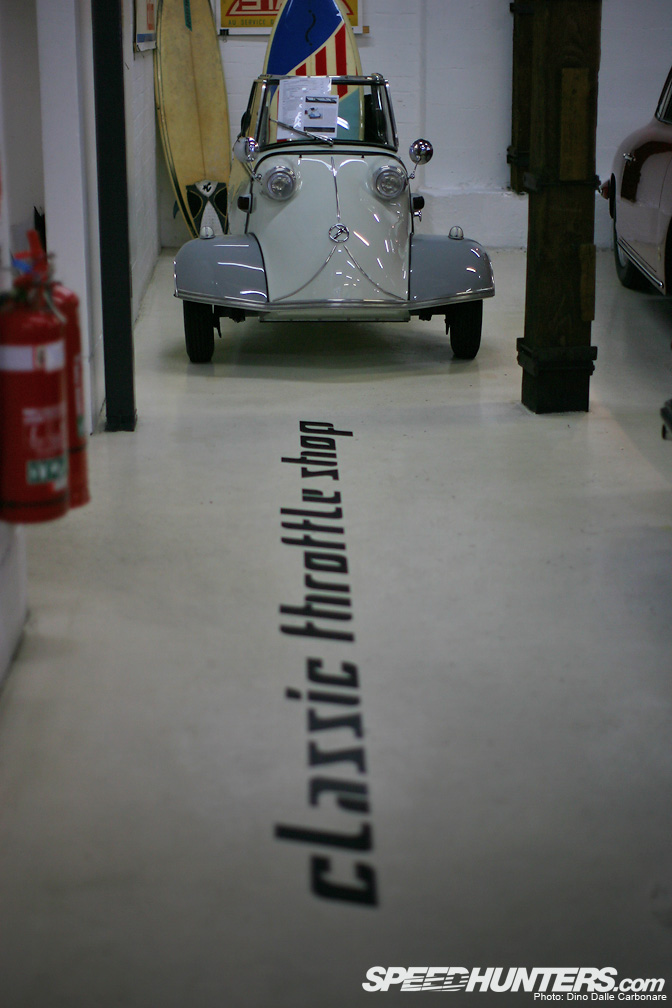 The name Messerschmitt might conjure up images of German WW2 planes but this KR200 three wheeler micro car is something they built after the war ended, once they had been banned from building airplanes.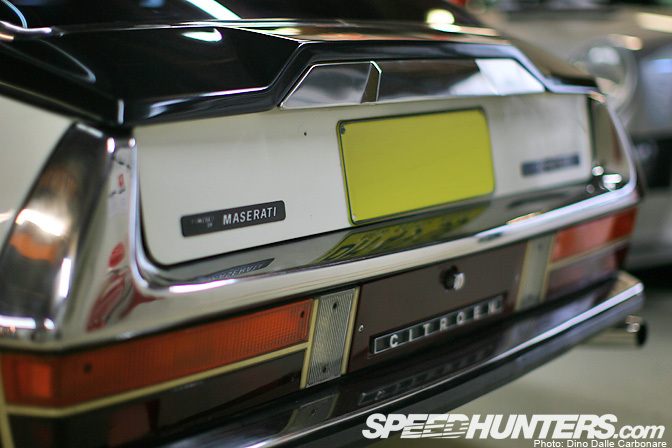 Now this is what had me the most excited out of all the cars that were present. I have read all about it and seen many pictures…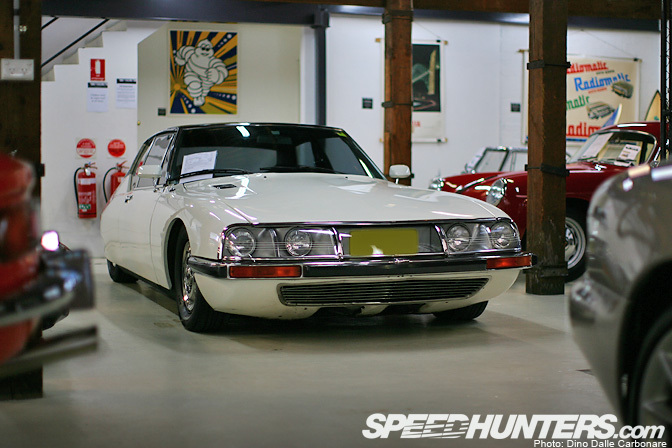 …but this was the first time I had seen a Citroën SM up close. I love these kind of strange creations, a car that came about after the French automaker bought Maserati in the late sixties. They combined the famous Citroën hydro-pneumatic self-leveling suspension with a Maserati 2.7 V6 (later a 3L followed) creating a luxurious and comfortable performance car.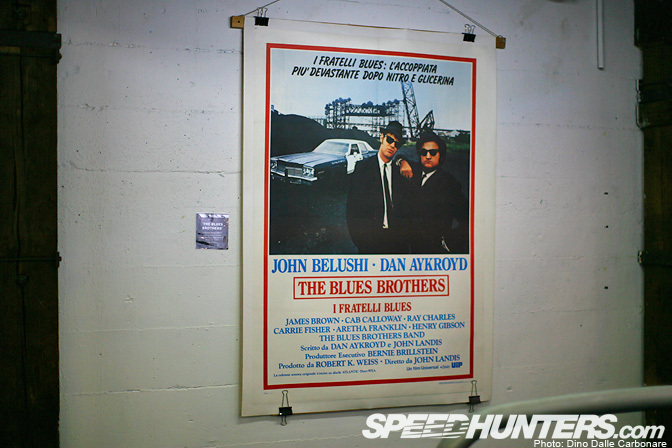 Spotted this authentic Italian movie poster of The Blues Brothers (I Fratelli Blues). Very cool, but being Italian my lord does the translated title sound cheesy!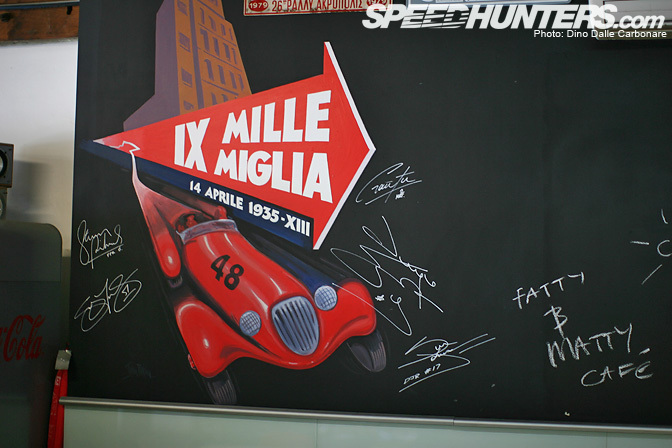 There were a lot of cool period pieces to check out, from Mille Miglia memorabilia…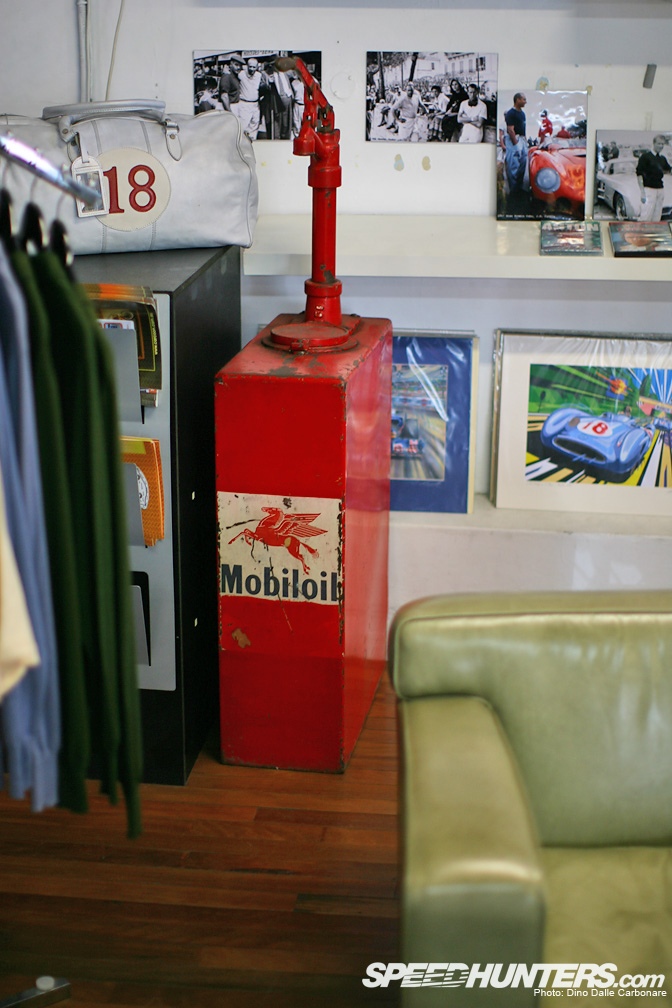 …to cool and random collectables. The little waiting area is a comfortable place to relax in. The clothing on the left are Suixtil items, which was a brand worn by a certain truck driver by the name of Juan Manuel Fangio.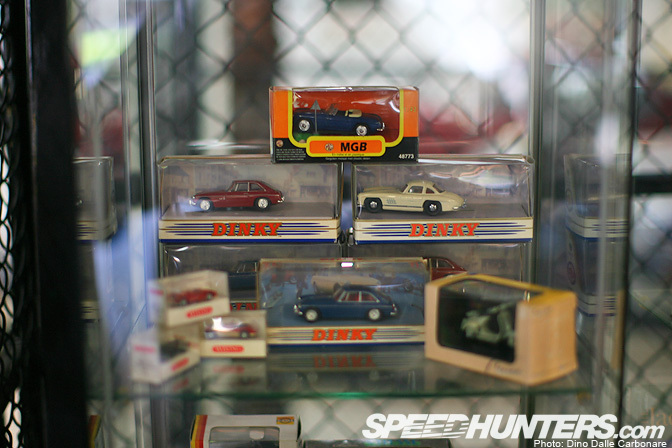 You can also check out a small collection of Dinky cars…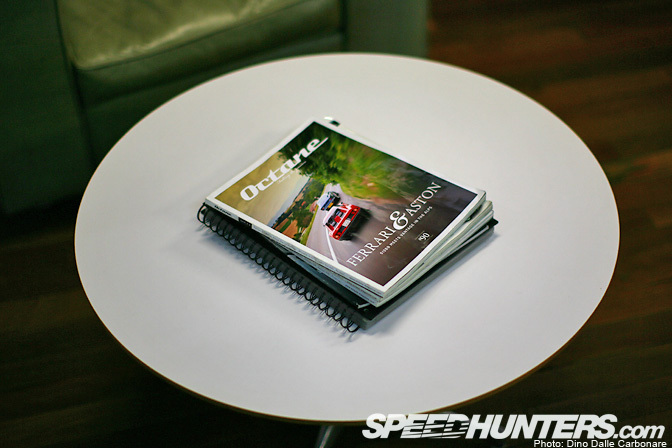 …or sit down and read through some of the best classic car publications out there.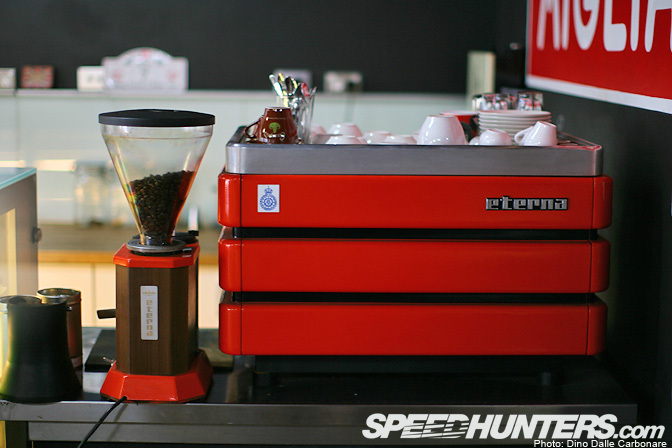 I really felt at home as the little bar area was fully equipped to serve espresso. I loved the seventies vintage Eterna bar espresso machine with matching coffee mill.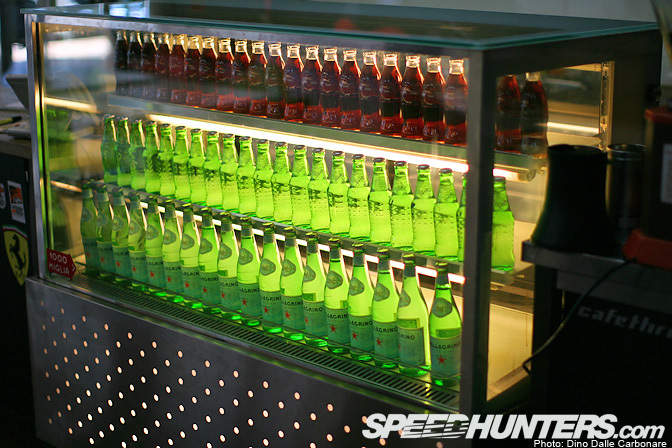 And a nice line up of drinks including Sanpellegrino sparkling water of course.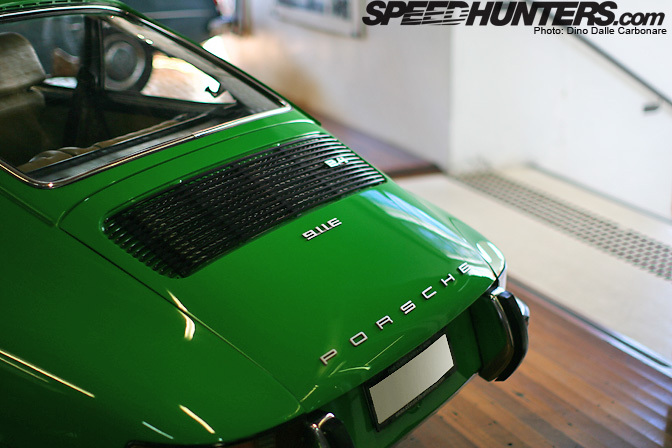 If you ever wondered why Porsche offers some wild colors for some of their performance cars like the 911 GT3 RS, it only takes a look through history to find out why. This 1973 911E 2.4 also came in this rather nice shade of Viper Green.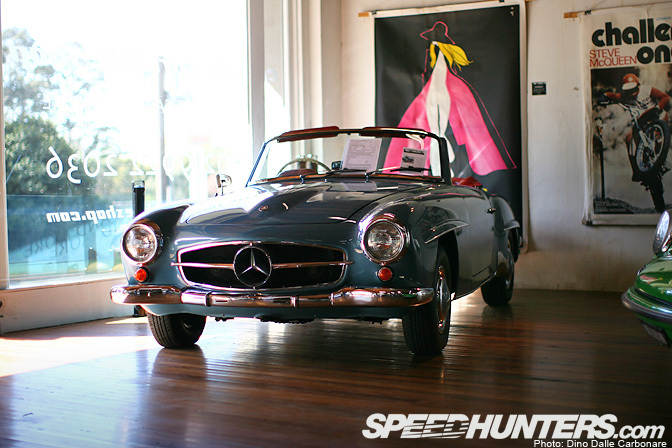 Finishing off in the main shop entrance I grabbed a quick shot of this 1960 Mercedes Benz 190SL…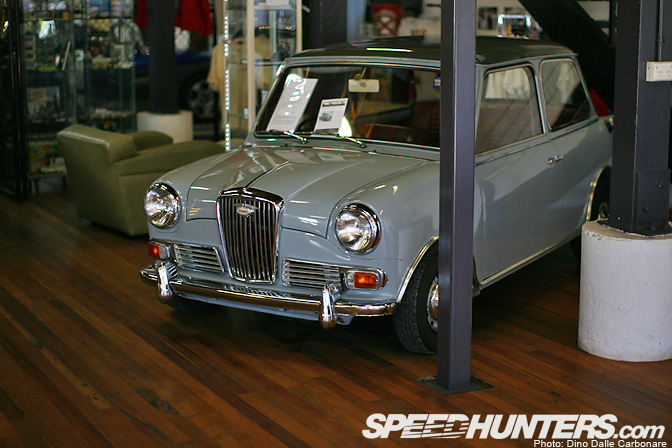 …and this curious looking luxury version of a Mini, a 1968 Wolseley Hornet Mark III.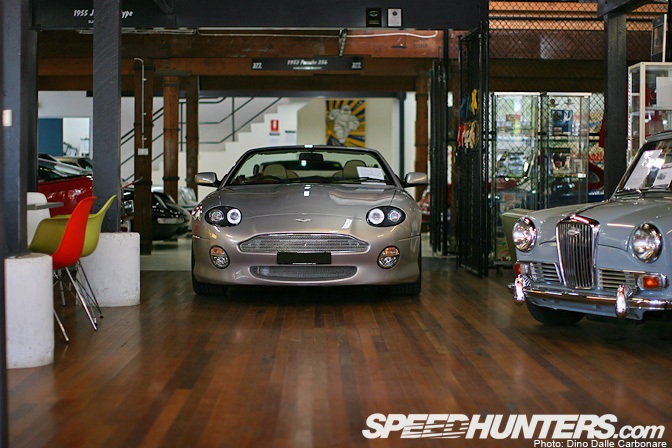 Stopping by the Classic Throttle Shop was a much needed change of air from all the performance tuning shops we visited during our time in Sydney and we would like to thank the management there for allowing our cameras to capture such a stunning collection.
-Dino Dalle Carbonare