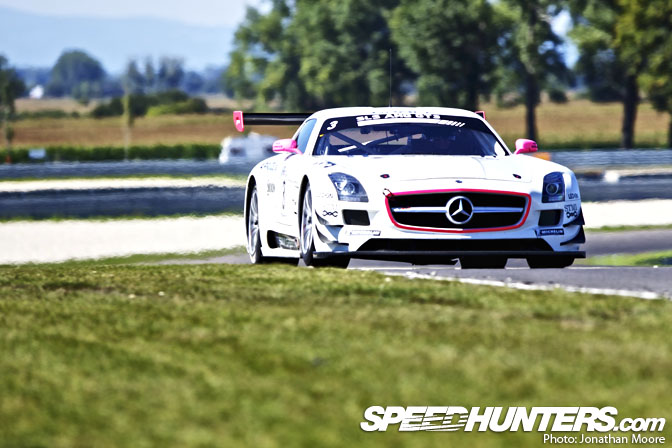 Slovakiaring has proved to be a Mercedes SLS track, with the big car taming the jumps and sweeps of this impressive circuit. There was a win for the #44 Heico team car yesterday and then another for Graff Racing's SLS today – they snatched victory with a rapid-fire pitstop in Race 2, overtaking the similar Gravity/Charouz-run SLS that had been leading the first half of the race. For Philippe Giauque and Mike Parisy in #3 the combination of their race win plus bad luck for the leading driver pairings has seen them leap from ninth to second position overall in the championship table.
?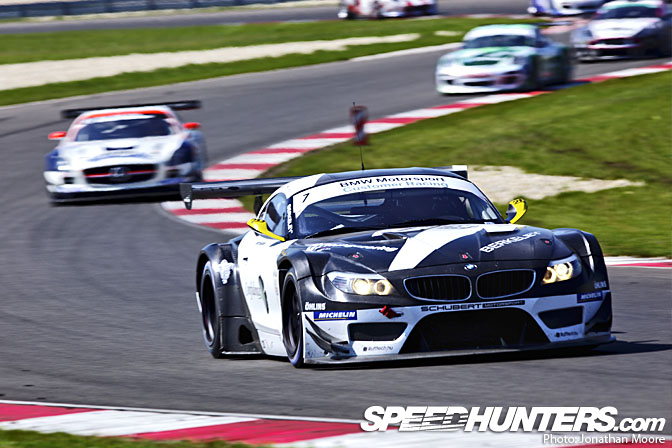 Team Need For Speed had a mixed weekend with their two BMW Z4s: double-podium success for Claudia Hurtgen and Csaba Walter in #7 wasn't matched by Edward Sandstrom and Abdulaziz Al-Faisal in #6. After a switch to Michelin rubber from Dunlops the qualifying pace of the Z4 was much improved and both cars were in the top 10 for the two races – but only Claudia and Csaba were able to capitalise when the lights went green.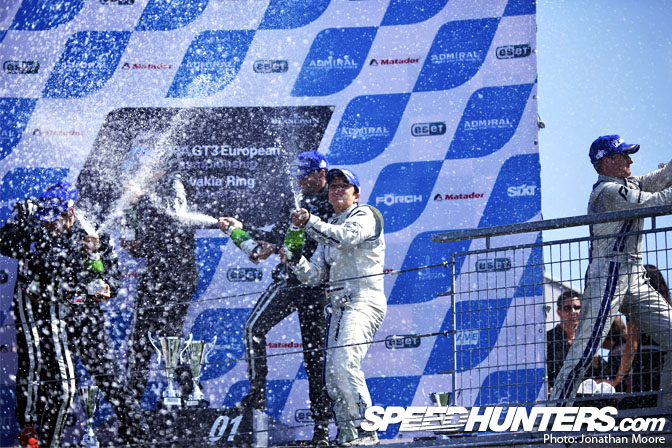 ?
In both hour-long sprints they fought through to the final podium position: Claudia pushed on from sixth during her stint to finish the first race in third, and then Csaba only just missed out on second in Race 2 after pressuring the SLS in front of him all the way to the flag. Much champagne has been enjoyed by the team…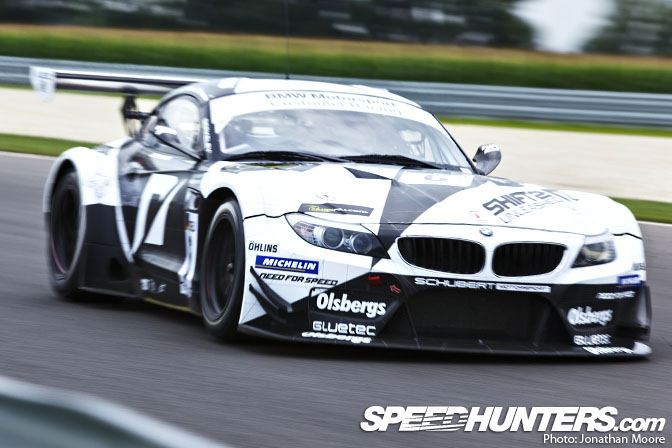 ?
ATF had to take a trip through the gravel at the first corner of Race 1 in avoidance of a multi-car collision all around him – from them on he and Edward had a hard slog through to a lowly 17th place finish. Race two's aspirations ended with a drive-through after Edward crossed the white line on the pit-lane entry as he came in for his stop. Zero points for the weekend has dropped them from third to sixth in the driver's championship – but the car is fast so they'll be looking to bounce back at the final round.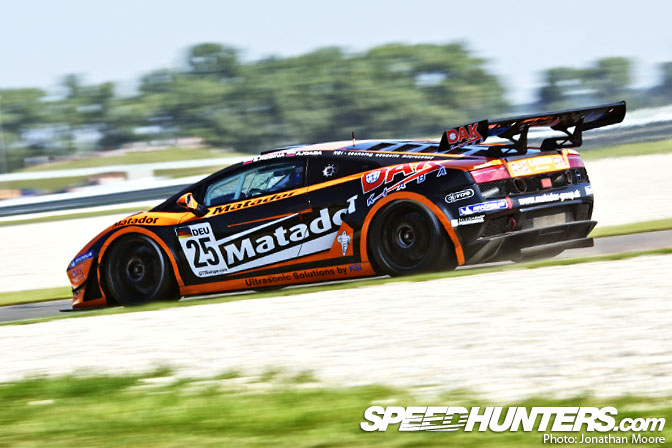 ?
Initially the weekend had as much an Italian feel as German: Ferrari and Lamborghini were right in the mix from the opening practice sessions, and both races saw Lamborghini Gallardos lead from pole – only to hit trouble early on. Yesterday #24 suffered a rear-tyre puncture after leading for 12 laps – and today the same fate befell Slovakian driver pairing of Anton Kiaba and Stefan Rosina in #25.
?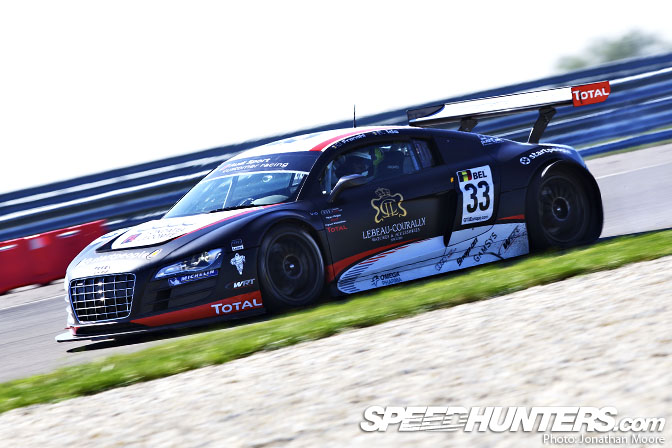 Punctures were frequent and saw the end of a number of cars: the kerbs here are narrow and serrated, and typically a puff of dust on the horizon would be followed by marshals frantically waving white flags and a car limping along flailing rapidly disintegrating rubber.
?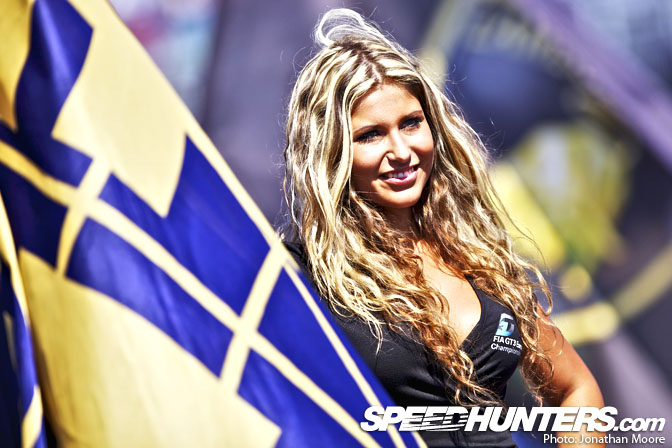 It's been a great weekend of racing here in Slovakia, and the series has enjoyed a warm welcome to go with the warm temperatures. It's definitely a track that the teams want to come back to – and it would make a great track to put in a game! Be sure to check out the racing action from Slovakia on the web stream – they were both excellent entertainment.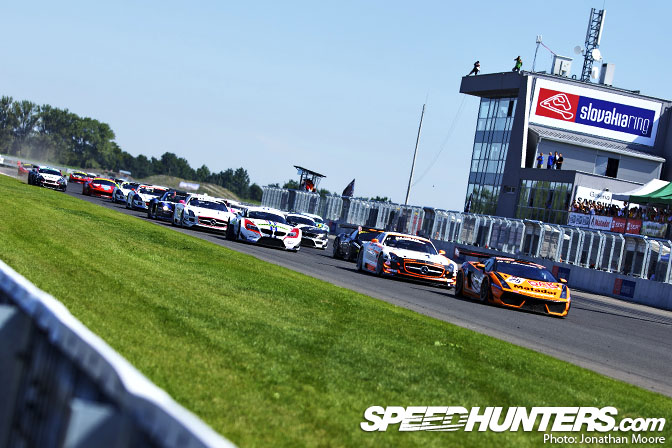 ?
There are just two races left in this year's FIA GT3 European Championship, which will be held at the famous Zandvoort track in Holland. It's another track which is known as a real driver's circuit, and with all seven manufacturer's cars pretty evenly matched there's going to be a titanic struggle to the last lap of the last race. Team NFS still lead the team's championship (by 19 points from the Faster Racing BMWs) and hold sixth and seventh on the driver's table. The only bad thing? We have to wait until mid-October to see the final showdown!
2011 FIA European GT3 Championship after Round 5
1: #50 AF Corse Ferrari 458 Italia (Francesco Castellacci/Federico Leo) 97 points
2: #3 Graff Racing Mercedes SLS AMG (Philippe Giauque/Mike Parisy) 83
3: #9 LMP Motorsport Aston Martin DBRS9 (Maxime Martin/Gael Lesoudier) 81
4: #35 Faster Racing BMW Z4 (Jeroen den Boer/Hoevert Vos) 79
5: #33 Belgian Audi Club R8 LMS (Enzo Ide/Gregory Franchi) 75
Jonathan Moore
Team Need For Speed Stories FIA GT3