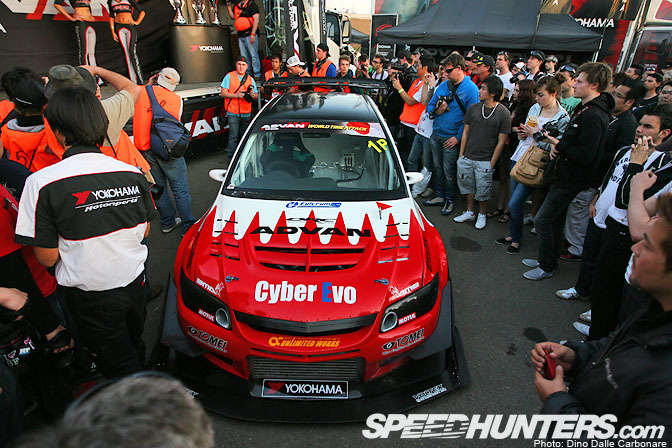 The last session of the Pro Class is where it all happens. After two days of slowly but surely edging well into uncharted territory at Eastern Creek, the final afternoon outing is where all is won or lost and where teams are prepared to sacrifice their cars in the pursuit of that record braking lap. So with boost turned up to the max and ECUs running their most extreme ignition and fueling maps, teams and drivers were ready to unleash all.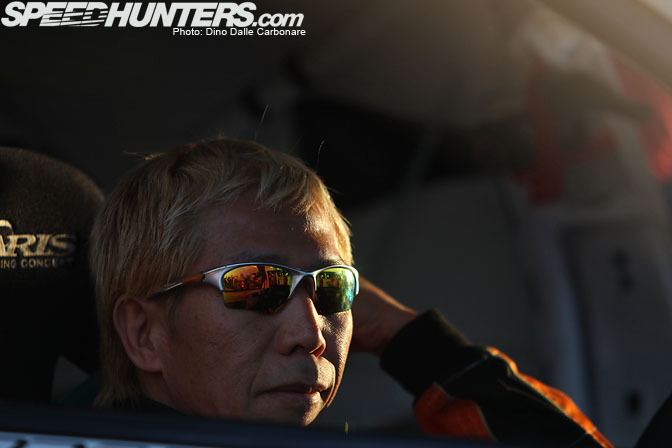 After David Empringham in the Sierra Sierra Evo set the fastest time of the day earlier in the afternoon with a barely believable 1'29″024, Tarzan knew the challenge was on. With falling temperatures and the threat of potential rain later in the day he would have to drive his best in the two afternoon sessions.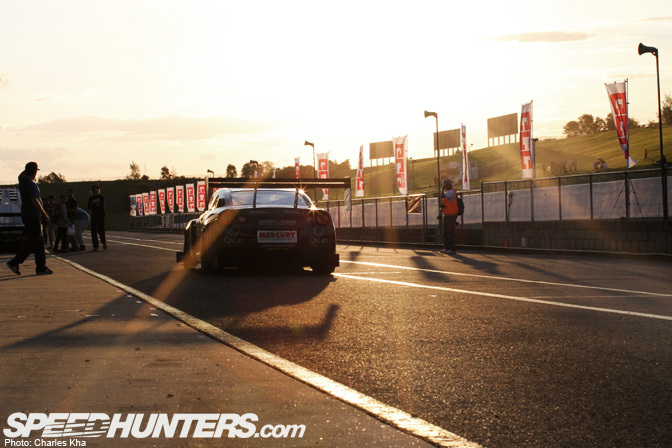 Right next to the Cyber Evo pit was where the Mercury Motorsport guys had set up camp, a car that Tarzan was also contracted to drive although Mark Hansen took it out for a few fast laps too. According to the official timing results on the WTAC website Mark is the one that managed the better time with the all carbon R35, a 1'33″556 against Tarzan's 1'34″337.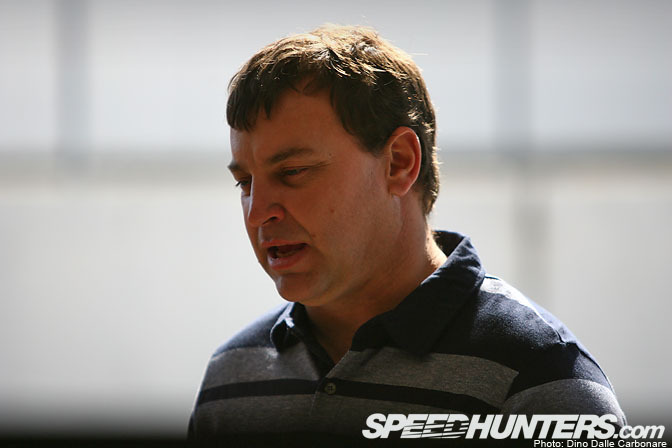 Mark Berry always looks so relaxed, even minutes before heading out on track for another shot, with his crazy looking BNR34.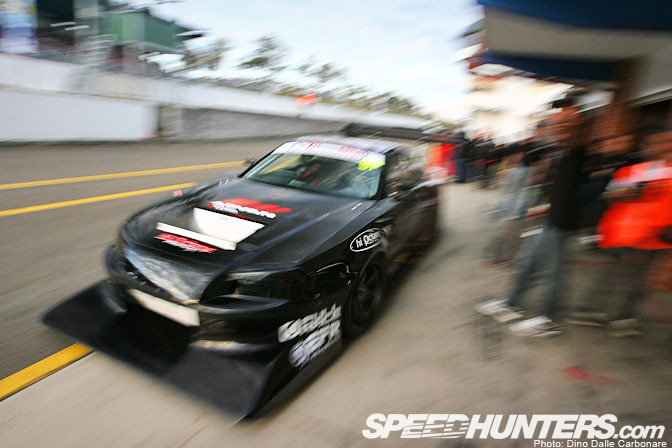 The Hi Octane team really has to be commended for the work they have done in making the GT-R so much more competitive.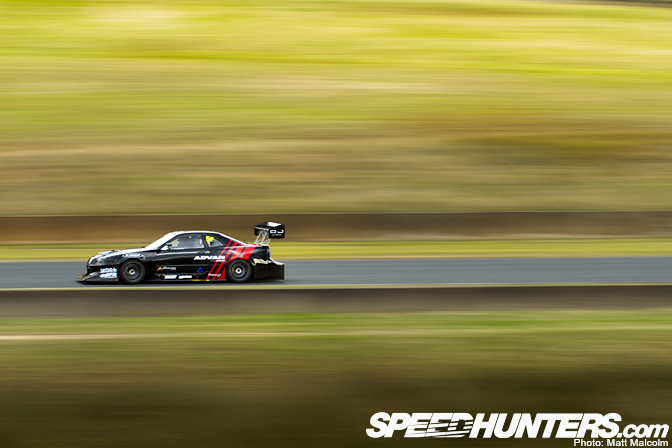 I remember last year when it was smoking all four tires in second gear coming out of the infield hairpin. Now with the advanced aerodynamics the car literally sucks itself onto the ground!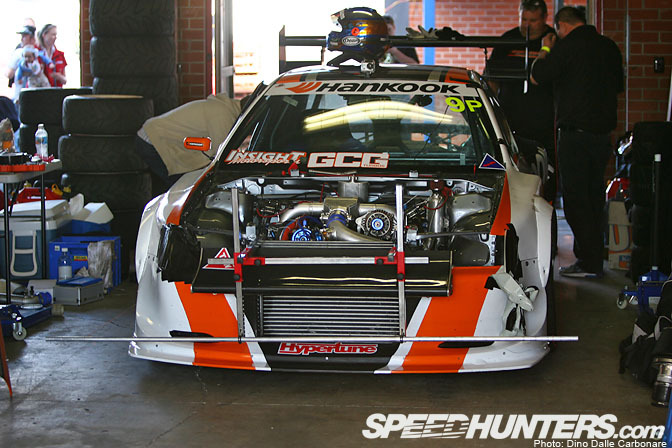 I don't think there is a more extreme looking Impreza WRX…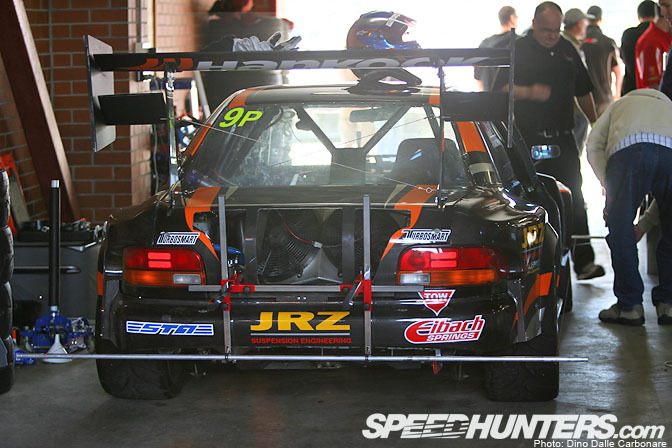 …than Ben Creswick's carbon widebody beast.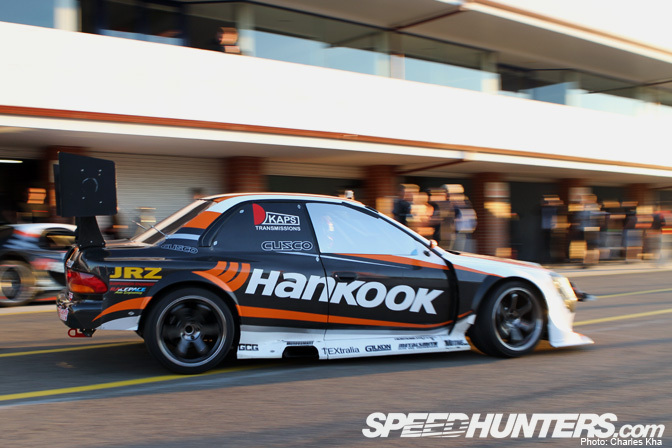 Like all other teams, they went all out in the last session trying to better their times. According to Ben the next evolution of this car will be far more powerful!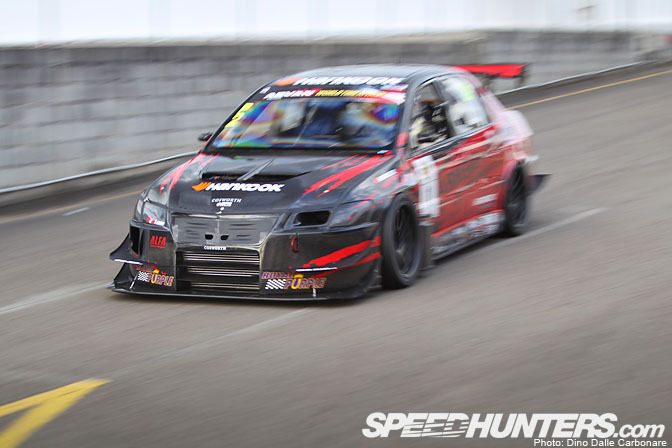 After Tarzan managed to better Empringham's time with a 1'28″851, the Sierra Sierra had another crack but was unable to better Tarzan's time.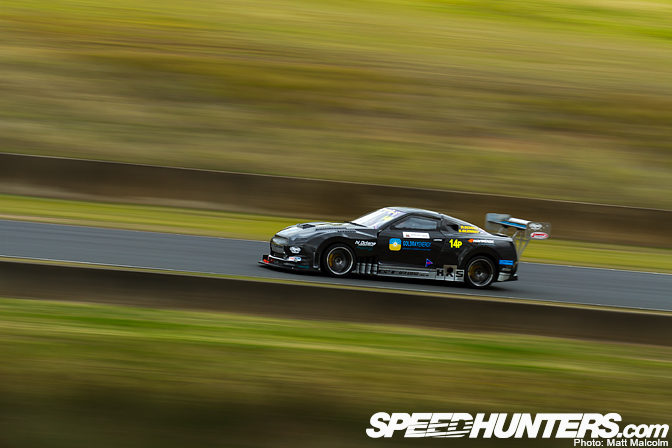 The GT Auto Garage/HKS Australia GT-R was the fastest R35 on the day. They managed a 1'32″413 landing them in 9th position. With the car having been barely completed in time for the event you can expect them to be back next year with an even faster package.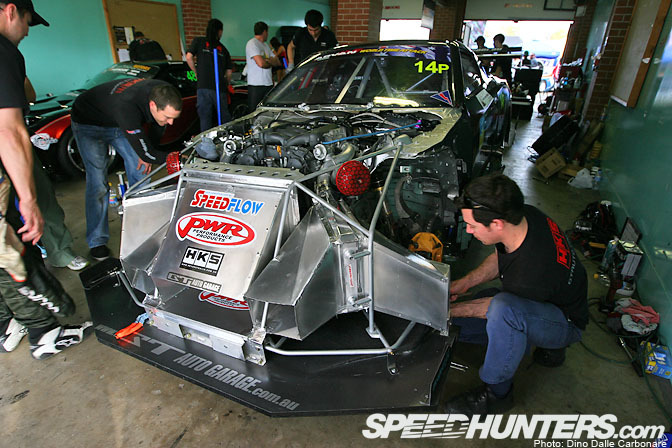 With the lightweight one-piece dry carbon front section removed you can really appreciate all the work that has gone into the engine and overall set-up of the car.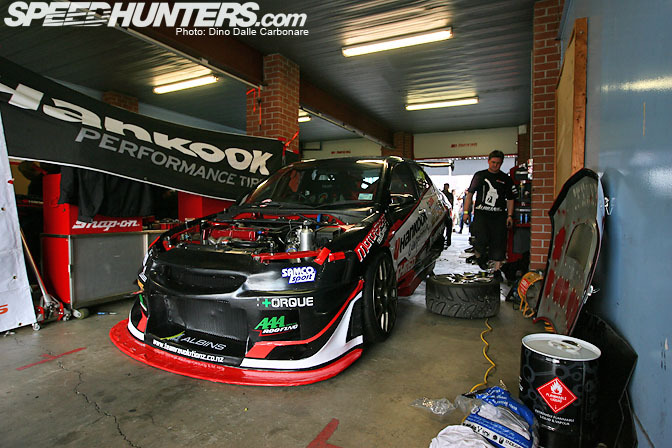 Next to the Sierra Sierra pit was Team Revolution NZ with their 700 HP Evo. With Jono Lester at the wheel they managed a respectable 1'34″824 lap, the 13th fastest time of the day in the Pro Class.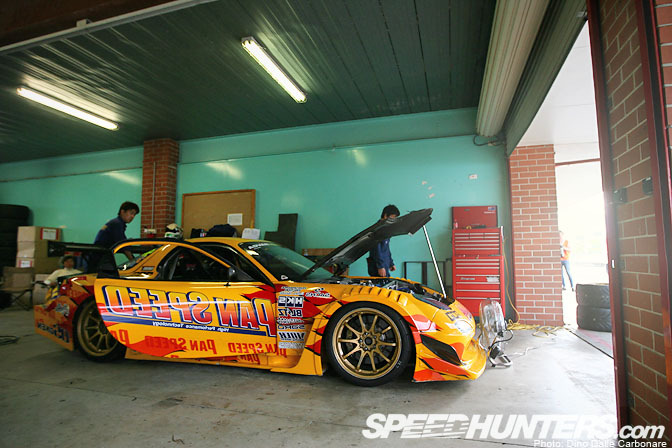 In the Pan Speed pits things were beginning to heat up as Sasaki-san began to prepare for his final outing of the event.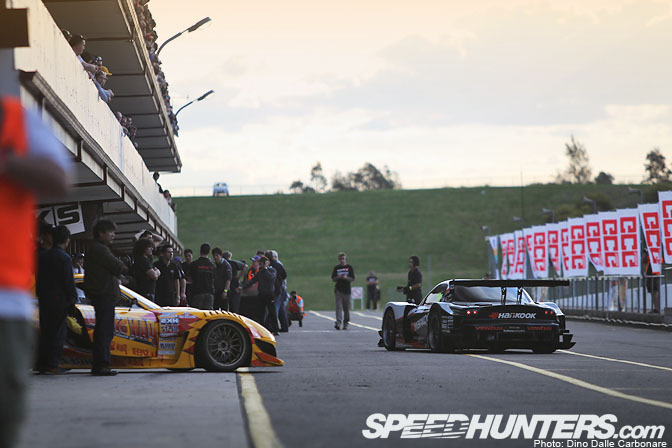 As the yellow FD was rolled out into the pit lane Kinoshita had just returned from a hot lap attempt. The Revolution RX7, despite having just as much potential for fast times as the other cars in the top class, managed to set a best of 1'30″501.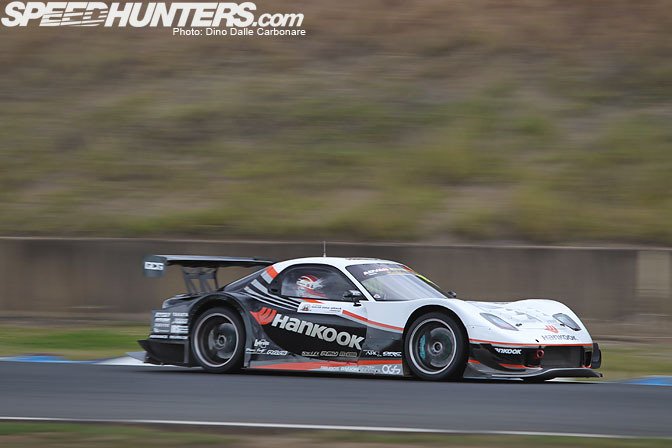 There is a lot more speed in the car we are sure, but that it will take more time to extract the car's full potential at Eastern Creek. It is built for Tsukuba after all. One to watch in 2012 for sure!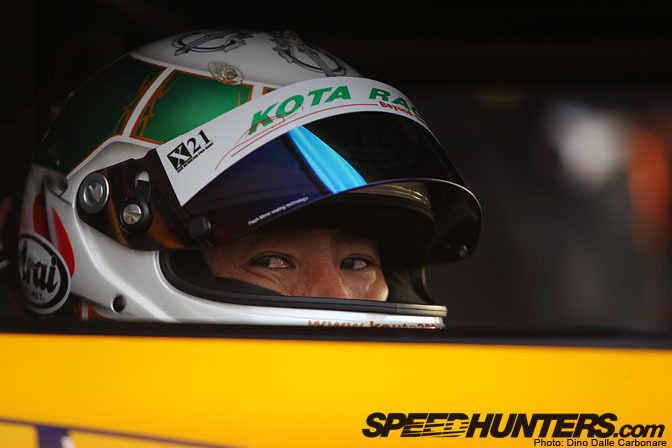 Sasaki-san in the zone as few seconds before heading out. He was unable to better his previous attempt of the day and finished in 8th position.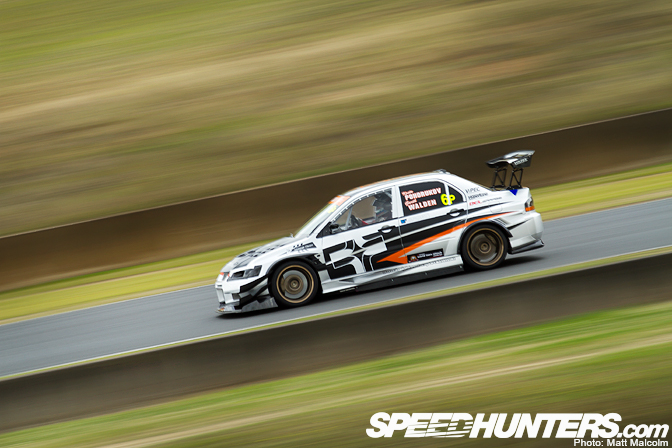 Garth Walden in the Tilton Interiors Evo finishing up his last lap of the day. He must have been happy with 4th place, beating a long list of impressive Pro class cars. This thing is seriously quick, finishing just three-tenths shy of the Garage Revolution RX-7.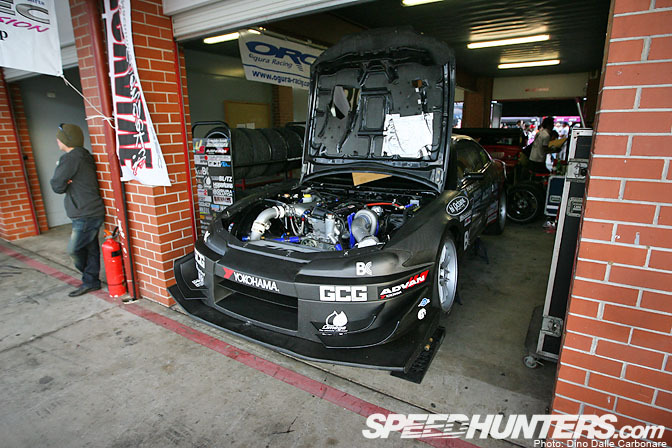 As I made my way down the pits I felt a little sad to see the Scorch S15 sitting quietly in its pit with nobody around it. Suzuki, who even flew his parents out for the event, was understandably disappointed, but there was nothing that could be done.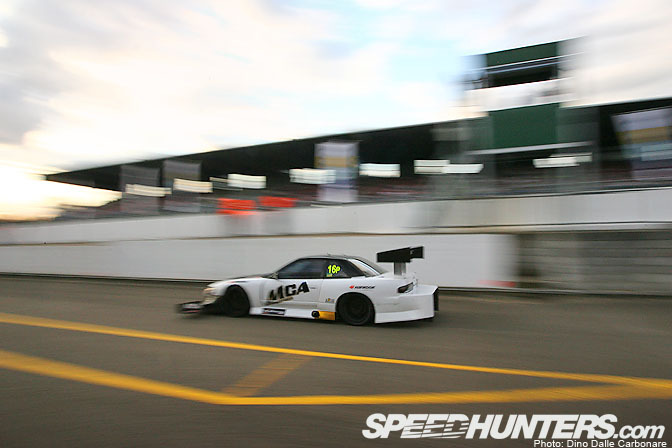 As we saw a few weeks back the MCA Suspension S13 Onevia is another locally built time attack monster that was completed just in time for WTAC. With its massive rear diffuser and imposing open wheeler-like extended front spoiler it was one of the most extreme looking cars in the whole class.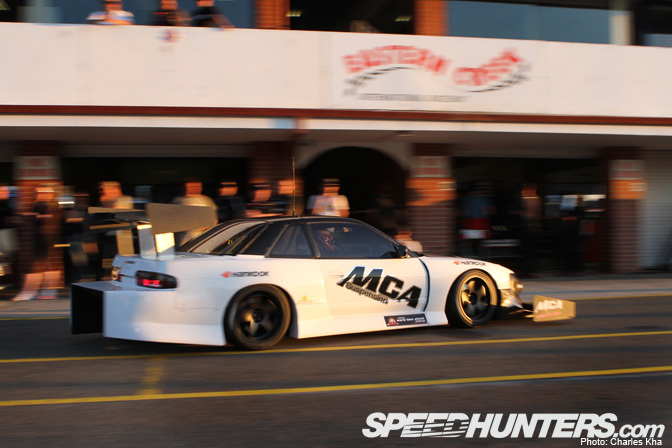 The driver, 21 year old New Zealander Earl Bamber, managed to coax a 1'33″062 out of it which is an impressive time for a rear wheel drive machine like this. That was good enough for a 10th position.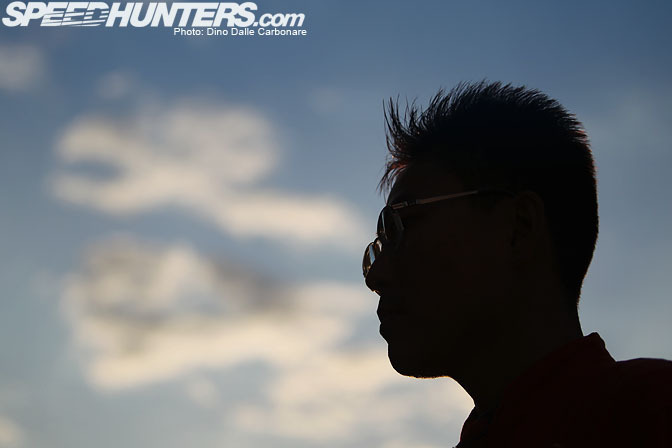 Kazuhiro Sato of Unlimited Works taking a few seconds to look over the Cyber Evo…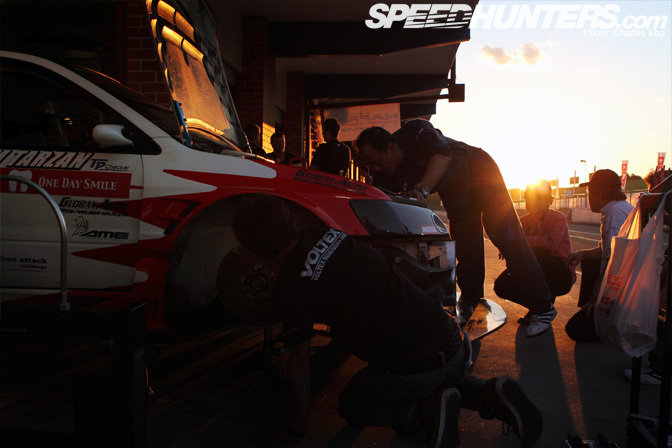 …before it was prepped for its final session. I had a quick word to Sato-san and he told me that this final attempt could potentially kill the engine in the Evo, as the turbine was cracked and about to let go.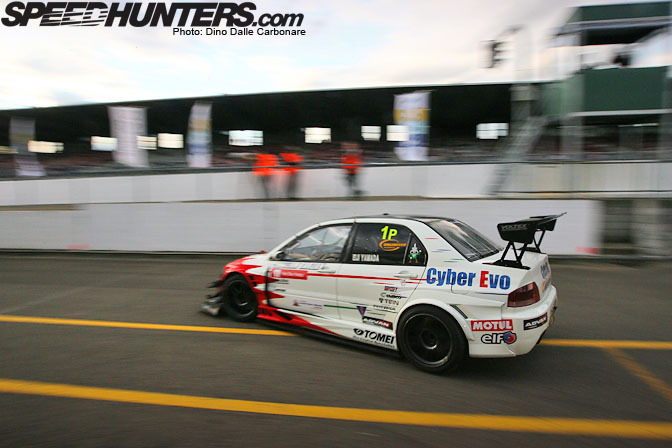 Tarzan has never been known as a driver that has much mechanical sympathy, so was prepared to risk a potential failure for a last crack at his record braking the record 1'28" lap he set right after Sierra Sierra posted the first sub-1'30" time.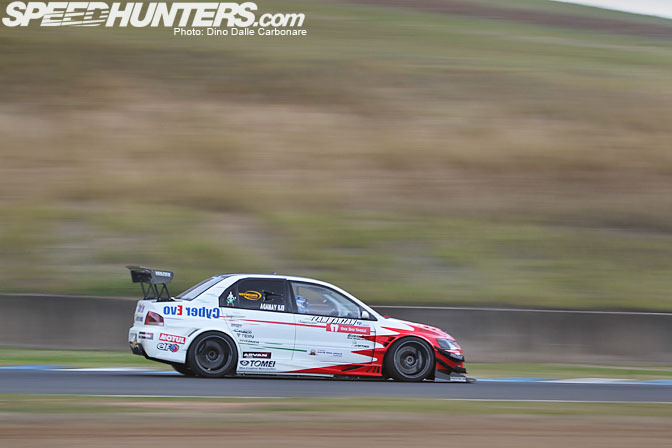 With the boost turned right up the Cyber Evo was just no performing as it should and the attempt was aborted. Tarzan came back to the pits and knew nobody had come close to his time, allowing him to defend his 2010 title.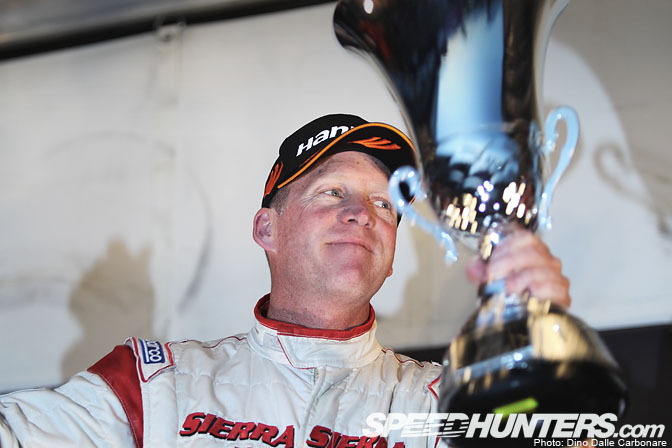 David Empringham knew that without the transmission problems his Evo developed, he could have taken first place. We are sure he and the SSE team will be back to prove their might in 2012!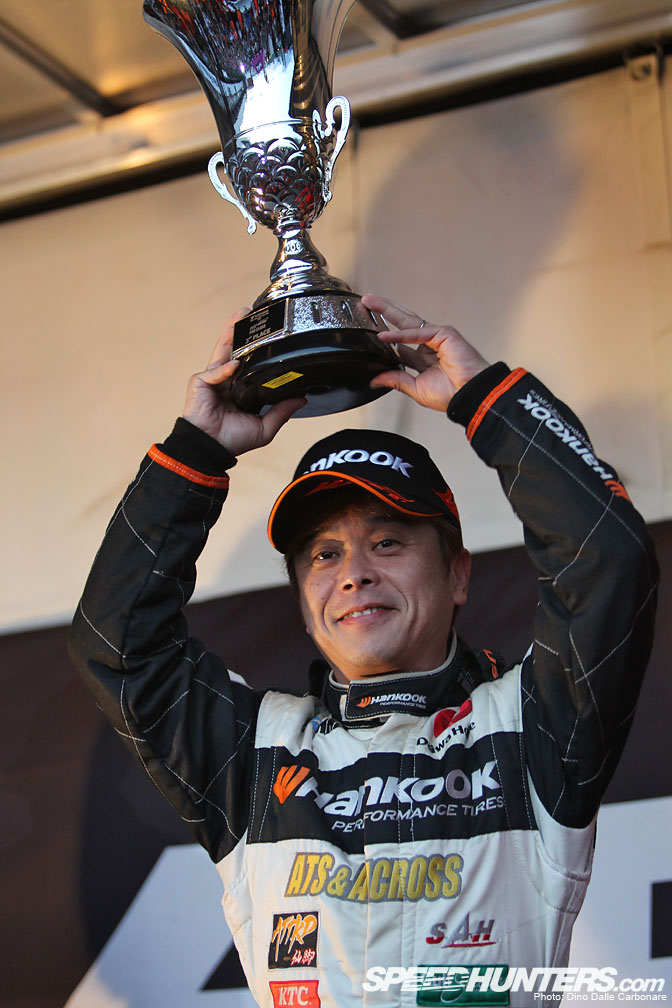 Kinoshita-san was more than happy with a third spot finish, a great success for him and the Revolution team.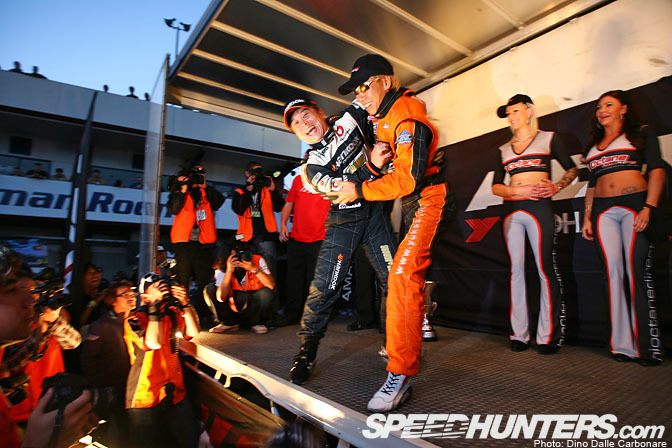 Tarzan attempted to jokingly throw him off the podium before accepting his rather large 1st place trophy. Congratulations to Tarzan and all involved in the team!
The World Time Attack Challenge is quickly becoming one of those events that you just can't afford to miss and we really have to thank the people behind it all like Ian Baker of Hi-Octane Racing and all the Yokohama Australia people who make this excitement-filled couple of days possible. The event only ended a few days ago but I'm already looking forward to 2012 and seeing what other cool cars will participate!
Stay tuned for more coverage from Charles, Casey and Matt coming up soon!
PRO Class RESULTS:
1. Eiiji "Tarzan" Yamada           Cyber Evo                                             1'28″851
2. David Empringham               Sierra Sierra Evo                                   1'29″024
3. Mitsuhiro kinoshita                Revolution RX-7                                    1'30″501
4. Garth Walden                       Tilton Interiors Evo                                 1'30″866
5. "Under" Suzuki                     Scorch Racing Silvia                               1'31″456
6. Mark Berry                           Advan/Hi Octane Racing GT-R               1'31″905
7. Warren Luff                          Prep'd Motorsport Exige GT3                 1'31″916
8. Kouta Sasaki                        Pan Speed RX-7                                     1'32″034
9. Steve Glenney                     GT Auto Garage/HKS Australia GT-R     1'32″413
10. Earl Bamber                       MCA Suspension Onevia                         1'33″062
11. Mark Hansen                     Mercury Motorsports GT-R                      1'33″556
12. Eiiji "Tarzan" Yamada        Mercury Motorsports GT-R                      1'34″337
13. Jono Lester                       Team Revolution NZ Evo                          1'34″824
14. Dean Evans                       Hankkok Australia Impreza WRX              1'35″134
15. John Boston                      Unique Auto Sports 300ZX                        1'35″234
16. Martin Notaras                  Notaras/Pro Speed Evo                             1'35″625
17. John Boston                      Motive DVD Silvia                                      1'39″750
– Dino Dalle Carbonare